What Would the Founding Fathers Think of Modern America's Foreign Policy?
The world today is far more complex than it was 200 years ago, but the speeches and writings of the Founding Fathers point to a common general principle.
16 November, 2017
---
More than 200 years ago, the United States were founded by disgruntled colonial men wearing ruffled shirts and tri-corner hats. Their writings on government structure and democracy have endured, but what about their views on global affairs? 

The Founding Fathers' general approach to foreign policy began with Thomas Paine's 'Common Sense'. In his famous 1776 pamphlet, Paine made the case that political connections with the outside world—especially with Britain, the dominant power at the time—should essentially be limited to commerce:
"As Europe is our market for trade, we ought to form no partial connection with any part of it. It is the true interest of America to steer clear of European contentions, which she never can do, while, by her dependence on Britain, she is made the makeweight in the scale of British politics."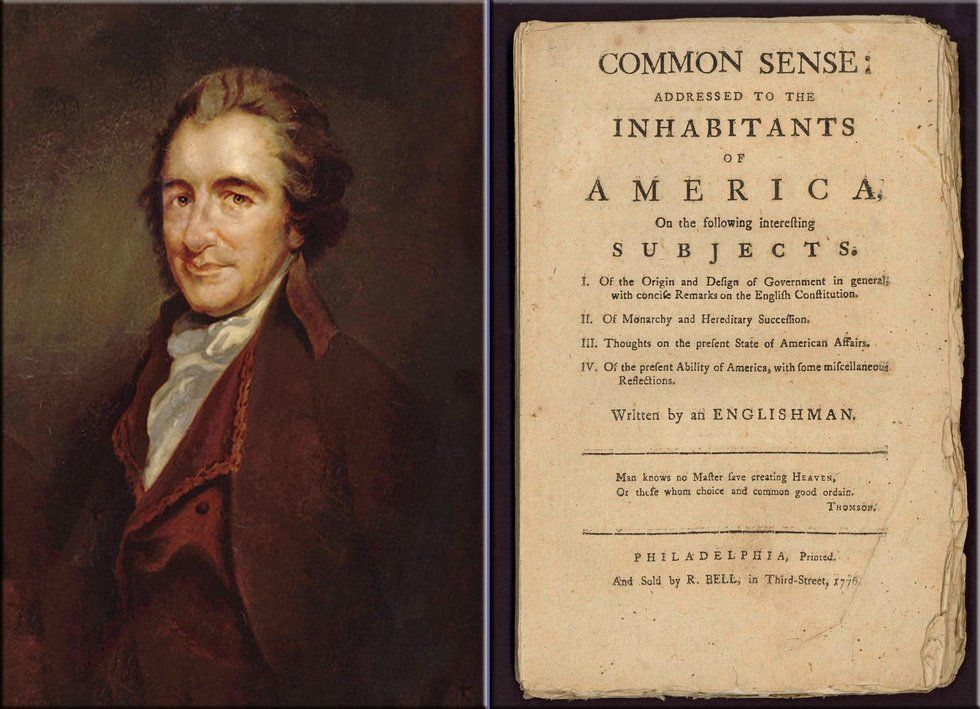 Oil painting of 18th century Enlightenment philosopher and author Thomas Paine by Auguste Millière (1880); Common Sense, a pamphlet by Thomas Paine (1776).
The Founding Fathers had subscribed to Paine's view during the Revolutionary War, but eventually found that an alliance with France was necessary in the short term. Then, in 1793, George Washington effectively broke the alliance with his Proclamation of Neutrality.
Washington doubled down on his support of American independence in his Farewell Address of 1796, believing there to be an inherent danger in becoming overly entangled with other countries, namely the risk of becoming too lenient on allies, and too harsh on their enemies:
"The great rule of conduct for us in regard to foreign nations is in extending our commercial relations, to have with them as little political connection as possible. So far as we have already formed engagements, let them be fulfilled with perfect good faith. Here let us stop."
...
"Excessive partiality for one foreign nation and excessive dislike of another cause those whom they actuate to see danger only on one side, and serve to veil and even second the arts of influence on the other. Real patriots who may resist the intrigues of the favorite are liable to become suspected and odious, while its tools and dupes usurp the applause and confidence of the people, to surrender their interests." 
The early nation's views on foreign policy were solidified in 1821 when John Quincy Adams, then the secretary of state, delivered an address on U.S. foreign policy that outlined why the country wouldn't get involved in the Greek War of Independence:
"Wherever the standard of freedom and independence has been or shall be unfurled, there will her heart, her benedictions and her prayers be. But she goes not abroad in search of monsters to destroy. She is the well-wisher to the freedom and independence of all. She is the champion and vindicator only of her own. She will recommend the general cause, by the countenance of her voice, and the benignant sympathy of her example."
Speaking at the Cato Institute in 2016, William Ruger, Vice President for Research and Policy at the Charles Koch Foundation, delved into the views of Washington, Adams, and others, remarking: "States don't have permanent friends, they have permanent interests, and the Founders were hyper-realist when it came to that."
Three Decades of American Primacy
The U.S. has been the world's most powerful nation since the end of the Cold War. Some refer to this position as "American primacy," which political scientist Joseph Nye defined as its "disproportionate (and measurable) share of all three kinds of power resources: military, economic, and soft." While this power has allowed the U.S. to create an advantageous world order, America's interventions abroad have come at massive human and economic cost.
Ruger spoke to Big Think about the consequences of U.S. foreign intervention:
william-ruger-how-america-destabilized-the-middle-east
"Primacy has often led the United States to create situations where there's greater instability, more problems, lots of unintended consequences that have spilled over to other places. And Iraq is a perfect example of that. ISIS would not exist in Iraq had it not been for the United States opening Pandora's box by our regime-change efforts."
As the U.S. enters its third decade of primacy since the end of the Cold War, it's worth returning to the thoughts of the Founding Fathers, and how they conceptualized America's role in the global community. What would they have thought about invading, say, Iraq? In Adams' words, is it a monster the U.S. should have gotten mixed up with?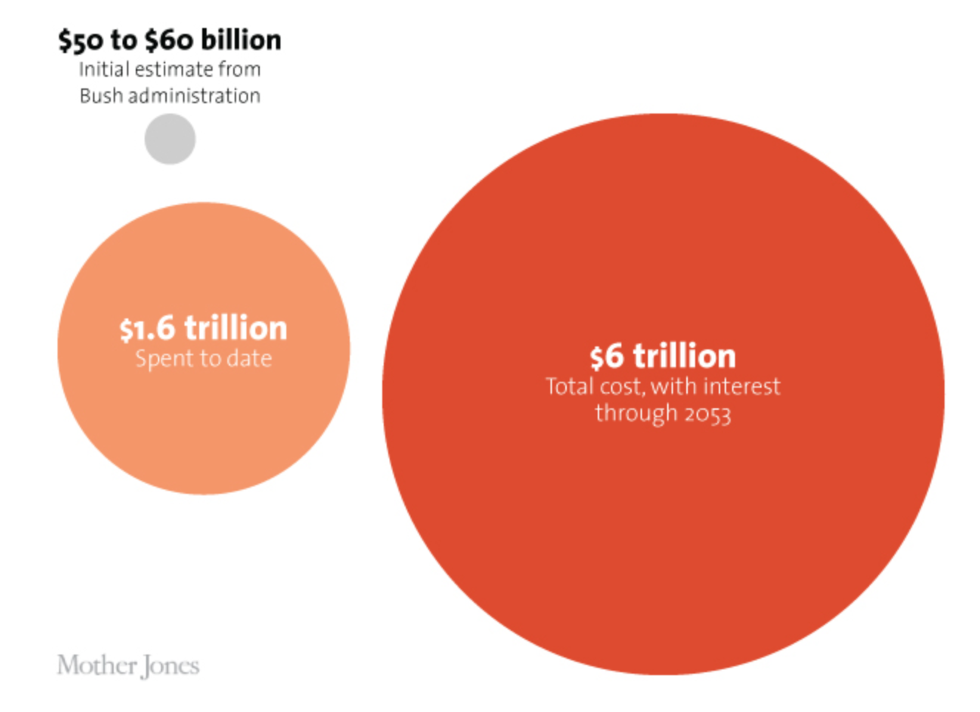 The Founding Fathers' Views Today
It goes without saying that the world today is far more complex than it was 200 years ago. Technology and industrialization have connected the world in entirely unpredictable ways, and the power of the U.S. has multiplied to an unimaginable extent. There's also a case to be made that with America's great power comes the responsibility to right the many wrongs in the world.
However, the massive costs of U.S. foreign policy over the past couple of decades have caused some to call for realistic restraint, which argues for the U.S. to fully consider the consequences of intervention before entangling itself in the problems of other countries, as Ruger explains:
"Over the last 15 to 25 years, our foreign policy simply isn't working. It is not making us safer. And that's why we need to reconsider what we're doing. We need to rethink our grand strategy. We need to rethink how we're using diplomacy and economic levers of statecraft. We need to rethink our budgets and the types of platforms we're building and the types of missions we want to send our troops on.

This is vitally important so that we can rightsize the military for the challenges ahead. And I don't think we're doing that, which is why we need to bring new voices into the conversation. The other thing I think that we should ask for is: we would like our executives to practice humility. That means that they need to understand what they don't know, and to have that be part of the decision-making process."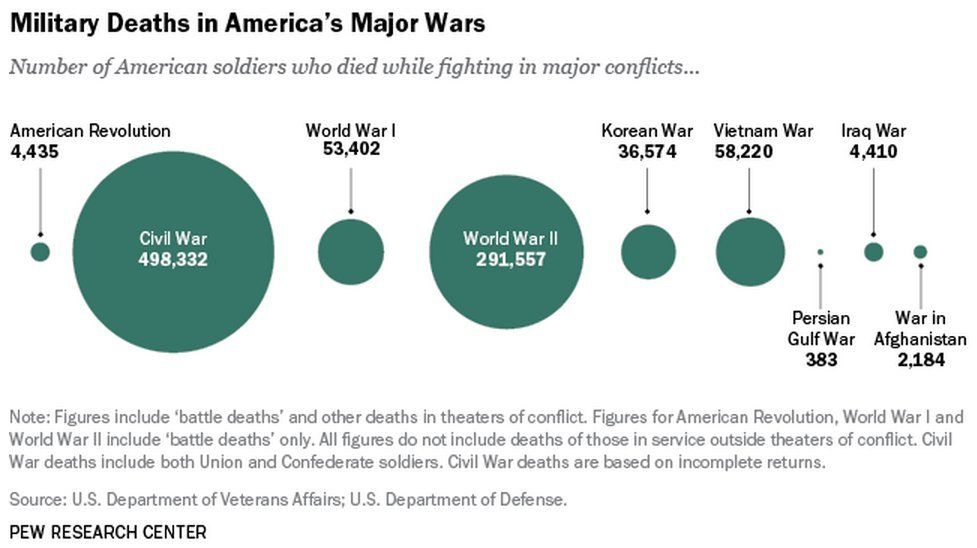 Still, a more realistic and restrained foreign policy doesn't mean the U.S. should engage in full-blown isolationism and abandon the rest of the world, Ruger says:
The United States needs to be engaged abroad in terms of trading with other countries, providing positive-sum outcomes between peoples, diplomacy, cultural engagement, people to people engagement. We can be engaged in the world and open to the world without thinking that the United States needs to be everywhere and without the United States having to lead and be militarily deployed to every part of the globe.
We can never know exactly what the Founding Fathers would think about modern U.S. foreign policy. However, we can tell from their speeches and writings that they all seemed to agree on a general principle: be extremely wary of becoming overly entangled with the never-ending problems of the outside world.
The Lumina Foundation lays out steps for increasing access to quality post-secondary education credentials.
Sponsored by Lumina Foundation
America's post-high school education landscape was not created with the modern student in mind. Today, clear and flexible pathways are necessary to help individuals access education that can help them lead a better life.
Elizabeth Garlow explains the Lumina Foundation's strategy to create a post-secondary education system that works for all students. This includes credential recognition, affordability, a more competency-based system, and quality assurance.
Systemic historic factors have contributed to inequality in the education system. Lumina aims to close those gaps in educational attainment.
In 2019, Lumina Foundation and Big Think teamed up to create the Lumina Prize, a search to find the most innovative and scalable ideas in post-secondary education. You can see the winners of the Lumina Prize here – congratulations to PeerForward and Greater Commons!
French newspapers report that the trial hasn't lived up to expectations.
Image source: Charly Triballeau / AFP / Getty Images
Technology & Innovation
The French government initially invested in a rural solar roadway in 2016.
French newspapers report that the trial hasn't lived up to expectations.
Solar panel "paved" roadways are proving to be inefficient and too expensive.
During World War II, the U.S. incarcerated over 100,000 Japanese Americans in concentration camps throughout the West.
Universal History Archive/Universal Images Group via Getty Images
Politics & Current Affairs
Now that the issue of concentration camps in the U.S. has once again reared its head, it can be beneficial to recall the last time such camps were employed in the U.S.
After Pearl Harbor, the U.S. incarcerated over 100,000 Japanese Americans in camps, ostensibly for national security purposes.
In truth, the incarceration was primarily motivated by racism. What was life like in the U.S.'s concentration camps?
On February 19, 1942, President Roosevelt issued Executive Order 9066, which authorized and directed military commanders "to prescribe military areas … from which any or all persons may be excluded, and with respect to which, the right of any person to enter, remain in, or leave shall be subject to whatever restrictions the Secretary of War or the appropriate Military Commander may impose in his discretion." Under the authority of this executive order, roughly 112,000 men, women, and children of Japanese descent — nearly two-thirds of which were American citizens — were detained in concentration camps.
How did the camps get their start?
With the benefit of a nearly 80-year perspective, it's clear that the internment of Japanese Americans was racially motivated. In response to Japan's growing military power in the buildup to World War II, President Roosevelt commissioned two reports to determine whether it would be necessary to intern Japanese Americans should conflict break out between Japan and the U.S. Neither's conclusions supported the plan, with one even going so far as to "certify a remarkable, even extraordinary degree of loyalty among this generally suspect ethnic group." But of course, the Pearl Harbor attacks proved to be far more persuasive than these reports.
Pearl Harbor turned simmering resentment against the Japanese to a full boil, putting pressure on the Roosevelt administration to intern Japanese Americans. Lieutenant General John DeWitt, who would become the administrator of the internment program, testified to Congress
"I don't want any of them here. They are a dangerous element. There is no way to determine their loyalty... It makes no difference whether he is an American citizen, he is still a Japanese. American citizenship does not necessarily determine loyalty... But we must worry about the Japanese all the time until he is wiped off the map."
DeWitt's position was backed up by a number of pre-existing anti-immigrant groups based out of the West Coast, such as the Joint Immigration Committee and the Native Sons and Daughters of the Golden West. For many, the war simply served as an excuse to get rid of Japanese Americans. In an interview with the Saturday Evening Post, Austin Anson, the managing secretary of the Salinas Vegetable Grower-Shipper Administration, said:
"We're charged with wanting to get rid of the Japs for selfish reasons. We do. It's a question of whether the White man lives on the Pacific Coast or the brown men. ... If all the Japs were removed tomorrow, we'd never miss them in two weeks because the White farmers can take over and produce everything the Jap grows. And we do not want them back when the war ends, either."
Ironically for Anson, the mass deportation of Japanese Americans under Executive Order 9066 meant there was a significant shortage of agricultural labor. Many Caucasians left to fight the war, so the U.S. signed an agreement with Mexico to permit the immigration of several million Mexicans agricultural workers under the so-called bracero program.
Life in the camps
Hulton Archive/Getty Images
Circa 1943: Aerial view of a Japanese American relocation center in Amache, Colorado, during World War II. Each family was provided with a space 20 by 25 ft. The barracks were set in blocks and each block was provided with a community bath house and mess hall.
For the most part, Japanese Americans remained stoic in the face of their incarceration. The phrase shikata ga nai was frequently invoked — the phrase roughly translates to "it cannot be helped," which, for many, represents the perceived attitude of the Japanese people to withstand suffering that's out of their control.
Initially, most Japanese Americans were sent to temporary assembly centers, typically located at fairgrounds or racetracks. These were hastily constructed barracks, where prisoners were often packed into tight quarters and made to use toilets that were little more than pits in the ground. From here, they were relocated to more permanent camps — replete with barbed wire and armed guards — in remote, isolated places across the seven states of California, Arizona, Colorado, Wyoming, Idaho, Utah, and Arkansas.
Many of these camps, also known as War Relocation Centers, were little better than the temporary assembly centers. One report described the buildings as "tar paper-covered barracks of simple frame construction without plumbing or cooking facilities of any kind." Again, overcrowding was common.
As a result, disease became a major concern, including dysentery, malaria, and tuberculosis. This was problematic due to the chronic shortage of medical professionals and supplies, an issue that was not helped by the War Relocation Authority's decision to cap Japanese American medical professional's pay at $20 a month (about $315 in 2019 dollars), while Caucasian workers had no such restriction. As a comparison, Caucasian nurses earned $150 ($2,361) a month in one camp.
The U.S. government also administered loyalty questionnaires to incarcerated Japanese Americans with the ultimate goal of seeing whether they could be used as soldiers and to segregate "loyal" citizens from "disloyal" ones. The questionnaires often asked whether they would be willing to join the military and if they would completely renounce their loyalty to Japan. Due to fears of being drafted, general confusion, and justified anger at the U.S. government, thousands of Japanese Americans "failed" the loyalty questionnaire and were sent to the concentration camp at Tule Lake. When Roosevelt later signed a bill that would permit Japanese Americans to renounce their citizenship, 98 percent of the 5,589 who did were located at Tule Lake. Some apologists cite this an example of genuine disloyalty towards the U.S., but this argument clearly ignores the gross violation of Japanese Americans' rights. Later, it became clear that many of these renunciations had been made under duress, and nearly all of those who had renounced their citizenship sought to gain it back.
Since many children lived in the camps, they came equipped with schools. Of course, these schools weren't ideal — student-teacher ratios reached as high as 48:1, and supplies were limited. The irony of learning about American history and ideals was not lost on the students, one of whom wrote in an essay --
"They, the first generation [of Japanese immigrants], without the least knowledge of the English language nor the new surroundings, came to this land with the American pioneering spirit of resettling. ...Though undergoing many hardships, they did reach their goal only to be resettled by the order of evacuation under the emergency for our protection and public security."
Potentially the best part of life in the camps — and the best way for determined prisoners to demonstrate their fundamental American-ness — was playing baseball. One camp even featured nearly 100 baseball teams. Former prisoner Herb Kurima recalled the importance of baseball in their lives in an interview with Christian Science Monitor. "I wanted our fathers, who worked so hard, to have a chance to see a ball game," he said. "Over half the camp used to come out to watch. It was the only enjoyment in the camps."
The aftermath
When the camps finally closed in 1945, the lives of the incarcerated Japanese Americans had been totally upended. Some were repatriated to Japan, while others settled in whichever part of the country they had been arbitrarily placed in. Those who wished to return to the West Coast were given $25 and a train ticket, but few had anything to return to. Many had sold their property to predatory buyers prior to being incarcerated, while theft had wiped out whatever else they had left behind. Many, many years later, the 1988 Civil Liberties Act mandated that each surviving victim be paid $20,000, though that seems like a small fine to pay for irrevocably changing the courses of more than 100,000 lives.