How religion changed the presidency—and vice versa
Evangelical Christians are abandoning their core beliefs to follow a cult leader, says Reza Aslan.
Reza Aslan
Reza Aslan is an internationally renowned writer, commentator, professor, producer, and scholar of religions. His books, including his #1 New York Times Bestseller, Zealot: The Life and Times of Jesus of Nazareth, have been translated into dozens of languages around the world. He is also a recipient of the prestigious James Joyce Award. His newest book God: A Human History (2017) is out now.
Aslan's first book, International Bestseller No god but God: The Origins, Evolution, and Future of Islam, has been translated into seventeen languages, and was named one of the 100 most important books of the last decade by Blackwell Publishers. He is also the author of Beyond Fundamentalism: Confronting Religious Extremism in a Globalized Age (originally titled How to Win a Cosmic War), as well as editor of two volumes: Tablet and Pen: Literary Landscapes from the Modern Middle East, and Muslims and Jews in America: Commonalties, Contentions, and Complexities.
In 2006, Aslan co-founded BoomGen Studios—the premiere entertainment brand for creative content from and about the Middle East—which has provided an array of targeted services ranging from strategic messaging to grassroots marketing to publicity and social media outreach, to producers, studios, and filmmakers—including Jon Stewart's Rosewater, Netflix's The Square, Disney's Aladdin on Broadway and Prince of Persia: The Sands of Time, The Weinstein Company's Miral, Discovery and TLC's All American Muslim, and National Geographic's Amreeka.
Aslan's degrees include a Bachelor of Arts in Religious Studies from Santa Clara University (Major focus: New Testament; Minor: Greek), a Master of Theological Studies from Harvard University (Major focus: History of Religions), a PhD in the Sociology of Religions from the University of California, Santa Barbara, and a Master of Fine Arts from the University of Iowa, where he was named the Truman Capote Fellow in Fiction.
Aslan is a tenured Professor of Creative Writing at the University of California, Riverside and serves on the board of trustees for the Chicago Theological Seminary and The Yale Humanist Community, which supports atheists, agnostics, and humanists at home and abroad.
14 April, 2018
Reza Aslan: Eighty-one percent of white evangelicals voted for Donald Trump in the previous election. That's a record. That's more white evangelicals than voted for George W. Bush—and George W. Bush was a white evangelical.
This makes no sense to people, especially when you consider that Trump is not just the most irreligious president in modern history, that his entire worldview makes a mockery of core Christian values like humility and empathy and care for the poor; That this individual who couldn't even name a single verse in the bible when asked to do so, and yet - and yet - received a record number of votes by white evangelicals.
Scholars of religion—normal, rational, people—have been trying to figure out why. Why? What happened?
And I think that there's a couple of things to keep in mind.
Number one, it's white evangelicals. Eighty-one percent of white evangelicals voted for Trump, but 67 percent of evangelicals of color supported Hillary Clinton.
Now, these are people who believed the exact same thing, whose only real difference is that.. is the color of their skin.
So let's not ignore the fact that there is a racial element to this support.
Jim Wallace, the head of the Sojourners, a liberal evangelical group, said it best when he said that these white evangelicals "acted more white than they did evangelical." And I think he's right.
The second reason I think has to do with the pernicious influence of something called the prosperity gospel, which has gripped the imaginations of white evangelicals.
This is that version of Christianity preached by these charlatans like Joel Olstein and T.D. Jakes, the essential gist of which is that God wants you to drive a Bentley, that what Jesus really wants for you is material prosperity—and indeed that's how you know God has blessed you, is by your material prosperity.
Many white evangelicals looked at Donald Trump, and what they saw was a wealthy man. And that wealth, as far as they were concerned, was just a sign of God's blessings.
And so that freed Trump from having to do what every other candidate, certainly every other Republican candidate for president has had to do, and that is: actually prove his spiritual bonafides. Trump never had to do that. All he had to do was just keep talking about how rich he was. And for a large swathe of white evangelicals that was enough.
Thirdly, Donald Trump did something that no other president, not even any Republican president courting the evangelical vote ever did. He expressly promised secular power to these white evangelical groups.
In his speeches to them and in the conferences that he had, both private and public, he very clearly and very explicitly said that if they voted for him that he would give them "their power back," even if he didn't agree with their pet causes that he would just allow them to have those causes.
And you can see as president he's talking now about removing, for instance, the Johnson Amendment, which is an amendment that prohibits preachers and churches from actually engaging directly in politics and preaching politics from the pulpit. It's why they get to keep their tax break. No one has ever thought about removing this requirement until Donald Trump.
And now he is very seriously moving towards allowing churches to take part directly in political activism as churches.
But none of this, none of this explains the most important phenomenon about white evangelicals in America, and that is this: In the span of a single election cycle, white evangelicals have gone from being the group in America that is most likely to say that a politician's morality matters to the group that is now least likely to say that.
Atheists in America think that a politician's morality matters more than white evangelicals in America do—White evangelicals who continue to refer to themselves as value voters.
This is a phenomenon that can't be explained by just looking at the prosperity gospel or looking at racial matters. What you're seeing is a gigantic group of Americans who are fundamentally overturning their core theological beliefs that public morality matters. And the only explanation that I have for it is that Donald Trump has turned a large swathe of white evangelical Christianity into a cult, into a religious cult, a dangerous religious cult. All the signs are there.
Donald Trump functions—as he himself admitted when he said offhandedly that he could shoot someone on Fifth Avenue and not lose voters—he has become a kind of a prophetic divine character.
Pat Robertson, the head of The 700 Club, a very influential white evangelical, literally said that God took him in a dream up to heaven and he saw Donald Trump sitting at the right hand of God.
You know who actually sits at the right hand of God, according to evangelicals? Jesus Christ.
In other words, Pat Robertson is saying that Donald Trump is essentially Jesus Christ. In fact, that's not that weird.
His own evangelical advisor, a pastor by the name of Jeffers, said not too long ago that he would prefer Donald Trump as a candidate over someone who "expresses the values of Jesus."
So what we are seeing now is that these white evangelicals—not all of them but a fundamental core of them—have essentially latched on to Donald Trump as almost a salvific character. They don't just follow him. They don't just agree with him. They almost worship him.
And my fear is that, as we know from our very recent history, cults, when confronted with the realities of the world, can often end in catastrophic ways. We have a presidency that is deteriorating, a president that is spiraling out of control.
We have open conversations now about the 25th amendment and impeachment. We have multiple investigations and the possibility of indictments at the highest level.
This is a presidency that is in danger of completely disintegrating. That wouldn't be such a big deal if it weren't also a religious cult.
Because when a religious cult begins to deal with this kind of situation, when their cosmic ideas are suddenly butting up against the reality of a failed leadership, they tend to double down. And that's why I think that we're in a very dangerous place as a country right now. Because the only thing more dangerous than a cult leader like Trump is a martyred cult leader.
Are fundamentalist Christians a dangerous religious cult? Possibly. The controversial author and religious scholar Reza Aslan posits that President Donald Trump has much of his evangelical fan-base believing that he's somehow been anointed by God to become President. Nevermind the Russian election scandal, his affairs with porn stars and unwarranted sexual acts towards women, or his inability to remember even a single Bible verse when asked. Evangelical Christians are abandoning their core moral beliefs to follow, as Reza suggests, someone who exhibits every trademark of a cult leader. And that should terrify anyone on either side of the political spectrum. Reza's latest book is God: A Human History.
Big ideas.
Once a week.
Subscribe to our weekly newsletter.
It marks a breakthrough in using gene editing to treat diseases.
Credit
: National Cancer Institute via Unsplash
Technology & Innovation
This article was originally published by our sister site, Freethink.
For the first time, researchers appear to have effectively treated a genetic disorder by directly injecting a CRISPR therapy into patients' bloodstreams — overcoming one of the biggest hurdles to curing diseases with the gene editing technology.
The therapy appears to be astonishingly effective, editing nearly every cell in the liver to stop a disease-causing mutation.
The challenge: CRISPR gives us the ability to correct genetic mutations, and given that such mutations are responsible for more than 6,000 human diseases, the tech has the potential to dramatically improve human health.
One way to use CRISPR to treat diseases is to remove affected cells from a patient, edit out the mutation in the lab, and place the cells back in the body to replicate — that's how one team functionally cured people with the blood disorder sickle cell anemia, editing and then infusing bone marrow cells.
Bone marrow is a special case, though, and many mutations cause disease in organs that are harder to fix.
Another option is to insert the CRISPR system itself into the body so that it can make edits directly in the affected organs (that's only been attempted once, in an ongoing study in which people had a CRISPR therapy injected into their eyes to treat a rare vision disorder).
Injecting a CRISPR therapy right into the bloodstream has been a problem, though, because the therapy has to find the right cells to edit. An inherited mutation will be in the DNA of every cell of your body, but if it only causes disease in the liver, you don't want your therapy being used up in the pancreas or kidneys.
A new CRISPR therapy: Now, researchers from Intellia Therapeutics and Regeneron Pharmaceuticals have demonstrated for the first time that a CRISPR therapy delivered into the bloodstream can travel to desired tissues to make edits.
We can overcome one of the biggest challenges with applying CRISPR clinically.

—JENNIFER DOUDNA

"This is a major milestone for patients," Jennifer Doudna, co-developer of CRISPR, who wasn't involved in the trial, told NPR.
"While these are early data, they show us that we can overcome one of the biggest challenges with applying CRISPR clinically so far, which is being able to deliver it systemically and get it to the right place," she continued.
What they did: During a phase 1 clinical trial, Intellia researchers injected a CRISPR therapy dubbed NTLA-2001 into the bloodstreams of six people with a rare, potentially fatal genetic disorder called transthyretin amyloidosis.
The livers of people with transthyretin amyloidosis produce a destructive protein, and the CRISPR therapy was designed to target the gene that makes the protein and halt its production. After just one injection of NTLA-2001, the three patients given a higher dose saw their levels of the protein drop by 80% to 96%.
A better option: The CRISPR therapy produced only mild adverse effects and did lower the protein levels, but we don't know yet if the effect will be permanent. It'll also be a few months before we know if the therapy can alleviate the symptoms of transthyretin amyloidosis.
This is a wonderful day for the future of gene-editing as a medicine.

—FYODOR URNOV

If everything goes as hoped, though, NTLA-2001 could one day offer a better treatment option for transthyretin amyloidosis than a currently approved medication, patisiran, which only reduces toxic protein levels by 81% and must be injected regularly.
Looking ahead: Even more exciting than NTLA-2001's potential impact on transthyretin amyloidosis, though, is the knowledge that we may be able to use CRISPR injections to treat other genetic disorders that are difficult to target directly, such as heart or brain diseases.
"This is a wonderful day for the future of gene-editing as a medicine," Fyodor Urnov, a UC Berkeley professor of genetics, who wasn't involved in the trial, told NPR. "We as a species are watching this remarkable new show called: our gene-edited future."
A new government report describes 144 sightings of unidentified aerial phenomena.
Surprising Science
The military has rebranded unidentified flying objects as unidentified aerial phenomena – UAPs – in part to avoid the stigma that has been attached to claims of aliens visiting the Earth since the Roswell incident in 1947. The report presents no convincing evidence that alien spacecraft have been spotted, but some of the data defy easy interpretation.
I'm a professor of astronomy who has written extensively on the search for life in the universe. I also teach a free online class on astrobiology. I do not believe that the new government report or any other sightings of UFOs in the past are proof of aliens visiting Earth. But the report is important because it opens the door for a serious look at UFOs. Specifically, it encourages the U.S. government to collect better data on UFOs, and I think the release of the report increases the chances that scientists will try to interpret that data. Historically, UFOs have felt off limits to mainstream science, but perhaps no more.
Three videos from the U.S. military sparked a recent surge in interest in UFOs.
What's in the UFO report?
The No. 1 thing the report focuses on is the lack of high-quality data. Here are the highlights from the slender nine-page report, covering a total of 144 UAP sightings from U.S. government sources between 2004 and 2021:
"Limited data and inconsistent reporting are key challenges to evaluating UAP."
Some observations "could be the result of sensor errors, spoofing, or observer misperception."
"UAP clearly pose a safety of flight issue and may pose a challenge to U.S. national security."
Of the 144 sightings, the task force was "able to identify one reported UAP with high confidence. In that case, we identified the object as a large, deflating balloon. The others remain unexplained."
"Some UAP many be technologies deployed by China, Russia, another nation, or non-governmental entity."
UFOs are taboo among scientists
UFO means unidentified flying object. Nothing more, nothing less. You'd think scientists would enjoy the challenge of solving this puzzle. Instead, UFOs have been taboo for academic scientists to investigate, and so unexplained reports have not received the scrutiny they deserve.
One reason is that most scientists think there is less to most reports than meets the eye, and the few who have dug deeply have mostly debunked the phenomenon. Over half of sightings can be attributed to meteors, fireballs and the planet Venus.
Another reason for the scientific hesitance is that UFOs have been co-opted by popular culture. They are part of a landscape of conspiracy theories that includes accounts of abduction by aliens and crop circles. Scientists worry about their professional reputations, and the association of UFOs with these supernatural stories causes most researchers to avoid the topic.
But some scientists have looked. In 1968, Edward U. Condon at the University of Colorado published the first major academic study of UFO sightings. The Condon Report put a damper on further research when it found that "nothing has come from the study of UFOs in the past 21 years that has added to scientific knowledge."
However, a review in 1998 by a panel led by Peter Sturrock, a professor of applied physics at Stanford University, concluded that some sightings are accompanied by physical evidence that deserves scientific study. Sturrock also surveyed professional astronomers and found that nearly half thought UFOs were worthy of scientific study, with higher interest among younger and more well-informed astronomers.
If astronomers are intrigued by UFOs – and believe some cases deserve study with academic rigor – what's holding them back? A history of mistrust between ufologists and scientists hasn't helped. And while UFO research has employed some of the tools of the scientific method, it has not had the core of skeptical, evidence-based reasoning that demarcates science from pseudoscience.
A search of 90,000 recent and current grants awarded by the National Science Foundation finds none addressing UFOs or related phenomena. I've served on review panels for 35 years, and can imagine the reaction if such a proposal came up for peer review: raised eyebrows and a quick vote not to fund.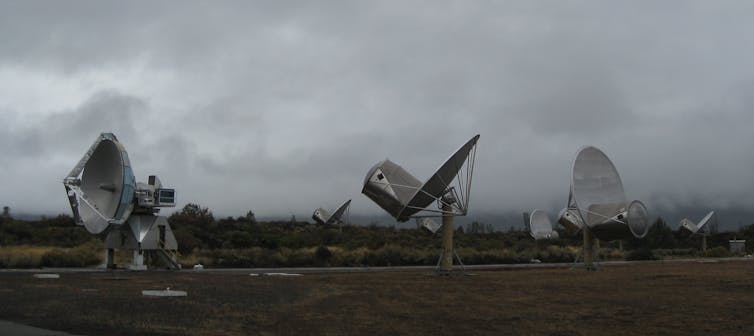 Radio telescopes like the Allen Telescope Array seen here scan the sky looking for signs of intelligent life in the universe. (Brewbooks/Wikimedia Commons, CC BY-SA)
A decadeslong search for aliens
While the scientific community has almost entirely avoided engaging with UFOs, a much more mainstream search for intelligent aliens and their technology has been going on for decades.
The search is motivated by the fact that astronomers have, to date, discovered over 4,400 planets orbiting other stars. Called exoplanets, some are close to the Earth's mass and at just the right distance from their stars to potentially have water on their surfaces – meaning they might be habitable.
Astronomers estimate that there are 300 million habitable worlds in the Milky Way galaxy alone, and each one is a potential opportunity for life to develop and for intelligence and technology to emerge. Indeed, most astronomers think it very unlikely that humans are the only or the first advanced civilization.
This confidence has fueled an active search for extraterrestrial intelligence, known as SETI. It has been unsuccessful so far. As a result, researchers have recast the question "Are we alone?" to "Where are the aliens?" The absence of evidence for intelligent aliens is called the Fermi paradox. First articulated by the physicist Enrico Fermi, it's a paradox because advanced civilizations should be spread throughout the galaxy, yet we see no sign of their existence.
The SETI activity has not been immune from scientists' criticism. It was starved of federal funding for decades and recently has gotten most of its support from private sources. However, in 2020, NASA resumed funding for SETI, and the new NASA administrator wants researchers to pursue the topic of UFOs.
In this context, the intelligence report is welcome. The report draws few concrete conclusions about UFOs and avoids any reference to aliens or extraterrestrial spacecraft. However, it notes the importance of destigmatizing UFOs so that more pilots report what they see. It also sets a goal of moving from anecdotal observations to standardized and scientific data collection. Time will tell if this is enough to draw scientists into the effort, but the transparency to publish the report at all reverses a long history of secrecy surrounding U.S. government reports on UFOs.
I don't see any convincing evidence of alien spacecraft, but as a curious scientist, I hope the subset of UFO sightings that are truly unexplained gets closer study. Scientists are unlikely to weigh in if their skepticism generates attacks from "true believers" or they get ostracized by their colleagues. Meanwhile, the truth is still out there.
This article has been updated to clarify that the report was produced by the Office of the Director of National Intelligence.
Chris Impey, University Distinguished Professor of Astronomy, University of Arizona
This article is republished from The Conversation under a Creative Commons license. Read the original article.
A global survey shows the majority of countries favor Android over iPhone.
Strange Maps
When Android was launched soon after Apple's own iPhone, Steve Jobs threatened to "destroy" it.
Ever since, and across the world, the rivalry between both systems has animated users.
Now the results are in: worldwide, consumers clearly prefer one side — and it's not Steve Jobs'.
A woman on her phone in Havana, Cuba. Mobile phones have become ubiquitous the world over — and so has the divide between Android and iPhone users.Credit: Yamil Lage / AFP via Getty Images.
Us versus them: it's the archetypal binary. It makes the world understandable by dividing it into two competing halves: labor against capital, West against East, men against women.
These maps are the first to show the dividing lines between one of the world's more recent binaries: Android vs. Apple. Published by Electronics Hub, they are based on a qualitative analysis of almost 350,000 tweets worldwide that presented positive, neutral, and negative attitudes toward Android and/or Apple.
Steve Jobs wanted to go "thermonuclear"
Feelings between Android and Apple were pretty tribal from the get-go. It was Steve Jobs himself who said, when Google rolled out Android a mere ten months after Apple launched the iPhone, "I'm going to destroy Android, because it's a stolen product. I'm willing to go thermonuclear war on this."
Buying a phone is like picking a side in the eternal feud between the Hatfields and the McCoys. Each choice for automatically comes with an in-built arsenal of arguments against.
If you are an iPhone person, you appreciate the sleekness and simplicity of its design, and you are horrified by the confusing mess that is the Android operating system. If you are an Android aficionado, you pity the iPhone user, a captive of an overly expensive closed ecosystem, designed to extract money from its users.
Even without resorting to those extremes, many of us will recognize which side of the dividing line that we are on. Like the American Civil War, that line runs through families and groups of friends, but that would be a bit confusing to chart geographically. To un-muddle the information, these maps zoom out to state and country level.
If the contest is based on the number of countries, Android wins. In all, 74 of the 142 countries surveyed prefer Android (in green on the map). Only 65 favor Apple (colored grey). That's a 52/48 split, which may not sound like a decisive vote, but it was good enough for Boris Johnson to get Brexit done (after he got breakfast done, of course).
And yes, math-heads: 74 plus 65 is three short of 142. Belarus, Fiji, and Peru (in yellow on the map) could not decide which side to support in the Global Phone War.
What about the United States, home of both the Android and the iPhone? Another victory for the former, albeit a slightly narrower one: 30.16 percent of the tweets about Android were positive versus just 29.03 percent of the ones about Apple.

United States: Texas surrounded!
Credit: Electronics Hub
There can be only one winner per state, though, and that leads to this preponderance of Android logos. Frankly, it's a relief to see a map showing a visceral divide within the United States that is not the coasts versus the heartland.
Apple dominates in 19 states: a solid Midwestern bloc, another of states surrounding Texas, the Dakotas and California, plus North Carolina, New Hampshire, and Rhode Island.
And that's it. The other 32 are the United States of Android. You can drive from Seattle to Miami without straying into iPhone territory. But no stopovers in Dallas or Houston – both are behind enemy lines!
North America: strongly leaning toward Android
Credit: Electronics Hub
Only eight of North America's 21 countries surveyed fall into the Apple category.

The U.S. and Canada lean Android, while Mexico goes for the iPhone.
Central America is divided, but here too Android wins hands down, 5-2.
Europe: Big Five divided
Credit: Electronics Hub
In Europe, Apple wins, with 20 countries preferring the iPhone, 17 going for Android, and Belarus sitting on the fence.

Of Western Europe's Big Five markets, three (UK, Germany, Spain) are pro-Android, and two (France, Italy) are pro-Apple.
Czechia and Slovakia are an Apple island in the Android sea that is Central Europe. Glad to see there is still something the divorcees can agree on.
South America: almost even
Credit: Electronics Hub
In South America, the divide is almost even.

Five countries prefer Android, four Apple, and one is undecided.
In Peru, both Android- and Apple-related tweets were 25 percent positive.
Africa: watch out for Huawei
Credit: Electronics Hub
In Africa, Android wins by 17 countries versus Apple's 15.

There's a solid Android bloc running from South Africa via DR Congo all the way to Ethiopia.
iPhone countries are scattered throughout the north (Algeria), west (Guinea), east (Somalia), and south (Namibia).
Huawei — increasingly popular across the continent — could soon dramatically change the picture in Africa. Currently still running on Android, the Chinese phone manufacturer has just launched its own operating system, called Harmony.
Middle East: Iran vs. Saudi Arabia (again)
Credit: Electronics Hub
In the Middle East and Central Asia, Android wins 8 countries to Apple's 6.

But it's complicated. One Turkish tweeter wondered how it is that iPhones seem more popular in the Asian half of Istanbul, while Android phones prevailed in the European part of the city.
The phone divide matches up with the region's main geopolitical one: Iran prefers Android, Saudi Arabia the iPhone.
Asia-Pacific: Apple on the periphery
Credit: Electronics Hub
Another wafer-thin majority for Android in the Asia-Pacific region: 13 countries versus 12 for Apple — and one abstention (Fiji).

The two giants of the Asian mainland, India and China, are both Android countries. Apple countries are on the periphery.
And if India is Android, its rival Pakistan must be Apple. Same with North and South Korea.
Experts point to the fact that both operating systems are becoming more alike with every new generation as a potential resolution to the conflict. But as any student of human behavior will confirm: smaller differences will only exacerbate the rivalry between both camps.


Maps taken from Electronics Hub, reproduced with kind permission.
Strange Maps #1096
Got a strange map? Let me know at strangemaps@gmail.com.
Gain-of-function mutation research may help predict the next pandemic — or, critics argue, cause one.
Coronavirus
This article was originally published on our sister site, Freethink.
"I was intrigued," says Ron Fouchier, in his rich, Dutch-accented English, "in how little things could kill large animals and humans."
It's late evening in Rotterdam as darkness slowly drapes our Skype conversation.
This fascination led the silver-haired virologist to venture into controversial gain-of-function mutation research — work by scientists that adds abilities to pathogens, including experiments that focus on SARS and MERS, the coronavirus cousins of the COVID-19 agent.
If we are to avoid another influenza pandemic, we will need to understand the kinds of flu viruses that could cause it. Gain-of-function mutation research can help us with that, says Fouchier, by telling us what kind of mutations might allow a virus to jump across species or evolve into more virulent strains. It could help us prepare and, in doing so, save lives.
Many of his scientific peers, however, disagree; they say his experiments are not worth the risks they pose to society.
A virus and a firestorm
The Dutch virologist, based at Erasmus Medical Center in Rotterdam, caused a firestorm of controversy about a decade ago, when he and Yoshihiro Kawaoka at the University of Wisconsin-Madison announced that they had successfully mutated H5N1, a strain of bird flu, to pass through the air between ferrets, in two separate experiments. Ferrets are considered the best flu models because their respiratory systems react to the flu much like humans.
The mutations that gave the virus its ability to be airborne transmissible are gain-of-function (GOF) mutations. GOF research is when scientists purposefully cause mutations that give viruses new abilities in an attempt to better understand the pathogen. In Fouchier's experiments, they wanted to see if it could be made airborne transmissible so that they could catch potentially dangerous strains early and develop new treatments and vaccines ahead of time.
The problem is: their mutated H5N1 could also cause a pandemic if it ever left the lab. In Science magazine, Fouchier himself called it "probably one of the most dangerous viruses you can make."
Just three special traits
Recreated 1918 influenza virionsCredit: Cynthia Goldsmith / CDC / Dr. Terrence Tumpey / Public domain via Wikipedia
For H5N1, Fouchier identified five mutations that could cause three special traits needed to trigger an avian flu to become airborne in mammals. Those traits are (1) the ability to attach to cells of the throat and nose, (2) the ability to survive the colder temperatures found in those places, and (3) the ability to survive in adverse environments.

A minimum of three mutations may be all that's needed for a virus in the wild to make the leap through the air in mammals. If it does, it could spread. Fast.
Fouchier calculates the odds of this happening to be fairly low, for any given virus. Each mutation has the potential to cripple the virus on its own. They need to be perfectly aligned for the flu to jump. But these mutations can — and do — happen.
"In 2013, a new virus popped up in China," says Fouchier. "H7N9."
H7N9 is another kind of avian flu, like H5N1. The CDC considers it the most likely flu strain to cause a pandemic. In the human outbreaks that occurred between 2013 and 2015, it killed a staggering 39% of known cases; if H7N9 were to have all five of the gain-of-function mutations Fouchier had identified in his work with H5N1, it could make COVID-19 look like a kitten in comparison.
H7N9 had three of those mutations in 2013.
Gain-of-function mutation: creating our fears to (possibly) prevent them
Flu viruses are basically eight pieces of RNA wrapped up in a ball. To create the gain-of-function mutations, the research used a DNA template for each piece, called a plasmid. Making a single mutation in the plasmid is easy, Fouchier says, and it's commonly done in genetics labs.
If you insert all eight plasmids into a mammalian cell, they hijack the cell's machinery to create flu virus RNA.
"Now you can start to assemble a new virus particle in that cell," Fouchier says.
One infected cell is enough to grow many new virus particles — from one to a thousand to a million; viruses are replication machines. And because they mutate so readily during their replication, the new viruses have to be checked to make sure it only has the mutations the lab caused.
The virus then goes into the ferrets, passing through them to generate new viruses until, on the 10th generation, it infected ferrets through the air. By analyzing the virus's genes in each generation, they can figure out what exact five mutations lead to H5N1 bird flu being airborne between ferrets.
And, potentially, people.
"This work should never have been done"
The potential for the modified H5N1 strain to cause a human pandemic if it ever slipped out of containment has sparked sharp criticism and no shortage of controversy. Rutgers molecular biologist Richard Ebright summed up the far end of the opposition when he told Science that the research "should never have been done."
"When I first heard about the experiments that make highly pathogenic avian influenza transmissible," says Philip Dormitzer, vice president and chief scientific officer of viral vaccines at Pfizer, "I was interested in the science but concerned about the risks of both the viruses themselves and of the consequences of the reaction to the experiments."
In 2014, in response to researchers' fears and some lab incidents, the federal government imposed a moratorium on all GOF research, freezing the work.
Some scientists believe gain-of-function mutation experiments could be extremely valuable in understanding the potential risks we face from wild influenza strains, but only if they are done right. Dormitzer says that a careful and thoughtful examination of the issue could lead to processes that make gain-of-function mutation research with viruses safer.
But in the meantime, the moratorium stifled some research into influenzas — and coronaviruses.
The National Academy of Science whipped up some new guidelines, and in December of 2017, the call went out: GOF studies could apply to be funded again. A panel formed by Health and Human Services (HHS) would review applications and make the decision of which studies to fund.
As of right now, only Kawaoka and Fouchier's studies have been approved, getting the green light last winter. They are resuming where they left off.
Pandora's locks: how to contain gain-of-function flu
Here's the thing: the work is indeed potentially dangerous. But there are layers upon layers of safety measures at both Fouchier's and Kawaoka's labs.
"You really need to think about it like an onion," says Rebecca Moritz of the University of Wisconsin-Madison. Moritz is the select agent responsible for Kawaoka's lab. Her job is to ensure that all safety standards are met and that protocols are created and drilled; basically, she's there to prevent viruses from escaping. And this virus has some extra-special considerations.
The specific H5N1 strain Kawaoka's lab uses is on a list called the Federal Select Agent Program. Pathogens on this list need to meet special safety considerations. The GOF experiments have even more stringent guidelines because the research is deemed "dual-use research of concern."
There was debate over whether Fouchier and Kawaoka's work should even be published.
"Dual-use research of concern is legitimate research that could potentially be used for nefarious purposes," Moritz says. At one time, there was debate over whether Fouchier and Kawaoka's work should even be published.
While the insights they found would help scientists, they could also be used to create bioweapons. The papers had to pass through a review by the U.S. National Science Board for Biosecurity, but they were eventually published.
Intentional biowarfare and terrorism aside, the gain-of-function mutation flu must be contained even from accidents. At Wisconsin, that begins with the building itself. The labs are specially designed to be able to contain pathogens (BSL-3 agricultural, for you Inside Baseball types).
They are essentially an airtight cement bunker, negatively pressurized so that air will only flow into the lab in case of any breach — keeping the viruses pushed in. And all air in and out of the lap passes through multiple HEPA filters.
Inside the lab, researchers wear special protective equipment, including respirators. Anyone coming or going into the lab must go through an intricate dance involving stripping and putting on various articles of clothing and passing through showers and decontamination.
And the most dangerous parts of the experiment are performed inside primary containment. For example, a biocontainment cabinet, which acts like an extra high-security box, inside the already highly-secure lab (kind of like the radiation glove box Homer Simpson is working in during the opening credits).
"Many people behind the institution are working to make sure this research can be done safely and securely." — REBECCA MORITZ
The Federal Select Agent program can come and inspect you at any time with no warning, Moritz says. At the bare minimum, the whole thing gets shaken down every three years.
There are numerous potential dangers — a vial of virus gets dropped; a needle prick; a ferret bite — but Moritz is confident that the safety measures and guidelines will prevent any catastrophe.
"The institution and many people behind the institution are working to make sure this research can be done safely and securely," Moritz says.
No human harm has come of the work yet, but the potential for it is real.
"Nature will continue to do this"
They were dead on the beaches.
In the spring of 2014, another type of bird flu, H10N7, swept through the harbor seal population of northern Europe. Starting in Sweden, the virus moved south and west, across Denmark, Germany, and the Netherlands. It is estimated that 10% of the entire seal population was killed.
The virus's evolution could be tracked through time and space, Fouchier says, as it progressed down the coast. Natural selection pushed through gain-of-function mutations in the seals, similarly to how H5N1 evolved to better jump between ferrets in his lab — his lab which, at the time, was shuttered.
"We did our work in the lab," Fouchier says, with a high level of safety and security. "But the same thing was happening on the beach here in the Netherlands. And so you can tell me to stop doing this research, but nature will continue to do this day in, day out."
Critics argue that the knowledge gained from the experiments is either non-existent or not worth the risk; Fouchier argues that GOF experiments are the only way to learn crucial information on what makes a flu virus a pandemic candidate.
"If these three traits could be caused by hundreds of combinations of five mutations, then that increases the risk of these things happening in nature immensely," Fouchier says.
"With something as crucial as flu, we need to investigate everything that we can," Fouchier says, hoping to find "a new Achilles' heel of the flu that we can use to stop the impact of it."