How to let go of pointless possessions, in 6 easy steps
It's almost time for spring cleaning.
Gretchen Rubin
Gretchen Rubin is the author of many books, including the block-buster New York Times bestsellers The Four Tendencies, Better Than Before, and The Happiness Project. She also has a top-ranked, award-winning podcast, Happier with Gretchen Rubin, and a popular blog, gretchenrubin.com. She lives in New York City with her husband and two daughters.
05 March, 2019
GRETCHEN RUBIN: When people ask me for some ideas about how to approach clearing clutter, there are some that come up over and over. Now, I have a lot of ideas. Some work for some people and not for others, so nothing's universal, but there are some that people seem to find particularly helpful that really do strike a chord. And one is the ex factor. So this is when you're trying to imagine an outfit or, you know, a shirt or a skirt or a pair of pants. Ask yourself, if I was wearing this item and I ran into my ex on the street, would I feel good that I was wearing this item, or would I really wish that I was wearing something else? And if it fails the ex factor test, it's probably something that you can give away.
Another thing to keep in mind when you're clearing clutter is to think about other people. I mean, imagine far in the future, you're gone, your stuff is still there. And everybody's arriving at your place and having to deal with your stuff. Don't force other people to deal with your clutter. Think about it now. Like, are they going to want to deal with this broken bread maker, or can you take care of that now? Should you go through all those paperbacks that are falling into pieces now, or should you wait for somebody else to have to do it once you're gone?
One really helpful thing to do is to create a mystery box, because we've all had this experience where, like, there's a cord, but what is it a cord to? Or there's an attachment to the vacuum cleaner. Is it important? Is it not important? In my family, it's remote controls. We have all of these kind of loose remote controls floating around. And I'm like, I don't even know exactly what it controls, other than it controls something remotely. But what is it? I don't know. But they do feel important. They often look important. And so we can be reluctant to get rid of them. One thing you can do is you can create a box and put everything in there. If you're not sure exactly if it's useful, if it's necessary, put it in the box. So if you're all of a sudden looking for a cord, you can think, ah, I bet I put it in the box. Put the date on the box when you start it, and after a year, if you haven't gone in there to get anything out, well, then you can get rid of everything in the box.
One of my favorite clutter clearing tips is something that I figured out for myself, because I noticed that sometimes I'd be, like, walking through my house or looking through a closet or a cupboard, and I would think, should I get rid of this? And I would ponder it, and then I'd be like, mm, I guess I'll keep it. And then some time would go by, and then I'd find myself walking by and I'd think, eh, do I really need this? And then, like, well, I think I'll keep it. And now I'm like, probably I should have gotten rid of it the first time it occurred to me, but now, if it's occurred to me three times that I should toss something, recycle something, or give something away, I say I'm ready to let go of that thing. Three strikes, you're out.
One thing to think about as you're clearing clutter is can you put the spaces in your home to their correct use. Research shows that about 25% of people in the United States don't use their garage because they can't get their car in. They're using their garage for storage. And similarly, people have sun porches which are full of junk. They have rooms that could be libraries or music rooms or guest rooms or yoga rooms or meditation rooms or solariums. They could be anything, except they somehow become a junk room. So if you have a room in your house that's being used not for an idea that you want it to be used for that, or maybe it's supposed to be dedicated to an entirely different purpose, ask yourself, would it make us happier as a household if we actually could dine in our dining room, or actually put our car in our garage? Because often, when we get rid of everything we don't need, don't use, don't love, then we open up these spaces for a use that's actually much more satisfying.
One of my favorite tips about how to clear clutter and create outer order is the one-minute rule. And I have to say, for my sister Elizabeth, who's the co-host of my Happier podcast, this is the rule that she says has helped her the most. So the one-minute rule is that, if there's something that you can do in less than a minute, do it without delay. So if you can print something out and file it and delete the email, if you can hang up your coat, if you can put something in the garbage instead of just, like, throwing it on the floor or leaving it next to your computer on your desk, go ahead and do it. And what this does is that, in these little, tiny increments of time you know, so you're not having to spend a lot of time, energy, or money on clearing clutter just in these little interstices of your life, you're getting rid of sort of that scum on the surface of life, those little tiny tasks that are inconsequential on their own, but they build up. And we've all had the feeling of walking into an office or walking to your desk or getting in your car or walking into your bedroom and thinking, oh my gosh, I want to walk right out again, because I just see all this stuff I have to claw my way through. The one-minute rule keeps these things from accumulating. And that just gives us a much richer sense of optimism and energy, and just more space to move around as we go through our day.
The "ex-factor test" is imagining wearing an outfit and determining whether you'd feel good in it if you saw your ex on the street.
Another tip is to place stray accessories in a box and determine whether they are handy in your everyday life. If not, especially after a long period of time, get rid of the items.
If there's something you can do in less than a minute that will make your life easier in the long run, do it immediately. "You're getting rid of the scum on the surface of life," says Rubin about doing so.
Malcolm Gladwell teaches "Get over yourself and get to work" for Big Think Edge.
Big Think Edge
Learn to recognize failure and know the big difference between panicking and choking.

At Big Think Edge, Malcolm Gladwell teaches how to check your inner critic and get clear on what failure is.

Subscribe to Big Think Edge before we launch on March 30 to get 20% off monthly and annual memberships.
It turns out, that tattoo ink can travel throughout your body and settle in lymph nodes.
17th August 1973: An American tattoo artist working on a client's shoulder. (Photo by F. Roy Kemp/BIPs/Getty Images)
popular
In the slightly macabre experiment to find out where tattoo ink travels to in the body, French and German researchers recently used synchrotron X-ray fluorescence in four "inked" human cadavers — as well as one without. The results of their 2017 study? Some of the tattoo ink apparently settled in lymph nodes.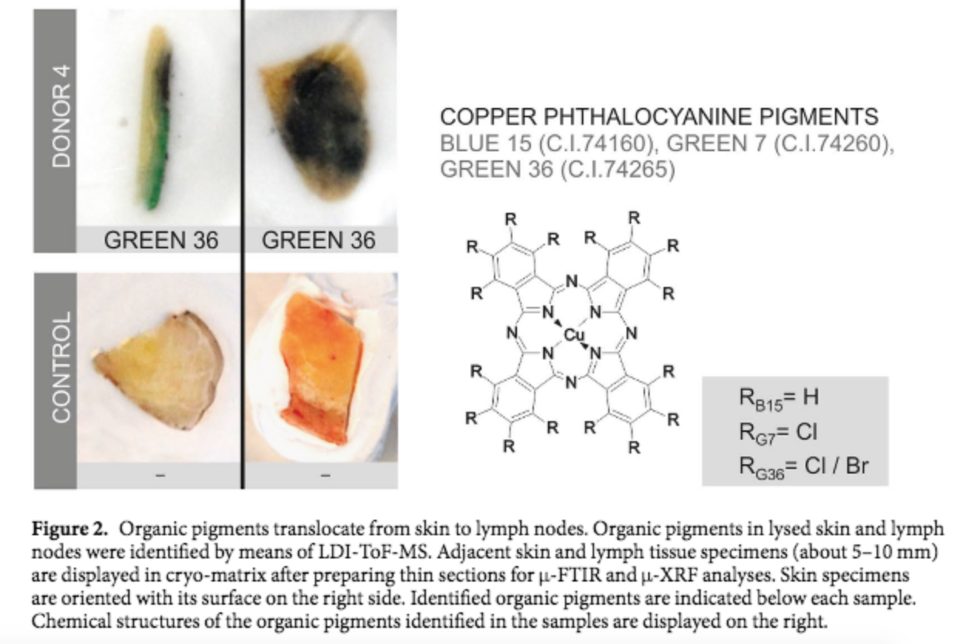 Image from the study.
As the authors explain in the study — they hail from Ludwig Maximilian University of Munich, the European Synchrotron Radiation Facility, and the German Federal Institute for Risk Assessment — it would have been unethical to test this on live animals since those creatures would not be able to give permission to be tattooed.
Because of the prevalence of tattoos these days, the researchers wanted to find out if the ink could be harmful in some way.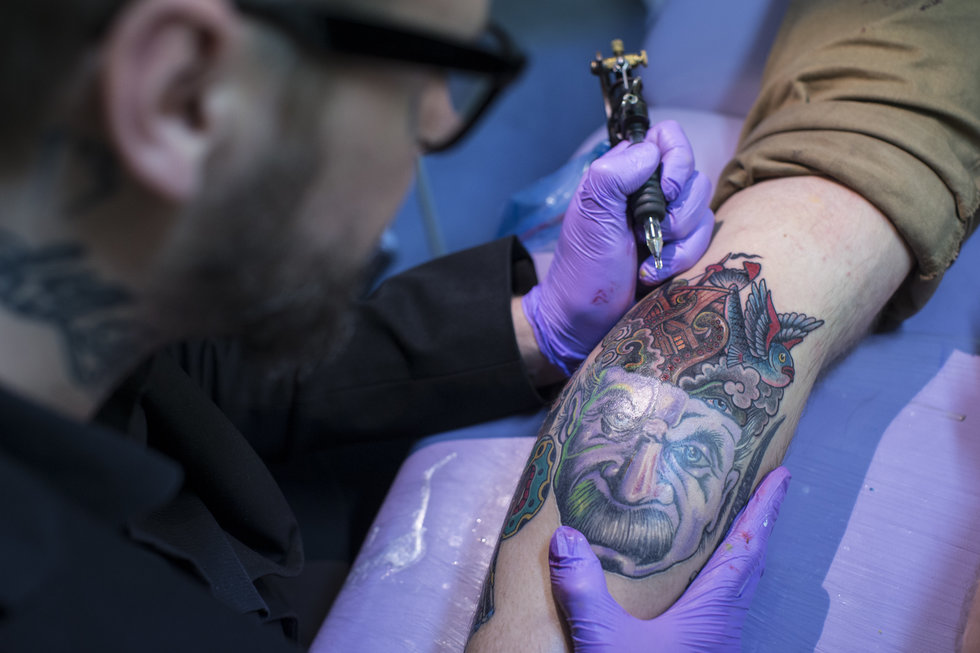 "The increasing prevalence of tattoos provoked safety concerns with respect to particle distribution and effects inside the human body," they write.
It works like this: Since lymph nodes filter lymph, which is the fluid that carries white blood cells throughout the body in an effort to fight infections that are encountered, that is where some of the ink particles collect.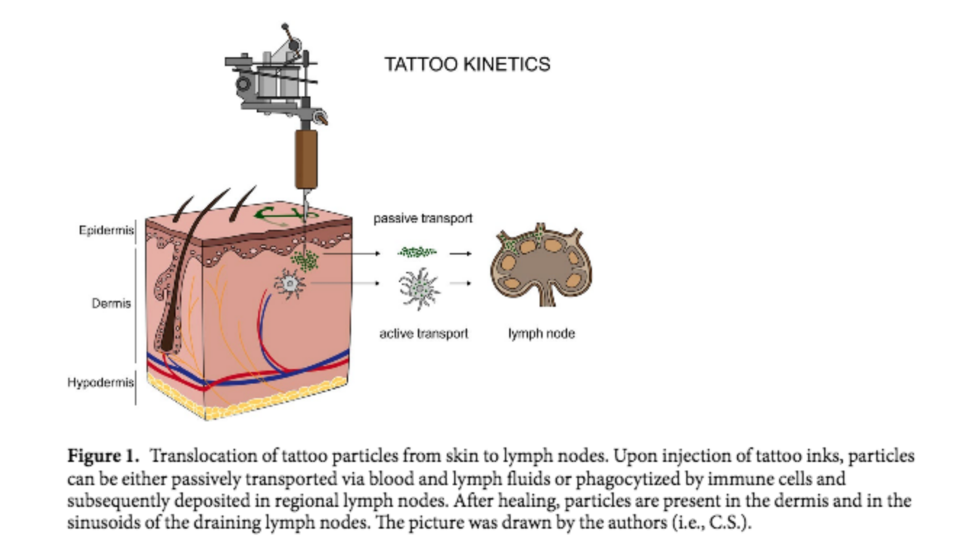 Image by authors of the study.
Titanium dioxide appears to be the thing that travels. It's a white tattoo ink pigment that's mixed with other colors all the time to control shades.
The study's authors will keep working on this in the meantime.
"In future experiments we will also look into the pigment and heavy metal burden of other, more distant internal organs and tissues in order to track any possible bio-distribution of tattoo ink ingredients throughout the body. The outcome of these investigations not only will be helpful in the assessment of the health risks associated with tattooing but also in the judgment of other exposures such as, e.g., the entrance of TiO2 nanoparticles present in cosmetics at the site of damaged skin."
It's one of the most consistent patterns in the unviverse. What causes it?
Videos
Spinning discs are everywhere – just look at our solar system, the rings of Saturn, and all the spiral galaxies in the universe.
Spinning discs are the result of two things: The force of gravity and a phenomenon in physics called the conservation of angular momentum.
Gravity brings matter together; the closer the matter gets, the more it accelerates – much like an ice skater who spins faster and faster the closer their arms get to their body. Then, this spinning cloud collapses due to up and down and diagonal collisions that cancel each other out until the only motion they have in common is the spin – and voila: A flat disc.
Big think's weekly newsletter.
Get smarter faster from the comfort of your inbox.
See our newsletter privacy policy
here
Most Popular
Most Recent
Big think's weekly newsletter.
Get smarter faster from the comfort of your inbox.
See our newsletter privacy policy
here
© Copyright 2007-2018 & BIG THINK, BIG THINK EDGE,
SMARTER FASTER trademarks owned by The Big Think, Inc. All rights reserved.