How 'The Goblin' may unravel the mystery of Planet Nine
Around Halloween in 2015, astronomers discovered 'The Goblin'. Now, it's leading us to what some call Planet X.

Michelle Thaller
Dr. Michelle Thaller is an astronomer who studies binary stars and the life cycles of stars. She is Assistant Director of Science Communication at NASA. She went to college at Harvard University, completed a post-doctoral research fellowship at the California Institute of Technology (Caltech) in Pasadena, Calif. then started working for the Jet Propulsion Laboratory's (JPL) Spitzer Space Telescope. After a hugely successful mission, she moved on to NASA's Goddard Space Flight Center (GSFC), in the Washington D.C. area. In her off-hours often puts on about 30lbs of Elizabethan garb and performs intricate Renaissance dances. For more information, visit NASA.
31 October, 2018
MICHELLE THALLER: It may surprise you to know that we are still learning about our own solar system; even the question about how many planets are there is kind of a funny one—take Pluto.
Pluto was classified as a dwarf planet, and there are other dwarf planets as well. In fact, the largest of the asteroids, Ceres, is now classified as a dwarf planet. A lot of these dwarf planets actually exist farther beyond the orbit of Pluto, and we're just finding them now. And one of my favorite discoveries recently has been something called The Goblin. Now, The Goblin is a dwarf planet—it's actually much smaller than Pluto; it's only about a fifth of the diameter of Pluto, and it is really, really far out there. It's in a highly elongated orbit; the closest it ever gets is about twice as far away as Pluto is, and the farthest it gets is about 2,300 times the distance from the Earth to the Sun; it goes way, way, way out there. This orbit takes it about 40,000 years to go once around the Sun. It's really, really incredible. It doesn't surprise me that these objects are only recently being discovered because most of them are so distant. They are so faint, and if they're at the very far part of their orbit they're moving very, very slowly—very, very hard to detect.
Now, The Goblin is really interesting in a number of ways. One of the things that I love about it is that it does actually seem to hint that there may be something larger out there—we've been noticing this for the last couple of years. These distant icy bodies are called Kuiper Belt objects, and often they're on elongated orbits that come close to the Sun—and by close I mean about the orbit of Pluto and then much, much farther away into the very outer reaches of the solar system. We now know of dozens of these objects, and there are probably many more out there we haven't discovered. The interesting thing is we began to observe how their orbits were aligned in our solar system, and there's something called perihelion, which is the closest pass an object makes to the Sun. And amazingly, all of these objects all over this sky seem to have perihelions—closest approaches to the Sun—that were beautifully lined up together. There is no reason for that to be the case. If they were independent orbiting bodies there's no way their closest approach to the Sun should match. So the idea is there's a larger body out there somewhere, a larger planet, and as it orbits it lines up, kind of shepherds all these smaller objects into its orbit. The evidence for this really is pretty compelling. We don't know of any other way to explain the lined up orbits of these Kuiper Belt objects. So then the question is: Where is this bigger planet?
Our estimates put it at least three to five times the mass of the Earth, maybe even a little bit more massive than that. It could be something on the order of the size of Neptune. This is a big planet we're talking about, and honestly, it's a little embarrassing that we've missed an entire big planet in our solar system. We are now so good at detecting planets we can see them around other stars, so how is it we've missed this planet? Well, if it really is very far away from us in its orbit right now; even a big planet would be tiny to the most powerful telescopes, so we could have missed it. It also would be moving so slowly that maybe we didn't notice that it was a planet. Maybe people assumed it was a distant star. So telescopes all over the world are scanning the sky for any sense that there's an object out there moving very, very slowly that could be evidence of this giant planet.
Judging from the way these orbits are lined up I think it is very likely there could be a big planet out there, and I am going to be really happy when we have something else to add to our knowledge of the solar system.
There's also something kind of wonderful happening January 1st of 2019, it's coming up pretty soon—and that is that we're going to visit one of these Kuiper Belt objects for the very first time. The New Horizons spacecraft a couple years ago flew by Pluto. Hopefully, you remember the beautiful images of Pluto that have returned. Then we aimed it at one of these distant Kuiper Belt objects. We call it MU69, or it's been nicknamed Ultima Thule, which means "farthest frontier."
Now, hopefully, you remember the New Horizons spacecraft from its spectacular flyby of Pluto a couple of years ago. So after it flew by Pluto we aimed it even farther out to encounter one of these distant icy objects. It's the first time we will ever see what one of these objects is like. After January we will finally have a picture of a part of the solar system we've never seen before.
'The Goblin' is a dwarf planet known more formally as '2015 TG387'. It was nicknamed The Goblin because of the 'TG' in its title, and because of the time of year it was discovered: Halloween.
The Goblin has an extreme orbit: far-flung and elongated. It takes 40,000 years to make a complete orbit around the Sun.
This cosmic anomaly is a clue. Astronomers hypothesize that The Goblin is being pulled into the gravitational field of a 'Super-Earth' planet in our solar system that is believed to exist but has never been seen: the mysterious Planet Nine or Planet X.
Malcolm Gladwell teaches "Get over yourself and get to work" for Big Think Edge.
Big Think Edge
Learn to recognize failure and know the big difference between panicking and choking.

At Big Think Edge, Malcolm Gladwell teaches how to check your inner critic and get clear on what failure is.

Subscribe to Big Think Edge before we launch on March 30 to get 20% off monthly and annual memberships.
It turns out, that tattoo ink can travel throughout your body and settle in lymph nodes.
17th August 1973: An American tattoo artist working on a client's shoulder. (Photo by F. Roy Kemp/BIPs/Getty Images)
popular
In the slightly macabre experiment to find out where tattoo ink travels to in the body, French and German researchers recently used synchrotron X-ray fluorescence in four "inked" human cadavers — as well as one without. The results of their 2017 study? Some of the tattoo ink apparently settled in lymph nodes.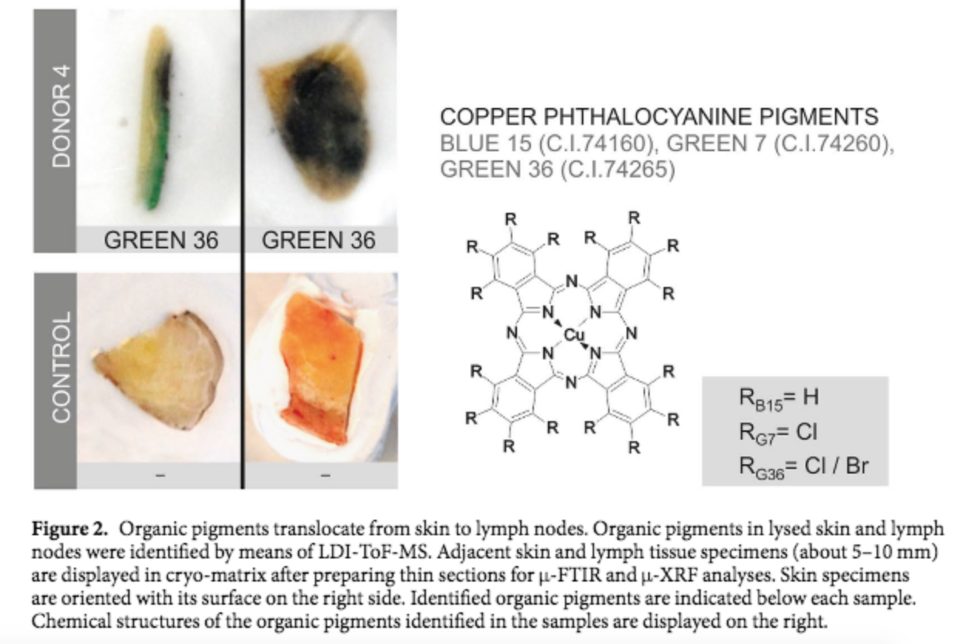 Image from the study.
As the authors explain in the study — they hail from Ludwig Maximilian University of Munich, the European Synchrotron Radiation Facility, and the German Federal Institute for Risk Assessment — it would have been unethical to test this on live animals since those creatures would not be able to give permission to be tattooed.
Because of the prevalence of tattoos these days, the researchers wanted to find out if the ink could be harmful in some way.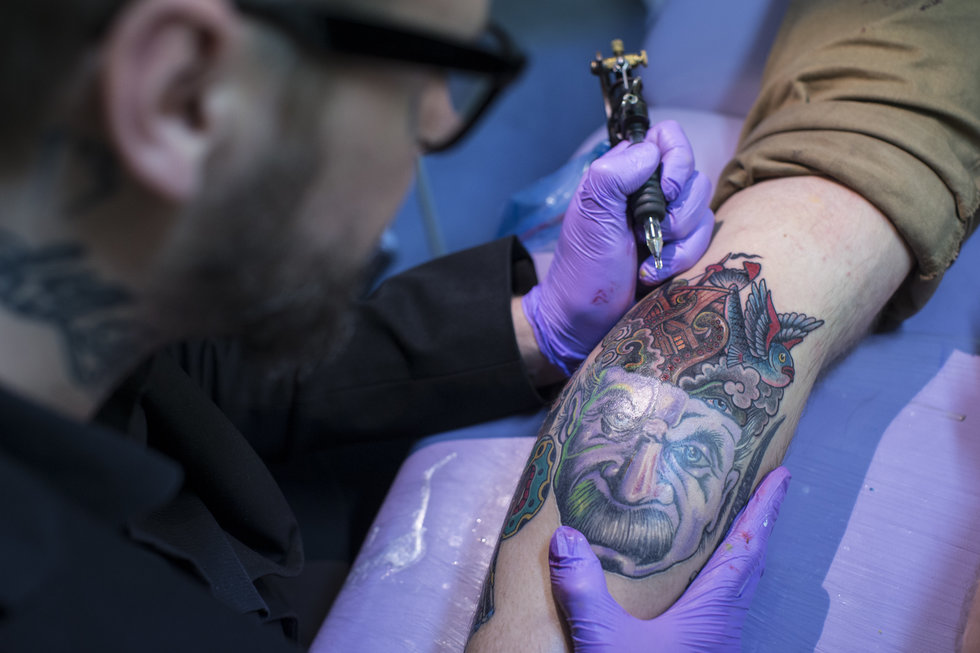 "The increasing prevalence of tattoos provoked safety concerns with respect to particle distribution and effects inside the human body," they write.
It works like this: Since lymph nodes filter lymph, which is the fluid that carries white blood cells throughout the body in an effort to fight infections that are encountered, that is where some of the ink particles collect.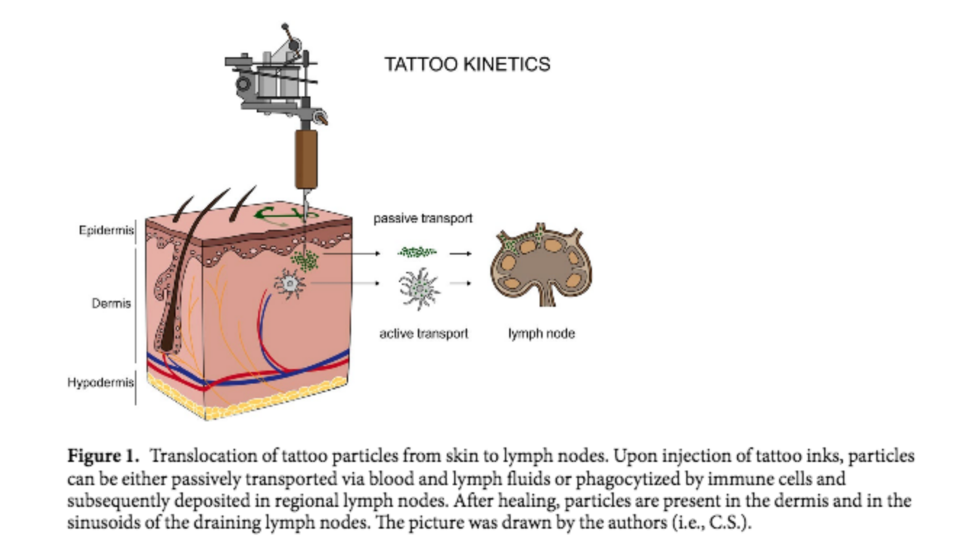 Image by authors of the study.
Titanium dioxide appears to be the thing that travels. It's a white tattoo ink pigment that's mixed with other colors all the time to control shades.
The study's authors will keep working on this in the meantime.
"In future experiments we will also look into the pigment and heavy metal burden of other, more distant internal organs and tissues in order to track any possible bio-distribution of tattoo ink ingredients throughout the body. The outcome of these investigations not only will be helpful in the assessment of the health risks associated with tattooing but also in the judgment of other exposures such as, e.g., the entrance of TiO2 nanoparticles present in cosmetics at the site of damaged skin."
It's one of the most consistent patterns in the unviverse. What causes it?
Videos
Spinning discs are everywhere – just look at our solar system, the rings of Saturn, and all the spiral galaxies in the universe.
Spinning discs are the result of two things: The force of gravity and a phenomenon in physics called the conservation of angular momentum.
Gravity brings matter together; the closer the matter gets, the more it accelerates – much like an ice skater who spins faster and faster the closer their arms get to their body. Then, this spinning cloud collapses due to up and down and diagonal collisions that cancel each other out until the only motion they have in common is the spin – and voila: A flat disc.
Big think's weekly newsletter.
Get smarter faster from the comfort of your inbox.
See our newsletter privacy policy
here
Most Popular
Most Recent
Big think's weekly newsletter.
Get smarter faster from the comfort of your inbox.
See our newsletter privacy policy
here
© Copyright 2007-2018 & BIG THINK, BIG THINK EDGE,
SMARTER FASTER trademarks owned by The Big Think, Inc. All rights reserved.