The secret to gaining the upper hand in negotiations, with a former FBI negotiator
Ex-FBI crisis negotiator Chris Voss explains the golden question that will give you the upper hand in a negotiation.
Chris Voss
Chris Voss is the Founder and CEO of the Black Swan Group Ltd. He has used his many years of experience in international crisis and high stakes negotiations to develop a unique program and team that applies these globally proven techniques to the business world. Prior to 2008, Chris was the was the lead international kidnapping negotiator for the Federal Bureau of Investigation, as well as the FBI's hostage negotiation representative for the National Security Council's Hostage Working Group. During his government career he also represented the U.S. Government at two (2) international conferences sponsored by the G-8 as an expert in kidnapping. Prior to becoming the FBI lead international kidnapping negotiator, Christopher served as the lead Crisis Negotiator for the New York City Division of the FBI. Christopher was a member of the New York City Joint Terrorist Task Force for 14 years. He was the case agent on such cases as TERRSTOP (the Blind Sheikh Case – Sheikh Omar Abdel-Rahman), the TWA Flight 800 catastrophe and negotiated the surrender of the first hostage taker to give up in the Chase Manhattan bank robbery hostage taking.
During Chris's 24 year tenure in the Bureau, he was trained in the art of negotiation by not only the FBI, but Scotland Yard and Harvard Law School. He is also a recipient of the Attorney General's Award for Excellence in Law Enforcement and the FBI Agents Association Award for Distinguished and Exemplary Service. Chris currently teaches business negotiation in the MBA program as an adjunct professor at University of Southern California's Marshall School of Business and at Georgetown University's McDonough School of Business. He has taught business negotiation at Harvard University, guest lectured at The Kellogg School of Management at Northwestern University, The IMD Business School in Lausanne, Switzerland and The Goethe School of Business in Frankfurt, Germany. Since 2009 Christopher has also worked with Insite Security as their Managing Director of the Kidnapping Resolution Practice.
21 July, 2016
Chris Voss: The secret to gaining the upper hand in negotiations is giving the other side the illusion of control. And the illusion of control is typically best given with either questions that begin with the words what or how. Well what and how should be the form of nearly any question where you're trying to gather information. And it's actually one of the ways we say no. The first and best way to say no to anyone is how am I supposed to do that? Now the other side actually has no idea as to the number of things you've done with them at the same time. You conveyed to them you have a problem. It's something that we also referred to as forced empathy because one of the reasons why we exercise tactical empathy is because we want the other side to see us fairly. We want them to see our position; we want them to see the issues we have; we want them to see the constraints that we have.
And when you say to somebody, "How am I supposed to do that?" You make them take a look at your situation before they respond. And they think about it in a number of different ways. And a number of different people I've coached through negotiations who have felt completely helpless, they felt completely taken hostage, in the one instance where a woman thought she was taken hostage to the future and she just wasn't getting paid. They called her up to give her more work and we taught her to say, trained her, counseled her to say, "How in my supposed to do that?" They thought about it for a while and they said, "You're right you can't."
I've noticed that response is not word for word directly responsive to her question, what they responded to was they felt like she said to them, I can't do this any more. I've reached my limit. And it's a way to establish a limit in a way that doesn't back the other side into a corner. You really want to be able to let out no a little bit at a time. And the first way to start letting out no as an answer is how am I supposed to do that? Now ultimately with that question we all imagine that the other side is going to say because I said so or because you have to. That's actually where you ultimately want to be with that question. Because when you say how am I supposed to do that and the other side says because if you want this deal you'll have to, what you've just found out is they've been pushed to the limit on that issue as far as they'll go and that paternal question is, have I gotten everything I could that was on the table?
That's a great way to find out whether or not you've gotten everything you could on that particular term. Because the other side most angry response is because you have to, which is not them walking away. It's not them terminating the deal. It's not them giving you any more of an ultimatum; it's them saying no I've got no more room to give without the negotiations breaking off. So giving the other side the illusion of control while signaling limits, it's a great way to stay in the conversation and find out that you're not leaving anything on the table. I was coaching a real estate negotiation recently and the agent was trying to lease a very expensive home in the Hollywood Hills. And the first time they said to the leasing agent, "How are we supposed to do that," the leasing agent relented on a number of the terms. The conversation continued for a while. They came to another term that was pretty much almost an impasse and the person doing the negotiation says, "How are we supposed to do that?" And the leasing agent said, "If you want to the house you're going to have to do it," which was a confirmation that they've gotten as much as they could've out of that term.
So it's a great way to give the other side the illusion of control. Because many people need to feel like they're in control in a negotiation. And when they feel like they're out of control they're impossible to deal with. So the more you let the other side feel like they're in control the more amenable they are to collaboration. You really don't want people to feel out of control.
Negotiating is hard, and it's even harder when there is something you really want. The stakes are higher, and you may not know how to get the upper hand. Negotiating takes skill, it's something that a person needs to hone over time through practice, so they can carefully judge when to swoop in for a win and when to hold back. It's a delicate, instinctual art. But it can definitely be learned.
---
According to Chris Voss (former FBI crisis negotiator, and founder and CEO of the Black Swan Group), the key to mastering the art of negotiation is empathy. Specifically, it is making the other person empathize with you.
By making someone look at things from your point of view, they have to see what position they're putting you in. All it takes is one golden question, "How am I supposed to do that?"
As Voss states, these could be the most important seven words you ever say in a negotiation. This is going to throw the ball in your opponent's court. They will call the next shot -- while subconsciously seeing the situation from your side of the argument. It's sly genius. They have to understand what you're thinking, and ask themselves if you can actually reasonably do what they expect of you. If they can't come up with an answer or the answer is 'I don't know' - even better. It highlights their unreasonable request, and gives you the chance to speak and gain valuable ground.
This question also gives your negotiating opponent the illusion of control. Many times, especially dealing with employers, people have the need to be in absolute control. Without the Boss in Charge feeling, they will focus on getting the upper hand, which can make them difficult and stubborn. So instead, give them control by appearing submissive, and asking a question that defers to them for wisdom on how you are supposed to do said thing. It's a very simple strategy to get people to see multiple points of view, and force them to empathize with who they are negotiating. Once they empathize, it's harder to ignore your requests.
Chris Voss's book is Never Split the Difference: Negotiating as if Your Life Depended On It.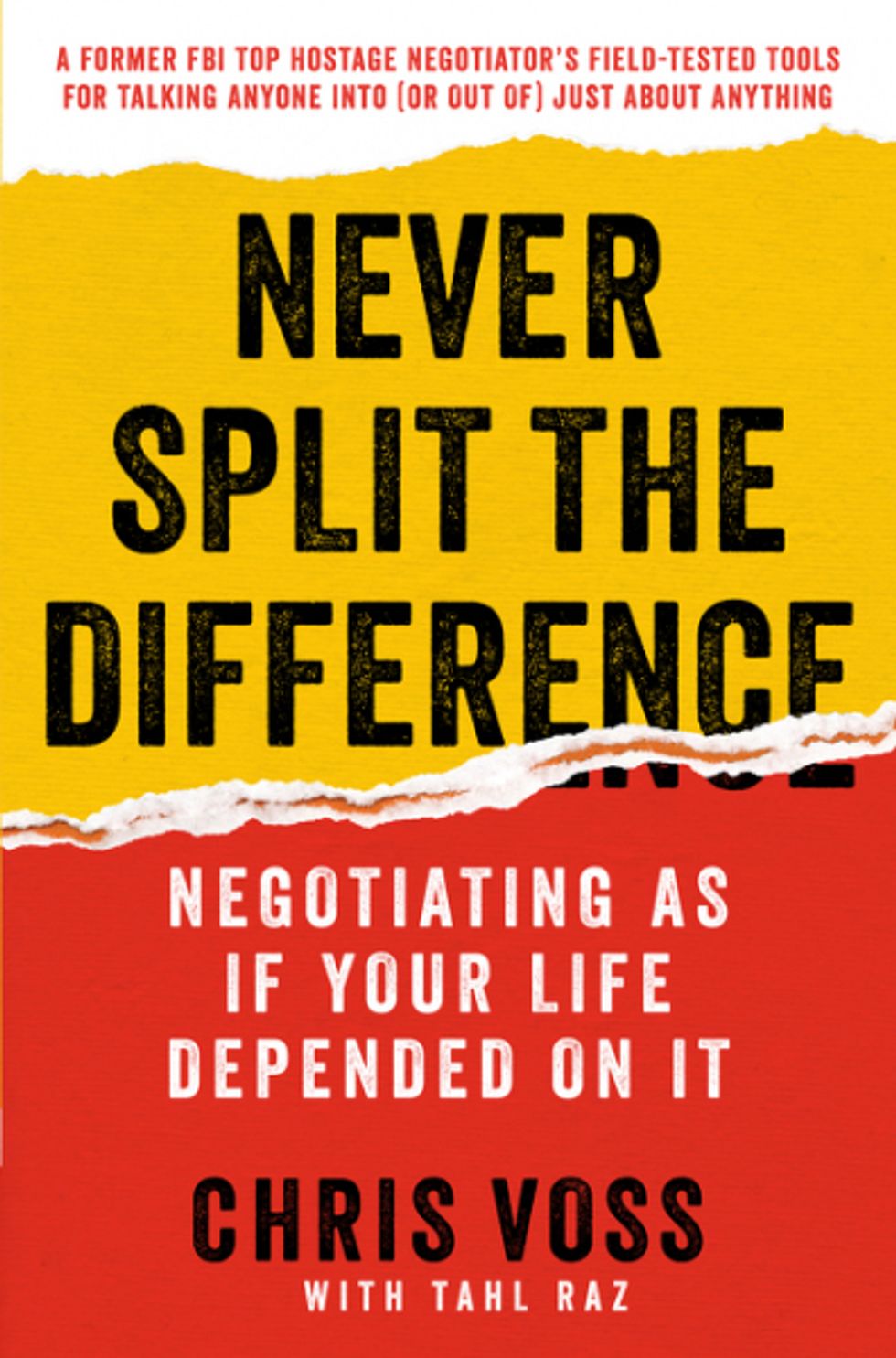 Big ideas.
Once a week.
Subscribe to our weekly newsletter.
Information may not seem like something physical, yet it has become a central concern for physicists. A wonderful new book explores the importance of the "dataome" for the physical, biological, and human worlds.
Credit: agsandrew via Adobe Stock
13-8
The most important current topic in physics relates to a subject that hardly seems physical at all — information, which is central to thermodynamics and perhaps the universe itself.
The "dataome" is the way human beings have been externalizing information about ourselves and the world since we first began making paintings on cave walls.
The dataome is vast and growing everyday, sucking up an ever increasing share of the energy humans produce.
Physics is a field that is supposed to study real stuff. By real, I mean things like matter and energy. Matter is, of course, the kind of stuff you can hold in your hand. Energy may seem a little more abstract, but its reality is pretty apparent, appearing in the form of motion or gravity or electromagnetic fields.
What has become apparent recently, however, is the importance to physics of something that seems somewhat less real: information. From black holes to quantum mechanics to understanding the physics of life, information has risen to become a principal concern of many physicists in many domains. This new centrality of information is why you really need to read astrophysicist Caleb Scharf's new book The Ascent of Information: Books, Bits, Machines, and Life's Unending Algorithms.
Scharf is currently the director of the Astrobiology Program at Columbia University. He is also the author of four other books as well as a regular contributor to Scientific American.
(Full disclosure: Scharf and I have been collaborators on a scientific project involving the Fermi Paradox, so I was a big fan before I read this new book. Of course, the reason why I collaborated with him is because I really like the way he thinks, and his creativity in tackling tough problems is on full display in The Ascent of Information.)
What is the dataome?
In his new book, Scharf is seeking a deeper understanding of what he calls the "dataome." This is the way human beings have been externalizing information about ourselves and the world since we first began making paintings on cave walls. The book opens with a compelling exploration of how Shakespeare's works, which began as scribbles on a page, have gone on to have lives of their own in the dataome. Through reprintings in different languages, recordings of performances, movie adaptations, comic books, and so on, Shakespeare's works are now a permanent part of the vast swirling ensemble of information that constitutes the human dataome.
I found gems in these parts of the book that forced me to put the volume down and stare into space for a time to deal with their impact.
But the dataome does not just live in our heads. Scharf takes us on a proper physicist's journey through the dataome, showing us how information can never be divorced from energy. Your brain needs the chemical energy from food you ate this morning to read, process, and interpret these words. One of the most engaging parts of the book is when Scharf details just how much energy and real physical space our data-hungry world consumes as it adds to the dataome. For example, the Hohhot Data Center in the Inner Mongolia Autonomous Region of China is made of vast "farms" of data processing servers covering 245 acres of real estate. A single application like Bitcoin, Scharf tells us, consumes 7.7 gigawatts per year, equivalent to the output of half a dozen nuclear reactors!
Information is everywhere
But the dataome is not just about energy. Entropy is central to the story as well. Scharf takes the reader through a beautifully crafted discussion of information and the science of thermodynamics. This is where the links between energy, entropy, the limits of useful work, and probability all become profoundly connected to the definition of information.
The second law of thermodynamics tells us that you cannot use all of a given amount of energy to do useful work. Some of that energy must be wasted by getting turned into heat. Entropy is the physicist's way of measuring that waste (which can also be thought of as disorder). Scharf takes the reader through the basic relations of thermodynamics and then shows how entropy became intimately linked with information. It was Claude Shannon's brilliant work in the 1940s that showed how information — bits — could be defined for communication and computation as an entropy associated with the redundancy of strings of symbols. That was the link tying the physical world of physics explicitly to the informational and computational world of the dataome.
The best parts of the book are where Scharf unpacks how information makes its appearance in biology. From the data storage and processing that occurs with every strand of DNA, to the tangled pathways that define evolutionary dynamics, Scharf demonstrates how life is what happens to physics and chemistry when information matters. I found gems in these parts of the book that forced me to put the volume down and stare into space for a time to deal with their impact.
The physics of information
There are a lot of popular physics books out there about black holes and exoplanets and other cool stuff. But right now, I feel like the most important topic in physics relates to a subject that hardly seems physical at all. Information is a relatively new addition to the physics bestiary, making it even more compelling. If you are looking for a good introduction to how that is so, The Ascent of Information is a good place to start.
A new study tested to what extent dogs can sense human deception.
Credit: Adobe Stock / kozorog
Surprising Science
A study of 260 dogs found that, in some cases, dogs can tell when people are lying.
The experiments involved giving dogs information about the location of food.
The majority of the dogs did not follow false suggestions when they knew humans were lying.
Is humanity's best friend catching on to our shenanigans? Researchers at the University of Vienna discovered that dogs can in certain cases know when people are lying.
The scientists carried out a study with hundreds of dogs to determine to what extent dogs could spot deception. The team's new paper, published in Proceedings of the Royal Society B, outlined experiments that tested whether dogs, like humans, have some inner sense of how to assess truthfulness.
As the researchers wrote in their paper, "Among non-primates, dogs (Canis familiaris) constitute a particularly interesting case, as their social environment has been shared with humans for at least 14,000 years. For this reason, dogs have been considered as a model species for the comparative investigation of socio-cognitive abilities." The investigation focused specifically on understanding if dogs were "sensitive to some mental or psychological states of humans."
The experiment
The experiments involved 260 dogs, which were made to listen to advice from a human "communicator" whom they did not know. The human told them which one of two bowls had a treat hidden inside by touching it and saying, "Look, this is very good!" If the dogs took the person's advice, they would get the treat.
Once they established the trust of the dogs, the researchers then complicated the experience by letting dogs watch another human that they did not know transfer the treat from one bowl to another. In some cases, the original communicator would also be present to watch but not always.
The findings revealed that half of the dogs did not follow the advice of the communicator if that person was not present when the food was switched to a different bowl. The dogs had a sense that this human could not have known the true location of the treat. Furthermore, two-thirds of the dogs ignored the human's suggestion if she did see the food switch but pointed to the wrong bowl. The dogs figured out the human was lying to them.
Photos of experiments showing the dog, human communicator, and person hiding the treat. Credit: Lucrezia Lonardo et al / Proceedings of the Royal Society B.
"We thought dogs would behave like children under age five and apes, but now we speculate that perhaps dogs can understand when someone is being deceitful," co-author Ludwig Huber from the University of Vienna told New Scientist. "Maybe they think, 'This person has the same knowledge as me, and is nevertheless giving me the wrong [information].' It's possible they could see that as intentionally misleading, which is lying."
This is not the first time such experiments have been carried out. Previously, children under age five, macaques, and chimps were tested in a similar way. It turned out that children and other animals were more likely than dogs to listen to the advice of the liars. Notably, among the dogs, terriers were found to be more like children and apes, more eagerly following false suggestions.
Evolution proves to be just about as ingenious as Nikola Tesla
Surprising Science
For the first time, scientists developed 3D scans of shark intestines to learn how they digest what they eat.
The scans reveal an intestinal structure that looks awfully familiar — it looks like a Tesla valve.
The structure may allow sharks to better survive long breaks between feasts.
Considering how much sharks are feared by humans, it is a bit of a surprise that scientists don't know much about the predators. For example, until recently, sharks were thought to be solitary creatures searching the seas for food on their own. Now it appears that some sharks are quite social.
Another mystery is how these prehistoric swimming and eating machines digest food. Although scientists have made 2D sketches of captured sharks' digestive systems based on dissections, there is a limit to what can be learned in this way. Professor Adam Summers at University of Washington's Friday Harbor Labs says:
"Intestines are so complex, with so many overlapping layers, that dissection destroys the context and connectivity of the tissue. It would be like trying to understand what was reported in a newspaper by taking scissors to a rolled-up copy. The story just won't hang together."
Summers is co-author of a new study that has produced the first 3D scans of a shark's intestines, which turns out to have a strange, corkscrew structure. What's even more bizarre is that it resembles the amazing one-way valve designed by inventor Nikola Tesla in 1920. The research is published in the journal Proceedings of the Royal Society B.
What a 3D model reveals
Video: Pacific spiny dogfish intestine youtu.be
According to the study's lead author Samantha Leigh, "It's high time that some modern technology was used to look at these really amazing spiral intestines of sharks. We developed a new method to digitally scan these tissues and now can look at the soft tissues in such great detail without having to slice into them."

"CT scanning is one of the only ways to understand the shape of shark intestines in three dimensions," adds Summers. The researchers scanned the intestines of nearly three dozen different shark species.
It is believed that sharks go for extended periods — days or even weeks — between big meals. The scans reveal that food passes slowly through the intestine, affording sharks' digestive system the time to fully extract its nutrient value. The researchers hypothesize that such a slow digestive process may also require less energy.
It could be that this slow digestion is more susceptible to back flow given that the momentum of digested food through the tract must be minimal. Perhaps that is why sharks evolved something so similar to a Tesla valve.
What is Tesla's valve doing there?
Above, a Tesla valve. Below, a shark intestine.Credit: Samantha Leigh / California State University, Domi
Tesla's "valvular conduit," or what the world now calls a "Tesla valve," is a one-way valve with no moving parts. Its brilliance is based in fluid dynamics and only now coming to be fully appreciated. Essentially, a series of teardrop-shaped loops arranged along the length of the valve allow water to flow easily in one direction but not in the other. Modern tests reveal that at low flow rates, water can travel through the valve either way, but at high flow rates, the design kicks in. According to mathematician Leif Ristroph:

"Crucially, this turn-on comes with the generation of turbulent flows in the reverse direction, which 'plug' the pipe with vortices and disrupting currents. Moreover, the turbulence appears at far lower flow rates than have ever previously been observed for pipes of more standard shapes — up to 20 times lower speed than conventional turbulence in a cylindrical pipe or tube. This shows the power it has to control flows, which could be used in many applications."
A deeper dive
Summers suggests the scans are just the beginning. "The vast majority of shark species, and the majority of their physiology, are completely unknown," says Summers, adding that "every single natural history observation, internal visualization, and anatomical investigation shows us things we could not have guessed at."
To this end, the researchers plan to use 3D printing to produce models through which they can observe the behavior of different substances passing through them — after all, sharks typically eat fish, invertebrates, mammals, and seagrass. They also plan to explore with engineers ways in which the shark intestine design could be used industrially, perhaps for the treatment of wastewater or for filtering microplastics.
It could fairly be said, though, that Nikola Tesla was 100 years ahead of them.
When we rely on the conscious mind alone, we lose; but when we listen to the body, we gain a winning edge.
Credit
: Anthony Tran via Unsplash
Personal Growth
Our surroundings contain far more information than our conscious minds can process.
Our non-conscious minds are constantly gathering information and identifying patterns.
By being interoceptively attuned — that is, aware of the inner state of the body — we can tap into what our non-conscious mind is trying to tell us.
The following is an adapted excerpt from the book The Extended Mind. It is reprinted with permission of the author.
If you'd like to make smarter choices and sounder decisions — and who doesn't? — you might want to take advantage of a resource you already have close at hand: your interoception. Interoception is, simply stated, an awareness of the inner state of the body. Just as we have sensors that take in information from the outside world (retinas, cochleas, taste buds, olfactory bulbs), we have sensors inside our bodies that send our brains a constant flow of data from within. These sensations are generated in places all over the body — in our internal organs, in our muscles, even in our bones — and then travel via multiple pathways to a structure in the brain called the insula. Such internal reports are merged with several other streams of information — our active thoughts and memories, sensory inputs gathered from the external world — and integrated into a single snapshot of our present condition, a sense of "how I feel" in the moment, as well as a sense of the actions we must take to maintain a state of internal balance.
To understand the role interoception can play in smart decision-making, it's important to know that the world is full of far more information than our conscious minds can process. However, we are also able to collect and store the volumes of information we encounter on a non-conscious basis. As we proceed through each day, we are continuously apprehending and storing regularities in our experience, tagging them for future reference. Through this information-gathering and pattern-identifying process, we come to know things — but we're typically not able to articulate the content of such knowledge or to ascertain just how we came to know it. This trove of data remains mostly under the surface of consciousness, and that's usually a good thing. Its submerged status preserves our limited stores of attention and working memory for other uses.
A study led by cognitive scientist Pawel Lewicki demonstrates this process in microcosm. Participants in Lewicki's experiment were directed to watch a computer screen on which a cross-shaped target would appear, then disappear, then reappear in a new location; periodically they were asked to predict where the target would show up next. Over the course of several hours of exposure to the target's movements, the participants' predictions grew more and more accurate. They had figured out the pattern behind the target's peregrinations. But they could not put this knowledge into words, even when the experimenters offered them money to do so. The subjects were not able to describe "anything even close to the real nature" of the pattern, Lewicki observes. The movements of the target operated according to a pattern too complex for the conscious mind to accommodate — but the capacious realm that lies below consciousness was more than roomy enough to contain it.
"Nonconscious information acquisition," as Lewicki calls it, along with the ensuing application of such information, is happening in our lives all the time. As we navigate a new situation, we're scrolling through our mental archive of stored patterns from the past, checking for ones that apply to our current circumstances. We're not aware that these searches are under way; as Lewicki observes, "The human cognitive system is not equipped to handle such tasks on the consciously controlled level." He adds, "Our conscious thinking needs to rely on notes and flowcharts and lists of 'if-then' statements — or on computers — to do the same job which our non-consciously operating processing algorithms can do without external help, and instantly."

But — if our knowledge of these patterns is not conscious, how then can we make use of it? The answer is that, when a potentially relevant pattern is detected, it's our interoceptive faculty that tips us off: with a shiver or a sigh, a quickening of the breath or a tensing of the muscles. The body is rung like a bell to alert us to this useful and otherwise inaccessible information. Though we typically think of the brain as telling the body what to do, just as much does the body guide the brain with an array of subtle nudges and prods. (One psychologist has called this guide our "somatic rudder.") Researchers have even captured the body in mid-nudge, as it alerts its inhabitant to the appearance of a pattern that she may not have known she was looking for.
Such interoceptive prodding was visible during a gambling game that formed the basis of an experiment led by neuroscientist Antonio Damasio, a professor at the University of Southern California. In the game, presented on a computer screen, players were given a starting purse of two thousand "dollars" and were shown four decks of digital cards. Their task, they were told, was to turn the cards in the decks face-up, choosing which decks to draw from such that they would lose the least amount of money and win the most. As they started clicking to turn over cards, players began encountering rewards — bonuses of $50 here, $100 there — and also penalties, in which small or large amounts of money were taken away. What the experimenters had arranged, but the players were not told, was that decks A and B were "bad" — they held lots of large penalties in store — and decks C and D were "good," bestowing more rewards than penalties over time.
How Our Brains Feel Emotion | Antonio Damasio | Big Think www.youtube.com
As they played the game, the participants' state of physiological arousal was monitored via electrodes attached to their fingers; these electrodes kept track of their level of "skin conductance." When our nervous systems are stimulated by an awareness of potential threat, we start to perspire in a barely perceptible way. This slight sheen of sweat momentarily turns our skin into a better conductor of electricity. Researchers can thus use skin conductance as a measure of nervous system arousal. Looking over the data collected by the skin sensors, Damasio and his colleagues noticed something interesting: after the participants had been playing for a short while, their skin conductance began to spike when they contemplated clicking on the bad decks of cards. Even more striking, the players started avoiding the bad decks, gravitating increasingly to the good decks. As in the Lewicki study, subjects got better at the task over time, losing less and winning more.

Yet interviews with the participants showed that they had no awareness of why they had begun choosing some decks over others until late in the game, long after their skin conductance had started flaring. By card 10 (about forty-five seconds into the game), measures of skin conductance showed that their bodies were wise to the way the game was rigged. But even ten turns later — on card 20 — "all indicated that they did not have a clue about what was going on," the researchers noted. It took until card 50 was turned, and several minutes had elapsed, for all the participants to express a conscious hunch that decks A and B were riskier. Their bodies figured it out long before their brains did. Subsequent studies supplied an additional, and crucial, finding: players who were more interoceptively aware were more apt to make smart choices within the game. For them, the body's wise counsel came through loud and clear.
Damasio's fast-paced game shows us something important. The body not only grants us access to information that is more complex than what our conscious minds can accommodate. It also marshals this information at a pace that is far quicker than our conscious minds can handle. The benefits of the body's intervention extend well beyond winning a card game; the real world, after all, is full of dynamic and uncertain situations, in which there is no time to ponder all the pros and cons. When we rely on the conscious mind alone, we lose — but when we listen to the body, we gain a winning edge.
Annie Murphy Paul is a science writer who covers research on learning and cognition. She is the author of The Extended Mind: The Power of Thinking Outside the Brain, from which this article is adapted.