Big Think Interview With Richard Dawkins
Richard Dawkins
Richard Dawkins is an evolutionary biologist and the former Charles Simonyi Professor of the Public Understanding of Science at Oxford University. He is the author of several of modern science's essential texts, including The Selfish Gene (1976) and The God Delusion (2006). Born in Nairobi, Kenya, Dawkins eventually graduated with a degree in zoology from Balliol College, Oxford, and then earned a masters degree and the doctorate from Oxford University. He has recently left his teaching duties to write and manage his foundation, The Richard Dawkins Foundation for Reason and Science, full-time.
23 October, 2009
Big Think Interview With Richard Dawkins
Richard Dawkins: Yes. I'm Richard Dawkins, former Professor of the Public Understanding of Science at Oxford University, author of The Selfish Gene, The Blind Watchmaker, The God Delusion and The Greatest Show on Earth, among others.
Question: How would you correct the understanding that evolution is a theory?
Richard Dawkins: The word "theory" can be used to mean something speculative and tentative. In everyday speech it probably usually is used in that sense. Scientists very often use it in a much more positive sense. I think the easiest way is to use the ordinary language word "fact". In the ordinary language sense of the word fact, evolution is a fact.
Question: What is the evidence that evolution is a fact?
Richard Dawkins: The evidence that makes it a fact is partly fossil evidence, partly comparative evidence, looking at modern species and comparing their bones, their organs, their structures generally, and especially their molecules, their genes, at a molecular level. This is extremely persuasive and powerful evidence. You compare the genes of animals and plants. You find that the pattern of resemblance is a tree, a branching tree. And that branching tree could only be a family tree. Other very persuasive evidence is the geographical distribution of animals and plants on islands and continents: they're exactly where we should expect them to be if evolution were a fact.
Question: What is the central tenet of your book, The Selfish Gene?
Richard Dawkins: Natural selection chooses among self-replicating entities. Those self-replicating entities have some kind of power over their probability of being copied, of being replicated, of being passed on. In practice that almost always means choosing between alternative DNA genes. So it's about the natural selection, the disproportionate -- it's about the unequal survival of genes through generations. That is natural selection. We see it in the form of changes of phenotypes; that's to say changes in bodies, because it's through the changes in the bodies that the genes induce, that they insure their survival or fail to survive. The ones that are good at surviving are the ones that are good at building bodies that are good at surviving and reproducing.
Question: What does it mean that we're gene machines?
Richard Dawkins: We're gene machines in the sense that a body is constructed by genes that have been successful in surviving in the past; they're good at surviving because they're good at constructing machines in which they survive. So a body is a machine for the propagation of the genes that built it.
Question: What are some of the remaining mysteries of evolution?
Richard Dawkins: One important active area is the origin of sex and why we have sex at all. It's controversial and interesting and unsolved. Another one I think would be the evolution of consciousness, especially human consciousness. Another one would be the embryological roots by which genes influence bodies.
Question: What is the main mystery of sex?
Richard Dawkins: Well, the mystery there is that, on the view the selfish gene, every animal is trying to maximize the number of genes that it passes on. And so mixing half your genes with those of a sexual partner seems like an odd thing to do, and on the face of it it's throwing away half your genes with every child you have. So it needs an explanation, and various explanations have been suggested.
Question: What is the most popular explanation for the act?
Richard Dawkins: I supposed the most fashionable one now is the one that's associated with the name of W. D. Hamilton, my former Oxford colleague. He took the view that parasites are the most important selection pressure bearing on creatures, and that parasites, because they are -- especially bacteria -- evolving so incredibly rapidly, the genes that any one individual needs in order to survive in the present generation of parasites may not be the genes that are needed in future generations. So there needs to be an extremely rapid turnover, extremely rapid changing, of gene pools. And sex may be -- well, sex certainly will do that. And the only question is whether the pressure from parasites is sufficiently great to compensate the so-called twofold cost of sex, the fact that sexual reproduction does throw away half the genes in each generation.
Question: Why can't we understand the basis of consciousness?
Richard Dawkins: Well, both what it is -- it clearly has something to do with brains, and it's something that emerges from brains. When brains get sufficiently big, presumably, as human brains have, consciousness seems to emerge. As to what it is, that's a philosophically very difficult question, which biologists are no more equipped to deal with than anybody else.
Question: Is there a certain brain capacity necessary for the development of consciousness?
Richard Dawkins: Oh, nobody knows, because we don't know which animals are conscious. We don't actually, technically, even know that any other human being is conscious. We just each of us know that we ourselves are conscious. We infer on pretty good grounds that other people are conscious, and it's the same sort of grounds that lead us to infer that probably chimpanzees are conscious and probably dogs are conscious. But when we come to something like earthworms and snails, it's anybody's guess.
Question: How can science have a unique insight into cognizance?
Richard Dawkins: Well, that's a very difficult question since we can't actually measure whether creatures are conscious. So I guess science has as much insight as any other subject, but I don't think I can answer that question directly. Maybe computer science has as much insight into it as any other science.
Question: When did you first realize you were an atheist?
Richard Dawkins: I think first the realization that there are lots of different religions, and they can't all be right. And the Christian one in which I was brought up was clearly only one of many. But that didn't finally make me into an atheist. What finally made me into an atheist was the realization that there was no scientific reason to believe in any sort of supernatural creator. And that came with the understanding of Darwinian evolution.
Question: Do scientists ever need faith?
Richard Dawkins: Not in the sense of faith as meaning belief in something for which there is no evidence. There are various senses of faith in which we do -- scientists do participate. There's branches of science which I don't understand; for example, physics. It could be said, I suppose, that I have faith that physicists understand it better than I do. And so when I say something that physicists tell me, such as that there was nothing before the big bang -- they're not allowed to talk about the word "before" in the context of the big bang -- I sort of have faith that physicists understand enough to be allowed to say that, even though I don't understand why they're allowed to say that. But it's not blind faith; it's not faith in the absence of evidence. It's faith that's based upon confidence in the scientific method, in the scientific peer review process, the fact that I know that there are other physicists who can test, verify, criticize the views of any one physicist. So it's not the same as religious faith, which is based upon no evidence at all.
Question: Why do so many people on earth have religious faith?
Richard Dawkins: Well, it's certainly true that so many people do have religious faith, not just individual people. Not all individual people do, but all cultures -- I think I'm right in saying that all peoples -- in the plural -- have had faith, religious faith of some kind. They believe in some kind of supernatural gods or goddesses or leprechauns or whatever it might be. Why do they have it? Well, I think it's very tempting -- when you don't really understand what's going on, when you're ignorant of the world, when you find yourself surrounded by a wonderful world, a puzzling world, a mysterious world, a frightening world -- it must be quite tempting to put your faith into a supernatural being of some kind.
Question: Did you know that you were going to be a scientist from a young age?
Richard Dawkins: No, I didn't know I was going to be a scientist from a young age. I suppose I was interested in science. I can remember at the age of about six being fascinated by the planets and learning all about Mars and Venus and things. I wasn't much of a biologist as a child. My father had been and gave me all the right influences, and my mother too. I went into the biological stream at school, pretty much drifted in. I suppose it was about my best subject, but it wasn't an obsession with me like it is with many birdwatchers and bug hunters, people like that.
Question: When did you decide you would devote your life to science?
Richard Dawkins: I never really decided that until I was at Oxford, at the age of about twenty, I suppose. So it wasn't at school. At school I kind of drifted into the biology sixth form, and then I knew I was always going to try to get into Oxford. And I did get into Oxford to read zoology, but I didn't really become fired up and realize that this is how I want to spend my life until about my second year at Oxford; I must have been about 19.
Question: What was your first scientific discovery?
Richard Dawkins: My doctorate, my D.Phil. at Oxford, was about decision-making in animals. And I happened to work with baby chicks, but it could have been anything. And I suppose my first discovery was of a mechanism that plausibly could be going on inside the head of a chick or any other animal when making a choice between two alternatives. It was not a piece of neurological research, which it might well have been. I mean, one could have been looking at cells in the brain and looking for mechanisms of decision-making there. But my method was more the black box method, where you don't open up the animal at all; you watch its behavior and you develop theoretical models, deduce mathematically predictions from your theoretical models, and then test those predictions against the facts -- do experiments to see whether they're true. And that's a sort of classic scientific method, the black box technique. And I used that and really rather successfully. I developed a model, used some simple algebra to deduce predictions from the model, and then did experiments which extremely accurately fulfilled those predictions.
Question: What is your favorite research project you've done?
Richard Dawkins: Well, my original doctoral research -- oh no, I'll talk about something else. With my first wife, Dr. Marian Stamp Dawkins, we worked on what it means to say that an animal has made a decision. If you watch the muscular movements of an animal -- we were working again on chicks, particularly drinking behavior in chicks. When a chick -- indeed, when any bird, pretty much -- drinks, it puts its bill into the water, and then it kind of scoops the water up in the bill in a rather graceful curve, and then the water kind of trickles down the gullet. And that's a very stereotyped movement. We filmed it; we filmed chicks doing this. And then we analyzed the movement frame by frame. Our definition of a decision was based upon the idea that decisions occur at the beginning of fixed action patterns, which are sequences of movements which are very stereotyped and which don't vary.
So something like that drinking movement -- down into the water and then curve up -- is a fixed action pattern. Once it starts, we conjectured, it won't stop. So a decision is the beginning of a fixed action pattern, which determines the next however many it is frames of film on our frame-by-frame analysis. So if you looked at the frames of film, you could actually measure -- and we did this -- the predictability of each frame as a function of the preceding frames. We plotted a graph of the predictability measured in information theory, measured in bits of information -- the predictability of each frame as a function of the preceding frames. And we found that when the chick began a fixed action pattern such as drinking, the predictability shot up and stayed up during the duration of the fixed action pattern. And then it shot down again, and the behavior became unpredictable; you couldn't tell what was going to happen next for a while, until it entered another fixed action pattern, when the predictability again shot up. This was a quantitative measure -- obviously, drinking itself is not of great interest -- but what is of interest is that you can quantitatively measure and express what you mean by a decision in a continuous stream of animal behavior.
Question: Have you ever started any projects that were did not complete?
Richard Dawkins: Yes. I have begun several projects which were never completed, not necessarily because they failed, but because I got interested in other things. And some of them were looking quite promising. For example, I began a project on the song of crickets; this was when I was still working in a department of animal behavior. Crickets sing by vibrating their wings against each other, and different species of crickets have a different pattern of song, which they control by the movement of the wings. And I was working on South Pacific crickets -- not in the South Pacific; I had a colony of them in Oxford. And this particular cricket, Teleogryllus oceanicus, has a rather complicated song. It says PRR-prr-prr-prr-prr-prr-prr, PRR-prr-prr-prr-prr-prr-prr, PRR-prr-prr-prr-prr-prr. And that just goes on and on and on. And I wanted to know how important the details of that song were. Did it really have to have that particular pattern? And the answer was probably yes, because it was unique to that species. Related species have a different kind of song. For example, Teleogryllus commodus, a related species, said PRR-prr, PRR-prr, PRR-prr. And presumably the difference between those two crickets was significant. What I did was to write a computer program to make a computer sing like a cricket, and in which you could easily program in, using a simple sort of language which I devised, for making any cricket song you like.
So, I was able to program quickly the song of Teleogryllus oceanicus, Teleogryllus commodus, various species of gryllus and so on. And then I devised a method for measuring the attractiveness of these songs, and it was a very light seesaw made of sort of balsa wood, very light balsa wood, and at each end of the seesaw was a loudspeaker which could be made to play artificial cricket song. And you put a cricket inside the seesaw. As the cricket walked along the seesaw towards the song, the seesaw tilted and made an electrical contact, which was counted as one approach to that loudspeaker. At that point or shortly afterwards, the computer would change to making the song come out of the other loudspeaker, whereupon the cricket would turn around and walk the other way, and then the seesaw would tilt the other way. So the number of tilts of the seesaw was a measure of the attractiveness of the song. So I had it all set up to measure the rival attractiveness of different kinds of song. But then I can't remember what happened, and I switched to some other piece of research. So that piece of research was never actually done. But the apparatus that I developed and the computer program that I wrote to sing like a cricket was all working. Now it's lost for ever because it was done on now-outdated computers. You can't get that kind of computer any more. And so that's gone.
Question: Can science shed light on any moral issues?
Richard Dawkins: Science is not in the business of shedding light on moral debates, but I think it can do sometimes -- the whole subject of moral philosophy, of examining moral questions in a logical way to expose inconsistencies, for example. When you're looking at moral questions, so-called moral questions, like abortion or euthanasia, you can show that people who take a very strong absolutist line may be being inconsistent with themselves because they are taking a strong line on one thing while at the same time inconsistently not taking a similarly strong line on another. So that would be a scientific way of thinking; it's not science per se. It's moral philosophy, but it's a kind of scientific way of thinking. But also I think scientific facts can illuminate moral debate. In the case of abortion again, for example, a scientist might contribute to the debate information about at what point during the development of an embryo the nervous system comes into being. And presumably, before the nervous system comes into existence there is no ability to feel pain or to suffer. And so maybe something important happens at the moment when the nervous system comes into being.
On the other hand, you might say, well, even when a human embryo develops a nervous system and develops the capacity to perhaps suffer, it's still a much smaller nervous system than the nervous system of an adult cow. And so what about balancing the suffering of a human embryo against the suffering of an adult cow when it's being slaughtered for meat. An absolutist moralist would say, well, humans are just plain special, and cows are not humans, so they don't deserve the same moral consideration. But a scientist might come along and say, well, what do you mean by that? I mean we are, after all, all evolved; we're all cousins.
At what point in the evolution -- since we know evolution is a fact -- at what point in the evolution of humans would you suddenly draw the line and say, all right, from now on they're all human and before that they're not? In the evolutionary progression from the common ancestors with chimpanzees, who lived about six or seven million years ago, to modern humans, going through creatures which might have looked a bit like Lucy, might have looked a bit like the newly discovered fossil Ardi, would you have given special human moral ethical consideration to Lucy? Or would you count Lucy as though she was a chimpanzee? Does this perhaps suggest to you that we shouldn't be in the business of drawing lines between species in this kind of way, and maybe these lines should be regarded as more fuzzy and less clear cut. Our absolutist moralities that do draw hard and fast lines between humans and all other species -- even taking a human fetus and calling that human, whereas an adult chimpanzee is not and doesn't deserve the same moral consideration -- is that consistent with science? These are ways that science can at least inform moral discussions.
Question: Is there ever a point where scientific reasoning can harm society?
Richard Dawkins: You can, I suppose, make a utilitarian justification for obnoxious practices. You could make a utilitarian justification for torture. Moral philosophers sometimes pose the hypothetical case where the world is about to be blown up. Only one person knows the secret password to stop the doomsday bomb going off. This one person is a suicide bomber who refuses to give up the password. Are you right to torture him? And most people, I think, say you are. I mean, it's a horrible thing to torture somebody, but under those extreme conditions, to save the world you would torture somebody. And that would be a utilitarian justification for an otherwise obnoxious practice such as torture.
Question: Are our debates over 'big' issues effective?
Richard Dawkins: Well, some of them are. I mean, if they're debates between two intelligent and educated people, they are conducted effectively. But if they're conducted between an intelligent, educated person on the one hand and Bill O'Reilly on the other, they're probably not, no.
Question: How could we better our public discussions?
Richard Dawkins: Perhaps have more intelligent people as television interviewers, rather than people like Bill O'Reilly, for a start. That might not be great for ratings, I suppose, but perhaps we should become less influenced by ratings. [
Question: How would our public discourse change in a world without religion?
Richard Dawkins: Well, in the moral sphere I think they would be based upon criteria such as suffering, instead of absolutist criteria like all killing of humans is wrong, for example, including killing of early human embryos. We would instead say, well, who's suffering? At what point in the balance does the suffering switch over to the other side, when there's a choice? If we got rid of absolutist moral criteria, we might stop saying human life is absolutely sacred, and you can't put a monetary value on it. And you actually do put a monetary value on it all the time, because you know, whenever you make a decision like shall we have another kidney machine, or shall we -- to what safety standards shall we build airliners, one could always make airliners a little bit safer, but it would cost a lot more money. And so we do already take decisions about that. Military aircraft are built to a less risk-averse standard than civilian aircraft. We already do make judgments of this kind. So that would be the moral -- that kind of thing would change in the moral sphere. In the scientific sphere we'd be able to get on with our science as science, and not have to worry about whether we are giving offense to people who get their beliefs from holy books rather than from evidence, which we at present have to worry about. In the field of education, we could go in for science education free to actually teach children the best science we know and teach children to use the scientific method of thinking. And once again not have to pay lip service to, or respect, the dopey beliefs of their parents who try to interfere with their scientific education.
Question: Why do humans engage in so many impractical activities?
Richard Dawkins: There are many things that humans do that have nothing to do with contributing to the survival of the individual, at least nothing obvious to do with it. So when we do mathematics and when we do poetry and when we do ballet dancing and all the things that make life worth living, it's very hard to make the case that this contributes to individual survival; it clearly doesn't. What you can make a case for is that the possession of the kind of brain that's capable of doing those things contributed to individual survival in our ancestral past. So it's not the mathematics itself; it's not that doing algebra helps anybody to survive. But having the kind of big brain that incidentally proves itself capable of doing algebra -- having that kind of big brain probably did improve our survival, whether because it literally made us better at -- I don't know -- catching prey or finding nuts or something of that sort. Or whether, in accordance with the sexual selection theory you just mentioned, it's attractive to the opposite sex.
Question: Can you elaborate on the theory of sexual selection?
Richard Dawkins: This is a theory of a man called Geoffrey Miller, who is a very interesting evolutionary psychologist. And he -- we do have a bit of a puzzle as to why the human brain did get so big, really rather suddenly; it's actually one of the more rapid pieces of evolution that we know. Over the last three million years or so the human brain has swelled up enormously. And there are various theories as to why this should be. Geoffrey Miller's theory is that, as you say, the mind is a kind of human peacock's tail, and "being clever is sexy" would be one way to put it. But it would manifest itself in the ability to -- I don't know -- remember epic poetry or something of that sort. I mean, there are all sorts of different ways in which, in particular cultures, it might manifest itself
Question: How do you feel about recent attempts to end aging?
Richard Dawkins: It's easy to see why people might wish to prolong their own lives. It's a rather selfish pursuit unless you recognize and do something about the fact that birth rates are not declining in the world as a whole, and the population is rising rapidly. There may be more people alive today than there are dead people, so to speak. I mean, it may be -- if you add up the total number of people alive and then say, how far back would you have to go in time if you integrated all dead people backwards until you reach the same number as are now alive, it would be an astonishingly long time ago. So to prolong human life in an irresponsible, profligate way would be indeed irresponsible unless you at the same time reduced birth rates. If everybody lived for ever, then we'd better stop any new people being born. Otherwise we're going to be hideously overcrowded. And it's a rather presumptuous, arrogant thing to do, some might say, to say, right, well, the present generation are the last ones to reproduce. We'd better all just sit here and enjoy our lives for thousands of years. We're obviously a long way away from that now, but I know there are some people who see that as a kind of ideal, and they certainly need to think seriously about what to do about population size.
Question: What excites you most in science today?
Richard Dawkins: I suppose in my own field of biology it would be molecular genetics. It has enormous potential. It's advancing at an extremely rapid rate, coupled with computer science, which is also advancing at an extremely rapid rate. And the two are genuinely coupled; that's no accident. Moore's Law in the world of computer science states that computer power measured in various ways increases exponentially, and its doubling time is something like eighteen months.
There's another law which I've coined Hodgkin's Law, which says that sequencing genomes, the power to read genomes, increases exponentially, and the doubling time is not quite as fast as that; it's more like twenty seven months. But Hodgkin's Law and Moore's Law are related because genetic sequencing is -- the technology is very dependent upon computers. And so part of what has fed into the increase in the rate of -- in the increase in the power to sequence genomes has been the increase in computer power, which is Moore's Law.
So the two together are rendering our world ever stranger ever faster. And the Internet as we now know it would have totally astounded me if -- when I first started using computers in the 1960s, I dimly thought that something like the Internet, mass communication, might come about. But I never thought it would be anything like as powerful as it is. I would have been just blown over backwards if somebody had suddenly plunked me in front of a modern -- pushed me forward in time to 2009 and showed me a modern computer and the modern Internet connection. The same thing is happening and is going to happen to biology with respect to genome sequencing. And it's going to become possible to sequence the genome of an individual of any species for very little money, very fast. And that's going to open up enormous vistas for biological research.
And for medicine, because it means that, for example, doctors, instead of prescribing a sort of generic treatment for the disease you've got, for an average person, will prescribe the particular treatment that you as an individual need because of the particular fingerprint of genes that you've got. And that's going to be a radical change in medicine. In biological research it means that we can just sequence the genome of any species we like very quickly. Biologists of the future may be able to catch an animal or plant in the wild, stick a probe into it and immediately read out off a sort of iPhone dial its genome. This would be an astonishing leap in research power
Question: How close do you think we are to this ability?
Richard Dawkins: Well, it's becoming -- it's coming closer all the time. It's already possible to sequence a genome for a few -- I forget how -- I forget what it is -- but I mean it's a manageable number of dollars. It's still a lot, but by 2050 it'll be possible to sequence the genome of an individual for probably tens of dollars. And that would be quite an extraordinary state of affairs.
Question: What keeps you up at night?
Richard Dawkins: I can't claim it's the state of the world. I think -- know that does keep some people up, keep them awake. With me it's more personal. It's not -- it's things like I've just founded a couple of charitable foundations, the Richard Dawkins Foundation for Reason and Science, both in Britain and America, and sort of the future of those foundations, how to run them, how to manage them. Things like that keep me awake at nights. A book that I've got to finish may keep me awake. I mean, I'm not making sufficiently fast progress in the work that I'm supposed to be doing -- that's the kind of thing that troubles me at night.
Question: Who are your heroes?
Richard Dawkins: Darwin obviously. Wallace, who's the unsung hero who independently thought of the idea. Many great scientists of the past. Peter Medawar -- I admire his writing style very much. Carl Sagan. Yes, many -- I mean, I admire great poets as well. I'm not sure that I'd call them exactly heroes. I mean, Shakespeare affects me when I read his extraordinary command of language; I admire it hugely. Yeah I suppose he is -- so he is a hero, yes, whoever he was.
Question: What makes a good scientist?
Richard Dawkins: Well, that's very interesting. You asked me who my heroes were, and I said Darwin. Darwin, I think, misdiagnosed his own character traits rather. He said, I've become nothing more than a machine for grinding theories out of facts. I don't think Darwin was that at all. Darwin was a great hypothesis-former. Darwin thought of ideas; he dreamed up ideas, which is the way scientists ordinarily do work. So I think you need to be imaginative. You need to have the imagination to put together ideas which other people haven't had. You do need to be able to work hard. Sir Hans Krebs, who discovered the Krebs Cycle, once in my presence was asked, how do you get a Nobel prize -- which he had. And he said, it's easy: you come into the lab at nine o'clock in the morning, and you leave at six o'clock in the evening every day for thirty five years, or words to that effect. I don't think that's how you do it either. No doubt that's part of it. But you need a combination of that and genuine inspiration, which is akin to poetry; it's akin to great art; it's the inventive, creative leap which great scientists have.
Recorded on: October 21, 2009. Interviewed by Paul Hoffman.
Big Think sits down with the former Oxford professor and author of The Selfish Gene and The God Delusion.
Big ideas.
Once a week.
Subscribe to our weekly newsletter.
The non-contact technique could someday be used to lift much heavier objects — maybe even humans.
Kondo and Okubo, Jpn. J. Appl. Phys., 2021.
Surprising Science
Since the 1980s, researchers have been using sound waves to move matter through a technique called acoustic trapping.
Acoustic trapping devices move bits of matter by emitting strategically designed sound waves, which interact in such a way that the matter becomes "trapped" in areas of particular velocity and pressure.
Acoustic and optical trapping devices are already used in various fields, including medicine, nanotechnology, and biological research.
Sound can have powerful effects on matter. After all, sound strikes our world in waves — vibrations of air molecules that bounce off of, get absorbed by, or pass through matter around us. Sound waves from a trained opera singer can shatter a wine glass. From a jet, they can collapse a stone wall. But sound can also be harnessed for delicate interactions with matter.

Since the 1980s, researchers have been using sound to move matter through a phenomenon called acoustic trapping. The method is based on the fact that sound waves produce an acoustic radiation force.
"When an acoustic wave interacts with a particle, it exerts both an oscillatory force and a much smaller steady-state 'radiation' force," wrote the American Physical Society. "This latter force is the one used for trapping and manipulation. Radiation forces are generated by the scattering of a traveling sound wave, or by energy gradients within the sound field."
When tiny particles encounter this radiation, they tend to be drawn toward regions of certain pressure and velocity within the sound field. Researchers can exploit this tendency by engineering sound waves that "trap" — or suspend — tiny particles in the air. Devices that do this are often called "acoustic tweezers."
Building a better tweezer
A study recently published in the Japanese Journal of Applied Physics describes how researchers created a new type of acoustic tweezer that was able to lift a small polystyrene ball into the air.
Tweezers of Sound: Acoustic Manipulation off a Reflective Surface youtu.be
It is not the first example of a successful "acoustic tweezer" device, but the new method is likely the first to overcome a common problem in acoustic trapping: sound waves bouncing off reflective surfaces, which disrupts acoustic traps.

To minimize the problems of reflectivity, the team behind the recent study configured ultrasonic transducers such that the sound waves that they produce overlap in a strategic way that is able to lift a small bit of polystyrene from a reflective surface. By changing how the transducers emit sound waves, the team can move the acoustic trap through space, which moves the bit of matter.
Move, but don't touch
So far, the device is only able to move millimeter-sized pieces of matter with varying degrees of success. "When we move a particle, it sometimes scatters away," the team noted. Still, improved acoustic trapping and other no-contact lifting technologies — like optical tweezers, commonly used in medicine — could prove useful in many future applications, including cell separation, nanotechnologies, and biological research.
Could future acoustic-trapping devices lift large and heavy objects, maybe even humans? It seems possible. In 2018, researchers from the University of Bristol managed to acoustically trap particles whose diameters were larger than the sound wavelength, which was a breakthrough because it surpassed "the classical Rayleigh scattering limit that has previously restricted stable acoustic particle trapping," the researchers wrote in their study.
In other words, the technique — which involved suspending matter in tornado-like acoustic traps — showed that it is possible to scale up acoustic trapping.
"Acoustic tractor beams have huge potential in many applications," Bruce Drinkwater, co-author of the 2018 study, said in a statement. "I'm particularly excited by the idea of contactless production lines where delicate objects are assembled without touching them."
Australian parrots have worked out how to open trash bins, and the trick is spreading across Sydney.
Surprising Science
If sharing learned knowledge is a form of culture, Australian cockatoos are one cultured bunch of birds.
A cockatoo trick for opening trash bins to get at food has been spreading rapidly through Sydney's neighborhoods.
But not all cockatoos open the bins; some just stay close to those that do.
Like humans, some animals are capable of
culture
, including learning from one another. And the cockatoos of Sydney, Australia have learned a neat trick — well, neat for them, anyway. Homeowners with dumpsters might feel differently.
Dumpster-diving trash parrots
In a study about these smart birds just published in Science, researchers define animal culture as "population-specific behaviors acquired via social learning from knowledgeable individuals."
Co-lead author of the study Barbara Klump of the Max Planck Institute of Animal Behavior in Konstanz, Germany says, "[C]ompared to humans, there are few known examples of animals learning from each other. Demonstrating that food scavenging behavior is not due to genetics is a challenge."
An opportunity presented itself in a video that co-author Richard Major of the Australian Museum shared with Klump and the other co-authors. In the video, a sulphur-crested cockatoo used its beak to pull up the handle of a closed garbage bin — using its foot as a wedge — and then walked back the lid sufficiently to flip it open, exposing the bin's edible contents.
Major has been studying Cacatua galerita for 20 years and says, "Like many Australian birds, sulphur-crested cockatoos are loud and aggressive." The study describes them as a "large-brained, long-lived, and highly social parrot." Says Major, "They are also incredibly smart, persistent, and have adapted brilliantly to living with humans."
(Research regarding some of the ways in which
wild animals adapt to the presence of humans
has already produced
some fascinating results
and is ongoing.)
Clever cockie opens bin - 01 youtu.be
The researchers became curious about how widespread this behavior might be and saw a research opportunity. After all, says John Martin, a researcher at Taronga Conservation Society, "Australian garbage bins have a uniform design across the country, and sulphur-crested cockatoos are common across the entire east coast."

Martin continues, "In 2018, we launched an online survey in various areas across Sydney and Australia with questions such as, 'What area are you from, have you seen this behavior before, and if so, when?'"
Word Gets Around
Credit: magspace/Adobe Stock
Although the cockatoos' maneuver was reported in only three suburbs before 2018, by the end of 2019, people in 44 areas reported observing the behavior. Clearly, more and more cockatoos were learning how to successfully dumpster dive.
As further proof, says Klump, "We observed that the birds do not open the garbage bins in the same way, but rather used different opening techniques in different suburbs, suggesting that the behavior is learned by observing others." One individual bird in north Sydney invented its own method, and the scientists saw it grow in popularity throughout the local population.
To track individual birds, the researchers marked 500 cockatoos with small red dots. Subsequent observations revealed that not all cockatoos are bin-openers. Only about 10 percent of them are, and they are mostly males. The other cockatoos apparently restrict their education to a different lesson: hang around with a bin-opener, and you will get supper.
Thanks to the surveys, the researchers consider the entire project to be a valuable citizen-science experiment. "By studying this behavior with the help of local residents, we are uncovering the unique and complex cultures of their neighborhood birds."
Evolution proves to be just about as ingenious as Nikola Tesla
Surprising Science
For the first time, scientists developed 3D scans of shark intestines to learn how they digest what they eat.
The scans reveal an intestinal structure that looks awfully familiar — it looks like a Tesla valve.
The structure may allow sharks to better survive long breaks between feasts.
Considering how much sharks are feared by humans, it is a bit of a surprise that scientists don't know much about the predators. For example, until recently, sharks were thought to be solitary creatures searching the seas for food on their own. Now it appears that some sharks are quite social.
Another mystery is how these prehistoric swimming and eating machines digest food. Although scientists have made 2D sketches of captured sharks' digestive systems based on dissections, there is a limit to what can be learned in this way. Professor Adam Summers at University of Washington's Friday Harbor Labs says:
"Intestines are so complex, with so many overlapping layers, that dissection destroys the context and connectivity of the tissue. It would be like trying to understand what was reported in a newspaper by taking scissors to a rolled-up copy. The story just won't hang together."
Summers is co-author of a new study that has produced the first 3D scans of a shark's intestines, which turns out to have a strange, corkscrew structure. What's even more bizarre is that it resembles the amazing one-way valve designed by inventor Nikola Tesla in 1920. The research is published in the journal Proceedings of the Royal Society B.
What a 3D model reveals
Video: Pacific spiny dogfish intestine youtu.be
According to the study's lead author Samantha Leigh, "It's high time that some modern technology was used to look at these really amazing spiral intestines of sharks. We developed a new method to digitally scan these tissues and now can look at the soft tissues in such great detail without having to slice into them."

"CT scanning is one of the only ways to understand the shape of shark intestines in three dimensions," adds Summers. The researchers scanned the intestines of nearly three dozen different shark species.
It is believed that sharks go for extended periods — days or even weeks — between big meals. The scans reveal that food passes slowly through the intestine, affording sharks' digestive system the time to fully extract its nutrient value. The researchers hypothesize that such a slow digestive process may also require less energy.
It could be that this slow digestion is more susceptible to back flow given that the momentum of digested food through the tract must be minimal. Perhaps that is why sharks evolved something so similar to a Tesla valve.
What is Tesla's valve doing there?
Above, a Tesla valve. Below, a shark intestine.Credit: Samantha Leigh / California State University, Domi
Tesla's "valvular conduit," or what the world now calls a "Tesla valve," is a one-way valve with no moving parts. Its brilliance is based in fluid dynamics and only now coming to be fully appreciated. Essentially, a series of teardrop-shaped loops arranged along the length of the valve allow water to flow easily in one direction but not in the other. Modern tests reveal that at low flow rates, water can travel through the valve either way, but at high flow rates, the design kicks in. According to mathematician Leif Ristroph:

"Crucially, this turn-on comes with the generation of turbulent flows in the reverse direction, which 'plug' the pipe with vortices and disrupting currents. Moreover, the turbulence appears at far lower flow rates than have ever previously been observed for pipes of more standard shapes — up to 20 times lower speed than conventional turbulence in a cylindrical pipe or tube. This shows the power it has to control flows, which could be used in many applications."
A deeper dive
Summers suggests the scans are just the beginning. "The vast majority of shark species, and the majority of their physiology, are completely unknown," says Summers, adding that "every single natural history observation, internal visualization, and anatomical investigation shows us things we could not have guessed at."
To this end, the researchers plan to use 3D printing to produce models through which they can observe the behavior of different substances passing through them — after all, sharks typically eat fish, invertebrates, mammals, and seagrass. They also plan to explore with engineers ways in which the shark intestine design could be used industrially, perhaps for the treatment of wastewater or for filtering microplastics.
It could fairly be said, though, that Nikola Tesla was 100 years ahead of them.
The few seconds of nuclear explosion opening shots in Godzilla alone required more than 6.5 times the entire budget of the monster movie they ended up in.
Culture & Religion
As I sat in a darkened cinema in 1998, mesmerised and unnerved by the opening nuclear bomb explosions that framed the beginning of Roland Emmerich's Godzilla, it felt like I was watching the most expensive special effect in history.
Vast expanding clouds and fireballs eclipsed their surroundings and smothered everything in their path, dropping radioactive material that gave rise to the title monster. I had never encountered anything like this. I appreciated the creativity of those 90s films that tried to push visual boundaries through emerging computer technology, but this was on a different scale. I later discovered that there was a good reason for this – the footage was real.
The film did win awards for its special effects, although that was for the giant lizard itself and scenes of New York landmarks being shattered by its rampage, not the precise origin or significance of those fleeting mushroom clouds.
I kept coming back to those images and the accompaniment of haunting, almost other-worldly, choral music. It sent shivers down my spine, and still does every time I re-watch it.
It was that footage which started my journey towards research into nuclear history, and which led to me becoming a visiting fellow at the British Library's Eccles Centre for American Studies, where I study their collections, including the early pictorial history of nuclear testing.
Many of those iconic images which originally stunned me came from the aptly named Operation Crossroads – an exercise 75 years ago involving the first postwar nuclear weapons tests in July 1946, conducted by a joint US army-navy task force in Bikini Atoll in the Pacific. It involved 42,000 people, around 150 support vessels and over 90 target ships and submarines.
It also used over half the world's supply of film footage and hundreds of cameras to capture the nuclear detonations. Officially, this extensive filming was driven by military policy and scientific considerations, US political and military leaders wanting to understand the effects of this new weapon. At the same time, the demonstration of these weapons on film also served to showcase US power to a global audience.
The literal and psychological shock waves of that event were significant in the early cold war and in shaping the modern world, from setting precedents for thousands of subsequent bomb tests and accelerating the arms race to long-lasting radioactive environmental damage in locations where these tests occurred.
Crossroads even led to the invention of a language of terms to describe nuclear testing (through over two months of negotiation). Some terms agreed on are perhaps less familiar, including "cauliflower cloud" and "base surge", while others (like "fallout") have become ubiquitous since.
Crossroads had such an impact because it was almost a blockbuster movie production in its filmic scale and focus – a military-scientific cinematic spectacle, unique among over 2,000 nuclear tests conducted worldwide by all nations since.
Public Domain (Wikicommons)
Even as much of its cold war origins and significance lie forgotten, Crossroads' cinematic legacies have lived on over the last 75 years. Photos and footage from it have been used widely, from propaganda to popular culture: from Godzilla movies to internet memes. It has been employed to inform, to protest, as cultural symbols, and in ways which have obscured or re-framed aspects of nuclear history, shifting away from legacies of US testing, or even making the bomb a monster-destroying weapon (seen not least through Godzilla), much like a mushroom cloud enveloping everything in its path.

The world's most expensive film shoot
Crossroads fundamentally changed the film profile of atom bombs. Still images of those dropped on Hiroshima and Nagasaki in 1945 had appeared in many newspapers, but there was limited camera footage of these. There were also only a few thousand TVs in the US in 1946, so for many the Crossroads footage would be watched in cinema newsreels (whether in the US or other countries).
The Crossroads plan was large in scale and complexity, but underpinned by one central concept: assembling a fleet of around 90 decommissioned US naval ships (including three captured German and Japanese vessels), anchoring them in a remote lagoon in the Pacific (Bikini Atoll) and setting off atom bombs against them. A truly blockbuster plan.
'Operation Crossroads. Underwater atomic blast again rocks Bikini Atoll', British Pathé newsreel, 1946.
The stated goal was to test how atomic bombs would affect naval vessels, better to improve the design of future ships and such defensive arrangements as anchoring them in harbours, in the event that America faced the atom bombs of other nations in the future – though only the US had the bomb at this time. But Crossroads was later widened to test damage to other types of material and equipment, as well as measuring various effects of the weapons, such as (rather unsettlingly) the biological impact on thousands of animals present on target ships, including pigs, goats and rats.
Crossroads has been described as one of the most photographed events in history, and this had had several practical effects for moviemakers, even before the first weapon had been exploded. As more than half the world's available stock of film footage was bought up for cameras to record the tests, there were months of shortages in Hollywood and other major studios around the world.
New high-speed cameras were used to capture even the first fractions of a second after detonation (although these didn't always go to plan). Subsequent nuclear tests prompted further developments of these technologies, some of which would later make their way into fields from commercial cinematography to medicine.
Some of the first drone cameras – a concept evoking images of 21st-century movie-making – were also significantly developed and used in Crossroads. Large four-propeller engine B-17 bombers were rigged with TV cameras and transmitters so that they could be flown remotely as drone aircraft, to film the explosions and to collect radioactive samples from clouds. Similar arrangements were made for small, un-crewed boats. While a far cry from modern military and civil drones, such experiments were groundbreaking, leading to shots that would previously have been impossible, and laying foundations for future developments in both drones and in remote-controlled photography.
Development of the atomic bomb had been shrouded in the utmost secrecy throughout the second world war, to the point that the public and most members of Congress didn't know about it until after Hiroshima was bombed. Even Harry Truman – as vice president – hadn't known of its existence until he succeeded President Roosevelt in April 1945. This made the widespread publicity of Crossroads as a global media event one year later even more remarkable. Observers were invited to attend the tests from such unlikely places as the Soviet Union.
While the visuals of nuclear tests may be well recognised, the sound adds another dimension to their impact. The orchestras of the US Armed Forces provided custom music for films of the tests, whether for classified or public consumption, akin to the dramatic soundtracks of action or superhero adventures, or the eerie music of horror movies that creates the atmosphere.
The music was usually reserved as rousing chords for the opening and ending, or particularly poignant moments, such as observing damage to ships, though not for the detonations themselves. By contrast, all cinematic and documentary uses of Crossroads almost always overlay detonation footage with dramatic music.
Crossroads Baker detonation, with added music and with commentary by William Shatner, as featured in the revised version of the 1995 documentary 'Trinity and Beyond'.
One of a kind
"Those black dots are battleships? But they're so tiny," was the amazed reaction of one student when I showed their class footage from Crossroads – it was by no means an isolated response. The iconic nature of those images partly stems from Crossroads being distinctive among nuclear tests, particularly the second detonation, Crossroads Baker, on July 25 1946.
Almost all nuclear weapons tested have either been detonated within the atmosphere (ground or air, sometimes on the verge of space), in which case the first sign of the explosion has involved a blinding flash obscuring everything, or underground, in which there was often much less to see, except eerie videos of the earth slowly giving way to form a crater before kicking up dust. Underground testing could, of course, still lead to dramatic (and disturbing) footage, such as the ground rising up before exploding, a particularly notable example being the Operation Storax Sedan detonation in 1962, which was testing (almost unbelievably) ways of using nuclear weapons for civil construction in large excavation projects.
Crossroads Baker, meanwhile, was detonated just underwater, meaning it could be observed from the moment the explosion reached the surface. The visual effect was also made all the more powerful by the surrounding lagoon, the rapidly expanding blast hurling what were later estimated to be over two million tonnes of water and spray high into the air.
Silent footage from a ground angle with a clear view of the Crossroads Baker detonation, showing the growth of the explosion.
The scale of subsequent test series was different. While the bombs increased in power hundreds of times after Crossroads (and tests grew from using two weapons to sometimes up to 30 or 40 in a single operation), never again was there such a fleet assembled to be bombed.
Filming of tests became an industry in its own right, with subsequent tests having an entire US Air Force studio at Lookout Mountain Laboratory being dedicated to them. But there was rarely the same gathering of news media or scale of filming as at Crossroads. Footage of later tests, while still released in some propaganda and news films, also became less public for various reasons, including security.
There were no further underwater tests until 1955 with Operation Wigwam, which examined a concept originally planned for the cancelled third Crossroads test, Charlie, on the effects of deep ocean nuclear explosions against submarines. Wigwam similarly saw no repeat of the Crossroads fleet – only three miniature submarines anchored to the bomb for taking damage measurements, alongside a modest number of support vessels.
Other stories
For all the effort of being so widely photographed, much of the footage captured remained classified. Some was released in 1946 newsreel and public information films, more appeared in the 1960s, and further photographs and footage were released in 2016.
Crossroads had a book as well: an "Official Pictorial Report", something not repeated in any other test series and publicly available with around 200 photographs and captions. It has been a very valuable and often-overlooked time capsule of how the test was recorded and presented, but is also only a drop in the lagoon of 50,000 still images captured.
Many photos are of the people involved rather than the bombs themselves. In the Official Report, for instance, I discovered that only a fifth of the images show mushroom clouds; the rest charting things like scientific preparations or the aftermath of tests, but also everyday life for the task-force members conducting them. The more I saw them, the more I became fascinated with how these people were adapting to living through such events. It was like seeing "behind the scenes" footage.
And then there are the people who are only represented briefly in these images, often in a particular light, or excluded entirely – such as the existing population of 167 people at Bikini Atoll. These people ostensibly "agreed" to give up their homes for science, but, in reality, felt that they didn't have a choice, and also assumed that the move would only be temporary.
This was one of the first examples of nuclear colonialism. They were relocated to Rongerik Atoll, where food sources turned out not to be sustainable, and relocated further times after that. About 150 returned to Bikini in the 1970s, but the health dangers from radioactivity left behind by subsequent tests meant they had to leave again in 1978 and have never been able to return. Their story only received the greater attention it deserves in recent years.
In the world of box office films, the predominant cinematic uses of Crossroads' historic footage remains the mushroom cloud, inescapable in its iconic and instantly recognisable form. But the ways in which it has been used out of context in such films as Godzilla can create new meanings for how others depicted nuclear history, while further obscuring the original ones.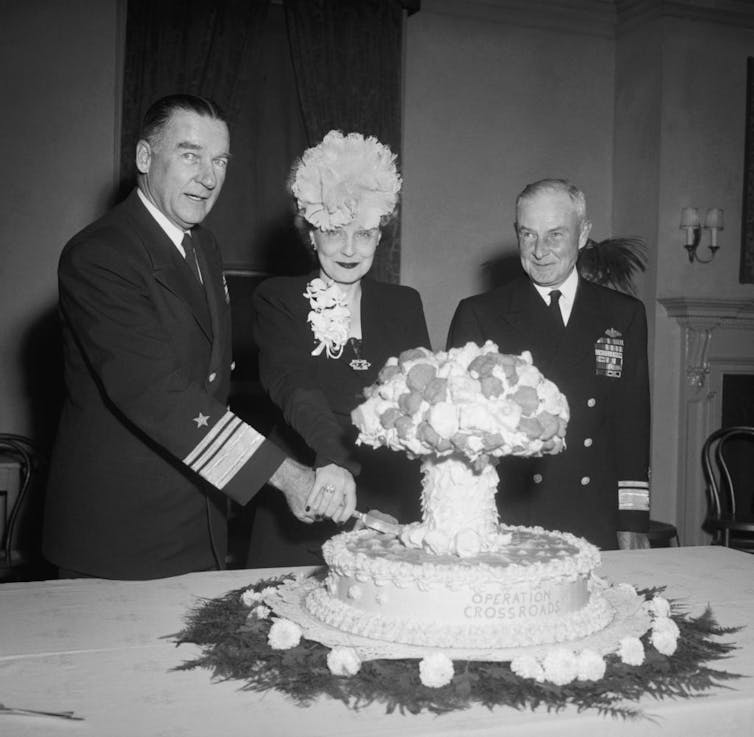 Admiral William Blandy, who led Operation Crossroads, and his wife cut a mushroom cloud cake. ( Harris & Ewing Studio/Wikimedia Commons)
(Mis)appropriation of Crossroads
Crossroads' footage has been used in a wide variety of settings, from the ending of Stanley Kubrick's Dr Strangelove to YouTube memes. But the Godzilla uses stand out, both in my own personal experience, but also because of their significance of wider trends in how nuclear history has been re-interpreted cinematically.
Even in 1998, I saw Godzilla as an allegory for the effects of nuclear tests and radiation. It was only when reading about the 1954 original that I learned the wider history: in the original (Japanese) story, Godzilla is an embodiment of the harm from nuclear weapons themselves and particularly the atomic bombings of Hiroshima and Nagasaki. The 1954 Godzilla was a peaceful ancient dinosaur, sent on a rampage by the effects of radiation from an atomic explosion. But this narrative became distorted in some later remakes, whether aimed at Japanese or western audiences.
A particular criticism of US adaptations, right from US re-cuts of the 1954 original that were sold back to Japan, has been the removal of overt references within the movies to Hiroshima and Nagasaki, or indeed to any of the problematic aspects of US nuclear history.
The 1998 film begins by focusing on Godzilla as being created by French nuclear tests in the Pacific. Such detonations did indeed happen, although the footage used is entirely that of American Pacific nuclear testing (Crossroads Baker featuring prominently from different angles alongside a few shots of other tests). Little visual and audio cues reinforce this fiction by superimposing over a montage of test preparations a map of French Polynesia, a countdown in French, and La Marseillaise playing in the background.
There are other hints later in the film which – as subtle as the presence of Godzilla itself – include Jean Reno as leader of a "French Secret Service" team who signals their job is to clean up the problems created by their country's tests in the Pacific, and a US TV station helpfully putting up a map of Godzilla's origins alongside a big sign "French Nuke Testing".
The 2014 film goes even further in its repainting of nuclear testing history. The opening also starts with Pacific tests, although framed as being the 1954 US thermonuclear weapons test, Castle Bravo. This time, instead of starting with a Godzilla created by atom bomb radiation, the nuclear tests are portrayed as a weapon used to try to kill Godzilla.
Opening shots of Godzilla (2014), prominently featuring footage of the Crossroads Baker detonation.
Of course, it's ironic that the film starts with an attempt to kill the embodiment of the effects of nuclear weapons, Godzilla, with nuclear weapons. And that the real-life 1954 Castle Bravo test went out of control because of an unexpected reaction, spreading radiation much further than planned, severely affecting the population of the Rongelap and Utirik Atolls with radiation poisoning, as well as sailors on a Japanese fishing trawler, one of whom later died. This story of the fishermen ignited protests in Japan over nuclear testing, resonating with the still fresh wounds of Hiroshima and Nagasaki and acting as a major inspiration for the original Japanese Godzilla film that same year.
For all the advancements in special effects technology, at the crucial moment of detonation, the iconic footage of Crossroads Baker still appears as the centrepiece in the 2014 Godzilla. It is interspersed with a more computer-generated mushroom cloud and the mimicking of shock waves hitting island beaches, but the continued usage shows its cinematic longevity.
It is not that there weren't videos of Castle Bravo available. On the contrary, footage of it has been iconic, and terrifying, in its own right in documentaries and films, and that bomb itself was over 700 times more powerful than Crossroads Baker. It is possible that these films, taken from a greater distance, didn't have quite the same, seemingly close-up, unobscured, and immediate feeling of scale as Baker, flanked by full-sized naval ships that appear as mere toys against the mushroom cloud.
To stunned moviegoers like myself, Crossroads may well have been the most expensive special effects in history. Adjusted for inflation, the operation would have cost over US$800 million in 1998, possibly even more with added technical and safety complexities (fortunately, US and Soviet atmospheric nuclear testing had ended in 1962). As such, those few seconds of nuclear explosion opening shots in Godzilla alone required more than 6.5 times the entire budget of the monster movie they ended up in.
But the cost which can never be calculated is the power of those images upon the human imagination and fear, as well as their effect on the nuclear arms race. Many target ships, while damaged, survived Crossroads Baker, but were enveloped in so much radioactive seawater that decontamination became almost impossible, except for a few vessels.
Plans to sail the remaining ships back to the US triumphantly gave way to sinking most of them, albeit without the same fanfare as the operation itself. A forgotten end credits scene on which the cameras never rolled, but the fallout from which fogs the films to this day.
Timothy Noël Peacock, Lecturer in History, University of Glasgow

This article is republished from The Conversation under a Creative Commons license. Read the original article.