The biggest A.I. risks: Superintelligence and the elite silos
When it comes to raising superintelligent A.I., kindness may be our best bet.
Ben Goertzel
Ben Goertzel is CEO and chief scientist at SingularityNET, a project dedicated to creating benevolent decentralized artificial general intelligence. He is also chief scientist of financial prediction firm Aidyia Holdings and robotics firm Hanson Robotics; Chairman of AI software company Novamente LLC; Chairman of the Artificial General Intelligence Society and the OpenCog Foundation.His latest book is
AGI Revolution: An Inside View of the Rise of Artificial General Intelligence
.
03 March, 2019
BEN GOERTZEL: We can have no guarantee that a super intelligent AI is going to do what we want. Once we're creating something ten, a hundred, a thousand, a million times more intelligent than we are it would be insane to think that we could really like rigorously control what it does. It may discover aspects of the universe that we don't even imagine at this point.
However, my best intuition and educated guess is that much like raising a human child, if we raise the young AGI in a way that's imbued with compassion, love and understanding and if we raise the young AGI to fully understand human values and human culture then we're maximizing the odds that as this AGI gets beyond our rigorous control at least it's own self-modification and evolution is imbued with human values and culture and with compassion and connection. So I would rather have an AGI that understood human values and culture become super intelligent than one that doesn't understand even what we're about. And I would rather have an AGI that was doing good works like advancing science and medicine and doing elder care and education becomes super intelligent than an AGI that was being, for example, a spy system, a killer drone coordination system or an advertising agency. So even when you don't have a full guarantee I think we can do things that commonsensically will bias the odds in a positive way.
Now, in terms of nearer-term risks regarding AI, I think we now have a somewhat unpleasant situation where much of the world's data, including personal data about all of us and our bodies and our minds and our relationships and our tastes, much of the world's data and much of the world's AI fire power are held by a few large corporations, which are acting in close concert with a few large governments. In China the connection between big tech and the government apparatus is very clear, but in the U.S. as well. I mean there was a big noise about Amazon's new office, well 25,000 Amazon employees are going in Crystal City Virginia right next-door to the Pentagon; there could be a nice big data pipe there if they want. We in the U.S. as well have very close connections between big tech and government. Anyone can Google Eric Schmidt verses NSA as well. So there's a few big companies with close government connections hoarding everyone's data, developing AI processing power, hiring most of the AI PhDs and it's not hard to see that this can bring up some ethical issues in the near-term, even before we get to superhuman super intelligences potentially turning the universe into paper clips. And decentralization of AI can serve to counteract these nearer-term risks in a pretty palpable way.
So as a very concrete example, one of our largest AI development offices for SingularityNET, and for Hanson Robotics the robotics company I'm also involved with, is in Addis Ababa Ethiopia. We have 25 AI developers and 40 or 50 interns there. I mean these young Ethiopians aren't going to get a job for Google, Facebook, Tencent or Baidu except in very rare cases when they managed to get a work visa to go to one of these countries somehow. And many of the AI applications of acute interest in those countries, say AI for analyzing agriculture and preventing agricultural disease or AI for credit scoring for the unbank to enable micro finance, AI problems of specific interest in sub-Saharan Africa don't get a heck of a lot of attention these days. AI wizardry from young developers there doesn't have a heck of a lot of market these days so you've got a both a lot of the market and a lot of the developer community that's sort of shut out by the siloing of AI inside a few large tech companies and military organizations. And this is both a humanitarian ethical problem because there's a lot of value being left on the table and a lot of value not being delivered, but it also could become a different sort of crisis because if you have a whole bunch of brilliant young hackers throughout the developing world who aren't able to fully enter into the world economy there's a lot of other less pleasant things than work for Google or Tencent that these young hackers could choose to spend their time on. So I think getting the whole world fully pulled into the AI economy in terms of developers being able to monetize their code and application developers having an easy way to apply AI to the problems of local interest to them, I mean this is ethically positive right now in terms of doing good and in terms of diverting effort away from people doing bad things out of frustration.
We have no guarantee that a superintelligent A.I. is going to do what we want. Once we create something many times more intelligent than we are, it may be "insane" to think we can control what it does.
What's the best bet to ensure superintelligent A.I. remains compliant with humans and does good works, such as advance medicine? To raise it in a way that's imbued with compassion and understanding, says Goertzel.
One way to limit "people doing bad things out of frustration," it may be advantageous for the entire world to be plugged into the A.I. economy so that developers, from whatever country, can monetize their codes.
Malcolm Gladwell teaches "Get over yourself and get to work" for Big Think Edge.
Big Think Edge
Learn to recognize failure and know the big difference between panicking and choking.

At Big Think Edge, Malcolm Gladwell teaches how to check your inner critic and get clear on what failure is.

Subscribe to Big Think Edge before we launch on March 30 to get 20% off monthly and annual memberships.
It turns out, that tattoo ink can travel throughout your body and settle in lymph nodes.
17th August 1973: An American tattoo artist working on a client's shoulder. (Photo by F. Roy Kemp/BIPs/Getty Images)
popular
In the slightly macabre experiment to find out where tattoo ink travels to in the body, French and German researchers recently used synchrotron X-ray fluorescence in four "inked" human cadavers — as well as one without. The results of their 2017 study? Some of the tattoo ink apparently settled in lymph nodes.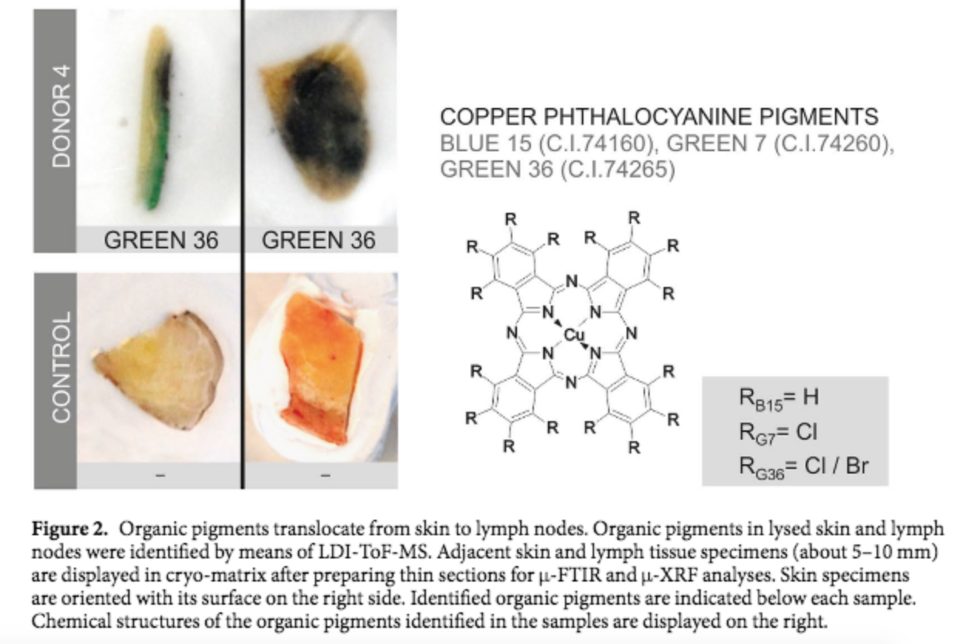 Image from the study.
As the authors explain in the study — they hail from Ludwig Maximilian University of Munich, the European Synchrotron Radiation Facility, and the German Federal Institute for Risk Assessment — it would have been unethical to test this on live animals since those creatures would not be able to give permission to be tattooed.
Because of the prevalence of tattoos these days, the researchers wanted to find out if the ink could be harmful in some way.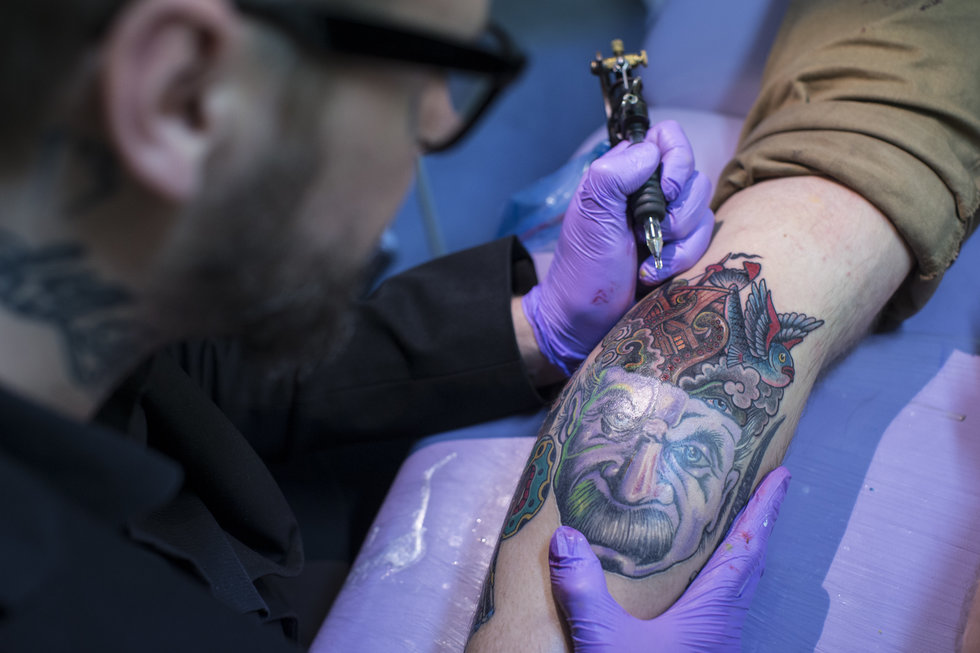 "The increasing prevalence of tattoos provoked safety concerns with respect to particle distribution and effects inside the human body," they write.
It works like this: Since lymph nodes filter lymph, which is the fluid that carries white blood cells throughout the body in an effort to fight infections that are encountered, that is where some of the ink particles collect.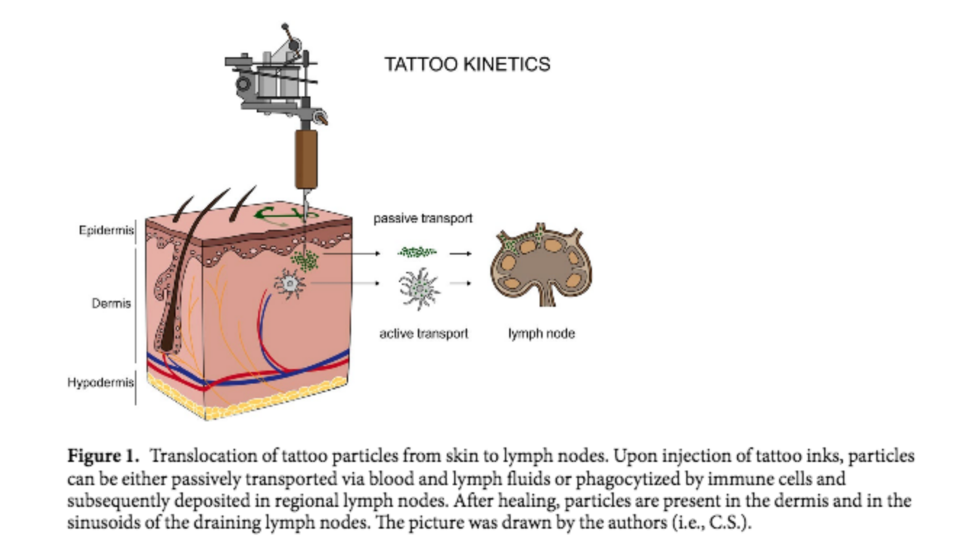 Image by authors of the study.
Titanium dioxide appears to be the thing that travels. It's a white tattoo ink pigment that's mixed with other colors all the time to control shades.
The study's authors will keep working on this in the meantime.
"In future experiments we will also look into the pigment and heavy metal burden of other, more distant internal organs and tissues in order to track any possible bio-distribution of tattoo ink ingredients throughout the body. The outcome of these investigations not only will be helpful in the assessment of the health risks associated with tattooing but also in the judgment of other exposures such as, e.g., the entrance of TiO2 nanoparticles present in cosmetics at the site of damaged skin."
It's one of the most consistent patterns in the unviverse. What causes it?
Videos
Spinning discs are everywhere – just look at our solar system, the rings of Saturn, and all the spiral galaxies in the universe.
Spinning discs are the result of two things: The force of gravity and a phenomenon in physics called the conservation of angular momentum.
Gravity brings matter together; the closer the matter gets, the more it accelerates – much like an ice skater who spins faster and faster the closer their arms get to their body. Then, this spinning cloud collapses due to up and down and diagonal collisions that cancel each other out until the only motion they have in common is the spin – and voila: A flat disc.
Big think's weekly newsletter.
Get smarter faster from the comfort of your inbox.
See our newsletter privacy policy
here
Most Popular
Most Recent
Big think's weekly newsletter.
Get smarter faster from the comfort of your inbox.
See our newsletter privacy policy
here
© Copyright 2007-2018 & BIG THINK, BIG THINK EDGE,
SMARTER FASTER trademarks owned by The Big Think, Inc. All rights reserved.