You've got 10 minutes with Einstein. What do you talk about? Black holes? Time travel?
Why not gambling? The Art of War? Contemporary parenting?
Each week, host Jason Gots surprises some of the world's brightest minds with ideas they're not at all prepared to discuss. Join us and special guests Neil Gaiman, Alan Alda, Salman Rushdie, Margaret Atwood, Richard Dawkins, Maria Popova, Mary-Louise Parker, Neil deGrasse Tyson and many more...
28 December, 2016
Paul Bloom – Cold-Blooded Kindness – Think Again Podcast #79
Spontaneous talk on surprise topics. Psychologist Paul Bloom wants us to abandon empathy as a guide to moral decision making. He's probably right.
Think Again Podcasts
---
Subscribe on Google Play, Stitcher, or iTunes
Come talk to us on Twitter: @bigthinkagain
In this episode: 
Since 2008, Big Think has been sharing big ideas from creative and curious minds. The Think Again podcast takes us out of our comfort zone, surprising our guests and
Jason Gots
, your host, with unexpected conversation starters from Big Think's interview archives.
Paul Bloom is an internationally recognized expert on the the psychology of child development, social reasoning, and morality, and the author of numerous books including Just Babies: The Origins of Good and Evil. His newest book is Against Empathy: The Case for Rational Compassion. 
Is managing a hedge-fund a better way to do good in the world than joining the Peace Corps? Does donating for disaster-relief (without really thinking it through) often make matters worse? At the risk of being mistaken for a Scrooge-like figure, Paul Bloom advances a smart and nuanced argument that empathy, in the sense of feeling others' suffering, is a terrible guide to moral decision-making. 
Surprise conversation starter interview clips in this episode: Juanita Rilling on the psychology and the realities of disaster relief, David Eagleman on mass shootings, Wesley Lowery on freedom of the press.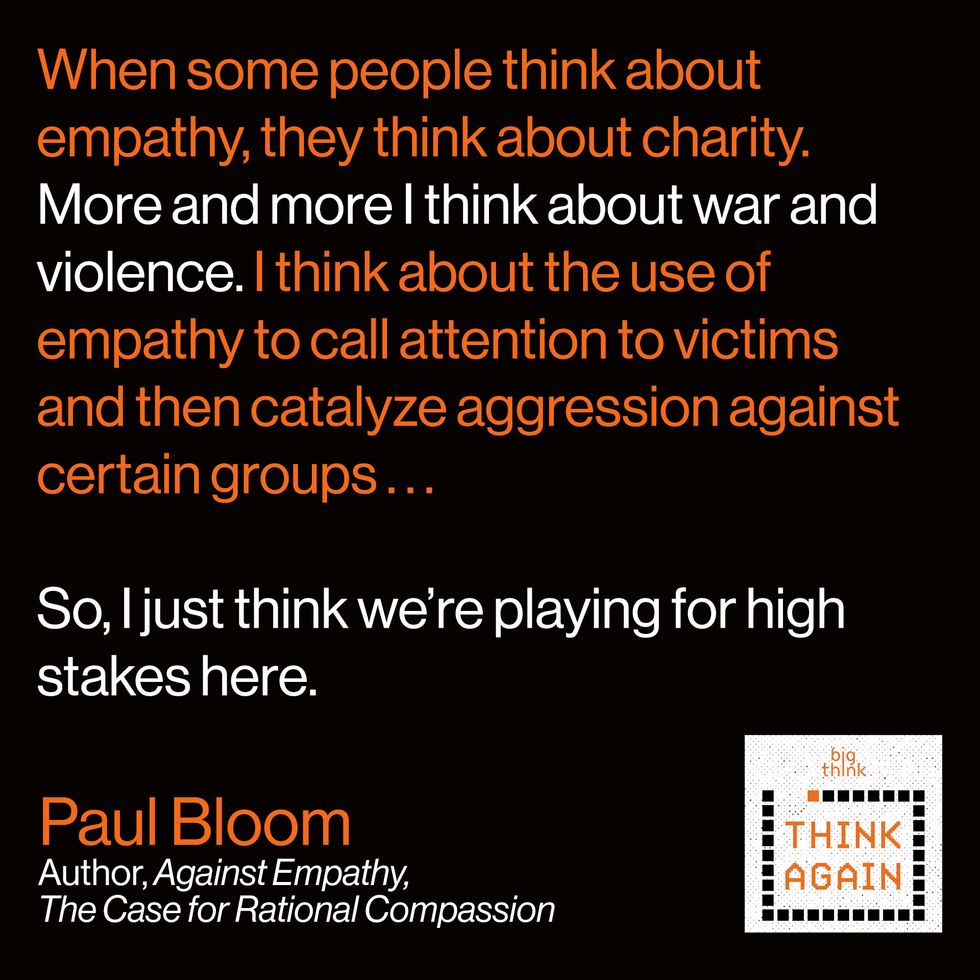 About Think Again - A Big Think Podcast: You've got 10 minutes with Einstein. What do you talk about? Black holes? Time travel? Why not gambling? The Art of War? Contemporary parenting? Some of the best conversations happen when we're pushed outside of our comfort zones. Each week on Think Again, we surprise smart people you may have heard of with short clips from Big Think's interview archives on every imaginable subject. These conversations could, and do, go anywhere.
Get the whole 12min library now for just $29.
Gear
12min summarizes hundreds of best-selling books down to essential 12-minute microbooks.
Microbooks are downloadable in both text and audio formats.
You can request a 12min summary of any non-fiction book not in their vast library.
Related Articles
To create the podcast series "Dolly Parton's America", Jad Abumrad and his producer Shima Oliaee took nine trips into the "Dollyverse"—that complex American multiverse of music and culture that surrounds country singer Dolly Parton. In this episode Jad and host Jason Gots talk about some of the astonishing discoveries he made along the way.
"Body, breath, awareness…that's your life. Every problem you ever have, every joy you ever have, depends on that." In this week's episode of Think Again, host Jason Gots talks with acclaimed poet and zen teacher Norman Fischer about the imagination as a tool for living a good life.
Think Again Podcasts
Confucianism, Islam, Christianity, Hinduism—the world's scriptural belief systems take many different forms but all tend toward 'kenosis'—self-transcendence for the benefit of others. And all have been used and abused for less spiritual ends. Former nun and renowned theologian Karen Armstrong on the lost art of scripture.
Connect with us
How to listen
You can listen to Think Again right here on site, or select your podcast app: