You've got 10 minutes with Einstein. What do you talk about? Black holes? Time travel?
Why not gambling? The Art of War? Contemporary parenting?
Each week, host Jason Gots surprises some of the world's brightest minds with ideas they're not at all prepared to discuss. Join us and special guests Neil Gaiman, Alan Alda, Salman Rushdie, Margaret Atwood, Richard Dawkins, Maria Popova, Mary-Louise Parker, Neil deGrasse Tyson and many more...
27 July, 2018
Parker Posey: I see a dachshund in you
On hallucinating a teensy Virgin Mary in a water fountain, our weird relationship to fame, her stint as an elf-hunting camp counselor, and more in what feels like a 4 am college conversation with the inimitable Parker Posey.
Sex & Relationships
The impulse to make art is with us from childhood. It's the desire to play. To say "hey! Look what I made!" It's the wild fun of making a big mess that's nobody else's but your own—and not having to clean it up. Above all else, art is wild. It's independent. It's free. And that's one reason why the art industry is a very weird thing. In order to make money "at scale" as the Silicon Valley kids like to say, movie studios, fancy galleries, and concert promoters have to quantify, systematize, and package that sense of freedom. If it sounds like a paradox, that's because it is. I'm just gonna say it: the more money at stake, the less breathing space for everything that draws us to art in the first place.
---
I'm here today with an actor whose name is basically synonymous with creative freedom. Parker Posey has created unforgettable characters in indie films like Richard Linklater's Dazed and Confused, Hal Hartley's Fay Grim, and Christopher Guest's Best in Show, and in big studio productions like You've Got Mail and Netflix's Lost in Space. Wherever she shows up, Parker fills the screen with an energy teetering between hilarious and deeply uncomfortable. A sense of chaos barely contained. Her new memoir – her first book – captures that same wonderfully unpredictable honesty and humor. It's called You're On An Airplane: A Self-Mythologizing Memoir.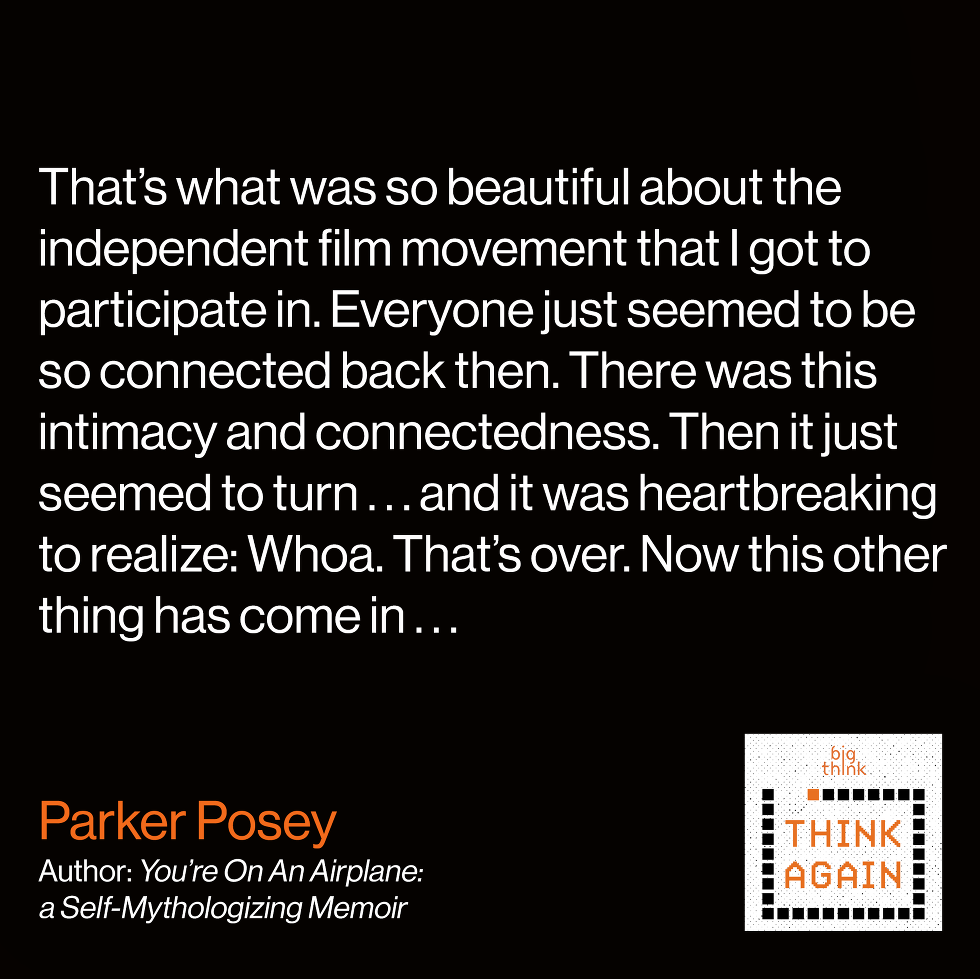 Surprise conversation-starter clips in this episode:
Danny Sjursen on how Americans value the lives of non-Americans
Nick Offerman on staying balanced in an insane industry
About Think Again - A Big Think Podcast: Since 2008, Big Think has been sharing big ideas from creative and curious minds. Since 2015, the Think Again podcast has been taking us out of our comfort zone, surprising our guests and Jason Gots, your host, with unexpected conversation starters from Big Think's interview archives.
You've got 10 minutes with Einstein. What do you talk about? Black holes? Time travel? Why not gambling? The Art of War? Contemporary parenting? Some of the best conversations happen when we're pushed outside of our comfort zones. Each week on Think Again, we surprise smart people you may have heard of with short clips from Big Think's interview archives on every imaginable subject. These conversations could, and do, go anywhere.

Come talk to us
on Twitter: @bigthinkagain
Related Articles
Tragedy in art, from Ancient Greece to Breaking Bad, resists all our efforts to tie reality up in a neat bow, to draw some edifying lesson from it. Instead it confronts us with our own limitations, leaving us scrabbling in the rubble of certainty to figure out what's next.
Think Again Podcasts
Why democracy has been unpopular with philosophers
Tragedy's reminder that the past isn't finished with us
…and why we need art in the first place
The film becomes the story of the making of the film. From his Monty Python days to now, Don Quixote is a metaphor for Terry Gilliam's whole career, and for his 30 year project of making a film about a film about the knight of the woeful countenance. We talk about Muppets, time, and basically everything else two humans can talk about.
Think Again Podcasts
An American barbarian in Monty Python
Chaos Muppets vs. Order Muppets (and which one Terry Gilliam is)
Artistic ego: avoiding the fate of Icarus, Job, etc.
Love + fear = awe. And awe can inspire the best and the worst in us. From 100,000 wild tigers a century ago, we're down to around 5,000. Oscar winner Ross Kauffman's TIGERLAND tells the story of the lengths some will go to to protect them.
Think Again Podcasts
Making friends with The Tiger Man of Russia
Looking for beauty and humor in the darkest places
"I love meeting people…I love spending time with people…part of me hates picking up a camera and pointing it at somebody. I feel like a parasite."
Connect with us
How to listen
You can listen to Think Again right here on site, or select your podcast app: