You've got 10 minutes with Einstein. What do you talk about? Black holes? Time travel?
Why not gambling? The Art of War? Contemporary parenting?
Each week, host Jason Gots surprises some of the world's brightest minds with ideas they're not at all prepared to discuss. Join us and special guests Neil Gaiman, Alan Alda, Salman Rushdie, Margaret Atwood, Richard Dawkins, Maria Popova, Mary-Louise Parker, Neil deGrasse Tyson and many more...
28 February, 2018
Amy Chua – U.S. and Them – Think Again - a Big Think Podcast #137
Think you're "post-tribal"? Think again. Attorney and "tiger mom" Amy Chua on groupthink in America and abroad.
Culture & Religion
---
Subscribe on Google Play, Stitcher, or iTunes
Come talk to us on Twitter: @bigthinkagain
I don't know about you, but for me, middle school was horrible. I arrived at an all-male school in a still very homophobic era as a small, nervous, Michael Jackson fanatic. Don't worry - I'm going somewhere with this. For three years, life was hell. Then I found my tribe—the drama nerds. Maybe we couldn't beat you up, but you had to respect the artistry. In high school, Tribalism was power. 
My guest today is Yale Law professor Amy Chua, who shook the Internet up a few years back with her book BATTLE HYMN OF THE TIGER MOTHER. What upset some progressive American parents most, it seems, was the suggestion that they were members of a parenting tribe. A cultural bubble with its own fallible set of assumptions.  
In her powerful new book POLITICAL TRIBES: GROUP INSTINCT AND THE FATE OF NATIONS, Amy points out that long past high school, group instinct is much stronger than Americans generally like to admit. And that this cognitive blind spot has led to our repeatedly shooting ourselves in the foot, at home and abroad.  
Surprise conversation-starter clips in this episode: 
Michael Norton on the link between money and happiness, Derek Thompson on "coolness"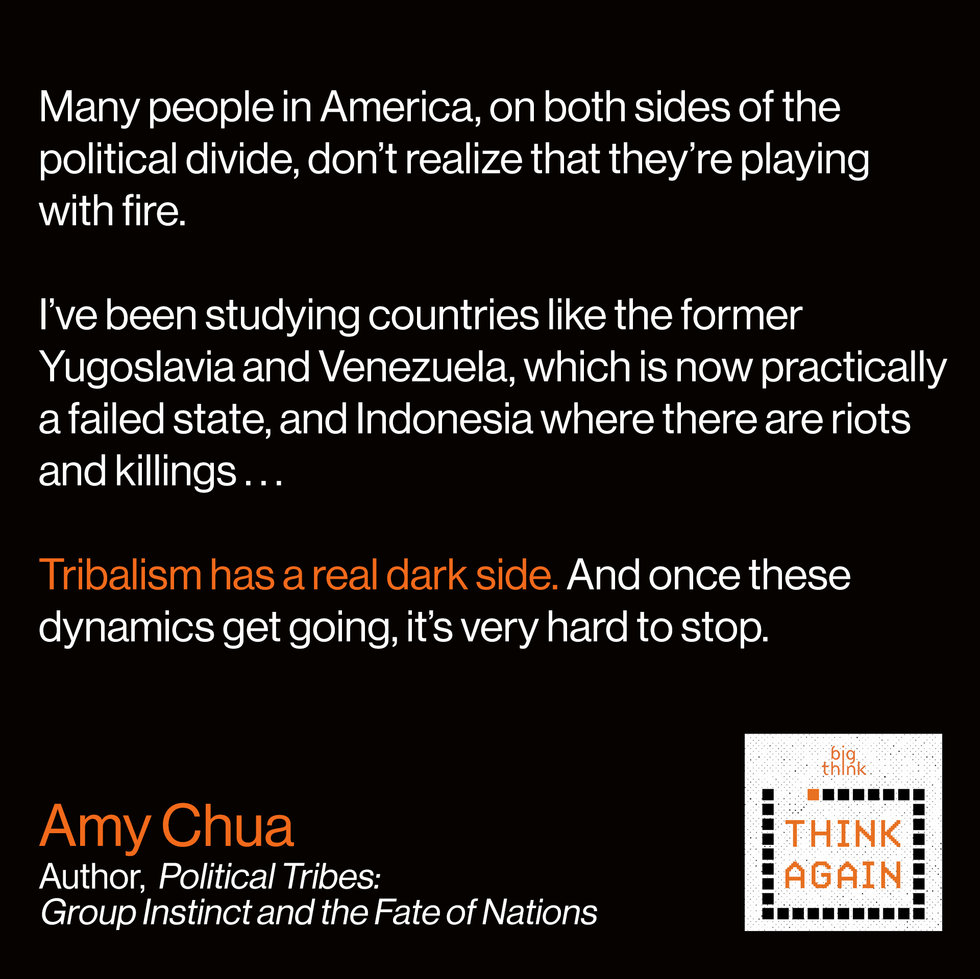 About Think Again - A Big Think Podcast: Since 2008, Big Think has been sharing big ideas from creative and curious minds. Since 2015, the Think Again podcast has been taking us out of our comfort zone, surprising our guests and Jason Gots, your host, with unexpected conversation starters from Big Think's interview archives.
You've got 10 minutes with Einstein. What do you talk about? Black holes? Time travel? Why not gambling? The Art of War? Contemporary parenting? Some of the best conversations happen when we're pushed outside of our comfort zones. Each week on Think Again, we surprise smart people you may have heard of with short clips from Big Think's interview archives on every imaginable subject. These conversations could, and do, go anywhere.
Related Articles
Empathy makes us human. Humans make structures that rob us of empathy when we need it most. Helen Riess is trying to reverse that trend.
Think Again Podcasts
Heart – mind = emotional quicksand. Mind – heart = greeting card sympathy
The doctor burnout epidemic and how to fix it
With the help of positive psychology and the happiness industry, many of us seem to be running in the exact opposite direction of happiness.
Think Again Podcasts
"It's almost like the only way we can understand leisure is as a productivity hack."
"If we think of happiness as an individual responsibility, that stands in the way of building a society in which the conditions are there for everybody to thrive."
What do the "seduction movement," the Virginia Tech shooter, and the Asian-American experience have in common? Wesley Yang thinks and writes with devastating clarity about loneliness, invisibility, and the incoherence of American life.
Think Again Podcasts
What if Asian American cultural "invisibility" is the key to saving America?
Are liberalism and democracy too tame to survive identity politics?
"One risks being a pariah...just by saying the things that need to be said."
Connect with us
How to listen
You can listen to Think Again right here on site, or select your podcast app: