You've got 10 minutes with Einstein. What do you talk about? Black holes? Time travel?
Why not gambling? The Art of War? Contemporary parenting?
Each week, host Jason Gots surprises some of the world's brightest minds with ideas they're not at all prepared to discuss. Join us and special guests Neil Gaiman, Alan Alda, Salman Rushdie, Margaret Atwood, Richard Dawkins, Maria Popova, Mary-Louise Parker, Neil deGrasse Tyson and many more...
07 July, 2017
Alan Alda – The Spirit of the Staircase – Think Again - a Big Think Podcast #106
Spontaneous talk on surprise topics. Actor and author Alan Alda on the art of communication (for good and evil), social anxiety, the mind of a billionaire, and more.
Mind & Brain
---
Subscribe on Google Play, Stitcher, or iTunes
Come talk to us on Twitter: @bigthinkagain
Since 2008, Big Think has been sharing big ideas from creative and curious minds. Since 2015, the Think Again podcast has been taking us out of our comfort zone, surprising our guests and Jason Gots, your host, with unexpected conversation starters from Big Think's interview archives.
Today's guest is actor, writer, director, and science-curious artist Alan Alda. Jason says: "I grew up watching him in reruns of MASH, where his character Hawkeye Pierce was so specific and relatable that he feels in my memory like a not-too-distant relative. And in Horace and Pete, Louis CK's 2016 brilliant web-tv dramedy, Alan underwent a miraculous metamorphosis into a bitter, racist barman who is also a fully-fleshed human being.  But wait - there's more! For decades, Alan has been helping to heal the ancient rift between highly technical science and ordinary curiosity. Alan's new book If I Understood You, Would I Have This Look on My Face? Shares what he (and science) have learned about how we can communicate better. It's no exaggeration to say that this is a matter of life or death." 
Inspired by a passage in Alan's book, Jason puts away his interview notes. What follows is a funny, honest, connected conversation unlike anything else in the show's two-year history.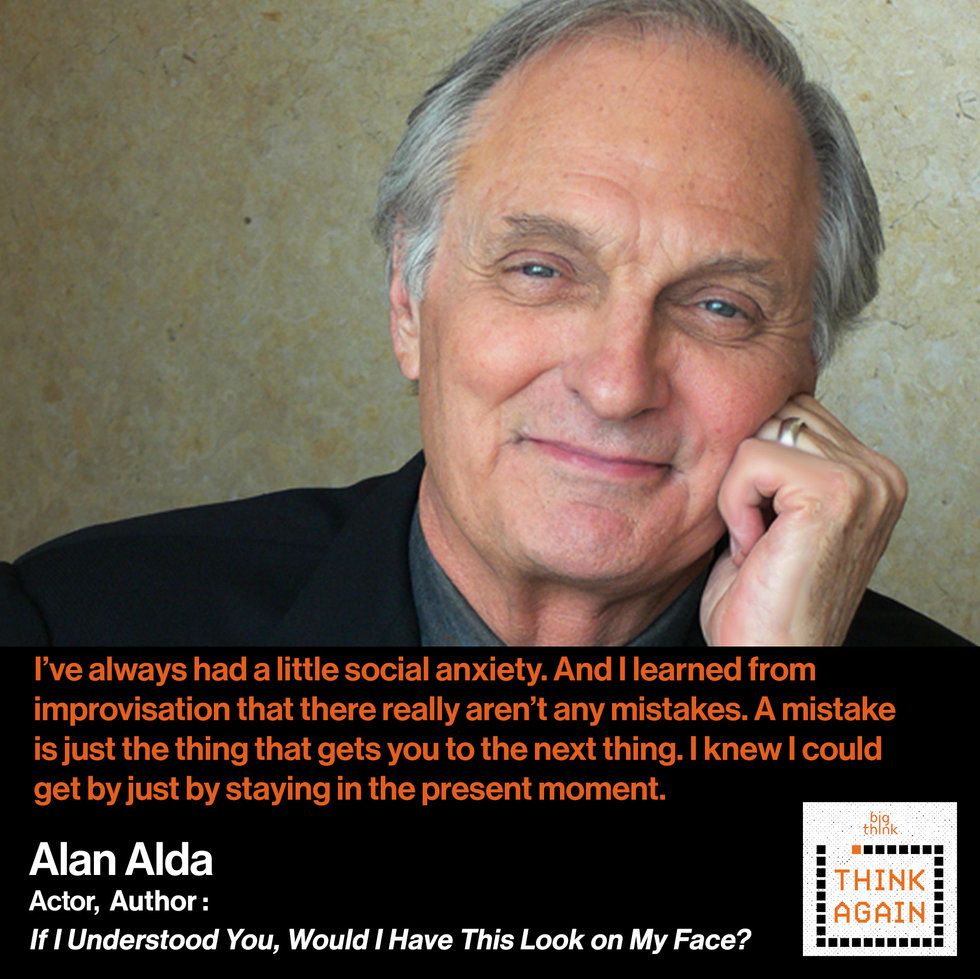 Surprise conversation starter interview clips in this episode:
James Gleick - Humans are Information-Seeking Creatures 
About Think Again - A Big Think Podcast: You've got 10 minutes with Einstein. What do you talk about? Black holes? Time travel? Why not gambling? The Art of War? Contemporary parenting? Some of the best conversations happen when we're pushed outside of our comfort zones. Each week on Think Again, we surprise smart people you may have heard of with short clips from Big Think's interview archives on every imaginable subject. These conversations could, and do, go anywhere.
So much of the world you know was made possible by Intel founder Robert Noyce, co-inventor of the integrated circuit.
Sponsored by Intel The Nantucket Project
In this awe-inspiring short documentary, Michael Malone, author of The Intel Trinity, traces the history of Silicon Valley technology, starting with the integrated circuit, invented by Intel co-founder Robert Noyce.
Ever wondered how Moore's Law came about, and who it's named after? Gordon Moore, Intel's other founder and the law's namesake, explains the remarkable growth and improvements to quality of life made possible by the integrated circuit.
With quantum computing on the horizon, there's no telling how technology will change humanity in the next decades. That's a cause for excitement, and trepidation; new technology requires new cautions.
Related Articles
Progress for women can only go so far while men still struggle with ideals of masculinity that teach violence and emotional disconnect. Liz Plank is trying to change the conversation.
Think Again Podcasts
In the past half century or so feminism has had its hands plenty full dealing with the abuse and inequality women suffer at the hands of horribly behaved men and the systems they build. Too full to worry much about what the hell is going on inside those men and why. And there are powerful arguments to be made for the fact that it is not women's responsibility to help men figure out how not to be monsters.
But I've noticed an interesting shift in the discourse lately. In the wake of the MeToo movement (things happen fast these days…that blew up at scale in 2017), some threads of the public conversation have turned toward what my guest today might talk about in terms of the gender ecosystem, the ways that ideas about gender shape our identities and behavior and the fact that those behaviors impact everyone in society for better and worse. Regardless of whose responsibility it is to solve these problems, the question of where masculinity goes from here should matter to everyone.
My guest today is journalist and cultural critic Liz Plank. she was named one of Forbes' 30 under 30, has produced and hosted multiple acclaimed digital series for Vox, and is the author of the new book FOR THE LOVE OF MEN: a new vision of mindful masculinity.
From atomic theory to evolution to utilitarian pragmatism, the ancient Greek philosopher Epicurus was way ahead of his time. In the writings of his school, philosopher Catherine Wilson finds answers to many of our most vexing modern problems.
Fears and discoveries in translating an intimate world to the big screen. How experience helps you deal with people yelling at you. Why 21st century audiences love to be transported to Edwardian England, in spite of all the class hierarchy…
Connect with us
How to listen
You can listen to Think Again right here on site, or select your podcast app: