How craft is good for our health
Depression, post-traumatic stress, workplace stress and fatigue are only some of the mental health problems that crafting can help relieve.
30 July, 2018
At a time when many of us feel overwhelmed by the 24/7 demands of the digital world, craft practices, alongside other activities such as colouring books for grown-ups and the up-surge of interest in cooking from scratch and productive home gardens, are being looked to as something of an antidote to the stresses and pressures of modern living.
---
Crafts such as knitting, crochet, weaving, ceramics, needlework and woodwork focus on repetitive actions and a skill level that can always be improved upon. According to the famous psychologist Mihaly Csikszentmihalyi this allows us to enter a "flow" state, a perfect immersive state of balance between skill and challenge.
With what is increasingly referred to today as "mindfulness" being a much-desired quality for many people, it's not surprising crafts are being sought out for their mental and even physical benefits.
Craft as therapy
For over a century, arts and craft-based activity have been a core part of occupational therapy that emerged as a distinct health field around the end of the first world war in response to the needs of returned soldiers. This includes many suffering from what we now refer to as post-traumatic stress disorder, but then referred to as "shell shock".
Knitting, basket weaving, and other craft activities were commonplace in the repatriation support offered throughout much of the English-speaking world to the returned veterans of the two world wars. This was as both diversional therapy (taking your mind off pain and negative thoughts), as well as skills-development geared towards re-entering the civilian workforce.
More recently, research is seeking to better understand just how craft is so beneficial for the body and mind. Interestingly, much of the focus has been on the mental health and well-being brought about by knitting.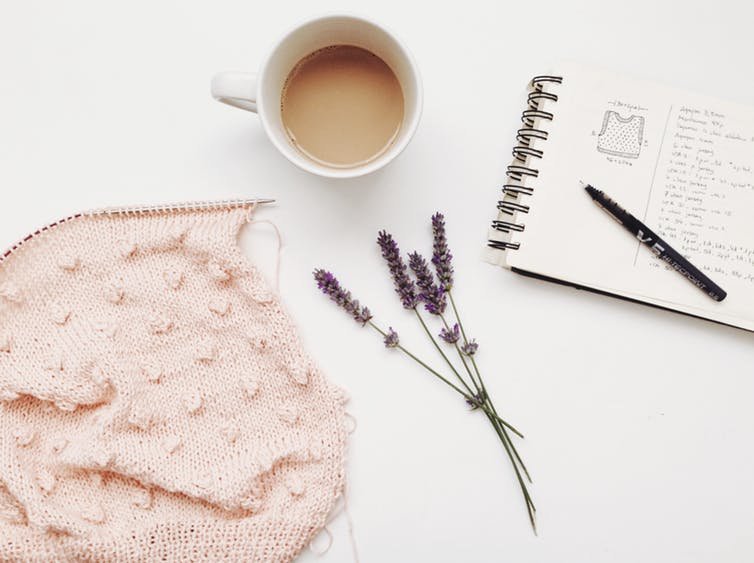 Knitters report lower stress, a sense of accomplishment and increased happiness. rocknwool unsplash
The benefits of craft according to science
A large-scale international online survey of knitters found respondents reported they derived a wide range of perceived psychological benefits from the practice: relaxation; relief from stress; a sense of accomplishment; connection to tradition; increased happiness; reduced anxiety; enhanced confidence, as well as cognitive abilities (improved memory, concentration and ability to think through problems).
In more clinical contexts, introducing knitting into the lives of hospital patients with anorexia nervosa led to a self-reported reduction in anxious preoccupation with eating disorder thoughts and feelings.
Some 74% of research participants described feeling "distracted" or "distanced" from these negative emotional and cognitive states, as well as more relaxed and comfortable. Over half said they felt less stressed, a feeling of accomplishment, and less likely to act on their "ruminating thoughts".
In another study, knitting was found to reduce workplace stress and compassion fatigue experienced by oncology nurses.
Quilting has been found to enhance participant's experiences of well-being as they move into older age. Research reports quilters find the work challenging, cognitively demanding, it helps to maintain or generate new skills, and working with colour was found to be uplifting, especially in winter.
In studies of people with chronic fatigue syndrome (CFS/ME), depression and other long-term health problems, textile crafts were found to increase sufferers' self-esteem, their engagement with the wider world, and increase their personal sense of well-being and their ability to live positively with their condition.
While knitting and other textile-based activities tend to be female-dominated, similar benefits have been found for men in the collective woodworking, repair and other productive tinkering activities of the Men's Sheds movement. Participants reported reduced levels of depression.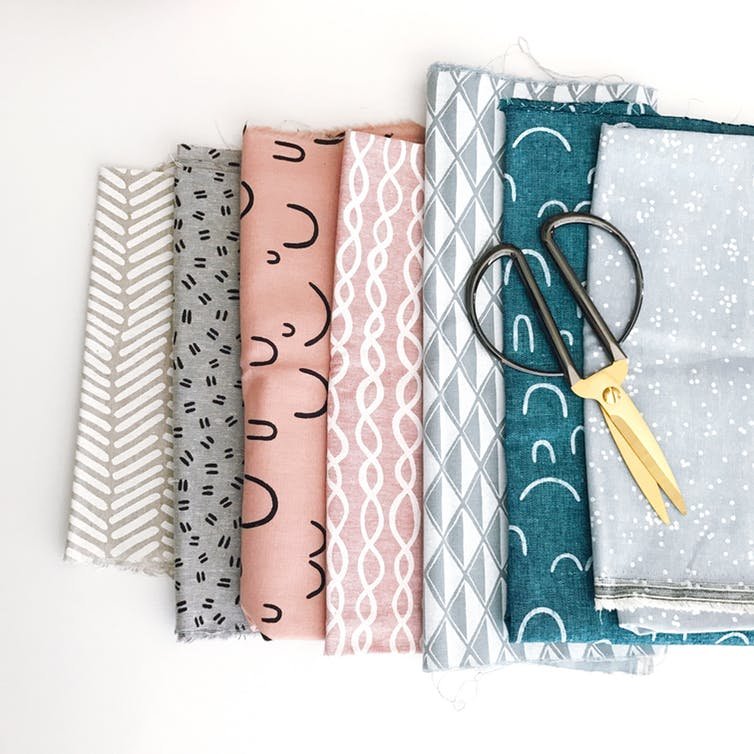 Quilting with colour has been found to be uplifting, especially in winter. karly santiago unsplash
Why does craft make us feel good?
What unites almost all of these studies, is that while the practice of craft, especially those such as knitting, quilting, needlework and woodworking, may at first appear to be relatively private activities, the benefits also substantially arise from the social connections craft enables.
These have even been reported across whole communities impacted by disaster, such as the recovery following the 2011 Christchurch earthquake.
One of the strengths of craft practice, especially as a contributor to well-being, is precisely that it can be both solitary and collective, and it's up to the individual to decide.
For the shy, the ill, or those suffering from various forms of social anxiety, this control, as well as the capacity to draw away any uncomfortable focus upon themselves and instead channel this into the process of making, is a much valued quality of their craft practice.
The research into the physical and mental health benefits of craft remains largely qualitative and based on self-reporting. And it especially explores its capacity to generate positive health outcomes through positive mental health. While there's much more work to be done here, it's clear craft continues to play a key role in enhancing the quality of life of those who participate in its practices.
Susan Luckman, Professor of Cultural Studies, University of South Australia
This article was originally published on The Conversation. Read the original article.
Pfizer's partnerships strengthen their ability to deliver vaccines in developing countries.
Susan Silbermann, Global President of Pfizer Vaccines, looks on as a health care worker administers a vaccine in Rwanda. Photo: Courtesy of Pfizer.
Sponsored
Community healthcare workers face many challenges in their work, including often traveling far distances to see their clients
Pfizer is helping to drive the UN's sustainable development goals through partnerships.
Pfizer partnered with AMP and the World Health Organization to develop a training program for healthcare workers.
The best-selling author tells us his methods.
Videos
James Patterson has sold 300 million copies of his 130 books, making him one of the most successful authors alive today.
He talks about how some writers can overdo it by adding too much research, or worse, straying from their outline for too long.
James' latest book, The President is Missing, co-written with former President Bill Clinton, is out now.

Progressive America would be half as big, but twice as populated as its conservative twin.
Image: Dicken Schrader
Strange Maps
America's two political tribes have consolidated into 'red' and 'blue' nations, with seemingly irreconcilable differences.
Perhaps the best way to stop the infighting is to go for a divorce and give the two nations a country each
Based on the UN's partition plan for Israel/Palestine, this proposal provides territorial contiguity and sea access to both 'red' and 'blue' America
It's the first time the association hasn't hired a comedian in 16 years.
(Photo by Anna Webber/Getty Images for Vulture Festival)
Culture & Religion
The 2018 WHCA ended in controversy after comedian Michelle Wolf made jokes some considered to be offensive.
The WHCA apologized for Wolf's jokes, though some journalists and many comedians backed the comedian and decried arguments in favor of limiting the types of speech permitted at the event.
Ron Chernow, who penned a bestselling biography of Alexander Hamilton, will speak at next year's dinner.
Big think's weekly newsletter.
Get smarter faster from the comfort of your inbox.
See our newsletter privacy policy
here
Most Popular
Most Recent
Big think's weekly newsletter.
Get smarter faster from the comfort of your inbox.
See our newsletter privacy policy
here
© Copyright 2007-2018 & BIG THINK, BIG THINK EDGE,
SMARTER FASTER trademarks owned by The Big Think, Inc. All rights reserved.