A new study shows how reciprocal generosity can benefit you.
Credit: Pixabay
Researchers studied what people do when distributing items of unequal value.
You may be more likely to get the item you want if you let the other person decide.
Reciprocal generosity can let you "give up your cake and eat it too".
People may be nicer than you think. A new study says that people are generally willing to give up something they want to appear generous.
Let's say you've been circling the mall's parking lot and ended up next to a free space right by the elevator at the same time as another car with someone you know from the PTA. And you both have just as much of a claim to the spot. In the meantime, there's a spot much farther away that opened up as well. What would you do? Chances are, says the new paper in the Journal of Personality and Social Psychology, if you offer the person in the other car to choose what they'd like to do, they will give up the better spot to you and think you're generous.
Scientists Michael Kardas, Alex Shaw and Eugene Caruso at the University of Chicago conducted eight studies that showed the complexity of either/or scenarios, when a person has to choose between being worse off materially or having their reputation improve.
By utilizing a group of 300 online volunteers, the researchers looked at how frequently people abdicate decisions when faced with having to distribute items of unequal value – like a higher-end food product vs. something worse in quality – between themselves and a friend.
Almost 70% said they would abdicate the decision, giving the other person the choice in distributing the items. They would do so to seem more generous. In a real-life test of this study, an experiment conducted in a park that involved pairs of local people who knew each other, a similar ratio of 2/3s of the subjects decided to abdicate their decision. Interestingly, if they did that, more often then not, the other person gave up the more valuable item.
An additional online study of 310 people concluded that if people were informed that their friend abdicated the decision, leaving it up to them, they were much more likely to give up the higher-value object in question than to take it themselves.
Researchers see this fact supporting the idea that people view abdication of decision as an act of generosity, which would prompt a reciprocal generosity.
This abdication effect was observed among strangers as well but with a twist. If given the choice to decide what they or a stranger would get, participants were more likely to keep the higher-valued item for themselves. But if told that the stranger abdicated the decision to them, they were again more likely to give up the better option rather than keep it. A real-world test of this involved gift cards of varying amounts and showed the same results as the imaginary situations.
"In sum, abdication seems to be beneficial in more ways than one: abdicators are not only perceived to be generous, but they also tend to receive the larger slice of the pie," wrote the researchers.
They also described their finding as "abdication provides a unique opportunity for people to give up their cake and eat it too." It pays to be nice.
A new study discovers why whales grew to be the largest animals on our planet.
A Humpback whale jumps in the surface of the Pacific Ocean at the Uramba Bahia Malaga natural park in Colombia, on July 16, 2013. (Photo credit: LUIS ROBAYO/AFP/Getty Images)
While we tend to think of dinosaurs as gigantic, they are not the biggest animals ever. In fact, the largest animal to have ever lived is around on our planet right now. It's a blue whale, a giant that can reach up to 100 feet (30m) in length and 200 tons (400,000 pounds) in weight. This huge beast, while endangered, is still roaming our waters, with an estimated 10,000 to 25,000 blue whales alive today. Now scientists figured out why baleen whales like the blue whale got to be so big.
One previous theory explaining the gigantism of whales saw their large size as an adaptation necessary to fight off megasharks and other enormous prehistoric animals. But scientists found out that until about 4.5 million years ago whales stayed moderate in size - about 10 meters long. Then, near the beginning of the first Ice Age, they started growing larger.
What happened? Researchers from the University of Chicago, Stanford University and the Smithsonian's National Museum of Natural History studied fossils of 63 extinct whales to figure it out. They propose that the explanation lies in the dramatically changed diets of the animals.
"We might imagine that whales just gradually got bigger over time, as if by chance, and perhaps that could explain how these whales became so massive," said the study's co-author Graham Slater, who teaches geophysical sciences at the University of Chicago. "But our analyses show that this idea doesn't hold up—the only way that you can explain baleen whales becoming the giants they are today is if something changed in the recent past that created an incentive to be a giant and made it disadvantageous to be small."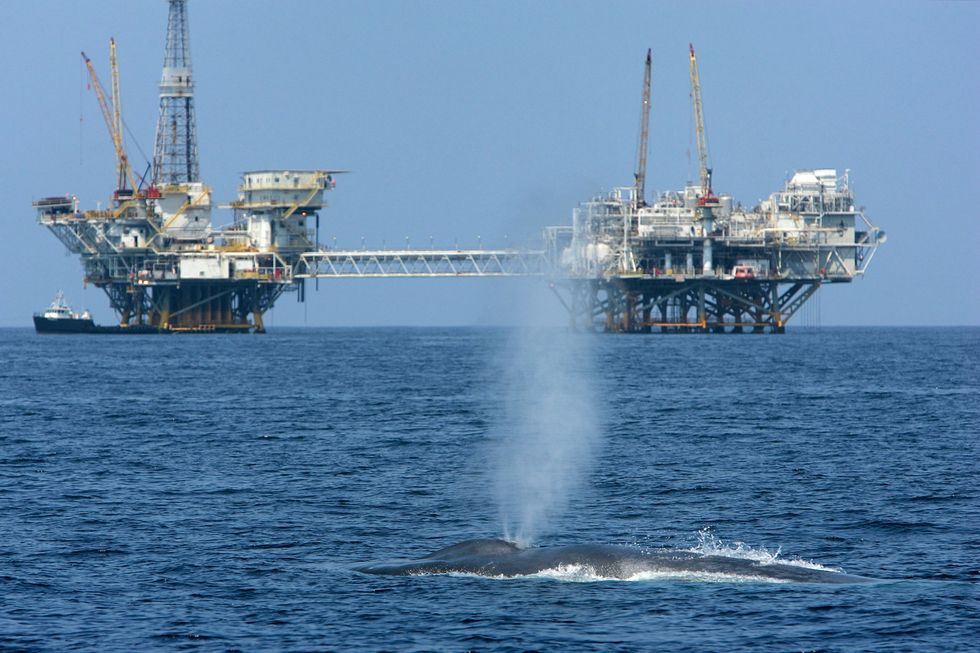 As glaciers grew during the Ice Age, their "runoff" or melting periods in the spring and summer dumped nutrients into the ocean, allowing for an explosion in the amount of tiny crustaceans called krill and other small animals whale eat. Before this, food for the whales was available all throughout the year, but the resulting climate change caused much of that supply to disappear.
Instead, food was now available in abundance seasonally and only in certain areas. This encouraged the whales to grow bigger and faster, to be able to find, consume and store food more efficiently. The reason the bigger whales were preferred by evolution is that they could survive the long migrations necessary to get to the next patch of food.
Check out this video from Science Magazine:
The research not only sheds light on the mystery of the whales' size but also provides insight into how oceans sustain life.
"An animal's size determines so much about its ecological role," said Smithsonian's Nicholas Pyenson, the study's co-author. "Our research sheds light on why today's oceans and climate can support Earth's most massive vertebrates. But today's oceans and climate are changing at geological scales in the course of human lifetimes. With these rapid changes, does the ocean have the capacity to sustain several billion people and the world's largest whales? The clues to answer this question lie in our ability to learn from Earth's deep past—the crucible of our present world—embedded in the fossil record."
You can read the study in the Proceedings of the Royal Society B.
Research shows the groups have different tastes when buying science books. For the most part.
Still from Steven Spielberg's 1993 film "Jurassic Park."
While scientists generally try to stay out politics, letting evidence-based research speak for itself, the strong division in American society has spread to science. How you view stem cell research, climate change, evolution, and the role of science in setting public policy is one indicator of political leanings. Another can be the kind of science books you read. Indeed, a new study finds that liberals and conservatives have very different tastes.
By analyzing millions of online purchases, researchers from Cornell, Yale, and University of Chicago found that there are clear partisan preferences in how we buy books on scientific topics. Liberals opt for so-called "basic" sciences — physics, astronomy and zoology — while conservatives go for applied and commercial sciences, such as medicine, criminology, and geophysics.
"When we look at what science books they read and on what topics, liberals and conservatives are noticeably divided," said the study's co-author Professor Michael Macy from Cornell University. "They tend to not read the same books, and they don't follow the same topics."
Feng Shi, the study's first author, proposed that liberals like "scientific puzzles" while conservatives prefer "problem-solving."
One topic popular with both sides — books on dinosaurs. These were bought across the whole political spectrum.
For the study, researchers looked at purchase histories from Amazon and Barnes & Noble online stores, creating a dataset of 25 million "co-purchases" and 1.5 million books. They relied on the fact that these retailers recommend books to customers via book suggestion features like "Customers Who Bought This Item Also Bought". That way the scientists could see what scientific texts were bought by those who also got liberal or conservative books.
The study's authors think it's likely that people who buy political books get science books to support their views rather than out of a general interest in science.
Is there a way science could help heal the division in the country? The study's lead author Professor James Evans from University of Chicago is somewhat optimistic, thinking that people on all sides ultimately respect science.
"Interest and respect for science remains high across political boundaries in the United States, suggesting that it could be a crucial bridge for crossing partisan divides in America," said Professor Evans.
Professor Macy thinks their research highlights the fact that science communication needs to improve.
"Our findings point to the need to communicate scientific consensus when it occurs, helping scientists find common cause with their audiences and adding public debate alongside scientific analysis to clarify the distinction between facts and values," said Macy.
While the study is illuminating, it has some limitations, with political scientist Toby Bolsen cautioning that this research did not draw on a random sample of books, relying instead on how the online sellers categorized them. We also don't know conclusively the motivations behind why individuals bought certain books.
You can read the new study in Nature Human Behavior.