"The value of a college education is not the learning of many facts but the training of the mind to think," Albert Einstein said. So go back to school, Ivy League style.
Photo: Jonathan Daniels on Unsplash
The idea of continuing to learn new things after leaving school is an attractive one, but one that can seem daunting. Finding both the time and the proper resources to learn something new can prove difficult, and leave us with unsatisfied curiosity. Even if we find a class we might be interested in, the cost can be prohibitive.

So, to help you curious cats out, we present 8 online classes from Yale you can take right now, at no cost.
Frontiers and Controversies in Astrophysics
Who hasn't looked up at the night sky and wondered about the mysteries of the cosmos? This series of video and audio lectures covers the big questions of space, such as back holes, extra-solar planets, and dark energy, while discussing both what we know and what we wish we knew. Course notes are also available to help you review after school lets out. 
Cervantes' Don Quixote
It can be difficult to tackle a classic novel with little to no help. For those who want to read this classic of world literature but don't quite know where to start, this series of video lectures help facilitate a close reading of one of the greatest adventure stories of all time. There are 24 one-hour lectures in this set, organized by chapter so you can find the area you need help understanding and start there. It's like being part of the world's brainiest book club.
Game Theory
Do you know why a good deal is a good deal? Why people act the way they do when confronted with a lose-lose situation? Game Theory is the study of how people react to problems of conflict and cooperation and it's used in business, politics, and even computer science. This course consists of 24 one-hour lectures, and you can also download the exams and solutions to test how well you understood the course. For a taster, here's Professor Barry Nalebuff from the Yale School of Management who came to the Big Think studio to discuss Game Theory:
Introduction to Ancient Greek History
The Glory that was Greece: we've all seen the statues, heard the big names, and benefit from their achievements, but do you know the story of how it all happened? This series of 24 lectures, some clocking in at over an hour, introduces the history of ancient Greece to us from the Dark Ages to the rise of Alexander. While the lectures might not leave you speaking Greek, it will leave you with a better understanding of why the world today is the way it is. There are also downloadable files that can help you remember the keywords, dates, and big events. 
Moralities of Everyday Life
You have some idea of what kindness is, right? Can you explain it? How responsible are we for our moral stances? In this course, provided via Coursera, the moral psychology behind many of the concepts we use in our everyday thinking is examined and explained in readings and video lectures. The class materials can be viewed for free, or taken as a graded class for a fee. The recommended commitment is 2-3 hours per week. Bonus: this course is taught by Big Think favorite Professor Paul Bloom:
Journey of the Universe: The Unfolding of Life
Have you ever wanted to learn the story of life, the universe, and everything?* In this series of classes, available both to English and Chinese speakers, the story of the universe and the evolution of biological life is examined. In later lectures, new ways to understand our place in the ever-changing universe are examined. The classes consist of readings and video lectures, and for a fee you can also take quizzes to see how well you understand the material.
Introduction to Classical Music
You know all the names: Mozart, Beethoven, and Bach—but do you know why their classical music still endures? In this class, you can learn what elements classical music is comprised of, why the great symphonies are still played before crowds of millions, and even come to appreciate other genres of music a little more too. This nine-week course consists of lectures and readings that take 2-3 hours per week. This course can also be viewed for free, or taken as a graded class for a fee. (Really want to get those grades? Financial aid via Coursera is available for those who qualify.) 
Fundamentals of Physics I & II
If you want to understand how the world really works, this comprehensive series of physics classes will put you in the know. This class requires a strong understanding of mathematics as an entry point, but is highly rewarding for those who can follow along, and basic calculus is reviewed in the first few videos. Problem sets and solutions are also available for those who want an extra challenge. 
The above selection is just a small sampling of the courses offered by Yale, and the full list of classes can be found here and here. Many other excellent institutions have similar options. So, now that you know, you can view Ivy League-quality lectures online for free, whenever the mood strikes. Now there's just one question left: what are you waiting for?




* The answer is 42.  
Researchers said this feat concludes "one of the major challenges in modern cosmology."
Credit: Getty Images.
First, a clarification. We haven't found dark matter or dark energy, which together are thought to make up about 98% of the universe. In fact, according to Neil deGrasse Tyson, we shouldn't even call it dark matter, because we don't know that it is in fact matter, or even what it is. He suggests we use the term dark gravity.
Regardless, 70% of the universe is thought to be dark energy and 23% dark matter. While all the so-called normal or 'baryonic' matter comprises just 5% of our cosmos. The discovery just recently announced is relegated to this "normal" realm. This is a relief among astronomers, astrophysicists, and cosmologists. Among the trillions of observable galaxies that make up the known universe, something was missing—until now: what matter exists in between galaxies.
Stars and galaxies make up about 10% of normal matter. Outside of that, scientists weren't sure where about half of the regular matter in the universe was. Though they have speculated about it for decades, we now know that clouds and strands of hot gases connect galaxies together. Locating them "has been one of the major challenges in modern cosmology," researchers write, in a report published in the journal Astrophysics.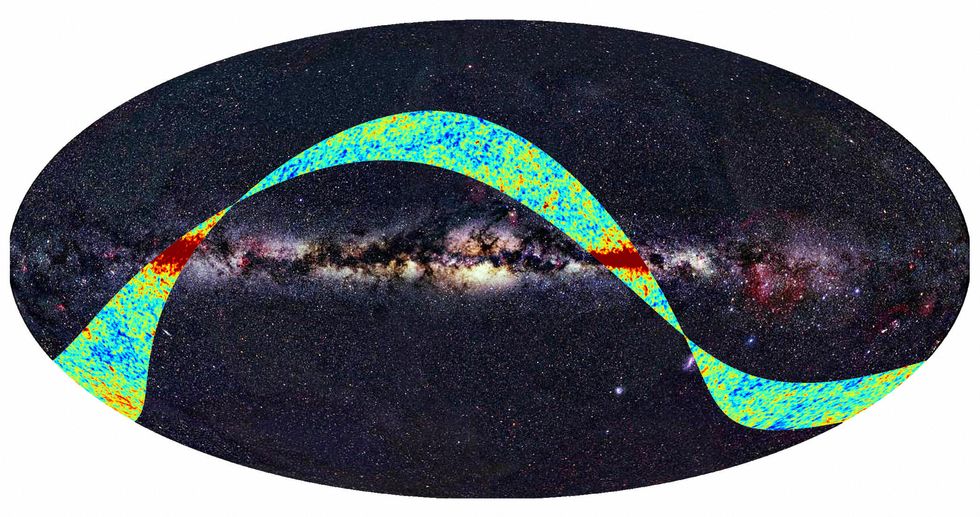 The cosmic microwave background. Credit: Getty Images.
Two groups of scientists made the discovery, one led by Anna de Graaff at the University of Edinburgh, in the UK, and the other led by Hideki Tanimura at the Institute of Space Astrophysics in France. Both teams utilized the Sloan Digital Sky Survey in their work, the most comprehensive, 3D rendering of our universe to date.
Scientists suspected missing baryons inhabited "filamentary structures in the cosmic web, forming a low density gas." But this gas wasn't hot enough for them to pick up on X-ray telescopes. They're also way too thin to be seen visually. Another method of detection had to be found.
In this study, researchers attempted that using the thermal Sunyaev-Zel'dovich (SZ) effect. The remaining radiation from the Big Bang, known as the cosmic microwave background (CMB), is at this moment bouncing around the universe. When such particles pass through hot gas filaments, they gain energy. The photons from the CMB kick out electrons found in the gas, creating warm-hot intergalactic matter (WHIM) that can be picked up with equipment and studied. This phenomenon is known as the SZ effect.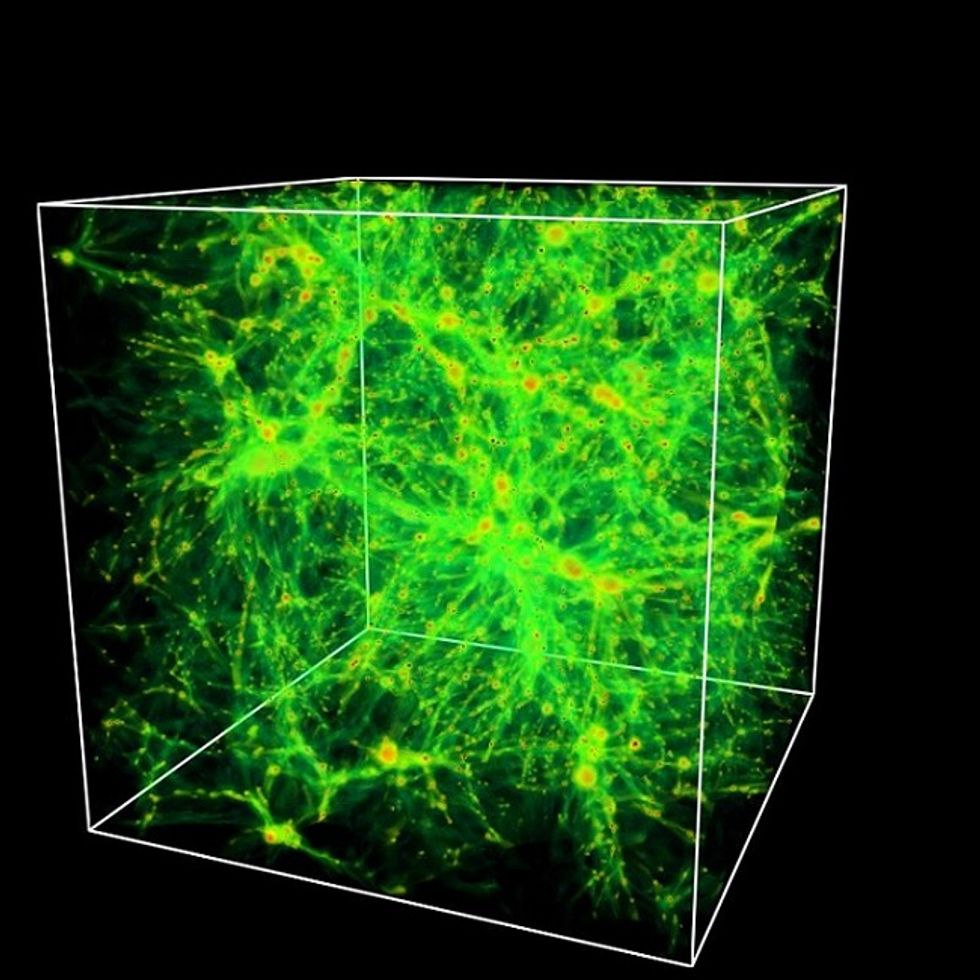 Warm-Hot Intergalactic Matter (WHIM). Credit: Princeton University.
Galaxies in the universe were already considered to be interconnected in a web, with galaxies and galaxy clusters strung along the strands. But this was all speculative, until now. What researchers did was they stacked these areas found between galaxies together, making them easier to detect.
While the French team combined the data of 260,000 galaxy pairs to detect baryon filaments, the Scottish team stacked over a million. The French group found the strands four times denser than normal matter, whereas the Scottish one found them six times denser. But accounting for the French group's approach, which used filaments that were at varying distances, the findings were actually similar. This proves that the gases were dense enough to form the strands that hold the universe together.
One important thing to note, according to astronomer J. Michael Shull of the University of Colorado, Boulder, is that such gases may not align perfectly between galaxies. Or so he told Science Magazine. It may take on a more complex configuration within a 3D space. Still, this discovery allows for scientists to understand matter and our universe better. Even so, mysteries still abound. We remain clueless on the vast majority of what makes up our cosmos.
To better understand the Sunyaev-Zel'dovich effect, click here:
Churchill displays a surprising amount of knowledge on a question that we are still wrestling with.
Winston Churchill is admired for his statesmanship today. Few know he was also a science writer.
He was also among the first to see Germany as a growing threat and helped modernize and prepare Britain for the oncoming fight. His speeches during the war helped soothe and strengthen the resolve of the British people. He also coined the phrase "iron curtain" in a speech a year after the war, regarding the Soviet Union and how it was beginning to control an enormous swath of Eastern Europe.
As one of history's foremost political and military leaders, Churchill is today looked upon with respect and admiration. What he is not well known for are his ruminations regarding science. According to a newly unearthed essay, the statesman contemplated our presence in the universe, and whether or not we are the only form of intelligent life.
Churchill was in fact a prolific writer. He'd been a military reporter and penned several books. But what's less well documented is that Churchill also wrote on topics as diverse as nuclear fission, cells, and evolution, with articles published throughout the 1920s and 30s. Some scholars believe that this newly discovered piece may have been inspired by the 1938 radio broadcast of The War of The Worlds by Orson Welles, which resulted in a "Mars fever."
Churchill kept close ties with scientists during and after the war, and was the first prime minister to bring on a science adviser. He spurred an interest in science in the country, supported the erecting of labs and telescopes, and even founded Churchill College, an institution much like MIT which has since turned out 32 Nobel Prize winners. During the war, he promoted the use of radar and supported the country's nuclear program.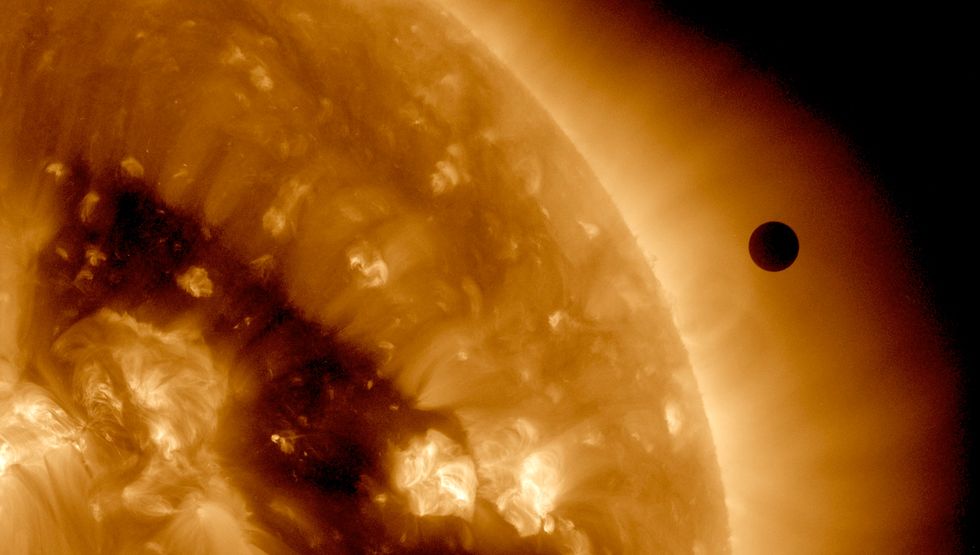 Churchill considered the Goldilocks Zone, and other astronomical principles in his argument.  
Still, it was a great shock when this newly discovered document entitled, "Are We Alone in the Universe?" was unearthed. The 11-page article was first written in 1939 and had been edited lightly for publication in the 1950s. Somehow, it had been forgotten. Then in the 1980s, a copy was given to the National Churchill Museum in Fulton, Missouri. There it remained until the museum's newest director, Timothy Riley, came across it in 2016.
After finding out it hadn't been published, he passed it on to the journal Nature. Soon, two other copies were found in UK archives. The journal didn't publish the article in its entirety.
Astrophysicist Dr. Mario Livio, who received the piece from Riley, penned the version in Nature. He told the BBC that copyright issues, for the time being, made its full publication impossible. But the museum is working to see that it will eventually be released. Livio gave insights into the famous leader's thinking, peppering his piece with quotes from the original text. Using the "Copernican Principle," Churchill argues that the vastness of the universe and the multiplicity of planets leads us to believe that we are not alone.
"The sun is merely one star in our galaxy, which contains several thousand millions of others" Churchill writes. From there, he presumes that there are probably other forms of "comparatively highly-organised life." Next, he concentrates on life's need for water. Though other liquids may support it, "nothing in our present knowledge entitles us to make such an assumption."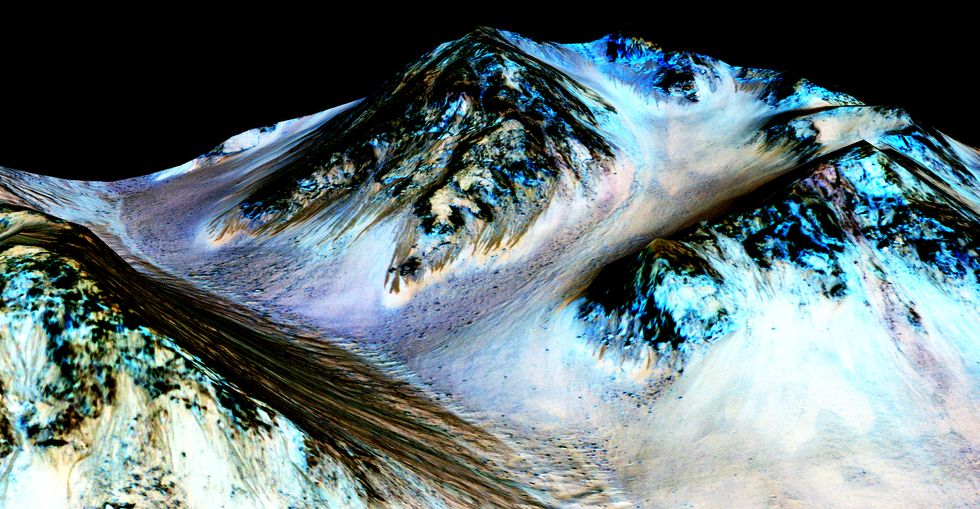 Water on Mars. Unfortunately, nothing lingers there now. But life may have inhabited the red planet in the past.
We are just beginning to learn that water is abundant in the universe, and can even be found on asteroids and on the moon. Next, Churchill concentrates on areas in solar systems which are in what we'd call today the "Goldilocks" zone, where a planet is far enough from a star as not to be too hot, but close enough so as not to be too cold. Having the right atmosphere and gravity to trap gases are important too, which Churchill considered.
He then states that Mars and Venus are our only neighbors who could harbor life. Venus's atmosphere is poisonous. But some studies suggest that it may have, at one time, been habitable. Today, astrobiologists consider Saturn's moon Titan or Jupiter's Europa as possible life-containing bodies.
Though Churchill says that our sun may be unique, he also states, "I am not sufficiently conceited to think that my sun is the only one with a family of planets." Churchill's words were extremely forward thinking, as the discovery of exoplanets only began two decades ago. He also foresaw the space program. "One day, possibly even in the not very distant future, it may be possible to travel to the Moon, or even to Venus and Mars." But whether we could cross the great distances to see if nearby exoplanets host life, Churchill was in doubt.
The then-prime-minister ends his essay by writing, "with hundreds of thousands of nebulae, each containing thousands of millions of suns, the odds are enormous that there must be immense numbers which possess planets whose circumstances would not render life impossible."
Then he says, "I, for one, am not so immensely impressed by the success we are making of our civilization here that I am prepared to think we are the only spot in this immense universe which contains living, thinking creatures, or that we are the highest type of mental and physical development which has ever appeared in the vast compass of space and time."
To learn more about this newly unearthed essay, click here: