Scientists from John Hopkins find a material for quantum computing.
Credit: Yufan Li
Researchers from John Hopkins University discovered a new superconducting material.
The material, called β-Bi2Pd, can create flex qubits, necessary for quantum computing.
Next for the scientists is looking for Majorana fermions.
Quantum computers may be closer to reality thanks to a discovery by researchers from John Hopkins University. Their recent paper, published in Science, describes their find of a superconducting material that can be the basis of the computers of the future.
The big difference between our contemporary computers and quantum computers is that instead of using bits of either "0" or "1" to store a piece of information, the quantum computers will employ quantum mechanics. They will store data in quantum bits (known as "qubits"). Such qubits exist in a superposition of two states, where both zero and one can be represented at the same time.
This technology, supercharging computational speed, could make quantum computers immensely superior to current computers, especially in such fields as artificial intelligence, predicting weather, the stock market, developing cures for illnesses, military applications and others.
What the John Hopkins scientists found is a way to create a qubit from a ring made out of a superconducting material known as β-Bi2Pd, which naturally exists in a quantum state. Usually you would need to add magnetic fields to achieve this effect, a fact that makes the "flux qubit" created from this substance a possible "game changer," said Chia-Ling Chien, Professor of Physics at The Johns Hopkins University and the paper's co-author.
In their study, the researchers observed that β-Bi2Pd exists between two states, with the current able to simultaneously circulate both clockwise and counterclockwise through its ring.
The scientists are most excited about the practicality of utilizing such a material.
Quantum Computing 2019 Update
Quantum computing overview that includes main concepts, recent developments from IBM, Intel, Google, Microsoft, D-Wave, Rigetti and other pioneers.
Much more research lies ahead, however, before the era of quantum computers is upon us. Next for the researchers is looking for Majorana fermions within β-Bi2Pd. Finding these theoretical particles is seen as an important milestone in quantum computing. What's significant is that they are anti-particles of themselves and can lead to error-free topological quantum computers.
The paper's first author. Yufan Li, a postdoctoral fellow in the Department of Physics & Astronomy at The Johns Hopkins University, thinks that discovering the special properties of β-Bi2Pd bodes well for finding within it the fermions.
"Ultimately, the goal is to find and then manipulate Majorana fermions, which is key to achieving fault-tolerant quantum computing for truly unleashing the power of quantum mechanics," said Li in a press release.
Xiaoying Xu of Johns Hopkins University; and M.-H. Lee and M.-W. Chu of National Taiwan University were the additional co-authors of the paper.
Check out their new paper, published October 11th, in Science Magazine.
Researchers create a new form of matter, first theorized 50 years ago.
Credit: Peter Abbamonte, U. of I. Department of Physics and Frederick Seitz Materials Research Laboratory
Excitonium, a strange form of matter that was first theorized almost 50 years ago, has now been discovered by researchers. 
What is excitonium? It is a rather exotic condensate that exhibits macroscopic quantum phenomena like a superconductor or a superfluid. It consists of excitons, particles formed from an unlikely pairing of an escaped electron and the hole it leaves behind. The hole actually behaves like a positively-charged particle itself. It attracts an electron and together they form the composite particle known as the exciton.
In their experiments on non-doped crystals of the transition metal dichalcogenide titanium diselenide (1T-TiSe2), the researchers were able to observe the material and its precursor soft plasmon phase, called "the smoking gun" that proves excitonium's existence. The precursor phase emerges as the material approaches its critical temperature.
The scientists reproduced their results 5 times on different cleaved crystals during the testing, adding more confidence to the study. 

What they achieved in particular is developing a new technique called momentum-resolved electron energy-loss spectroscopy (M-EELS) that is sensitive enough to distinguish the new material from Peierls phase, an unrelated substance that has the same symmetry.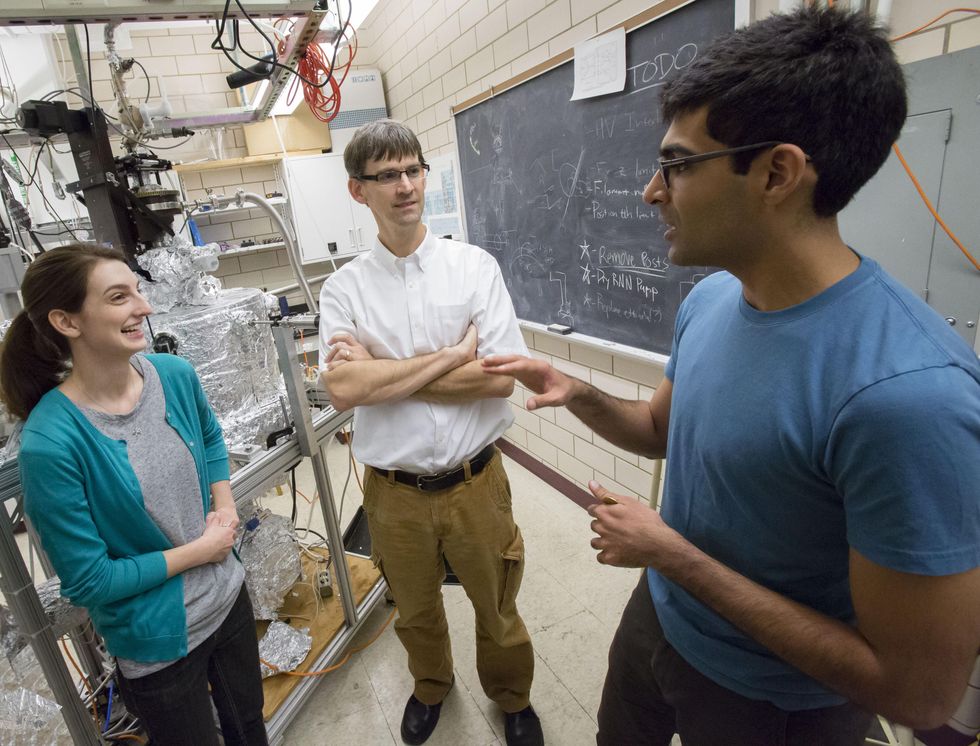 Professor of Physics Peter Abbamonte (center) works with graduate students Anshul Kogar (right) and Mindy Rak (left) in his laboratory at the Frederick Seitz Materials Research Laboratory. Photo by L. Brian Stauffer, University of Illinois at Urbana-Champaign.
The research was led by Peter Abbamonte from University of Illinois at Urbana-Champaign, working with the graduate students Anshul Kogar and Mindy Rak, and receiving input from colleagues at Illinois, University of California, Berkeley, and University of Amsterdam.
Abbamonte put their discovery in a historical context:
"This result is of cosmic significance," said Abbamonte. "Ever since the term 'excitonium' was coined in the 1960s by Harvard theoretical physicist Bert Halperin, physicists have sought to demonstrate its existence. Theorists have debated whether it would be an insulator, a perfect conductor, or a superfluid—with some convincing arguments on all sides. Since the 1970s, many experimentalists have published evidence of the existence of excitonium, but their findings weren't definitive proof and could equally have been explained by a conventional structural phase transition."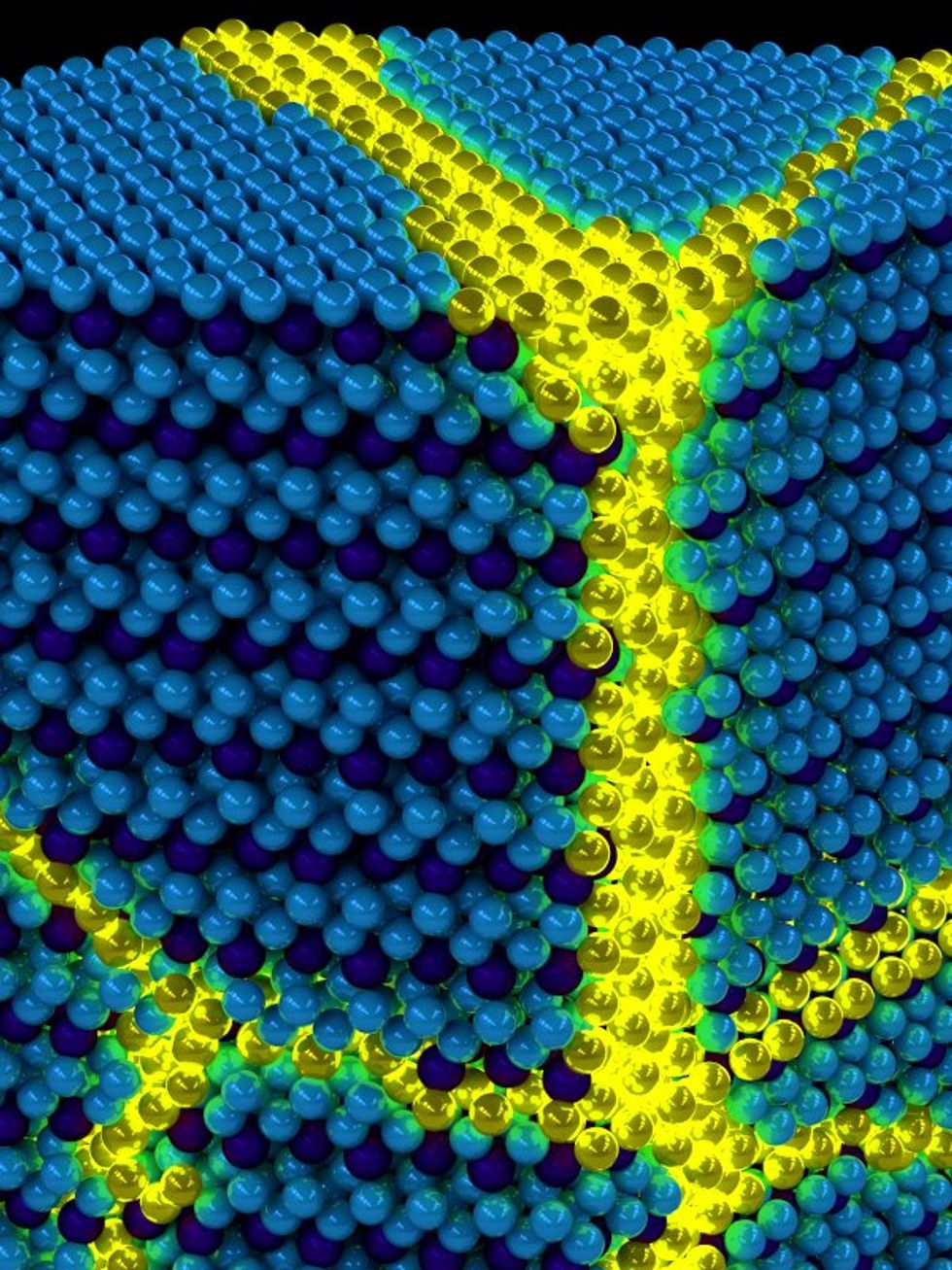 An artist's depiction of the collective excitons in an excitonic solid. These excitations are propagating domain walls (yellow) in an ordered solid exciton background (blue). Credit: Peter Abbamonte, University of Illinois at Urbana-Champaign Department of Physics and Frederick Seitz Materials Research Laboratory.
The graduate student Kogar explained that discovering excitonium was not the original aim of the project but they'll take it.
While the discovery gives us a more detailed understanding of another mystery of quantum mechanics, the practical applications of excitonium are currently in a speculative stage.
You can read the team's paper here.
Scientists from Harvard University claim to have created metallic hydrogen, a new metal with revolutionary potential applications.
Since 1935, when it was first theorized, scientists have been trying to create metallic hydrogen, a new material with revolutionary potential applications. Now scientists from Harvard University published a paper in Science where they claim to have created it. If confirmed by further tests, the metallic hydrogen could become not only the rarest, but also one of the most valuable materials on Earth. Unfortunately, that precious metallic hydrogen sample – potentially the first of its kind – has just disappeared in the Harvard lab. 
The scientists Isaac Silvera, Thomas D. Cabot Professor of the Natural Sciences, and post-doctoral fellow Ranga Dias, believe that what they created via high-pressure physics could have use as a superconductor, able to conduct electricity without loss at room temperature. If a reasonable way to produce this material will be found, its uses can extend to the electrical grid, maglev trains and superfast space travel.
Isaac Silvera has been working on this problem for 45 years. What he and Ranga Dias did to produce their groundbreaking atomic metallic hydrogen was to compress hydrogen gas in a diamond anvil. They then solidified it at very low temperatures and kept slowly increasing the pressure on the anvil by turning the screw. As reported by Harvard Magazine, once they reached 4 million atmospheres, greater than the pressure at the center of Earth, the transparent hydrogen turned black. At 4.95 million atmospheres, it had become a metal, reflecting 90% of light the scientists shined at it. 
"This is the holy grail of high-pressure physics," said Silvera. "It's the first-ever sample of metallic hydrogen on Earth, so when you're looking at it, you're looking at something that's never existed before."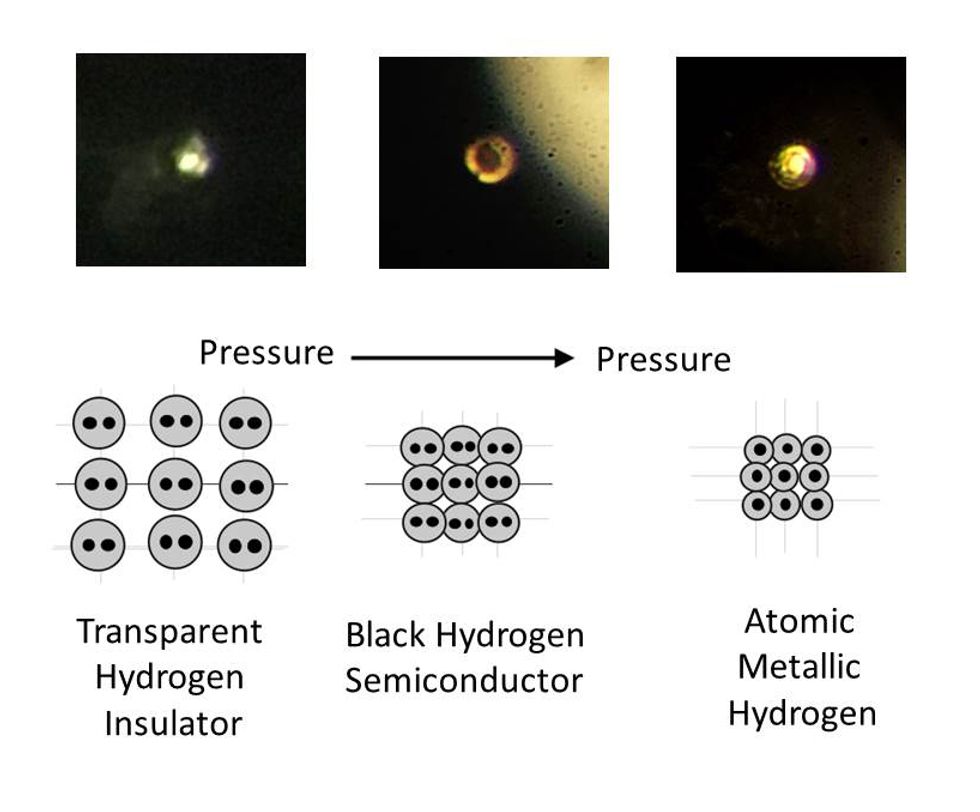 Compressed hydrogen transitioning with increasing pressure from transparent molecular to black molecular to atomic metallic hydrogen. The sketches below show a molecular solid being compressed and then dissociated to atomic hydrogen. Credit: R. Dias and I.F. Silvera
Now the scientists will wait a few weeks until beginning to test whether the new material is stable at normal pressures and room temperatures. Basically, it needs to remain in metallic form once the special conditions that produced it are removed. Right now you can only see this tiny piece of metal through the diamonds used to create it.
Once they ease the pressure, they will know if the material will remain stable, something predicted only in theory. 
"That means if you take the pressure off, it will stay metallic, similar to the way diamonds form from graphite under intense heat and pressure, but remains a diamond when that pressure and heat is removed," explained Silvera.
Here's a video featuring interviews with the scientists:
What will be the benefits of metallic hydrogen if the physicists can show the stability of their metal and be able to recreate it?
"As much as 15 per cent of energy is lost to dissipation during transmission, so if you could make wires from this material and use them in the electrical grid, it could change that story," pointed out Silvera.
His colleague Ranga Dias sees another application:
"The most romantic application of superconductivity," Dias said, would be "magnetic levitation of high-speed trains, based on the perfect diamagnetism of superconductors." 
This would create a repulsive magnetic force, with much potential to disrupt the transportation industry. 
What's more, NASA has provided some of Silvera's funding in hopes that metallic hydrogen could be used as rocket propellant. 
"It takes a tremendous amount of energy to make metallic hydrogen," said Silvera. "And if you convert it back to molecular hydrogen, all that energy is released, so it would make it the most powerful rocket propellant known to man, and could revolutionize rocketry, enabling you to explore the outer planets, to put rockets into orbit with a single stage, and lift large payloads."
In fact, this release of energy would make metallic hydrogen 4 times as powerful as existing fuels.
First predicted by physicists Hillard Huntington and Eugene Wigner in 1935, there have been failed attempts to create metallic hydrogen previously, with the race to make it tightening between a number of teams. Since there is such potential for this to be a transformative accomplishment, some scientists have taken Silvera and Dias to task for not providing more details at this stage.
"I don't think the paper is convincing at all," said Paul Loubeyre, a physicist at France's Atomic Energy Commission in Bruyères-le-Châtel, to Nature.
Other scientists are wondering how this team accomplished something that others have not yet been able to approach.
Dias and Silvera defended their work, saying that their accomplishment rests on utilizing novel techniques, improving on previous research. In particular, they figured out how to use greater pressures than anyone else was able to before. They also managed to polish the tips of the diamonds they used in a way that prevented them from breaking, an issue at such pressures.
"If we did it again, we'd get the same result, I'm certain," said Dr. Silvera.
The editor of the magazine Science, which published their paper, also weighed in, saying that all papers must pass great scrutiny when peer-reviewed by experts and only 7% make it to publication.
Another scientist, geophysicist Alexander Goncharov of the Carnegie Institution for Science in Washington, has questioned whether the created material might actually be alumina (aluminum oxide) which is used on the tips of the diamonds the experiment.
"If they want to be convincing, they have to redo the measurement, really measuring the evolution of pressure," said Loubeyre. "Then they have to show that, in this pressure range, the alumina is not becoming metallic." 
The Harvard scientists also have supporters in the scientific community.
"I think there's a good chance that it's correct," said theoretical physicist David Ceperley of the University of Illinois at Urbana-Champaign. 
While there are some doubters, as Professor Silvera said himself: "I don't want to guess, I want to do the experiment." He feels accomplished already in figuring out the precise pressure at which hydrogen becomes a metal.
The moment when the scientists made their breakthrough speaks to the joy of scientific discovery. Here's how Silvera described it:
"Ranga was running the experiment, and we thought we might get there, but when he called me and said, 'The sample is shining', I went running down there, and it was metallic hydrogen. I immediately said we have to make the measurements to confirm it, so we rearranged the lab ... and that's what we did.
It's a tremendous achievement, and even if it only exists in this diamond anvil cell at high pressure, it's a very fundamental and transformative discovery."
You can read their study here, in Science magazine.
2/27 UPDATE: the only metallic hydrogen sample in the world has disappeared – the Harvard team plans to start the process again and continue its research. 
Cover photo: Diamond anvils compressing molecular hydrogen. At higher pressure the sample converts to atomic hydrogen, as shown on the right. Credit: R. Dias and I.F. Silvera