Studies have also shown that two weeks of sleep deprivation increases the consumption of excess calories, particularly from energy-dense, high-carbohydrate snacks.
Photo: Shutterstock
Sleeping more improves people's diets, especially when it comes to cutting down sugar. These are the results of a study published in The American Journal of Clinical Nutrition.
Other research has also identified links between sleep, health, and obesity, with diet as a mediating factor. After performing a meta-analysis of previous intervention studies, the researchers found that partial sleep deprivation caused a 385-kcal increase in energy intake with no compensatory effects on energy expenditure. If sleep deprivation is sustained, this net positive energy balance may easily lead to weight gain and eventually obesity.
Studies have also shown that two weeks of sleep deprivation increases the consumption of excess calories particularly from energy-dense, high-carbohydrate snacks. The current study reports similar findings but is unique because it is the first to test healthy adults under free living conditions for the duration of four weeks. 
The scientists recruited 42 participants who are habitual short sleepers and put them in two groups. The control group maintained their sleep habits, while the intervention group went through a personalized sleep consultation session with the goal of extending time in bed by 1-1.5 hours per night.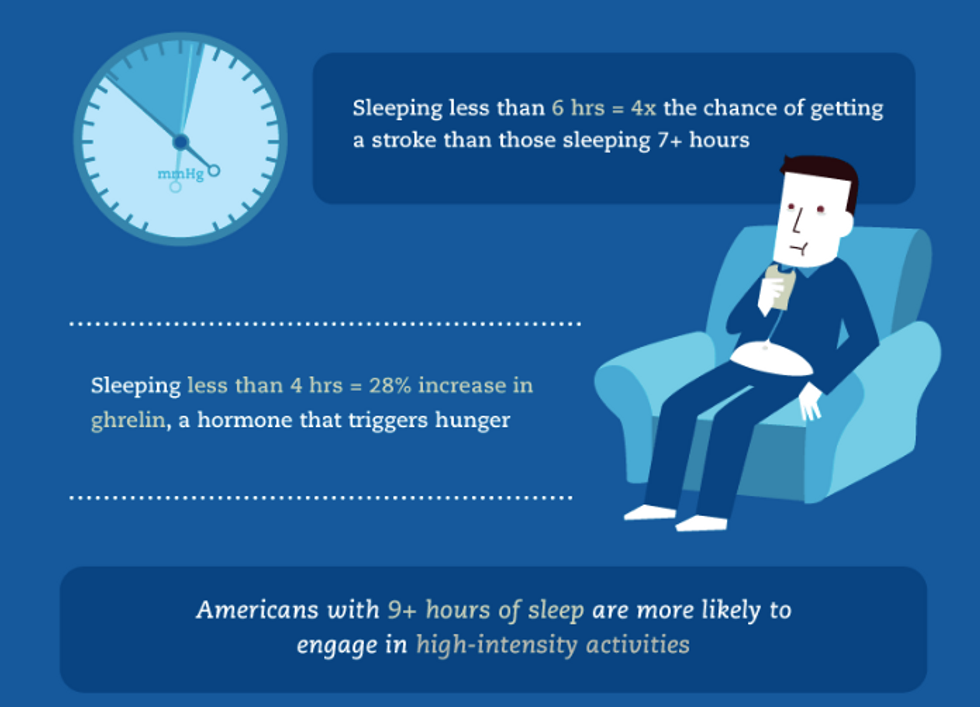 The consultation was conducted with a health psychologist and focused on improving the participants' sleep hygiene practices which include avoiding excessive caffeine intake late in the day, avoiding going to bed too full or too hungry, and others that were relevant to the participant's lifestyle. 
The intervention group was also asked to identify barriers to achieving their selected behaviors, and were assisted to create implementation intentions. Implementation intentions are a useful self-regulatory strategy that helps people plan for unexpected challenges in achieving their goals by writing out "if-then" scenarios. In the end, the participants were prescribed a recommended bedtime, which was outlined in a "behavioral contract."
As a result of the sleep advice, 86 percent of the group increased time spent in bed and half increased their sleep duration (ranging from 52 minutes to nearly 90 minutes). After four weeks, the sleep extension group had reduced their intake of sugar by an average of 11.8 g/day, equating to approximately one-third of the UK dietary guidelines' daily allowance. There was also a trend towards a reduced fat intake.
There were, however, no significant differences between the two groups when it came to levels of physical activity, energy expenditure, or body weight. It appears that the quality of our sleep affects the overall quality of our diets, with sleep extension leading to a tendency to select foods with lower fat and higher protein contents.
"We hope to investigate this finding further with longer-term studies examining nutrient intake and continued adherence to sleep extension behaviours in more detail, especially in populations at risk of obesity or cardio-vascular disease," the authors say. 

The scientists point out that the sleep extension strategy they used is effective and easy to implement, so sleep hygiene guidelines should be used in public health messages.
19% of American soldiers returned from Vietnam addicted to heroin. 95% of them recovered without relapse. How?
Of all war films that offer a sense of actual combat, the documentary Restrepo is arguably closest to representing the tedium and boredom that sets in on a day to day basis—and this in one of the most contentious regions on the planet. For soldiers in the Vietnam War, weeks were filled with not much at all, making it easy for heroin to infiltrate the barracks. 
Laboratories in the Golden Triangle—Myanmar, Laos, and Thailand—were pumping out low-grade no. 3 heroin for years. Then in 1971 a chemist in Hong Kong went Walter White and started producing 99 percent pure heroin, otherwise known as no. 4. Kilo prices jumped, yet so did soldiers picking up bags from street merchants and highway stalls, even from maids who cleaned their quarters. 
By the time the war ended 35 percent of American soldiers had tasted heroin while 19 percent returned as addicts. With Nixon waging his crusade on illicit substances to control minority and radical populations, he knew this epidemic was going to be severe. A hundred thousand returning addicts who had just fought for the country could not be handled lightly. 
As Adam Alter writes in Irresistible, the marketing professor's latest book on addictive technology, something incredible occurred. After their initial detox only 5 percent of soldiers relapsed. In the addiction community that number is unbelievable; normally only 5 percent of heroin addicts don't relapse. 
What changed? The environment they were in. Alter writes: 
They arrived home to a completely different life. There was no trace of the jungle; the steamy summers in Saigon; the rattle of gunfire, or the chop of helicopter blades. Instead, they went grocery shopping, they returned to work, they endured the monotony of suburbia, and enjoyed the pleasure of home-cooked meals. 
Of course, PTSD and other symptoms are another story. What is incredible about this case is that it wasn't genetics or potency that mattered—it was the shift in environmental conditions. Today, Weill Cornell Medical College clinical psychiatry professor Richard A Friedman believes that changing your environment can also shift the current opioid and obesity epidemics. 
Friedman cites a 2010 study at Columbia University that found proxies for stress in the form of low social status and social support resulted in fewer D2s, dopamine receptors involved in your brain's reward network. Turns out the higher your D2 level the less likely you are to seek out pleasure in drugs such as carbs and sugars and pills. 
These receptors don't only predict drug usage, Friedman writes, their count is also lowered by continued ingestion of substances like heroin, cocaine, and alcohol. He extends the argument for painkillers such as opioids and comfort foods. 
These people are far less sensitive to rewards, are less motivated and may find the world dull, once again making them prone to seek a chemical means to enhance their everyday life.
As our understanding of our brains evolves researchers are realizing that while addictive substances are varied, how you become addicted to a substance is similar. This is true with, as Friedman implies, cookies and meth, as well as smartphones and tablets, as Alter discusses. 
It returns to the pleasure derived in our reward network. Each drug has the same insidious effect: what provides immense pleasure at first requires stronger doses as we become accustomed to new levels of stimulation, requiring more of the substance—more food, more pain relief, more time staring at a screen. This is as true of Candy Crush as real candy. 
And so food addicts find "normal food consumption insufficiently rewarding" while olfactory stimuli creates more intense cravings in the obese than in the slim. It is measurable chemistry, but Friedman argues that environment overrules genetics and habits. Since we can't change our genes, changing our environment appears to be the most beneficial road ahead.
Our environment has changed. Food deserts aren't void of product; they are filled with processed sugar- and carb-heavy foodstuffs cheap to produce and cheap in the body. They provide little nutrition but much pleasure. Once you're hooked on the taste it's nearly impossible to alter your reward circuits. By remaining in that environment you're likely to succumb.
Yet this isn't only happening in poor neighborhoods. As Natalia Petrzela writes in the Washington Post, our president's poor eating habits and lack of exercise influences the nation. She argues that he's operating under century-old assumptions: 
His love of rich foods and leisure paradoxically trades on century-old tropes that also cast him as a kind of Everyman's Billionaire. Until about 1920, the wealthy conspicuously consumed caloric foods and avoided exertion because few felt they could afford to do so.
Caloric foods are overwhelmingly available today in every pocket of the nation. And this is an evolutionary first. As Friedman puts it: 
There was no flourless chocolate cake on the savanna.
This "double whammy" of cheap foodstuffs and pervasive pills is a precedent our bodies are not prepared for. 
Friedman also notes something important that's known in the addiction community: everyone has the potential to be an addict. It was long thought that certain genetic traits created the addict, but technology, obesity, and opioids prove there's an addict lurking inside of us all. It just takes the right mixture of timing and place. Change the setting and you can recover—as Friedman observes, that might be the only factor we truly have control over. 
--
Derek's next book, Whole Motion: Training Your Brain and Body For Optimal Health, will be published on 7/17 by Carrel/Skyhorse Publishing. He is based in Los Angeles. Stay in touch on Facebook and Twitter.
Just like alcohol, nicotine and other narcotics, sugar tickles our dopamine receptors in just the right way, inspiring our brain's reward system. How will this end for us?
The bueberry flavor Jelly Belly bean was created for Ronald Reagan's presidential inauguration in 1981. Over three tons of Jelly Belly beans were consumed during the festivities. In hindsight, it might be something the 'war on drugs' overlooked. (Getty Im
My favorite candy growing up was watermelon Jolly Ranchers. I loathed the variety pack, as that meant I'd have to weed through options—grape, acceptable; green apple, goodbye—to savor my chosen treat. When offered real watermelon in the summer, I declined. The flavor just didn't compete.
Is sugar a drug? The question has long been debated. Sugar tickles our dopamine receptors in just the right way, inspiring our brain's reward system in the same manner as alcohol, nicotine, and other narcotics. And we know excess sugar is the culprit behind a range of life-threatening ailments. Even with that knowledge our consumption ticks up: 152 pounds a year if you're American. Historically speaking that figure is mind-boggling.
No responsible parent would allow their children to eat candy for breakfast, but that doesn't mean they're not receiving an equivalently sweet dose in many breakfast cereals, juices, and even seemingly healthy options like oatmeal—cranberries and maple syrup anyone? The UK's National Diet and Nutrition Survey discovered half of children's daily sugar intake is ingested in the morning. Confusion over 'healthy' and 'natural' sugars doesn't help. Your liver doesn't care if sugar is organic.
Yet we need it. Our brains, little energy suckers they are, lap up sugar like hummingbirds—to a degree. In spite of much consternation and deception from the sugar lobby, the World Health Organization adopted 25 grams per day as the upper limit in 2014. Pretty much any bottle of juice or coconut water—organic, freshly squeezed, cold-pressed, and quintuple-processed included—is above that number.
Which is why children are developing similar diseases as alcoholics, and why some experts are calling for sugar to be treated as a drug. How humans decide which substances are illegal and dangerous and others acceptable and benign has more to do with politics, marketing, and social mores than science.
To combat this trend some rely on the poorly understood mechanism of 'cleansing.' This too has its dangers. One healthy woman on a 'detox' using 'natural products' was recently hospitalized after suffering a seizure. The culprit? Green tea, milk thistle, and valerian root.
Sugar is as natural as any of the products she was cleansing with. Whatever we ingest is potentially toxic, depending on dosage, prior health conditions, and combination with other substances. A pop tart and beer are worlds apart in structure and delivery, but your liver and spleen don't notice much of a difference. Factor in the added sugars in condiments, nut butters, sauces, and dressings, and maintaining an acceptable level is daunting.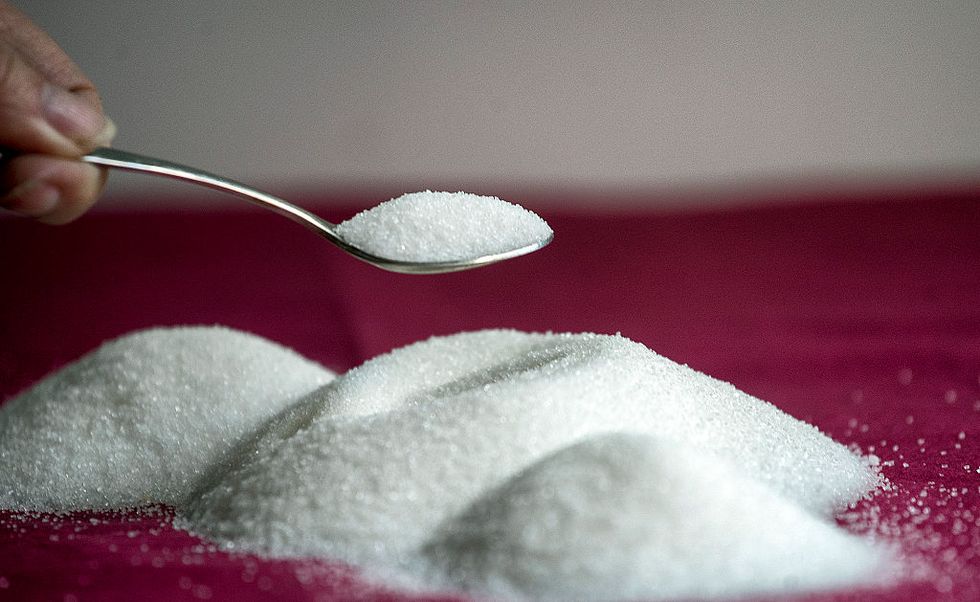 The World Health Organisation's first global report on diabetes found that 422 million adults live with diabetes, mainly in developing countries. (Getty Images)
Interestingly sugar began as a medicine, not a food source. It spread thanks to Arab kingdoms in southern Europe, though still treated (and priced) as a rare spice. Ubiquitous today, sugar was once a lauded substance linked to slavery and colonization. Economies were fueled by it. As production ramped up thanks to British invasion of the tropics, sugar began being used daily to lighten the tannin load of tea, as well as in jams and candies such as sugarloaf—a cylindrical brick of sugar requiring a special tool called a sugar nip to break it into pieces. People were hooked.
Availability breeds addiction. Just consider what's happened with cell phones, once a rare luxury. Like technological addiction exploiting boredom and novelty, sugar exploits an aversion to bitter flavors—or, more likely, allows us to forget a wide and varied palette is healthy. Sugar's seduction took millennia, but when it took hold in the 19th and especially 20th century, our brains sought sweetness wherever our tongues reached.
Which is why Gary Taubes considers it a drug. Part of the problem, he writes, is that we don't truly know how much is too much:
Once we have observed the symptoms of consuming too much sugar, the assumption is that we can dial it back a little and be fine – drink one or two sugary beverages a day instead of three; or, if we're parenting, allow our children ice cream on weekends only, say, rather than as a daily treat. But if it takes years or decades, or even generations, for us to get to the point where we display symptoms of metabolic syndrome, it's quite possible that even these apparently moderate amounts of sugar will turn out to be too much for us to be able to reverse the situation and return us to health. And if the symptom that manifests first is something other than getting fatter – cancer, for instance – we're truly out of luck.
Taubes relates this addiction to cigarettes. Sure, a few a day is better than a pack, but is it really? The challenge is that sugar is prevalent in innumerable foods. Carbohydrates turn into sugar in our bodies. Alcohol is basically Naked juice. Moderation is necessary yet indefinable. This leaves room for companies, specialists, and nature-based charlatans to further confuse the issue.
Besides, is there anything wrong a little sweetness? The question is a matter of degree. But the bar keeps getting moved year after year, pound by pound, disease by disease. Taubes is a former cigarette smoker that didn't realize life without them until he quit, just as over time I grew to love summer watermelon and abhor hardened gelatinous molds attempting to pass as a foodstuff.
Just as alcoholics often will not admit their disease, sugar addicts are blind to the ravages it wreaks. And just as some alcoholics recognize a problem but do nothing about it, turning down dessert or a midday candy seems implausible and insane. Life is too short to deny yourself pleasure, the sentiment goes, even if that life is made worse due to that quick bliss. 
We may never know how much is too much. But we do know the bar needs to be lowered. Blue Hill chef Dan Barber, reviewing Taubes's latest book on the subject, concludes eloquently:
Our job here — and not only here, but with everything from tobacco to global warming — is to override the imperfect, long haul to scientific certainty and instead follow the precautionary principle, which means recognizing what's staring us in the face and acting on it as if our health hangs in the balance. Because it does.
Nutritional psychiatrist Drew Ramsey came to the Big Think studios recently to shed some light on a better kind of eating:
--
Derek's next book, Whole Motion: Training Your Brain and Body For Optimal Health, will be published on 7/4/17 by Carrel/Skyhorse Publishing. He is based in Los Angeles. Stay in touch on Facebook and Twitter.
Scientists at the food giant reportedly found a novel way of altering the molecular structure of sugar.
A display of Kit Kat singles.
For those of us obsessed with chocolate, including yours truly, this announcement sounds too good to be true. After all, the food industry has made some extraordinary claims about sweeteners in the past that didn't really pan out. (I'm looking at you, Stevia). Turns out they are all bad for you. And remember those fat-free chips with olestra that were supposed to give you that same great snacking experience, without the added heart disease or expanded waistline? They caused an embarrassing little side effect known as "anal leakage." So excuse me, Nestlé, for my skepticism.
According to the Swiss food giant, scientists in their employ have found a way to cut the sugar content of chocolate up to 40% without sacrificing taste. Researchers have altered the molecular structure of sugar, hollowing it out in such a way where it tastes sweeter when it engages the tongue, yet dissolves faster, leading to a smaller amount being ingested.
Using this unique process, Nestlé plans to reduce the sugar content in all of its confectioneries, including the Kit Kat and the ever popular Butterfinger. This comes on the heels of many US cities such as New York and Philadelphia, and other nations including the UK and Mexico, implementing sugar taxes on such products. Since 1980, childhood obesity and diabetes has quadrupled, and research has shown that such disincentives can positively influence behavior. PepsiCo Inc. and others have their own teams of scientists searching for ways to cut sugar. Since Nestlé plans to patent their process, the insight from the filed papers could lead competitors to their own processes.
Sugar is nothing more than empty calories. Eating too much of it can pack on the pounds, increasing the risk of cardiovascular disease, type 2 diabetes, and certain forms of cancer. More worrisome still, a high sugar intake can elevate your risk of heart disease, regardless of whether or not you are overweight. For Americans, sugary drinks are the biggest threat, particularly sodas, fruit juices, sweetened iced teas, and sports drinks. Candy, ice cream, and baked goods are significant contributors, however.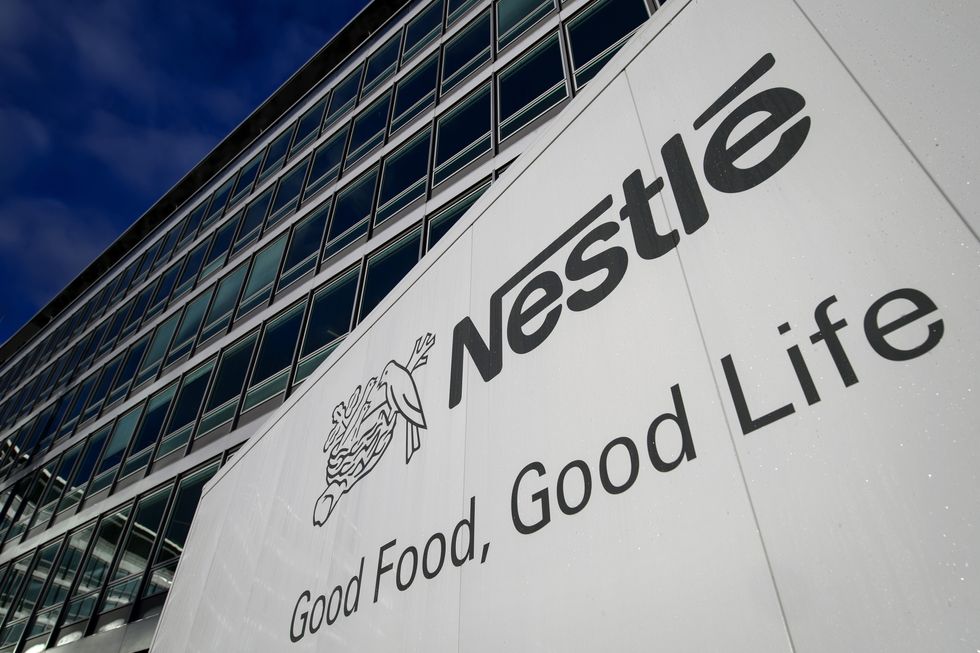 Nestlé, Pepsi Co., and Frito Lay among others have recently vowed to reduce unhealthy ingredients in products.
Health experts advise five percent of daily calories come from sugar, maximum. According to the American Heart Association, a man's limit is nine teaspoons or 37.5 grams per day. That's 150 calories. For women its six teaspoons or 25 grams per day, equaling 100 calories.
Your average Kit Kat contains 23.8 grams of sugar. So just this candy bar alone is almost a full day's intake. Americans are consuming an average of 20 teaspoons of sugar per day, more than twice the recommended amount.
Stefan Catsicas is Nestlé's chief technology officer. Though he wouldn't speak of the details which are proprietary, Catsicas said the process entails hollowing out sugar crystals. The company is patenting this method, and will use it with all its products by 2018. Nestlé began investigating sugar reduction due to pressure from governments, consumer advocate agencies, and consumers themselves. The obesity epidemic worldwide is rising significantly, and governments around the world are growing more and more concerned.
So how did they stumble upon this molecular miracle? "Real food in nature is not something smooth and homogeneous," Catsicas told Bloomberg News. "It's full of cavities, crests and densities. So by reproducing this variability, we are capable to restore the same sensation." Meanwhile, Pepsi Co. is reportedly experimenting with a similar process with salt. Say hello to healthier Cheetos… maybe.  
To learn more about how to eat healthier click here: