Evolution has trained your mind to create in-groups and out-groups in a flash—but the lines are more flexible than you think.
Planet of the Apes (1968)
Oxytocin is sometimes marketed as a wonder hormone. This "trust molecule," which acts a neurotransmitter in your brain, plays a role in mother-child bonding and is implicated in helping promote empathy and generosity. It is especially popular in modern lore for its role in sex: the "love hormone" is stimulated when hugging, kissing, and copulating. It is also delivered via breast milk, hushing the aggravated infant in a flood of chemical bliss. 
Enter clever salespeople. Oxytocin-based perfumes hit the market with the promise of attracting mates. But there's a problem. Yes, oxytocin is a wonderful bonding agent for lovers and within communities. Yet oxytocin plays an equally powerful role in negatively assessing anyone from the other side of your tracks. 
As neuroendocrinologist Robert Sapolsky writes in Behave, regarding a study featuring economic games in which volunteers could cooperate with others to even the financial playing field or attempt to play their fellow participants' altruism against them to maximize profits:
When playing against strangers, oxytocin decreases cooperation, enhances envy when luck is bad, and enhances gloating when it's good. 
Hormones, he continues, rarely act outside of their environment—and human behavior is completely interwoven with their environment, as Sapolsky spends over 700 pages detailing. As our biology dictates, exposure is the necessary ingredient. Vaccines steel your body against potential dangers in your future. This should translate externally, though Sapolsky writes—a chapter from Behave is excerpted on Nautilus—exposure to other cultures, which should steel you from present (and future) xenophobia, sometimes has the opposite effect.
History is full of examples of genocides and inhuman torture waged on out-groups; Sapolsky simplifies the terms by using the Us/Them designation. He cites one study that took place at train stations in predominantly white suburbs. A group of commuters were asked their views on immigration. For the next two weeks, a pair of conservatively dressed, well-mannered young Mexicans began using their platform. After two weeks those same commuters filled out another questionnaire. 
Remarkably, the presence of such pairs made people more supportive of decreasing legal immigration from Mexico and making English the official language, and more opposed to amnesty for undocumented immigrants (without changing attitudes about Asian-Americans, African-Americans or Middle Easterners).
Sapolsky chalks this up to a bubbling conscious awareness of "subterranean forces" in our implicit biases. We have an immediate revulsion to certain foods, ideologies, and people, rooted in the environment we were raised and live within. Only later do we attempt to consciously explore the reasons we feel the way we do, often ignorant of forces simmering beneath the surface.
Think legal immigration to the States from Mexico is a good thing? I'll rate it six out of ten. Suddenly they've infiltrated my neighborhood! Make that a three. 
Observing unconscious patterns of behavior is what makes science work. One 2010 study of 11 prime-time television shows, like Grey's Anatomy and Scrubs, resulted in an observation that white actors behave more positively to other white actors than black actors—even in shows that promote racial equality. This was revealed through telling facial expressions and body language signals hidden in plain sight.
Ironically, Sapolsky writes, the concept of race is a fluid one. There is no clear lasting demarcation of race or ethnicity that stands up in every culture. This even extends to a perceived rendering of our primate past. He opens the chapter through an anecdote from 1968's Planet of the Apes, in which the actors who played chimps and the actors who play gorillas ate lunch separately, regardless of what ethnicity each actor was from.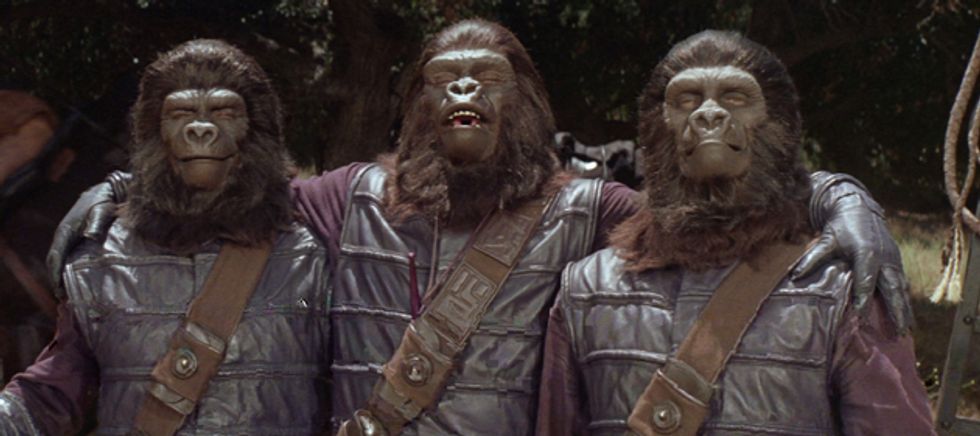 Today we love Japanese tea ceremonies—I can't find a coffee shop in Los Angeles that hasn't added matcha to their menu. When I was born in the seventies, however, Japanese cars were avoided at any cost because real cars are "Made in America." I learned how to drive with a 1979 Ford truck. 
Even standards of white are fluid. As Sapolsky notes, not long ago southern Italians and northern Europeans were classified differently in America. Having one-eighth African blood meant you were not white in Florida. Today the facade of Them to me, as an Angeleno, is supposed to be any non-college-educated supporter of Roy Moore. The in-group bias of whiteness is further divided along class and ideological lines, hinting at the dynamic seesaw cultural affiliations really exist along.
This psychological phenomenon even extends to the invisible. I've been informed numerous times that "it doesn't matter what god you believe in, so long as you believe in something." This would imply that having faith in a deity whose sole aim is to murder everyone with less than 98 percent European blood is better than being an atheist who strives to live a life dictated by compassion and charity for everyone. 
Given how influential our imaginative perception of reality can influence our daily actions, it's no  surprise that seemingly benign external influences impact our philosophies. Sapolsky writes that "Them-ing" is an emotional, automatic process easily unconsciously manipulated: 
Show subjects slides about some obscure country; afterward, they will have more negative attitudes toward the place if, between slides, pictures of faces with expressions of fear appeared at subliminal speeds. Sitting near smelly garbage makes people more socially conservative about outgroup issues (e.g., attitudes toward gay marriage among heterosexuals). Christians express more negative attitudes toward non-Christians if they've just walked past a church.
Finally, there's the romanticized past that never really occurred. In America, that's the dreamt-up golden era of the fifties, a time truly run by a small population of white men in government, media, and business, well before the cultural upwelling exhibited by the Black Lives Matter and #metoo movements. All of these factors have created a fractured nation that's being promoted (and influenced by) our technological ease of communication. 
Human violence has long been tempered by culture. The rise of city-states meant that large groups had to learn how to get along for the first time in our evolutionary history. For most of time beforehand, smaller bands sufficed to fend off the forces of nature (and other tribes). Technology never truly progressed until thousands, then tens of thousands, on up to tens of millions of people started sharing an identity under the localized umbrella of metropolises. Each step of the way we've tried to implement ethical guidelines to make us a better species. 
Our moral work is nowhere near done, though we mustn't lose sight of the progress we've made. For Sapolsky, the following four steps will help mitigate the outdated biological mandate we've been evolved with to implicitly label anything outgroup.  
Contact. While it doesn't always work (Mexicans on a train platform), Sapolsky writes that if contact is lengthy, something approaching the vaccine hypothesis will take root. This is an infinitely better option than not making contact at all. 
Approaching the implicit. Showing people their implicit biases, as well as offering counter-stereotypes, opens the door for empathy. Not everyone will walk through, but you increase the odds they will by making their biases explicit.
Replace essentialism. No one is born with anything completely unique to their race, especially when it comes to this or that group inherently having more or less of something. If given the same socioeconomic opportunities, the playing field is truly even. Time to put that reality into action. 
Flatten hierarchies. Too many character biases exist due to our stunning economic hierarchies. Even that playing field, and those assumptions too will fade. 
--
Derek is the author of Whole Motion: Training Your Brain and Body For Optimal Health. Based in Los Angeles, he is working on a new book about spiritual consumerism. Stay in touch on Facebook and Twitter.
80% of adults are overly optimistic about life—where does that cognitive bias come from?
There's one brain bias that affects 80% of adults and it has a familiar name you may not expect: optimism. Not always thought of as a cognitive mechanism, the optimism bias leads people to overestimate the likelihood of positive outcomes and to underestimate the likelihood of negative outcomes. It can be hugely helpful in our social lives and in keeping us motivated even if the trade off is, at times, the denial of reality. So where does this cognitive bias come from? Are we born with it, or do we develop it as we grow? Developmental psychologist Lori Markson compiles research about how optimism works in babies and young kids, and how that may help us to understand why we adults are the way we are. This video was filmed at the Los Angeles Hope Festival, a collaboration between Big Think and Hope & Optimism.
Following 14,000 people since the 1940s, these cohort studies offer insights into parenting, education, health, and the impact of poverty.
Credit: Getty Images.
The first British National Birth Cohort study was launched in 1946, in order to determine why the birthrate had been falling in the UK since the middle of the 19th century. Researchers ended up gathering data on nearly 14,000 babies. They included almost everyone born in March of that year in England, Wales, and Scotland. Researchers followed participants throughout the course of their lives and still are.
Today, the project is run by the Medical Research Council (MRC) and is known as the National Survey of Health and Development (NSHD). Data collection continues periodically. This is the longest running study on human development in the world, and the process has been repeated with subsequent generations. Other cohort studies took place with children born during 1958, 1970, and 2000-2001. The amount of data collected could fill terabytes of computer space. Of course, that's the point. Such a large and long-term data set offers unique insights into human life.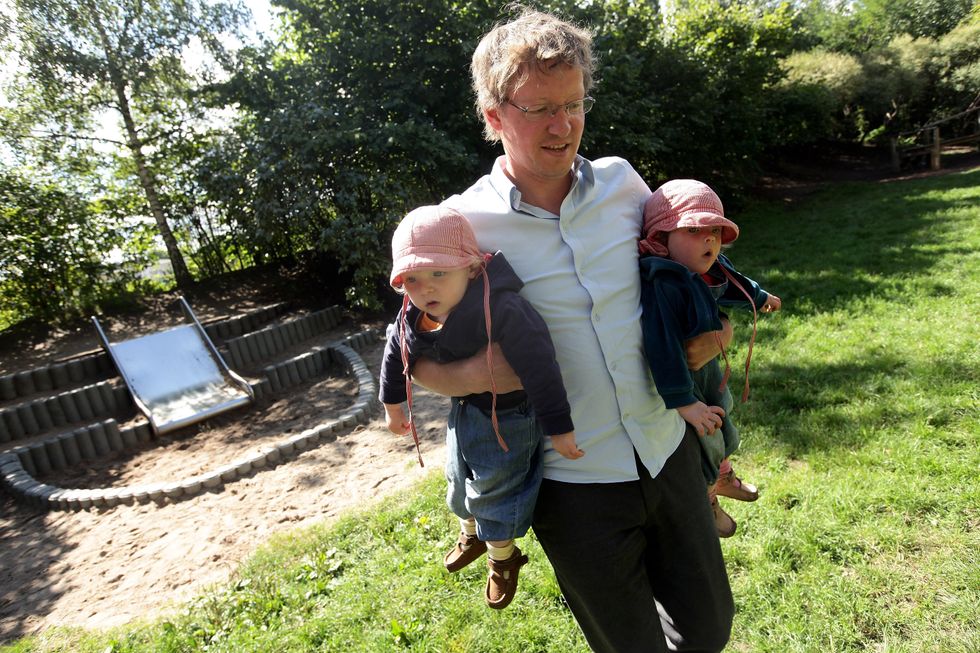 The world's longest running human development study impresses the importance of proper parenting. Credit: Getty Images.
The original longitudinal study has changed over time. When participants were between the ages of two and four, researchers looked at socioeconomic level and its effect on growth, development, and morbidity. Between ages 5-15, researchers included educational records and looked at their academic performance and attainment.
From 16-31, they continued gathering health data but included records of delinquency and educational outcomes in terms of employment, occupation, and income. Lastly, through middle adulthood, ages 32-53, investigators focused on physical and mental health. Original participants were examined a total of 23 times over the course of their lifetime.
Those in the first study turned 70 last year. Over the course of their lives, they've given blood, skin, and DNA samples. They've taken IQ tests and filled out lengthy questionnaires. As a result of their dedication and researchers' efforts, life in the UK has improved dramatically. The original study in its initial phase laid bare inequities in the medical treatment among the poor in obstetrics and childhood diseases. This situation vastly improved afterwards.
One of the things the study was supposed to weigh in on was the Nature vs. Nurture debate. How much does being born into poverty for instance, really set a person back? Can we pick ourselves up by our bootstraps or merely mitigate the damage done?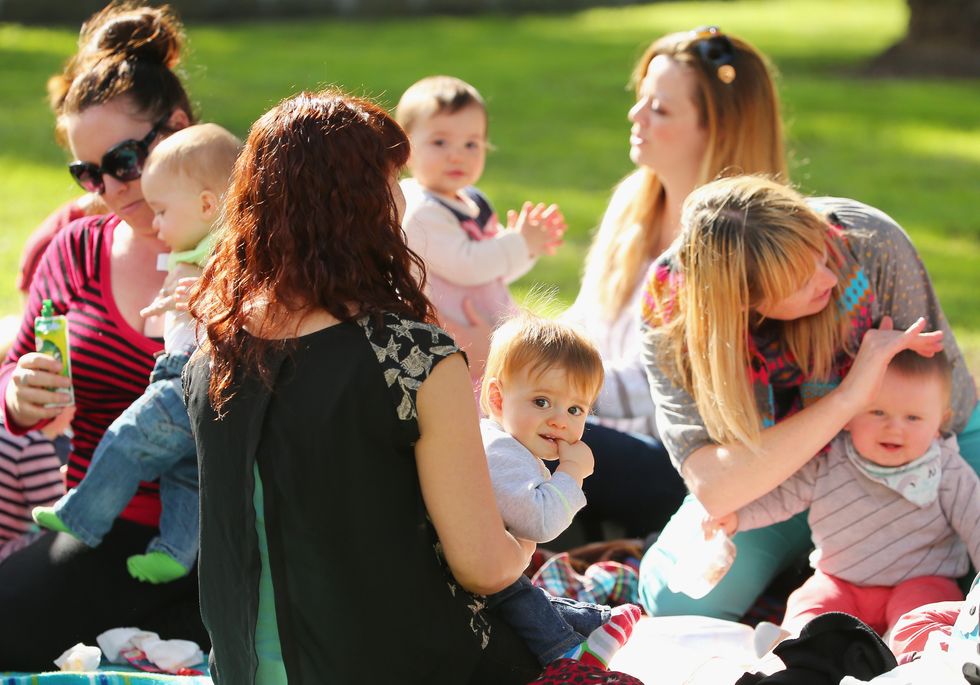 This intergenerational study has touched the lives of almost everyone in Britain. Credit: Getty Images.
Here are 5 Key Findings:
1) Success
Being born into poverty is extremely restrictive, in terms of how far up the ladder one can climb. Something that makes an enormous difference is parenting. Surprisingly, parental attitudes are highly influential to a child's success, both in school and later on in life. These include whether or not parents believe in a just world and whether they think hard work actually pays off in the end. If the answer to both is yes, their children tend to excel.
2) Parenting
Parents are the most important aspect when it comes to childhood cognitive development, education outcomes, and occupational success. Early experiences, particularly in the first few years, are crucial and in a way they set the tone for a child's life. Throughout a child's life, parents should remain engaged and interested in them and what they're doing. The style and kind of parenting a child receives makes a huge difference. Those who talk often with their child, really listen to them, and who are warm and loving toward them, see their offspring perform better and achieve higher scholastic and occupational outcomes.
3) Poverty
The study revealed how divided Britain is by class. In the late 1940s, poor mothers were more likely to experience stillbirth than those in other rich nations. Across the board even today, those born into poverty are worse off health-wise and earn less. They are also more likely to become obese, which comes with many subsequent health risks. One worrisome find is that over half of the UK's millennial generation has been touched by poverty, the latest cohort study finds.
4) Health
Just like with poverty, serious illness early on in life usually signals poorer health in adulthood. Poverty in and of itself however is a significant determinant in health outcomes. Those who came from a disadvantaged background tended to have a higher BMI in adulthood and often gained weight as they aged. They were also more prone to higher blood pressure, and at greater risk of serious diseases and a shorter lifespan, on average. Those from an underprivileged background didn't have the same chances to become a healthy adult by age 36, the study found.
5) Education
Disadvantaged children, specifically those who come from poor or working class backgrounds, are more likely to struggle in school. Poor three year-olds were found to be almost a full year behind better-off peers the same age. Proper parenting however, was shown to help mitigate the damage this might cause and improve a child's chances of enjoying good health and success. Regular bedtimes resulted in higher grades and better behavior in school. Reading to children everyday was crucial, while children who read for their own pleasure by age 5 showed higher scholastic achievement later on. Parents who taught their children the letters and numbers, took them out to different places such as a museum or a visit with relatives, and gave them novel experiences, had children who were more likely to thrive later on.
Much of this seems like self-evident advice—nurture your children. However the resounding finding across all aspects of life is that economic disparity leaves a permanent scar on people's wellbeing and future prospects. It's a reminder for why closing wealth gaps is crucial to so many people, and should be every government's next moonshot. As economist Jeffrey Sachs says:
"I believe we absolutely should have such bold goals for our country. By 2030 let's cut the poverty at least by half. By 2030 let's cut the inequality in our country decisively so it's like the northern European countries. Not like this god-awful inequality that we have in the United States... that is what's degrading American society. Not just the technical issues. Not just the rising inequality but this spirit that you're a winner or you're a loser. And if you're a loser get out of the way. That's Ayn Rand talking. It's ugly and we've had enough of it."
To learn more about this study, click below or watch the TED talk:
Get lost in a good book. Time and again, reading has been shown to make us healthier, smarter, and more empathic.
Fitness headlines promise staggering physical results: a firmer butt, ripped abs, bulging biceps. Nutritional breakthroughs are similar clickbait, with attention-grabbing, if often inauthentic—what, really, is a "superfood?"—means of achieving better health. Strangely, one topic usually escaping discussion has been shown, time and again, to make us healthier, smarter, and more empathic animals: reading.
Reading, of course, requires patience, diligence, and determination. Scanning headlines and retweeting quips is not going to make much cognitive difference. If anything, such sweet nothings are dangerous, the literary equivalent of sugar addiction. Information gathering in under 140 characters is lazy. The benefits of contemplation through narrative offer another story.
The benefits are plenty, which is especially important in a distracted, smartphone age in which one-quarter of American children don't learn to read. This not only endangers them socially and intellectually, but cognitively handicaps them for life. One 2009 study of 72 children ages eight to ten discovered that reading creates new white matter in the brain, which improves system-wide communication.
White matter carries information between regions of grey matter, where any information is processed. Not only does reading increase white matter, it helps information be processed more efficiently.
Reading in one language has enormous benefits. Add a foreign language and not only do communication skills improve—you can talk to more people in wider circles—but the regions of your brain involved in spatial navigation and learning new information increase in size. Learning a new language also improves your overall memory.
In one of the most fascinating aspects of neuroscience, language affects regions of your brain involving actions you're reading about. For example, when you read "soap" and "lavender," the parts of your brain implicated in scent are activated. Those regions remain silent when you read "chair." What if I wrote "leather chair?" Your sensory cortex just fired.
Continuing from the opening paragraph, let's discuss squats in your quest for a firmer butt. Picture the biomechanics required for a squat. Your motor cortex has been activated. Athletes have long envisioned their movements—Serena Williams's serve; Conor McGregor's kicks; Usain Bolt's bursts of speed—to achieve better proficiency while actually moving. That's because their brains are practicing. That is, they're practicing through visualization techniques.
Hard glutes are one thing. Novel reading is a great way to practice being human. Rather than sprints and punches, how about something more primitive and necessary in a society, like empathy? As you dive deeper into Rabbit Angstrom's follies or Jason Taylor coming of age, you not only feel their pain and joy. You actually experience it.
In one respect novels go beyond simulating reality to give readers an experience unavailable off the page: the opportunity to enter fully into other people's thoughts and feelings.

This has profound implications for how we interact with others. When encountering a 13-year-old boy misbehaving, you most likely won't think, "Well, David Mitchell wrote about such a situation, and so I should behave like this," but you might have integrated some of the lessons about young boys figuring life out and display a more nuanced understanding in how you react.
Perhaps you'll even reconsider trolling someone online regarding their political opinion, remembering that no matter how crass and inhumane a sentiment appears on screen, an actual human is sitting behind the keyboard pecking out their thoughts. I'm not arguing against engaging, but for the love of anything closely resembling humanity, argue intelligently.
Because reading does in fact make us more intelligent. Research shows that reading not only helps with fluid intelligence, but with reading comprehension and emotional intelligence as well. You make smarter decisions about yourself and those around you.
All of these benefits require actually reading, which leads to the formation of a philosophy rather than the regurgitation of an agenda, so prevalent in reposts and online trolling. Recognizing the intentions of another human also plays a role in constructing an ideology. Novels are especially well-suited for this task. A 2011 study published in the Annual Review of Psychology found overlap in brain regions used to comprehend stories and networks dedicated to interactions with others.
Novels consume time and attention. While the benefits are worthwhile, even shorter bursts of prose exhibit profound neurological effects. Poetry elicits strong emotional responses in readers and, as one study shows, listeners. Heart rates, facial expressions, and "movement of their skin and arm hairs" were measured while participants listened to poetry. Forty percent ended up displaying visible goose bumps, as they would while listening to music or watching movies. As for their craniums:
Their neurological responses, however, seemed to be unique to poetry: Scans taken during the study showed that listening to the poems activated parts of participants' brains that, as other studies have shown, are not activated when listening to music or watching films.

These responses mostly occurred near the conclusion of a stanza and especially near the end of the poem. This fits in well with our inherent need for narrative: in the absence of a conclusion our brain automatically creates one, which, of course, leads to plenty of heartbreak and suffering when our speculations prove to be false. Instead we should turn to more poetry:
There is something fundamental to the poetic form that implies, creates, and instills pleasure.

Whether an Amiri Baraka verse or a Margaret Atwood trilogy, attention matters. Research at Stanford showed a neurological difference between reading for pleasure and focused reading, as if for a test. Blood flows to different neural areas depending on how reading is conducted. The researchers hope this might offer clues for advancing cognitive training methods.
I have vivid memories of my relationship with reading: trying to write my first book (Scary Monster Stories) at age five; creating a mock newspaper after the Bernard Goetz subway shooting when I was nine, my mother scolding me for "thinking about such things"; sitting in the basement of my home in the Jersey suburbs one weekend morning, determined to read the entirety of Charlie and the Chocolate Factory, which I did.
Reading is like any skill. You have to practice it, regularly and constantly. While I never finished (or really much started) Scary Monster Stories, I have written nine books and read thousands more along the way. Though it's hard to tell if reading has made me smarter or a better person, I like to imagine that it has.
What I do know is that life would seem a bit less meaningful if we didn't share stories with one another. While many mediums for transmitting narratives across space and time exist, I've found none as pleasurable as cracking open a new book and getting lost in a story. Something profound is always discovered along the way.
--
Derek is the author of Whole Motion: Training Your Brain and Body For Optimal Health. Based in Los Angeles he is working on a new book about spiritual consumerism. Stay in touch on Facebook and Twitter.
Molecular biologists are hopeful about the results, but a long road lies ahead—so far this diet has only worked proven wonders on mice.
Ketogenic diets are this year's weight-loss silver bullet. While we should approach every diet with a healthy dose of skepticism, the more studies being conducted on ketosis—the state your body enters when producing elevated amounts of ketone bodies, which are constructed via fatty acid metabolism in your liver—the more the benefits are accruing. 
Weight loss is a continually trending topic, though such popular pastimes sometimes lead to deeper inquiry. In the case of ketogenic diets, two new studies published in Cell Metabolism show how cutting back carbohydrates and intermittent fasting not only helps with weight, but may stretch out your life while improving your memory along the way—in mice, at least. 
A quick primer: your body burns fat as well as carbs for energy. Since our culture lives on carbs, with pretty much every processed food from a box or wrapped in plastic being carb- or sugar-dominated (which equates to the same thing once the saliva begins breaking down the nutrients in your mouth), we use the carbs and store the rest as fat. Hello obesity levels. Remove the carbs and your body turns to fat for energy. Burn the fat, weight loss follows. 
Unfortunately your brain can't burn fat for its outsized energy needs. It requires sugar. Or ketone bodies if you decide to starve your body of glucose. Eat lots of fat, consume fewer carbs, and voila. While I'm not overweight I dropped ten pounds in weeks when experimenting with ketosis. Ever since I've maintained this weight, not by fasting—a popular ketogenic method is to fast for between 12 and 18 hours every day—but by keeping carb consumption down and fat intake high, also supported by recent research on 135,000 adults. 
Anecdotes are just that, personal stories, so let's turn to the research. In the first study, mice were fed three diets: zero carbohydrates, a nutrient-balanced diet (the control group), and a high fat diet with just 15 percent carbohydrate intake, a percentage arrived at when researchers slowly added carbs to a carb-restricted diet to find the baseline in which mice remain in ketosis. After 15 percent their bodies suppressed ketosis, and would be little different than the control group. 
The mice were put on a cyclic ketogenic, high-fat, or control diet in mid-life. The cycle was one week, so they would eat this way for a week, then every mouse would spend a week on their respective diets. (Ketogenic- and high-fat only mice did not fare as well.) Interestingly, the high-fat group ended up heaviest, though the ketogenic and high-fat groups both had a higher caloric intake than the control group. In terms of longevity, the ketonic group proved most successful, at least through midlife. After thirty months of age, their mortality rate was the same as the control and high-fat groups. 
As for memory, the researchers write: 
In healthspan testing, we found a striking effect of Cyclic KD [ketogenic diet] on memory as well as more modest effects on a broader range of measures. We saw consistent memory improvement in two distinct tasks over 6 months.
The ketogenic group showed normal cognition wear with aging, but performed better in a visuospatial learning and memory test than the other groups, in which the mice learned to avoid (or not) an electric shock. The KD mice also showed improvement in late middle age (28-30 months) in novel object recognition.
Game-changer? Not quite. But anything that helps memory in aging bodies is a boost, especially given the crippling rates of dementia affecting millions of humans each year. An increase in midlife mortality rates means we'd be healthier during our prime.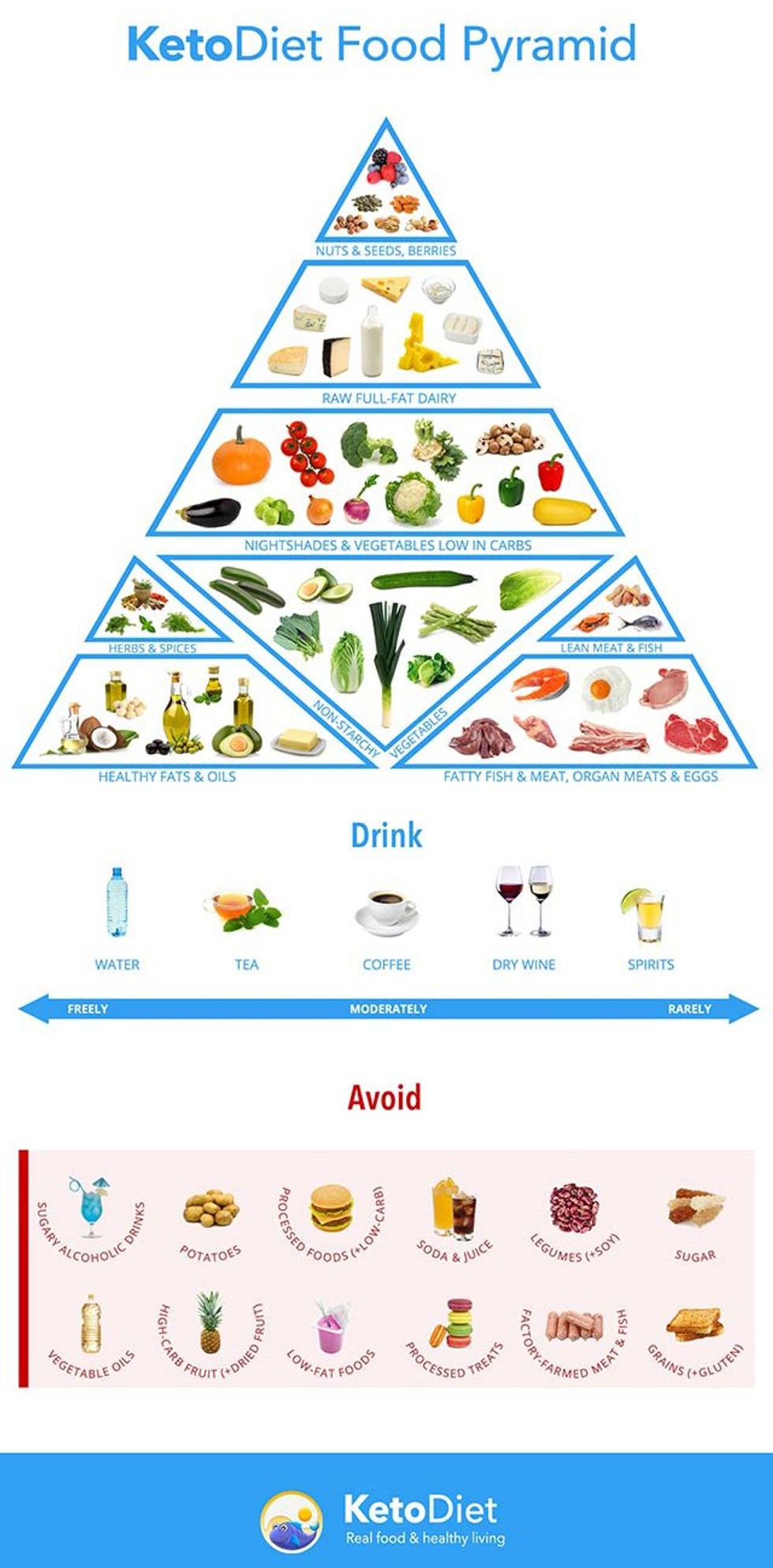 Image: ketodietapp.com
The second study also began at 12 months of age. It focused on calorie restriction, which, coupled with carbohydrate restriction, promotes production of ketone bodies. This study also featured the same three dietary guidelines: no carbs, low carbs, and a control group. While the first study showed better rates of midlife mortality, this one offered an optimistic view of longevity: 
The results clearly demonstrate that lifespan is increased in mice consuming a KD compared to a standard control diet. 
More tellingly, perhaps, is how the ketogenic group showed even better results in memory: 
Our results show that a KD slows cognitive decline and preserves motor function in aging mice. It should be noted that although the LCD [low carbohydrate diet] did not significantly differ from the ketogenic group in longevity, the two diets differed in their ability to preserve physiological function with age. This suggests that ketones may be necessary to elicit an extension of healthspan.
The role of ketones is playing a bigger role not only in general research but at pharmaceuticals companies as well. Researchers from these studies are interested in the physiological mechanisms behind ketones in hopes of isolating them for usage in pill form. If their protective effects can be better understood, perhaps humans won't have to fast or restrict carbs to reap the cognitive and longevity benefits. 
As one researcher, molecular biologist Eric Verdin puts it, these results are hopeful, but a long road lies ahead—mice aren't humans. Our diet and relationship to our environment has changed greatly over the last few hundred thousand years, while mice have been mice for a long time. As he states:
We're very excited to see such a profound effect on brain function. Our results don't imply this is going to work in humans. For that, we'll need extensive clinical trials.
Until then read this extensive article on ketosis and fasting. We might not have conclusive results, but the data trickling in from varied confirmed sources is pointing in one direction: cut down on carbs.
--
Derek is the author of Whole Motion: Training Your Brain and Body For Optimal Health. Based in Los Angeles he is working on a new book about spiritual consumerism. Stay in touch on Facebook and Twitter.