Why do scientists look down on philosophers? And are they right to do so?
Both Bill Nye and Neil deGrasse Tyson are known to have dismissed philosophy as rather useless. Here, they're shown attending the premiere of 'Cosmos: A SpaceTime Odyssey' in Los Angeles, California. (Photo by Jason Kempin/Getty Images)
Each semester, I teach courses on the philosophy of science to undergraduates at the University of New Hampshire. Most of the students take my courses to satisfy general education requirements, and most of them have never taken a philosophy class before. 
On the first day of the semester, I try to give them an impression of what the philosophy of science is about. I begin by explaining to them that philosophy addresses issues that can't be settled by facts alone, and that the philosophy of science is the application of this approach to the domain of science. After this, I explain some concepts that will be central to the course: induction, evidence, and method in scientific enquiry. I tell them that science proceeds by induction, the practices of drawing on past observations to make general claims about what has not yet been observed, but that philosophers see induction as inadequately justified, and therefore problematic for science. I then touch on the difficulty of deciding which evidence fits which hypothesis uniquely, and why getting this right is vital for any scientific research. I let them know that 'the scientific method' is not singular and straightforward, and that there are basic disputes about what scientific methodology should look like. Lastly, I stress that although these issues are 'philosophical', they nevertheless have real consequences for how science is done.
At this point, I'm often asked questions such as: 'What are your qualifications?' 'Which school did you attend?' and 'Are you a scientist?'
Perhaps they ask these questions because, as a female philosopher of Jamaican extraction, I embody an unfamiliar cluster of identities, and they are curious about me. I'm sure that's partly right, but I think that there's more to it, because I've observed a similar pattern in a philosophy of science course taught by a more stereotypical professor. As a graduate student at Cornell University in New York, I served as a teaching assistant for a course on human nature and evolution. The professor who taught it made a very different physical impression than I do. He was white, male, bearded and in his 60s – the very image of academic authority. But students were skeptical of his views about science, because, as some said, disapprovingly: 'He isn't a scientist.'
I think that these responses have to do with concerns about the value of philosophy compared with that of science. It is no wonder that some of my students are doubtful that philosophers have anything useful to say about science. They are aware that prominent scientists have stated publicly that philosophy is irrelevant to science, if not utterly worthless and anachronistic. They know that STEM (science, technology, engineering and mathematics) education is accorded vastly greater importance than anything that the humanities have to offer.
Many of the young people who attend my classes think that philosophy is a fuzzy discipline that's concerned only with matters of opinion, whereas science is in the business of discovering facts, delivering proofs, and disseminating objective truths. Furthermore, many of them believe that scientists can answer philosophical questions, but philosophers have no business weighing in on scientific ones.
Why do college students so often treat philosophy as wholly distinct from and subordinate to science? In my experience, four reasons stand out.
One has to do with a lack of historical awareness. College students tend to think that departmental divisions mirror sharp divisions in the world, and so they cannot appreciate that philosophy and science, as well as the purported divide between them, are dynamic human creations. Some of the subjects that are now labelled 'science' once fell under different headings. Physics, the most secure of the sciences, was once the purview of 'natural philosophy'. And music was once at home in the faculty of mathematics. The scope of science has both narrowed and broadened, depending on the time and place and cultural contexts where it was practised.
Another reason has to do with concrete results. Science solves real-world problems. It gives us technology: things that we can touch, see and use. It gives us vaccines, GMO crops, and painkillers. Philosophy doesn't seem, to the students, to have any tangibles to show. But, to the contrary, philosophical tangibles are many: Albert Einstein's philosophical thought experiments made Cassini possible. Aristotle's logic is the basis for computer science, which gave us laptops and smartphones. And philosophers' work on the mind-body problem set the stage for the emergence of neuropsychology and therefore brain-imagining technology. Philosophy has always been quietly at work in the background of science.
A third reason has to do with concerns about truth, objectivity and bias. Science, students insist, is purely objective, and anyone who challenges that view must be misguided. A person is not deemed to be objective if she approaches her research with a set of background assumptions. Instead, she's 'ideological'. But all of us are 'biased' and our biases fuel the creative work of science. This issue can be difficult to address, because a naive conception of objectivity is so ingrained in the popular image of what science is. To approach it, I invite students to look at something nearby without any presuppositions. I then ask them to tell me what they see. They pause… and then recognise that they can't interpret their experiences without drawing on prior ideas. Once they notice this, the idea that it can be appropriate to ask questions about objectivity in science ceases to be so strange.
The fourth source of students' discomfort comes from what they take science education to be. One gets the impression that they think of science as mainly itemising the things that exist – 'the facts' – and of science education as teaching them what these facts are. I don't conform to these expectations. But as a philosopher, I am mainly concerned with how these facts get selected and interpreted, why some are regarded as more significant than others, the ways in which facts are infused with presuppositions, and so on.
Students often respond to these concerns by stating impatiently that facts are facts. But to say that a thing is identical to itself is not to say anything interesting about it. What students mean to say by 'facts are facts' is that once we have 'the facts' there is no room for interpretation or disagreement. 
Why do they think this way? It's  not because this is the way that science is practised but rather, because this is how science is normally taught. There are a daunting number of facts and procedures that students must master if they are to become scientifically literate, and they have only a limited amount of time in which to learn them. Scientists must design their courses to keep up with rapidly expanding empirical knowledge, and they do not have the leisure of devoting hours of class-time to questions that they probably are not trained to address. The unintended consequence is that students often come away from their classes without being aware that philosophical questions are relevant to scientific theory and practice.
But things don't have to be this way. If the right educational platform is laid, philosophers like me will not have to work against the wind to convince our students that we have something important to say about science. For this we need assistance from our scientist colleagues, whom students see as the only legitimate purveyors of scientific knowledge. I propose an explicit division of labour. Our scientist colleagues should continue to teach the fundamentals of science, but they can help by making clear to their students that science brims with important conceptual, interpretative, methodological and ethical issues that philosophers are uniquely situated to address, and that far from being irrelevant to science, philosophical matters lie at its heart.

Subrena E Smith
--
This article was originally published at Aeon and has been republished under Creative Commons.
An interactive periodic table with pictures makes it easy to see how each element is used.
The periodic table is an important but rather dry scientific tool. It lists all the chemical elements, ordered by their atomic numbers. Elements with similar behavior are grouped in the same column (called a group), with metals generally on the left and non-metals (gases) on the right. Rows are called "periods" - hence, periodic table.
All in all, it can be hard for someone not well versed in chemistry to know what all these elements are and where they are used. Enter Keith Enevoldsen, a Boeing software engineer with a degree in physics who created a super-helpful version of the periodic table that makes it easy to see what all the elements can do. His table is interactive and features helpful pictures. Impress your friends and yourself by learning the applications of astatine (radioactive medicine), molybdenum (cutting tools like scissors), krypton (flashlights) and other elements.
Check it out yourself here (or click thru for the interactive version):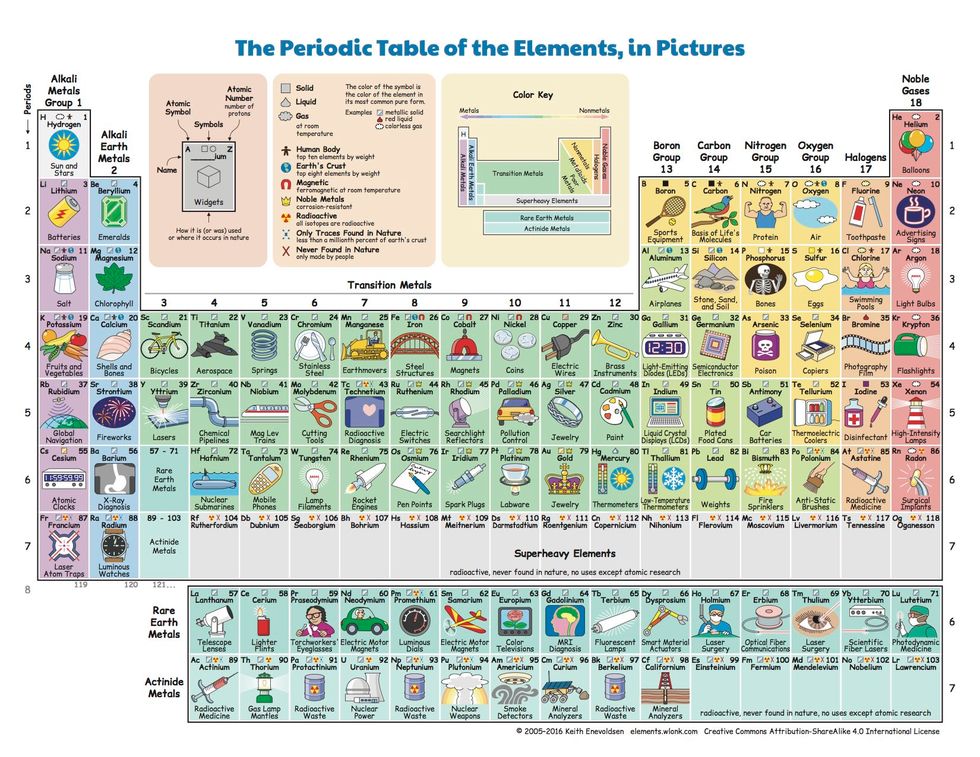 And if pictures aren't your thing, you can see the same table in words, with detailed descriptions: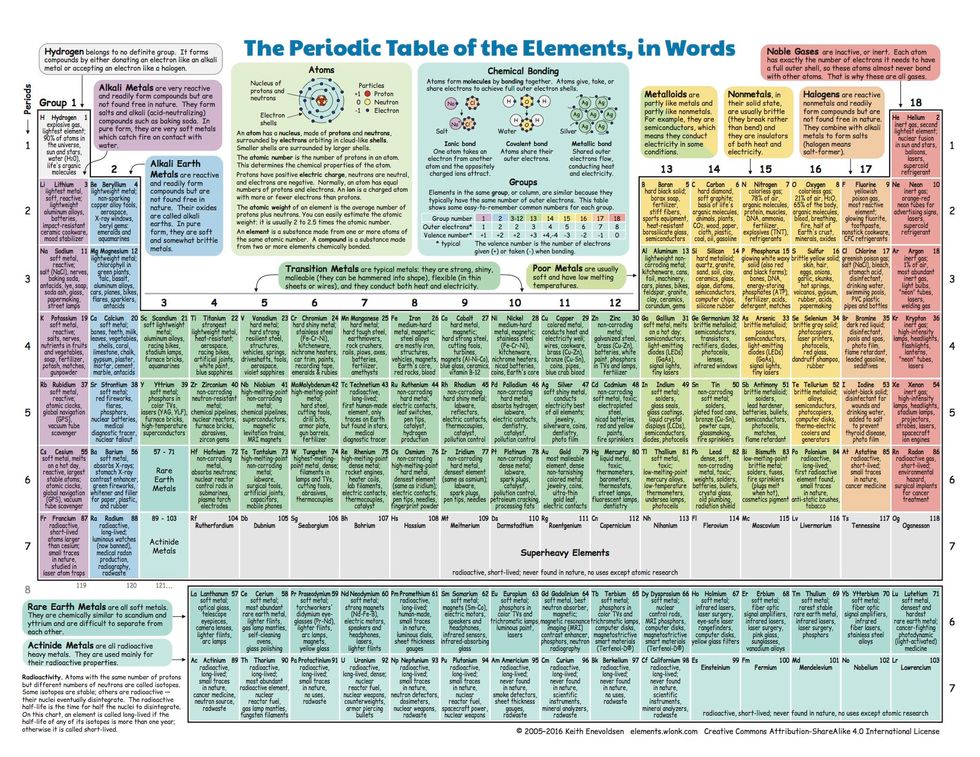 For more features and to see if you perhaps need element trading cards (also available), check out Keith's page here.
The first periodic table was published in 1869 by the Russian chemist Dmitri Mendeleev, who called his work the Periodic System. Mendeleev put all the known elements in the correct order, based on their relative atomic masses, while successfully predicting the properties of the elements still to be discovered. He was not the only one working on this, with people like British John Newlands, French Alexandre Béguyer de Chancourtois and German Julius Lothar Meyer making important contributions. Still, Mendeleev is considered the "father" of the periodic table for his lasting arrangement. 
Studies reveal the impact of strategic thinking on studying and other areas of life.
Pixabay
Metacognition, thinking about how you think, has been shown to help students improve their grades. Stanford University researchers published a new study that outlines a 15-minute thinking hack that led to an average improvement of one third of a letter grade for the participants. 
The research stems from the insight that while many resources are provided by educational institutions, students don't always know how to use them effectively. Patricia Chen, a postdoctoral research fellow who led the study, hypothesized that if students were made more self-reflective about how they approach their studies and the available resources, they could do better.
"Blind effort alone, without directing that effort in an effective manner, doesn't always get you to where you want to go," said Chen.
The team conducted two experiments using a "Strategic Resource Use" intervention they designed, which combines educational and social psychological theories. 
For the experiments, the control group, which consisted of half the class, received just a regular reminder of a statistics exam coming up in a week. The intervention group also got a 15-minute online survey that made students think about what they expected will be on the exam, what grade they might get, what resources would be best used for preparation and how they would use them. In particular, they were asked to choose from 15 available class resources like practice questions, readings from the textbook, lecture notes or peer discussions.
Students in the first study got an average of 3.45% higher in points than their classmates in the control group. For the second study, that average difference was 4.65 percentage points.
The researchers found that strategic thinking had additional psychological benefits, helping students feel more empowered about their education. Students in the intervention group were also less stressed out about the upcoming exams.
Chen sees the strategy of metacognition to be useful in other parts of life, not just in education. You can use it to achieve goals like losing weight, learning any new skill or in parenting.
"Actively self-reflecting on the approaches that you are taking fosters a strategic stance that is really important in life," she said. "Strategic thinking distinguishes between people of comparable ability and effort. This can make the difference between people who achieve and people who have the potential to achieve, but don't."
You can read her study in the journal "Psychological Science".
Other studies have also highlighted the positive effects of utilizing metacognition. A study from the University of Newcastle in Australia looked at over 2,000 PhD students and found a relationship between how they thought about the learning process to their successes and failures in achieving their degrees. The British Educational Endowment Foundation discovered that students who received interventions that made them think about their writing skills showed 9 to 18 months worth of academic improvement. 
Spain and the US have very similar compulsory school hours and homework requirements. There's a good argument for rallying against this trend.
Homework has been around since… well, since schools first existed, and I remember doing a ton of it myself as a kid. I also remember refusing to do my homework, sitting on the back steps, watching geese fly over, wanting to be out bird-hunting with Dad, Mom in the kitchen, yelling "Get in the house and do your homework!"

For families with precious fewer hours each day to spend time as a family, homework can be a drag. A big one. 

Before parents in Spain called for a "Homework Strike," The Spanish organization CEAPA (Confederación Española de Asociaciones de Padres y Madres del Alumnado) surveyed parents about homework, and 82% of those who responded believed that their children received too much of it; just over 50% of them believed it harmed family life.

If you consider the amount of compulsory hours students are required to be at school, the United States is right up there with Spain so it's likely there would be a similar frustration with homework in this country. And in fact, there is.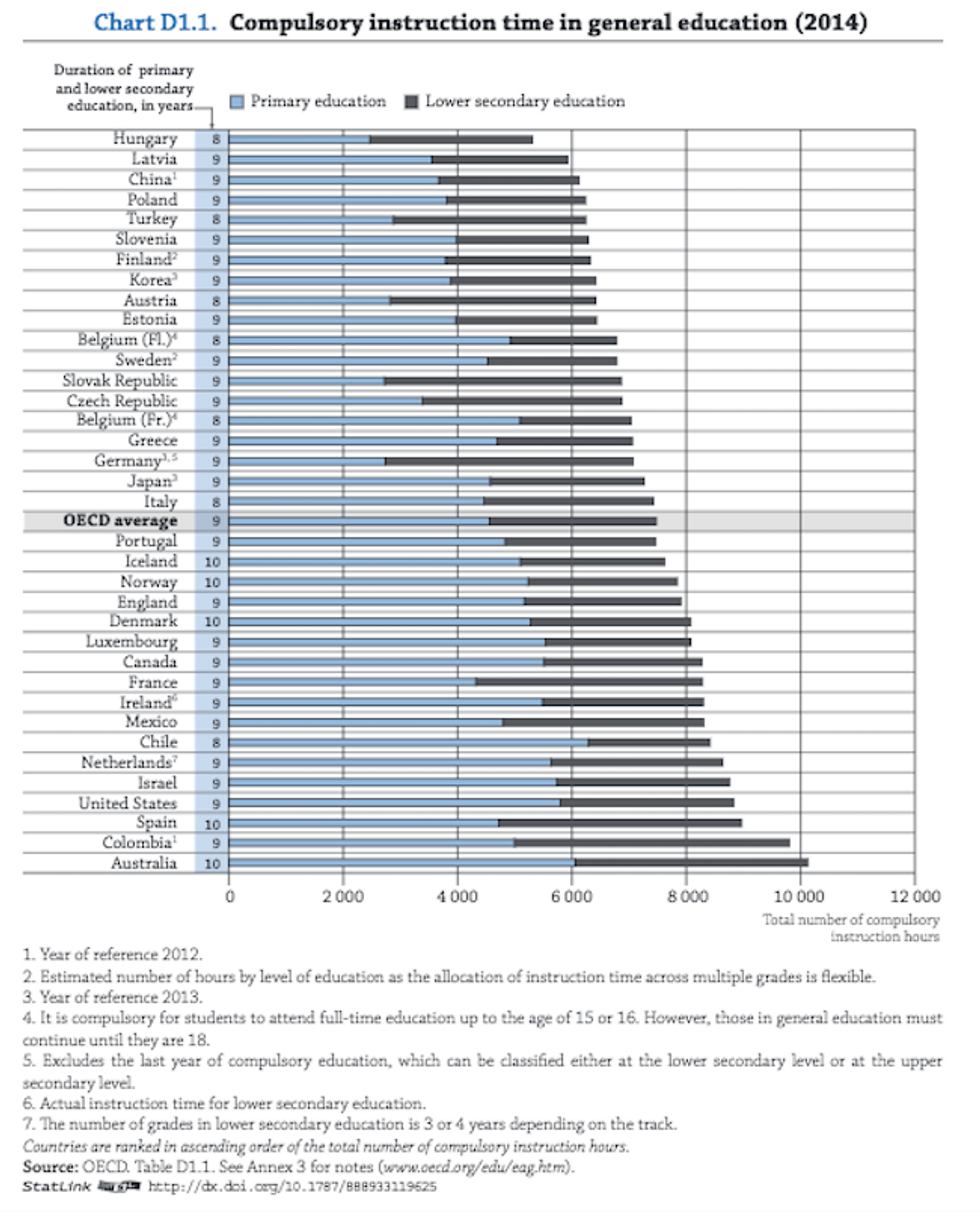 Chart from the Organization for Economic Cooperation and Development.
The amount of homework between Spain and the United States is also remarkably similar: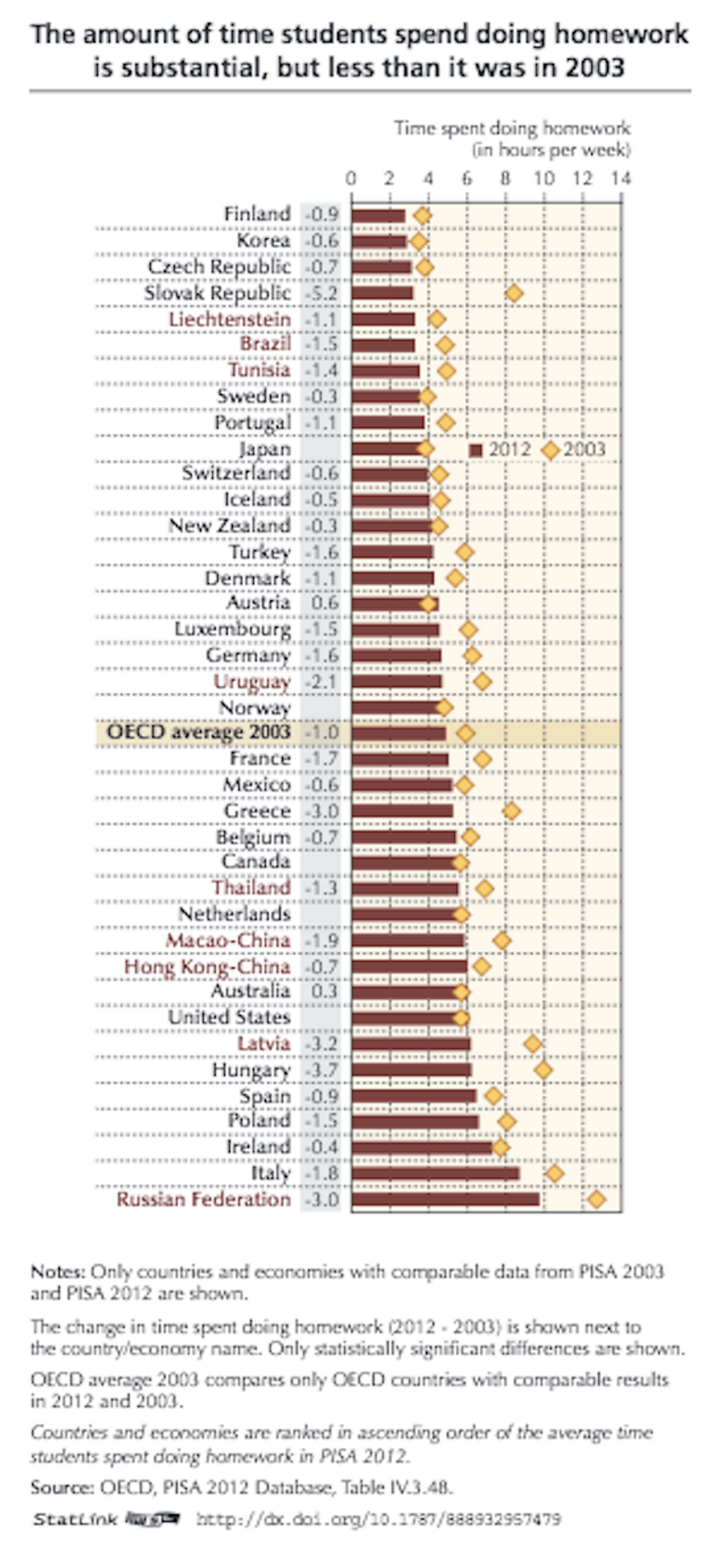 And in the rest of the United States, there's a growing pushback against homework — for younger kids up to the 7th grade, homework simply presents another power struggle opportunity, usually ends badly, and there's no evidence that it helps them. However, there's also evidence that kids' brains are tired at the end of a school day. Rest and play are critical in younger years.
As children get older, the value of homework increases. A very research-dense book that rather exhaustively compiled data on this, Visible Learning: A Synthesis of Over 800 Meta-Analyses Relating to Achievement, can be skimmed in this article, and it shows this trend. Until children reach secondary school, there's just not much evidence of a return.

In the United States, pressure from tax-base-deprived communities are forcing schools to have less staff and to give more and more work to teachers because of that phenomenon, which can cascade into teachers asking that children do more work at home.
I can see why it's tempting for teachers. In fact, socioeconomic factors do impact homework and its value.

What's your take on homework versus no?
A recent study demonstrates significant benefits of teaching young students philosophy.
There are many attempts to improve student performance which result in a host of measures, ranging from misguided to inspired. Such efforts include not assigning students homework, recalibrating standardized tests to account for unfair background advantages, or subjecting students to the hard-to-fathom Common Core standards. But a recent endeavor in the UK found another solution which actually appeared to have worked - the students were taught philosophy!
A study published last year demonstrated that 9 to 10 year olds, who took part in a year-long series of philosophy-oriented lessons, showed significant improvement in scores over their peers in a control group. The study involved over 3000 children in 48 primary schools all around England. The kids who were taking philosophy classes improved their math and reading skills by about two months of additional progress compared to the students who didn't take the classes.
The actual aim of the classes was to improve student confidence in asking questions and constructing arguments, but the additional academic gains were undeniable.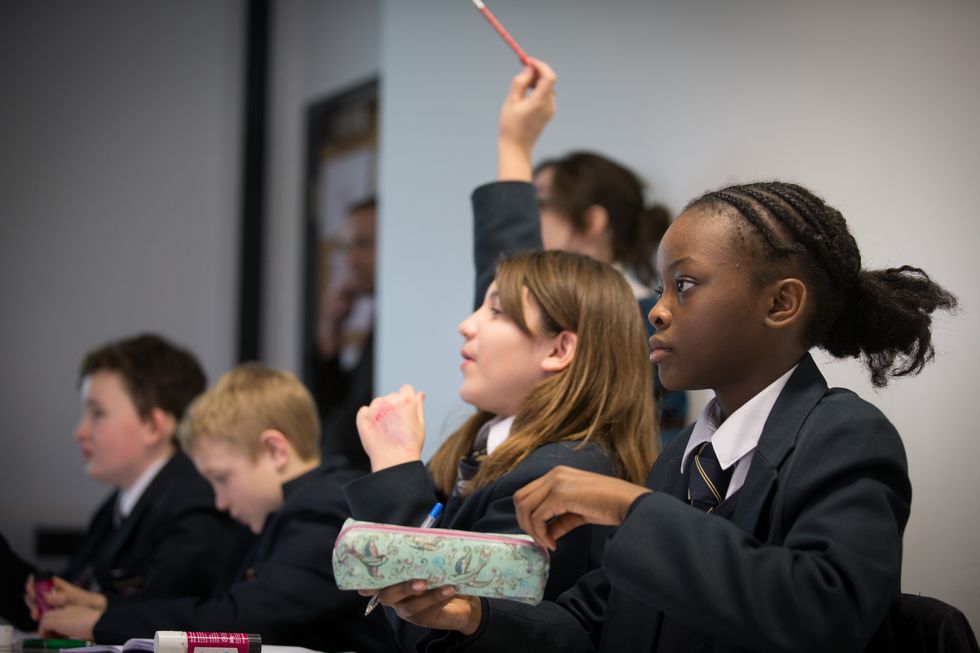 What did the students do in these weekly hour-long classes? They talked about such concepts as knowledge, truth, justice, fairness, contemplating questions like "Should a healthy heart be donated to a person who has not looked after themselves?" or "Is it OK to deprive someone of their freedom?"  They also had time set apart for silent reflection.  
It's also noteworthy, that particular academic improvements were seen among students from disadvantaged backgrounds. The reading skills of those who took the classes improved by 4 months, and math skills by 3 months.  
There were other benefits as well.
"Feedback from teachers throughout the trial suggests that the philosophy sessions created an opportunity to engage with pupils and develop a whole school culture of thinking, listening, speaking, and using logical arguments," wrote researchers Stephen Gorard, Nadia Siddiqui, and Beng Huat See from Durham University in their paper on the study. "They claimed it also had a beneficial impact on wider outcomes such as confidence, patience and self-esteem." 
Interestingly, the "Philosophy for Children" (P4C) program was originally developed in 1970 in the U.S. by Professor Matthew Lipman from New Jersey, which led to the  establishment  of the  Institute  for  the  Advancement  of  Philosophy  for  Children  (IAPC).  Lipman  and  his colleagues  did an initial small study of their program in 1980 using 40  students from  two schools in the Montclair District of New Jersey.
The students were split into two groups, with the "intervention  group"  being taught  P4C twice a  week  for  nine weeks  by  Lipman,  while  the  control  group  was  being  taught  social studies.  Lipman's study  reported  significant  gains  in  logical  reasoning  and  reading,  as measured  by the  California  Test  of  Mental  Maturity  (CTMM).  The reported differences  in reading  scores  were  tested and found to be similarly advanced  2.5  years  later.
The results of another, larger  experiment  were made available in 2004. This time 200 students were tested (100 per group) over a two-year period. The researchers again reported significant improvements  in  reading  and  critical thinking.
Socrates would surely agree - teaching students philosophy will make them smarter academically and better prepared for adult life.