The way that hits are now calculated, impossibly long albums may be on the horizon.
(TRAVIS ISAACS)
Does it seem like albums are getting longer? Boy, are they ever, at least some of them. Crazy long, like Chris Brown's Heartbreak on a Full Moon, a 45-song album whose release was accompanied with a plea from him that laid out the calculus behind getting a hit these days. It's a bit bizarre, and surprising to those of us who aren't music-industry bean-counters.
Heartbreak isn't even a double album, a concept that's, well, doubly meaningless in 2017 — albums themselves barely exist in this era of streaming music. It's all about individual songs and the number of times they're played on internet or cellular streaming services to which listeners subscribe, like Apple Music or Google Play, or "freemium" platforms like Spotify.
In the pre-streaming days, of course, the math was simple for charting publications like industry institution Billboard magazine (What's a magazine?): Their charts primarily reflected sales, with a little bit of radio-airplay mojo thrown in.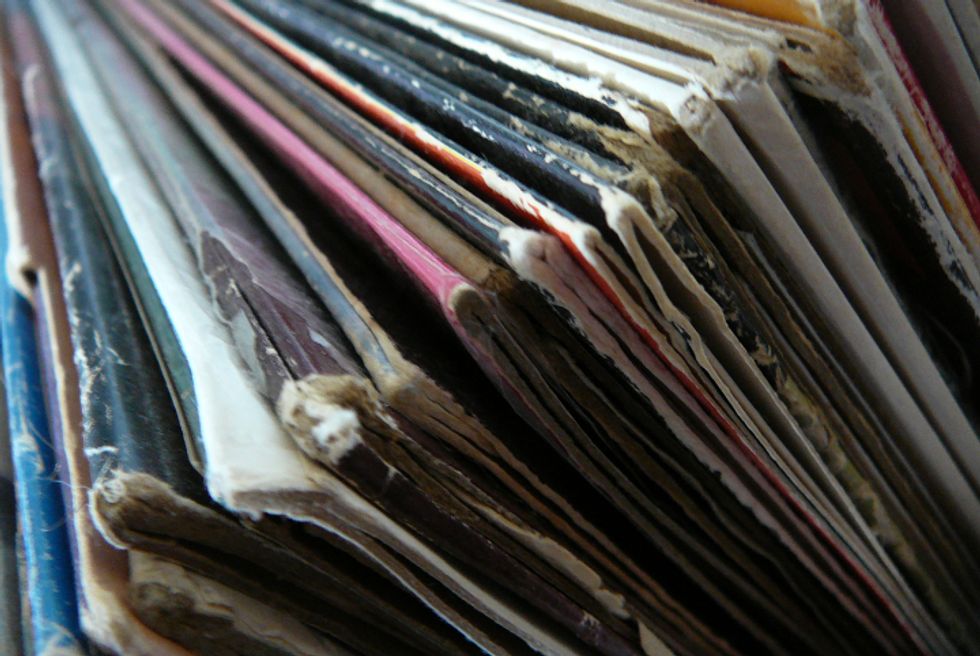 Now, though, few of us bother to actually buy songs when we can just listen stream them whenever and wherever. As a result, plays are a more meaningful measure of success for an artist attempting to persuade backers to finance the live performances at which today's music stars actually make their money. The amount of money they get from each song played online is pitiful — services vary, but Google Play, for example, coughs up $0.0073 per stream. Outright album sales are so anemic that even music superstars like Steely Dan's Donald Fagen can no longer live off their record sales. And thus the income model of the last few decades is flipped: Artists can't get rich off recordings; instead, their hits serve simply as the exposure that makes a fan want to come out and pay for a pricey seat at a show.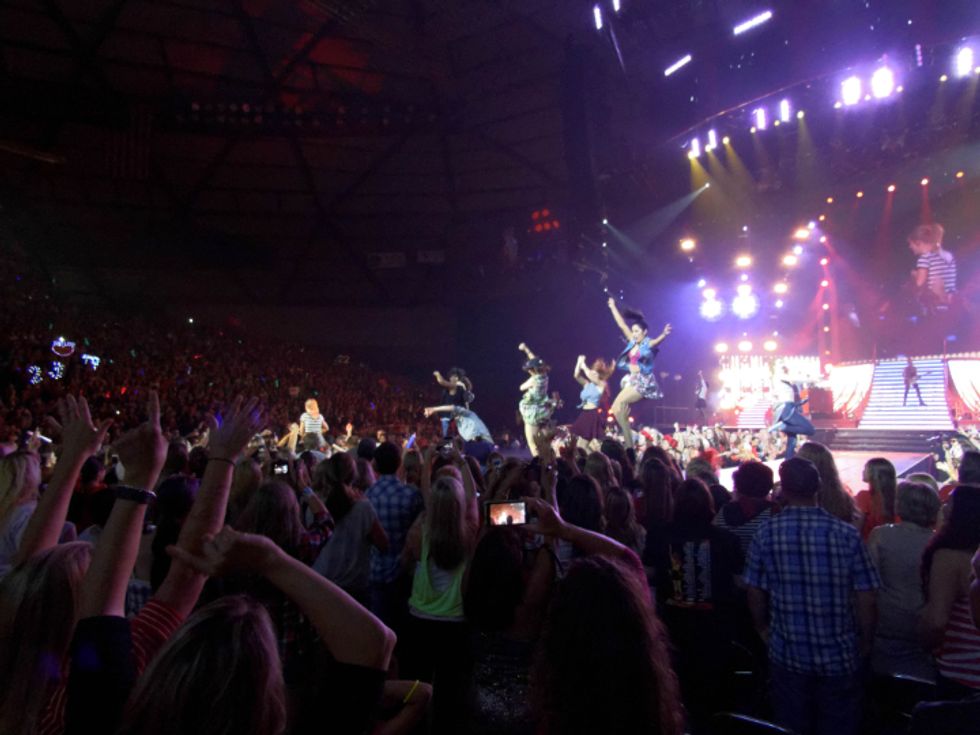 If you've been a longtime observer of the music industry, this should ring a bell: It's a return to the traditional business model of the 1950s and 1960s. Things have jumped backwards in another way, too. When tools like Apple's Garageband app put a recording studio in everyone's laptop, anyone can make a record — but once more, as in the 1950s, it's promotion that brings a very small number up and out of the crowd and into listeners' ears. Famous-for-being-famous celebs have the best shot at a hit now: Oh, hi, Kylie. Oh, hey, Kim.
So here's how Billboard's now calculates its album rankings since 2014.
An artist gets credit for selling one copy of an album if either:
Someone buys 10 songs from the album, or
Songs from the album are streamed 1,500 times. That can be by playing the whole album, one of its songs, or by using any of its songs in a playlist.
So since ten purchased songs from an album equals the sale of one copy of the album, if someone buys a 20-song album, that counts as two album sales, and so on. Actual sales are pretty straightforward like that.
But the 1,500 streaming plays that count as an album get really interesting when you crunch the numbers:
If a 10-song album is streamed by 150 people, boom, 1,500 plays. It's an album sold.
If a 15-song album is streamed by 100 people, there's that number again: 1,500 plays equals an album.
So we can see that the longer the album, the fewer people have to play the its songs to equal an album sale. This means that to sell a copy of, say, the 45-song Heartbreak on a Full Moon, only 34 people (really 33.333 people) have to stream it. No matter how interminable the album is, we can all agree that 34 people is a stunningly low bar for a well-known celeb like Chris Brown to clear. 
So when Brown released his album, he challenged his fan base to get him to #1 on the album streaming charts: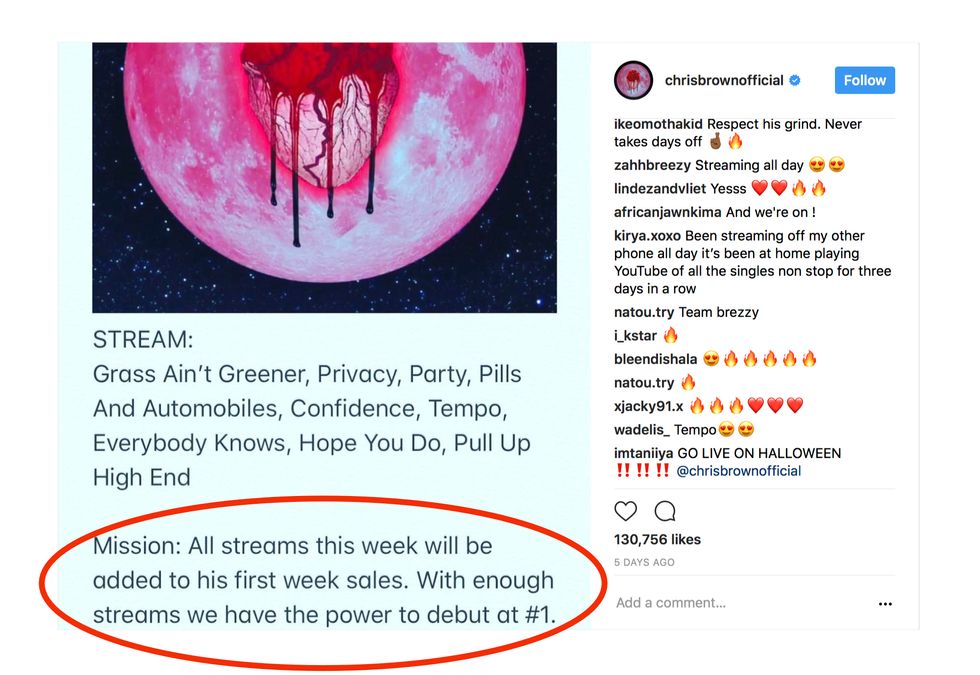 In another, now-deleted Instagram post, he instructed fans to stream the album over and over, or just "leave the album on repeat."
It seems that Brown's math works. He's a mid-level star these days — tainted by allegations of violence against women — but Heartbreak is, as of this writing, #2 in the list of Apple Music's top 20 albums. (Also #5.) It did hit #1 on Billboard for a moment or two.
This trend isn't widespread — yet. As of this writing, only two of Apple Music's 20 are super-sized, one being Brown's and another being the 22-song Trip from Jhené Aiko at #16. That's half the size of Brown's, but still a lot of songs, and therefore pretty much as big a hit, if our math is correct.
It's fair to ask what standard of quality can be maintained throughout such an extended opus. "Never before have so many songs existed just so an album can have a 20th, 30th, or 40th track," writes Adam K. Raymond in Vulture. Even an artist you love isn't likely to keep you engaged for that long: Brown's album is two hours, 38 minutes long. That requires some commitment. Or maybe it's just meant to be used as background sonic wallpaper. Either way, whew.
Will Smith defends entry of non-theatrical Netflix movies at Cannes.
(LOIC VENENACE)
Two of the films in competition at this year's prestigious Cannes Film Festival were produced by and for Netflix. It may be a watershed moment for films, given that the two movies — Okja and The Meyerowitz Stories — were produced for a TV streaming service, and not for a movie theater. At the festival's opening press conference on May 17, renowned Spanish filmmaker and Palme d'Or prize juror Pedro Almodovar read a pre-written statement that said in part, "I personally do not conceive, not only the Palme d'Or, any other prize being given to a film and not being able to see this film on a big screen."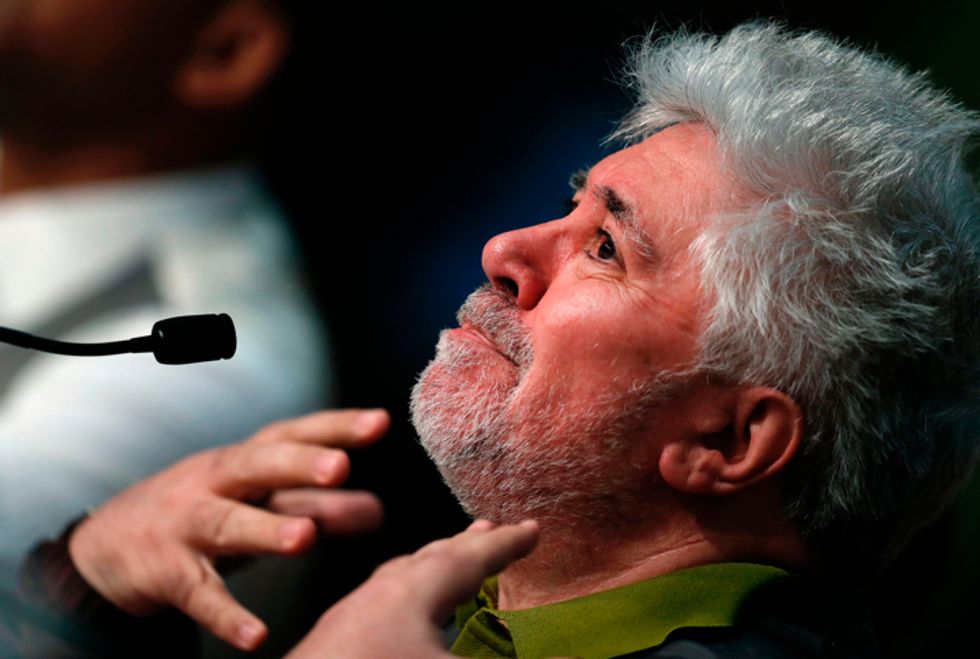 Pedro Almodovar (Laurent Emmanuel)
When Will Smith raised his voice in defense of Netflix a while later, a conversation began that reflects a seismic shift — and for some, a sobering one — in the film industry. Almodovar and Smith were each no doubt reflecting the views of many other people.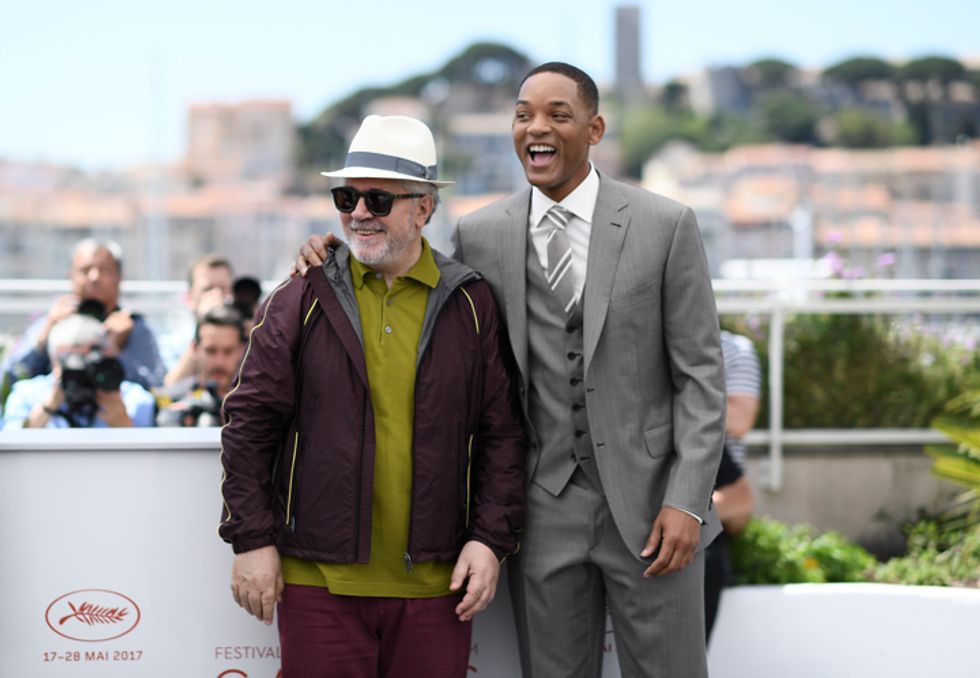 Almodovar and Smith (Anne-Chirstine Poujoulat)
Prior to Almodovar's statement, the mood at the press conference had been completely different. Though Cannes is always the place to see movie stars, few these days have the sheer wattage and charm of Will Smith, who had the room wrapped in the palm of his hand. "West Philadelphia is a long way from Cannes," the star said, noting that, "I was probably 14 years old the last time I watched three movies in one day. Three movies a day is a lot!" Such is the lot of the Cannes festival juror. He also joked that he'd be trying to set a record for most outfits worn at the festival, 32, to top last year's juror Kirsten Dunst's 28.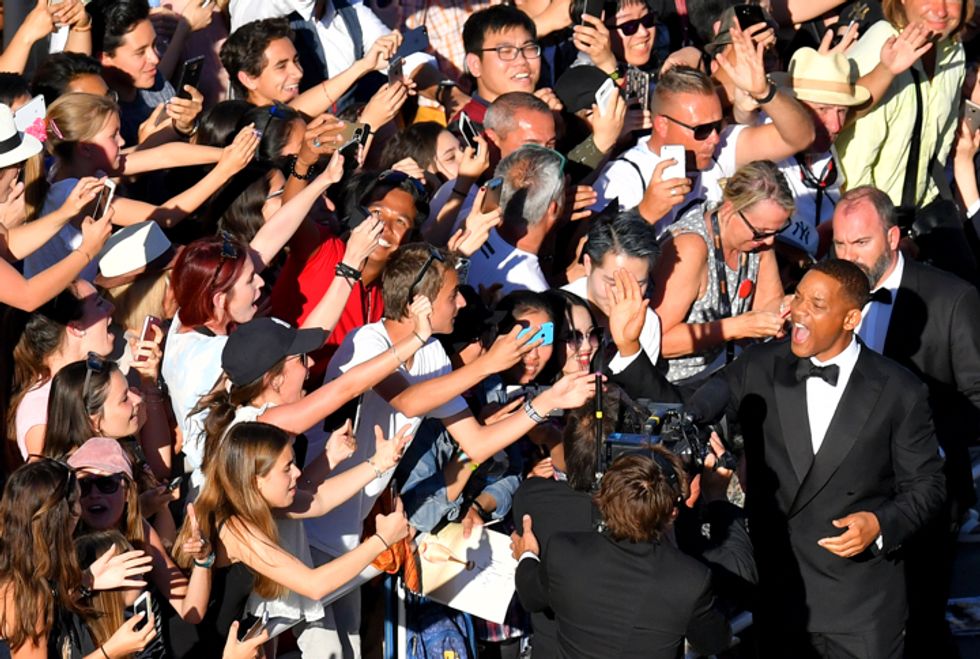 Smith and crowd crush (Loic Venance)
Almodovar claimed his stance doesn't come from being anti-technology, saying, "All this doesn't mean I'm not open to or don't celebrate the new technologies. I do." And yet another statement of his suggests otherwise. "I'll be fighting for one thing that I'm afraid the new generation is not aware of. It's the capacity of the hypnosis of the large screen for the viewer," the filmmaker says. "The size [of the screen] should not be smaller than the chair on which you're sitting. It should not be part of your everyday setting. You must feel small and humble in front of the image that's here." Has he not seen the gargantuan TV screens on which people watch TV these days? Not even going into the home sound systems that support them.
Time and Change
It's a simple fact of life that things change, and one has to feel for someone who's devoted his or her life to an art form in which the public loses interest. Hand-drawn animators spring immediately to mind, as do classical and jazz musicians (actually, musician's of any style that becomes passé). The passing of the white-hot spotlight from one form to another does not in any way diminish the real value of the one left in darkness, but it painful to feel an audience's attention moving on. And it's not that, for example, there isn't still hand-drawn animation being produced. It's just harder to find. And there will likely always long be movie theaters showing films. They may just not be everywhere.
Bowling for Dollars
Of course, with an audience moving on, so goes the money required to produce a film, and in this regard, Almodovar's position makes practical sense. But not entirely. Studios chase the massive jolts of income they can derive from hit movies, and that's a business call having nothing to do with Netflix. The rise of original content on streaming services isn't the cause of the financing issues of smaller films. And according to the Stephen Follows website, producing $100m+ movies requires deep pockets.
So, movies seen on big screens in a dark room account for only a portion of the money they stand to make. Of the roughly $423 million such a film makes on average, only $169 million comes from theatrical release, and the rest ($254 million) from other, smaller-screen venues.
Access Hollywood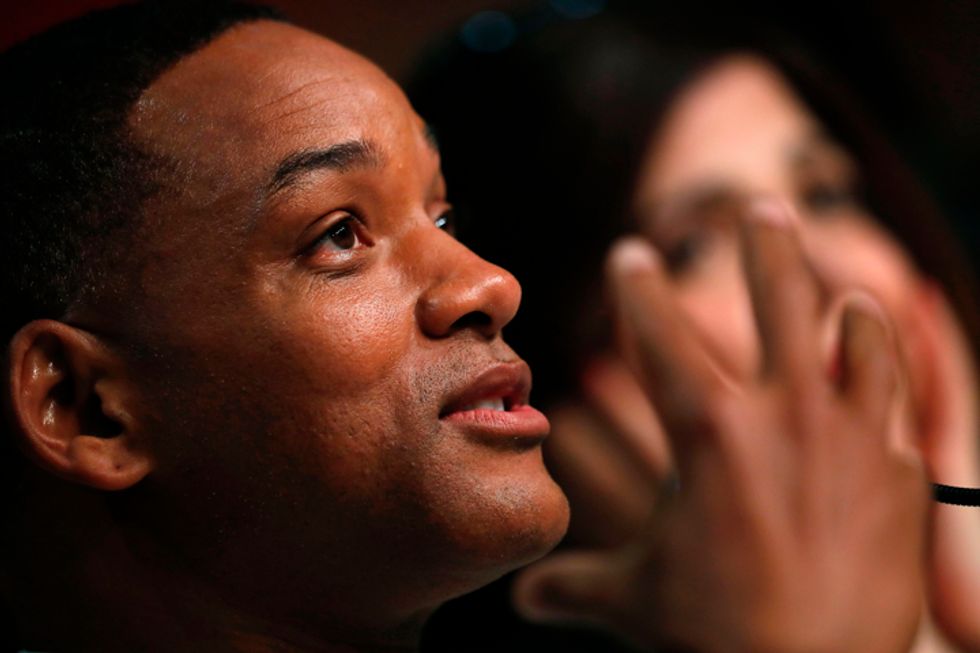 Will Smith (Laurent Emmanuel)
Smith's defense of Netflix at Cannes referred to the access it provides audiences to otherwise unavailable films: "In my house, Netflix has been nothing but an absolute benefit. They get to see films they absolutely wouldn't have seen. Netflix brings a great connectivity. There are movies that are not on a screen within 8,000 miles of them. They get to find those artists."
If that's so for kids living in L.A., imagine what a service like Netflix is doing for those not living in urban or suburban areas with multiple theaters. About 18% of Americans live in rural areas where they're lucky to have even a single theater, and that would be a theater showing only "tentpole" movies starring, well, Will Smith. Just one example of a director whose films never appear in say, Houghton, Michigan would be Pedro Almodovar, Netflix or not. Netflix — either via DVD or streaming service — is the only way many people can see non-blockbuster films.
There's another issue that gives Almodovar's position a whiff of elitism. Going to a theater is expensive, even if you don't buy popcorn and a drink. The average movie ticket price in the U.S these days for an evening show is $8.64. For a family, that's a tab that starts at $25.92. A month of Netflix is $7.99 to $11.99 by comparison, and you can watch as many movies as you want.
Where Do You See Film?
For many who do have access to movies in a theater or on their TV, the decision involves a personal calculus that depends on how much they enjoy watching a movie in a theater or at home. In a theater, there's that huge screen and sound system, but there's also the cost, people talking through the film, phones going off, and sticky floors. At home, you've already paid, and you needn't get dressed, you can watch whenever you want, you can rewind, and your home entertainment system probably doesn't look and sound too shabby. On the other hand, it's a more solitary experience, life has a way of interrupting movies, and the screen is still smaller than movie theater's.
Just as the collective ruckus of science deniers hits its peak, Netflix announces a date for 'Bill Nye Saves the World', a heroic new show that will answer the most pressing science questions of our era.
Heroes don't wear capes, they wear coats. No lies, no hidden agenda – Bill Nye will set the record straight on science.
On April 21, the 13-part series 'Bill Nye Saves the World' will embark on its enormous mission to be an informed (and entertaining) counterweight to science skeptics by refuting bogus claims with a little thing called evidence. Each episode, he'll tackle a topic like climate change, GMOs, sex, space, and alternative medicine. He will make things explode, shake, and fly during lab demos, and bring on guests like science educator Derek Muller, supermodel Karlie Kloss, comedian Joel McHale, actors Donald Faison and Zach Braff, and musician Steve Aoki.
In terms of timing, 'Bill Nye Saves the World' is not just a fun idea, but a necessary one. Margaret Atwood dropped by Big Think late last year to explain that certain people find science "inconvenient", and anti-science mindsets – about climate change, for example – will continue to be propagated from the top and trickle down through the public consciousness until clean energy becomes profitable enough for the wealthy to "believe" in climate change. Only then will policy change follow. 
Scientists and academics have not always done a great job of communicating important ideas to the public, but the national mood has pushed the science community to respond in various ways – like UC Berkeley genetics professor Michael Eisen, who has announced he'll be running for Senate in 2018, a level of government with zero scientists in its ranks. Educating the public through popular programming, which has been Nye's missions since the 1990s, is another route: it can mobilize minds and stoke change from the bottom up. "Change doesn't come from Washington, change comes to Washington," Obama once said. 
Nye is a regular guest at Big Think, where he answers viewer questions for us every Tuesday. Here are two of his finest moments:
#1. Are there Ghosts?
Bill Nye tackles a tough question that every person alive has been hung up on – what happens after we die? Where does our life energy go? 
#2. Why Do We Need Science-Literate Leaders?
Bill Nye weaves explains the importance of science literacy in a country's elected leaders.
Netflix is marketing Nye as a new hero in town. Sure he has a six-pack of facts, mental muscle to shred misinformation into confetti, and an invisible weapon: words – but can he save the world?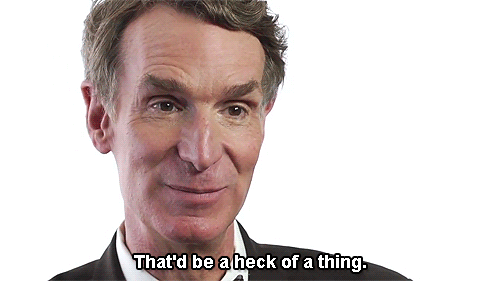 Want five or six extra days every year? Easy – choose streaming over network TV. Adults are sacrificing 130 hours, and kids 150 hours, to ads annually when they watch commercial programming. 
Research released by entertainment news site Exstreamist in 2016 shows that kids skip 150 hours of commercials every year by watching content on streaming services instead of regular television. On average, "children between the ages of 2 and 18 are spending an average of 1.8 hours a day using streaming services," they report. That's about 6 days worth of time per year they're getting back from services like Netflix, Hulu, and Amazon Prime.

How did commercials reach their 6-day toll on us? The answer, as the L.A. Times reports, lies with television networks. Using numbers from ratings measurement firm Nielsen, networks are shoving more commercials into programs in order to make up for declining ratings and revenue, according to the Wall Street Journal (WSJ). In 2015, networks aired an average of 15 minutes and 38 seconds of commercials every hour.
For comparison, "in 2009, the broadcast networks averaged 13 minutes and 25 seconds of commercial time per hour. In 2013, that figure grew to 14 minutes and 15 seconds." Cable news isn't any better, since, "in 2009, cable networks averaged 14 minutes and 27 seconds per hour," according to the L.A. Times. Networks are using more 15-second ad spots than 30-second ad spots, and some networks are even speeding up their programming in order to air more commercials, reports WSJ.
Children's programming is even worse. "Children view more than 40,000 commercials each year," according to the American Psychological Association (APA). Those commercials are loaded with ads for "sugary cereal, rot-your-teeth soda" and many other products that aren't particularly helpful, Exstreamist explains. Cognitively speaking, children don't understand the difference between commercials and television programs. The APA explains that "children below the ages of 4–5 years do not consistently distinguish program from commercial content, even when program/commercial separation devices ("GoBots will be back after these messages") are used…. [and] most children younger than 7–8 years of age do not recognize the persuasive intent of commercial appeals." So children can't easily tell the difference between fiction and reality or that the commercials are trying to sell them something. Since commercials are designed to influence consumer behavior, that's a problem.
Commercials can also demonstrate negative behavior that kids copy — again, because of their cognitive faculties, but also because they like trying new things. In a recent study of over 12,000 children's commercials, researchers at the University of Hartford discovered that about 12 percent of commercials featured disturbing or violent behaviors like threats of physical violence or accidents. Only 20 percent of commercials featured positive behaviors like sharing or helping. It's difficult to tell what direct effect those actions have, but given the impressionability of children featuring those behaviors at all seems suspect. Read the study yourself in Psychology of Popular Media Culture.
Granted, advertisers self-regulate commercial content so it's developmentally appropriate, but still: there's a lot of commercials with questionable content and they're targeted toward people who don't understand that they're being targeted.
No wonder people are flocking to streaming services.
The next time your kid wants to watch a show, opt for streaming services instead of broadcast TV. You'll save their time — and your money. "A Netflix subscription ends up paying for itself hundreds of times over if it prevents a few of those expensive toy purchases," as Exstreamist points out. Win-win!