How imagining the worst case scenario can help calm anxiety.
Credit
: OLIVIER DOULIERY via Getty Images
Stoicism is the philosophy that nothing about the world is good or bad in itself, and that we have control over both our judgments and our reactions to things.
It is hardest to control our reactions to the things that come unexpectedly.
By meditating every day on the "worst case scenario," we can take the sting out of the worst that life can throw our way.
Are you a worrier? Do you imagine nightmare scenarios and then get worked up and anxious about them? Does your mind get caught in a horrible spiral of catastrophizing over even the smallest of things? Worrying, particularly imagining the worst case scenario, seems to be a natural part of being human and comes easily to a lot of us. It's awful, perhaps even dangerous, when we do it.
But, there might just be an ancient wisdom that can help. It involves reframing this attitude for the better, and it comes from Stoicism. It's called "premeditation," and it could be the most useful trick we can learn.
Practical Stoicism
Broadly speaking, Stoicism is the philosophy of choosing your judgments. Stoics believe that there is nothing about the universe that can be called good or bad, valuable or valueless, in itself. It's we who add these values to things. As Shakespeare's Hamlet says, "There is nothing either good or bad, but thinking makes it so." Our minds color the things we encounter as being "good" or "bad," and given that we control our minds, we therefore have control over all of our negative feelings.
Put another way, Stoicism maintains that there's a gap between our experience of an event and our judgment of it. For instance, if someone calls you a smelly goat, you have an opportunity, however small and hard it might be, to pause and ask yourself, "How will I judge this?" What's more, you can even ask, "How will I respond?" We have power over which thoughts we entertain and the final say on our actions. Today, Stoicism has influenced and finds modern expression in the hugely effective "cognitive behavioral therapy."
Helping you practice StoicismCredit: Robyn Beck via Getty Images
One of the principal fathers of ancient Stoicism was the Roman statesmen, Seneca, who argued that the unexpected and unforeseen blows of life are the hardest to take control over. The shock of a misfortune can strip away the power we have to choose our reaction. For instance, being burglarized feels so horrible because we had felt so safe at home. A stomach ache, out of the blue, is harder than a stitch thirty minutes into a run. A sudden bang makes us jump, but a firework makes us smile. Fell swoops hurt more than known hardships.
What could possibly go wrong?
So, how can we resolve this? Seneca suggests a Stoic technique called "premeditatio malorum" or "premeditation." At the start of every day, we ought to take time to indulge our anxious and catastrophizing mind. We should "rehearse in the mind: exile, torture, war, shipwreck." We should meditate on the worst things that could happen: your partner will leave you, your boss will fire you, your house will burn down. Maybe, even, you'll die.
This might sound depressing, but the important thing is that we do not stop there.
Stoicism has influenced and finds modern expression in the hugely effective "cognitive behavioral therapy."
The Stoic also rehearses how they will react to these things as they come up. For instance, another Stoic (and Roman Emperor) Marcus Aurelius asks us to imagine all the mean, rude, selfish, and boorish people we'll come across today. Then, in our heads, we script how we'll respond when we meet them. We can shrug off their meanness, smile at their rudeness, and refuse to be "implicated in what is degrading." Thus prepared, we take control again of our reactions and behavior.
The Stoics cast themselves into the darkest and most desperate of conditions but then realize that they can and will endure. With premeditation, the Stoic is prepared and has the mental vigor necessary to take the blow on the chin and say, "Yep, l can deal with this."
Catastrophizing as a method of mental inoculation
Seneca wrote: "In times of peace, the soldier carries out maneuvers." This is also true of premeditation, which acts as the war room or training ground. The agonizing cut of the unexpected is blunted by preparedness. We can prepare the mind for whatever trials may come, in just the same way we can prepare the body for some endurance activity. The world can throw nothing as bad as that which our minds have already imagined.
Stoicism teaches us to embrace our worrying mind but to embrace it as a kind of inoculation. With a frown over breakfast, try to spend five minutes of your day deliberately catastrophizing. Get your anti-anxiety battle plan ready and then face the world.
Jonny Thomson teaches philosophy in Oxford. He runs a popular Instagram account called Mini Philosophy (@philosophyminis). His first book is Mini Philosophy: A Small Book of Big Ideas.
There's a reason it's called "timeless wisdom."
Photo by Valerie Gache / AFP via Getty Images
Since its founding 2,300 years ago, Stoic philosophy has advocated for personal responsibility and emphasized staying present.
Instead of moving toward pleasure and avoiding pain, Stoics know it's better to treat every moment for what it brings.
Stoicism is especially pertinent during challenging times, such as now.
Stoicism was founded in Athens in the 3rd century BCE by Zeno of Citium. The philosophy has experienced various resurgences throughout the centuries, most notably by thinkers that love its blend of personal responsibility and naturalistic logic. The crossover with its philosophical contemporary, Buddhism, is apparent in its eschewing of pain and pleasure to focus on what each moment brings. While eudaemonia, or happiness, is the ultimate aim, that's more akin to the Buddhist notion of santosha, or contentment.
For more information on Stoicism's background, you can read my article on its influence on modern cognitive behavioral therapy. Shortly after writing that piece, I read Ryan Holiday's "The Obstacle is the Way: The Timeless Art of Turning Trials into Triumph." Holiday convincingly applies Stoic principles to modern life. Given the struggles we're all facing with the COVID-19 pandemic, his book seems more timely than ever.
Below are 10 Stoic quotes that force us to pause and reflect on where we are right now. That is the driving message behind this philosophy: it's not the external conditions but your response to them that is the true mark of your character. The distance between what you desire and what you achieve is often measured by your resilience to discomfort and misfortune. The less you're able to endure challenges, the wider the distance. The Stoics knew this, just as they knew there's a way to close the gap.
7 Life Changing Stoic Ideas That You Can Practice Daily | Ryan Holiday | Daily Stoic
"Your first attempts aren't going to work. It's going to take a lot out of you—but energy is an asset and we can always find more. It's a renewable resource. Stop looking for an epiphany, and start looking for weak points. Stop looking for angels, and start looking for angles." — Ryan Holiday
In The Obstacle is the Way, Holiday also writes that if you sit back and wait for every opportunity to fall into your lap, you'll never really find out what you can do. It's a reminder that you're going to fail way more than you'll succeed. Yet if you're not willing to fail, success will remain elusive.
"The impediment to action advances action. What stands in the way becomes the way." — Marcus Aurelius
The quote that inspired Holiday's book title, by the world's most quoted Stoic. The Roman emperor's "Meditations" remains an important guidebook. These two sentences sum up Stoicism better than anything: if you're not going to use unfortunate circumstances to your advantage, you won't know how to transform anything. You don't run away from the roadblock. You might have to jump over it or smash it while sprinting through. Just don't avoid it. Use it to your advantage.
"I judge you unfortunate because you have never lived through misfortune. You have passed through life without an opponent—no one can ever know what you are capable of, not even you." — Seneca
The Roman statesman and dramatist offered many keen insights into human nature. As in theater, so in life: if you don't suffer, you won't develop empathy; if you're not challenged, you will not overcome. What a terrible life to waste.
"The obstacle in the path becomes the path. Never forget, within every obstacle is an opportunity to improve our condition." — Zen saying
A final quote pulled from Holiday's book. Broken bones heal stronger.
"Don't promise twice what you can do at once." — Cato the Younger
Stop procrastinating. The only worthwhile thoughts are those that directly lead to action. Promises are only words until you fulfill them.
German philosopher Friedrich Nietzsche, circa 1885
Photo by Hulton Archive/Getty Images
"He who has a Why to live for can bear almost any How." — Nietzsche
Plenty of research has shown that meaning is more important than anything else. Cashing a paycheck is important. To have a reason to live is of far greater value.
"Don't seek for everything to happen as you wish it would, but rather wish that everything happens as it actually will—then your life will flow well." — Epictetus
This pandemic has affected every one of us. No one wished for it, yet here it is. How is your life flowing?
"Ultimately, man should not ask what the meaning of his life is, but rather he must recognize that it is he who is asked. In a word, each man is questioned by life; and he can only answer to life by answering for his own life; to life he can only respond by being responsible." — Victor Frankl
Frankl, a Holocaust survivor, knew a few things about suffering. He recognized the difference between camp members that maintained integrity during that horrific time and those that did not. His famous hierarchy of needs states that basic requirements for survival, such as food and shelter, must first be met. After that, we can begin to self-actualize. Whether or not you accomplish that task is on your shoulders.
"You cannot separate knowledge from contact with the ground. Actually, you cannot separate anything from contact with the ground. And the contact with the real world is done via skin in the game—having an exposure to the real world, and paying a price for its consequences, good or bad. The abrasions on your skin guide your learning and discovery." — Nassim Nicholas Tassib
The Lebanese-American scholar defines a Stoic as someone who "transforms fear into prudence, pain into information, mistakes into initiation and desire into undertaking." As the title of one of his books states, you have to have skin in the game to play the game. Those wounds are bookmarks.
"We have two ears and one mouth, so we should listen more than we say." — Zeno of Citium
We'll give the final word to Stoicism's founder for advice regarding the true path to knowledge. What an adage to apply in the age of social media.
--
Stay in touch with Derek on Twitter and Facebook. His next book is "Hero's Dose: The Case For Psychedelics in Ritual and Therapy."
There are many famous schools of thought that you have probably heard of, but did you hear the truth or just get a caricature of the idea?
For your reading pleasure, here are ten schools of philosophy you should know about. Some of them are commonly misunderstood, and we correct that problem here.
The leading philosophy among angsty teens who misunderstand Nietzsche.
The root of the word 'nihilism' is derived from the Latin nihil, meaning "nothing", and it is a more of a series of related positions and problems than a single school of thought. The key idea of it is the lack of belief in meaning or substance in an area of philosophy. For example, moral nihilism argues that moral facts cannot exist; metaphysical nihilism argues that we cannot have metaphysical facts; existential nihilism is the idea that life cannot have meaning and nothing has value—this is the kind that most people think of when they hear the word.
As opposed to popular understanding, Nietzsche was not a nihilist. Rather, he wrote about the dangers posed by nihilism and offered solutions to them. Real nihilists included the Russian nihilist movement.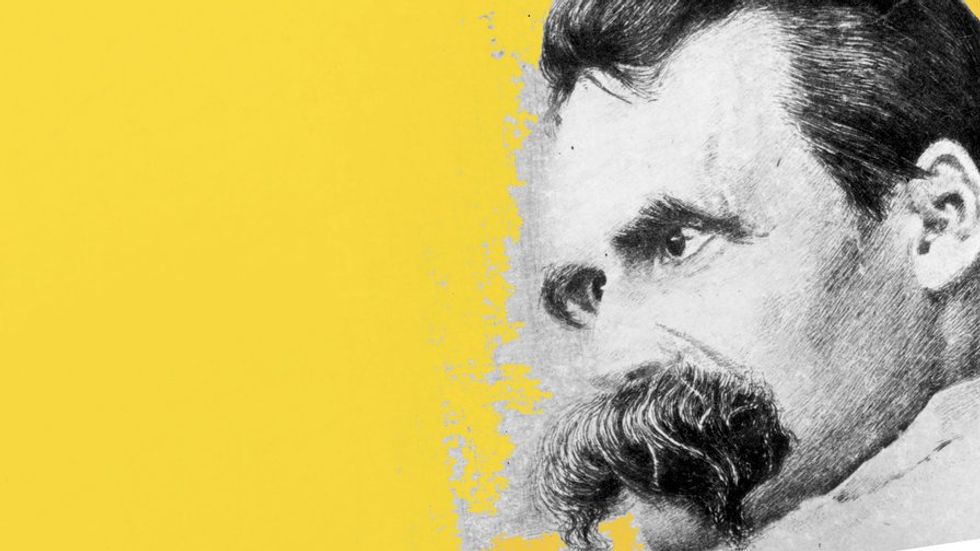 The leading philosophy among angsty undergraduates who understand Nietzsche.
Existentialism is a school of thought originating in the work of Soren Kierkegaard and Nietzsche. Existentialism focuses on the problems posed by existential nihilism. What is the point of living if life has no inherent purpose, where can we find value after the death of God, and how do we face the knowledge of our inevitable demise? Existentialists also ask questions about free will, choice, and the difficulties of being an individual.

The existentialists also included Jean-Paul Sartre, Simone de Beauvoir, and Martin Heidegger. Albert Camus was associated with the movement, but considered himself independent of it.
A philosophy popular in ancient Greece and Rome, and practiced today by many people in high-stress environments.
Stoicism is a school that focuses on how to live in a world where things don't go your way. Is it raining when you just waxed your car? Accept it. Does the lady at the desk next to you sound like a dying cat when she speaks? Accept it, and move on to the next problem. The idea at the heart of it is acceptance of all things that are beyond your control. Pain will pass, you will remain, so the best thing to do is focus on what you can control.

Famed stoics included Zeno of Citium, Seneca, and Marcus Aurelius. Today many athletes rely on stoicism to help them focus on their performance during games, rather than how the other team is doing.
Hedonism is the idea that pleasure or happiness is the one thing with intrinsic value. This idea has been held by many other schools across history, most famously the utilitarians. While happiness is often construed as pleasure and the green light is often given to depravity by this school, Greek thinker Epicurus was also a hedonist and tied it to a virtue ethics system based around moderation. He argued that moderation lead to the most happiness for the individual in the long run.
The word "hedonistic", when used as a slur, relates to this school only in that many hedonistic thinkers also saw pleasure as the key to a good life. Many hedonistic philosophers viewed pleasure as a kind of happiness, but few held it as the "only" happiness. Most hedonistic philosophers would say you should read a book rather than get drunk, as reading is a higher kind of happiness than getting snockered.
Famous hedonists include Jeremy Bentham, Epicurus, and Michel Onfray. Hedonism is also the oldest philosophy recorded, making an appearance in The Epic of Gilgamesh.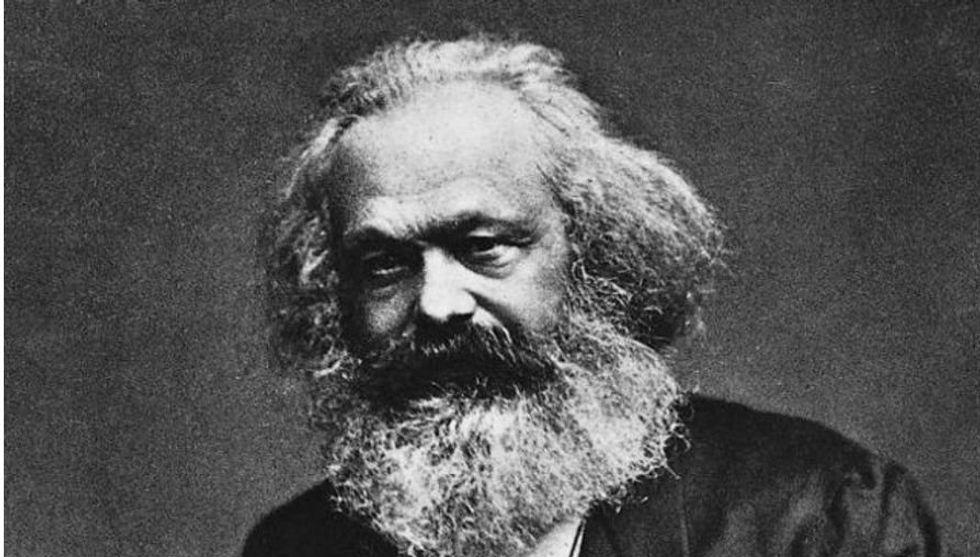 Marxism is a school based on the collected ideas of Karl Marx, the 19th century German philosopher, and the related ideas others have added after his death. His key ideas are all critiques of capitalism, such as the idea that the capitalist mode of production alienates us from the results of our labor, the tendency of capitalism to overproduce and crash as a result, and the labor theory of value. He also proposed a few ideas to help fix the problems he found in capitalism, many of them less radical than you might suppose.

Cultural Marxism is a thing, but not what your crazy uncle says it is. In reality, it is a method of critiquing a consumerist society for reducing everything to a commodity and the phenomena of mass marking reaching into all parts of our lives which was proposed by German philosophers who didn't like the Soviet system either. I am sure the comments section will disagree with this fact passionately.

Famed Marxists include Lenin, Stalin, Mao, and Slavoj Zizek; though all of the listed individuals have been called heretics at one point or another by other Marxists. Ironically, Marx himself claimed to not be one.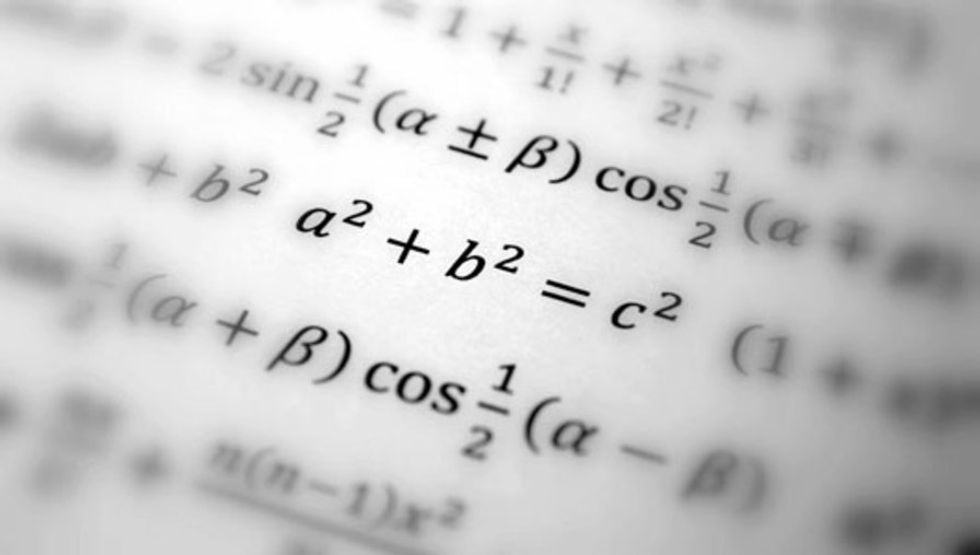 Have you ever wondered if we can base absolutely everything on logic and empirical evidence?
The logical positivists had a good try—until they found it a dead end. This school was popular in the 1920s and '30s, and was focused on the idea of verifications, which sought to base all knowledge on either empirical data or logical tautologies. By this idea, metaphysics, ethics, theology, and aesthetics cannot be studied philosophically as they don't offer ideas with truth values. As it turns out the core tenet of verificationism cannot be shown to be true either, posing an unsolvable problem for the school.
The school was largely unsuccessful in its work, and suffered a major blow when Ludwig Wittgenstein denounced his previous work in favor of the school's ideas then utterly changed course. The school still had a great deal of influence, particularly on the work of Karl Popper and Wittgenstein, who worked so hard to disprove the core tenets.

Famed members of the movement included Bertrand Russell, Ludwig Wittgenstein, and the Vienna Circle. All of them were brilliant, and after the decline of the school most of them went on to other projects. 
Taoism is a school of thought based around the Tao Te Ching, written by the ancient Chinese philosopher Lao-Tzu as he left China to live as a hermit. Taoism is based around ideas of humility, the 'Way', a focus on the individual, simplicity, and naturalness. It is commonly practiced as a folk religion by the Chinese, and Taoists often make offerings to various gods.
Taoist thought would later fuse with Buddhism and birth of Zen. Elements of it would also be incorporated into the concept of Neo-Confucianism. The principles of Taoism would also resonate with physicist Niels Bohr who admired Taoism's ability to view opposites as complementary.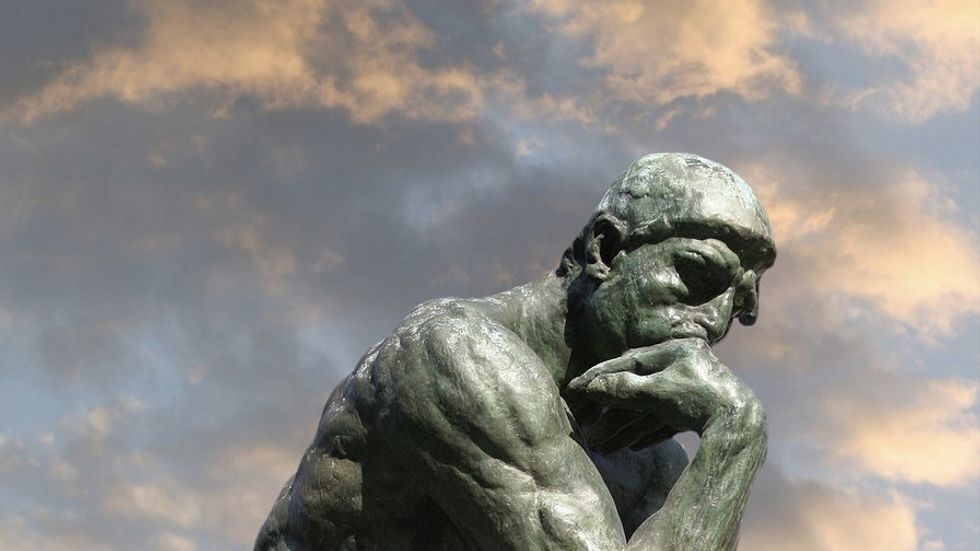 If our senses are often wrong, how can we ever trust them to get reality right? This is the key tenet of rationalism, the idea that knowledge must come primarily from reason and thought, rather than empirical evidence.

The idea has been widespread in history. Thinkers who argued for rationalism included Socrates, Rene Descartes, and Spinoza. Their view, that reason alone could reveal the great truths of the world, has largely fallen out of use in favor of a more diverse group of methods for finding truth. British philosopher Galen Strawson explained the limit of rationalist approaches to knowledge when he explained, "you can see that it is true just lying on your couch. You don't have to get up off your couch and go outside and examine the way things are in the physical world. You don't have to do any science." Convenient, but no longer enough. Today, most thinkers combine rationalist notions with empirical data.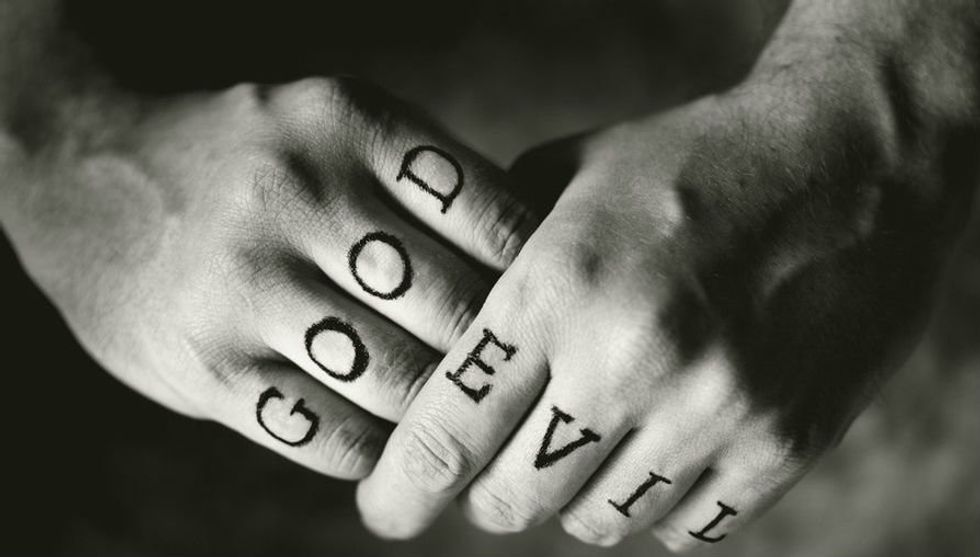 Relativism is the idea that views are relative to perspective or considerations. This idea can even be applied to morality or truth itself, with some arguing then that there are no moral facts or absolute truths. Similarly, situational relativism is an idea in ethics where a rule is to be followed under all conditions except for some, when we would then follow another rule. For example, don't kill unless you would save lives by doing so. This idea, in a revised form, was supported by American philosopher Robert Nozick in his book Anarchy, State, and Utopia.
Most of you are probably familiar with the idea of "cultural relativism" which is the notion that the morality of two differing cultures cannot be compared and a person outside of one culture cannot critique the values and morality of another. This idea is not held by any major philosophers, and is generally seen as self-defeating by those who work in ethics.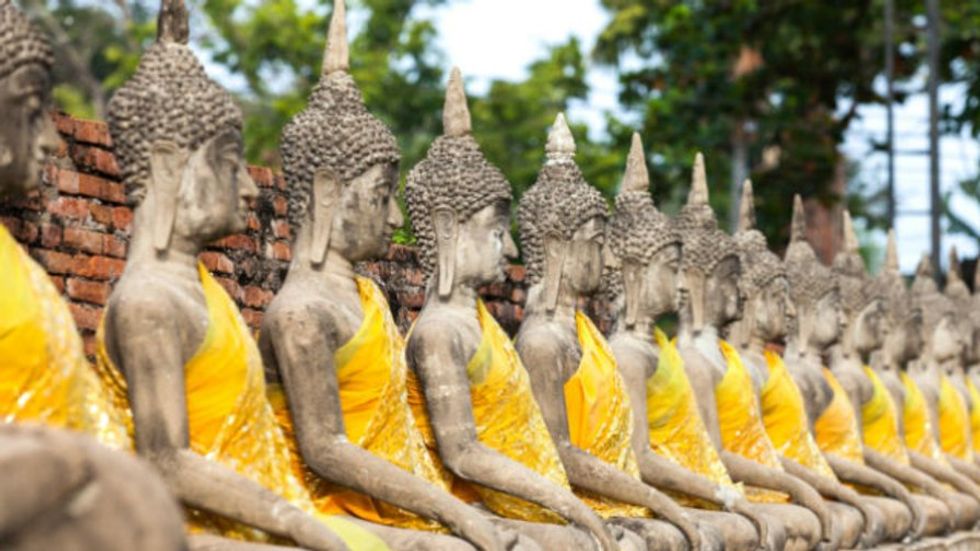 A religion based around the teachings of Gautama Buddha, an Indian prince, Buddhism is dedicated to the idea that suffering has a cause and that we can overcome it by means of mediation, following the noble eightfold path, and contemplation of sutras.
The many schools of Buddhism are rather diverse in their thought, bound together primarily by the Buddha's ideas on suffering. Some are non-theistic while others have a pantheon of gods and demons. Some hold that karma exists and reincarnation is a part of life while others reject any discussion of an afterlife. Most are peaceful while others… not so much. In the west, Buddhist ideas on meditation are often widely shared while other elements of the religion are ignored.
God, grant me the serenity to accept the things I cannot change,
Courage to change the things I can,
And wisdom to know the difference.
Seinfeld - Episode #04-0715 (1996) Castle Rock Entertainment. (Photo By Getty Images)
God, grant me the serenity to accept the things I cannot change,
Courage to change the things I can,
And wisdom to know the difference.

This is the Serenity Prayer, originally written by the American theologian Reinhold Niebuhr around 1934, and commonly used by Alcoholics Anonymous and similar organisations. It is not just a key step toward recovery from addiction, it is a recipe for a happy life, meaning a life of serenity arrived at by consciously taking what life throws at us with equanimity. 
The sentiment behind the prayer is very old, found in 8th-century Buddhist manuscripts, as well as in 11th-century Jewish philosophy. The oldest version I can think of, however, goes back to the Stoic philosopher Epictetus. Active in the 2nd century in Rome and then Nicopolis, in western Greece, Epictetus argued that:
We are responsible for some things, while there are others for which we cannot be held responsible. The former include our judgment, our impulse, our desire, aversion and our mental faculties in general; the latter include the body, material possessions, our reputation, status – in a word, anything not in our power to control. … [I]f you have the right idea about what really belongs to you and what does not, you will never be subject to force or hindrance, you will never blame or criticise anyone, and everything you do will be done willingly. You won't have a single rival, no one to hurt you, because you will be proof against harm of any kind.
I call this Epictetus' promise: if you truly understand the difference between what is and what is not under your control, and act accordingly, you will become psychologically invincible, impervious to the ups and downs of fortune.
Of course, this is far easier said than done. It requires a lot of mindful practice. But I can assure you from personal experience that it works. For instance, last year I was in Rome, working, as it happened, on a book on Stoicism. One late afternoon I headed to the subway stop near the Colosseum. As soon as I entered the crowded subway car, I felt an unusually strong resistance to moving forward. A young fellow right in front of me was blocking my way, and I couldn't understand why. Then the realisation hit, a second too late. While my attention was focused on him, his confederate had slipped his hand in my left front pocket, seized my wallet, and was now stepping outside of the car, immediately followed by his accomplice. The doors closed, the train moved on, and I found myself with no cash, no driver's licence, and a couple of credit cards to cancel and replace.
Before I started practising Stoicism, this would have been a pretty bad experience, and I would not have reacted well. I would have been upset, irritated and angry. This foul mood would have spilled over the rest of the evening. Moreover, the shock of the episode, as relatively mild as the attack had been, would have probably lasted for days, with a destructive alternation of anger and regret.
But I had been practicing Stoicism for a couple of years. So my first thought was of Epictetus' promise. I couldn't control the thieves in Rome, and I couldn't go back and change what had happened. I could, however, accept what had happened and file it away for future reference, focusing instead on having a nice time during the rest of my stay. After all, nothing tragic had happened. I thought about this. And it worked. I joined my evening company, related what happened, and proceeded to enjoy the movie, the dinner, and the conversation. My brother was amazed that I took things with such equanimity and that I was so calm about it. But that's precisely the power of internalising the Stoic dichotomy of control.
And its efficacy is not limited to minor life inconveniences, as in the episode just described. James Stockdale, a fighter-jet pilot during the Vietnam War, was shot down and spent seven and a half years in Hoa Lo prison, where he was tortured and often put in isolation. He credits Epictetus for surviving the ordeal by immediately applying the dichotomy of control to his extreme situation as a captive, which not only saved his life, but also allowed him to coordinate the resistance from inside the prison, in his position as senior ranking officer.
Most of us don't find ourselves in Stockdale's predicament, but once you begin paying attention, the dichotomy of control has countless applications to everyday life, and all of them have to do with one crucial move: shifting your goals from external outcomes to internal achievements.
For example, let's say that you are preparing your résumé for a possible job promotion. If your goal is to get the promotion, you are setting yourself up for a possible disappointment. There is no guarantee that you will get it, because the outcome is not (entirely) under your control. Sure, you can influence it, but it also depends on a number of variables that are independent of your efforts, including possible competition from other employees, or perhaps the fact that your boss, for whatever unfathomable reason, really doesn't like you.
That's why your goal should be internal: if you adopt the Stoic way, you would conscientiously put together the best résumé that you can, and then mentally prepare to accept whatever outcome with equanimity, knowing that sometimes the universe will favour you, and other times it will not. What do you gain by being anxious over something you don't control? Or angry at a result that was not your doing? You are simply adding a self-inflicted injury to the situation, compromising your happiness and serenity.
This is no counsel for passive acceptance of whatever happens. After all, I just said that your goal should be to put together the best résumé possible! But it is the mark of a wise person to realise that things don't always go the way we wish. If they don't, the best counsel is to pick up the pieces, and move on.
Do you want to win that tennis match? It is outside of your control. But to play the best game you can is under your control. Do you want your partner to love you? It is outside of your control. But there are plenty of ways you can choose to show your love to your partner – and that is under your control. Do you want a particular political party to win the election? It is outside of your control (unless you're Vladimir Putin!) But you can choose to engage in political activism, and you can vote. These aspects of your life are under your control. If you succeed in shifting your goals internally, you will never blame or criticise anyone, and you won't have a single rival, because what other people do is largely beyond your control and therefore not something to get worked up about. The result will be an attitude of equanimity toward life's ups and downs, leading to a more serene life.

Massimo Pigliucci
--
This article was originally published at Aeon and has been republished under Creative Commons.
Studying philosophy has had a major impact on the power players of Silicon Valley.
Zeno of Citium and the new Apple campus in Silicon Valley. Credit: Getty Images/Wikipedia
Silicon Valley is an ultra-competitive environment that comes up with the most exciting technological advancements of our modern life. Understandably, its executives are under constant pressure to deliver something new that will capture and better yet, disrupt, markets. To alleviate the stresses and open their minds, the execs have been known to experiment with microdosing on psychedelics, taking brain-stimulating nootropics, and sleeping in phases. What's their latest greatest brain hack? Philosophy.
Some philosophers are finding Silicon Valley employment teaching "practical philosophy" that you can use in business and everyday life. Andrew Taggart is one champion of this movement, offering philosophical counseling to tech leaders and anyone in need. The guidance focuses on using reason and logic to unmask illusions about your life or work. You can try philosophical counseling yourself, if you'd like, as Taggart offers Skype conversations. 
Taggart rails against what he sees is the "problematization of the world" - the idea that all the obstacles we encounter during our life, from drinking too much coffee to death, are problems in need of solutions to be discovered. He thinks that approach can obscure the true understanding of human life. In an interview with Quartz, he says that rather than ask "How can I be more successful?" it's actually more important to ask - "Why be successful?"
On the more practical side, Taggert thinks philosophy can also help zero in on what a startup should build and, more generally, he advocates using the philosophical skills of critical inquiry to figure out the "bullshit".
"Philosophers arrive on the scene at the moment when bullshit can no longer be tolerated," says Taggart to Quartz. "We articulate that bullshit and stop it from happening. And there's just a whole lot of bullshit in business today."
On the other hand, he also thinks that stopping BS is not the chief objective of philosophy. Rather, he warns against the dangers of "total work" - the all-consuming obsession with having to be productive and spend most of our time working rather than contemplating.
"Total work is always on the clock. Ever behind, always in a rush toward, or just behind, an approaching, encroaching deadline. Philosophy occurs when clock time falls away. It seeks to put us in the presence of eternity," says Taggart in a blog post.
In fact, he thinks the commitment to "total work" allows the market to control too many aspects of our life. He cites a startup cofounder he interviewed who "asserted unequivocally his view that all human relationships are transactional." Taggert thinks philosophy can open up this kind of thinking to a less solipsistic view that introduces thought and balance to people's lives.
Outside of Taggart's efforts, philosophy has always had a strong presence in Silicon Valley. Another philosopher who has made inroads with the tech crowd is Ryan Holiday, a proponent of stoicism, an ancient Greek school of thought that emphasizes limiting negative emotions and self-control to find the true purpose of one's life.
Peter Thiel, the legendary venture capitalist behind some of Silicon Valley's biggest successes like Paypal and Facebook, was a philosophy major in college. He described the importance of philosophy in helping him learn "thinking for yourself":
"Convention cannot be a shortcut for truth. Silicon Valley is filled with conventional thinking... The future is what they are focused on and people are not sure about it with just a few markers. They will find shortcuts listening to someone else without knowing or figuring it out. The question of thinking for yourself and breaking convention is very important in Silicon Valley and other places."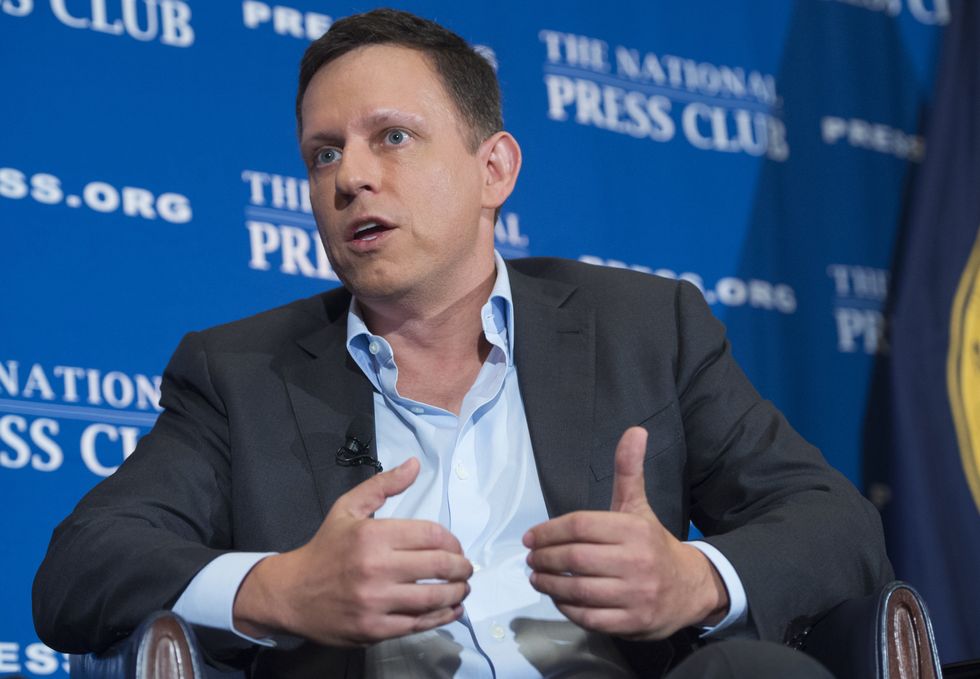 Peter Thiel, PayPal founder-turned-venture-capitalist, at the National Press Club in Washington, DC, October 31, 2016. (Photo credit: SAUL LOEB/AFP/Getty Images)
Other Silicon Valley philosopher-execs include Stewart Butterfield, the CEO of Slack, who has two philosophy degrees. Paul Graham, the co-founder of the world's first Y Combinator, a pioneer of startup funding and development, was also educated in philosophy. Reid Hoffman, the founder of LinkedIn, has a Masters in philosophy from Oxford. Carly Fiorina, former CEO of Hewlett-Packard and a recent Presidential candidate, was a philosophy major (along with medieval history) at Stanford. The founder of Facebook, Mark Zuckerberg, also appears to read philosophical texts and has previously recommended "The Structure of Scientific Revolutions" by the philosopher of science Thomas S. Kuhn to his millions of followers.