The Middle Ages see a resurgence of interest among the alt-right and some conservative thinkers.
Of all the political and intellectual surprises that come at us every day now, one of the more unusual is the strange resurgence of the Middle Ages as an influence on our times.  A number of conservative thinkers have proposed that as modernity and liberalism led humanity to a dead end, we should look to the medieval period for inspiration on how to remake our world. This idea has been expressed through memes and writings of the alt-right and has found its way all the way up to Presidential advisors. 
One reason for the appeal of the Middle Ages can be seen in popular memes spread through alt-right online forums. They feature the Crusader battle call "Deus vult!" which basically translates to "God wills it". It is used as a Christian version of "Allahu akbar" - a call to action for the Western civilization in its supposed war against Islam.
Another way that the Middle Ages fascinate people has been proposed by a number of conservative blogs and thinkers - they are newly seen as a time of traditional values that celebrated god, masculinity, homogeneity instead of diversity, and traditional gender roles. 
The "Middle Ages" is generally considered to be the period of history that goes from the fall of the Roman Empire in the West in 476 CE to the fall of the Eastern Roman Empire in 1453, when Constantinople was sacked. Another way to mark the end of the medieval period is the beginning of the Renaissance in the 14th century.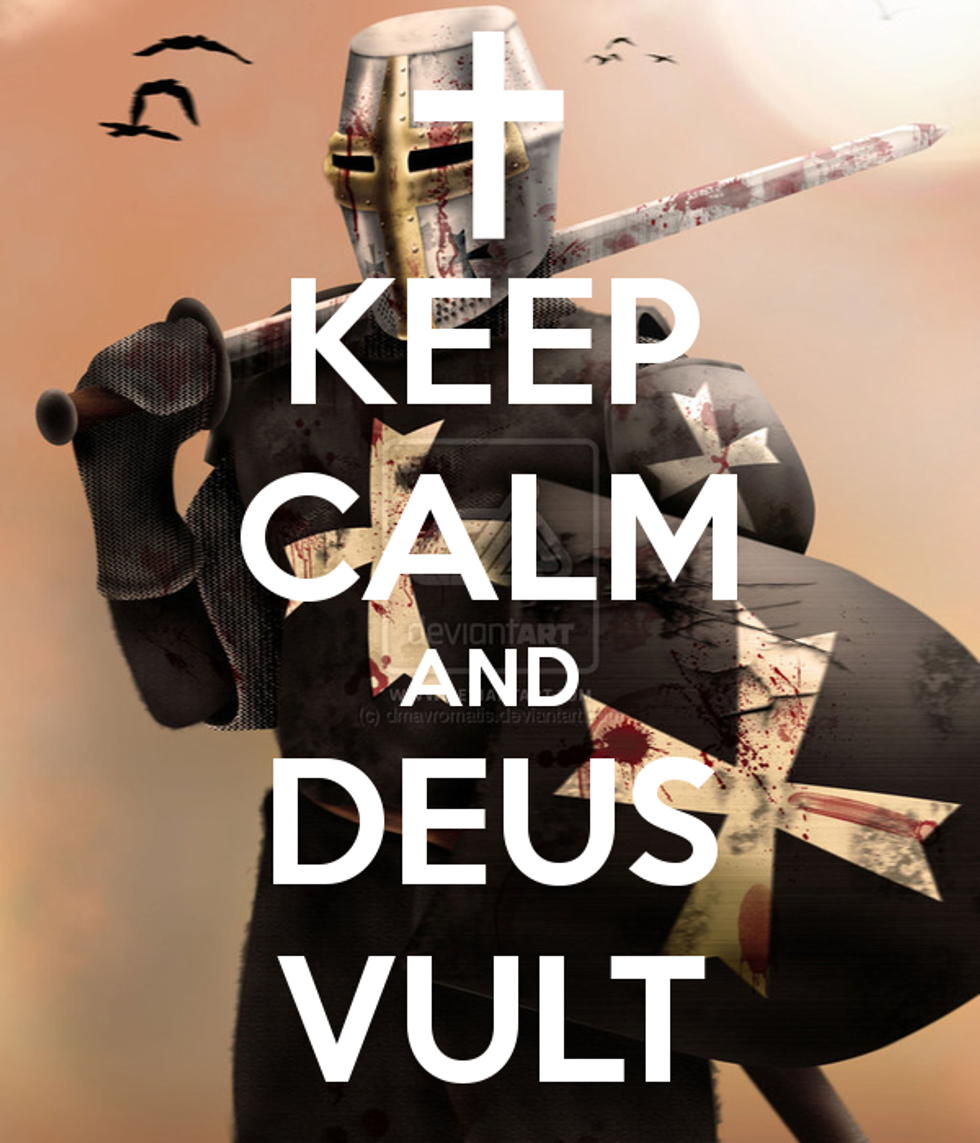 A Deus Vult meme image.
It's common to regard the Middle Ages as a dark period in human history, without many accomplishments. The historian Edward Gibbon, who wrote the "Rise and Fall of the Roman Empire," called the period full of "barbarism and religion". This historical time is also associated with the terrible epidemic of "Black Death" - the bubonic plague that killed 20 million people in Europe, 30% of its population at the time, in the middle of the 14th century.
This negative point of view on the Middle Ages has been challenged of late, with new scholarship pointing out that the era had some achievements, like the majestic Romanesque and Gothic Cathedrals that sprang all over Europe, leading to architectural and artistic innovation. The period also saw the eventual transformation of feudalism due to factors such as agricultural inventions, leading to increased population in city centers.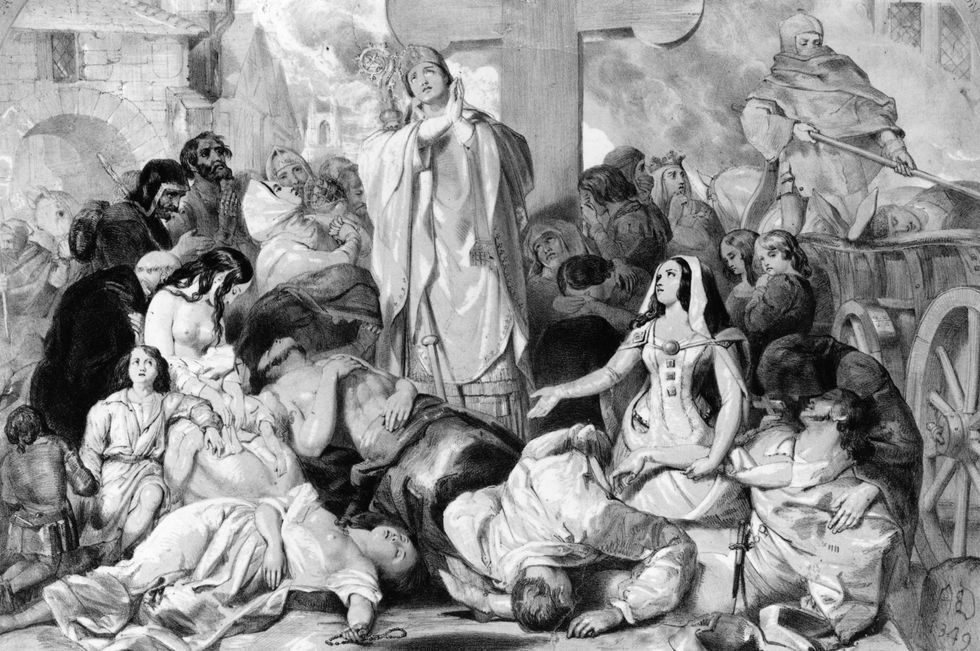 People praying for relief from the bubonic plague, circa 1350. Original Artwork: Designed by E Corbould, lithograph by F Howard. (Photo by Hulton Archive/Getty Images)
The Middle Ages were also a period of great growth of Islamic power. Muslim armies conquered the Middle East, with the Islamic world becoming three times as big as the Christian one during the height of its influence. The intellectual life that was missing from Europe was thriving in cities like Cairo, Baghdad and Damascus.
The spread of Islamic control resulted in the Catholic Church launching a series of Crusades - military expeditions to rescue the Holy Land from "infidels".  The Crusades were first began in 1095 AD, with Pope Urban II issuing the infamous "Deus Vult!" battle cry for Christians to raise an army and fight Muslims.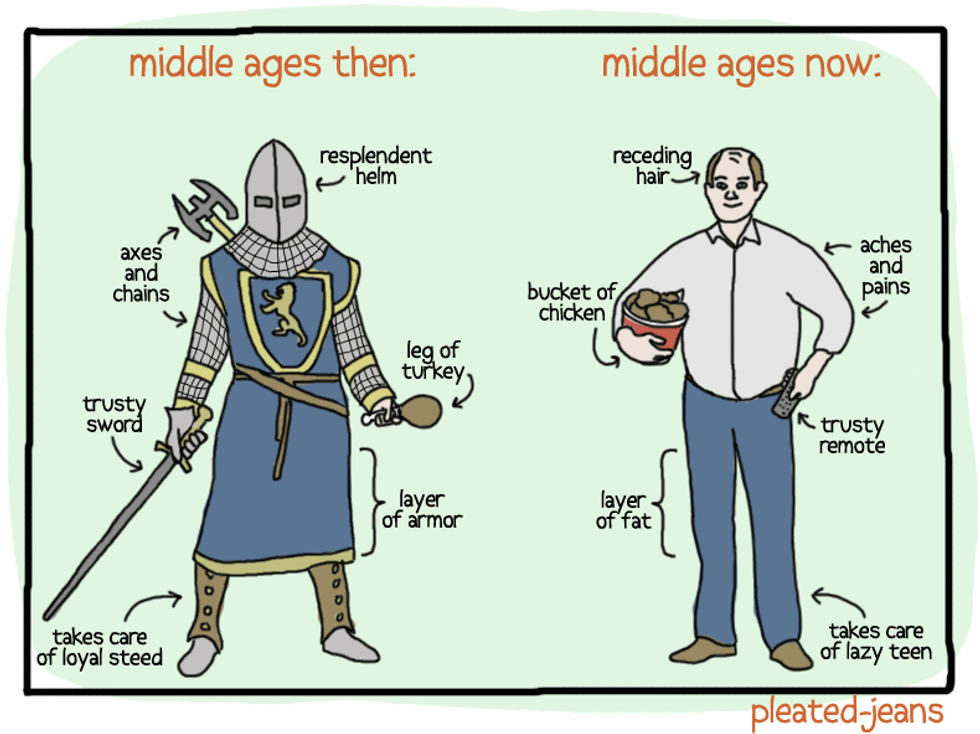 The "Deus Vult!" memes that spread through alt-right communities on 4chan, reddit and other social media harken back to the Crusader story. They are essentially calling for a modern-day Crusade against Islam.
The allure of the Crusader narrative is not only demonstrated by the alt-right Crusader memes, but is echoed in conservative intellectual circles.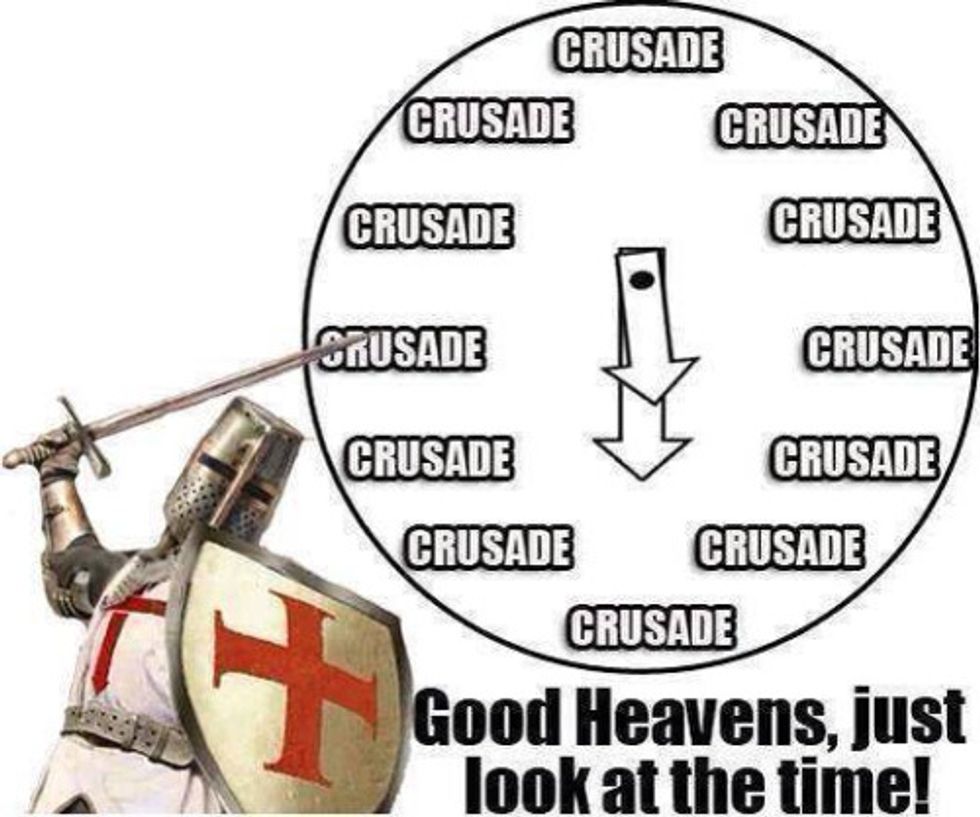 A Crusade meme image.
Having embraced the alt-right while at Breitbart, President Trump's chief strategist Steve Bannon has at times expressed apocalyptic rhetoric that seems to be anticipating a coming religious and class war. It is hard to really know all the nuances of what Mr. Bannon thinks as this somewhat reclusive figure rarely weighs in on events and issues publicly. But considering the access and intellectual heft Mr. Bannon is said to bring to the ear of the President, discerning his views is a very telling endeavor.
To that end, Mr. Bannon has spoken of the current period of time as a point of crisis, with capitalism and Judeo-Christian values under attack, especially from radical Islamists.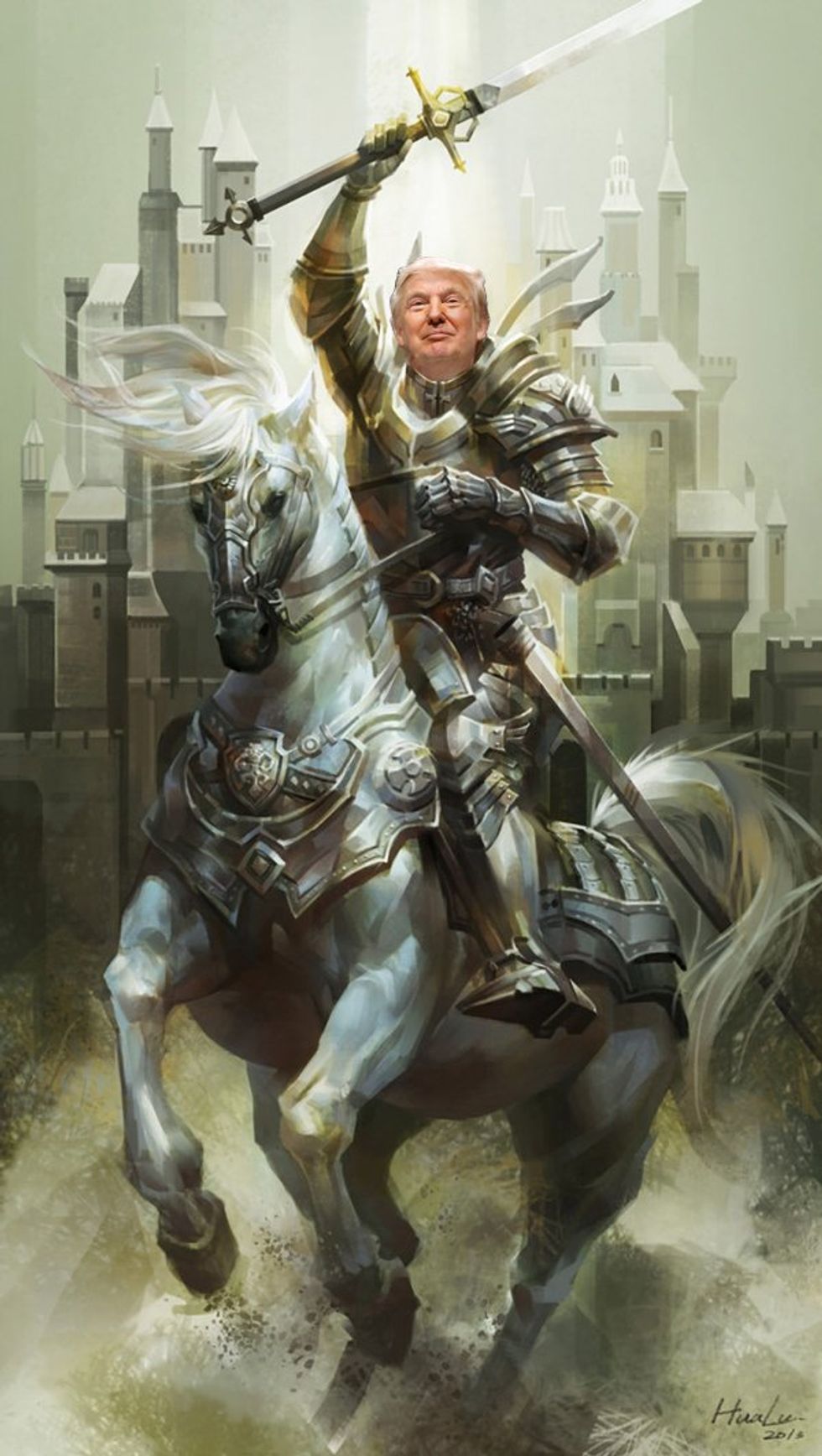 Trump Crusader meme.
Bannon's seemingly strong feelings on this subject were on display during his 2014 talk at the Vatican.
"And we're at the very beginning stages of a very brutal and bloody conflict, of which if … the people in the Church do not bind together and really form what I feel is an aspect of the Church Militant, to really be able to not just stand with our beliefs, but to fight for our beliefs against this new barbarity that's starting, that will completely eradicate everything that we've been bequeathed over the last 2,000, 2,500 years," said Bannon.
This certainly sounds like Crusader talk. He suggests that the Judeo-Christian idea is facing a grave enemy that can only be fought by armed Christians. Interestingly, in the same speech, he also paints the current age as the Dark Ages, another way the Middle Ages are described.
Bannon also spoke about the appeal of Putin, linking it to the Russian leader's support of "traditionalist" values, especially as he's advised by Alexander Dugin, a philosopher who follows the work of the controversial Italian thinker Julius Evola. Bannon's remarks seemed to indicate that while he does not support Putin's kind of government, there was some merit in his approach.
"We the Judeo-Christian West really have to look at what he's [Putin] talking about as far as traditionalism goes — particularly the sense of where it supports the underpinnings of nationalism — and I happen to think that the individual sovereignty of a country is a good thing and a strong thing," said Bannon.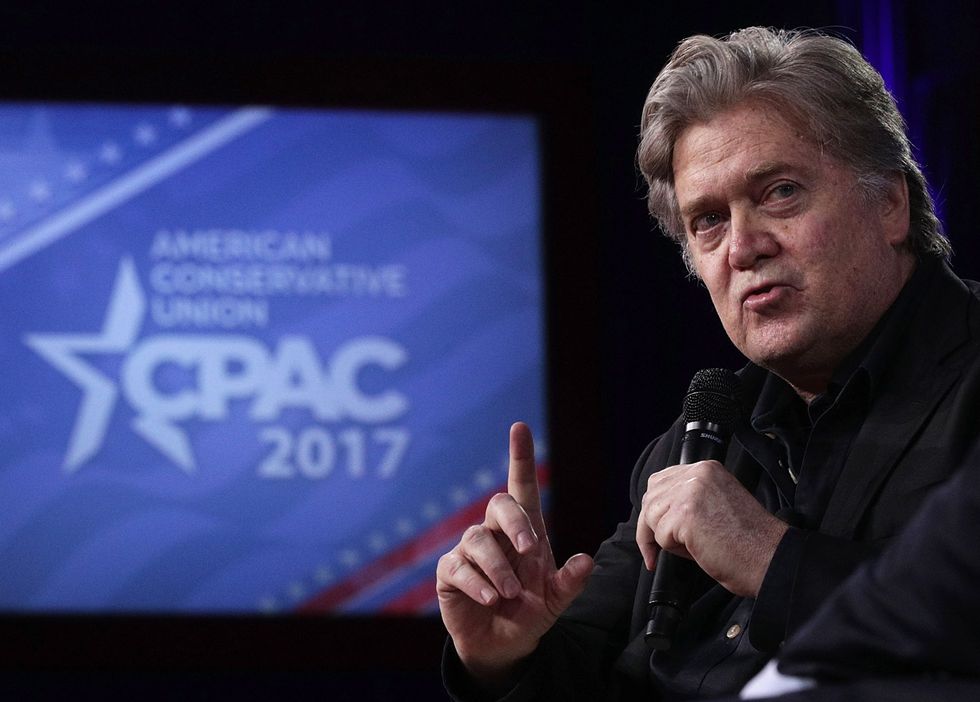 White House Chief Strategist Steve Bannon participates in a conversation during the Conservative Political Action Conference at the Gaylord National Resort and Convention Center February 23, 2017 in National Harbor, Maryland. (Photo by Alex Wong/Getty Images)
Julius Evola was considered a leading proponent of Traditionalism, a philosophy that sees the idea of equality-oriented liberalism and "progress" as mistaken, advocates traditional gender roles and seeks a return of hierarchical social structures like castes. Evola saw European feudalism during the Middle Ages as a great example of such a society.
Anti-Semitic and sexist Evola is known for inspiring Italian fascists, including Benito Mussolini himself, modern neo-Nazi and nationalist parties in Europe, as well as the far right movements in the United States.
"Julius Evola is one of the most fascinating men of the 20th century," said the white nationalist leader Richard Spencer. 
Mr. Spencer also found it very significant that Mr. Bannon knew who Evola was. 
"Even if he hasn't fully imbibed them and been changed by them, he is at least open to them," he said. "He at least recognizes that they are there. That is a stark difference to the American conservative movement that either was ignorant of them or attempted to suppress them," said Spencer. 
If you think knowing about Evola is not the same as supporting his ideas, an article by Breitbart from when it was run by Bannon listed Evola as one of the foundational thinkers of the alt-right movement. It was co-written by another alt-right standard bearer - Milo Yiannopoulos.
Alexander Dugin, another philosopher mentioned by Bannon at the Vatican, is called by some "Putin's Brain." He is a Russian thinker known for his close associations with the Kremlin. Dugin espouses an Evola-influenced philosophy that also ties into Traditionalist values, seeing the Renaissance and everything that followed, including technological progress, as a debasement of human nature. His goal would be to return to the values of the Middle Ages and restore a Eurasian empire on the basis of the former Soviet Union, with Russia at the head.
"Returning to the Middle Ages or turning to them to look for inspiration, and I am not speaking of merely reproducing – that's impossible to do. But we have stood on the path of modernity. We've stood on the path of modern totalitarianism regardless of whether of the first, second, or third theory. We've exhausted all of their possibilities, built all three models. We've built liberal civilization, communist civilization as part of such an experiment, and we've even built fascism. We can now compare everything before us. And if all of this does not satisfy us, this means that the most important mistake was made not in the 20th century and not even in 1991," said Dugin in an interview.
While history is always important to study, what does one make of this unexpected brew of racist and sexist ideologies inspired by fascist and radical Russian thinkers combined with American Christian white nationalism? Sounds like an explosive cocktail.
If you don't have enough Crusader spirit, here's a video that can get you into just such a state:
Cover image: Circa 1250, A crusader is shot by a Muslim warrior during the Crusades. (Photo by Hulton Archive/Getty Images)
"If all that liberals can do in response is continue to lie about the causes of terrorism and lock arms with Islamists, we have some very rough times ahead," writes Sam Harris.
Sam Harris espouses liberal politics, yet he's received his share of criticism from the left for his views on Islam. He has long warned of the dangers of embracing the Muslim religion without caveats. While he's sometimes labeled Islamophobic, his concerns are not without merit. 
In Harris's reply to Trump's executive order on immigrants, the neuroscientist and philosopher argues the so-called Muslim ban is terrible policy. It is unethical to refugees and green card holders and will do little to staunch the slow bleed of terrorist activity; in fact, it might hasten it.
Yet Harris is duly concerned with the left's reaction to the ban, which he writes is "contaminated by identity politics and liberal delusion." He continues:
The Left seems determined to empower the Right by continuing to lie about the problem of Islamism. As David Frum recently wrote, "When liberals insist that only fascists will defend borders, then voters will hire fascists to do the job liberals won't do." I have been saying as much for more than a decade—and am vilified by my fellow liberals whenever I do.
An inability to think critically about complex subjects knows no party. The majority of Muslims will live peacefully and never incite violence while remaining opposed to terrorist organizations. Most religions confine punishment and retribution to personal faith. If they follow what they deem to be a righteous path, that is enough.
Yet outliers exist across the board. The very first fracture in Islam at the time of Muhammad's death has kept the religion battling ever since, with the Judeo-Christian lineage as much as internally. Today many more Muslims are victims of terrorism than Westerners. In America you're much more likely to die at the hands of a texting driver. Since that's a predominantly sanctioned (or at least under-policed) activity it does not strike fear in our hearts the way a terrorist hidden in the shadows does.
To Trump's advantage, he called out Islamic terrorism by name — something President Obama and Hillary Clinton largely avoided. In their focus on the more progressive and unifying aspects of Islam they consistently missed opportunities to address the real problem. Trump observed that opportunity and exploited it, and continues to exploit it now that he's in power.
This is dangerous not only in regards to immigrants and social tension, but in what it hides as well. Cautionary tales abound. As I warned last June, Hungarian Prime Minister Viktor Orbán's ascension to power eerily mimics Trump's own. In 1998 Orbán was the youngest PM ever voted into power in Hungary. He lost the following election, vowing to return, which he did in 2010. He plans on remaining there indefinitely.
Formerly liberal, Orbán noticed populist sentiments beyond Budapest. He lead an anti-Communist charge in the eighties, but by the time of his re-election he started using that party's tactics. When his Fidesz party won two-thirds of parliamentary seats in 2010, Orbán cut the number of seats in half and gerrymandered the entire country all at once. In the next election his support dwindled from 53 percent to 44 percent. Thanks to redistricting he, along with every official in his party, remained in power.
Orbán punishes journalists and media institutions critical of him while rewarding those that sing his praises. He's arrested opposition party members and fired judges he doesn't care for. Most inspiring to his fans, he constructed a 110-mile long, thirteen-foot high fence on the Serbian border to keep Syrian refugees from entering the country.
The parallels are striking, especially as Orbán and Putin recently met to share their disdain for American sanctions on Russia. With Rex Tillerson in place as Secretary of State those sanctions are threatened. Terrorism is a convenient carrot to dangle in front of everyone's eyes, as real a problem as it is.
Nationalism always makes for a convenient myth when distractions are needed—the dream of racial and ethnic purity that once existed, even if only in the social imagination. Naomi Klein understood this when writing in The Shock Doctrine:
The ideologies that long for that impossible clean slate, which can be reached only through some kind of cataclysm, are the dangerous ones.
Liberals, as Harris argues, are guilty of clean-slate fetishism when lashing out at any criticism of Islam. David Frum offers similar criticism:
Trump's executive order has unleashed chaos, harmed lawful U.S. residents, and alienated potential friends in the Islamic world. Yet without the dreamy liberal refusal to recognize the reality of nationhood, the meaning of citizenship, and the differences between cultures, Trump would never have gained the power to issue that order.
As Orbán is proving, nationalism pays dividends. The swamp might not be drained, but the melting pot certainly is. If you don't note which ingredients are being added you'll never know what the outcome will be. This is what Harris has been warning of for years: blind allegiance to an illusion comes with its own perils.
--
Derek's next book, Whole Motion: Training Your Brain and Body For Optimal Health, will be published on 7/4/17 by Carrel/Skyhorse Publishing. He is based in Los Angeles. Stay in touch on Facebook and Twitter.
Number of terrorist acts perpetrated in the U.S. by nationals of any of the seven countries? Zero.
Figures from CATO, a conservative think tank, show deaths caused on U.S. soil from countries Trump did not target in the Muslim ban.
The suspension of entry into the U.S. covers citizens of seven majority-Muslim countries, mainly in the Middle East. Comments by Trump indicating that he would exempt members of Christian minorities in those countries have fueled accusations that the measure specifically targets Muslims. 
However, the travel ban does not include a few other important Middle-Eastern countries, also with a Muslim majority. To assume, as some have done, that the latter countries were exempted because the Trump Organization has vested business interests there would be to ignore former vice president Joe Biden's parting advice: "Question a man's judgment, not his motives".
The ostensible motive of Trump's executive order is "Protecting the Nation from Foreign Terrorist Entry". However, as pointed out by CNN's Fareed Zakaria on his show GPS, the total tally of Americans killed on U.S. soil by nationals of any of the seven countries is... zero. Or, as he quoted the list in full: "Iraq – zero, Iran – zero, Syria – zero, Yemen – zero, Libya – zero, Somalia – zero, Sudan – zero".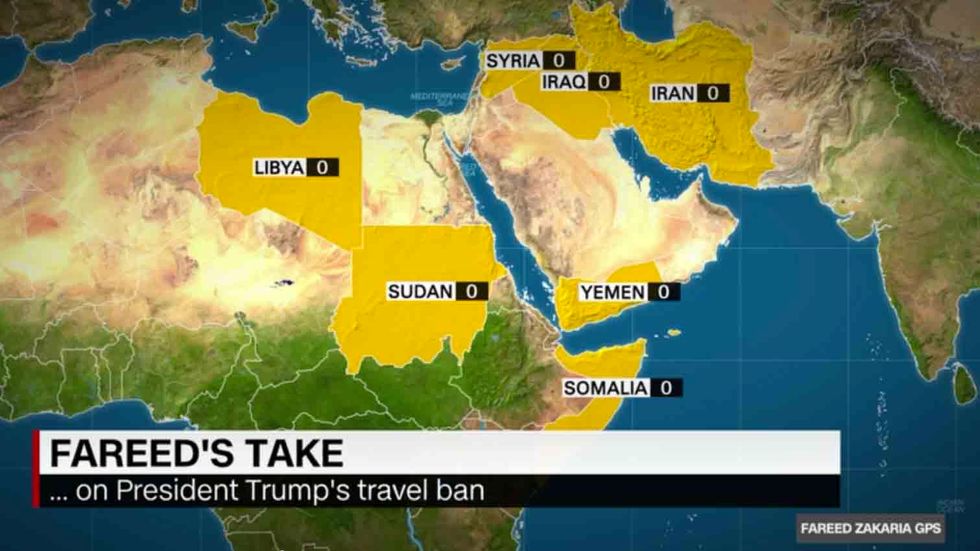 The figures quoted by Zakaria were produced by the Cato Institute, a conservative think tank. Comparing those figures to those of some countries left off the banned list: "That number for Saudi Arabia is 2,369, for the UAE is 314, for Egypt is 162, according to CATO," Zakaria says.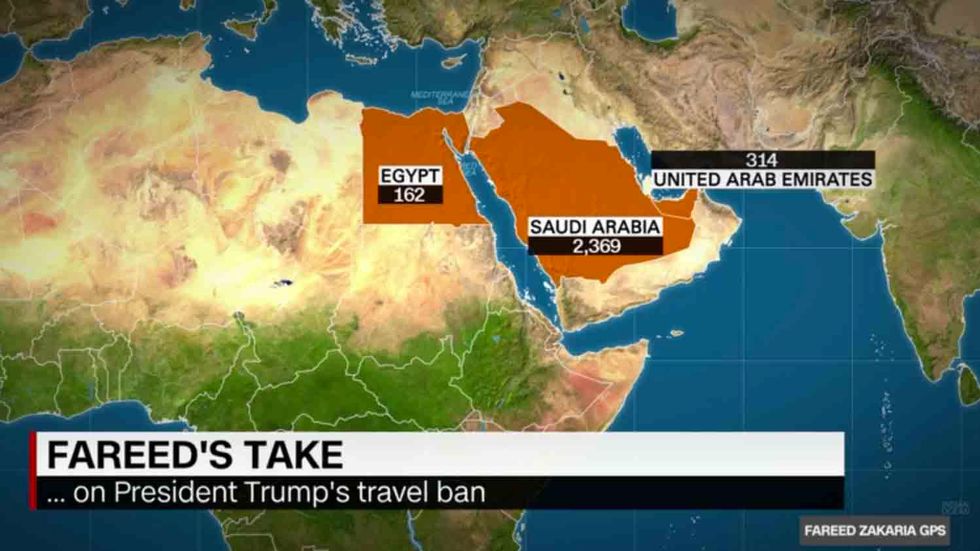 Images from GPS. 
Strange Maps #821
Got a strange map? Let me know at strangemaps@gmail.com.
Much news on the Internet is very similar to the dangerous "yellow journalism" of history.
Much is being made about how the proliferation of fake news on Facebook and Google has contributed to the surprising 2016 Presidential election results. But that's likely just a distraction from the larger news crisis. As many established news sources devolved into partisan mouthpieces, with focus on one-sided arguments or sensational character-driven and issue-free reporting, yellow journalism has taken hold in America. The last time the country had such a volatile combination of unreliable yellow press and tough-talking men in charge, the United States got itself into two unnecessary and costly wars, which it eventually won because it had an overwhelming military advantage. And this time, in the age of nuclear weapons and the Internet, where the majority of Americans now get their news, the consequences could be much worse.
What is "yellow press" or "yellow journalism"? The terms go back to 1890s, when two newspapers were battling it out for control of the New York market. The conflict was waged between larger-than-life publishers Joseph Pulitzer and William Randolph Hearst. In one instance of their competition, Hearst's "New York Journal" poached a cartoonist from Pulitzer's "New York World", who drew a very popular character known as the "Yellow Kid". The fight over who gets the cartoonist and thus dramatically increase their paper's circulation gave rise to the term "yellow journalism".
To draw in more readers, Hearst and Pulitzer resorted to other methods like sensationalist headlines (which today we call "clickbait"), often misreporting or exaggerating the impact of events. The headlines would often try to scare the reader, while the content hit hard on emotion, fake interviews, pseudoscience, often offering some kind of anti-establishment fight, investing the reader with the plight of a supposed underdog.
In particular, both newspapers zeroed in on a conflict in Cuba, which was fighting for its independence from Spain. Both newspapers pushed the situation onto the American public in such dramatic, often untrue terms, that they were eventually seen as responsible once the U.S., led by the pro-business interventionist Republican President William McKinley, actually decided to fight Spain on behalf of the Cubans in 1898. The decision was spurred by the incident with the U.S. battleship "Maine," which mysteriously exploded in the Havana harbor. Hearst went so far as to claim the resulting war as his achievement, allegedly stating in a telegram "You furnish the pictures, I'll provide the war!"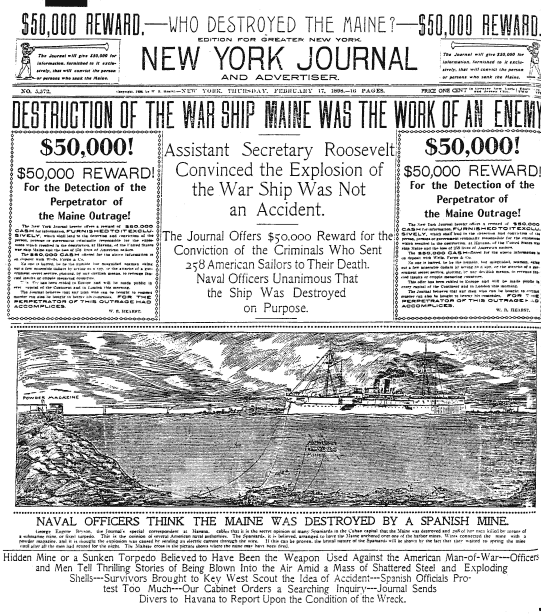 Hearst's coverage of the USS Maine explosion. 1898.
The existence of the Hearst telegram has been debated by historians, but the competition between Hearst and Pulitzer and the resulting public hysteria was widely seen as a strong factor in the creation of the Spanish-American War of 1898, which led to U.S. having control of Cuba, Puerto Rico and the Philippines. The Filipinos then revolted against U.S. rule, spurring on an even more destructive Philippine-American War that lasted 3 years and saw 4,200 Americans die as well as 220,000 Filipinos (combatants and civilians).
Some historians since tried to lessen the supposed impact of the Hearst/Pulitzer rivalry, pointing out that the two battling newspapers were based in New York and it's not a fact they could have influenced people across the country, including the decision-makers in Washington. This certainly isn't much of an issue in the Internet age when news by major publishers can reach millions instantaneously.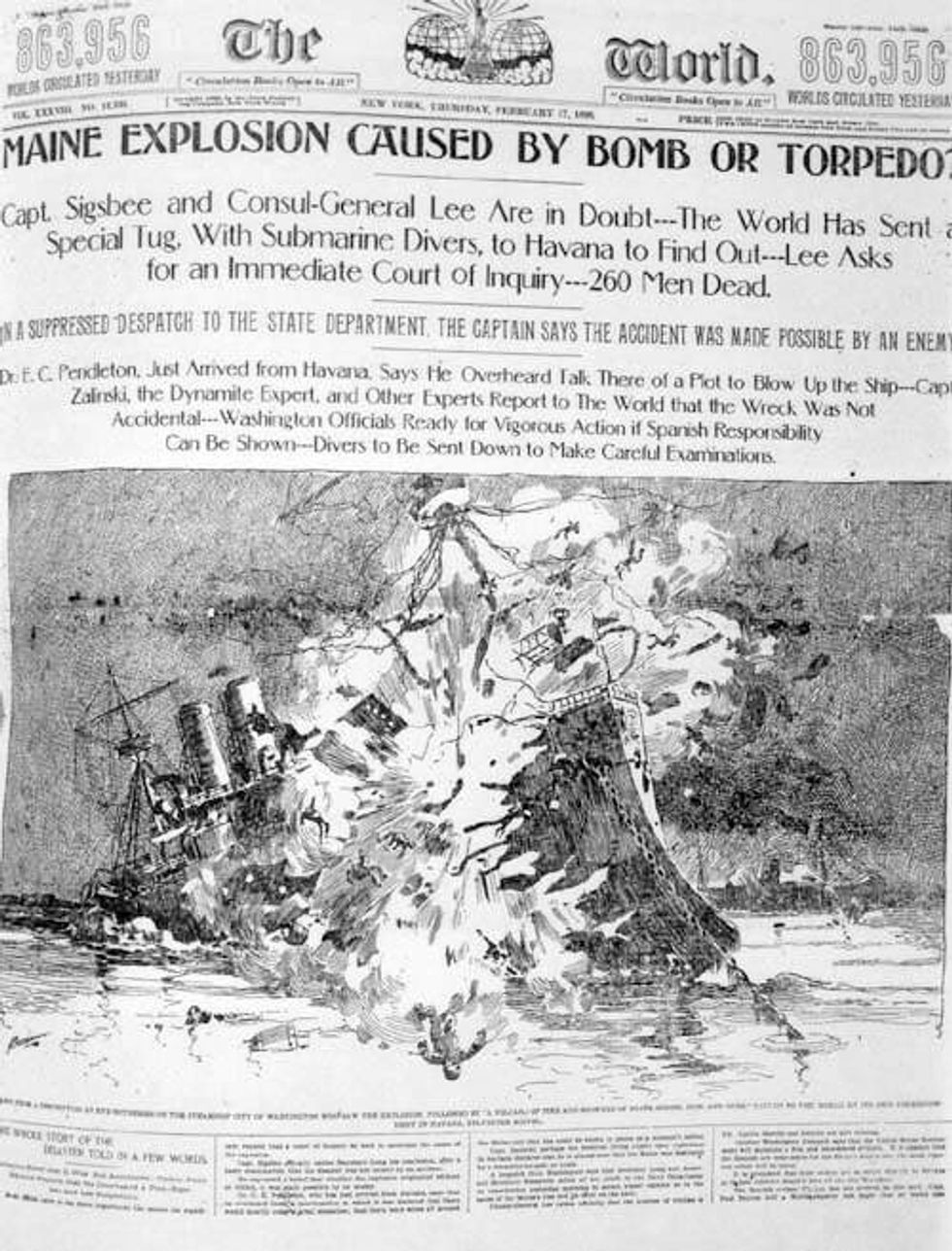 Pulitzer's take on the USS Maine explosion. 1898.
Lest you think the newspapers synonymous with yellow journalism were rightwing conspiracy outlets, both were actually Democratic and sympathetic towards immigrants and labor. In fact, the modern climate is dominated by internet sites from all sides of the political spectrum, who all use tactics very reminiscent of the yellow press. These sites feature large simple headlines, often of a clickbait variety, where they either exaggerate the scope of the news they are reporting or dramatize the supposed conflict in the story. And the stories that come out are often very biased, one-sided narratives, offering little of an alternative point of view and generally work to rile the public up (and get clicks).
Many have pointed the finger at the media for somehow failing the American public in the 2016 election, with conservatives claiming media bias in favor of Clinton and with liberals decrying the media's inability to adequately warn them that a President Trump was actually possible (or could be prevented). But in reality, it's possible to see 2016 not as a year when traditional media (tv and newspapers) failed, but as a year when Internet-based media took over, often employing tactics of questionable journalistic integrity.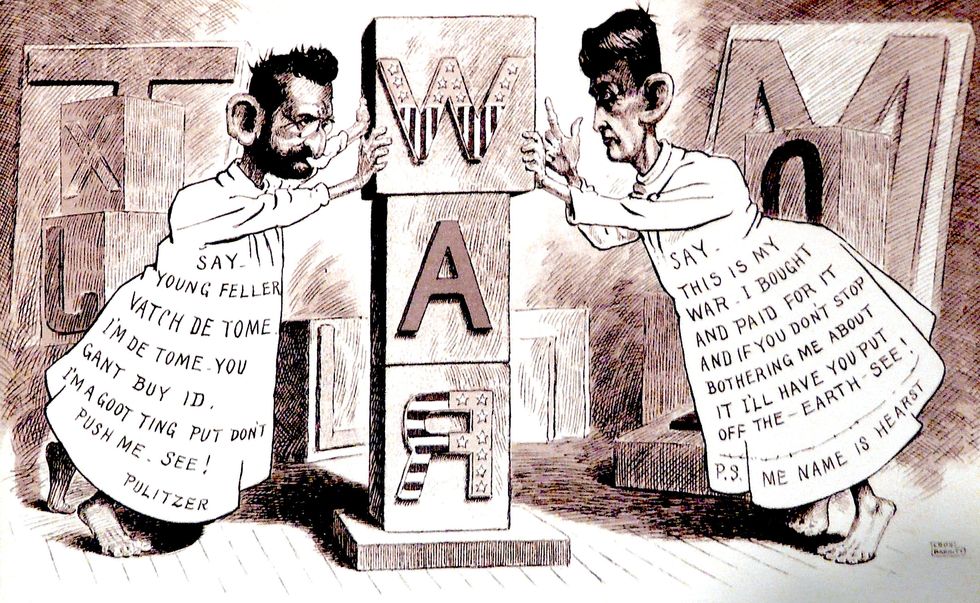 "Yellow journalism" cartoon about the Spanish-American War of 1898, featuring Hearst and Pulitzer.
President-elect Donald Trump's appointment of Steve Bannon of Breitbart News as his chief strategist has raised all manner of alarms in liberal circles. His rise represents the tremendous influence the conservative media company he ran for a number of years as the executive chairman has had on this election. It became a de-facto mouthpiece of the Trump campaign, telling stories that benefitted the candidate.
The criticism of Bannon is that his site gives voice to a number of ideologues of the so-called "alt-right" movement, which is often associated with racist, misogynist, homophobic and anti-semitic attitudes. Whether people with such views represent a minority of the site's users and the movement's overall constituency is hard to tell, but the fact is - Breitbart News (with 150 million views in July 2016) gives some of them an outlet, like the columns by the celebrated conservative troll icon Milo Yiannopoulos who has proudly declared himself to be living in a "post-fact era". 
It's difficult to gauge if Bannon personally holds dangerous views, and while some have risen to his defense, he's certainly being blamed by association. Interestingly, Breitbart's former boss and founder of Breitbart News, the late Andrew Breitbart, was involved in the creation of several internet juggernauts, including the other highly influential conservative news aggregator site Drudge Report, a strong Trump backer, and one of the most popular web portals in the world. The Drudge Report was actually the second most popular media site in the U.S. as of July 2016, with almost 1.5 billion page views, ahead of Google and New York Times. Curiously, Breitbart was also involved in the creation of the popular Huffington Post, the liberal alternative to the likes of Drudge Report and Breitbart News. Huffington Post is as rabidly leftist as the other sites are conservative. 
In this state of devalued journalistic integrity and sensationalist headlines that are more interested in Kardashian-like antics rather than serious reporting, as well as the spread of fake news, it's hard to be optimistic about the role of the news media as a watchdog on the ambitions and mistruths perpetuated by self-serving politicians on all sides of the spectrum. And the particular rise of Steve Bannon to strategizing for the President poses many questions, as he also controls a burgeoning media outlet, which surely will continue to be at Trump's disposal.
Cover photo: Stephen K. Bannon reacts to a caller while hosting Brietbart News Daily on SiriusXM Patriot at Quicken Loans Arena on July 21, 2016 in Cleveland, Ohio. (Photo by Ben Jackson/Getty Images for SiriusXM)