A group of at least 20 kids in Spain gets a rare illness with historical roots.
A group of children in Spain develops a rare illness called hypertrichosis or "werewolf syndrome".
The illness was caused by a medicine mixup.
Hypertrichosis has been documented throughout history in images.
A rare condition afflicted at least 20 kids in Spain, who developed a so-called "werewolf syndrome" after being given the wrong medicine.
The children were supposed to receive omeprazole, a common anti-reflux medicine, and instead got a medicated syrup trained with minoxidil, a remedy against alopecia (hair loss). This caused the kids to develop hypertrichosis – a condition characterized by excessive hair growth on a person's face and body.
People affected by hypertrichosis often develop thick hair growing from the parts of the body that usually have just fine fuzz. This was obviously a big shock to the Spanish parents.
"My son's forehead, cheeks, arms and legs, hands became covered in hair," mother Ángela Selles shared with the Spanish daily newspaper, El País.
The hand of a baby afflicted by the syndrome in Spain.
Image source: El Pais
The error took place in pharmacies in Granada, Cantabria, and Valencia. Upset parents have accused the authorities of not doing enough to provide information.
Another mother, Amaia, whose child was afflicted after taking a high dose of the syrup, said to Spain's Antena 3 television station: "We have been told nothing. I am furious, scared and feel misunderstood and a complete lack of empathy."
The Spanish pharmaceutical manufacturer Farma-Química Sur, which imported the medicine from India, has since had its license temporarily suspended and is facing lawsuits. The affected batches have been recalled by the authorities, who did issue a warning to be on the lookout for such conditions developing from children's omeprazole.
Lalit Patidar, an Indian schoolboy, who suffers from the "Werewolf Syndrome," pictured with his sisters on January 25, 2019 in Ratlam, Madhya Pradesh, India.
Credit: Shams Qari / Barcroft Images / Barcroft Media via Getty Images.
Health officials think that the hair on those who developed the condition from the wrong medicine will eventually fall out. But there is potential for organ damage as blood vessels could become widened by minoxidil.
Overall, while it can be partially treated, hypertrichosis is not well-understood, and in very rare cases, can be congenital, passed down through generations.
There have also been other instances of medicines causing hypertrichosis, including anti-convulsants and corticosteroids, as found a 2015 study.
The Boy With 'Werewolf Syndrome' | BORN DIFFERENT
Historical images of hypertrichosis
Joris Hoefnagel, Animalia Rationalia et Insecta (Ignis)
National Gallery of Art Washington
Shwe-Maong and his daughter, with their bodies covered with hair (congenital hypertrichosis lanuginosa), Laos.
Engraving from L'album, giornale letterario e di belle arti, November 5, 1842 / Getty Images
Barbara van Beck. Etching by R. Gaywood, 1656.
Credit: Welcome Collection.
The reason has to do with how the wind was blowing in a particular part of the world in August of 1588. It's that specific.
Want to know the reason much of North America speaks English and not Spanish? It all boils down to a single day in the English Channel in August of 1588, says Yale University history professor John Lewis Gaddis. The Spanish Armada was cleverly chased out of British waters by a rag-tag British fleet that set old ships on fire and pointed them right at the anchored Spanish fleet, causing the Spaniards to cut anchor and flee. Because of the way the wind was blowing, the Spanish ships had to sail all the way around the British Isles (about 2,000 nautical miles) to get home and were soundly defeated. That led, John posits, to the rise of the British empire. John's latest book is the fascinating On Grand Strategy.
Have you been feeling like democracy is in trouble lately? According to this report, you're right.
A woman confronts riot police during a protest in Caracas on December 28, 2017. (Photo: Getty Images)
But, unpopularity might be the least of democracy's problems.
The annual Democracy Index report by the Economist Intelligence Unit shows that democratic governments are in trouble everywhere. Of the 167 countries ranked this year, 89 of them received lower scores than last year. The scores reflect a wide range of liberties, attitudes, and norms that are vital elements of a free society.
How does it work?
The report ranks countries on a scale of 0-10 in the categories of electoral process and pluralism, civil liberties, government functionality, political participation, and political culture. Each of those categories is further composed of a dozen, more concrete, indicators. The scores are then aggregated to create a single score for the state of freedom and democracy in that country.
A country's overall score then places it in one of four categories: full democracy, flawed democracy, hybrid regime or authoritarian regime. The map which shows how each country ranks is rather interesting.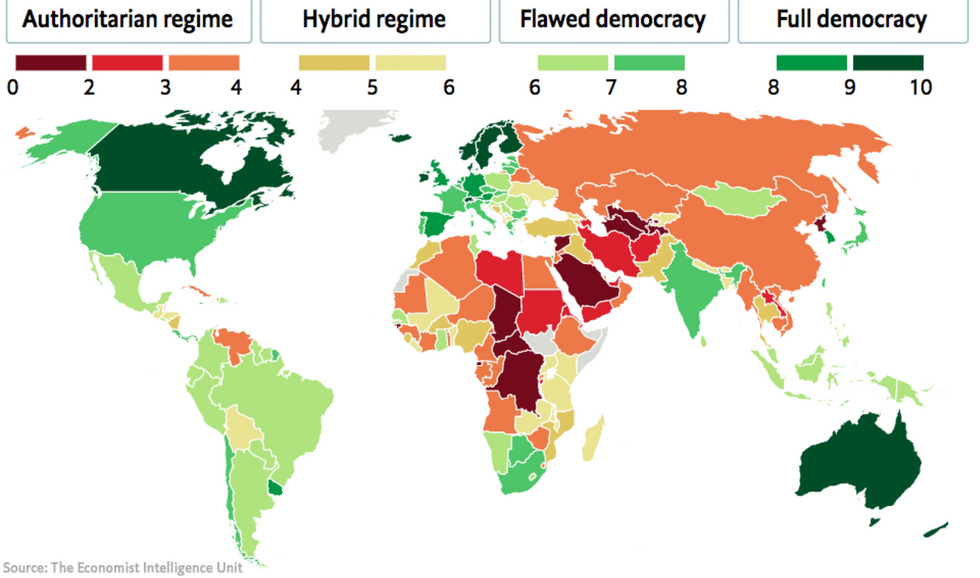 As you can see, darker greens correspond to higher scores for the health of a democracy. Red and yellow countries are hardly democratic at all. Credit: The Economist Intelligence Unit.
So, how bad is it?
This year less than half of the world's population lives in a democracy "of some sort." While the margin is thin, a one percent swing would tip the scale; it is symbolic of the decline of democracy over the last decade. One-third of the global population lives in outright authoritarian regimes, primarily due to the massive population of the People's Republic of China. The percentage of the world's population that lives in a "full democracy" fell to less than five percent.
Asia was a significant driver behind this decline. India, a democracy since independence, saw a substantial fall in its score due to increasing religious and ethnic unrest. Myanmar, Cambodia, and Vietnam all descended further into authoritarianism, and the recent religiously focused election for the governor of Jakarta caused Indonesia to see a major drop in its score.
The average Asian country is now a hybrid regime, as opposed to the full democracies which are typical in Europe and North America. The average Latin American country is a flawed democracy, although Uruguay has the distinction of being the only developing country which is also a full democracy.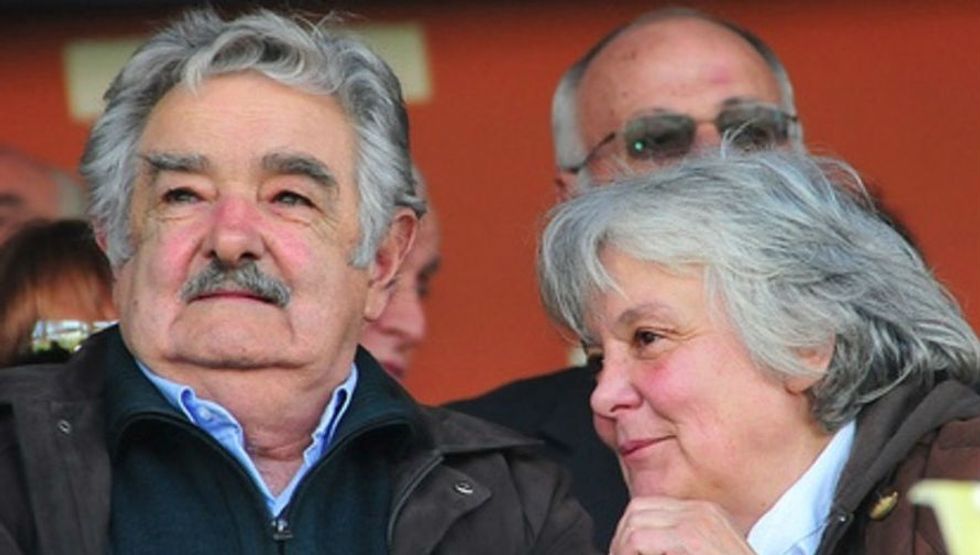 Uruguay's government is already rather unusual. As former president Jose "Pepe" Mujica donated nearly his entire income to charity. 
Why did this happen?
While some of the global decline is attributable to the gratuitous use of authoritarian tactics, such as the Spanish response to the ever-rebellious Catalonia or the crackdowns on dissent in Venezuela, some of it was due to much more subtle problems in the established democracies.
The report cites a "serious decline" in trust for governmental institutions for the decay of the United States' score, which fell low enough in 2015 to earn the title of "flawed democracy." The authors suggested that the decline was caused by factors which go back to the 1960s and helped facilitate the election of Donald Trump.
The authors also warn that many elements of a falling score can create vicious cycles, such as increasing polarization preventing government functionality. The decline in functionality almost inevitably leads to further erosion of confidence in public institutions.
Is there any good news in the report?
Some nations managed to improve their scores. The Gambia, in particular, saw so much improvement that it was promoted to a hybrid regime. Norway can celebrate its eighth year at the top of the list, scoring 9.87 points after a slight drop from last year.
It is also important to remember that while many nations are listed as "flawed" democracies, being even a hundredth of a point below the cut off is the same as being a full point below it. This year the United States tied with Italy at 7.98 points, making both nations "flawed" democracies. 
The authors also see some reasons to be optimistic. "If 2016 was notable for the populist insurgency against mainstream political parties and politicians in the developed democracies of Europe and North America, 2017 was defined by a backlash against populism," they write. As the decline in democratic norms in many nations was the result of populism gone mad, the reversal of the trend might offer hope for democratic norms in those places.
Last year was a difficult year for democracy around the world. Between direct challenges to freedom in places like China, Vietnam, and Venezuela and a deterioration in democratic norms in places like the United States, the world became a little less safe for democracy. If this report will be the beginning of a new trend or a blip on the march of democracy is yet to be seen.
They may have even kissed our ancestors.
Artist rendition of a Neanderthal man.
Though the care for and concern about teeth has a long history, the modern practice of dentistry has its roots in the 18th century, and quickly developed the century after that. No Neanderthal had a dental plan, and we should be thankful. That's because a recent study of Neanderthal teeth gives us a glimpse of what life was like tens of thousands of years ago. The results, published in the journal Nature, give us unique insights into, as the authors put it, our "closed known, extinct hominin relatives."
UK archaeologist Keith Dobney, at the University of Liverpool, and palaeomicrobiologist Laura Weyrich, at the University of Adelaide in Australia, co-led the study. They examined the plaque from jawbones taken from three separate Neanderthals who lived in Europe around 50,000 years ago.
Though we have some indications of how Neanderthals and our ancestors interacted, including interbreeding, we know very little about the Neanderthals themselves. Testing was performed on three specimens. One was found in Spy Cave in Belgium and the two in El Sidrón Cave in Spain. Researchers performed genetic testing on calcified plaque or calculus, found on the teeth. What they discovered was that Neanderthals were highly adaptable. Their diet varied considerably, depending upon where they lived.
The Belgian Neanderthal ate a meat-heavy diet, likened to that of polar bears and wolves. Researchers found traces of mouflon or wild sheep and wooly rhinoceros. Besides these animals, the bones of mammoths, reindeer, and horses were found inside the cave. This jives with previous research, which has shown that Neanderthals were highly carnivorous. However, it wasn't strictly meat. There is some evidence that they may have eaten wild mushrooms, and other plants too.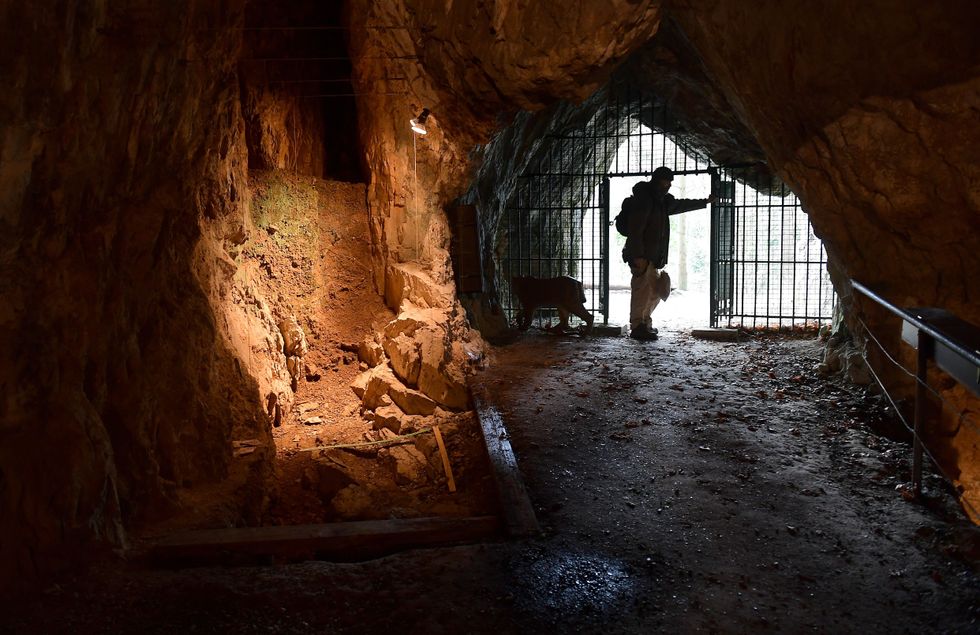 Spy cave. The Belgian excavation site. Getting Images.
Those found in Spain ate not a trace of meat. A diet of pine nuts, mosses, tree bark, and mushrooms, suggest that they gathered vittles from the forest for their supper. While this might sound like a placid existence to some, it's important to note that evidence of cannibalism was found at the Spanish cave site. Whether this was due to some sort of religious ritual, a case of dogged survival during a time of famine, absorbing the warrior spirit of a rival, or for some other reason, remains a mystery.
Belgian Neanderthals occupied a large grassland, filled with grazing animals, while the Spanish group lived in a heavily forested region. Performing genomic testing on the remnants of microbiota or oral bacteria, that once inhabited these hominids mouths, indicated their diet. Over 200 species were identified, which means this study may garner results for bacteriology as well.
Micro-wear analysis on the teeth also gives us clues as to what they ate. The diet consumed depended on food availability. An analysis of starch granules found in the dental calculus suggests that plants may have been an important part of the Neanderthal diet, no matter where they lived. Previous research of Neanderthal fossils near Gibraltar, finds the eating of seals and even the baking of mollusks.
Seems Neanderthals appreciated a good clam bake. But the takeaway is, it was their adaptability that made them survive and thrive in a variety of different environments, across Europe and Asia. This trait may have been passed on to early humans when they began invading these continents, after migrating out of Africa.
The researchers' approach not only tells us what Neanderthals ate, but also quite a bit about their health, including the conditions they experienced and their medicinal practices. Evidence of ancient aspirin was found, in the form of poplar bark, which contains the painkiller's active ingredient, salicylic acid. They also found a rudimentary form of penicillin, a mold from which the antibiotic derives.
"It's pretty phenomenal that these guys were so in tune with their environment and to know what was going on and how to treat things," said Weyrich. It was a boy, found in the Spanish cave, who was eating the mold and poplar bark, in order to get better.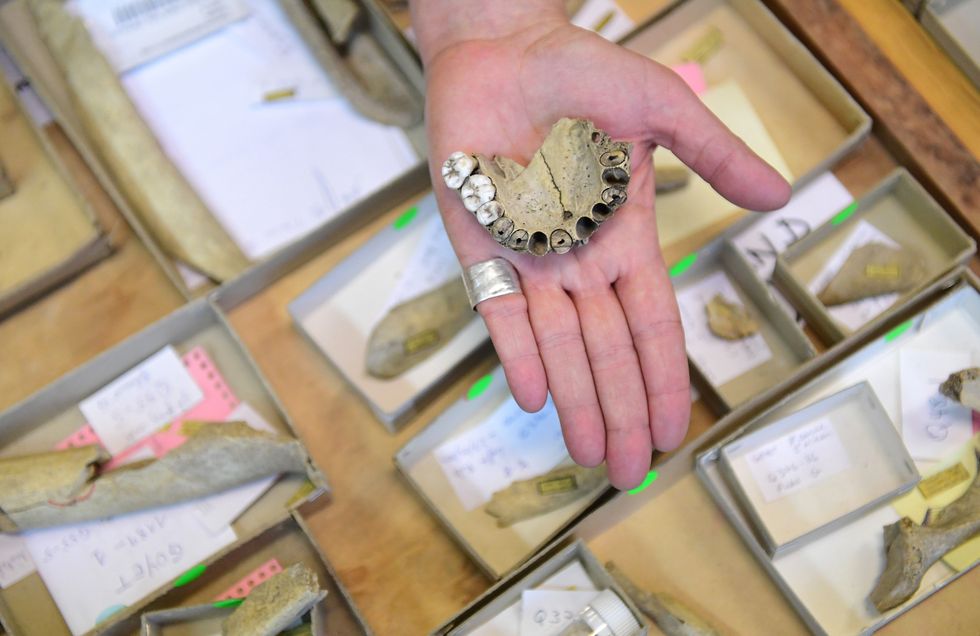 A jaw bone found at the Belgian cave site. Getting Images.
He suffered from a tooth abscess that must have been painful. The young Neanderthal also had a terrible stomach ache, because they found traces of a stomach bug, a bacteria known as Microsporidia. He was probably nauseas and experienced intermittent bouts of vomiting and diarrhea. Since he was found around a group of females, researchers believe they were caring for him. "It really paints a different picture, almost of their personalities, of really who they were," Weyrich said.
There is some evidence to reveal something interesting about these ancient hominid's love lives. Enter the ever-controversial interspecies dating. We know homo sapiens and Neanderthals interbred. At least 20% of modern human DNA is Neanderthal. Weyrich says that before this study, it was thought to be a rough, primitive, violent encounter.
However, the presence of a certain bacteria which causes gum disease in modern humans, tells a different story. Since Neanderthals and humans branched off about 100,000 years ago, researchers believed it must have been passed somehow, from humans to the Neanderthals, whose fossils were then discovered.
Weyrich said, "If you're swapping spit between species, there's kissing going on, or at least food sharing, which would suggest that these interactions were much friendlier and much more intimate than anybody ever possibly imagined." You know this is going to breed some type of movie, either Romeo and Juliet caveman style or perhaps a Disney-esque prehistoric love story, bringing us our very first Neanderthal Disney princess.
More importantly, learning more about interactions between early humans and Neanderthals, and the genetic implications, may help in the fight against certain medical conditions. As one Harvard study found, "Remnants of Neanderthal DNA in modern humans are associated with genes affecting type 2 diabetes, Crohn's disease, lupus, biliary cirrhosis, and smoking behavior."
To learn how studying teeth reveals so much, click here:
Spain and the US have very similar compulsory school hours and homework requirements. There's a good argument for rallying against this trend.
Homework has been around since… well, since schools first existed, and I remember doing a ton of it myself as a kid. I also remember refusing to do my homework, sitting on the back steps, watching geese fly over, wanting to be out bird-hunting with Dad, Mom in the kitchen, yelling "Get in the house and do your homework!"

For families with precious fewer hours each day to spend time as a family, homework can be a drag. A big one. 

Before parents in Spain called for a "Homework Strike," The Spanish organization CEAPA (Confederación Española de Asociaciones de Padres y Madres del Alumnado) surveyed parents about homework, and 82% of those who responded believed that their children received too much of it; just over 50% of them believed it harmed family life.

If you consider the amount of compulsory hours students are required to be at school, the United States is right up there with Spain so it's likely there would be a similar frustration with homework in this country. And in fact, there is.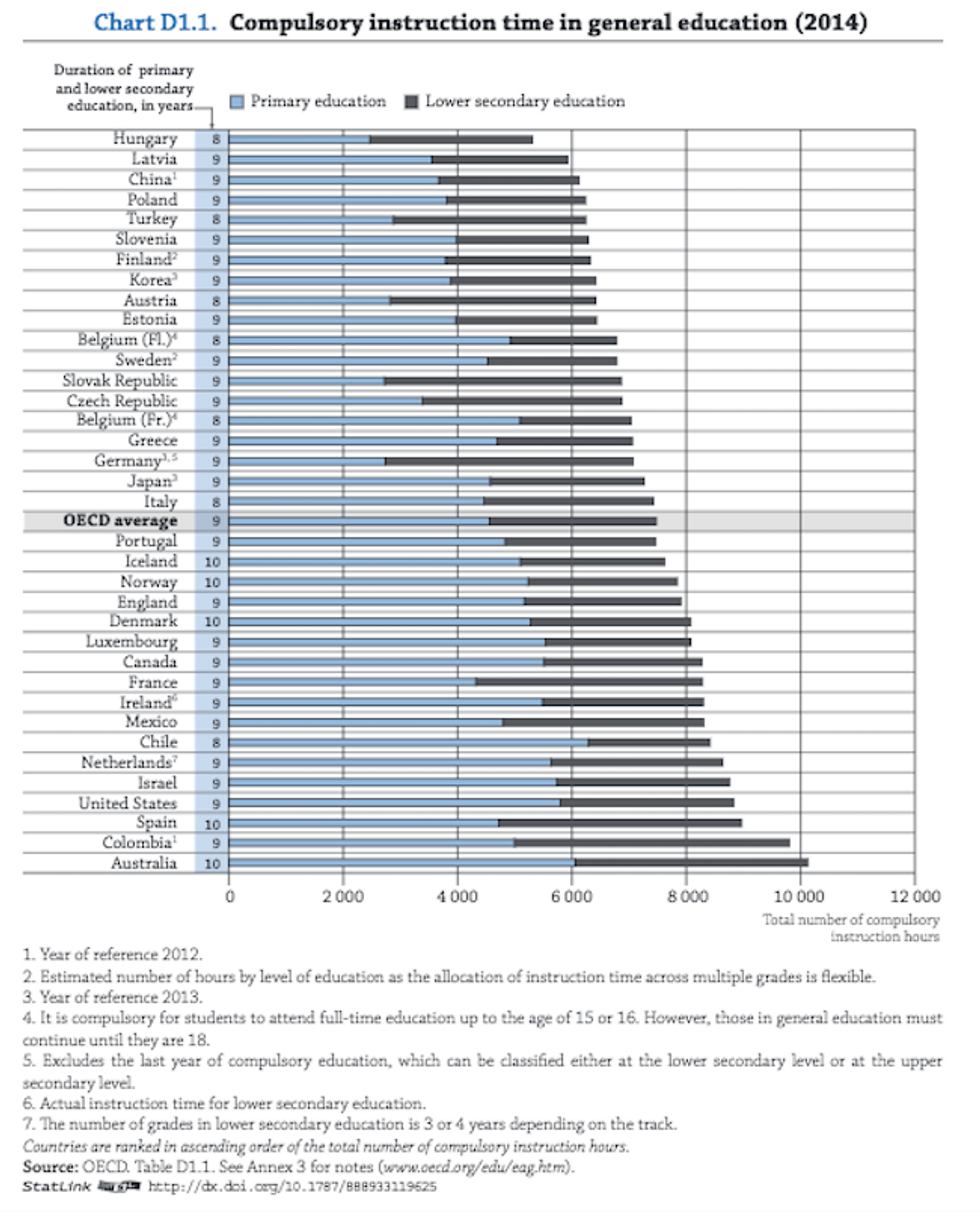 Chart from the Organization for Economic Cooperation and Development.
The amount of homework between Spain and the United States is also remarkably similar: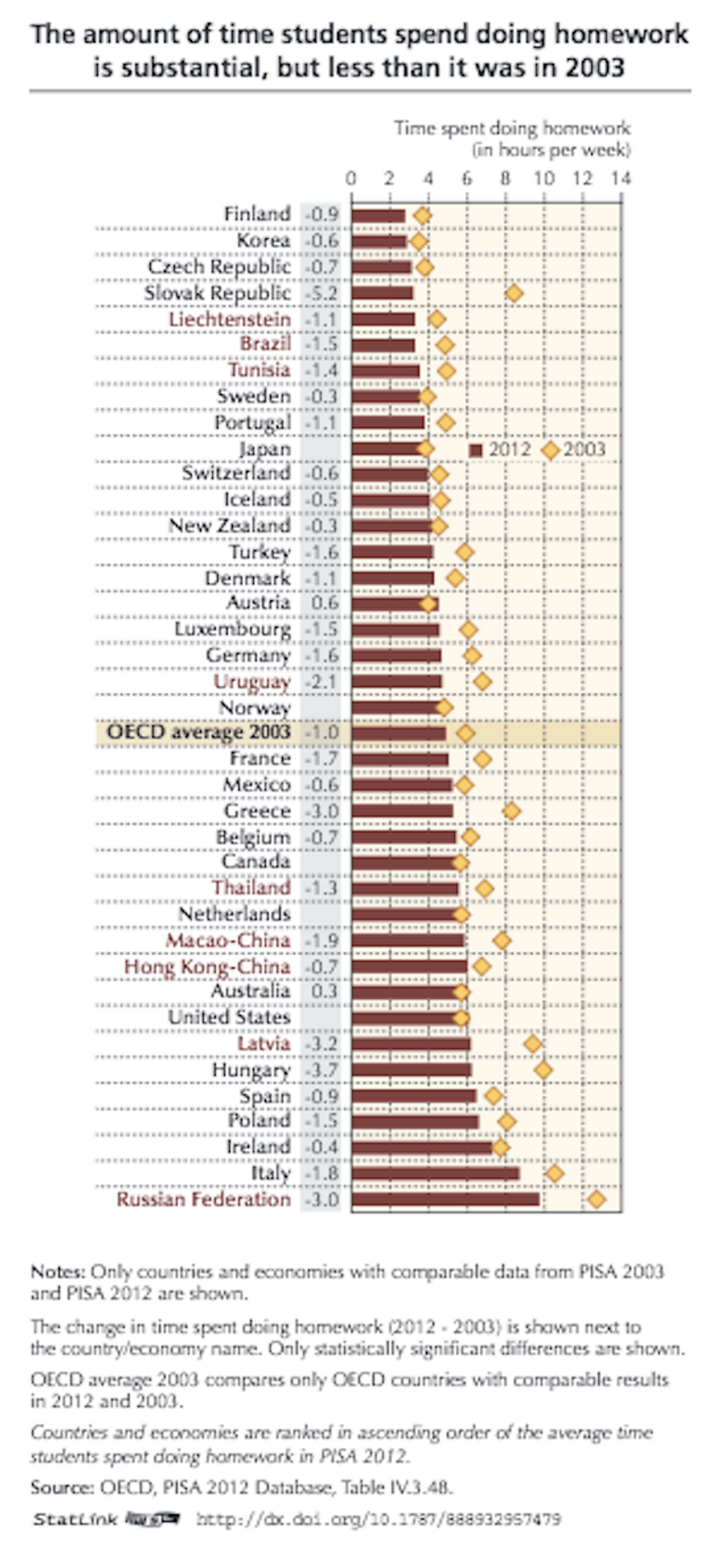 And in the rest of the United States, there's a growing pushback against homework — for younger kids up to the 7th grade, homework simply presents another power struggle opportunity, usually ends badly, and there's no evidence that it helps them. However, there's also evidence that kids' brains are tired at the end of a school day. Rest and play are critical in younger years.
As children get older, the value of homework increases. A very research-dense book that rather exhaustively compiled data on this, Visible Learning: A Synthesis of Over 800 Meta-Analyses Relating to Achievement, can be skimmed in this article, and it shows this trend. Until children reach secondary school, there's just not much evidence of a return.

In the United States, pressure from tax-base-deprived communities are forcing schools to have less staff and to give more and more work to teachers because of that phenomenon, which can cascade into teachers asking that children do more work at home.
I can see why it's tempting for teachers. In fact, socioeconomic factors do impact homework and its value.

What's your take on homework versus no?