Both the U.S. and the Soviet Union created secret cities to house the scientists working in their nuclear weapons programs. Both nations went about this in very different ways and with very different, sometimes disastrous, results.
Wikimedia Commons/Big Think illustration
Highly secretive, closed cities were used during the Cold War to develop nuclear-grade plutonium and uranium.
Oak Ridge and City 40 — two such cities — highlight the world-altering impact of nuclear weapons.
Vacationing in the East Ural Mountains? Bring a Geiger counter.
The biologist Trofim Lysenko, blamed for millions of deaths, is experiencing a revival in Russia.
Lysenko
Russian biologist Trofim Lysenko (1898-1976) is a very controversial figure in the history of science. He was a star Soviet scientist, making discoveries that improved crop yields for the fledgling communist state. But some also consider him responsible for millions of deaths during the Stalin era, pointing to the role his ideas played in causing a terrible country-wide famine.
Lysenko fell out of favor in 1965 even with Soviet historians and the term Lysenkoism came to be linked to pseudoscience. But lately, he has experienced somewhat of a resurgence in Russia, both due to new advances in epigenetics and for political reasons.
A devout communist, Lysenko believed in the promise of the Soviet revolution and looked to create a new science that matched his nation's ambitions. A Marxist, Lysenko rejected traditional genetics for ideological reasons - declaring that the concept of the same genes being passed down to the children just enforced the status quo. Instead he was a strong proponent of the notion that changes acquired in life can be inherited by future generations.
What shapes plants and animals is their environment alone, according to Lysenko. This kind of thinking gelled with the Soviet ideal that an entirely new man can be created. Lysenko's implementation of this idea in Russian agriculture led to widespread devastation, setting back Soviet farming and genetic research for years.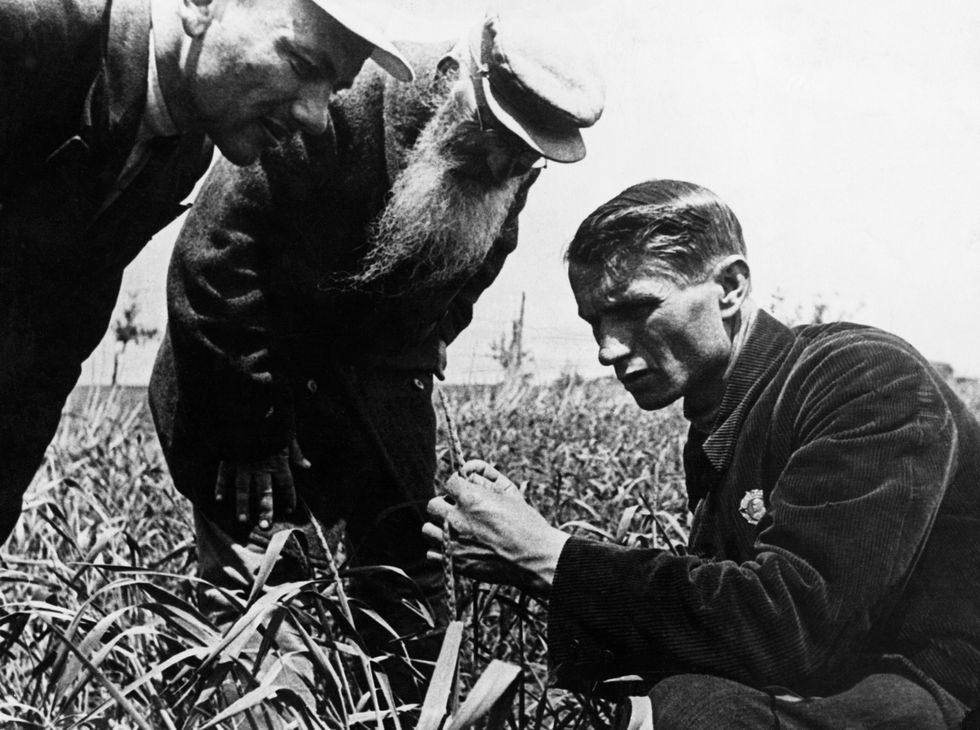 Credit: Corbis.
Lysenko came to prominence in the Soviet Union in 1928, after publishing a paper on vernalization - a process of cooling the seeds of winter cereals to make them behave like spring cereals. This had practical applications in a country suffering from bitter colds and devastating famines caused by forced collectivization. Lysenko's method allowed seeds to bear crops when planted in the spring. This success made him a household name and he was eventually put in charge of the Soviet Academy of Agricultural Sciences by Stalin himself.
The biologist's next big idea was that vernalized plants would exhibit the same behavior as their offspring - a claim that we now know was possibly based on falsified evidence. As he was in such a powerful position, he was able to test this theory and other ideas like planting seeds very close together and not using fertilizers or pesticides on a state-wide basis. As the journalist Jasper Becker describes in his book Hungry Ghosts, Lysenko-treated crops failed, including wheat, rye and potatoes. While Stalin is ultimately the one in charge during this period and bears the brunt of the responsibility for at least 7 million people killed from famine, Lysenko's methods made the food situation much worse, resulting in countless deaths.
As per a profile in the Atlantic, China adopted Lysenkoism as well in the late 1950s, bringing about even worse famines. At least 30 million people died of starvation, with some resorting to cannibalism.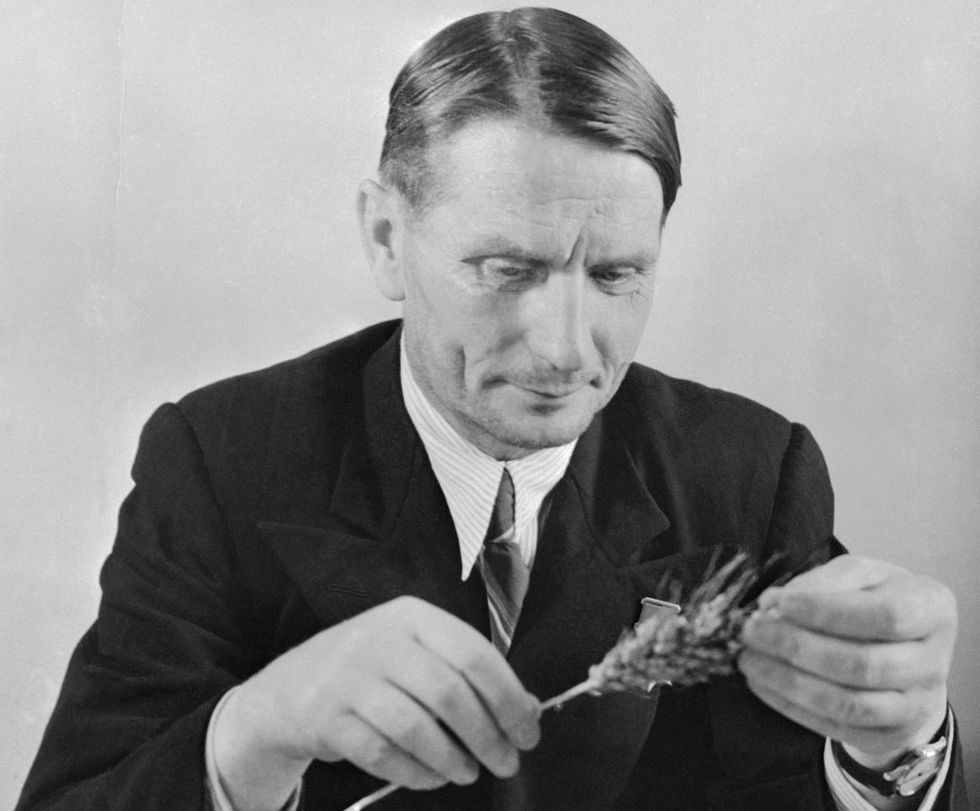 So why then is Lysenko experiencing a resurgence of appreciation in Russia? For one, the field of epigenetics, the study of changes in "gene expression," has grown considerably. According to epigenetic research, it turns out that some environmentally-produced changes can, in fact, be passed from parent to child, as was part of Lysenko's claim. Of course, Lysenko did not believe in genes at all, so his ideas were not exactly on point.
A big reason for Lysenko's revival is driven by rising anti-Western sentiment in Russia, according to an article in Current Biology. Lysenko proponents "accuse the science of genetics of serving the interests of American imperialism and acting against the interests of Russia," say the writers. Since Lysenko paved his own way, standing up to the West, he is regarded as a hero by some. This new appreciation also coincides with an improving image of Stalin, with 47% of Russians saying in a recent poll that the dictator had the kind of character they approved of as well as "managerial skills."
Want to learn more about epigenetics? Check out this video:
The political and economic ideas of socialism are coming back into fashion.
Socialism saw its heyday in the 20th century when its ideas were adapted by a number of countries, in a variety of bastardizations of its message. In fact, some would argue that a pure socialism never existed. Now it is experiencing a tremendous resurgence in the 21st century due to the growing economic disparity, anger at the establishment and charismatic older socialist politicians like Bernie Sanders in the U.S. and Jeremy Corbyn in the U.K. who gathered massive support from the young. A new wave of socialist thinkers is also beginning to emerge that looks to distance the movement from the historical stigma to formulate a new socialism that speaks to the challenges of today.
What is socialism? In the most basic definition, it is a political and economic system where the means of production and essential resources are owned by the community. Socialism comes in many different forms and has been practiced with great variety around the world. 
Jacobin, a magazine that's gained popularity for "offering socialist perspectives" on political and cultural topics, published a guide on how to redefine socialism for the modern age. In it, the publication's editor Bhaskar Sunkara describes socialism as, fundamentally, a way to build the kind of world where people don't take advantage of others for gain but rather for the benefits of cooperation. To Sunkara, socialism is "abolishing private ownership of the things we all need and use — factories, banks, offices, natural resources, utilities, communication and transportation infrastructure — and replacing it with social ownership, thereby undercutting the power of elites to hoard wealth and power." 
Private property would not exist, but personal property would remain. The government will not take away your "Kenny Loggins records," jokes Sunkara.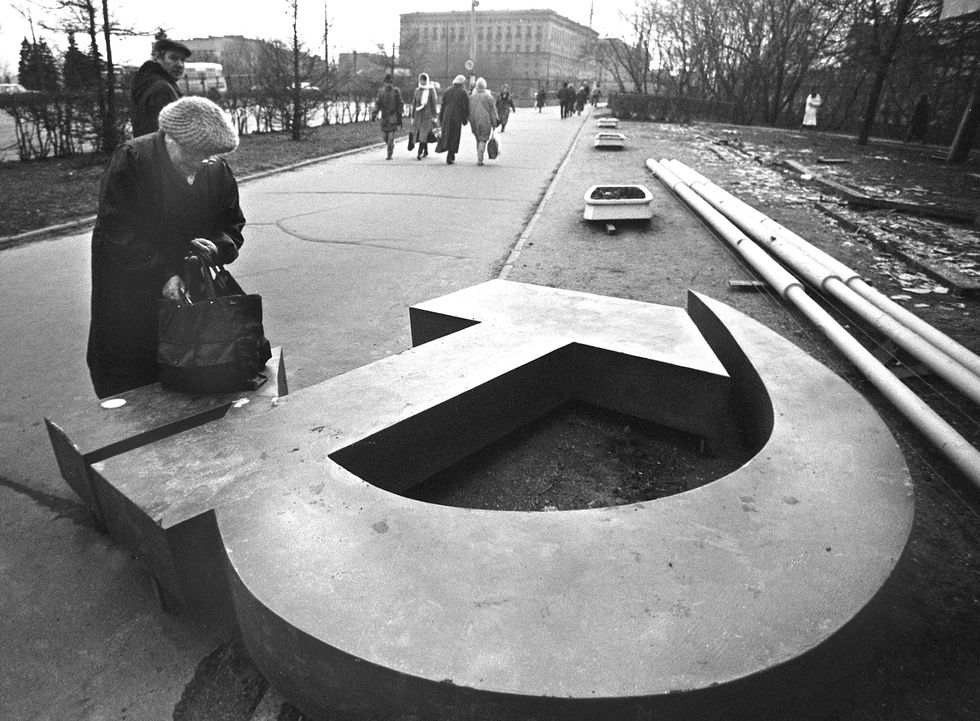 An old Russian woman fixing her belongings on a vandalized symbols of the Communism, the Hammer and Sickle, on an avenue of Moscow, on November 1990. At the time of creation, the hammer stood for industrial labourers and the sickle for the peasantry; combined they stood for the worker-peasant alliance for socialism and against reactionary movements and foreign intervention. (Photo credit: ALEXANDER NEMENOV/AFP/Getty Images)
In their guide, the writers and editors of Jacobin also try to dispel some of the confusion related to socialism. In particular, they argue, many people tend to associate any kind of government institution, even the DMV, with socialism. But just because it's a part of the government doesn't make it socialist. In fact, an average person has so little say politically due to the stronghold of corporate interests on the government, that any "state action will disproportionately benefit capitalist interests at the expense of everything else," writes Chris Maisano in the Jacobin's guide.
The journal also offers a defense against the charge that socialism inevitably ends up in authoritarian governments. Joseph M. Schwartz writes how Marxists and European socialists could not anticipate that revolutionary parties would try to create socialism in "predominantly agrarian, autocratic societies" like Russia and China. 
"In many ways, one-party Communist states shared more in common with past authoritarian capitalist "developmentalist" states — such as late nineteenth-century Prussia and Japan, and postwar South Korea and Taiwan —than with the vision of democratic socialism. These governments prioritized state-led industrialization over democratic rights, particularly those of an independent labor movement," writes Schwartz.
Jacobin's prescription for building a more socialist country - mobilize the people through education and direct participation in the government.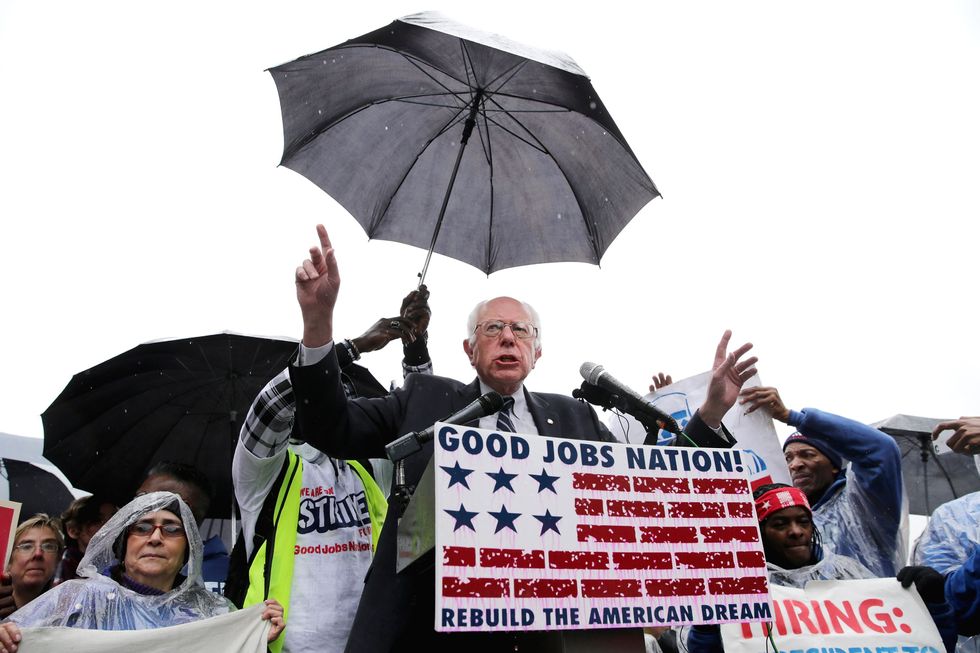 Democratic presidential candidate Sen. Bernie Sanders (I-VT) (C) addresses a rally with protesters calling for higher wages for federal contract workers in the rain on Capitol Hill November 10, 2015 in Washington, DC. (Photo by Chip Somodevilla/Getty Images)
Is Bernie Sanders a socialist? He is the country's most popular active politician according to the polls, but he's not socialist enough, according to the editors of the Jacobin. Noam Chomsky famously called him "a decent, honest New Dealer." Sanders himself draws the distinction, calling his politics - democratic socialism. He often refers to Scandinavian countries as models for what he would like the United States to become.  Sanders's key themes of reducing economic inequality and the influence of politics in money appeals to a cross-section Americans from the left and the right.
To combat the negative stereotypes of socialism, Sanders invokes the New Deal policies of Franklin Delano Roosevelt that were called "socialist" like establishing social security and the minimum wage. Sanders also links the way he sees the world to Martin Luther King's calls for social and economic justice.  
To Sanders, education, affordable housing and universal health care are the public's right rather than private commodities that can be used to turn a profit. Still, he has not called for nationalizing any industries, saying specifically "I don't believe government should own the means of production."
He defined "democratic socialism" himself in 2015 as a necessary adjustment in an increasingly unequal society.
"Democratic socialism means that we must create an economy that works for all, not just the very wealthy. Democratic socialism means that we must reform a political system in America today which is not only grossly unfair but, in many respects, corrupt.," said Sanders, adding "In my view, it's time we had democratic socialism for working families, not just Wall Street, billionaires and large corporations."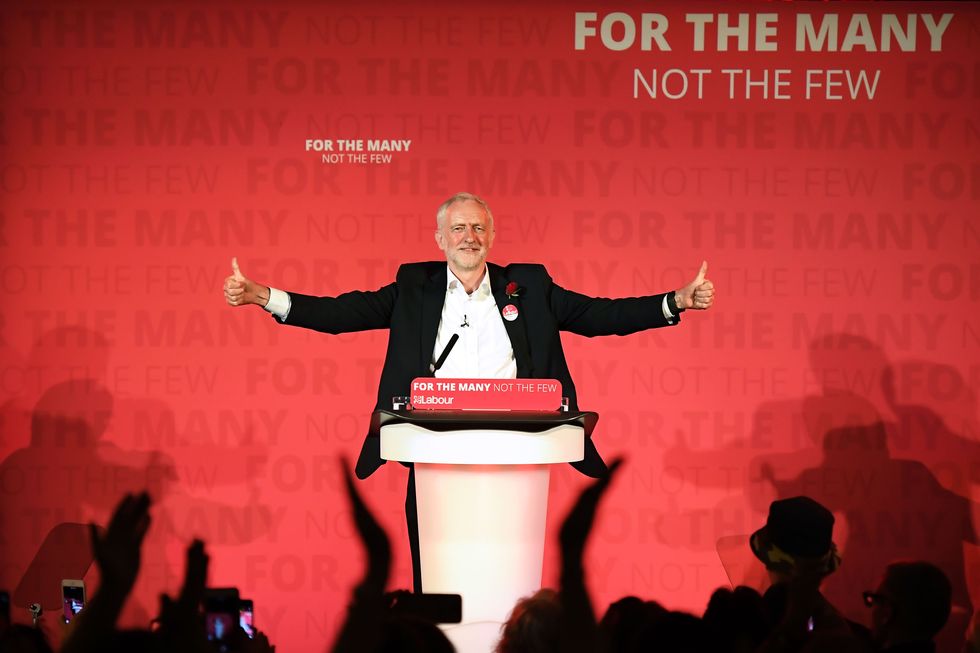 Jeremy Corbyn, Leader of the Labour Party speaks during a campaign rally at Union Chapel Islington on June 7, 2017 in London, United Kingdom. (Photo by Leon Neal/Getty Images)
Is Jeremy Corbyn a socialist? The leader of UK's Labour Party, which won a surprising number of seats against the ruling Conservative Party in recent elections, also identifies as a "democratic socialist." Labour's 2017 manifesto, titled "For the Many, Not the Few" includes plans to re-nationalize the rail, postal and water services, abolish college tuition fees, increase the minimum wage and spending on national healthcare, as well as upping the tax on the wealthy. Many of these ideas are certainly more to the left of what's been proposed by Sanders for the U.S.
Corbyn's message has energized young voters in particular, with close to 70% of those 18 to 24 supporting Labour. How much more support can these kinds of ideas gain?  The latest polls show the party's appeal growing wider still, now 5% ahead of the Tories at 46%. Corbyn's personal approval is also high, better than the Prime Minister Theresa May's.
To consider why the ideas of socialism continue to have followers in our times, let's turn to Albert Einstein. One of the world's most brilliant thinkers who had seen the effects of socialism in his lifetime, Einstein wrote an essay called "Why socialism" in 1949 that still resonates in some of its themes.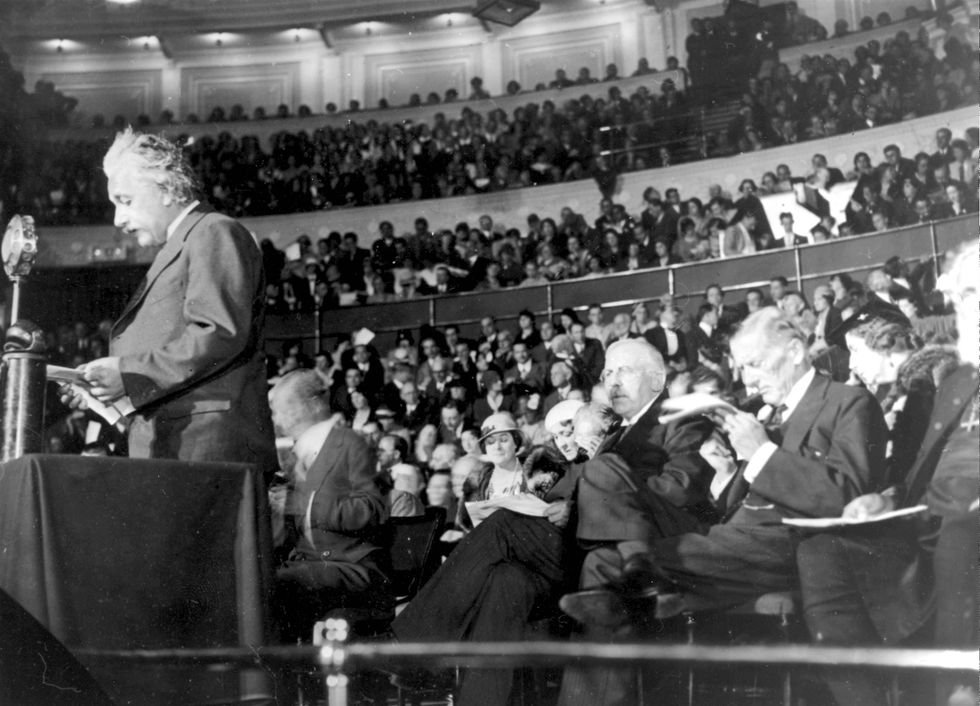 German-born American physicist Albert Einstein (1879 - 1955) speaking during his Science And Civilization lecture at the Royal Albert Hall, London. (Photo by Keystone/Getty Images)
Einstein critiques capitalism as having a tendency towards becoming an oligarchy where "private capital tends to become concentrated in few hands" that cannot be "effectively checked even by a democratically organized political society". This happens because the capitalists control the main mass media sources (including education) while the members of the government come from political parties that are "largely financed or otherwise influenced by private capitalists who, for all practical purposes, separate the electorate from the legislature." As as a result of that, according to Einstein, these representatives do not "sufficiently protect" the interests of the underprivileged.
Sounds familiar? If similar challenges present themselves almost 70 years later, it is no surprise solutions like socialism come back. Of course, there are now also fears of fascism returning to fashion.
Einstein saw the establishment of a "socialist economy" with an accompanying educational system that's oriented towards social goals as the only way forward for society.
"In such an economy, the means of production are owned by society itself and are utilized in a planned fashion. A planned economy, which adjusts production to the needs of the community, would distribute the work to be done among all those able to work and would guarantee a livelihood to every man, woman, and child. The education of the individual, in addition to promoting his own innate abilities, would attempt to develop in him a sense of responsibility for his fellow men in place of the glorification of power and success in our present society," wrote Einstein.
Einstein did caution, however, perhaps with an eye towards the Soviet Union, that a planned economy might result in "the complete enslavement of the individual" by the bureaucracy and saw it essential for socialism to resolve the problem of protecting the rights of the individual. 
Historical lessons aside, socialism is a rejuvenated force. Polls show that somewhere between 30 to 60% of Democratic voters have a favorable view of its ideas. Over 50% of millennials have a positive opinion of socialism. As automation is sure to put a major portion of the world out of work, the issues around ownership of necessary resources and distribution of wealth are sure to stay vital.
Check out this video from mathematician and economist Eric Weinstein on how capitalism can use socialist principles to cure what ails it:
Cover photo: A US-made 1957 Chevrolet Bel Air races past a billboard that reads,'Stronger than ever, Socialism' 14 February near Santa Maria del Mar, Cuba. (Photo credit: ADALBERTO ROQUE/AFP/Getty Images)
The times in history when science was deadly and dangerous.
A masked ecologist militant is pictured with a barrel falsely contaminated during a demonstration against nuclear energy near the Tricastin nuclear power plant run by Areva in Bollene, southern France, on November 25, 2011, during a visit of France's Pres
Science is a force for good in our world, improving lives of people all across Earth in immeasurable ways. But it is also a very powerful tool that can become dangerous in some situations. Especially when it gets entangled in politics. At other times, science's inherent ambition to push boundaries of what is known can also lead to some heart-stopping moments. 
The following list is in no way exhaustive but gives us a place to start when thinking about the serious responsibility that comes with the march of science.
1. Project MKUltra 
The infamous project MKUltra was CIA's attempt at mastering mind control. The program started in the 1950s and lasted seemingly until 1966. Under MKUltra, often-unwilling subjects were given drugs, especially hallucinogenics like LSD. The people tested were also put through sleep and sensory deprivation, hypnosis, sexual abuse, and other kinds of psychological torture, while some tests proved lethal.
The supposed goal of the project was some combination of chemical weapons research and effort to create mind-controlling drugs to combat the Soviets. 
2. Weaponizing the Plague
The last time plague roamed around, it killed around half of Europe's population, reducing the amount of people in the world by nearly a 100 million during the 13th and 14th century. In the late 1980s, the Soviet Union's biological warfare research program figured out how to use the plague as a weapon, to be launched at enemies in missile warheads. What could go wrong? Besides the plague, defectors revealed that the Soviet bio-weapons program also had hundreds of tons of anthrax and tons of smallpox.
3. The Large Hadron Supercollider 
The Large Hadron Collider (LHC) in Switzerland, built to study particle physics, is the world's largest machine and single most sophisticated scientific instrument. Because of this and the cutting-edge research its involved in, the LHC has prompted more than its share of fears from the general public. It has been blamed for causing earthquakes and pulling asteroids towards Earth.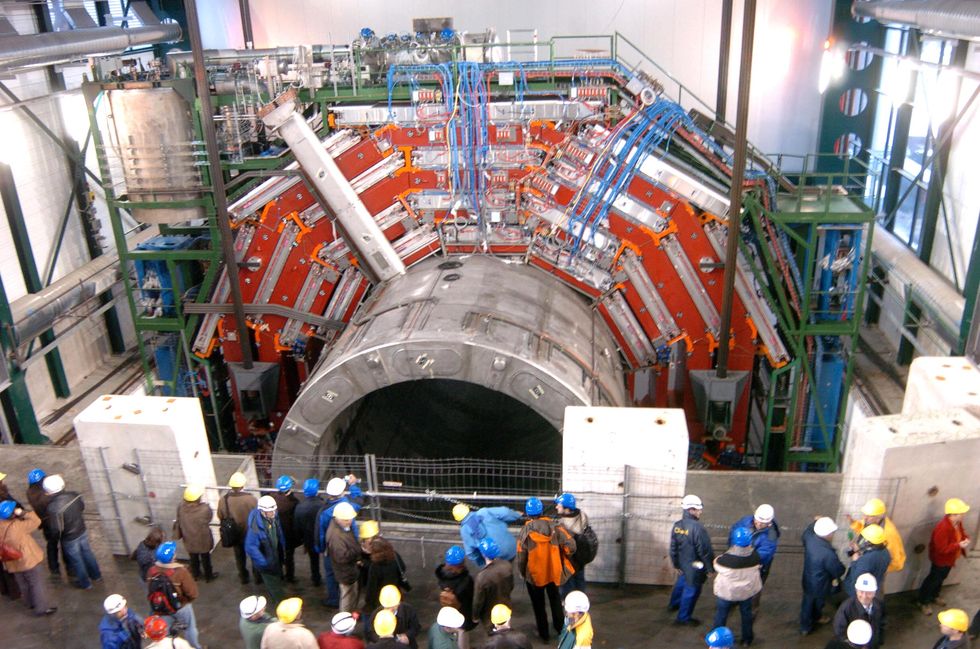 A giant magnet used in the Large Hadron Collider, weighing 1920 tonnes. 28 February, 2007 at the European Organization for Nuclear Research (CERN) in Geneva. (Photo credit: JEAN-PIERRE CLATOT/AFP/Getty Images)
While conspiracy theories around the LHC have generally been disproven, it has also been accused of potentially creating black holes that could swallow Earth, a possibility that was curiously not completely discounted by the CERN, the organization running the collider. 
CERN claimed the LHC is not dangerous, but also acknowledged that some type of black hole could be created. 
"The LHC will not generate black holes in the cosmological sense. However, some theories suggest that the formation of tiny 'quantum' black holes may be possible. The observation of such an event would be thrilling in terms of our understanding of the Universe; and would be perfectly safe," said CERN's statement.
A quantum black hole would be tiny. Don't you feel better?
4. The Tuskegee Syphilis Experiment
A government-funded "study" from 1932-1972 denied treatment for syphilis to 399 African American patients in rural Alabama, even as penicillin was found to be effective against the disease in 1947. The patients were actually not told they had syphilis, with doctors blaming their "bad blood" instead and given placebos.
The goal of the experiment, carried out by the U.S. Public Health Service, was to study the natural progress of syphilis if left untreated. 28 of the people in the study died directly from syphilis while 100 died from related complications.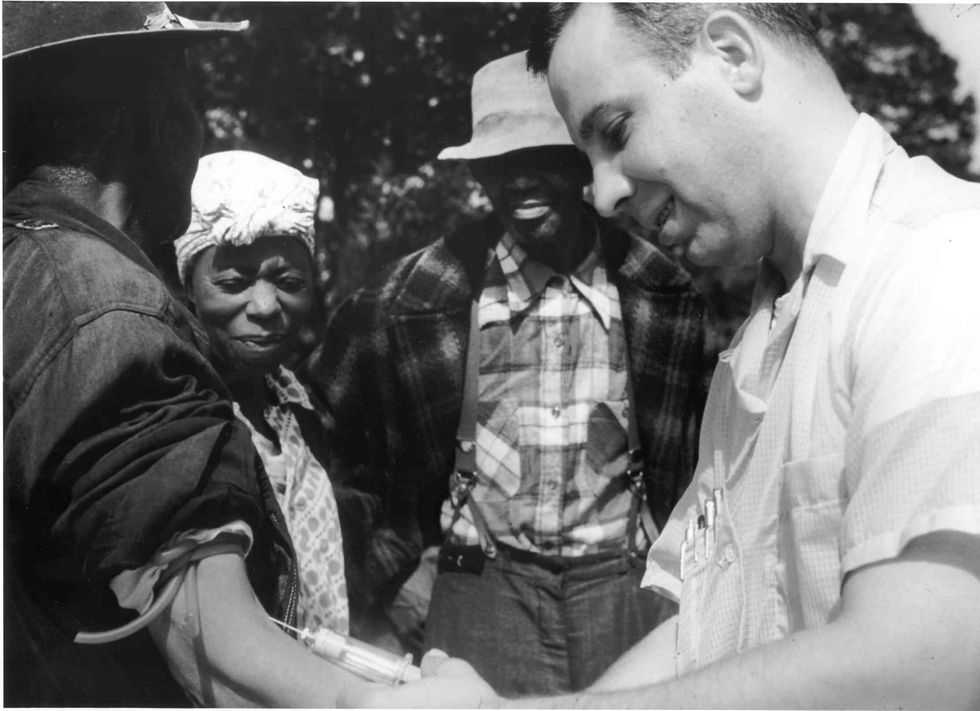 Doctor drawing blood from a patient as part of the Tuskegee Syphilis Study. 1932.
5. Kola Superdeep Borehole 
A Soviet experiment, started in 1970, sought to drill as deeply as possible into the crust of the planet. By 1994, they bore a 12-km-deep hole into the Kola Peninsula in Russia's far northwest. The record dig provided much scientific data, like the finding of ancient microscopic plankton fossils from 24 species.
While nothing negative happened, there were concerns at the time that drilling so deep towards the center of Earth might produce unexpected seismic effects. Like cracking the planet open.
The hole's site is currently closed. 
6. Guatemalan STD study
This horrid experiment is another instance of the U.S. government causing harm in the pursuit of "science". From 1945 until 1956, around 1500 Guatemalans were deliberately infected with sexually transmitted diseases, including syphilis and gonorrhoea. The subjects included orphans, prisoners, prostitutes and military conscripts. Researchers used disease-infected prostitutes, injections, and other unscrupulous methods to make their subjects sick. 
Subjects of the experiment are currently suing John Hopkins University for $1 billion for its role in the study.
7. The Aversion Project
A medical torture program was instituted in South Africa between 1971 and 1989 to "cure" homosexuality in military conscripts. The policy, carried out under apartheid, included forced "aversion therapy" treatments like electric shock therapy and chemical castration. The army also authorized as many as 900 sex change operations.
It was widely believed in the medical community at the time that homosexuality was a mental illness that could be cured. Dr. Aubrey Levin, in charge of the program as chief psychiatrist of the South African military, was eventually accused of human rights abuse by international organizations and received a prison sentence.  
8. Nazi Concentration Camp Experiments 
Nazis carried out medical experiments on thousands of prisoners in concentration camps, without any regard for human life. Some of their "research" involved purposefully inducing hypothermia, infecting people with malaria, using mustard gas on people, forced sterilization, giving prisoners different poisons, infecting wounds with bacteria and filling them with wood shavings and ground glass.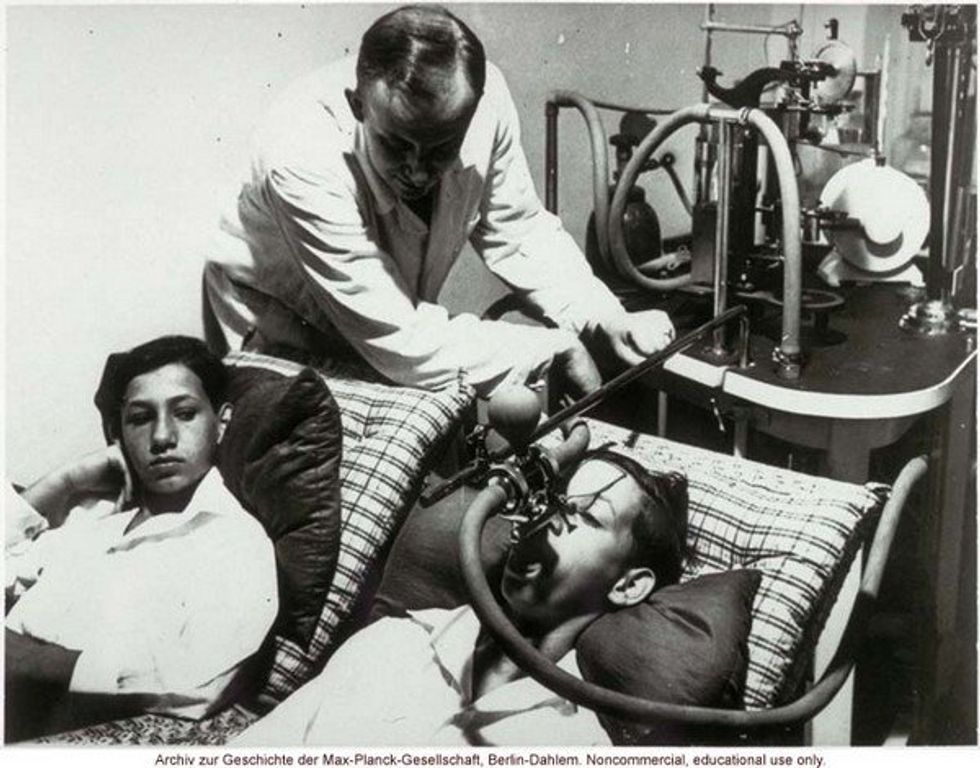 The Nazi doctor Josef Mengele was the prototypical "evil scientist," known for his concentration camp experiments, with a particular focus on twins, mostly Jewish or Roma ("Gypsy"). Supposedly in the interest of studying heredity, the SS physician Mengele was responsible for such atrocities as removing organs from people without anesthetics, injections with deadly bacteria, dismemberment and others.
Not surprisingly known as the "Angel of Death", Mengele collected the eyes of murdered victims for heterochromia research and attempted to prove through experiments the supposed resistance of Jews and Roma to a host of diseases.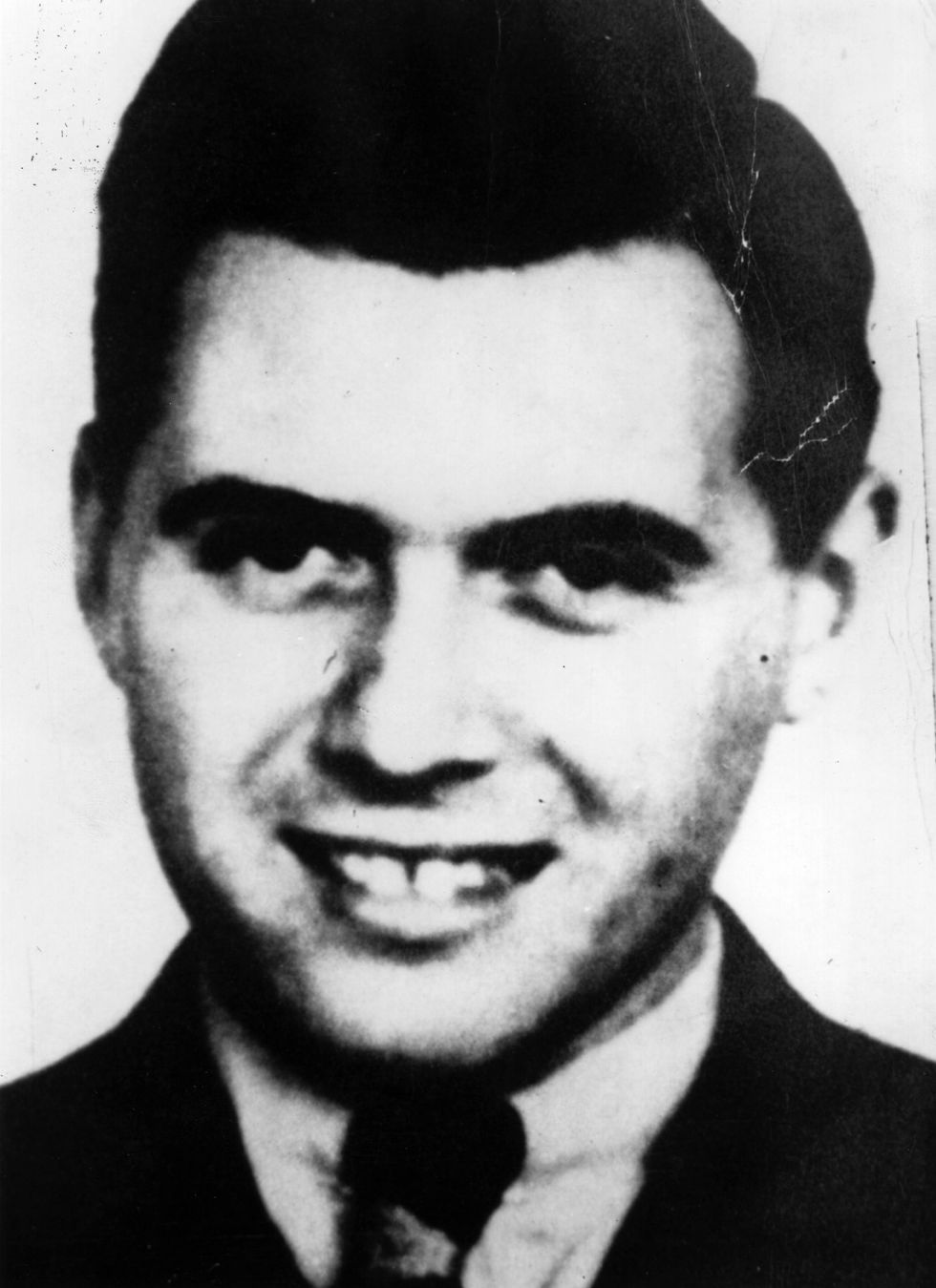 circa 1940: Joseph Mengele, before he became known as 'The Doctor of Auschwitz' and 'The Angel of Death' for his pseudo-scientific experiments on inmates in Nazi death camps. (Photo by Keystone/Getty Images)
9. Unit 731
Unit 731 was a secretive R&D unit of the Japanese Army that carried out horrendous experiments on humans during World War 2. Commanded by General Shiro Ishii, the unit experimented on an estimated 250,000 men, women and children. Most of the victims were Chinese, along with some prisoners of war from Russia and the Allies.
The forced medical procedures involved vivisections - cutting open subjects usually without anesthesia, unnecessary limb amputations, and removal of body organs like parts of brain, liver, lung and others. Victims were also subjected to biological warfare, frostbite testing, forced pregnancies, and even weapons testing by grenades or flamethrowers.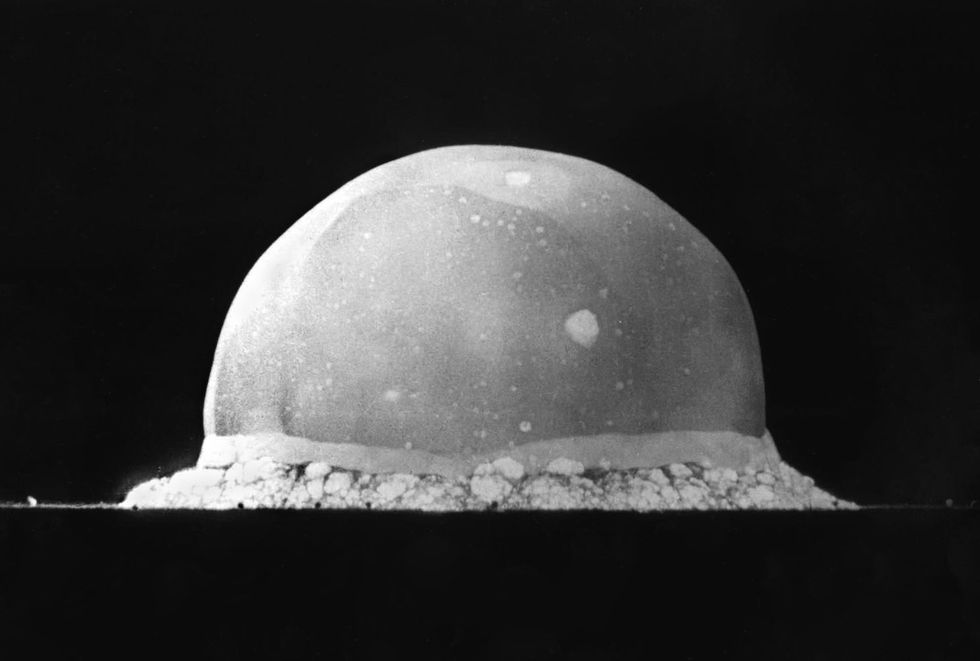 Trinity Site - 0.016 second after explosion, July 16, 1945. The highest point of the cloud in this image is about 200 meters high.
10. The Trinity Test
It's hard not to put the world's first nuclear test on such a list. In the mad rush to develop the atomic bomb and gain a military advantage in World War 2, America instituted the secretive Manhattan Project. This resulted in the Trinity Test, a detonation of the first-ever nuclear weapon in a New Mexico desert on July 16, 1945.
While the scientists were relatively confident in their work, there were some famous doubters who wondered if the bomb would even explode or if it would perhaps cause the end of the world as we know it.
Waiting for the bomb to go off, Nobel Prize-winning physicist Enrico Fermi, wagered others whether the bomb would just destroy New Mexico or the world, potentially setting the Earth's atmosphere ablaze.