1895 map of New York City shows 'concrete socialism' in red, 'private enterprises' in white.
As this 1895 map proves, the political argument about socialism in the United States is not new at all.
The map makes the point that socialism isn't foreign or alien, but as American as the pavements (and parks) of New York.
It shows 'concrete socialism' in red, and 'private enterprises' in white - each make up about half of the city.
A dirty word
Painting of the Bowery, in the south of Manhattan, in 1895.
Credit: William Louis Sonntag (1822-1900) – Public domain
Socialism is a dirty word in American politics. For many, it stands for heavy-handed government intervention. It is the enemy of individual freedom. It reeks of the Gulag, and it can only end in self-inflicted impoverishment. You know, like in Venezuela.
Or it stands for freedom from want and fear, based on the principle of collective action. Because collective action generates superior outcomes in terms of public services, including but not limited to healthcare. You know, like in Denmark.
The argument is ongoing, and perhaps never-ending. Outlying voices on the left will argue that maybe Venezuela isn't all that bad. Their counterparts on the right will make the point that perhaps Denmark isn't all that great.
Is it too simplistic to presume that the truth is somewhere in the middle? Perhaps so, if it's only one side that is making that argument.
If you define 'socialism' as anything paid by and operated for the public, then America already has plenty of socialist institutions, including its Armed Forces, its National Parks, and its Strategic Petroleum Reserve, those leaning towards the left would argue.
This map makes a similar point by claiming that half of New York is run on 'socialist' principles already. It dates from 1895, proving that socialism has been providing combustible material for political debate in America since way before the Cold War, and even the Russian Revolution.

"For the common benefit"
New York City is only half capitalist (white) because it is already half socialist (red) – a striking cartographic argument by W. Vrooman in 1895.
Credit: PJ Mode Collection of Persuasive Maps – public domain
The map appeared in "Government Ownership in Production and Distribution," a book published in Baltimore in 1895, subtitled "An Account of 337 now Existing National and Municipal Undertakings in the 100 Principal Countries of the World."
The author was Walter Vrooman, a socialist reformer who saw 'fraternal socialism' as the logical – and indeed inevitable – next step, following the present system of 'paternal individualism.'
Born in 1869 in Macon, Missouri as one of Judge H.P. Vrooman's six sons, Vrooman became a Christian Socialist and ran away from home at age 13 (or perhaps the other way around). He also managed to get into Harvard some years later.
In the 1890s, as a reporter for the New York World, "Vrooman was always heroic, seldom tactful, and once successful in his two-year drive for parks and playgrounds for New York's children. That he attained the unique success as a news gatherer few would dispute, for 'he created most of the news he reported'. (1)"
His 1895 book gives hundreds of examples worldwide of activities taken over by municipal and national governments from private enterprise. Over the centuries, societies have nationalised services that affect the public realm, such as policing and the dispensing of justice, designing and maintaining streets and pavements, distributing utilities, providing public transport, etcetera.
Even New York, capitalist America's premier metropolis, can't survive without socialism, this map argues. "Although the centre of plutocratic lawlessness in America, (it) shows that nearly one-half of (New York's) surface is administered by the public, by means of City, State and National governments, for the common benefit of all the people."
In 1895, Vrooman married a Baltimore heiress and a few years after, they travelled to England, where he studied at Oxford and helped establish Ruskin College, which offers education to the disadvantaged.
He may not have turned New York red, but he did do his part in keeping parts of the city green.
Map found here at the PJ Mode Collection of Persuasive Maps, part of the Cornell University Library.
Strange Maps #1057
Got a strange map? Let me know at strangemaps@gmail.com.

(1) Writes Harlan B. Phillips in 'Walter Vrooman: agitator for parks and playgrounds', in New York History (Vol. 33, No. 1 – January 1952)
There is no one answer. But there are 10.
George Orwell and Albert Einstein. (Photo illustration: Big Think/Wikimedia Commons)
Like many ideologies, socialism can be many things to different people.
These ten quotes show what it means to ten different thinkers, including Albert Einstein and Winston Churchill.
While they leave the question of what socialism is unsettled, they do offer us great insights.
Socialism is one of those words that has been used so many times to describe so many different ideologies that it has lost all meaning. That doesn't stop people from trying to describe it though. Here, we have ten quotes by ten brilliant thinkers, capitalist and socialist alike, describing what socialism is.
Che defines socialism
"For us, there is no valid definition of socialism other than the abolition of the exploitation of one human being by another." – Che Guevara
Ernesto "Che" Guevara was an Argentine revolutionary known for his participation in the Cuban Revolution of 1959. He was trained as a doctor and took a view of socialism as a cure for the disease of capitalism. His views of what the world would be like after the disease was cured were often as romantic as our view of him, but they all tend to center on the idea of a world free of exploitation and alienation which was inhabited by a more complete human being than was typical under capitalism.
Does Che Guevara still matter?
Albert Einstein on the need for a socialist economy
"The economic anarchy of capitalist society as it exists today is, in my opinion, the real source of the evil. We see before us a huge community of producers the members of which are unceasingly striving to deprive each other of the fruits of their collective labor... I am convinced there is only one way to eliminate these grave evils, namely through the establishment of a socialist economy, accompanied by an educational system which would be oriented toward social goals." – Albert Einstein
Albert Einstein was a physicist well known for his theory of relativity. He once wrote an article advancing his socialist political views. In this quote, he explains the socialist belief that the disorganization of capitalism and the vicious competition it demands leads to many social ills and that the cure for it is collective ownership.
Debs explains what he stands against
"I am opposing a social order in which it is possible for one man who does absolutely nothing that is useful to amass a fortune of hundreds of millions of dollars, while millions of men and women who work all the days of their lives secure barely enough for a wretched existence." – Eugene V. Debs
Eugene V. Debs was an American labor leader and socialist presidential candidate who got six percent of the vote in 1912.
In this quote, given to the court that convicted him for sedition for opposing American entry into WWI, he expresses a key socialist idea: That the wealth of society is produced by workers and the capitalist system unjustly allows that wealth to be concentrated in the hands of people who do nothing but own capital.
MLK on the distribution of wealth
"Call it democracy, or call it democratic socialism, but there must be a better distribution of wealth within this country for all God's children."– Martin Luther King Jr.
The Reverend Dr. Martin Luther King Jr. was an American minister and activist well known for his participation in the civil rights movement.
King was a
democratic socialist
who was as dedicated to
economic justice
as he was to civil rights. This quote speaks to a very basic socialist concept; that the current distribution of wealth is unjust and must be corrected through fundamental changes to our economic system. King,
like many other socialists,
bases this view on his Christian beliefs.
Wealth inequality is literally killing us. The economy should work for everyone.
No, socialists don't all love the USSR. Anton Pannekoek​ explains why.
"The system of production developed in Russia is State socialism. It is organized production, with the State as universal employer, master of the entire production apparatus. The workers are master of the means of production no more than under Western capitalism. They receive their wages and are exploited by the State as the only mammoth capitalist. So the name State capitalism can be applied with precisely the same meaning. The entirety of the ruling and leading bureaucracy of officials is the actual owner of the factories, the possessing class." – Anton Pannekoek
Pannekoek was a Dutch astronomer who became a leading left-communist philosopher. Here, he answers the question of if the USSR was socialist. For him, the answer is no, as the workers in Russia had no more control over the means of production than they did anywhere else.
As a council communist, he would argue this control requires local, democratic administration. However, many left-wingers thought the USSR was socialist and Soviet apologists exist to this day.
Paul Foot on Marx
"Marx argued that all human history was dominated by a struggle for the wealth between classes, one of which took the wealth, and used it to exploit the others. As science and technology developed, so one exploiting class was replaced by another that used the resources of society more efficiently. The necessity for exploitation, he observed, had ended with capitalism. If the working class, the masses who cooperate to produce the wealth, could seize the means of production from the capitalist class, they could put an end to exploitation forever and run society on the lines of the famous slogan: 'From each according to his abilities, to each according to his needs.'" – Paul Foot
Paul Foot was a British journalist. This explanation of the Marxist theory of history comes from his book Why You Should Be A Socialist. He explains very clearly both why Marxist socialists think history moves us toward a socialist system and why all socialists seek to replace capitalism with a system that doesn't rely on exploitation
Orwell reminds us that socialism has bigger goals than mere efficiency
"In every country in the world, a huge tribe of party-hacks and sleek little professors are busy 'proving' that Socialism means no more than a planned state—capitalism with the grab-motive left intact. But fortunately there also exists a vision of Socialism quite different from this. The thing that attracts ordinary men to Socialism and makes them willing to risk their skins for it, the 'mystique' of Socialism, is the idea of equality; to the vast majority of people Socialism means a classless society, or it means nothing at all." – George Orwell
George Orwell was the pen name of Eric Blair, an author best known for the totalitarian visions of 1984. It surprises many to learn that he was a dedicated democratic socialist. Much of his anti-totalitarian worldview was forged during the Spanish Civil War, where he fought for the Republicans and gained an admiration for the Anarcho-Syndicalists in Catalonia.
In this part of his memoir,
Homage to Catalonia
, he nostalgically looks back on the seemingly utopian society the anarchists were building in Catalonia. He uses it to remind us that any definition of socialism cannot be reduced to merely planned capitalism; it must include some notion of equality and the dismantling of the class structure to truly be socialistic.
Today's surveillance society is way beyond Orwellian
A Scot lays out his goals
"Socialism proposes to dethrone the brute-god Mammon and to lift humanity into its place." – Keir Hardie
Keir Hardie was a Scottish labor organizer, activist, and one of the founders of the Labour Party in the UK. In this quote, he expresses the socialist belief that capitalist economies are organized in a way that focuses on producing more wealth for those who already have it at the expense of humanity in general and those who own no capital in particular.
Socialism, in theory, would instead be organized to meet the stated needs of people and their communities and focus on production for use.
Churchill's response to these utopian dreams
"Liberalism is not Socialism, and never will be. There is a great gulf fixed. It is not a gulf of method, it is a gulf of principle ... Socialism seeks to pull down wealth; Liberalism seeks to raise up poverty. Socialism would destroy private interests; Liberalism would preserve private interests in the only way in which they can be safely and justly preserved, namely by reconciling them with public right. Socialism would kill enterprise; Liberalism would rescue enterprise from the trammels of privilege and preference ... Socialism exalts the rule; Liberalism exalts the man. Socialism attacks capital; Liberalism attacks monopoly." – Winston Churchill
Winston Churchill was an English writer and statesman who served as prime minister during WWII. His attitude reflects his understanding of socialism as antithetical to liberalism, which he supported. His anti-socialist attitudes were so great he claimed that "some form of a Gestapo" would be needed to implement a democratic socialist government in the UK.
In 1945, Churchill was crushed in a national election by the socialist Clement Attlee, who proceeded to implement a democratic socialist program in the UK. This was accomplished without the use of a Gestapo or the dismantling of liberal institutions. Churchill became prime minister again in 1951, but left the welfare state alone and only privatized a few state enterprises.
Why capitalism will always outperform other economic models
The Weathermen remind us of the darker side of socialism
"Socialism is the total opposite of capitalism/imperialism. It is the rejection of empire and white supremacy. Socialism is the violent overthrow of the bourgeoisie, the establishment of the dictatorship of the proletariat, and the eradication of the social system based on profit. Socialism means control of the productive forces for the good of the whole community instead of the few who live on hilltops and in mansions. Socialism means priorities based on human need instead of corporate greed. Socialism creates the conditions for a decent and creative quality of life for all." – The Weathermen
The Weather Underground, also known as The Weathermen, were a left-wing terrorist group operating in the United States in the 1960s and '70s. This section from their manifesto Prairie Fire explains their view of what socialism is.
Notice that while they agree with the democratic socialists quoted above on the need to end exploitation and racism and show a desire to help the poor, they argue for violence and the creation of a dictatorship which is absent in the writings of many other socialist writers. While many thinkers on the left, such as Mao Zedong, and tons of them on the right, such as Milton Friedman, agree that socialism necessitates a dictatorship, this stance remains controversial and far from mainstream among modern Western socialists.
How super rich companies harm us all — and try to cover it up
Why is it that people say Ayn Rand isn't a "real" philosopher?
I have been asked, both online and in person, about why I haven't listed Ayn Rand on any of the lists of philosophers you should know. This is the answer: Ayn Rand's philosophical work is not taken seriously by academia because it isn't very good, and I was focusing on philosophers you need to know.
Before the flame war starts, let me explain why.
Ayn Rand's fundamental problem is that her arguments aren't great. They often don't support the conclusions she wants them to, or they reach conclusions that seem incoherent. Well-reasoned arguments are the critical difference between a person giving their opinion and a philosopher, and she often failed to provide them.
This isn't to say that a person cannot be a respected philosopher while not working at a university and primarily writing books that are fun to read. Albert Camus stands out as an example of it being very possible. 
in his essay 'On the Randian Argument' libertarian philosopher Robert Nozick pointed out that Rand's meta-ethical arguments were unsound and didn't resolve the is-ought problem as she'd hoped. Libertarian philosopher Michael Huemer has suggested that her ethics are incoherent. Her arguments for what the chief goal of human life is all use changing definitions constantly and seem to drive towards three incompatible ends rather than the one she said she was driving at.  
The Stanford Encyclopedia of Philosophy argues that her arguments so often fail to support her conclusions that, "It is not surprising, then, that she is either mentioned in passing, or not mentioned at all, in the entries that discuss current philosophical thought about virtue ethics, egoism, rights, libertarianism, or markets."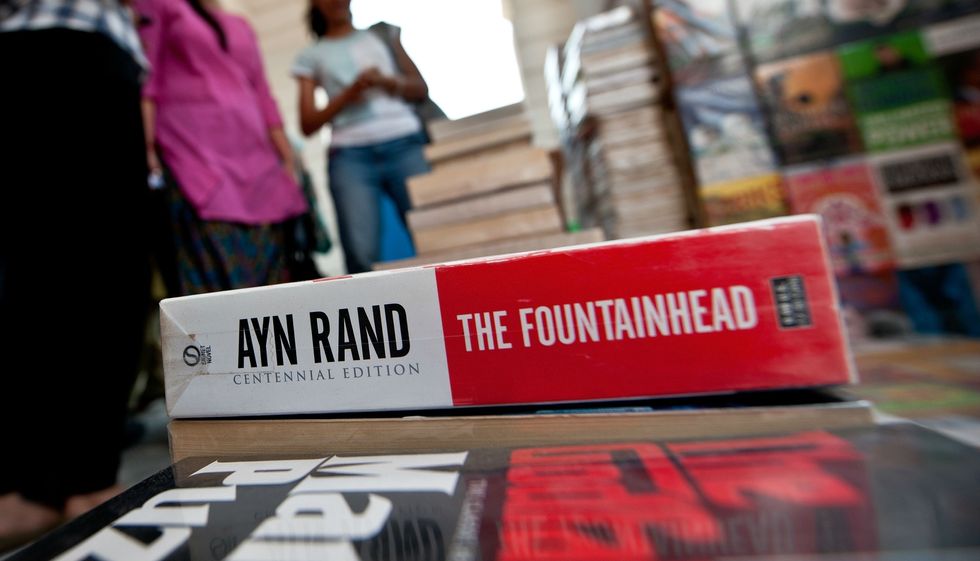 In literary circles, however, her work still invites great interest. 
More generally, her philosophy can be viewed as her making polemical assertions that aren't particularly well argued, or even defended against potential criticisms in many cases. This tendency is a rather substantial problem with her work that makes it more difficult to take seriously.
Being aware of and accepting towards potential objections to your work is philosophy 101. Even Plato, who was very bad at it, did it from time to time. But any outside observer would think that Rand found disagreement to be objectionable in itself.
American television personality Dick Cavett once withdrew an invitation for her to appear on his talk show after discovering her terms included that he promise not to disagree with her philosophy. She did appear on Phil Donahue's show, however, and didn't quite convince some audience members that she wasn't a personality cult.
Many people have written on how her followers regarded her every word as truth, and how little tolerance she had for disagreement. Most prominent among these criticisms are those of anarcho-capitalist philosopher Murray Rothbard, who discussed the cult-like behavior of both Rand and her followers back in 1972.
It also isn't the case that her ideas are so radical or politically incorrect that she is censored by left-wing academics who disagree with her. The highly regarded American philosopher Robert Nozick came to very similar conclusions on capitalism, the state, and society but did so with much better arguments. Likewise, even philosophers looking to argue for ethical egoism rarely make reference to her. The idea that she isn't taken seriously because her ideas are of the "wrong sort" is easily refuted by the number of libertarians, ethical egoists, and free-market capitalists that still hold esteem in the academic community. 
Popular interest in her ideas continues, although this interest is, as suggested by libertarian philosopher Michael Huemer, geared more towards her skills as an author than as a philosopher. While she does have merit as an author, she does not have similar merit as a serious philosopher.
I'll leave you with the stance of The Stanford Encyclopedia of Philosophy, which phrases it best:
"She developed some of her views in response to questions from her readers, but never took the time to defend them against possible objections or to reconcile them with the views expressed in her novels. Her philosophical essays lack the self-critical, detailed style of analytic philosophy, or any serious attempt to consider possible objections to her views. Her polemical style, often contemptuous tone, and the dogmatism and cult-like behavior of many of her fans also suggest that her work is not worth taking seriously."
Contestants play the first game on the world's largest Monopoly board, occupying an enormous 440 square metres, at the Sydney Exhibition Centre. (Photo:TORSTEN BLACKWOOD/AFP/Getty Images)
'Buy land – they aren't making it any more,' quipped Mark Twain. It's a maxim that would certainly serve you well in a game of Monopoly, the bestselling board game that has taught generations of children to buy up property, stack it with hotels, and charge fellow players sky-high rents for the privilege of accidentally landing there.
The game's little-known inventor, Elizabeth Magie, would no doubt have made herself go directly to jail if she'd lived to know just how influential today's twisted version of her game has turned out to be. Why? Because it encourages its players to celebrate exactly the opposite values to those she intended to champion.
Born in 1866, Magie was an outspoken rebel against the norms and politics of her times. She was unmarried into her 40s, independent and proud of it, and made her point with a publicity stunt. Taking out a newspaper advertisement, she offered herself as a 'young woman American slave' for sale to the highest bidder. Her aim, she told shocked readers, was to highlight the subordinate position of women in society. 'We are not machines,' she said. 'Girls have minds, desires, hopes and ambition.'
In addition to confronting gender politics, Magie decided to take on the capitalist system of property ownership – this time not through a publicity stunt but in the form of a board game. The inspiration began with a book that her father, the anti-monopolist politician James Magie, had handed to her. In the pages of Henry George's classic, Progress and Poverty (1879), she encountered his conviction that 'the equal right of all men to use the land is as clear as their equal right to breathe the air – it is a right proclaimed by the fact of their existence'.
Travelling around America in the 1870s, George had witnessed persistent destitution amid growing wealth, and he believed it was largely the inequity of land ownership that bound these two forces – poverty and progress – together. So instead of following Twain by encouraging his fellow citizens to buy land, he called on the state to tax it. On what grounds? Because much of land's value comes not from what is built on the plot but from nature's gift of water or minerals that might lie beneath its surface, or from the communally created value of its surroundings: nearby roads and railways; a thriving economy, a safe neighbourhood; good local schools and hospitals. And he argued that the tax receipts should be invested on behalf of all.
Determined to prove the merit of George's proposal, Magie invented and in 1904 patented what she called the Landlord's Game. Laid out on the board as a circuit (which was a novelty at the time), it was populated with streets and landmarks for sale. The key innovation of her game, however, lay in the two sets of rules that she wrote for playing it.
Under the 'Prosperity' set of rules, every player gained each time someone acquired a new property (designed to reflect George's policy of taxing the value of land), and the game was won (by all!) when the player who had started out with the least money had doubled it. Under the 'Monopolist' set of rules, in contrast, players got ahead by acquiring properties and collecting rent from all those who were unfortunate enough to land there – and whoever managed to bankrupt the rest emerged as the sole winner (sound a little familiar?).
The purpose of the dual sets of rules, said Magie, was for players to experience a 'practical demonstration of the present system of land grabbing with all its usual outcomes and consequences' and hence to understand how different approaches to property ownership can lead to vastly different social outcomes. 'It might well have been called "The Game of Life",' remarked Magie, 'as it contains all the elements of success and failure in the real world, and the object is the same as the human race in general seems to have, ie, the accumulation of wealth.'
The game was soon a hit among Left-wing intellectuals, on college campuses including the Wharton School, Harvard and Columbia, and also among Quaker communities, some of which modified the rules and redrew the board with street names from Atlantic City. Among the players of this Quaker adaptation was an unemployed man called Charles Darrow, who later sold such a modified version to the games company Parker Brothers as his own.
Once the game's true origins came to light, Parker Brothers bought up Magie's patent, but then re-launched the board game simply as Monopoly, and provided the eager public with just one set of rules: those that celebrate the triumph of one over all. Worse, they marketed it along with the claim that the game's inventor was Darrow, who they said had dreamed it up in the 1930s, sold it to Parker Brothers, and become a millionaire. It was a rags-to-riches fabrication that ironically exemplified Monopoly's implicit values: chase wealth and crush your opponents if you want to come out on top.
So next time someone invites you to join a game of Monopoly, here's a thought. As you set out piles for the Chance and Community Chest cards, establish a third pile for Land-Value Tax, to which every property owner must contribute each time they charge rent to a fellow player. How high should that land tax be? And how should the resulting tax receipts be distributed? Such questions will no doubt lead to fiery debate around the Monopoly board – but then that is exactly what Magie had always hoped for.

Kate Raworth
--
This article was originally published at Aeon and has been republished under Creative Commons.
The political and economic ideas of socialism are coming back into fashion.
Socialism saw its heyday in the 20th century when its ideas were adapted by a number of countries, in a variety of bastardizations of its message. In fact, some would argue that a pure socialism never existed. Now it is experiencing a tremendous resurgence in the 21st century due to the growing economic disparity, anger at the establishment and charismatic older socialist politicians like Bernie Sanders in the U.S. and Jeremy Corbyn in the U.K. who gathered massive support from the young. A new wave of socialist thinkers is also beginning to emerge that looks to distance the movement from the historical stigma to formulate a new socialism that speaks to the challenges of today.
What is socialism? In the most basic definition, it is a political and economic system where the means of production and essential resources are owned by the community. Socialism comes in many different forms and has been practiced with great variety around the world. 
Jacobin, a magazine that's gained popularity for "offering socialist perspectives" on political and cultural topics, published a guide on how to redefine socialism for the modern age. In it, the publication's editor Bhaskar Sunkara describes socialism as, fundamentally, a way to build the kind of world where people don't take advantage of others for gain but rather for the benefits of cooperation. To Sunkara, socialism is "abolishing private ownership of the things we all need and use — factories, banks, offices, natural resources, utilities, communication and transportation infrastructure — and replacing it with social ownership, thereby undercutting the power of elites to hoard wealth and power." 
Private property would not exist, but personal property would remain. The government will not take away your "Kenny Loggins records," jokes Sunkara.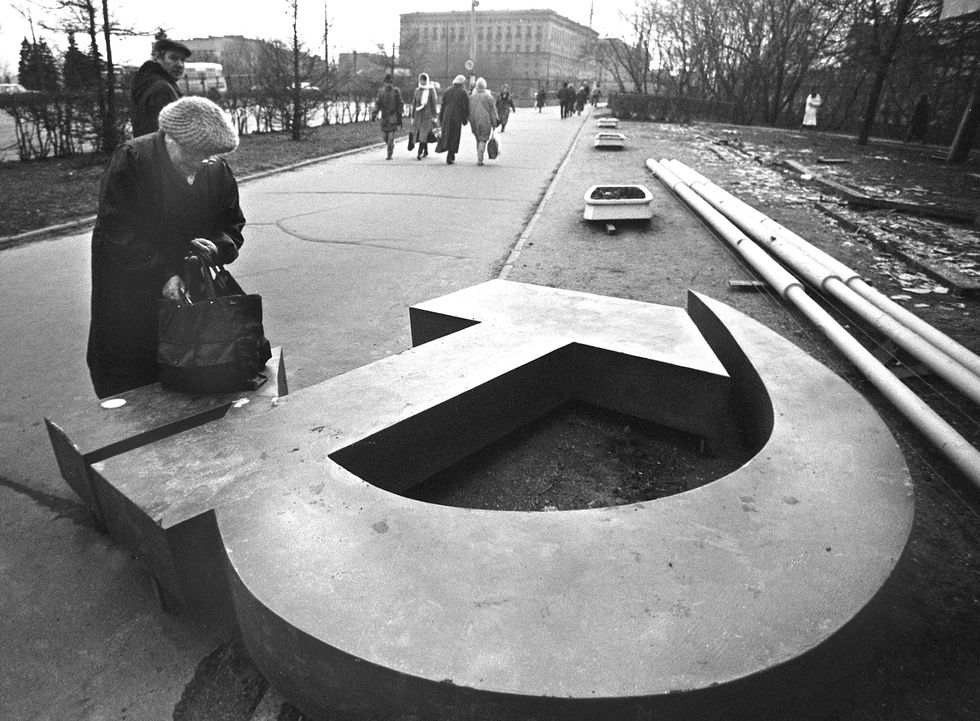 An old Russian woman fixing her belongings on a vandalized symbols of the Communism, the Hammer and Sickle, on an avenue of Moscow, on November 1990. At the time of creation, the hammer stood for industrial labourers and the sickle for the peasantry; combined they stood for the worker-peasant alliance for socialism and against reactionary movements and foreign intervention. (Photo credit: ALEXANDER NEMENOV/AFP/Getty Images)
In their guide, the writers and editors of Jacobin also try to dispel some of the confusion related to socialism. In particular, they argue, many people tend to associate any kind of government institution, even the DMV, with socialism. But just because it's a part of the government doesn't make it socialist. In fact, an average person has so little say politically due to the stronghold of corporate interests on the government, that any "state action will disproportionately benefit capitalist interests at the expense of everything else," writes Chris Maisano in the Jacobin's guide.
The journal also offers a defense against the charge that socialism inevitably ends up in authoritarian governments. Joseph M. Schwartz writes how Marxists and European socialists could not anticipate that revolutionary parties would try to create socialism in "predominantly agrarian, autocratic societies" like Russia and China. 
"In many ways, one-party Communist states shared more in common with past authoritarian capitalist "developmentalist" states — such as late nineteenth-century Prussia and Japan, and postwar South Korea and Taiwan —than with the vision of democratic socialism. These governments prioritized state-led industrialization over democratic rights, particularly those of an independent labor movement," writes Schwartz.
Jacobin's prescription for building a more socialist country - mobilize the people through education and direct participation in the government.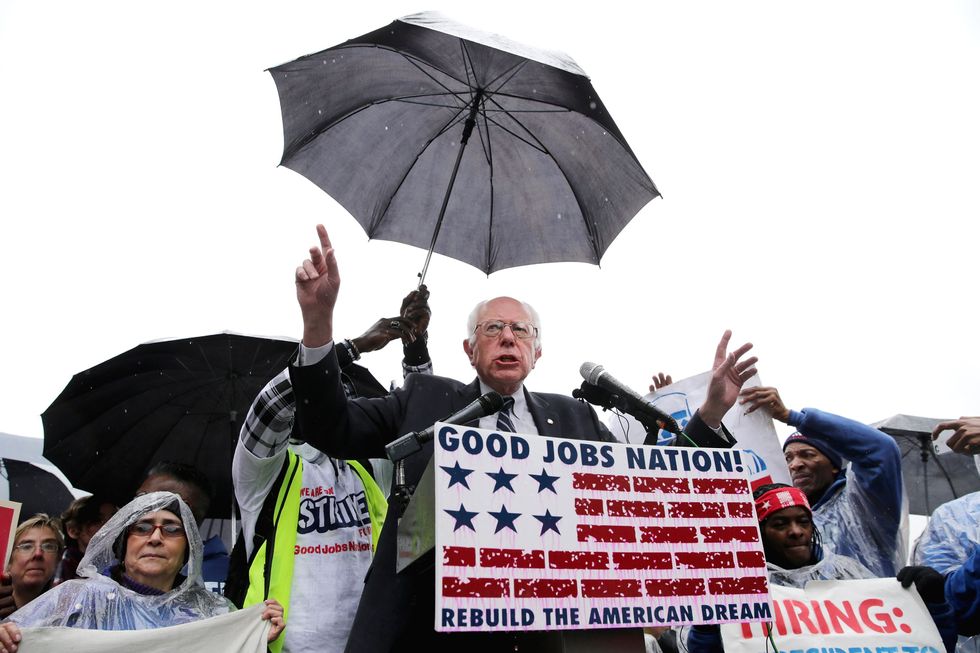 Democratic presidential candidate Sen. Bernie Sanders (I-VT) (C) addresses a rally with protesters calling for higher wages for federal contract workers in the rain on Capitol Hill November 10, 2015 in Washington, DC. (Photo by Chip Somodevilla/Getty Images)
Is Bernie Sanders a socialist? He is the country's most popular active politician according to the polls, but he's not socialist enough, according to the editors of the Jacobin. Noam Chomsky famously called him "a decent, honest New Dealer." Sanders himself draws the distinction, calling his politics - democratic socialism. He often refers to Scandinavian countries as models for what he would like the United States to become.  Sanders's key themes of reducing economic inequality and the influence of politics in money appeals to a cross-section Americans from the left and the right.
To combat the negative stereotypes of socialism, Sanders invokes the New Deal policies of Franklin Delano Roosevelt that were called "socialist" like establishing social security and the minimum wage. Sanders also links the way he sees the world to Martin Luther King's calls for social and economic justice.  
To Sanders, education, affordable housing and universal health care are the public's right rather than private commodities that can be used to turn a profit. Still, he has not called for nationalizing any industries, saying specifically "I don't believe government should own the means of production."
He defined "democratic socialism" himself in 2015 as a necessary adjustment in an increasingly unequal society.
"Democratic socialism means that we must create an economy that works for all, not just the very wealthy. Democratic socialism means that we must reform a political system in America today which is not only grossly unfair but, in many respects, corrupt.," said Sanders, adding "In my view, it's time we had democratic socialism for working families, not just Wall Street, billionaires and large corporations."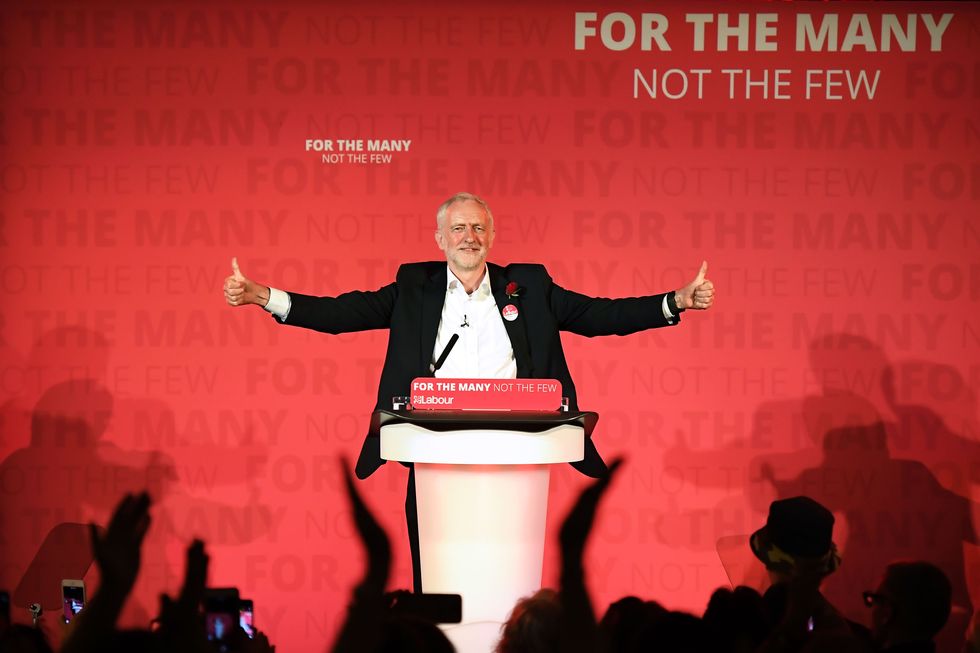 Jeremy Corbyn, Leader of the Labour Party speaks during a campaign rally at Union Chapel Islington on June 7, 2017 in London, United Kingdom. (Photo by Leon Neal/Getty Images)
Is Jeremy Corbyn a socialist? The leader of UK's Labour Party, which won a surprising number of seats against the ruling Conservative Party in recent elections, also identifies as a "democratic socialist." Labour's 2017 manifesto, titled "For the Many, Not the Few" includes plans to re-nationalize the rail, postal and water services, abolish college tuition fees, increase the minimum wage and spending on national healthcare, as well as upping the tax on the wealthy. Many of these ideas are certainly more to the left of what's been proposed by Sanders for the U.S.
Corbyn's message has energized young voters in particular, with close to 70% of those 18 to 24 supporting Labour. How much more support can these kinds of ideas gain?  The latest polls show the party's appeal growing wider still, now 5% ahead of the Tories at 46%. Corbyn's personal approval is also high, better than the Prime Minister Theresa May's.
To consider why the ideas of socialism continue to have followers in our times, let's turn to Albert Einstein. One of the world's most brilliant thinkers who had seen the effects of socialism in his lifetime, Einstein wrote an essay called "Why socialism" in 1949 that still resonates in some of its themes.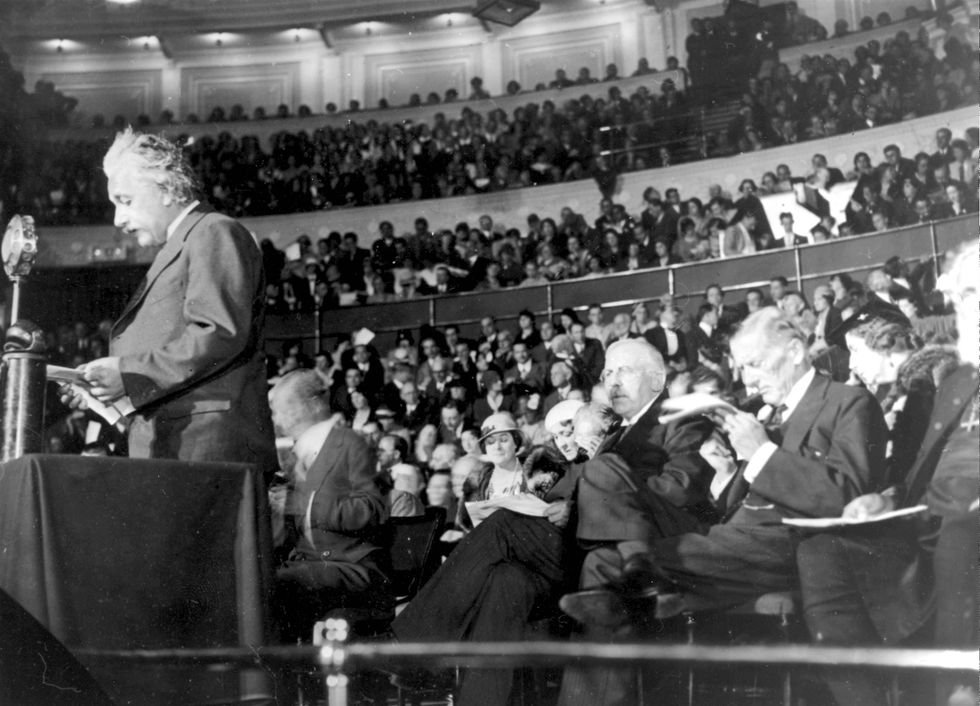 German-born American physicist Albert Einstein (1879 - 1955) speaking during his Science And Civilization lecture at the Royal Albert Hall, London. (Photo by Keystone/Getty Images)
Einstein critiques capitalism as having a tendency towards becoming an oligarchy where "private capital tends to become concentrated in few hands" that cannot be "effectively checked even by a democratically organized political society". This happens because the capitalists control the main mass media sources (including education) while the members of the government come from political parties that are "largely financed or otherwise influenced by private capitalists who, for all practical purposes, separate the electorate from the legislature." As as a result of that, according to Einstein, these representatives do not "sufficiently protect" the interests of the underprivileged.
Sounds familiar? If similar challenges present themselves almost 70 years later, it is no surprise solutions like socialism come back. Of course, there are now also fears of fascism returning to fashion.
Einstein saw the establishment of a "socialist economy" with an accompanying educational system that's oriented towards social goals as the only way forward for society.
"In such an economy, the means of production are owned by society itself and are utilized in a planned fashion. A planned economy, which adjusts production to the needs of the community, would distribute the work to be done among all those able to work and would guarantee a livelihood to every man, woman, and child. The education of the individual, in addition to promoting his own innate abilities, would attempt to develop in him a sense of responsibility for his fellow men in place of the glorification of power and success in our present society," wrote Einstein.
Einstein did caution, however, perhaps with an eye towards the Soviet Union, that a planned economy might result in "the complete enslavement of the individual" by the bureaucracy and saw it essential for socialism to resolve the problem of protecting the rights of the individual. 
Historical lessons aside, socialism is a rejuvenated force. Polls show that somewhere between 30 to 60% of Democratic voters have a favorable view of its ideas. Over 50% of millennials have a positive opinion of socialism. As automation is sure to put a major portion of the world out of work, the issues around ownership of necessary resources and distribution of wealth are sure to stay vital.
Check out this video from mathematician and economist Eric Weinstein on how capitalism can use socialist principles to cure what ails it:
Cover photo: A US-made 1957 Chevrolet Bel Air races past a billboard that reads,'Stronger than ever, Socialism' 14 February near Santa Maria del Mar, Cuba. (Photo credit: ADALBERTO ROQUE/AFP/Getty Images)