Recent books that are sure to add to your intelligence.
A women reads a book under the sun in the Luxembourg gardens in Paris. (Photo credit: MIGUEL MEDINA/AFP/Getty Images)
Summer is a season for relaxation and folly but can also be a time to sharpen your brain against some stimulating literature. These books may not be everyone's idea of beach reading but they are sure to spark up your intelligence. While the list of the smartest books ever would likely be a Sisyphean and ultimately fruitless undertaking, here are some recently released choices.
1. "The Order of Time" by the Italian theoretical physicist Carl Rovelli is an exploration of time that has been called "dizzying" by the Guardian. This compact read from Rovelli, one of the founders of loop quantum gravity theory, "uses literary, poetical and historical devices to unravel the properties of time, what it means to exist without time and, at the end, how time began," writes Scientific American.
2. Director David Lynch's "Room to Dream" is biography and memoir at once by one the most wonderfully weird of all filmmakers. The book includes Lynch's reflections that the New York Times called "impressionistic and free-associative" as well as "impressively industrious and comprehensive" biographical portions written by the collaborator Kristine McKenna. Also in the book are over a hundred new interviews with ex-wives, family members and colleagues across various fields. If you're a Lynch fan, this is book is a must-read.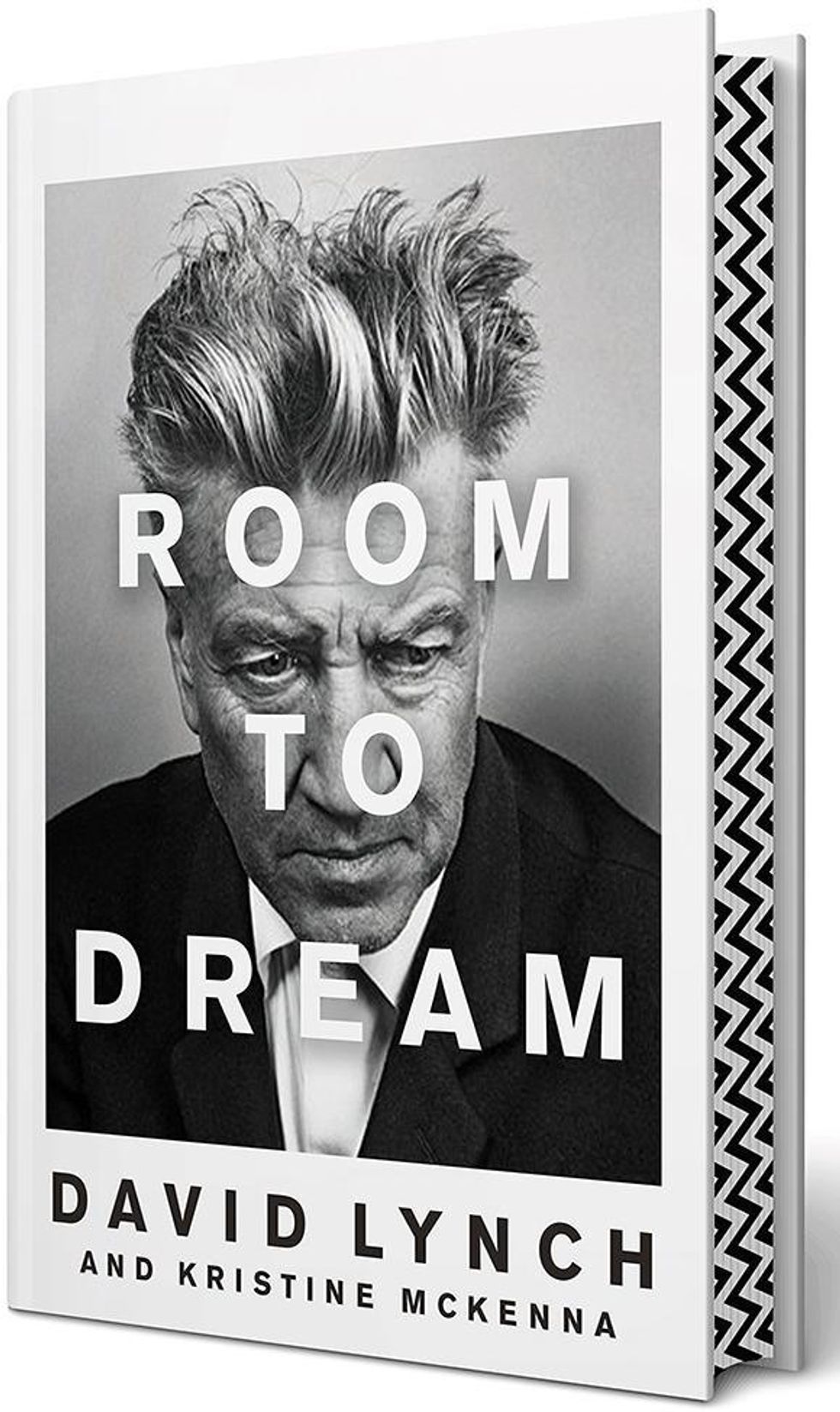 3. "The Rise and Fall of the Dinosaurs: A New History of a Lost World" by Steve Brusatte is a new take on 200 million years of dinosaur history, from their origins to dominance in the Jurassic age and the subsequent demise. The book, called "first-rate science writing for the general public" by Publisher's Weekly, features over 70 original illustrations and photos and comes from one of foremost modern paleontologists, Steve Brusatte.
4. "Leonardo Da Vinci" by Walter Isaacson is recommended by none other than Bill Gates who called the Renaissance artist and inventor "one of the most fascinating people ever." Gates found the book's meticulous research into Da Vinci's life remarkable, writing that "Isaacson does the best job I've seen of pulling together the different strands of Leonardo's life and explaining what made him so exceptional."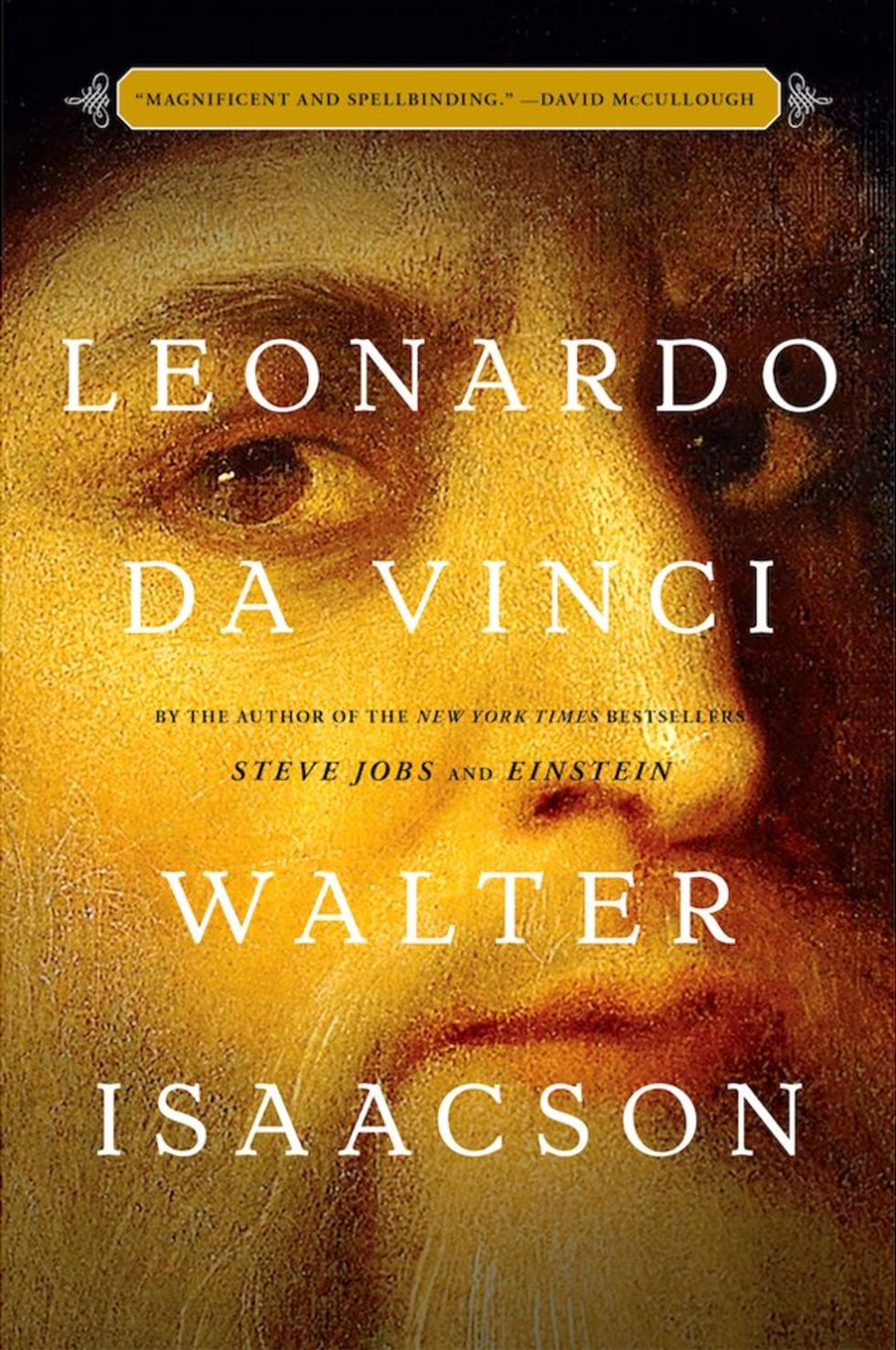 5. Stephen Pinker's "Enlightenment Now" is another book Bill Gates is keen on, calling it "my new favorite book of all time." The book has also been dubbed one of "Books to buy in 2018" by the Guardian. In this new effort, Pinker, the best-selling author, world-famous linguist and cognitive psychologist who teaches at Harvard, lays out a positive vision of Enlightenment and who it has shaped the modern world. He argues that the Enlightenment has brought reason, humanism and science to our lives which has led to unmistakable progress in loving longer and happier lives.
6. The author of the brilliant mind-opener "Einstein's Dreams," Alan Lightman returns with "Searching for Stars on an Island in Maine". This lyrical exploration of the spaces where science and the belief intersect and how one can balance spirituality and "materiality", with Lightman making the distinction that he's not talking about organized religion but "but the personal religious experience, or what one might call the transcendent experience." The book is an extended meditation like Hendry David Thoreau's "Walden" and draws on philosophers, theologians and writers, from Aristotle to St. Augustine to Emily Dickinson.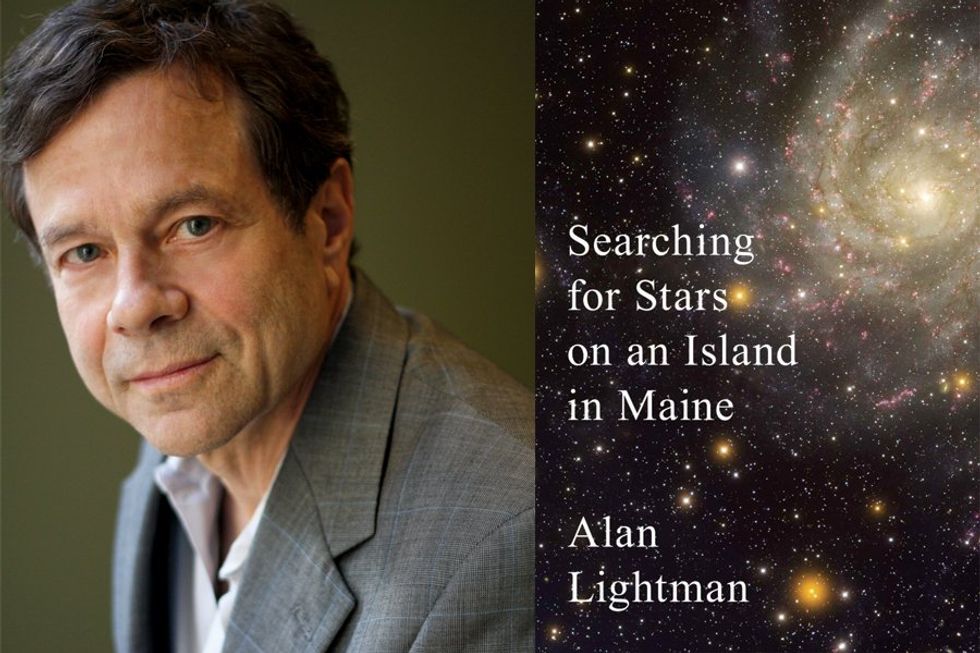 7. Deepak Chopra and Rudolph E. Tanzi's "The Healing Self: A Revolutionary New Plan to Supercharge Your Immunity and Stay Well for Life" shows that many chronic diseases begin years before showing major symptoms. The book from the world renowned integrate medicine pioneer Deepak Chopra and Harvard University's Professor of Neurology Dr. Rudolf E. Tanzi focuses on how to care for our bodies, improve immunity and prevent dangerous inflammations while aging gracefully.
8. "Origin Story: A Big History of Everything" by historian David Christian is a new history of the universe, looking at defining events over the entire 13.8 billion years, with an attempt to redefine our place in the cosmos. The Wall Street Journal called his effort to question the origins of our world and the hidden threads that define it "excellent".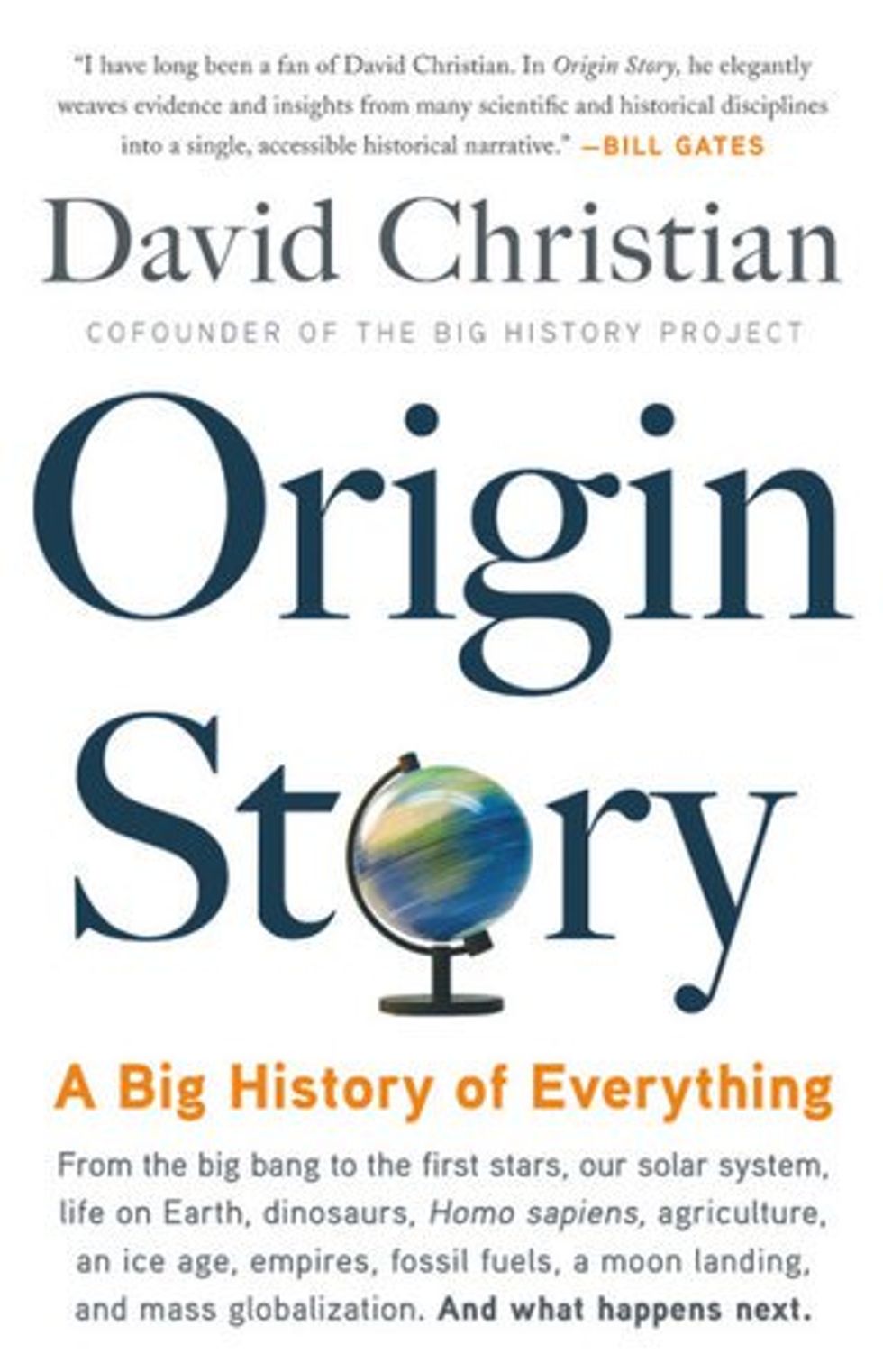 9. The Future of Humanity: Terraforming Mars, Interstellar Travel, Immortality, and Our Destiny Beyond Earth" by the theoretical physicist Michio Kaku looks at the next steps for humans towards a number of scientific frontiers. He considers new ideas in astrophysics, AI and other tech and proposes how exactly human can finally move away from Earth and develop a sustainable civilization among the stars.
10. "Factfulness" by Hans Rosling. Bill Gates called this book by the late profession of international health and TED talk superstar Rosling, ""One of the most important books I've ever read―an indispensable guide to thinking clearly about the world." The book looks at how and why we make cognitive mistakes that skew our perception of the world, an indispensable wake-up call in the age poisoned by claims of "Fake News" and rampant misinformation.
Is high IQ really something that can genuinely turn people on? Apparently so — but only to a certain point.
Pixabay
Putting sapiosexual memes aside, is high IQ really something that can genuinely turn people on? According to a new study from the University of Western Australia - yes. There is a caveat, however — above a certain threshold, the effects start to wear off.
The authors of the study Some people are attracted sexually to intelligence: A psychometric evaluation of sapiosexuality wanted to know how exactly desirability of a potential partner changes across various levels of intelligence. In addition, they wanted to finally come up with a reliable measure to prove the existence of the sapiosexual creature (a.k.a. the "sapiosexual psychological construct"), to whom "intelligence is a genuine turn-on" and not simply a desirable trait due to the associated perks.
Previous research has shown that when it comes to the traits people look for in a potential partner, intelligence is second only to "kind and understanding." Few studies, however, explore exactly how much intelligence is required and how desirable it is. 
So far, there are four main hypotheses about the social value of intelligence. One of them, the so-called "threshold IQ hypothesis," posits that for all romantic, creative, academic, and professional intents and purposes, the social value of intelligence does not extend further than an IQ of approximately 120. After this threshold, intelligence becomes "sufficient enough" and other factors, such as personality take center stage. 
A similar hypothesis takes an even more conservative threshold of an IQ of a 100. A third one accepts a linear relationship between intelligence and its social value, while the fourth hypothesis sees an exponential increase of the social value of intelligence above the 90th percentile (as shown empirically, for example, when looking at the relationship between SAT scores and income within a sample of the top 1% of intellectual ability).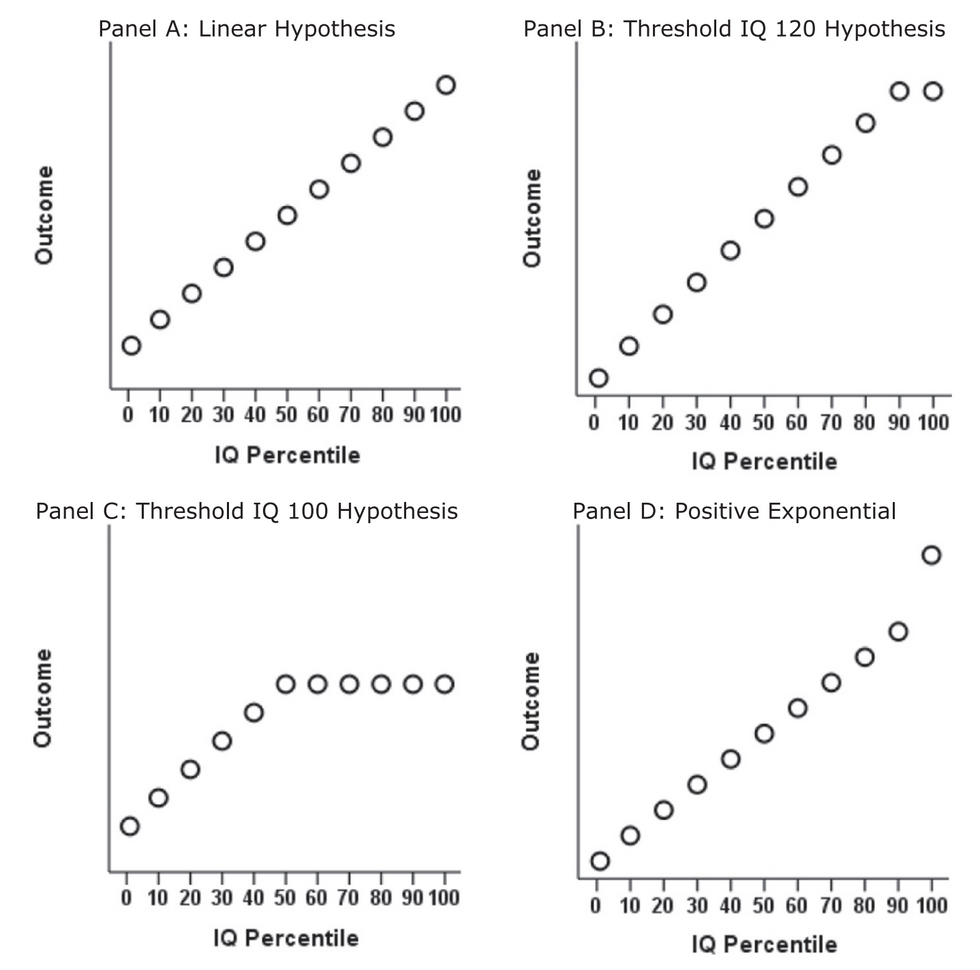 Types of theoretical associations between intelligence and socially advantageous outcomes. / Credit: Intelligence
The latest study was done with 383 participants with a mean age of 25 and a mean IQ of 108. Yet again, intelligence was rated second only to kindness and understanding, when participants were asked to rate the traits they want in a partner. When it came to the desirability of each level of intelligence, the results supported the threshold IQ 120 hypothesis. It appears that while the 90th intelligence percentile is the most sexually attractive and the most desirable in a partner, after that point attraction not only stops increasing, but actually declines.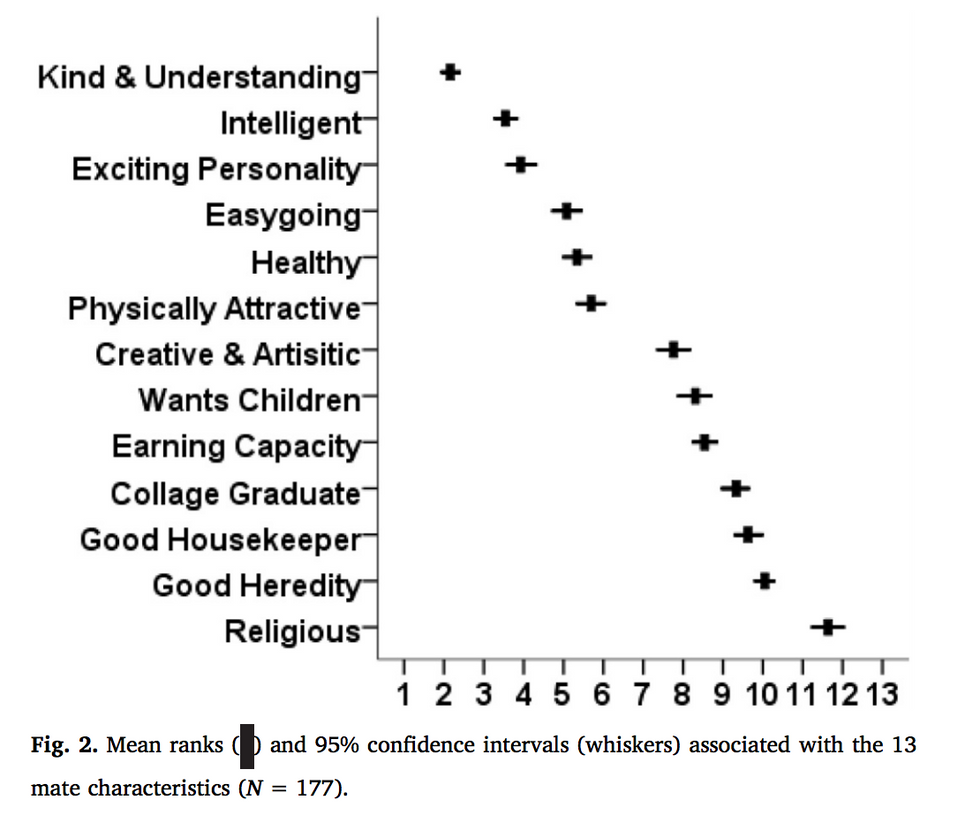 The researchers provide a possible explanation to this phenomenon:  
"[I]t may be the case that some participants in this investigation appealed to the stereotype that highly intellectually abled people suffer from inter-personal problems, when they evaluated the 99th intelligence percentile item. Extreme levels of intelligence may not be the only trait that invokes negative stereotypes. That is, some people may rate very high levels of several socially desirable attributes as somewhat less attractive (e.g., physical attraction, kindness, wealth, etc.), because they may fear a lack of compatibility with the prospective partner, or that such extreme traits may be associated with corresponding less attractive characteristics."
Finally, the authors created and administered the first Sapiosexuality Questionnaire (SapioQ) featuring items like "Listening to someone speak very intelligently arouses me sexually." The results gave "some plausibility for the sapiosexuality construct," showing a normal distribution of the trait. In other words, about 8% of the respondents could be considered sapiosexual with women scoring slightly higher on the scale.
In light of the results, it should also be noted that other studies have seen that the minimum level of intelligence required of a mate can change depending on our intentions. For example, a single date was associated with a minimum intelligence expectation of approximately the 50th percentile, while marriage boosted that minimum with 15 additional percentage points. Interestingly, in this study there was one major difference between males and females. When it came to the one-night-stand scenario, males' minimum intelligence requirement dropped to the 41st percentile, while females' rose to the 55th.
Albert Einstein's famous thought experiments led to groundbreaking ideas.
Albert Einstein during a lecture in Vienna in 1921. Photo by F. Schmutzer.
Albert Einstein is widely considered one of the smartest people who ever lived, significantly impacting our understanding of the world around us. His General Theory of Relativity has redefined what we know about space and time and is one of the pillars of modern physics. What's also remarkable about Einstein's achievements is that they relied largely on his mental powers and the intricacy of his imagination. He was able to discern and relate very complex scientific concepts to everyday situations. His thought experiments, that he called Gedankenexperiments in German, used conceptual and not actual experiments to come up with groundbreaking theories.
CHASING A BEAM OF LIGHT
One of Einstein's most famous thought experiments took place in 1895, when he was just 16. The idea came to him when he ran away from a school he hated in Germany and enrolled in an avant-garde Swiss school in the town of Aarau that was rooted in the educational philosophy of Johann Heinrich Pestalozzi, which encouraged visualizing concepts. 
Einstein called this thought experiment the "germ of the special relativity theory." What he imagined is this scenario - you are in a vacuum, pursuing a beam of light at the speed of light - basically going as fast as light. In that situation, Einstein thought, that light should appear stationary or frozen, since both you and the light would be going at the same speed. But this was not possible in direct observation or under Maxwell's equations, the fundamental mathematics that described what was known at the time about the workings of electromagnetism and light. The equations said that nothing could stand still in the situation Einstein envisioned and would have to move at the speed of light - 186,000 miles per second.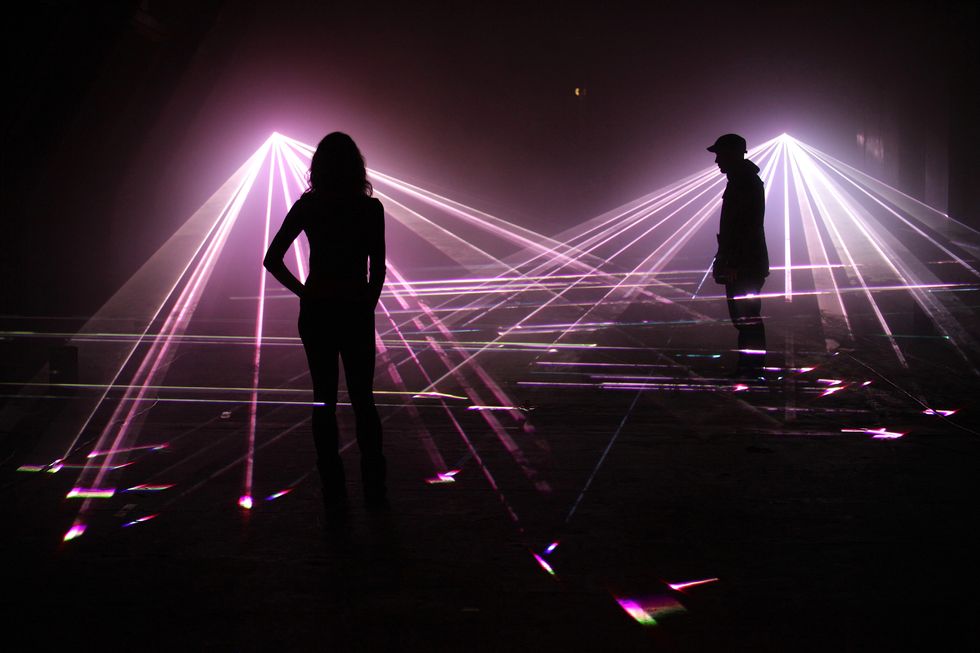 Artists pose in a laser projection entitled 'Speed of Light' at the Bargehouse on March 30, 2010 in London, England. (Photo by Peter Macdiarmid/Getty Images)
Here's how Einstein expanded on this in his Autobiographical Notes:
"If I pursue a beam of light with the velocity c (velocity of light in a vacuum), I should observe such a beam of light as an electromagnetic field at rest though spatially oscillating. There seems to be no such thing, however, neither on the basis of experience nor according to Maxwell's equations. From the very beginning it appeared to me intuitively clear that, judged from the standpoint of such an observer, everything would have to happen according to the same laws as for an observer who, relative to the earth, was at rest. For how should the first observer know or be able to determine, that he is in a state of fast uniform motion? One sees in this paradox the germ of the special relativity theory is already contained."
The tension between what he conceived of in his mind and the equations bothered Einstein for close to a decade and led to further advancements in his thinking.
LIGHTNING STRIKING A MOVING TRAIN
A 1905 thought experiment laid another cornerstone in Einstein's special theory of relativity. What if you were standing on a train, he thought, and your friend was at the same time standing outside the train on an embankment, just watching it go by. If at that moment, lightning struck both ends of the train, it would look to your friend that it struck both of them at the same time.
But as you are standing on the train, the lighting that the train is moving towards would be closer to you. So you would see that one first. It is, in other words, possible for one observer to see two events happening at once and for another to see them happening at different times. 
"Events that are simultaneous with reference to the embankment are not simultaneous with respect to the train," wrote Einstein. 
The contradiction between how time moves differently for people in relative motion, contributed to Einstein's realization that time and space are relative.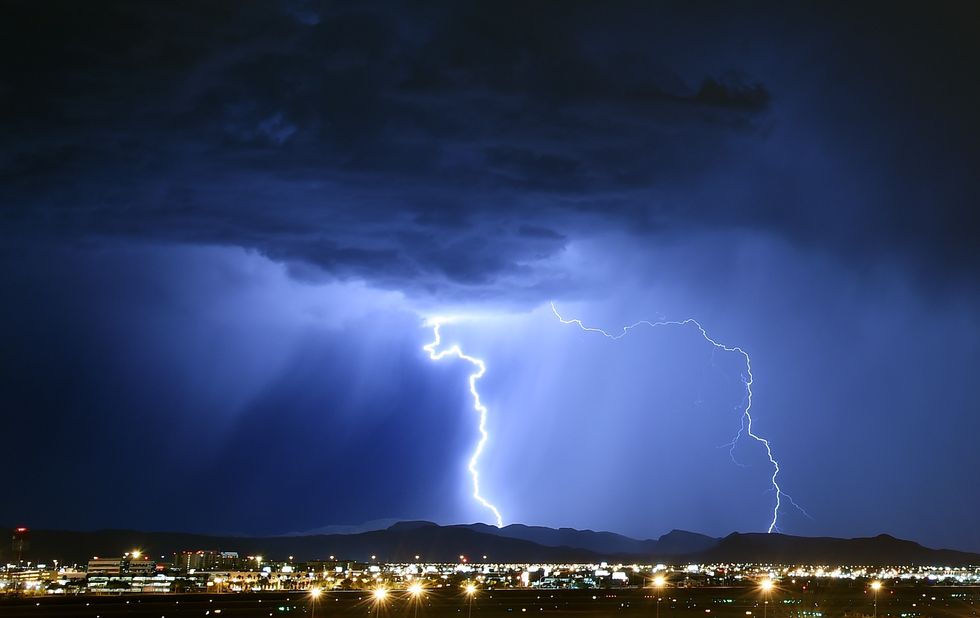 Lightning strikes during a thunderstorm on July 6, 2015 in Las Vegas, Nevada. (Photo by Ethan Miller/Getty Images)
MAN IN FALLING ELEVATOR
Another thought experiment led to the development of Einstein's General Theory of Relativity by showing that gravity can affect time and space. Here's how he described it happened:
"I was sitting in a chair in the patent office at Bern when all of a sudden a thought occurred to me," he remembered. "If a person falls freely, he will not feel his own weight." He later called it "the happiest thought in my life."
A 1907 thought experiment expanded on this idea. If a person was inside an elevator-like "chamber" with no windows, it would not be possible for that person to know whether he or she was falling or pulled upward at an accelerated rate. Gravity and acceleration would produce similar effects and must have the same cause, proposed Einstein. 
"The effects we ascribe to gravity and the effects we ascribe to acceleration are both produced by one and the same structure," wrote Einstein.
One consequence of this idea is that gravity should be able to bend a beam of light - a theory confirmed by a 1919 observation by the British astronomer Arthur Eddington. He measured how a star's light was bend by the sun's gravitational field.
THE CLOCK PARADOX AND THE TWIN PARADOX
In 1905, Einstein thought - what if you had two clocks that were brought together and synchronized. Then one of them was moved away and later brought back. The traveling clock would now lag behind the clock that went nowhere, exhibiting evidence of time dilation - a key concept of the theory of relativity.
"If at the points A and B of K there are clocks at rest which, considered from the system at rest, are running synchronously, and if the clock at A is moved with the velocity v along the line connecting B, then upon arrival of this clock at B the two clocks no longer synchronize but the clock that moved from A to B lags behind the other which has remained at B," wrote Einstein. 
This idea was expanded upon to human observers in 1911 in a follow-up thought experiment by the French physicist Paul Langevin. He imagined two twin brothers - one traveling to space while his twin stays on Earth. Upon return, the spacefaring brother finds that the one who stayed behind actually aged quite a bit more than he did.
Einstein solved the clocks paradox by considering acceleration and deceleration effects and the impact of gravity as causes of the for the loss of synchronicity in the clocks. The same explanation stands for the differences in the aging of the twins. 
Time dilation has been abundantly demonstrated in atomic clocks, when one of them was sent on a space trip or by comparing clocks on the space shuttle that ran slower than reference clocks on Earth.
How can you utilize Einstein's approach to thinking in your own life? For one - allow yourself time for introspection and meditation. It's equally important to be open to insight wherever or whenever it might come. Many of Einstein's key ideas occurred to him while he was working in a boring job at the patent office. The elegance and the scientific impact of the scenarios he proposed also show the importance of imagination not just in creative pursuits but in endeavors requiring the utmost rationality. By precisely yet inventively formulating the questions within the situations he conjured up, the man who once said "imagination is more important than knowledge" laid the groundwork for the emergence of brilliant solutions, even if it would come as a result of confronting paradoxes.
There are three types of intelligence that are necessary for success in life, says the noted psychologist Robert Sternberg.
credit: Pixabay
How do we know someone is intelligent? Is it their ability to ace tests or crunch numbers? Psychologist Robert J. Sternberg sees intelligence not as a narrow, monolithic quality that makes you good at chess or getting top grades, but as an interplay between the analytical, practical and creative aspects of your mind. He calls this "the Triarchic theory of intelligence."
Analytical intelligence is what you probably imagine it is - the pure brain power with which you process information. It is invoked when you need to analyze something or solve problems. This is the type of braininess measured by IQ tests, which in Sternberg's view are woefully inadequate in determining someone's overall intelligence as they focus only on the analytical side. 
Creative intelligence comes into play when people need to think creatively and adjust effectively to new situations. This kind of intelligence is also responsible for synthesizing information and gaining insights. Another way to think about this is having the ability to use the knowledge and skills you already have to manage novel or unusual situations. 
Practical intelligence involves the ability to deal with daily tasks in the real world. You can call it "street smarts" that show how well a person relates to the external environment. It is also directed towards goals which seek to adapt to or transform the world around you. "Intelligent behavior involves adapting to your environment, changing your environment, or selecting a better environment," wrote Sternberg.  
When you measure this type of intelligence, you are looking not just for mental prowess, but factors such as emotion and attitude that also influence how well the person makes decisions. A leader, who has a strong ability to understand and motivate people as well as to delegate responsibility to the right individuals would score high in practical smarts. 
An important aspect of practical intelligence is the ability to learn. To gain knowledge, it's not enough to have experiences, but to glean from them the key information that can be adapted in other situations. 
Sternberg, who is a professor at Cornell University, sees an intelligent person as someone who can find the right balance between the different mental abilities while they solve problems they encounter. Sternberg also believes that it's possible to excel in more than one type of intelligence. Many people use all three at a high level. This can often be the reason for their success in life.
In an interview, Sternberg points out that people who reach success are usually the ones who "found something they do really well". And that area of excellence can really vary from person to person. It's also important, according to Sternberg, to identify what you don't do so well and find help to make up for those deficiencies. 
Here's how Sternberg explains his views on intelligence:
I prefer to refer to it as "successful intelligence." And the reason is that the emphasis is on the use of your intelligence to achieve success in your life.   So I define it as your skill in achieving whatever it is you want to attain in your life within your sociocultural context. Meaning that people have different goals for themselves, and for some it's to get very good grades in school and to do well on tests, and for others it might be to become a very good basketball player or actress or musician. So, it's your skill in obtaining what you want in life within your sociocultural context [which] means that if you want to be an axe murderer it wouldn't count--by capitalizing on your strengths and compensating for, or correcting, your weaknesses.
While adapting to weaknesses is one smart thing to do, another is to know when to quit. Sternberg points out that to be "successfully intelligent means knowing when you're in the wrong place at the wrong time - the wrong job, the wrong relationship, the wrong place to live." 
It's also worth noting that being considered intelligent in one culture does not necessarily mean you're intelligent in another, according to Sternberg. Whatever your circumstances, you just have to find the best place and activity for you to maximize your abilities.
Initially driven by his distaste for tests in developing a broader model of intelligence, Sternberg developed his own measure of how a person uses intelligence under his model. Check out a study on the effectiveness of the Sternberg Triarchic Abilities Test (STAT). You can also read Sternberg's book on the Triarchic theory of intelligence. 
High school junior Caitlin is worried. She wants to be a scientist but is struggling with it a little bit in school—is there hope for her career?
What do you do if you're a diehard science lover who dreams of one day donning a lab coat professionally, but you're struggling with the work at school? That is Caitlin's predicament—but that's not how Bill Nye sees it. Your school classes may not come naturally to you, but that's because science is a skill, not a talent. No one is born a scientist, it is something you become over time with hard work, and if perhaps biology isn't hitting home with you, you may find your groove in astronomy. Physics isn't for everyone, but chemistry might be your match. The point is, there is a kind of science for everyone. So to change the world as a scientist, here's what you have to do: #1. Don't give up before it's begun. #2. Study hard and get to college. #3. Practice science as a way of thinking (and algebra specifically) to develop abstract thinking skills. #4. Find the field in which you belong, and start to chip away at change. Bill Nye's most recent book is Unstoppable: Harnessing Science to Change the World.