So much of the world you know was made possible by Intel founder Robert Noyce, co-inventor of the integrated circuit.
In this awe-inspiring short documentary, Michael Malone, author of The Intel Trinity, traces the history of Silicon Valley technology, starting with the integrated circuit, invented by Intel co-founder Robert Noyce.
Ever wondered how Moore's Law came about, and who it's named after? Gordon Moore, Intel's other founder and the law's namesake, explains the remarkable growth and improvements to quality of life made possible by the integrated circuit.
With quantum computing on the horizon, there's no telling how technology will change humanity in the next decades. That's a cause for excitement, and trepidation; new technology requires new cautions.
If you're a great engineer, you can get ahead in Silicon Valley — to a certain extent.
Silicon Valley prides itself on rewarding good engineers, regardless of gender or race. But that may not actually reflect reality.
The Valley started out as a Mad Men-esque place, where women in particular were excluded. That culture still persists in the form of venture capitalists funding many of today's startups.
Furthermore, many in Silicon Valley fail to acknowledge how becoming a startup founder is often restricted to certain groups of people and how more diversity can ultimately result in a better product or service.
How did psychedelics and computers converge?
Steve Jobs was influenced by an important counterculture and computing periodical.
San Francisco went from hippie haven to technological hub in the years that followed the 1960s.
The Homebrew Computer Club was founded by a draft resister and spawned dozens of tech companies.
There is a lot of confused historical misrepresentation when it comes to the 1960s counterculture. Far from being just a populist barefoot romp in the hippie mud, the 1960s was one of the most transformational time periods we've ever experienced. Characterized by a continuation of 1950s beatnik and Buddhist sensibilities, bohemian experiments in alternative ways of life, psychedelic experiences and an anarchist anti-authority bent, the sixties had it all. It seems that even the roots of our computational world stems from this unruly and fascinating time.
There is much more to this era than the minimal fodder that is dolled out as counterculture history to the populace usually served in weak pop-song aphorisms and fading tie-dye shirts.
One such point lost to many has been the undeniable relation between the counterculture and Silicon Valley or rather the computing age itself. This has been a central idea explored by a number of historians and authors.
The Making of a Counter Culture
Written in 1969, about the same time the reality of the flower child was transmigrated into a caricature on a suburban television set, scholar Theodore Roszak was explaining to the world just what the hell happened in the past decade or so. It was within this book that he coined the term "counterculture".

He also came across a startling connection later on in his years. In an essay written in 1985 titled 'From Satori to Silicon Valley', Roszak traced the interconnection between the computing era and the counterculture.
In a revised edition on the topic in 2000, Roszak remarked that when he'd first written the essay he hadn't realized how much the times had changed since he first wrote The Making of a Counter Culture. He reprinted this exchange with a student.
"Where's Satori?"
"What?" I asked.
"Your lecture is called 'From Satori to Silicon Valley,' " he explained. "I know where Silicon Valley is. But where's Satori?"
"The Zen state of enlightenment ... you never heard of that?"
"Oh. I never took any courses in Oriental religion "
I started to explain the term, spelling out its once obvious connection with the counterculture of the sixties.
"Counter culture," he interrupted. "That's ... hippies. All like that."
Suddenly I felt one hundred years old
Only a few decades past the sixties and it seems like this caricature of an era had already caught on. Roszak lamented in this continued parody muddling up such a complex and nuanced cultural milieu.
.. If we were to fix upon this one aspect of the counterculture -- its mystic tendencies and principled funkiness -- we would not be doing justice to the deep ambiguity of the movement. We would be overlooking the allegiance it maintained, for all its vigorous dissent, to a certain irrepressible Yankee ingenuity, a certain world-beating American fascination with making and doing.
For along one important line of descent, it is within this same population of rebels and drop-outs that we can find the inventors and entrepreneurs who helped lay the foundations of the California computer industry.
Connections in the Whole Earth Catalog
There was one very important piece of shared literature between the counterculture folk and early computerist experimenters. This was the Whole Earth Catalog. Pages back-to-back in this new age periodical showcased back-to-the-earth neolithic skill making and proto-futurist proclamations of a cybernetic future. The commune-dwelling adherent and technocrat were beginning to fuse. Roszak writes in 'From Satori to Silicon Valley':
... one finds a puzzling infatuation with certain forms of outrè technology reaching well back into the early sixties. I first became aware of its presence when I realized that the countercultural students I knew during that period were almost exclusively, if not maniacally, readers of science fiction… Similarly, if we turn back to the Whole Earth Catalog, we can find the same hybrid taste. Alongside the rustic skills and tools, we discover high industrial techniques and instruments: stereo systems, cameras, cinematography, and, of course, computers.
What the Dormouse Said
The New York Times reporter John Markoff, also explored this connection in greater depth with his book titled What the Dormouse Said. His book probes the connection in 1960s California between psychedelic drugs, political protest and new technologies.

Markoff documents throughout the book how many of the people were not mere spectators in the wild show going on around them, but active members of this special movement. Dormouse recounts the LSD experiments with Stanford computer scientists in the early 1960s, around the same time similar experimentation was going on when Dr. Timothy Leary and Richard Alpert (Ram Dass) had begun their infamous trials on the east coast at Harvard.
This overlooked period when the substance was legal arguably formed the most productive and eye-opening point of the counterculture when elites, scientists and intellectuals were partaking in psychedelic sessions.
Between 1961 and 1965, San Francisco Bay Area International Foundation for Advanced study led over 350 people through LSD sessions for research. Markoff points out that one of these participants was Douglas Engelbart, father of the computer mouse. One of his assistants was Stewart Brand, founder of the Whole Earth Catalog.
Brand bridged the gap between the rustic earthen grove and the infancy of cyberspace. In reference to filming a demonstration of the computer mouse in 1968, Brand spoke about his incessant need to get these technologies out to the populace at large:
"I was just endlessly impatient for all these things to come into the world, because I'd already seen it – the mouse and online typing, being able to mutually massage something on screen with another person, which even now is kind of difficult … [it was an] apparatus to augment the human intellect."

Steve Job's counterculture roots
In a Stanford commencement speech, Steve Jobs once mentioned the influence the Whole Earth Catalog had on him:
"The Whole Earth Catalog … was one of the bibles of my generation … it was a sort of like Google in paperback form, 35 years before Google came along. It was idealistic, and overflowing with neat tools and great notions."

There are a whole lot more of these interesting connections that Markoff also mentioned in his book:
... if you want to look at where the personal computer industry got started, probably 20 companies or more came directly out of the Homebrew Computer Club in the mid 1970s. And the counterculture connection is this: The Homebrew Club was co-founded by a young man, Fred Moore, who was a draft resister who was simply looking to find a way to get his own computer so that he could do organizing work. He felt that, if he had a database program, he would be more productive. So at least in that example the connection between the counterculture and the development of personal computer was directly cause-and-effect."

Even Timothy Leary changed his tune later on his life. From "turn on, tune in, drop out," Leary brought us from the screeching halt of the sixties counterculture power and into the new age:
"Turn on, boot up, jack in."
It's the first time the U.S. has fallen off the top 10 list since Bloomberg began its index.
Photo: innovationcompany.co.uk
South Korea again took first place in the Bloomberg Innovation Index, while the U.S. dropped out of the top 10 for the first time since the gauge began.
Bloomberg has been publishing its innovation index for six years, scoring countries across seven equally weighted categories:
Research and development intensity
Manufacturing value-added
Productivity
High-tech density
Tertiary efficiency
Researcher concentration
Patent activity
The U.S. dropped to 11th place this year, in part due to losses in the education-efficiency category, which measures the share of new science and engineering graduates in the labor force. And while American productivity increased, the U.S. was also docked points in value-added manufacturing, defined as the balance between inputs in the manufacturing process and the value of what results.
"I see no evidence to suggest that this trend will not continue," said Robert D. Atkinson, president of the Information Technology & Innovation Foundation in Washington, D.C., to Bloomberg. "Other nations have responded with smart, well-funded innovation policies like better R&D tax incentives, more government funding for research, more funding for technology commercialization initiatives."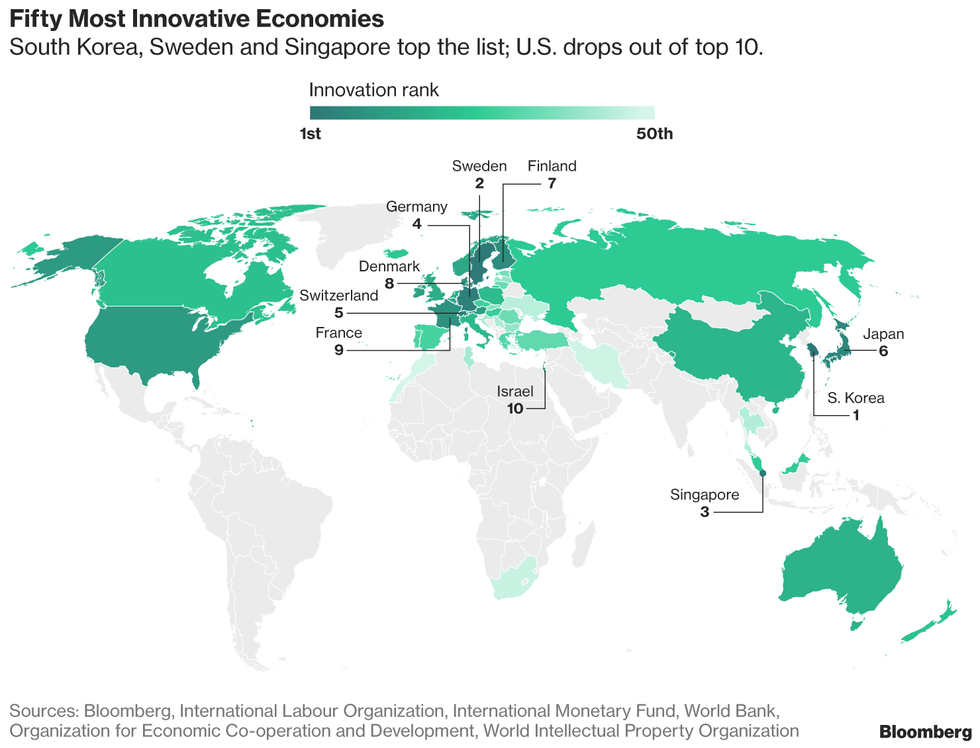 While the U.S. dropped rank, South Korea maintained its first-place slot on Bloomberg's innovation index for the fifth year in a row. What accounts for the East Asia nation's dominance?
For one, it's necessary to understand just how radical the country's economic transformation has been since the Korean War.
In the 1960s, South Korea was an agricultural-based society and one of poorest nations in the world. But thanks in part to national emphasis on increasing low-cost manufacturing exports, the evolution of Korean conglomerates like Samsung, and heavy investing into research and development, South Korea is now a global leader in innovation and the world's 11th largest economy.
"Korea has had to make its own path in a region where it competes with China's low labor costs, and Japan's high-tech, capital-intensive industries. Spending more on R&D than any other economy not only reflects a domestic consumer base with a high demand for new technological developments, but also the government's objective to build a creative economy," Kyle Ferrier, Director of Academic Affairs and Research at the Korea Economic Institute of America (KEI), told the German broadcaster DW.
Other notable changes from the previous year include Singapore jumping from sixth to third place, Sweden retaining its second-place slot, and Japan rising one spot to sixth. Check out other past-year changes below: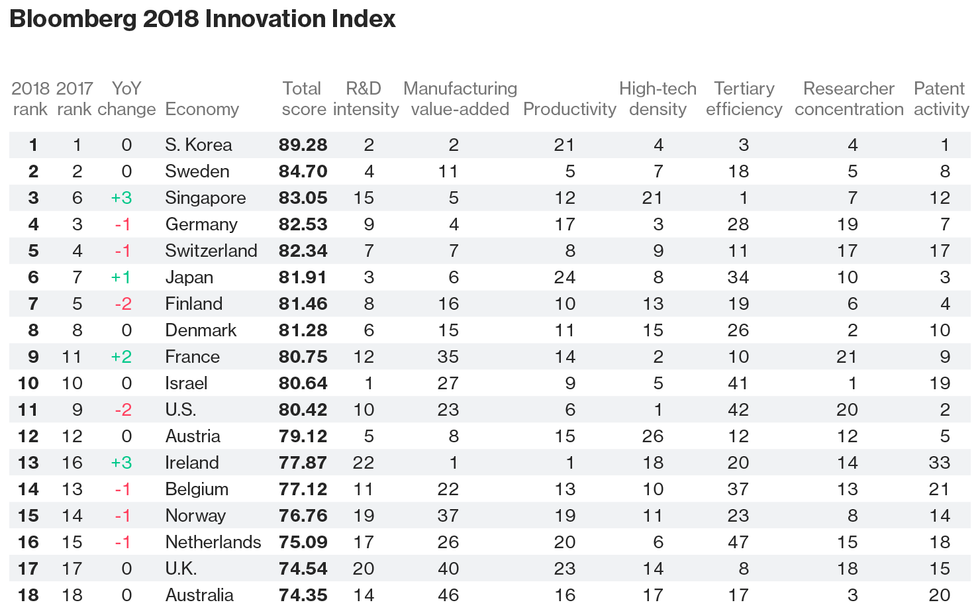 Should there be a ceiling to the ambitions of Silicon Valley? It seems like a decisive "no," according to the people who want to build new societies online, atop the ocean, and on Mars.
Artist rendering of SpaceX Mars colony
Richard Buckminster "Bucky" Fuller, an early 20th-century architect and visionary, believed it was possible to build floating cities called "Cloud Nines." The cities would be contained within geodesic domes — huge, spherical objects — and they'd be able to float by carefully adjusting the temperature of the interior air. Was it just fantasy? Perhaps. Even though he patented some of the technology and claimed in earnest that building such cities was possible, construction never broke ground (or air).
But what if "Bucky" had access to the Silicon Valley of today — to its startup accelerators, angel investors, and relentless drive to optimize? Could he at least have gotten a decent Kickstarter off the ground?
Today, similarly ambitious plans to transform societies are being dreamt up in Silicon Valley. The main difference is that the gap between fantasy and reality is closing, faster than you may realize.
Mars Colony
SpaceX founder Elon Musk said in September that he wants to render all of his company's vehicles — the Falcon 9, the Falcon Heavy, and the Dragon spacecraft — obsolete. Why? So he can build the BFR (Big Fucking Rocket), more politely known as Interplanetary Transport System.
"All our resources will turn toward building BFR," Musk said at the International Astronautical Congress. "And we believe we can do this with the revenue we receive from launching satellites and servicing the space station."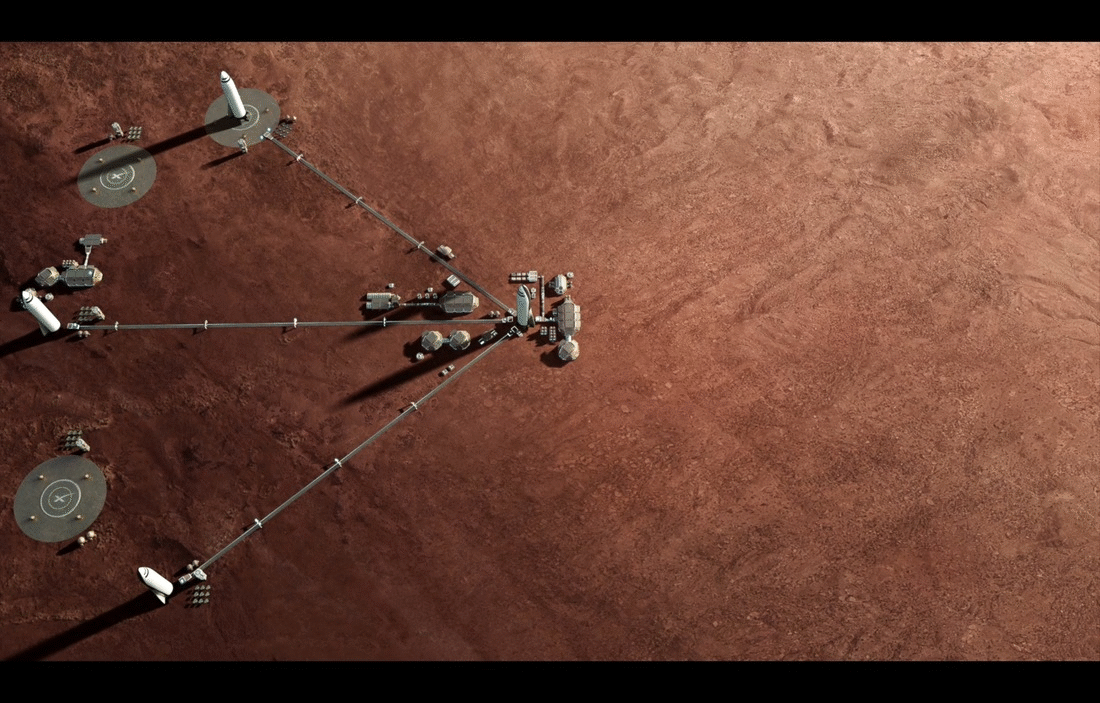 Artist's rendering of Mars colony for SpaceX
The BFR is intended to transport people to mars, where Musk hopes to build a permanent colony of more than 1 million inhabitants. He thinks the red planet could serve as a "backup drive" for Earth at the cost of $100,000 or $200,000 per person, all of whom would live in an (almost) self-sustaining city.
But exactly how people will survive there over the long term remains unclear. The main thing the SpaceX plan lacks, according to some spaceflight experts, is bioregenerative life support technology, which would take colonists' breath, liquid waste, and solid waste, and use plants to convert these into food, water, and air.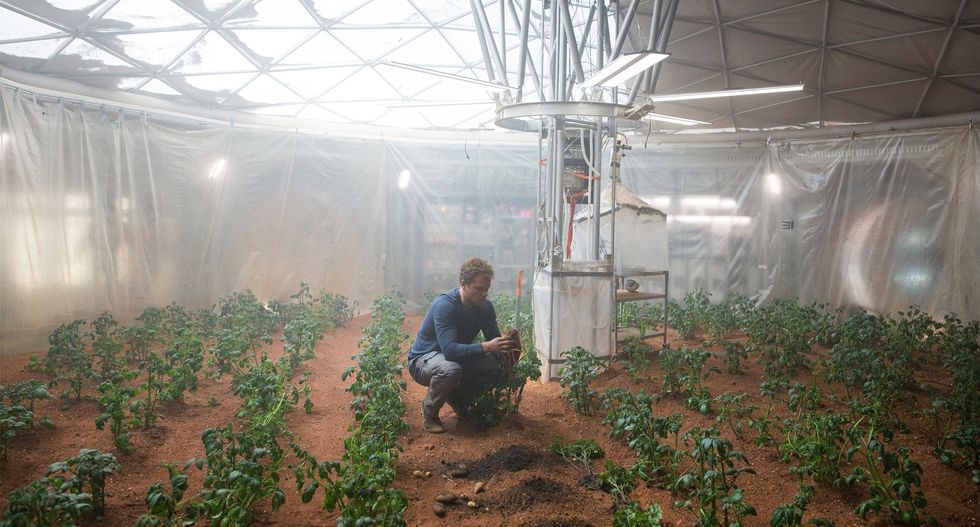 20th Century Fox's "The Martian"
SpaceX hopes to put people on Mars by 2024. But while you have to respect Musk's superhero-style goals, it's worth noting that SpaceX has a history of missing its own deadlines.
Opt-In Socieites
"Silicon Valley is both a place and an idea," said Netscape inventor Marc Andreessen.
Imagine if that idea — along with its institution-busting creations like Bitcoin and Uber — spread around the world and gave rise to new Silicon Valleys, creating online societies composed of and run by those with technological know-how.
Don't argue about regulation
Build Uber
Don't argue about monetary policy
Build Bitcoin
Don't argue about it
Build the alternative —@balajis pic.twitter.com/k1FhUtkpou
— Vala Afshar (@ValaAfshar) August 22, 2017
Smart Cities
By 2030, two thirds of the world will live in cities. Silicon Valley is anticipating that massive, creeping influx by looking into designing "smart cities" that would optimize everything from housing to transportation. 
Tech accelerator Y Combinator published a blog post detailing its smart city research project:
The first phase of this will be a YC Research project. We'll publicly share our results, and at the end of the process, we'll decide if it's something we should pursue and at what exact locations. We're seriously interested in building new cities and we think we know how to finance it if everything else makes sense.
The post went on to list the tactical questions that need to be answered:
How can we make and keep housing affordable? This is critical to us; the cost of housing affects everything else in a city.
How can we lay out the public and private spaces (and roads) to make a great place to live? Can we figure out better zoning laws?
What is the right role for vehicles in a city? Should we have human-driven cars at all?
How can we have affordable high-speed transit to and from other cities?
How can we make rules and regulations that are comprehensive while also being easily understandable? Can we fit all rules for the city in 100 pages of text?
What effects will the new city have on the surrounding community?
Some features of a smart city include fleets of driver-less cars (meaning no traffic jams or huge, expensive parking garages), seamless security through facial recognition, interconnected hospitals with shared patient records, and public broadband, to name just a few possibilities. 
It'd be a massive undertaking. But given that many cities worldwide are threatened by environmental changes, some might benefit from having Silicon Valley put its city-planning ideas to the test, as Ariel Schwartz writes for Business Insider:
So many of the world's greatest existing cities will have to consider moving inland in the coming years as they're overtaken by water. There will be so much room for new and better infrastructure to be built... Overly ambitious ideas are welcome.
Silicon Valley's New Socialism
Every robot added to the U.S. economy reduces employment by 5.6 workers, and each robot that is added to the workforce per 1,000 human workers causes wages to drop by as much as 0.25 to 0.5 percent, according to research published at the National Bureau of Economic Research.
In short, the robots are coming for our jobs and we haven't yet ironed out a plan for how we're going to accommodate all the displaced workers. One of the most discussed solutions is universal basic income (UBI), an economic plan that would guarantee every citizen a minimum income no matter what.
When I first began studying #basicincome I concluded we were going to need it tomorrow. With further study I realized we needed it yesterday pic.twitter.com/KcKUpIh5j2
— Scott Santens (@scottsantens) February 17, 2017