Valentine's Day has a surprisingly raunchy history, going back thousands of years.
The supposed skull of St. Valentine as displayed in Rome. Credit: Wikipedia.
Valentine's Day is named after St. Valentine, who has become known as the patron saint of lovers. He was a rather mercurial figure about whom little is known.
Who was St. Valentine and how did he come to bless lovers' hearts in the middle of February? One can imagine some combination of a cherubic Cupid and a saintly old man with a nice smile fulfilling that role. The truth is, of course, more complicated. First of all, there was more than one Saint Valentine. There were three.

All three men lived during the 3rd century A.D. Two lived in Italy—Saint Valentine of Rome and Saint Valentine of Terni—while the third resided in a Roman province in North Africa. So which Saint Valentine do we celebrate on February 14th? 
That would be the life of Saint Valentine of Rome who, far from being lucky in love on February 14th, was beheaded. Hardly a romantic ending. However, it's likely that the stories of several Valentines merged into one as 'Valentius' (meaning 'worthy,' 'strong' and 'powerful' in Latin) was a popular moniker at the time. Several martyrs ended up with that name.
The church itself has some doubts about what specifically happened in Saint Valentine's life. In 496 AD, Pope Gelasius I described St. Valentine as a martyr like those 'whose names are justly reverenced among men, but whose acts are known only to God.' Gelasius I understood how little was known about the saint when establishing February 14th as the day to celebrate Valentine's life.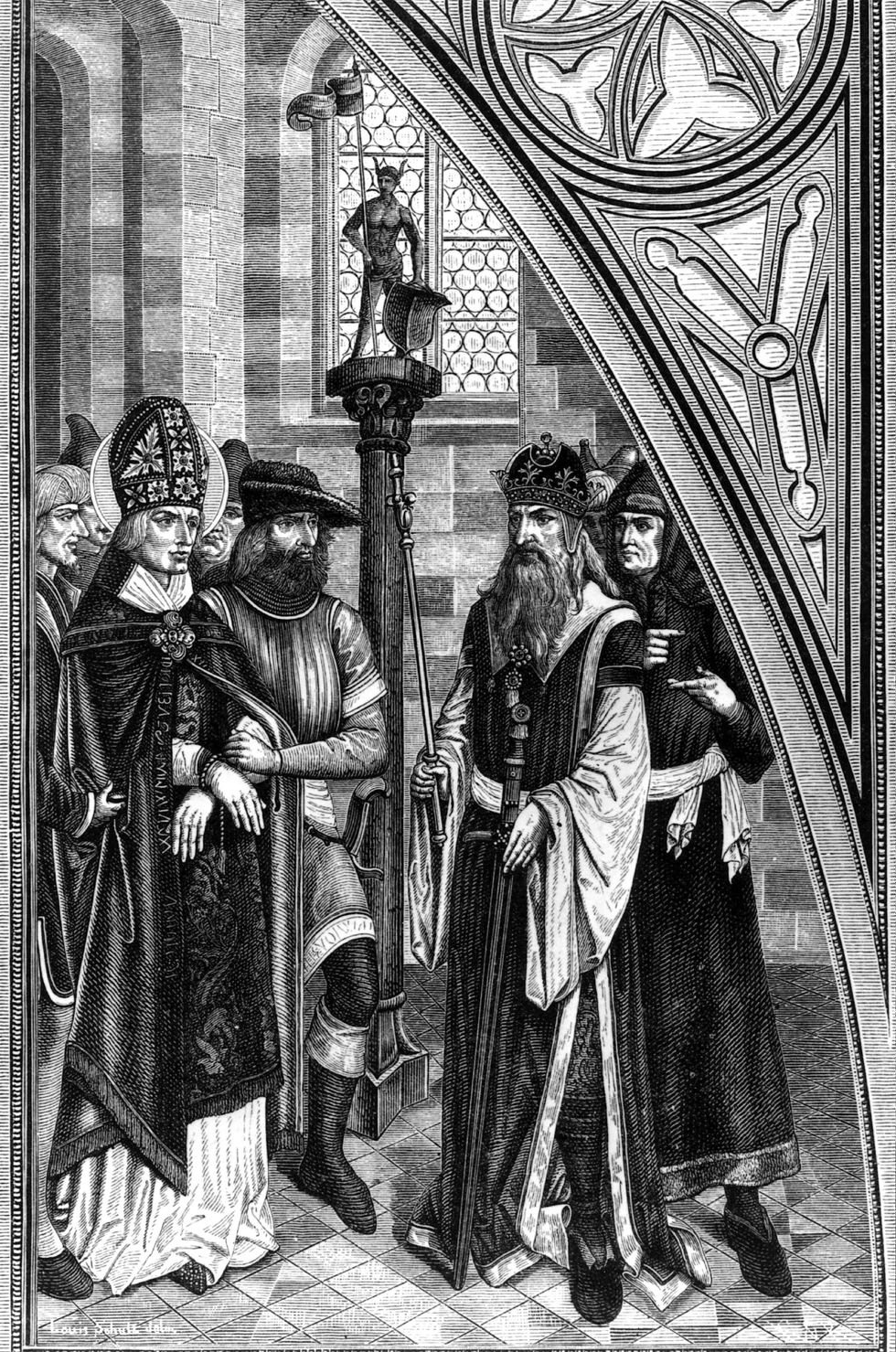 Circa 260 AD, The trial of St Valentine, patron saint of lovers. Original Artist: By Bart Zeitblom (Photo by Hulton Archive/Getty Images)
St. Valentine of Rome was supposedly a temple priest who was executed near Rome by the anti-Christian Emperor Claudius II. The crime? Helping Roman soldiers to marry when they were forbidden to by the Christian faith at the time. 
St. Valentine of Interamna (modern Terni, Italy) was a bishop who was also martyred. It is possible, however, that St. Valentine of Interamna and St. Valentine of Rome were the same person. One biography says that Bishop Valentine was born and lived in Interamna but during a temporary stay in Rome, he was imprisoned, tortured, and beheaded on February 14, 269 A.D. 
According to one historical account, the Roman Emperor went to such measures against Valentine because the saint tried to convert him to Christianity. This enraged Claudius, who tried to get Valentine to renounce his faith. The martyr refused, so the emperor ordered him beaten with clubs and stones, and subsequently executed him.
One (or two) St. Valentines are thought to be buried in a cemetery in the north of Rome. Little is known about the third Valentine in North Africa other than his supposed martyrdom.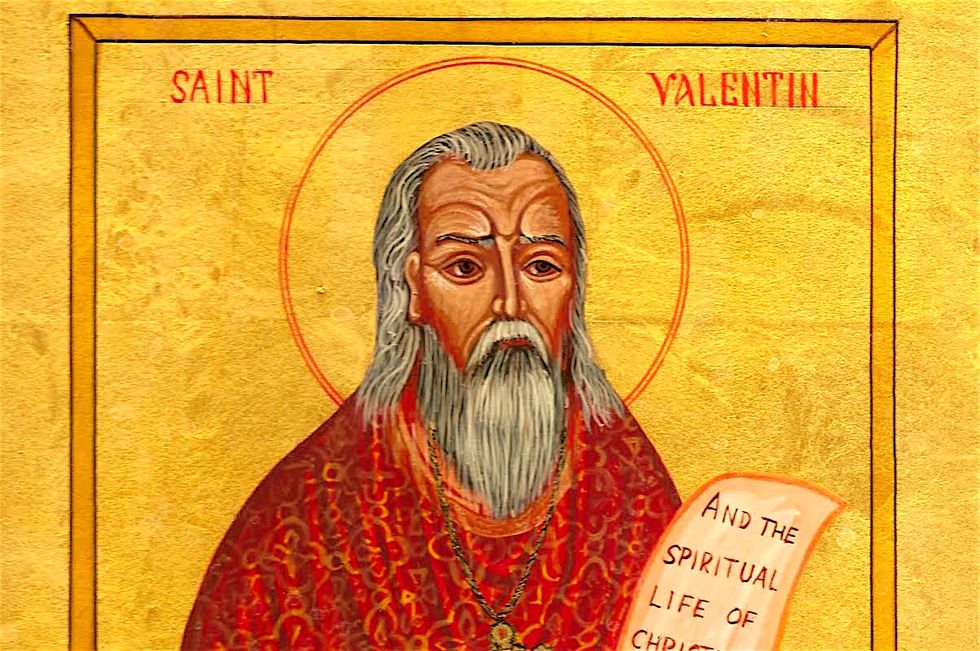 Saint Valentine.
How did we go from Christian martyrs to Hallmark cards? When Pope Gelasius I dedicated February 14th to the saint and martyr Valentine, he chose that date to replace the traditional Roman feast Lupercalia, a pagan festival popular at the time. Lupercalia was a fertility festival in honor of the god Faunus (Lupercus), the protector of sheep and goats from wolf attacks, as well as Lupa - the she-wolf who nurtured the orphans Romulus and Remus, associated with the founding of Rome by legend.
The pagan fertility celebration was marked by all manner of rituals like foot racing among naked men, covered in skins of sacrificed goats. Apparently, they would whip women staged along the race course as they ran. Another ritual required a child to pair couples at random who would have to live together and be intimate for an entire next year in order to fulfill the fertility rite. The church was eager to replace such practices with its own focus and St. Valentine became the saint of lovers.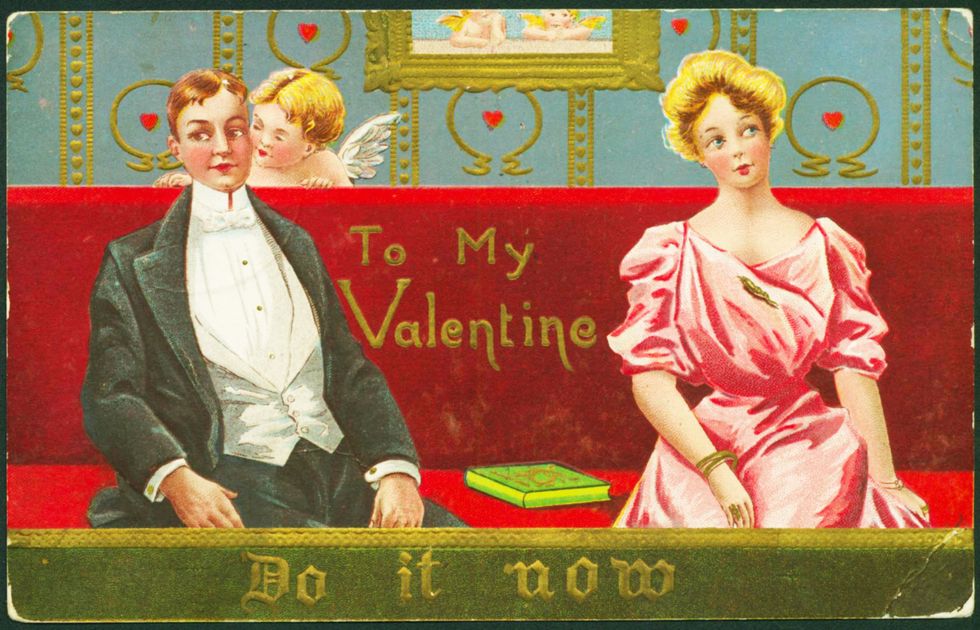 Valentine's Day card from early 20th century.
As St. Valentine's Day was spread to England and France by Benedictine monks, the practice started to acquire more modern characteristics in the Middle Ages. The poet Geoffrey Chaucer, in particular, is credited with spreading the notion of courtly romance through his writings, some dedicated to St. Valentine. 
Writing 'valentines' to your beloved is linked to that same time period, with the oldest such note dating to the 15th century. As reported by Italian Heritage, it was written by Charles d' Orléans, who was at that point held in the Tower of London, following his defeat at the Battle of Agincourt (1415). Charles wrote to his wife the words that translated to: "I am already sick of love, My very gentle Valentine".
Shakespeare also took part in popularizing the link between Valentine's Day and love, writing about St. Valentine's day in a romantic context as part of his "Midsummer Night's Dream".
Exchanging "valentines" or love notes (often heart-shaped) on Valentine's Day further spread throughout Anglo-Saxon countries in the 19th century. Large-scale marketing and production of greetings cards started with the Industrial Revolution as early as mid-19th century. This process of commercialization of the holiday continued, especially in the United States, during the 20th century, adding additional traditions like more elaborate love notes, with added gifts like chocolates, flowers and jewelry.
So while the original St. Valentine was likely tortured and beheaded on February 14th, his sacrifice for the Christian faith has become the Valentine's Day we have today.
--
The stories in Shakespeare's plays and 'Game of Thrones' are often bloody, but which are ultimately more violent?
Since its 2011 debut, Game of Thrones has sparked controversy over its graphic depictions of violence.
The show is notorious for killing off characters in savagely medieval ways — by sword, lance, knife, poison, molten gold, rats, dogs, crossbow, defenestration — while leaving little to imagination. Some critics have condemned the show's violence, particularly the scenes involving rape. But others have praised the show for accurately portraying the brutal realities of medieval life.
"First, Game of Thrones has always seemed a TV show, at its core, about presenting a more brutal and realistic vision than similar sword and sorcery epics like Lord of the Rings," wrote Eric Deggans for NPR.  "This is a series which tries to marry the most realistic vision of Medieval-era life with a fantasy world where dragons are real."
Critics might be split about the show's creative decisions, like including explicit rape scenes, having characters discuss key plot elements in the nude (sexposition, as coined by a critic of the show), or showing a pregnant woman getting stabbed in the belly five times. But what's uncontroversial is the fact that this kind of violence in popular culture is nothing new.
Violence in the works of Shakespeare
For some context, take a look at the history of what's considered Shakespeare's most graphic play, Titus Andronicus. The tragedy, loosely based on Roman history, is a vicious cycle of revenge between a queen, Tamora, and a general, Titus, both of whom are bent on killing and torturing each other's children.
In one scene, Tamora's sons take Titus' daughter Lavinia deep into the woods where they rape her, chop off her hands, and cut out her tongue so she won't be able to reveal what's happened. Here's Lavinia begging for a quick death before the scene:
Lavinia: O, keep me from their worse than killing lust
And tumble me into some loathsome pit,
Where never man's eye may behold my body:
Do this, and be a charitable murderer.
Tamora: So should I rob my sweet sons of their fee?
No, let them satisfy their lust on thee.
-- Titus Andronicus, Act II Scene ii, Lines 175-180
Sweet sons, indeed. 
Titus Andronicus is traditionally considered one of Shakespeare's worst plays, with violence so gratuitous that it borders on farce. But Titus was extremely popular when it came out in the late 16th century.
Audiences of this time, between the Elizabethan and Jacobean eras, seemed to have a penchant for tales of revenge, and it was common for productions to feature extreme violence. And this preference wasn't arbitrary. These plays reflected, at least in exaggeration, what life and society were really like, as theater scholar Jonas Barish wrote in his 1991 essay Shakespearean Violence: A Preliminary Survey:
"As long ago as 1940 (in Elizabethan Revenge Tragedy, 1587-1642) Fredson Bowers cited numerous instances of violent behavior in society at large—of private duels fought in disregard of the laws forbidding them, of grudge assassinations performed by hired ruffians, of the use of lingering poison and other stealthy forms of murder for disposing of one's enemies—to demonstrate that the playwrights who brought violence onto the stage were not being merely melodramatic, not merely catering to the appetite of their audiences for bloody deeds remote from their experience, but realistic as well."
Titus eventually fell out of fashion, and it would go largely ignored by production companies for generations. Two centuries later, in 1765, the English writer Samuel Johnson doubted whether a contemporary audience could even stomach the play:
"...the barbarity of the spectacles, and the general massacre which are here exhibited, can scarcely be conceived tolerable to any audience."
Then in 2006, decades after the play fell somewhat back in favor with critics and historians, a production of Titus at Shakespeare's Globe theater in the U.K. made headlines after causing some audience members to faint, feel sick and suffer sleepless nights.
Shakespeare's other plays contain brutal scenes, too. There's the eye-gouging in King Lear, the beheading in Macbeth, and the stabbing in Julius Caesar.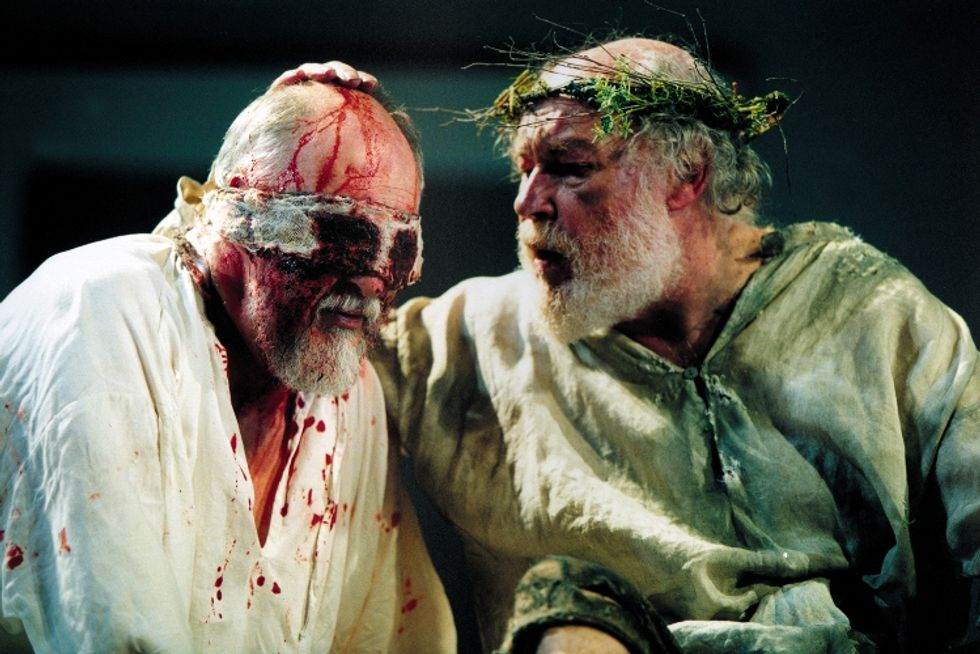 (Michael Cronin as the blinded Gloucester and Timothy West as Lear)
But how exactly does Shakespeare's violence stack up to Game of Thrones?
The answer depends on how you measure it: qualitatively or quantitatively.
Examining body count alone, Game of Thrones is far and away more violent, as evidenced by this video of every single death in the show, compiled by Digg.
For comparison, here's a chart showing the body count in Shakespeare's bloodiest plays:
With a body count in the thousands, Game of Thrones is markedly more violent than the plays of Shakespeare. Game of Thrones also probably dispenses with its characters in more ways than Shakespeare does (I've listed some of the most notable manners of death above). But that's not to say that Shakespeare was a one-trick killer, as this breakdown shows: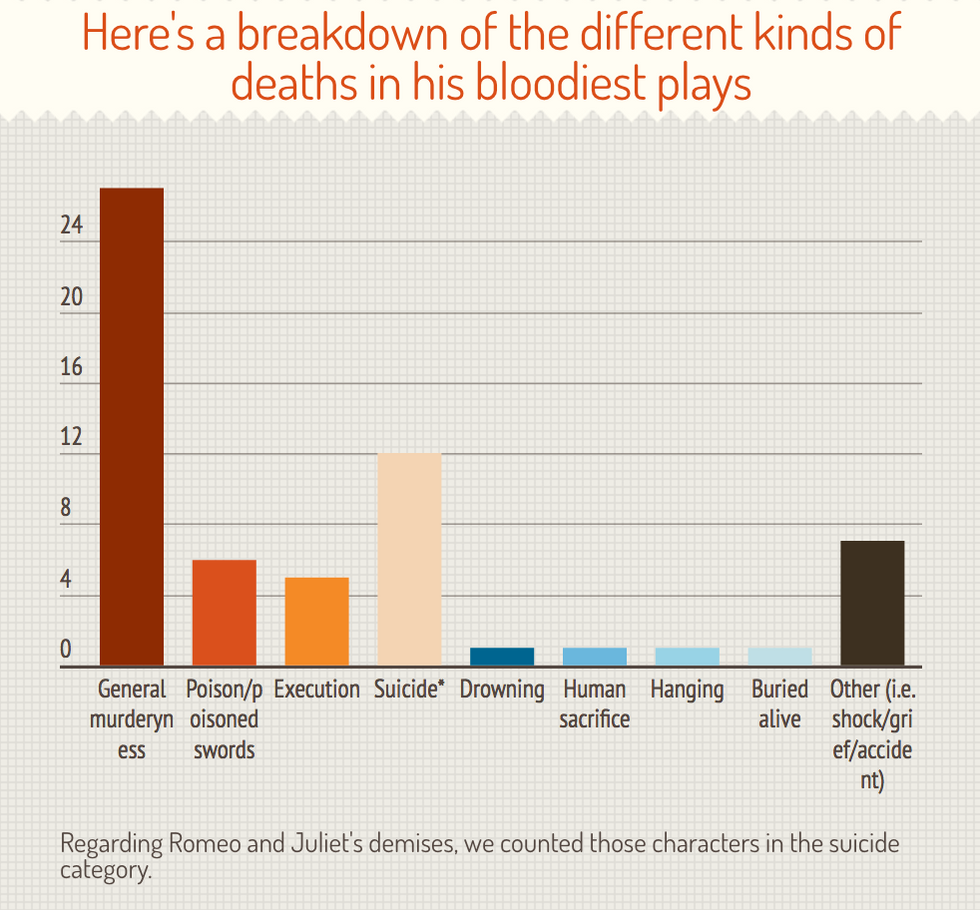 Qualitatively, deciding which set of stories is more violent is a matter of opinion. Are you more affected by the mutilation of Lavinia, or the torture scenes featuring Game of Throne's Ramsay Bolton? 
(I wonder where Reek stands?)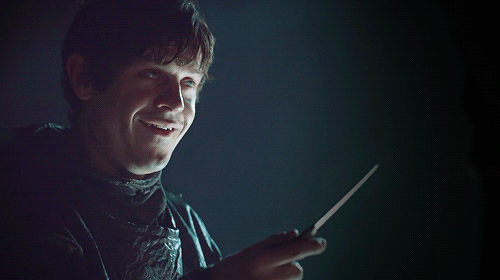 The answer might depend on medium. Is there any marked difference between witnessing violence on a stage versus on a screen?

That's exactly what the Royal Shakespeare Company and research firm Ipsos MORI want to test.
Researchers plan to monitor the heart rates of 30 audience members during three live performances of Titus Andronicus. Then a second group, similar in age, gender and theater experience, will have their heart rates recorded while watching a screening of the play at a movie theater.
"We want to see how the audience reacts physically to the production," said Becky Loftus of RSC. "Are people so used to things like (Quentin) Tarantino and Game of Thrones that they're not shocked anymore by theater magic, or theater blood and gore?"
The results are scheduled to be published in November.
How did our world come to be ruled by a view of human nature that contradicts the testimony of much of history, and the bulk of the arts, and your daily experience? Mathoholics are to blame.
Illustration by Julia Suits, The New Yorker cartoonist & author of The Extraordinary Catalog of Peculiar Inventions
1. History will puzzle over our era's ruling faith in rationalism. Behavioral economics is shaking that faith but as Nick Romeo notes, Plato described "cognitive biases" ~24 centuries ago.
2. And Plato is far from alone. Hasn't every realistic writer described humanity's everywhere-evident cognitive foibles? Except some math-obsessed economists?
3. Doesn't history, and the arts, and daily experience, testify against those hyper-rational individualists of econo-models?
4. For instance, here's Shakespeare on confirmation bias: "Trifles light as air / Are to the jealous confirmations strong / As proofs..."
5. The gist of many cognitive biases shouldn't surprise non-economists ("a bird in the hand is worth two in the bush" = "loss aversion").
6. Daniel Kahneman's cognitive-bias-cataloging Nobel involved studying grandmotherly wisdom (every psychologist knows we're "neither fully rational, nor completely selfish").
7. Beyond the fun of footnoting philosophy-founding dialogues with cognitive biases, Plato would have laughed at econo-rationalism.
8. And Plato saw money-lust as enslavement to irrational impulses (now driving mindless market priorities).
9. He knew we're irrationally persuadable. He hated sophists for teaching how to sell seductive surfaces over substance (marketing over product). Marketing, obviously, has always used cognitive biases (under-theorized).
10. Even as many economists declare that we're rational optimizers, businesses operate on the profitable principle that there's an easily manipulable fool born every minute.
11. But Plato abetted modern rationalism's rise by popularizing math-lust. 2,000 years later "falling in love with geometry" was an Enlightenment "occupational hazard." And today similar math-worship (for algebra + stats) drives economists to irrational math-oholic fantasies.
12. Largely unnoticed is how Plato's dialogues dramatize the shortcomings of "cognitive individualism."
13. Social cognition research shows that "individual knowledge is always remarkably shallow"—>"we never think alone."
14. Isn't it self-evident that we evolved to reason socially? Thinking, like every other significant aspect of human nature, evolved collectively and tribally (not econo-individualistically).
15. Intriguingly, while "confirmation bias" worsens solo thinking, it can improve group reasoning (other cognitive perspectives countering your biases—>don't think alone, or with cognitive clones).
16. Countering cognitive individualism is how science succeeds (bias-balancing processes).
17. That famed-science-institution motto "take no man's word for it," also applies to your own word. Feeling sure that you're right often isn't a reliable intuition. We fall in love with ideas and methods and become blind to our beloved's faults.
18. Math-method-loving economists strengthen faith in rationalism by routinely excluding "obvious empirical" facts if they're not equation friendly. This "equation filtering" begets "theory-induced blindness" (field-wide method-level bias).
19. This math-fashioned folly must misrepresent us for its beloved math model-making to work. Arguing that models, like maps, must exclude details, fails because here we're ignoring known roadblocks. There's no efficient-allocation market nirvana without rationally optimizing masses.
20. Beyond the matho-pathology of unbehavioral economics, misplaced faith in rationalism enabled Donald Trump's presidency. He grasps empirical psychology better than many rationalists. Every salesperson knows persuasion isn't factual or logical, but unavoidably emotional, and trust-dependent (see Aristotle on ethos, pathos, logos).
21. Ways of life that deny our deeply limited, deeply flawed, deeply social nature are doomed to history's dustbin.
Illustration by Julia Suits, The New Yorker cartoonist & author of The Extraordinary Catalog of Peculiar Inventions
We didn't mind Maureen Dowd's dismantling of (whatever remains of) the mythologizing of Dylan as a hero for/of protest. There was a moment in time when Dylan was hero for protest, but that time has passed mantle to a new moment, one with more lasting power: the one when he's a hero for poetry. The Times They Are a-Changin once possessed potential to effect change, but as Dylan the Anarchist slips from (most of) our minds, Dylan the Poet remains. Brilliant critics attest, as do brilliant books; still, this latest Dylan "moment" provides a chance for one glimpse at one song. If it weren't introduced to the world set to music, It's All Over Now, Baby Blue would certainly qualify as a fine poem.
Dylan's Lyrics Are Inherently Poetic
Consider this, from Baby Blue:
You must leave now, take what you need, you think will last
But whatever you wish to keep, you better grab it fast
Yonder stands your orphan with his gun
Crying like a fire in the sun
Look out the saints are comin' through
And it's all over now, Baby Blue.
That was the first stanza of four. Here is the last one:
Leave your stepping stones behind, something calls for you
Forget the dead you've left, they will not follow you
The vagabond who's rapping at your door
Is standing in the clothes that you once wore
Strike another match, go start anew
And it's all over now, Baby Blue.
Why This Is A Poem
Some of best Dylan covers catch the magic of the music. Here is a great cover of Baby Blue. Yet if Dylan's literary gifts were easy, or even easy-ish to replicate, he would have more heirs apparent by now. That is true of most poets, and it roundly sets them apart from most pop stars. The former defies replication; the latter aims to perfect it. Here are some things that are poetic, and not replicable, about Baby Blue is this: There is a strong, memorable narrative voice. There is a threat of danger, which makes it not boring, and which also presents the possibility of a metaphor. (See Robert Browning.) There is an easy, unpretentious, lyricism ("Strike another match, go start anew"). And there is a story, a fact that places Dylan into a specific poetic tradition.
Dylan Is In the Canon
Like every epoch-shaking artist, Dylan was sui generis. Others can crib aspects of how his music makes us feel. But no one can crib the "poetry" of his lyrics. He's in the canon. Radiohead is not in the canon. (We love them, but they're not in the canon.)
Why do Shakespeare's plays have such a dramatic impact on readers and audiences? Philip Davis shows how Shakespeare's use of language creates heightened brain activity, or what he calls "a theater of the brain."
The theatre of the brain
Shakespeare's literary career, which spanned a quarter century roughly between the years 1587 and 1612, came at a time when the English language was at a powerful stage of development. The great fluidity of Early Modern English gave Shakespeare an enormous amount of room to innovate. 
In all of his plays, sonnets and narrative poems, Shakespeare used 17,677 words. Of these, he invented approximately 1,700, or nearly 10 percent. Shakespeare did this by changing the part of speech of words, adding prefixes and suffixes, connecting words together, borrowing from a foreign language, or by simply inventing them, the way a rapper like Snoop Dogg has today. (Another exemplary instance is the way HBO's series The Wire has integrated slang into our contemporary vernacular.)
What's the Big Idea?
In the past, most brain experiments would involve the study of defects, and use a lack of health in the brain to show what it can do. Professor Philip Davis from the University of Liverpool's School of English is approaching brain research in a different way. He is studying what he calls "functional shifts" that demonstrate how Shakespeare's creative mistakes "shift mental pathways and open possibilities" for what the brain can do. It is Shakespeare's inventions--particularly his deliberate syntactic errors like changing the part of speech of a word--that excite us, rather than confuse us.
With the aid of brain imaging scientists, Davis conducted neurolinguistic experiments investigating sentence processing in the brain. The experiments showed that when people are wired they have different reactions to hearing different types of sentences. 
One type of measured brain responses is called an N400, which occurs 400 milliseconds after the brain experiences a thought or perception. This is considered a normal response. On the other hand, a P600 response indicates a peak in brain activity 600 milliseconds after the brain experiences a quite different type of thought or perception. Davis describes the P600 response as the "Wow Effect," in which the brain is excited, and is put in "a state of hesitating consciousness."
It should be no surprise that Shakespeare is the master of eliciting P600s, or as Davis told Big Think, Shakespeare is the "predominant example of this in Elizabethan literature." The visualization of the experiment looks like this: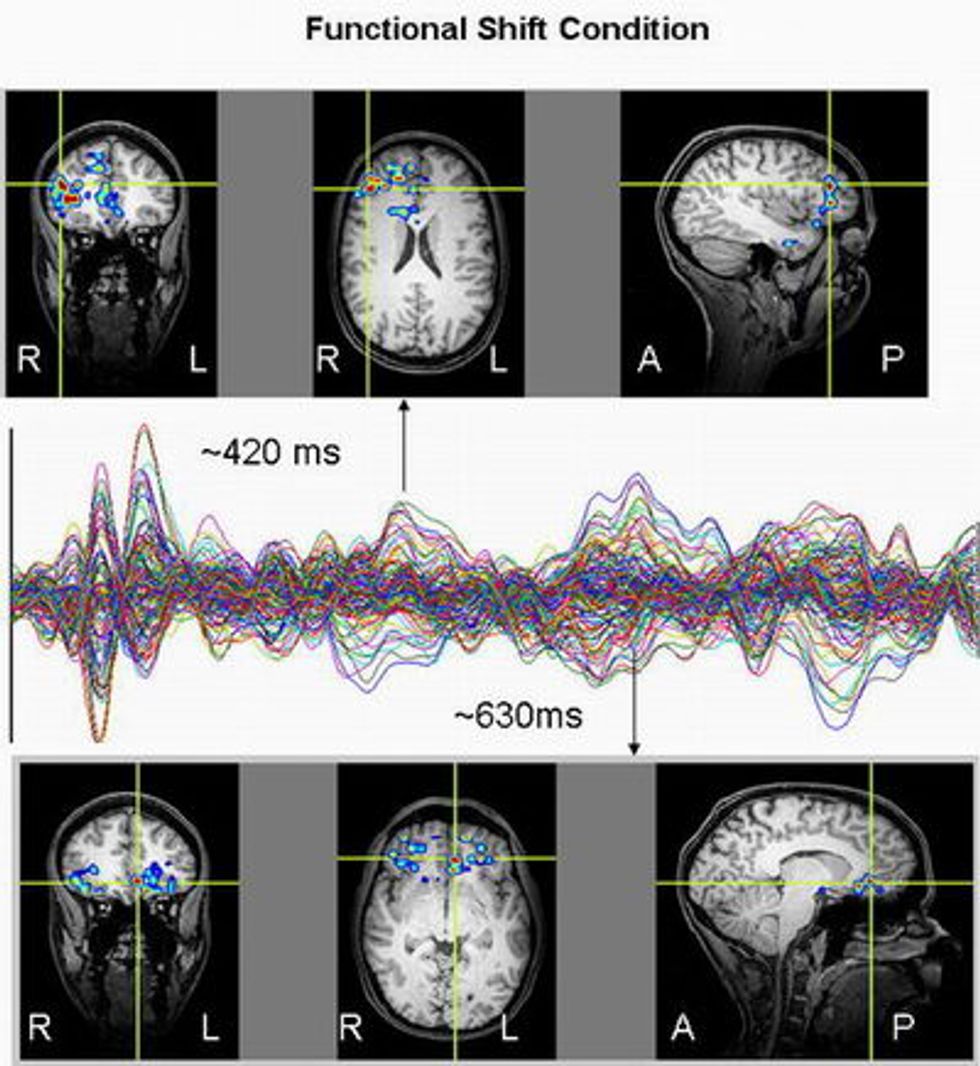 But how is poetic language different from normal language? Consider these examples, in which Shakespeare grammatically shifts the function of words:
An adjective is made into a verb: 'thick my blood' (The Winter's Tale)
A pronoun is made into a noun: 'the cruellest she alive' (Twelfth Night)
A noun is made into a verb: 'He childed as I fathered' (King Lear)
As Davis's experiments have shown, instead of rejecting these "syntactic violations," the brain accepts them, and is excited by the "grammatical oddities" it is experiencing. While it has not been fully proven that we can localize which parts of the brain process nouns as opposed to verbs, Davis says his research suggests that "in the moment of hesitation" brought on by the stimulative effects of functional shift, the brain doesn't know "what part to assign the word to." 
What is the Significance?
For Davis, we need creative language "to keep the brain alive." He points out that so much of our language today, written in bullet points or simple sentences, fall into predictability. "You can often tell what someone is going to say before they finish their sentence" he says. "This represents a gradual deadening of the brain."
Davis also speaks of the possible applications for his research on other fields, such as treating dementia. "My hope is that we find ways to treat depression and dementia by reading aloud to patients."
And yet, Davis is a literary scholar first and foremost. He argues the heightened mental activity found in the brain responses to his experiments may be one of the reasons why Shakespeare's plays have such a dramatic impact on readers and audiences. What is at the heart of Shakespeare, he says, is the poet's "lightning-fast capacity" for forging metaphor that created "a theater of the brain."
Lesson:
Short of placing multiple electrodes on your scalp, simply read the four sentences below, and ask yourself which one you like best.
1. A father and a gracious aged man: him have you enraged
2. A father and a gracious aged man: him have you charcoaled.
3. A father and a gracious aged man: him have you poured. 
4. A father and a gracious aged man: him have you madded.
If the experiment worked, here are how the results should have played out: The first sentence should elicit a normal brain reaction. The brain recognizes that the sentence makes sense; unlike the second line, which the brain rejects. The third line ("charcoaled") measures both N400 and P600 responses, because it violates both grammar and meaning, and is gibberish. The fourth line is an example of functional shift, which is found in King Lear. Your brain is now thinking like Shakespeare. 
Follow Daniel Honan on Twitter @DanielHonan