Construction of the $500 billion dollar tech city-state of the future is moving ahead.
Credit: Neom
The futuristic megacity Neom is being built in Saudi Arabia.
The city will be fully automated, leading in health, education and quality of life.
It will feature an artificial moon, cloud seeding, robotic gladiators and flying taxis.
Humanity has been developing new technologies at a breakneck speed but have they delivered enough clear benefits to how long and well we live? Much of the tech seems to be adding even more stress, designed to both help us cope and entrap us further in the hectic demands of modern life. But what if you could start from scratch and create the kind of society where the best of technology would utilize the best ideas in robotics, healthcare, energy generation and government? Such is the utopian promise of the $500 billion futuristic city-state Neom, being built in Saudi Arabia.
"This is the blank page you need to write humanity's next chapter," promises the commercial for the city on the Neom homepage.
The American consultants, hired by the city's developers came up with a 2,300 page proposal that wants to make Neom largely run by robots, with eye-catchy features based in part on tech that doesn't yet exist. Some of the fun things the city would have are flying taxis, glow-in-the-dark sand, cloud seeding to make it rain in the desert, robotic maids, MMA-style robot cage fights, and, of course, a Jurassic-Park-like island, replete with robot dinosaurs.
Perhaps, most curious of all, Neom would have a gigantic artificial moon, made from a fleet of drones, which would not only light up every night, but could live-stream images straight from outer space.
Run on wind and solar energy, the city would also be a state-of-the-art center for technological and medical innovation, spearheading genetic engineering efforts to improve the human body.
Being a beacon of progress, where many citizens would work in startups while being educated in innovative ways like holographic faculties, would make the economy of Neom robust. In fact, it would have "the highest GDP per capita," according to the proposal.
Neom is the shortened version of the Latin-Arabic term "Neo-Mustaqbal", which means "new future." How far in the future? The project's first phase is already complete and the second phase will be announced by the year's end, recently promised Neom's CEO Nadhmi Al-Nasr at the site of the city's first commercial airport Gayal.
The first phase involved the conceptualizing of the economic, funding and development plans for Neom. Actual construction also began on the airport and a resort. Phase two should result in fleshing out further details of "what Neom is going to be," Al-Nasr stated to Arab News.
"Neom is all about things that are necessarily future-oriented and visionary," Al-Nasr wrote. "So we are talking about technology that is cutting edge and beyond—and in some cases still in development and maybe theoretical."
Saudi Arabia Plans Futuristic City, "Neom" (Full Promotional Video)
The project was introduced in 2017 by Saudi Arabia's Crown Prince Mohammed bin Salman. It is planned to include 450km of Red Sea coastline, which would make it a major vacation destination – 8 hours away flying from anywhere in the world, as calculated the consultants. Neom will span a total area of 26,500 square km across three countries, including territory from North-Western Saudi Arabia, Egypt and Jordan.
The city itself will be "the world's first independent international zone," presents its marketing literature. How independent it will actually be remains to be seen. The Kingdom of Saudi Arabia set up a "special authority," chaired by the Crown Prince himself, to supervise the development of the project. Once its built, the zone will be managed via a "regulatory framework that will adopt world-class investment laws to support residents and targeted economic sectors," declares its presentation, which also purports the city-state will have an "autonomous judicial system." Its laws, enforced by city-wide automation and tracking of its citizens, would be independent of Saudi Arabia's, created by a slate of both local and foreign investors "in accordance with international best practice."
If you're still wondering if the megacity would be subject to the Muslim Kingdom's societal practices, Neom claims it will utilize the best practices from around the world that can improve the lives of its residents.
The reality may be quite different, however, as the Wall Street Journal's review of the documents from the consultants found that the judges of Neom would be reporting directly to the king, while Sharia law would still be the law of the land. The one big exception might be alcohol, which supposedly would be allowed.
How long will the project take? The overall timeline estimates 7-10 years from now. The plan certainly has its detractors and possible human-rights issues, like the plan for the forced relocation of more than 20,000 people indigenous to the area.
This independent zone, with its own regulations and social norms, will be built from scratch on 10,231 square miles of untouched land at a cost of $500 billion.
In October 2017, five of the richest men in the world sat next to each other in Saudi Arabia's capital Riyadh and with childlike excitement talked about their new shared dream: building Neom. 
They were on stage at the first edition of the Future Investment Initiative, an event that gathered international business leaders to explore new economic opportunities for a country that hopes to be no longer dependent on oil revenues as it fulfills its "Vision 2030" program.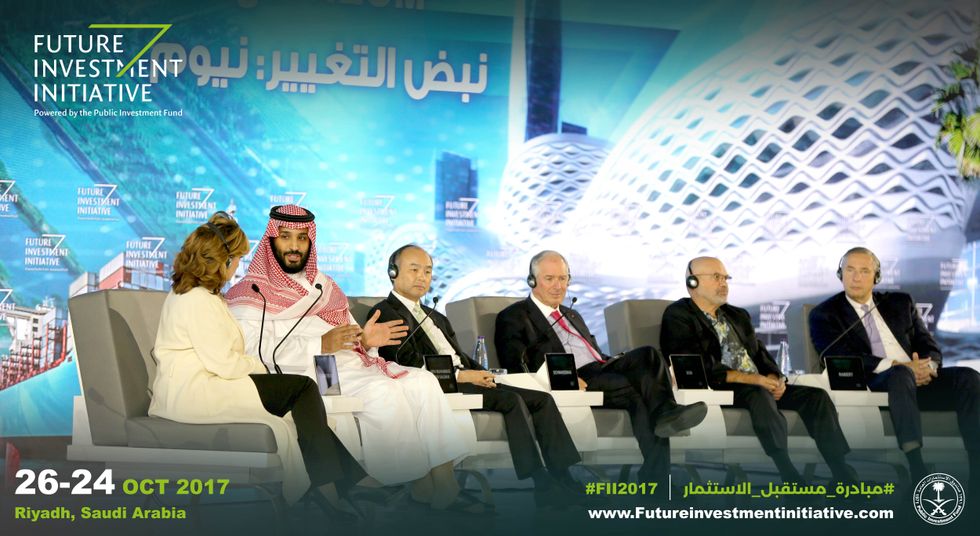 Panelists discussing the future of Neom, from left to right: the Crown Prince Mohammed bin Salman; Masayoshi Son, chairman and CEO of the SoftBank Group Corp. of Japan; Stephen A. Schwartzman, chairman and co-founder of the Blackstone Group; Marc Raibert, CEO of Boston Dynamics; Klaus Kleinfeld, former chairman and CEO of Arconic Alcoa Inc., and Siemens AG. 
Neom is to be the grandest manifestation of that vision. A city of the future, the likes of which the world has never seen—except maybe in science fiction books and movies. It is to be built from scratch on 10,231 square miles of untouched land in the northwestern region of Saudi Arabia, including territory from within the Egyptian and Jordanian borders. 
It will be an independent zone, with its own regulations and social norms, created specifically to be in service of economic progress and the well-being of its citizens, in the hopes of attracting the world's top talent and making Neom a hub of trade, innovation and creativity.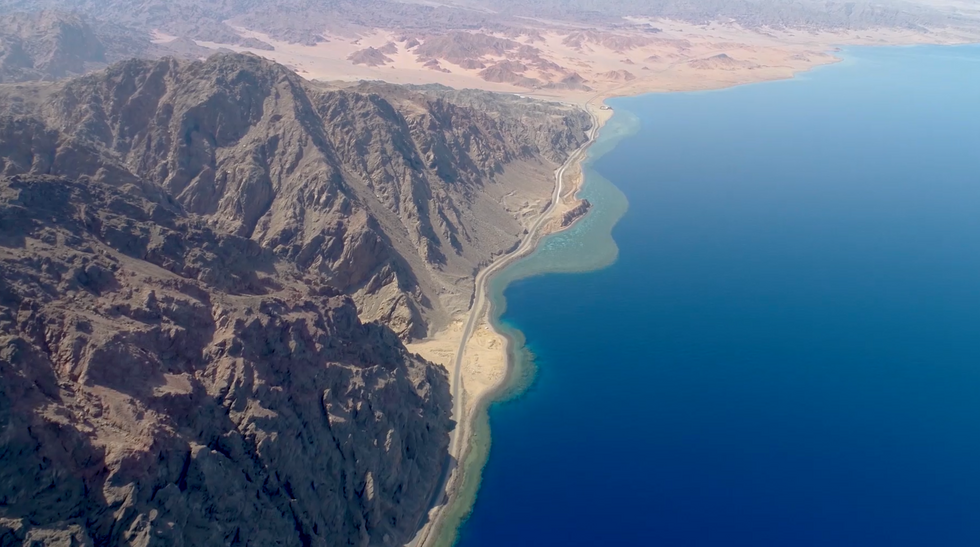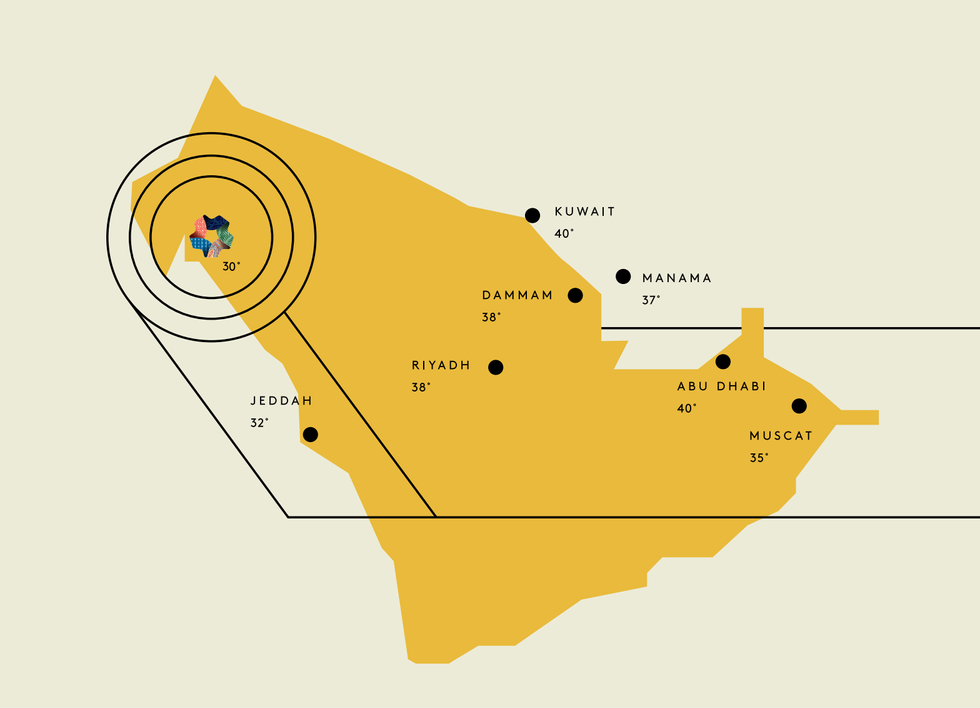 Neom's location offers a terrain with mountains, deserts, 285 miles of coastline and coral reefs, as well as a moderate climate, with temperatures on average 10 degrees Celsius lower than the rest of Saudi Arabia / Credit: discoverneom.com
While the scope of ambition for this urban project may be unprecedented for this century, its necessity is evident. With falling oil prices and declining demand, as well as insufficient investment opportunities at home, Saudi Arabia is searching for its place in the future.
It hopes to utilize another abundant natural resource: the sun. As Masayoshi Son, chairman and CEO of the SoftBank Group Corp. of Japan, said during the panel:
"Only 3% of the land of Saudi Arabia can provide over 50% of the electricity of the world, with today's solar technology."
Neom will not only become a test case for a zero-energy mega-city (with a size 33 times that of New York), but it will provide abundant opportunities for employment and investments within Saudi Arabia, attracting local and foreign money back to the country. The city's vision is to be at the forefront of nine key economic sectors, including energy and water, biotech, advanced manufacturing, and food.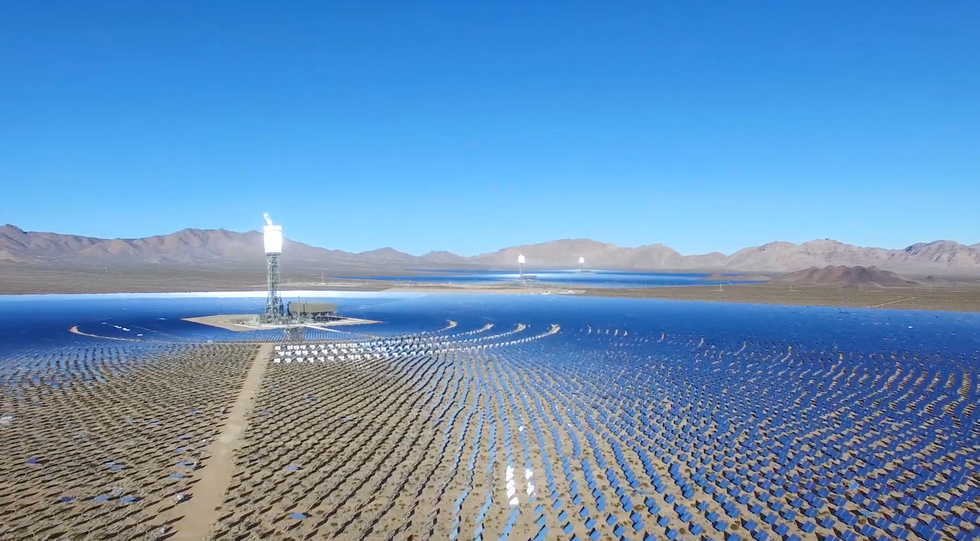 The goal for Neom is to not only be able to provide for all of its energy needs via solar and wind power, but to also be an exporter / discoverneom.com
Addressing a question about the political and social stability of the region, Prince Mohammed bin Salman said:
"We were not like this in the past. We only want to go back to what we were — the moderate Islam that is open to the world, open to all the religions. [...] 70% of the Saudi people are less than 30 years old, and quite frankly we will not waste 30 years of our lives in dealing with extremist ideas."
$500 billion has already been committed to the construction of Neom, with its first phase expected to be completed in 2025. The city will be owned by the Saudi Arabian Public Investment Fund, overseen by a special authority, chaired by Prince Mohammed bin Salman. Excluding sovereign laws (pertaining to the military sector, foreign policy and sovereign decision), Neom will have its own governmental framework, including different taxation, customs and labor laws.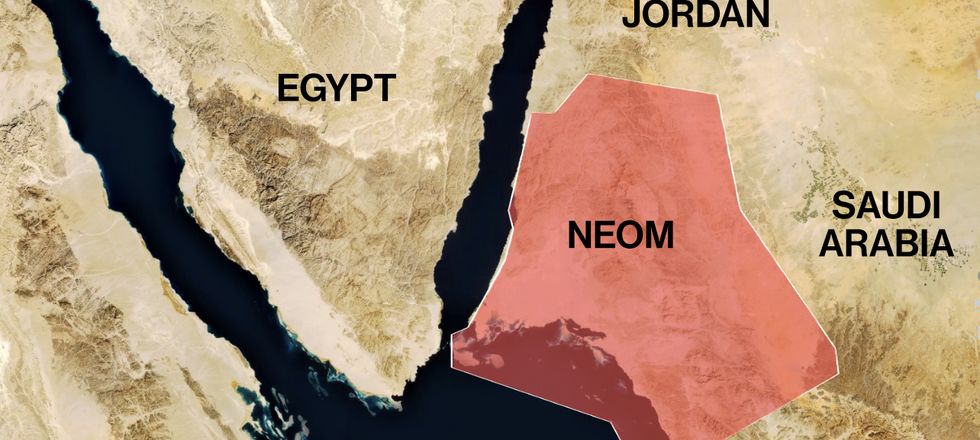 Neom has a strategic coastal Red Sea location close to international markets and trade routes. Approximately 10% of the world's trade flows through the Red Sea and 70% of the world's population can reach it in under eight hours flight. / discoverneom.com
Marc Reibert of Boston Dynamics emphasized that the success of the project will depend on attracting the right talent ("dreamers" are welcome) and creating the right culture of innovation that will allow for building this technological city of the future, where all services and processes will be entirely automated, food will be grown in the desert, drones will fly in the skies, and there will be a full-scale e-government.
At this initial stage it is unclear what Neom will look like, but we may get a taster thanks to another "future city" project to be built in Canada albeit on a much smaller scale.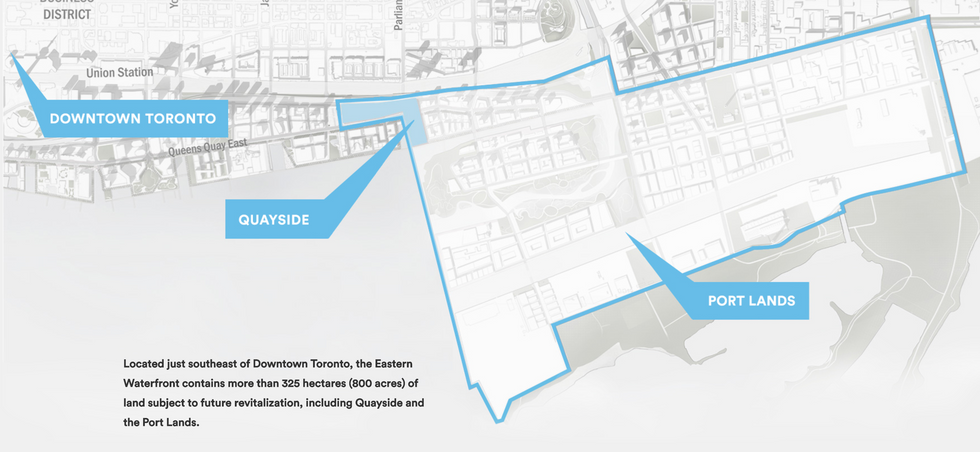 Credit: sidewalktoronto.ca
Sidewalk Labs, owned by Alphabet has committed $50 million to develop 12 acres in the Quayside area of Toronto in a public-private partnership with the city. The plan is to build a mini digital city, using a range of smart technologies, sustainable energy and autonomous cars, that will eventually become the home of Google's Canadian headquarters. 
Of course, redeveloping an area within a city and building a city from scratch are two entirely different endeavors, especially when the ambition for the latter is to "be the most exciting, fulfilling place to live and work on the planet. A tribute to humanity's timeless ambition, the herald of a new era and a new standard for centuries to come." 
History can provide us with its fair share of examples where humanity's vision of would-be utopian cities did not manifest itself the way it was intended. Hopefully, given the fact that both Neom and Sidewalk Toronto are intended to be commercial projects, things will pan out differently. 
Here's WIRED founder Kevin Kelly on utopia versus protopia:


We're ranked behind Saudi Arabia and Korea in empathy. Surprised?
Map of Global Empathy. Source: Michigan State University.
Empathy is something that is measurable, and researchers at Michigan State University have done just that, for the first time.
If you had to guess, where do you think the United States ranks in empathy, worldwide? 
I'll give you a minute. 
I'll even give you a visual aide — the darker the red shading, the more empathy a country has: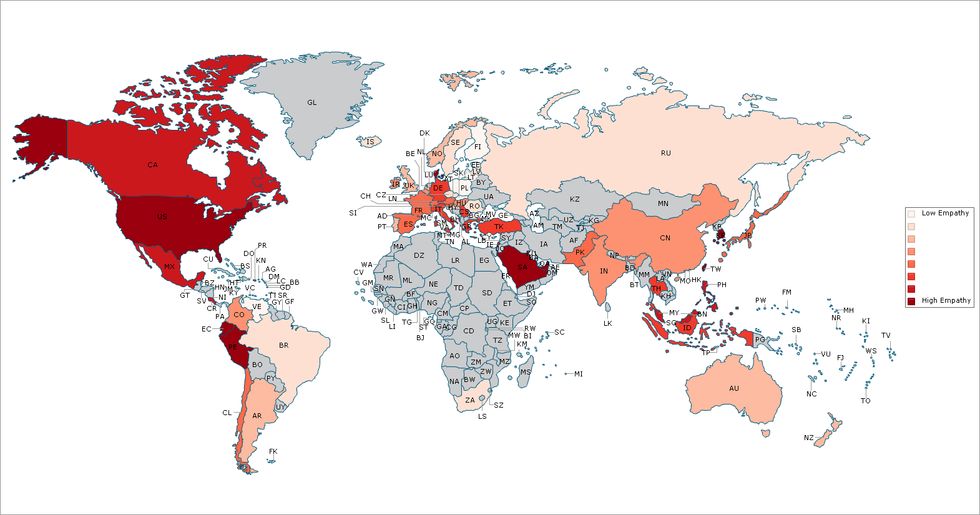 (Click map for more detail. Countries with small sample sizes were not included — hence the grey for a number of countries.)
Looks pretty high for the Good Ol' U S of A, eh? Get ready to shout, "We're number 7! We're number 7!"
That's behind Ecuador, Saudi Arabia, Peru, Denmark, United Arab Emirates, and Korea. Rounding out that top-10 list after the United States are Taiwan, Costa Rica, and Kuwait.
And we could lose even more ground, based on a number of factors. Or gain ground, depending on how things go. 
The study is based on responses from an online study that reached 104,000 people around the world and measured both compassion for others and the ability to imagine points of view of other people. 
One of the interesting things about the study is that it doesn't separate whether that empathy is for people from other countries or just people in our own. I highly suspect we'd slip even further down the list if that data were to be captured, given some of the extreme xenophobia we've seen arise over the last 18 months.
(Thumbnail via YouTube, captured from Star Trek, Season 3, Episode 12: The Empath.)
Saudi clerics see Pokemon Go as anti-Islamic and full of forbidden symbols and ideas (like evolution!), so have renewed their 2001 fatwa on it.
You better put your plans for hunting Pikachu and doing gym battles on hold if you are in Saudi Arabia. Local clerics have banned Pokémon Go on account of anti-Islamic content. 
The ban came as a renewal of a fatwa (a religious edict) by the General Secretariat of the Council of Senior Religious Scholars. The card-based version of Pokémon was previously banned in 2001, and now that the mobile game has been taking over the world, the clerics felt it important to revisit the ban. 
The main issue is that the game is viewed by the clerics as a form of gambling, a practice forbidden in Saudi Arabia. The game also supports the Theory of Evolution as it allows players to evolve pokemon. This theory is at odds with Islam, according to the clerics. Another issue is that the game features forbidden symbols that refer to the Japanese Shinto religion, Christianity, Freemasonry and "global Zionism".
The fatwa states that: 
"The symbols and logos of devious religions and organizations are used [including] the six-pointed star: You rarely find a card that does not contain such a star. It is associated with Judaism, the logo and sign of the State of Israel, and the first symbol of the Masonry organizations in the world."
As reported by Al-Jazeera, the game is also being seen negatively in Egypt, where a leading government official, Hamdi Bakheet, views it as a tool of espionage by foreign agencies:
"Pokémon Go is the latest tool used by spy agencies in the intel war, a cunning despicable app that tries to infiltrate our communities in the most innocent way under the pretext of entertainment. But all they really want is to spy on people and the state."
Despite such a cool reception by the governments of some countries, the augmented reality game is popular in the Middle East, being played by thousands in Dubai, Kuwait, and Israel.
It still remains to be seen if Pokémon Go will attract the kind of frenzy there that it has generated in places like New York: