These Roman Emperors were infamous for their debauchery and cruelty.
1876. Painted by Henryk Siemiradzki.
Roman Emperors were known for their excesses and violent behavior.
From Caligula to Elagabalus, the emperors exercised total power in the service of their often-strange desires.
Most of these emperors met violent ends themselves.
We rightfully complain about many of our politicians and leaders today, but historically speaking, humanity has seen much worse. Arguably no set of rulers has been as debauched, ingenious in their cruelty, and prone to excess as the Roman Emperors.
While this list is certainly not exhaustive, here are seven Roman rulers who were perhaps the worst of the worst in what was one of the largest empires that ever existed, lasting for over a thousand years.
1. Caligula
Officially known as Gaius (Gaius Caesar Augustus Germanicus), Caligula was the third Roman Emperor, ruling from 37 to 41 AD. He acquired the nickname "Caligula" (meaning "little [soldier's] boot") from his father's soldiers during a campaign.
While recognized for some positive measures in the early days of his rule, he became famous throughout the ages as an absolutely insane emperor, who killed anyone when it pleased him, spent exorbitantly, was obsessed with perverse sex, and proclaimed himself to be a living god.
Caligula gives his horse Incitatus a drink during a banquet. Credit: An engraving by Persichini from a drawing by Pinelli, from "The History of the Roman Emperors" from Augustus to Constantine, by Jean Baptiste Louis Crevier. 1836.
Among his litany of misdeeds, according to the accounts of Caligula's contemporaries Philo of Alexandria and Seneca the Younger, he slept with whomever he wanted, brazenly taking other men's wives (even on their wedding nights) and publicly talking about it.
He also had an insatiable blood thirst, killing for mere amusement. Once, as reports historian Suetonius, when the bridge across the sea at Puteoli was being blessed, he had a number of spectators who were there to inspect it thrown off into the water. When some tried to cling to the ships' rudders, Caligula had them dislodged with hooks and oars so they would drown. On another occasion, he got so bored that he had his guards throw a whole section of the audience into the arena during the intermission so they would be eaten by wild beasts. He also allegedly executed two consuls who forgot his birthday.
Suetonius relayed further atrocities of the mad emperor's character, writing that Caligula "frequently had trials by torture held in his presence while he was eating or otherwise enjoying himself; and kept an expert headsman in readiness to decapitate the prisoners brought in from gaol." One particular form of torture associated with Caligula involved having people sawed in half.
He caused mass starvation and purposefully wasted money and resources, like making his troops stage fake battles just for theater. If that wasn't enough, he turned his palace into a brothel and was accused of incest with his sisters, Agrippina the Younger, Drusilla, and Livilla, whom he also prostituted to other men. Perhaps most famously, he was planning to appoint his favorite horse Incitatus a consul and went as far as making the horse into a priest.
In early 41 AD, Caligula was assassinated by a conspiracy of Praetorian Guard officers, senators, and other members of the court.
2. Nero
Fully named Nero Claudius Caesar, Nero ruled from 54 to 68 AD and was arguably an even worse madman than his uncle Caligula. He had his step-brother Britannicus killed, his wife Octavia executed, and his mother Agrippina stabbed and murdered. He personally kicked to death his lover Poppeaea while she was pregnant with his child — a horrific action the Roman historian Tacitus depicted as "a casual outburst of rage."
He spent exorbitantly and built a 100-foot-tall bronze statue of himself called the Colossus Neronis.
He is also remembered for being strangely obsessed with music. He sang and played the lyre, although it's not likely he really fiddled as Rome burned in what is a popular myth about this crazed tyrant. As misplaced retribution for the fire which burned down a sizable portion of Rome in the year 64, he executed scores of early Christians, some of them outfitted in animal skins and brutalized by dogs, with others burned at the stake.
He died by suicide.
Roman Emperor Nero in the burning ruins of Rome. July 64 AD.Credit: From an original painting by S.J. Ferris. (Photo by Kean Collection / Getty Images)
3. Commodus

Like some of his counterparts, Commodus (a.k.a. Lucius Aelius Aurelius Commodus) thought he was a god — in his case, a reincarnation of the Greek demigod Hercules. Ruling from 176 to 192 AD, he was also known for his debauched ways and strange stunts that seemed designed to affirm his divine status. Numerous statues around the empire showed him as Hercules, a warrior who fought both men and beasts. He fought hundreds of exotic animals in an arena like a gladiator, confusing and terrifying his subjects. Once, he killed 100 lions in a single day.
Emperor Commodus (Joaquin Phoenix) questions the loyalty of his sister Lucilla (Connie Nielsen) In Dreamworks Pictures' and Universal Pictures' Oscar-winning drama "Gladiator," directed by Ridley Scott.Credit: Photo By Getty Images
The burning desire to kill living creatures as a gladiator for the New Year's Day celebrations in 193 AD brought about his demise. After Commodus shot hundreds of animals with arrows and javelins every morning as part of the Plebeian Games leading up to New Year's, his fitness coach (aptly named Narcissus), choked the emperor to death in his bath.

4. Elagabalus
Officially named Marcus Aurelius Antoninus II, Elagabalus's nickname comes from his priesthood in the cult of the Syrian god Elagabal. Ruling as emperor from 218 to 222 AD, he was so devoted to the cult, which he tried to spread in Rome, that he had himself circumcised to prove his dedication. He further offended the religious sensitivities of his compatriots by essentially replacing the main Roman god Jupiter with Elagabal as the chief deity. In another nod to his convictions, he installed on Palatine Hill a cone-like fetish made of black stone as a symbol of the Syrian sun god Sol Invictus Elagabalus.
His sexual proclivities were also not well received at the time. He was likely transgender (wearing makeup and wigs), had five marriages, and was quite open about his male lovers. According to the Roman historian (and the emperor's contemporary) Cassius Dio, Elagabalus prostituted himself in brothels and taverns and was one of the first historical figures on record to be looking for sex reassignment surgery.
He was eventually murdered in 222 in an assassination plot engineered by his own grandmother Julia Maesa.
5. Vitellius
Emperor for just eight months, from April 19th to December 20th of the year 69 AD, Vitellius made some key administrative contributions to the empire but is ultimately remembered as a cruel glutton. He was described by Suetonius as overly fond of eating and drinking, to the point where he would eat at banquets four times a day while sending out the Roman navy to get him rare foods. He also had little social grace, inviting himself over to the houses of different noblemen to eat at their banquets, too.
Vitellius dragged through the streets of Rome.Credit: Georges Rochegrosse. 1883.
He was also quite vicious and reportedly either had his own mother starved to death or approved a poison with which she committed suicide.

Vitellius was ultimately murdered in brutal fashion by supporters of the rival emperor Vespasian, who dragged him through Rome's streets, then likely beheaded him and threw his body into the Tiber river. "Yet I was once your emperor," were supposedly his last words, wrote historian Cassius Dio.
6. Caracalla
Marcus Aurelius Antoninus I ruled Rome from 211 to 217 AD on his own (while previously co-ruling with his father Septimius Severus from 198). "Caracalla"' was his nickname, referencing a hooded coat from Gaul that he brought into Roman fashion.
He started off his rise to individual power by murdering his younger brother Geta, who was named co-heir by their father. Caracalla's bloodthirsty tyranny didn't stop there. He wiped out Geta's supporters and was known to execute any opponents to his or Roman rule. For instance, he slaughtered up to 20,000 citizens of Alexandria after a local theatrical satire dared to mock him.
Geta Dying in His Mother's Arms.Credit: Jacques Pajou (1766-1828)
One of the positive outcomes of his rule was the Edict of Caracalla, which gave Roman citizenship to all free men in the empire. He was also known for building gigantic baths.

Like others on this list, Caracalla met a brutal end, being assassinated by army officers, including the Praetorian prefect Opellius Macrinus, who installed himself as the next emperor.
7. Tiberius
As the second emperor, Tiberius (ruling from 42 BC to 16 AD) is known for a number of accomplishments, especially his military exploits. He was one of the Roman Empire's most successful generals, conquering Pannonia, Dalmatia, Raetia, and parts of Germania.
He was also remembered by his contemporaries as a rather sullen, perverse, and angry man. In the chapter on his life from The Lives of the Twelve Caesars by the historian Suetonius, Tiberius is said to have been disliked from an early age for his personality by even his family. Suetonius wrote that his mother Antonia often called him "an abortion of a man, that had been only begun, but never finished, by nature."
"Orgy of the Times of Tiberius on Capri".Painting by Henryk Siemiradzki. 1881.
Suetonius also paints a damning picture of Tiberius after he retreated from public life to the island of Capri. His years on the island would put Jeffrey Epstein to shame. A horrendous pedophile, Tiberius had a reputation for "depravities that one can hardly bear to tell or be told, let alone believe," Suetonius wrote, describing how "in Capri's woods and groves he arranged a number of nooks of venery where boys and girls got up as Pans and nymphs solicited outside bowers and grottoes: people openly called this 'the old goat's garden,' punning on the island's name."

There's much, much more — far too salacious and, frankly, disgusting to repeat here. For the intrepid or morbidly curious reader, here's a link for more information.
After he died, Tiberius was fittingly succeeded in emperorship by his grandnephew and adopted grandson Caligula.
Where does Valentine's Day come from? Let us introduce you to the festival of Lupercalia, a festival when naked young men and women ran around whipping one another with animal hides.
A young man dressed in sheepskin leather whipping a girl for fun, Lupercalia pastoral festival, drawing, Roman civilization, 2nd-1st century BC. (Getty Images)
Valentine's Day is a weird holiday when you think about it. On a usually cold day—February 14—we eat chocolate, give greeting cards, celebrate romance, and find the need to make a big deal out of it in schools. While the modern holiday is, often correctly, viewed as a "Hallmark Holiday" the origins of the festival go back more than two thousand years to a Pagan ritual with strange customs and festivities that would make a modern romantic blush.
The Roman festival of Lupercalia is that Pagan ritual, and a very good candidate to be the original Valentine's Day celebration. The origins of the holiday are a touch obscure, though it seems likely that many elements were pre-Roman. Lupercalia does seem to have inherited some of its activities from the earlier festival of Februa, which was dedicated to springtime purification. The name of February is derived from this festival. 
What did people do during the Roman festival of Lupercalia?
A cult of priests known as the Luperci offered sacrifices of goats and dogs to the goddess Juno. This ceremony was carried out in the cave where the legendary founders of the city, Romulus and Remus, were saved by the she-wolf who nursed them. After the sacrifice, a feast was held. The hides of the sacrificed animals were then cut into strips by the priests.
Cool, huh? Well, now it gets strange.
Fertility rites were performed, in which naked women were struck with the hides of the sacrificed animals as the priests ran around Palatine hill counter-clockwise. This was intended to make the women more fertile and aid in childbirth. After this, a matchmaking lottery was held. All of this took place with the help of a lot of drinking. Clothing was optional for members of the public, and people rarely wore it as a result.
Plutarch, the great Roman historian, described it as such:

..many of the noble youths and of the magistrates run up and down through the city naked, for sport and laughter striking those they meet with shaggy thongs. And many women of rank also purposely get in their way, and like children at school present their hands to be struck, believing that the pregnant will thus be helped in delivery, and the barren to pregnancy.
Others agree with Plutarch, telling us that the city was filled with naked young men and women who ran around whipping one another with animal hides.
Some of the activities that we know about have meanings that are lost to us. For example, after the sacrifice of the goats and dogs, two Luperci would have their foreheads anointed in blood from the sacrificial knife. They would then have the blood wiped off with wool that had been soaked in milk. They were then expected to laugh or smile that this turn of events.
The exact meaning of their expressions is lost to time.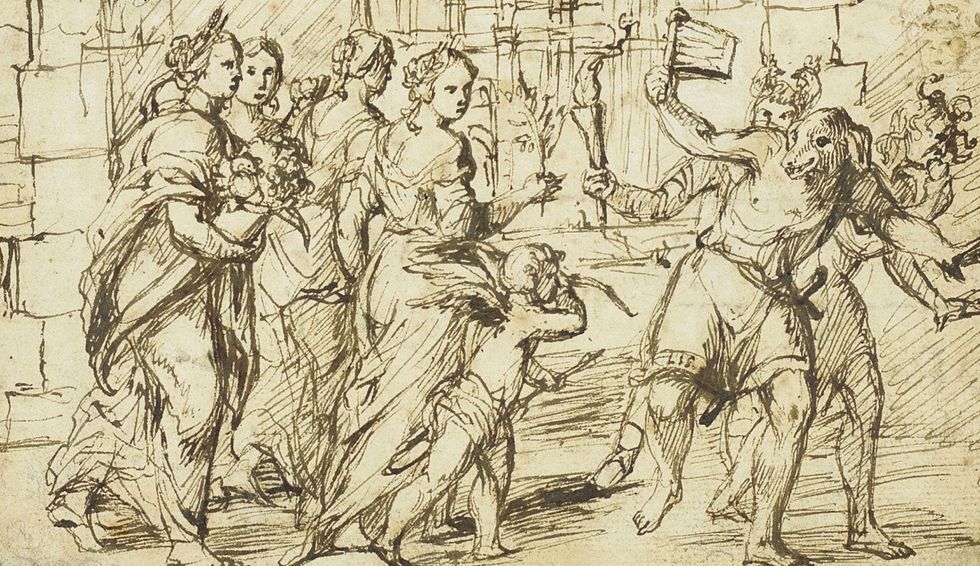 The Luperci seeking out targets to whip as depicted by Adam Elsheimer. (Getty Images)
Lupercalia wasn't a one-off thing either.
After the Romans added the month of February to their calendar, Lupercalia was placed on the fifteenth day of that month. The festival was popular. This was known and used by Julius Caesar when he publicly denied a crown during the festival, which added to his cult of personality. Lupercalia was celebrated continuously until around 500 C.E when regulations designed to stamp out Pagan rituals helped bring it to an end.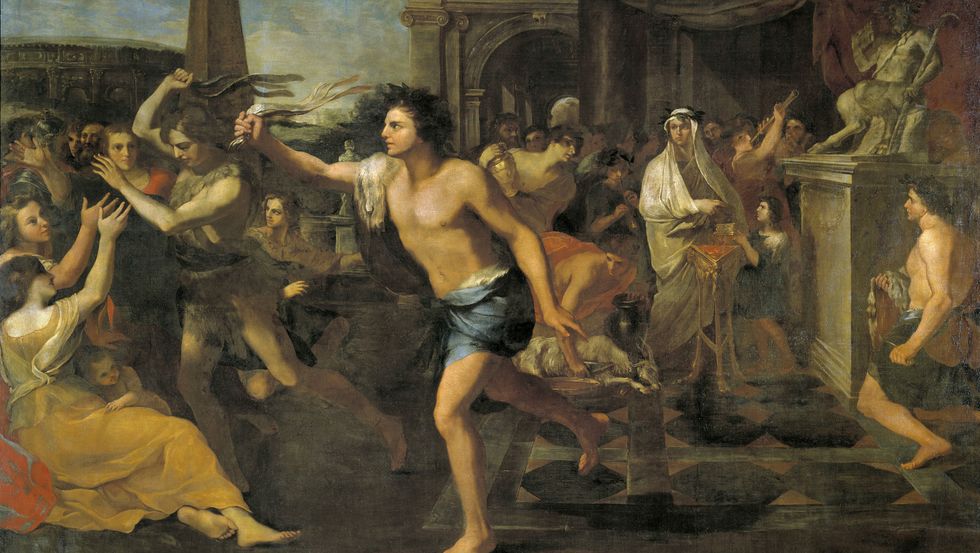 A member of the public armed with a whip to bring forth fertility. Was this the start of Valentine's Day? (Getty Images)
Some researchers argue that Lupercalia was mostly done away with by Pope Gelasius I, who may have placed a feast of purification on that day. Others say that the festival was allowed to continue, with Christian overtones and clothing added. In any case, Valentine's Day, named after a saint killed by the Romans, retains the approximate date and many of the romantic themes of the Roman Lupercalia.
While the evidence for the exact fate of the holiday remains fuzzy, it is true that many Pagan festivals were co-opted by the Christian church rather than abolished. This makes it not only possible but likely that the holidays are related. Some historians, however, still reject the notion that Valentine's Day was purposefully created to push out Lupercalia.
How did we go from Lupercalia to St. Valentine's Day?
Since the Middle Ages, Valentine's Day has gotten progressively sweeter. This phenomenon was largely promoted by writers like Chaucer and Shakespeare who romanticized the courtly love aspects of the holiday. The first Valentine's card was sent in 1415 by a French nobleman. Americans sent handwritten cards to one another as the holiday gained traction during the revolution. In the 1900's the cards started to be mass produced.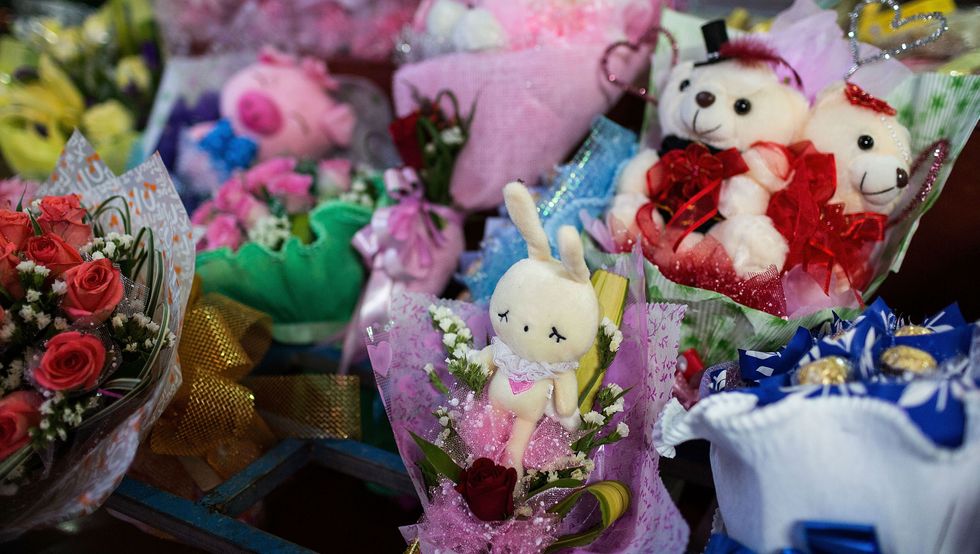 This collection of Valentine's gifts in Cambodia suggests that the mass production goes much further than ever before. (Getty Images)
It all seems a far cry from the drunken revelry in Rome. Today, we would hardly suppose that there was much of a relationship at all between the drunken Pagan fertility rites of Rome and Valentine's Day if we were to watch both take place.
While Valentine's Day has become a fun, commercialized, slightly silly holiday dedicated to candy, cheesy TV specials, cards, and overpriced romantic dinners, the origins may be wilder than anything we would imagine. It is inevitable that holidays evolve, and customs change, but how severely they may do so is variable. The story of Lupercalia and Valentine's Day may show how a holiday can retain the same themes over 2,000 years and do a complete 180-degree turn on how those themes are expressed and celebrated.  

So go out and have a nice Valentine's Day, and maybe be thankful that you don't have to dodge naked people with whips on your way to the store. 
--
While often compared to the Roman Empire, the United States is not likely to collapse in the same way.
We look to history to figure out if the past is either a prologue or a lesson to the present. In terms of political history, the comparison between the United States and the Roman Empire is attractive because not only do these two represent the most powerful nations of their time, the U.S. actually modeled some of its institutions and thinking after the Roman example. The recent political strife plaguing the U.S. seems to be getting worse by the day and invites the question whether America, like its ancient predecessor, is headed for a downfall. Certainly, from the historical perspective, no empire has lasted forever (so far) and the U.S. is due for a challenge. 
The Roman Empire was one of the most successful political and social entities in human history, lasting for over 500 years, from 31 BC to 476 CE. At the height of its power, the empire extended over 5 million square kilometers, controlling around 70 million people, about 21% of the world's population at the time. Like the U.S., the Roman Empire spread its influence around the world through its culture, languages, religion, philosophy, laws and technology. 
But while the U.S. is the world's only current superpower, pronouncements of its Rome-like fall are greatly exaggerated and not entirely appropriate. Here's why:
1. Political Instability Is Here but the U.S. Is Still a Republic
The period we know as the time of the Roman Empire actually followed another nearly 500-year block when it was the democratic Roman Republic (509 BC - 27 BC). A period of unrest and civil wars precipitated the transition to the empire. This is when the infamous assassination of Julius Caesar took place in 44 BCE. After a power struggle that followed Caesar's demise, Augustus (Caesar's nephew) was crowned as Rome's first emperor. More or less effective emperors followed, with much internal intrigue and corruption that led to coups and assassinations. The infamous Caligula (12-41 AD) was killed by the Praetorian Guard, while the corrupt and mad Nero (37-68 AD) committed suicide. 
The U.S. is certainly undergoing a period of political upheaval, with the country often split on major issues and animosity rising between different sides. The election of Donald Trump both increased the divide and is a symptom of it. Still, the U.S. is a democratic society, with checks and balances, and Trump is no emperor.
It is also not the first time in recent history the country dealt with divisive issues, with the civil rights struggle and Vietnam War being quite contemporary events (especially from a historical perspective). The country has survived more turmoil, and barring unprecedented measures from the new administration and ineffectiveness of other branches of the government, the U.S. is poised to continue with its political system relatively healthy and functioning.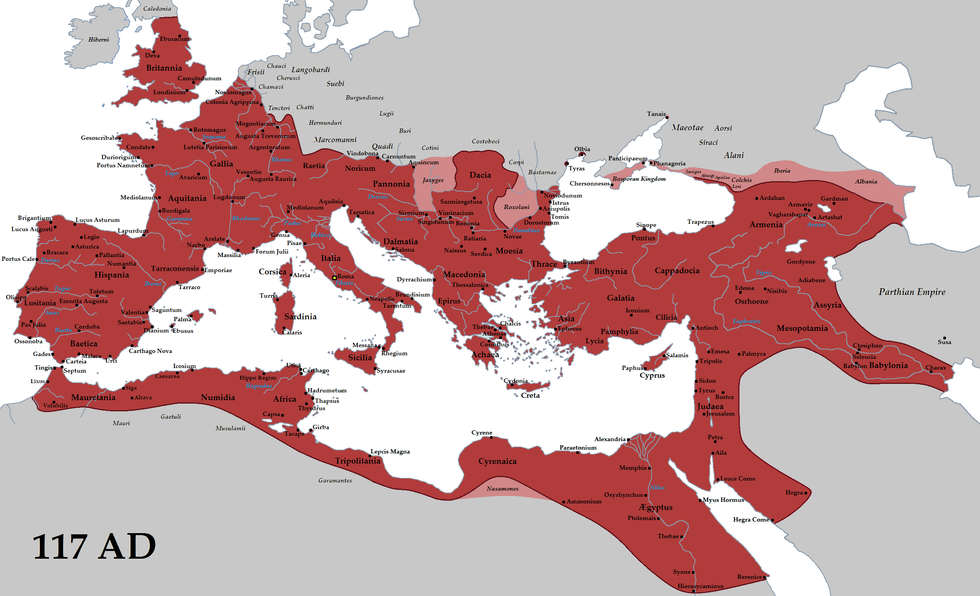 The Roman Empire in 117 AD during the reign of emperor Trajan. Credit: Tataryn
2. The Economy Needs Work but Is in No Danger of Collapse 
Rome was engaged in regular wars and constantly overspent to keep protecting the borders of its huge empire. But eventually the expansion slowed due to stronger opponents and even pirates like Vandals operating in North Africa. This dwindled the supply of cheap slave labor and additional taxes. Roman rich also worked just as hard back in their time to pay less taxes, creating an increasing gap between the wealthy and the poor. Historians also point to a trade imbalance that eventually grew between Rome and China and India. These factors led to a slowing economy and a decline in Roman power.
The U.S. economy is not dependent on colonies or slave labor, but the rising inequality between the rich and the poor, and the resulting political repercussions and unrest are certainly here to stay. The emergence of Donald Trump, who capitalized politically on the job losses in the manufacturing industry and fear of job-taking immigrants, as well as the need for foreign trade reform, points to just how much Americans are worried about the future of their country's economy.
Still, despite Trump's rhetoric, the unemployment is low and the country's steady, if unimpressive, annual GDP growth rate of about 2% point to the fact that the economy is not in such shambles as to predict an imminent collapse. The military spending in the U.S. has been hovering around 3-4% of the GDP, a sizable but not unusual amount, comparable to other world powers. 
3. The Military Situation Is Vastly Different
After fighting off all challengers for centuries, Rome's military power waned and it was finally overtaken by a series of military losses to Germanic tribes, including the sacking of Rome in 410 by the Visigoth King Alaric, and another sacking by the Visigoths led by Geiseric in 455. In 476, the Germanic warrior Odoacer led a revolt from within that deposed the Emperor Romulus Augustulus, making him the last Roman emperor to rule Italy from Rome. The Eastern part of the Empire actually survived until 1453 CE, when Constantinople fell to the Ottoman Turks. 
The U.S. has powerful military opponents like Russia and China, but an all-out conflict involving any of the nuclear powers seems highly unlikely due to mutually assured destruction. However, asymmetrical warfare like terror attacks by Islamic fundamentalists or cyberattacks and subterfuge from Russia can cause more gradual decline in American power due to weakening confidence in its leaders and institutions. Still, this is not likely to result in a serious military loss unless a more direct confrontation takes place, which at this point seems impossible. So the world's most powerful military should keep America intact for the time being.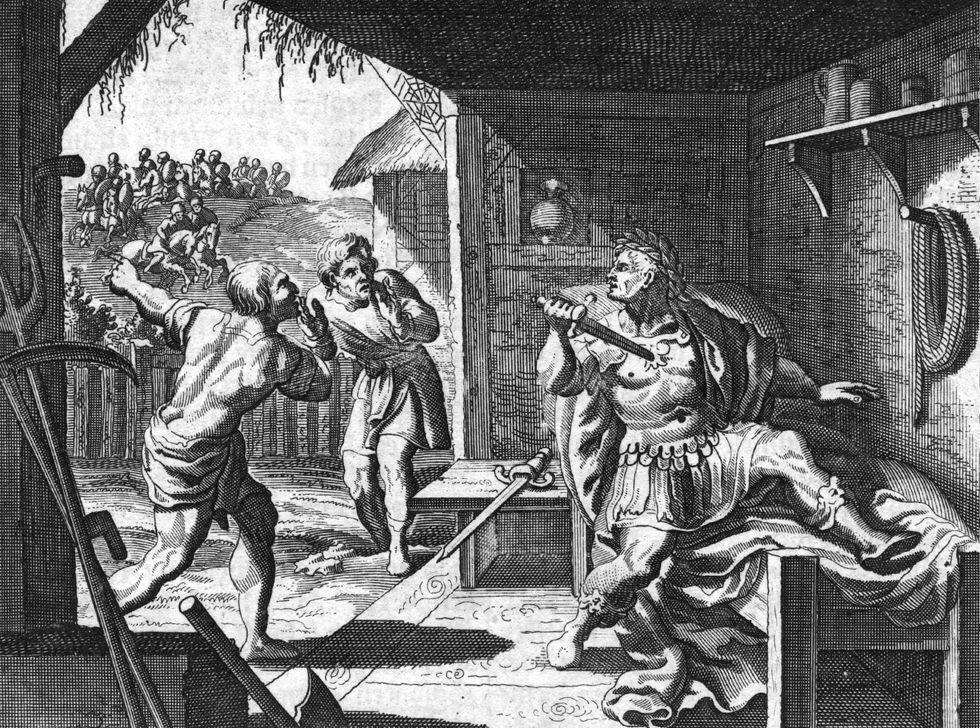 The Emperor Nero commits suicide with his own sword after the Roman army overruns the city, 9th June 68 AD. (Photo by Hulton Archive/Getty Images)
4. U.S. Is Not in a Cultural and Social Decline 
This point is certainly debatable as some would argue the U.S. is undergoing a weakening of its values. The country is transforming from a Christian and white-majority nation into an ever-more multicultural melting pot. Interestingly, some like the historian Edward Gibbon, in his seminal "The History of the Decline and Fall of the Roman Empire," have pointed to the adoption of Christianity and its weakening of traditional Roman values as the reason for the empire's eventual collapse. 
Others have blamed the overspending and dumbing down of Rome via gladiator games and debauchery via crazed emperors like Nero for its decline. This, of course, makes an easy parallel to America's preoccupation with sports and reality tv stars, with the left painting Trump as a latter-day Nero. On the other hand, it can easily be argued that these types of entertainments and politics are nothing new historically and can be found in any century. As if they didn't have Kardashian-type subjects of everyone's gossip in Renaissance-era Florence of the ruthless Medicis and the Borgias.
While the U.S. is undergoing transformation, with social changes like the adoption of gay rights, and rapid technological changes via the internet and automation, there's little reason to point to some kind of major worsening of society. It's more likely that it's changing and adapting appropriately, in step with the rest of the Western civilization.  
5. Technology, Not Politics Will Transform the U.S. (And the World)
With so much attention focused on the political strife, the lasting changes to America and its power are not likely to come from invading barbarian hordes. The coming world of complete automation, major life-extending medical advances and space exploration will transform the U.S. in ways the Roman Empire never experienced. The Romans did employ and advance the technology of the day but their life was not upended because all the jobs were suddenly staffed by robots, something likely to happen within this century.
How technology changes America and the political entities around the world will not be clear until the singularity hits. Perhaps the battle by President Trump and his ideologues against "globalism" which has a strong anti-intellectual and anti-technology component, is a last ditch effort to fight back against what is really a war that's already lost.
Still, the political is not to be discounted. As this passage from Gibbon's "The History of the Decline and Fall of the Roman Empire" shows, we have reason to look at Roman history for warnings: 
"The provinces, long oppressed by the ministers of the republic, sighed for the government of a single person, who would be the master, not the accomplice, of those petty tyrants. The people of Rome, viewing, with a secret pleasure, [Augustus'] humiliation of the aristocracy, demanded only bread and public shows; and were supplied with both by the liberal hand of Augustus. The rich and polite Italians, who had almost universally embraced the philosophy of Epicurus, enjoyed the present blessings of ease and tranquility, and suffered not the pleasing dream to be interrupted by the memory of their old tumultuous freedom."
Pax Romana, the period of relative peace at the height of Roman power lasted about 200 years. We are over 70 years into Pax Americana (from the end of WW II).  How long we can make it last is still up to us.
Cover: Sacco di Roma. Painting by Karl Briullov. 1833-1836. Tretyakov Gallery. Moscow.