The Demo-2 mission represents a new era for American spaceflight.
On Wednesday afternoon, SpaceX is set to become the first private company to launch humans into orbit.
The company's Crew Dragon, launched by the Falcon 9 rocket, is scheduled to take two NASA astronauts to the International Space Station.
Neil deGrasse Tyson will host the American Museum of Natural History's live-stream coverage of the launch.
On Wednesday afternoon, a SpaceX rocket is set to launch two NASA astronauts into space on a mission to the International Space Station. If successful, it'll be the first time a private company has put humans into orbit, and the first time astronauts have launched from American soil since NASA's Space Shuttle program ended in 2011.
At 4:33 p.m E.T., SpaceX's Falcon 9 rocket is set to take off from the company's Launch Complex 39A site in Cape Canaveral, Florida. About 90 minutes before launch, NASA astronauts Bob Behnken and Doug Hurley will walk across a walkway 230 feet above the ground and climb into Crew Dragon — the SpaceX capsule that sits atop the Falcon 9 rocket.
Hurley (R) and Behnken (L)
Photo by Bill Ingalls / NASA
It won't be the Crew Dragon's first mission. Last year, SpaceX successfully sent a Crew Dragon carrying only cargo to the International Space Station. But the company has also suffered setbacks with the capsule, including thruster and parachute complications, and a 2019 explosion that occurred during testing.
If successful, Falcon 9 will launch the Dragon capsule into low Earth orbit 12 minutes after takeoff. The rocket will then begin a controlled descent to its landing site on a drone ship in the Atlantic Ocean. Hurley and Behnken will manually fly Crew Dragon toward the ISS.
When they approach the station, Crew Dragon's autonomous docking system will take over, and the capsule will connect to the station at 11:29 a.m. on Thursday. The NASA astronauts will then board the ISS, where they'll likely remain for several months. (NASA has yet to confirm the details of the return mission.)
Walkway to SpaceX's Crew Dragon atop the Falcon 9 rocket
Photo: SpaceX
In addition to being a milestone for private spaceflight, Wednesday's mission — called Demo-2 — is also the culmination of NASA's Commercial Crew Program. Started in 2010, the federally funded program aims to pair NASA with private companies — like SpaceX and Boeing — to transport astronauts to and from the ISS. The mission also represents the end of an era in which the U.S. has relied on Russia to transport American astronauts to the ISS.
"This is a unique opportunity to bring all of America together in one moment in time and say, look at how bright the future is," Jim Bridenstine, NASA's administrator, said at a news conference on Tuesday.
Here's where you can live-stream the historic launch:

American Museum of Natural History
The American Museum of Natural History will begin streaming around 11 a.m. E.T. The live-stream event will begin with curator Ruth Angus examining "the awe-inspiring leap from imagination to scientific achievement in space exploration." At 1 p.m., the museum's Director of Astrovisualization Carter Emmart and astrophysicist Jackie Faherty will take viewers on a virtual field trip to the ISS. Around 4 p.m., Hayden Planetarium Director Neil deGrasse Tyson will join Faherty and museum curator Michael Shara to provide live commentary on the launch.
NASA TV
NASA's live-streaming channel will begin covering the launch Wednesday at 12 p.m. E.T. The agency will provide live commentary, and will also show the astronauts joining the crew of the ISS after the capsule docks with the station.
SpaceX
SpaceX's YouTube channel will also live-stream the launch, though the link is not yet available. We'll update it as it comes online.

UPDATE: The SpaceX link is now active and the live-stream is scheduled to begin at 12:15 p.m.
SpaceX CEO Elon Musk is encouraging aerospace companies to up their game after successfully launching the most powerful rocket since NASA's Saturn V.
Falcon Heavy launches at Cape Canaveral, photo by Jim Watson/Getty
SpaceX CEO Elon Musk wants a new space race, and it's hard to argue with his reason why.
"Space races are exciting," Musk said at a press conference on Tuesday, adding that a new space race could "open up a sense of possibility."
It's also hard to argue with the fact that Musk's aerospace company, SpaceX, is dominating that race after Tuesday's (mostly) successful launch and landing of Falcon Heavy, the most powerful rocket since Saturn V.

After several delays, the SpaceX rocket launched from Cape Canaveral, Florida at 3:45 p.m. ET. The payload was Musk's personal Tesla Roadster, and the plan was to send the red sports car to orbit the Red planet. But that didn't quite work out. Musk Tweeted on Tuesday that the Roadster had overshot the Mars trajectory and was headed for the Asteroid Belt instead.
Third burn successful. Exceeded Mars orbit and kept going to the Asteroid Belt. pic.twitter.com/bKhRN73WHF
— Elon Musk (@elonmusk) February 7, 2018
A massive chart of humankind's 113 spacecraft so far and where they've gone.
Chart of Cosmic Exploration
By our count, there are 113 spacecraft in this image. It's a catalogue of all of the vehicles launched into space so far, from the U.S.S.R's Luna 2 in 1959 to the U.S.'s DSCOVR in 2015. Every orbiter, lander, rover, flyby, and impactor is here, along with its trajectory. It's actually an image of a physical poster from PopChart Lab that any space maven could spend some quality time with.
Open another tab in your browser and click here for a zoomable version of the image. (If you're on your phone, you may want to bookmark this and check it out when you're near a big screen.)
About the Trajectories
Each one is numbered here, and there's a box below with the same number showing the craft that have traveled that route. There are direct routes, and there's tons of gravitational slingshotting around celestial bodies that provides a craft momentum en route to a more distant destination like Pluto. In some cases, that involves involves multiple orbits around a nearby (relatively speaking) body — check out all the action around giant Jupiter, centrally located and capable of providing some powerful gravitational oomph.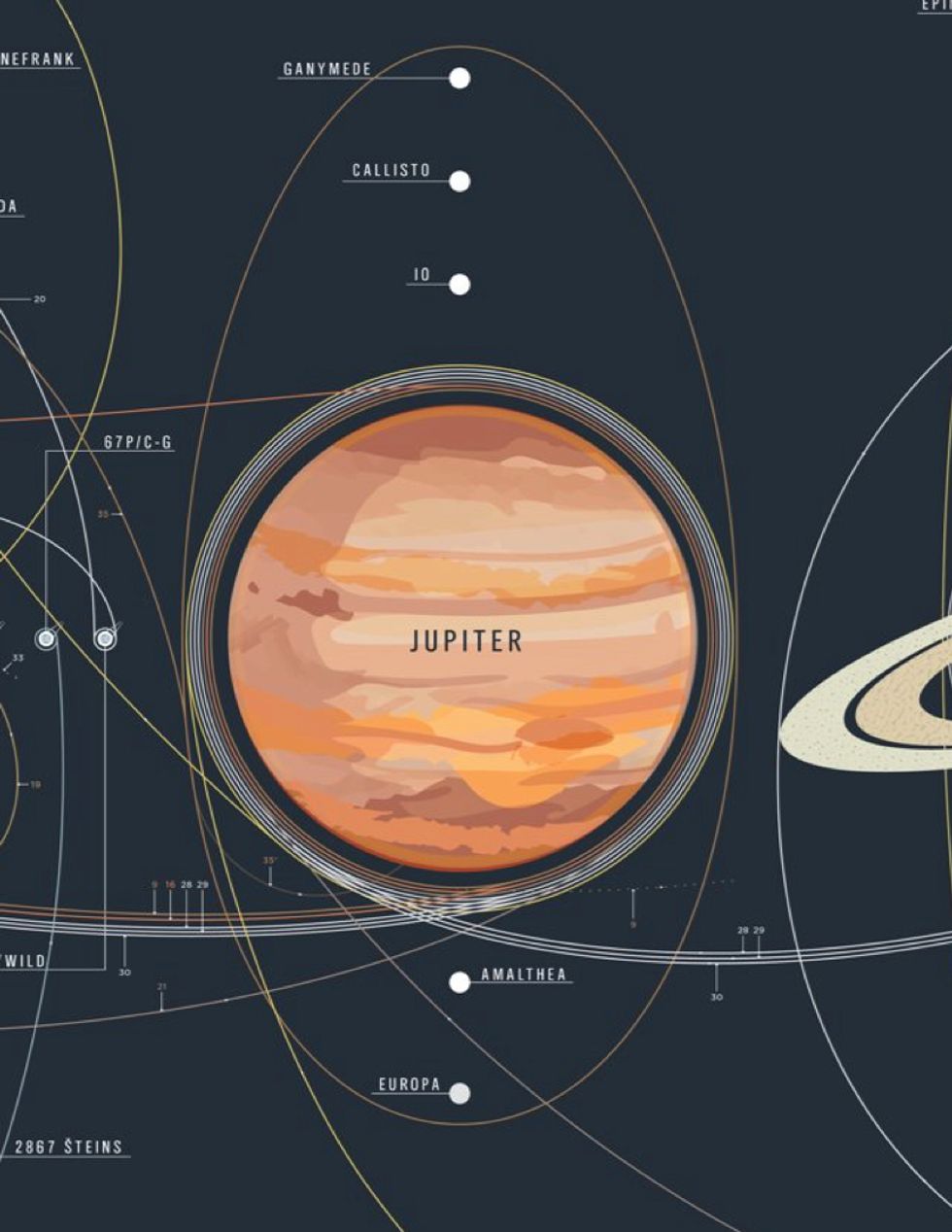 It's a little hard to keep the flight paths separate visually. There's a lot of overlap because the countries plotting the courses of these spaceships go with what works, and the math involved is hardly trivial — hey, it is rocket science.
Here's a little taste of what's in this amazing image. We've kept all of the examples of destinations below in their original scale.
Location, Location: The Moon

What's been there: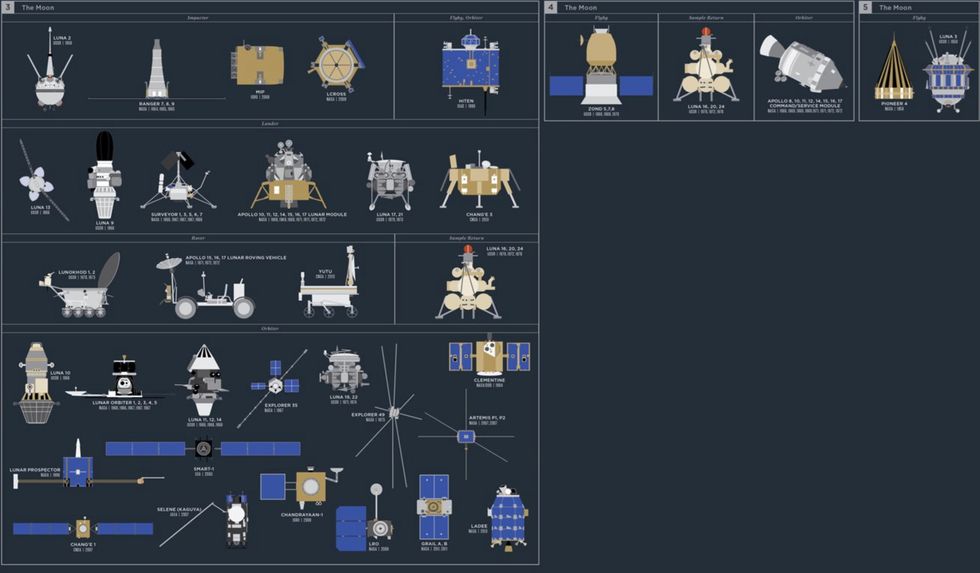 What we've been interested in:
First off, the moon offers a way to learn more about the earth's history and the history of the solar system. The moon's surface has been relatively unchanged for billions of years, unlike earth, where tectonics continually shuffle the surface. Industry is interested in potential extractable resources. And of, course, some think it would make a great extraterrestrial base for missions out to space beyond. The Apollo missions remain a high-water mark for humanity as we stepped on another world for the first time.
Like a Good Neighbor: Mars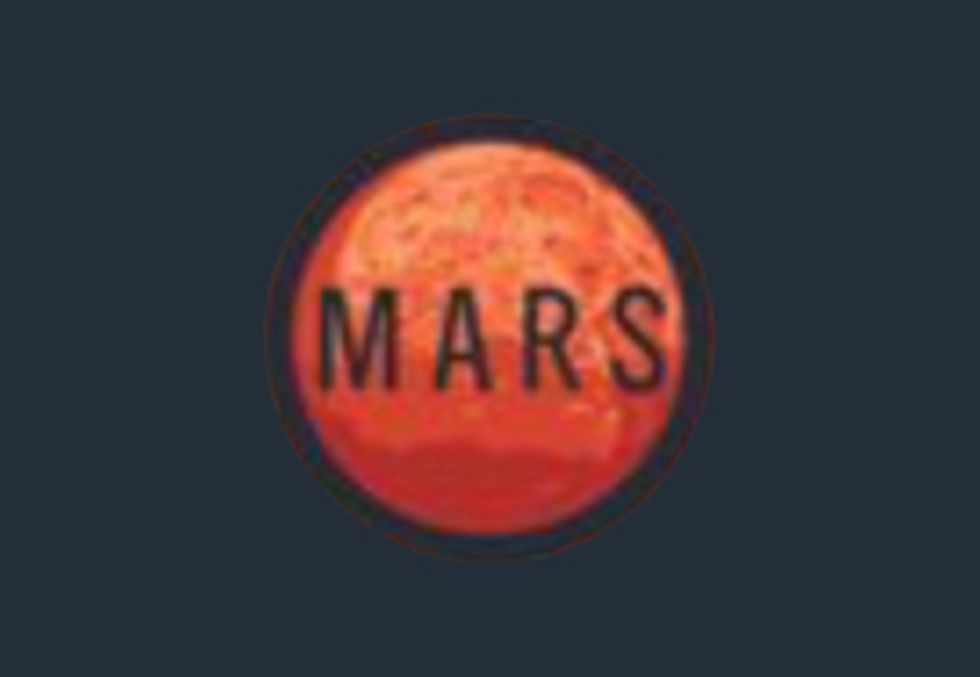 What's been there: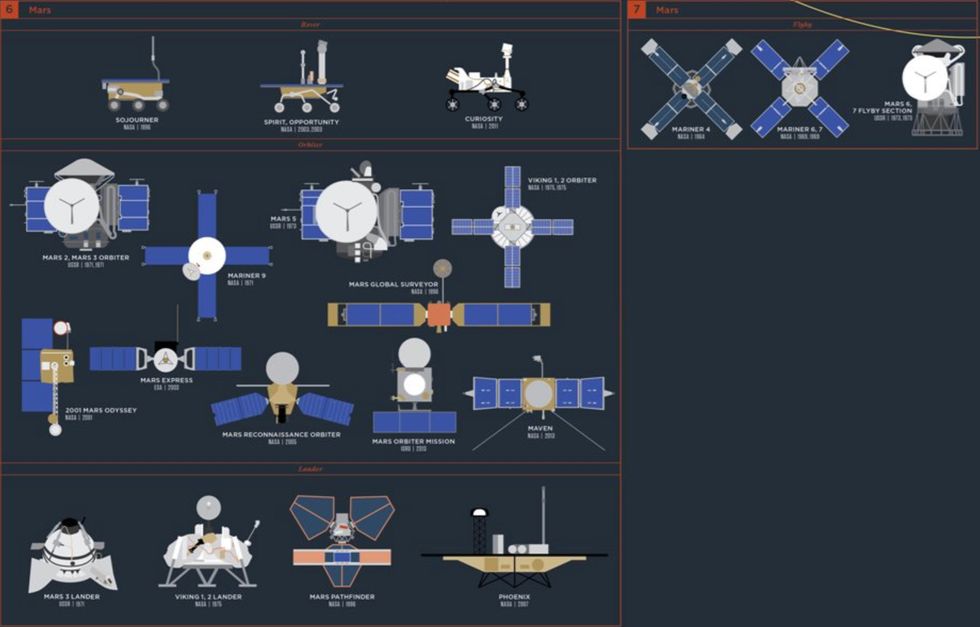 What we've been interested in:
Somewhere to live at some point? Martians? Regardless, Mars past hold a great deal of fascination, with evidence of flowing water and landscapes that resemble areas on earth. NASA's Mars rovers have provided astounding 360° footage that make Mars the first plant beyond Earth that we can feel like we're standing on.
Our Big Sister: Venus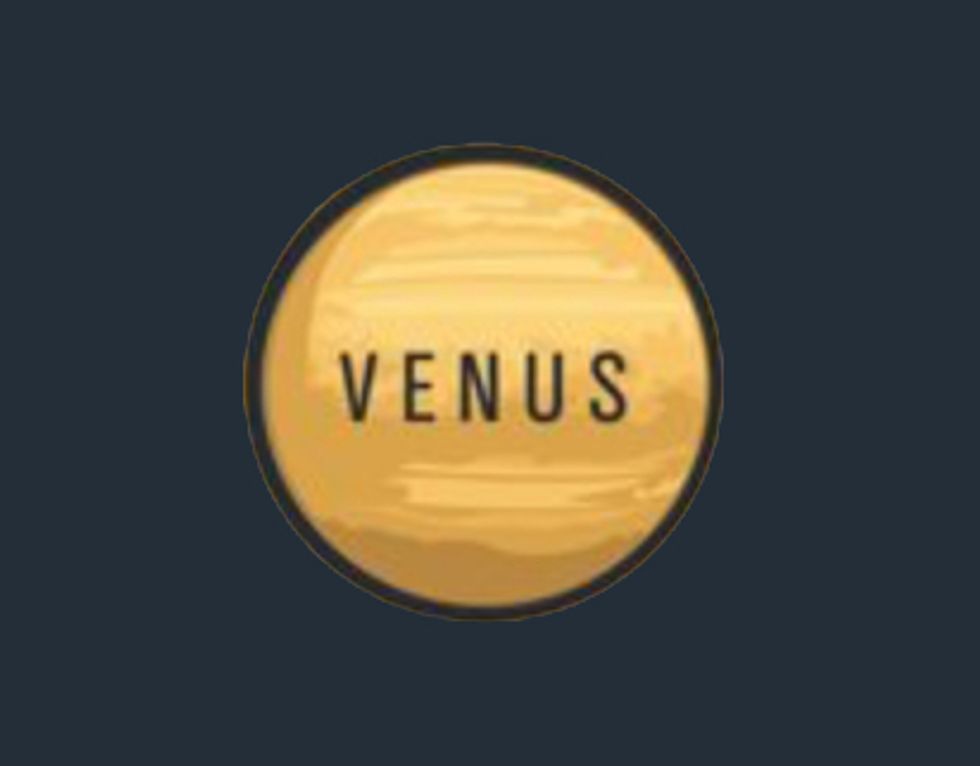 What's been there: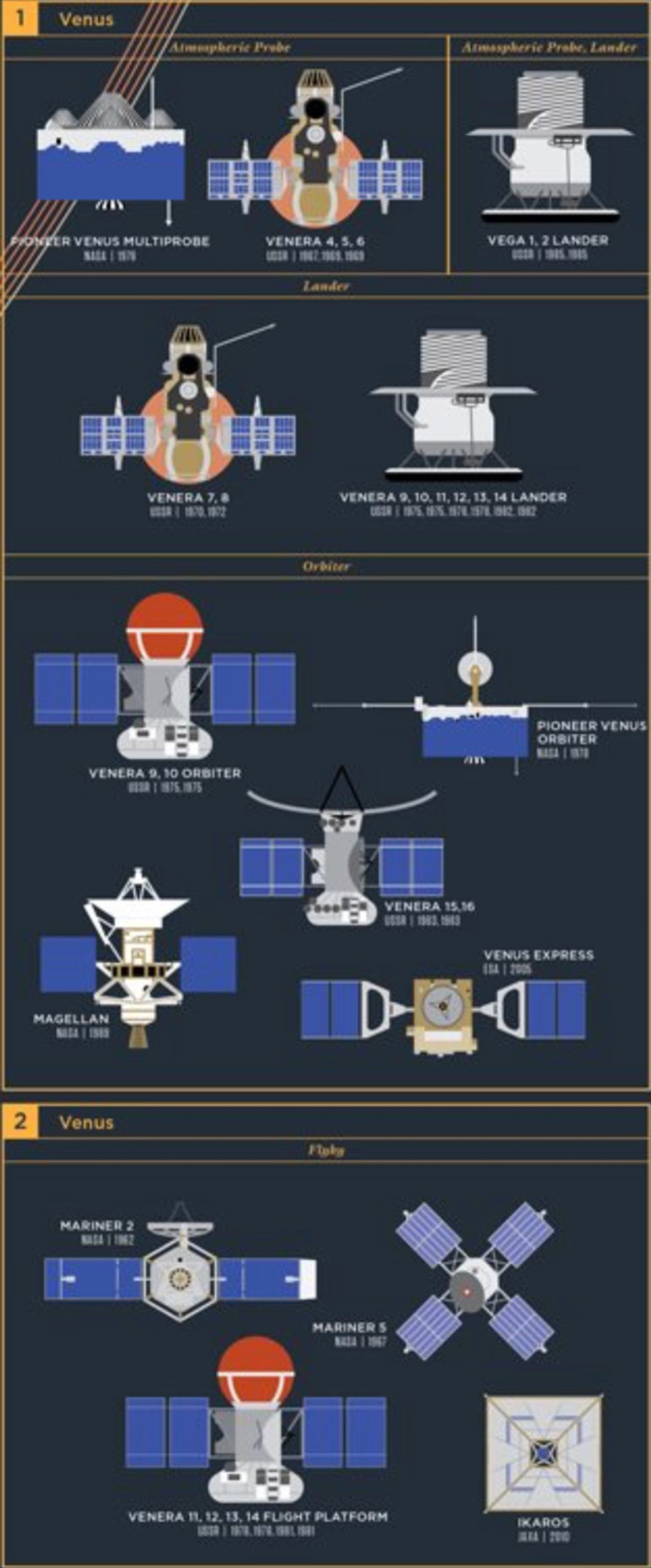 What we've been interested in:
Formerly known as Earth's "sister planet" — albeit a sister that spins in the opposite direction, is over 900°, and has a crushingly heavy atmosphere — Venus is close by, and so it was one of the first planets to which craft were sent. We know now that it's so hot due to a runaway greenhouse effect. As such, scientists suspect there are things we can learn about our own atmospheric issues from Venus. Was Venus once habitable?
Lonely Pluto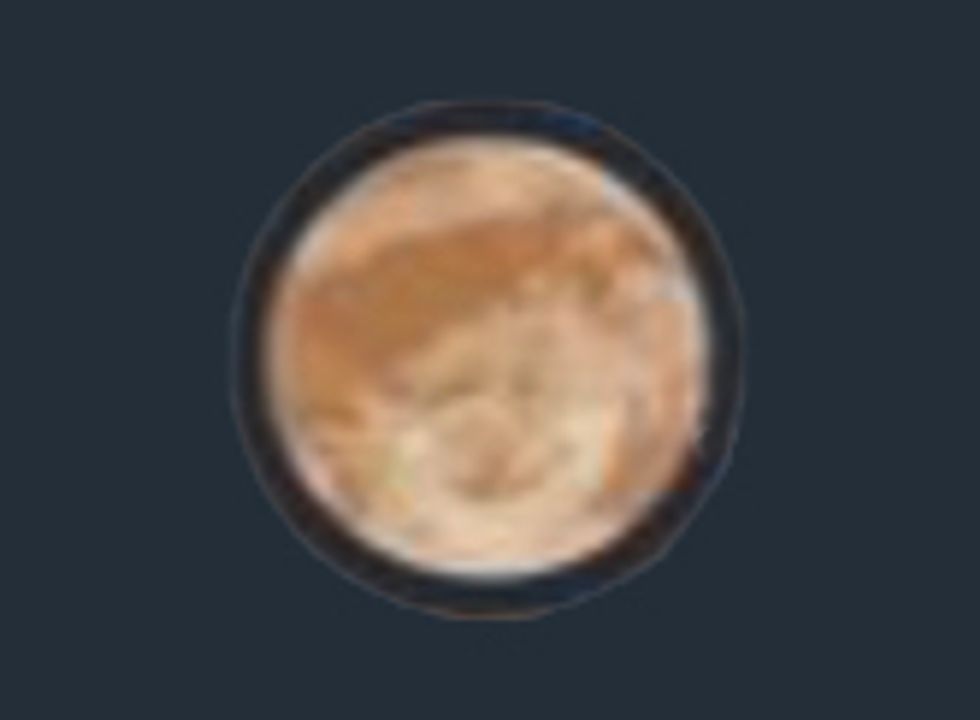 What's been there:
What we've been interested in:
On the farthest planet in the solar system we've seen so far — Planet 9, we're looking at you to take over. Maybe. — is a heart-shaped ice cover that could indicate a subsurface ocean. It was spotted by New Horizons in 2015.
We Can't Help But Boldly Go
So many spacecraft, and we're just starting out from earth – the Chart of Cosmic Exploration is already breathtaking, and obviously this post just scratches the surface.
While there's nowhere we've gone or flown past that hasn't had a totally respectable scientific rationale, it could be argued that the underlying motivation was something larger. The main reason we explore is, of course, our insatiable curiosity. We need to see and understand, and rocket scientists around the world have demonstrated mind-boggling cleverness in reaching out to the stars. Everything we find present us awesome, irresistible puzzles, places that remind us of earth, and finally, places that are just so unfathomably strange that we can only apprehend them in wonder.