Animal law is the fastest growing legal discipline.
Bruiser Woods. Still from Robert Luketic's 2001 film, "Legally Blonde."
Harvard Law School is launching a new clinic to train lawyers in animal law.
They're one of the leading institutions in the animal protection movement.
Increased public interest in animal rights has made this discipline expand rapidly.
Harvard Law School (HLS) recently announced the exciting launch of their own Animal Law & Policy Clinic. Animal Law is a rapidly growing field that deals with the impact or relation we have with all non-human animals of the planet. Harvard reports that in 2000, there were only nine institutions that offered Animal Law courses, that has now skyrocketed to 167 law schools today.
The new clinic will provide students with the broad and extensive knowledge of the field by teaching them how to navigate the legislation, litigation, and policy of animal law on both a national and international level. They'll work on a number of issues that include, "farmed animals, wildlife, animals in captivity, and the overarching threat to all forms of life from climate change."
HLS sees themselves as leading the way for the future of the animal protection movement.
Harvard's Animal Law & Policy Clinic 
The new clinic has a great experienced team leading the Animal Law & Policy Program. On the subject of leading the clinic, Faculty Director Professor Kristen Stilt, stated:
"The Animal Law & Policy Clinic at HLS will train and prepare our graduates to embark on careers in the animal protection field, produce impactful litigation and policy analysis to benefit the animal protection movement, and provide an internationally renowned platform for educating the broader public about the many pressing issues involving animal law and policy."
The clinic will also be led by Visiting Assistant Clinical Professor Katherine Meyer and Clinical Instructor Nicole Negowetti, with recent HLS graduate Kate Barnekow returning as the first clinical fellow, and finally Sarah Pickering as the team's communications manager.
HLS Dean John F. Manning remarked about the importance of giving students real world experience in the field. He is ecstatic to have such a professional and experienced team in charge.
Meyer has an extensive background in animal protection litigation, having founded an animal public interest law firm 26 years ago — she's been ahead of the curve for quite some time.
"This is truly thrilling news for our law students and for the entire law school community. Katherine Meyer's contributions as a public interest lawyer and animal welfare advocate in Washington D.C. are legendary," said Richard Lazarus, an environmental law professor at HLS.
Negowetti as well is considered a food systems policy expert. She's spent her career teaching and advocating on the impact of industrial livestock on animal welfare.
"The clinic will provide outstanding training for a new generation of advocates as we identify and pursue high-impact legal strategies to achieve a resilient, healthy, and just food system — for the benefit of human and non-human animals alike," Negowetti told Harvard Law Today.
With experience related to "plant-based and cell-based meat regulation," Negowetti has a unique background that is in line with growing trends in the public.
Overall, the Animal Law & Policy Program is inheriting a rich tradition of Harvard Law expertise that has the chance to make some real changes in animal welfare policies.
A growing legal study 
Harvard's animal law program has been the foremost leader and authority in the field for years. They're expanding into all domains — training lawyers, encouraging thought leadership in academic writing, and engaging with the community at large on the many issues that affect our animal kin.
Speaking with the Harvard Gazette late last year, HLS lecturer Jonathan Lovvorn spoke about the importance of protecting wildlife from our current climate crisis. He considers the world's most vulnerable population to be animals, especially those in developing countries being ravaged by industry.
"In those countries, especially in terms of climate change, what we see regarding the exploitation and destruction of wildlife is deeply intertwined with the exploitation or destruction of people, communities, and cultures. We can learn a lot about our own social and legal problems by studying our legal problems with wildlife," said Lovvorn.
Lovvorn has taught classes on wildlife law in the past. He hopes to inspire lawyers to take animal law as a starting point to affect positive change in the world at large:
"The key to wildlife law or other collective issues like climate change is to figure out where you can make a difference, and to talk about how we might change institutions to make them more effective."

Public interest in animal law 
When major brands such as Burger King start rolling out plant-based meats, it's indicative of the growing power of the animal rights and protection movement. We're beginning to see the increased public interest in animal law in a great deal of scattered legislation, wildlife conservation, and public discourse.
In California recently, there has been an ongoing effort to ban the sale of fur. This follows a wave of animal welfare legislation that is trying to outlaw cosmetic testing and cruelty on animals with a general push for a more animal-friendly environment.
Concerning the measure, assemblymember Laura Friedman stated,"We've seen California voters more than once saying that any product involving animals should be humanely sourced."
As these many efforts begin to coalesce, places like Harvard's Animal Law & Policy Clinic will be at the forefront of the change.
Some within the autism community take issue with seeing autistic people as having a disorder, decrying the "cure culture".
While there are constant scientific efforts to find a cure for autism, some people do not feel a cure is necessary. In fact, they see neurodiversity as a new civil rights movement.

To its proponents, neurodiversity sees neurological differences like autism as genetic and "the result of normal, natural variation in the human genome," as said John Robison, a writer on autism issues, in Psychology Today.

They see the search for a cure to autism as something in the vein of searching for a "cure to gayness".

Indeed, if there is no currently available cure for 1 out of every 68 children in the US who have autism, or about 1% of the world's population, that's a lot of people who are trying to lead regular lives despite a varying degree of difficulties. And this number is rising as autism is the fastest-growing developmental disability (according to the CDC), with boys 5 times more likely to develop autism than girls.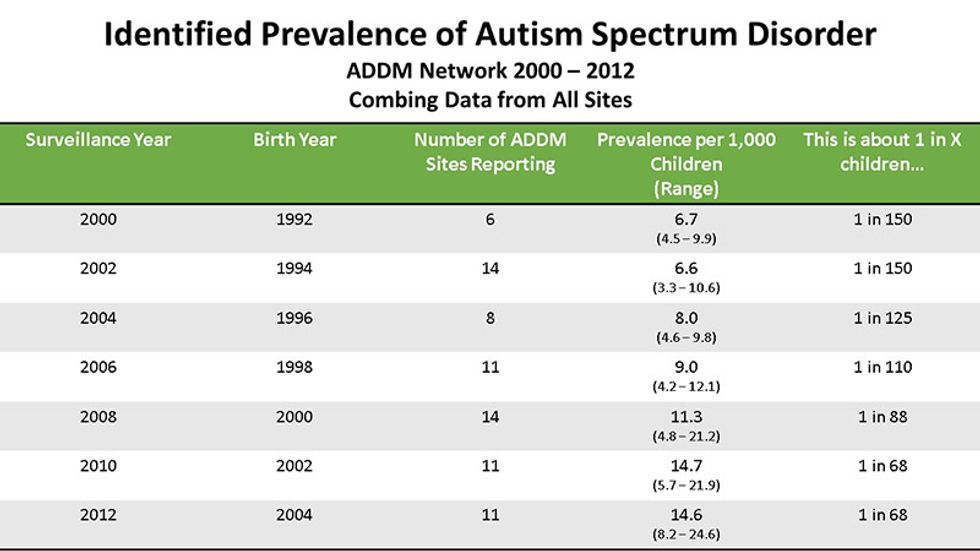 Should society view such a large group of people as disabled or should it see them merely as different and find a non-judgemental path towards incorporating folks on the autism spectrum? This would include allocating budget resources going to what could be unnecessary medical research towards improving the lives of those who are diagnosed as neurologically diverse.

The autism rights movement (ARM) looks to foster greater acceptance of people with autistic behaviors, therapies that focus on coping skills rather than cures that would imitate "normal" or "neurotypical" people, and the need to recognize autistic people as a minority group.

A number of organizations advocate this type of approach. These include the Autism Network International, Aspies for Freedom (which established June 18th as an Autism Pride Day), the Autistic Self Advocacy Network, and the Autism Acceptance Project. Among their work to advance the rights of autistic people, some ARM groups go so far as to actively advocate against organizations like Autism Speaks and others that work to find a cure, looking to change what they see as detrimental "cure culture".
Understandably, controversies have followed such groups. As reported in this New York Times article, some autism email lists have been criticized for calling parents who are looking to cure their children as "curebies" who are depicted as "as slaves to conformity, so anxious for their children to appear normal that they cannot respect their way of communicating".

As Julia Bascom from the Autistic Self-Advocacy Network told to the Daily Beast:
"The idea of a cure for autism doesn't make sense. Autism isn't a disease or an injury; it's a neurodevelopmental disability that shapes our brains differently. If I can't talk, does it make sense to look for a pill for that, or should my speech therapist help me learn how to type or sign instead? Is flapping my hands or intensely and obsessively loving something 'weird' or wanting to be by myself the psychological equivalent of diabetes, or is it a natural and beautiful part of human diversity?
One criticism of the autistic rights movement stems from the perception that it is being led by high-functioning autistic people, like those with Asperger's syndrome. While they may exhibit certain symptoms on the autism spectrum, many with Asperger's are able to lead lives similar to a non-autistic person and find the idea that they need to be "cured" offensive.
But to people on the low-functioning end of the spectrum, this approach might prove detrimental as it can prevent or delay treatments that they need and want. While differences in race or sexual orientation can cause societal oppression, they are not physically disabling a person in everyday life like neurological issues.

From heated arguments over vaccinations to its burgeoning civil rights push, it is clear that autism is a very emotionally charged topic and its increasing prominence is underscored by the rising number of diagnoses. Whatever may be the cause, how we view people who are autistic is a significant social challenge that needs discussion and action.