At the dawn of the AI era, where decisions made now could affect the future of mankind, regulation over tech giants is needed now more than ever.
Joanna Bryson isn't a fan of companies that can't hold themselves responsible for their actions. Too many tech companies, she argues, think that they're above the law and that they should create what they want, no matter who it hurts, and have society pick up the pieces later. This libertarian attitude might be fine if the company happens to be a young startup. But if the company is a massive behemoth like Facebook that could easily manipulate 2 billion people worldwide — or influence an election, perhaps — perhaps there should be some oversight. Tech companies, she argues, could potentially create something catastrophic that they can't take back. And at the dawn of the AI era, where decisions made now could affect the future of mankind, regulation over these tech giants is needed now more than ever.
Homeopathic manufacturers take advantage of sick and vulnerable populations in criminal ways—and the FDA is, after much absence, starting to crack down.
Samuel Hahnemann discovered cinchona, Peruvian bark, while translating Scottish physician William Cullen's book on malaria. The German doctor left a career in medicine because he objected to practices like bloodletting, which he considered ineffectual and barbaric. Upon leaving the establishment Hahnemann supported his family by translating medical textbooks—a linguist, he spoke nine languages. Cullen's 1789 book, A Treatise on the Materia Medica, set off a light bulb that would forever change the trajectory of Hahnemann's career.
Inspired by the possibilities of a less dangerous approach to healing, Hahnemann slathered cinchona over his body to induce malaria-like symptoms. It remains unproven that he really developed malaria; an inflammatory reaction is possible. Undaunted, he reasoned that it would be the same for any healthy individual. This experience became the foundation of homeopathy. The idea that "like cures like" was not new, but by being its champion Hahnemann created what would become a multi-billion dollar industry.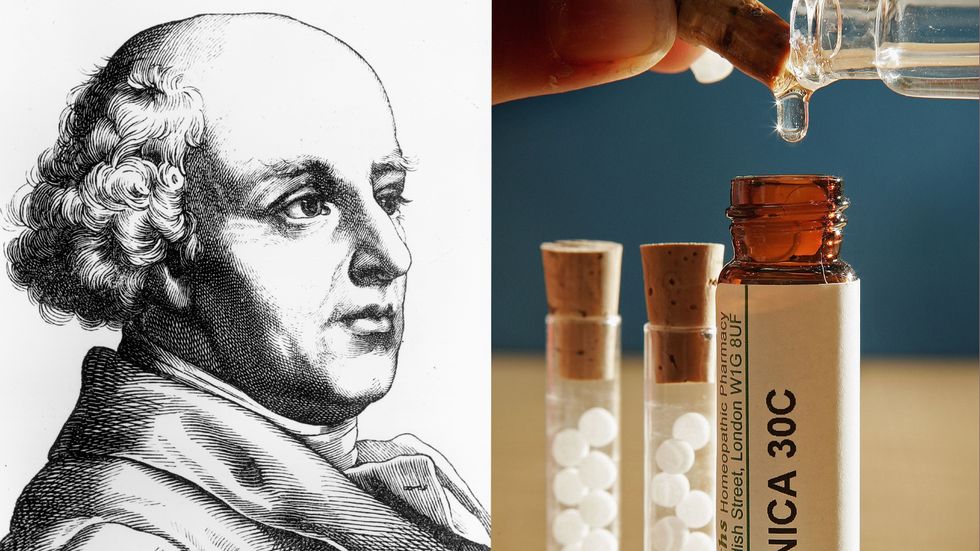 Samuel Hahnemann, the father of homeopathy. (Getty Images)
Hahnemann's method, potentization, remains the basis of homeopathy today. To understand this process, let's consider the most popular homeopathic flu remedy on the shelves, Oscillococcinum. One of France's top-selling medicines, it rakes in $20 million a year in America. Yet few people know what it actually is. 
Oscillococcinum is based on French physician Joseph Roy's 1917 discovery of an oscillating bacterium he termed Oscillococcus in the blood of flu victims. Roy speculated that this bacterium was responsible for a host of diseases, ranging from eczema to cancer. Years later he discovered the same bacterium in the blood of a Long Island duckling. Never mind that no one else ever verified its existence; it was likely dust on the microscope slide. 
Roy had a vision and stuck with it, evidence be damned. Today the process of potentization to manufacture Oscillococcinum begins with the heart and liver of the Muscovy duck. Technicians mix one part duck heart and liver with one hundred parts sugar in water. Then the process is repeated two hundred times. Well, lactose is continually added in; that one part duck is the only active ingredient blended in at any point. 
Dilutions—a proving—for various remedies range in intensity. A homeopathic prescription claiming a potency of 6x means there's one part active ingredient per million bits of sugar. By the time you get to 6c there is one part in ten trillion. By 13c no parts remain. A typical homeopathic medicine is 30c. Former U.S. Air Force flight surgeon and family physician Harriet Hall points out that at this level you'd need a container thirty times the sizes of the earth just to find one molecule of the initial substance. Oscillococcinum is 200c—pure sugar water.
In homeopathy, the less of an active ingredient, the stronger it is. Skirting the basic precepts of biology, most homeopathic remedies don't only work because of placebo, they are placebo. Despite the fact that this knowledge hides in plain sight, the FDA continues to turn a blind eye, to the point where the FTC stepped in last year to require stricter regulations of claims being made on homeopathic packaging, which pull in nearly $3 billion per year in America. 
Until now, that is. The FDA announced that, in a rare recent instance of consumer protection, it's cracking down on marketing claims by manufacturers of homeopathic products. Homeopathy has long enjoyed a lack of surveillance, even though these products are legally subject to the same approval and misbranding requirements as pharmaceuticals. 
The problem with current regulation is two-fold. First, claiming sugar water is responsible for curing colds or any other ailments is irresponsible. The second is more dangerous: some products do contain active ingredients—ironic, since in homeopathic lore it is a weak proving—which have not been clinically tested. 
As FDA commissioner Scott Gottlieb puts it: 
In recent years, we've seen a large uptick in products labeled as homeopathic that are being marketed for a wide array of diseases and conditions, from the common cold to cancer. In many cases, people may be placing their trust and money in therapies that may bring little to no benefit in combating serious ailments, or worse – that may cause significant and even irreparable harm because the products are poorly manufactured, or contain active ingredients that aren't adequately tested or disclosed to patients. 
Most homeopathic products will come through this unscathed, however. The FDA is targeting products with reported safety concerns, containing potentially dangerous ingredients, administered in ways other than oral or topical, marketed for the prevention of life-threatening diseases, aimed at vulnerable populations, or not meeting standards of quality, strength, or purity as those required under the law.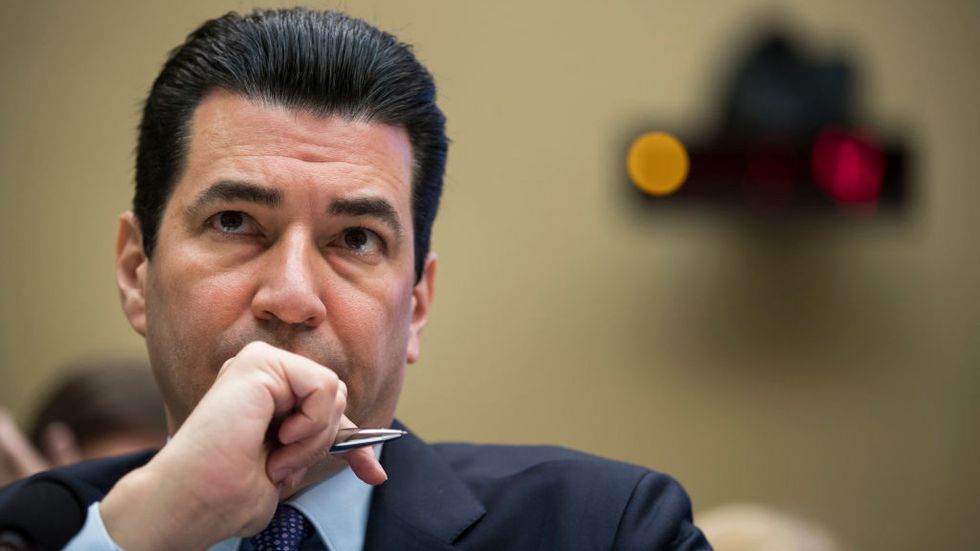 FDA Commissioner Scott Gottlieb. (Getty Images)
This could lead to serious problems, says Timothy Caulfield, the Canada Research Chair in Health Law and Policy at the University of Alberta and author of Is Gwyneth Paltrow Wrong About Everything? While he's happy the FDA is finally regulating homeopathy, he says that by overlooking clinically benign products it is inadvertently endorsing their efficacy. As he told me:
Do to resource constraints, they are prioritizing the high risk products. I understand the motivation for this policy. But I fear they are implicitly endorsing the low risk stuff—which is likely most of the homeopathic products. What is a needed is a clear, blanket policy that is built on the reality that homeopathy is science-free nonsense and that any claims of efficacy— at least beyond a placebo effect—are not founded on good evidence.
The rigors and constraints pharmaceuticals have to endure to get to market are for our protection, even if the pharmaceutical industry itself has been devious when extending patents and marketing ineffective products. Homeopathic medicine today in large part thrives due to consumer concern about Big Pharma—homeopathy was nearly decimated until magical thinking made a huge comeback in the 1960s. The response to growing corporate and governmental power created a mindset that anything coming from those camps must be tainted. 
That we search for solutions beyond pharmaceuticals is understandable. Yet homeopathic manufacturers are taking advantage of us in similarly criminal ways. We're literally being sold sugar water to coat the bitter reality of the vitamin aisle's most ineffective products. As with the rest of the sugar in the market, we gladly pay for it, ignorant of the damage it causes. 
--
Derek Beres is the author of Whole Motion: Training Your Brain and Body For Optimal Health. Based in Los Angeles, he is working on a new book about spiritual consumerism. Stay in touch on Facebook and Twitter.
Insert dial-up noise here. If you're not concerned about what's about to happen with net neutrality, you're not paying attention.
On December 14th, the Federal Communications Commission (FCC) will try to get rid of net neutrality, after the Obama administration passed the "Open Internet Order" in 2015. The order ensures that internet service providers (ISPs) treat all legal online content equally and bans them from blocking, prioritizing, or slowing some of it as well as being paid by companies to do so.
Here is John Oliver explaining net neutrality in a much funnier fashion.
Net neutrality seems like an issue that should be supported by both political sides. As Julian Assange pointed out recently in a provocative tweet to Donald Trump, without net neutrality Trump's opponents who own most internet companies could make his "tweets load slowly, CNN load fast and infest everyone's phones with their ads."
Dear @realDonaldTrump: 'net neutrality' of some form is important. Your opponents control most internet companies. Without neutrality they can make your tweets load slowly, CNN load fast and infest everyone's phones with their ads. Careful.
— Julian Assange
The new FCC commissioner Ajit Pai, however, promised to do away with it and a few days ago released the final draft of the proposal to end net neutrality.
The main goal is to reverse the reclassification of ISPs from "telecommunications service" (under Title II of the Communications Act) to "information service" (under Title I of the Communications Act), which will strip the FCC from the power to regulate the internet gatekeepers. 
The reclassification happened in 2010 after the FCC wanted to impose net neutrality rules on ISPs, but was then successfully sued by Verizon, and the court pointed out that if the FCC wanted to have more regulatory power over ISPs, it needed to reclassify them. (Curiously, Ajit Pai used to be a lawyer for Verizon.)
What would it mean for the FCC to no longer have the same control over ISPs? Internet providers will be able to prioritize their own products and services over those of competitors by, for example, not counting them towards monthly data usage, or ensuring better traffic for them, or even by blocking competitors' products, like in the infamous case of Verizon blocking Google Wallet. 
To get an idea, we can also look at Portugal, a country that—even though it is covered under EU's net neutrality rules—has found big enough loopholes in them. The country's wireless carrier Meo requires users to pay additionally for apps and services they would like to use, like WhatsApp, Facebook, Snapchat, and Messenger. Video apps are also offered as paid add-ons in a variety of bundles. 
This kind of set up could easily harm smaller companies. If, for example, Snapchat and Messenger are in different bundles, each of which is an additional $4.99 to your plan, it is very likely that you will choose to use only one. Also, small businesses won't have the resources to pay providers to push their content or products to the top. They could potentially lose all internet traffic.
Ajit Pai says that repealing net neutrality is good for consumers because it will allow for more investment from telecoms, but that is a weak argument. Research suggests that it is precisely open competition and not lack thereof that causes higher investment. As The Economist points out, "declining competition does more than harm some consumers; it makes firms lazy." 
Without net neutrality, telecoms won't have to compete based on the quality of their products, but would be able to tie the hands and eyes of their customers to their products, whether or not the customers actually like them.
Democratic Rep. Ro Khanna of California wrote on Twitter: 
"In Portugal, with no net neutrality, internet providers are starting to split the net into packages. A huge advantage for entrenched companies, but it totally ices out startups trying to get in front of people which stifles innovation. This is what's at stake, and that's why we have to save net neutrality."

The vote to repeal net neutrality regulations will happen on December 14th. Here are several ways to take action, compiled by Inverse.

 

 
A spoonful of sugar has always made the medicine go down – but shouldn't we be asking whether we need this type of medication in the first place?
Image: Shutterstock
One of the most sugar-heavy aisles in Whole Foods is the bars section, where a variety of protein-heavy meal replacements and snacks are marketed under the guise of healthiness. Ironically many of these same 'power bars' sit next to Snickers and Kit-Kats in 7-11, which is a more honest approach as most of these concoctions are little more than sugar-delivery methods. 
We love sugar, and we love it even more when we pretend eating it is in the name of health. Companies manufacturing such products argue that since a surplus of vitamins and supplements are being delivered the foodstuff must be palatable. In the modern world sweetness dominates. 
Forget foods for a moment. Vitamin manufacturers realized that a trick used to lure children into taking their daily dosage works equally well with adults. Gummy vitamins now bring in $1 billion dollars in sales in the $41 billion supplements industry. But are they really healthy? 
In Cooked, Michael Pollan argues that fortified bread is the result of the insidious mass production model. Stripping flour of nutrients to save costs then pumping in vitamins is not the proper way to get what your body needs. He also argues that it's not gluten but time harming most people's digestive systems. Rushing nature's fermentation process demands unhealthy trade-offs. 
Much the same can be said for vitamins. Since the Dietary Supplement Health and Education Act of 1994 allowed companies to market and sell products with no proven results, consumers have bought into the notion that if 100 percent of RDA is good, 500 percent must be better. Instead of a balanced diet we began supplementing by popping pills even while evidence of efficacy is scant.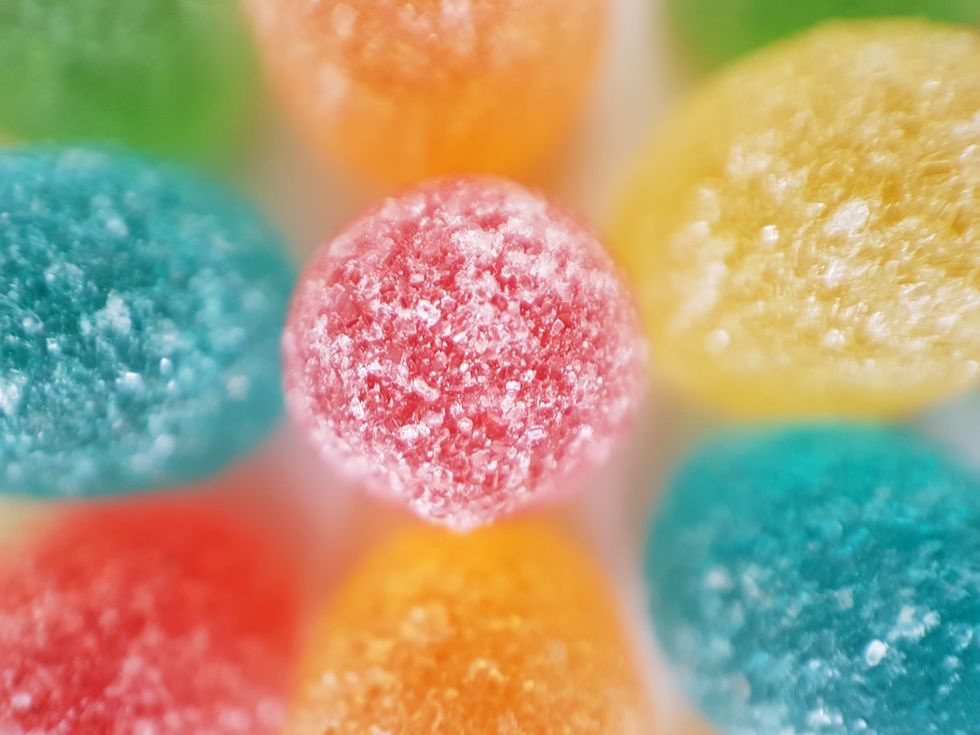 This desire to pump your body with vitamins and minerals coupled with a growing prescription load has created pill fatigue. Not all pills taste good; many are not easy to swallow; the drudgery of washing down a dozen capsules every morning becomes boring. Sugar is probably the most non-boring means of consumption—the quick pleasure hit is hormonally measurable—and so the rise of gummy bears. 
Consider Adult Bronson Bears, marketed as 'naturally fruit-flavored,' '100% vegetarian,' and containing 'no high fructose corn syrup.' Scroll down to the fine print, however, to learn that the first two ingredients are glucose syrup and sugar, that the natural fruit flavoring is derived from the ambiguous 'natural flavors' and coloring, and that each daily dose contains six grams of sugar, or a quarter of the World Health Organization's recommended daily allowance. Compare this to pretty much any store brand multivitamin pill and that's an extra six grams of gummy sugar every day.
There are certainly good reasons for taking vitamins if you are deficient. Supplements might give you a cognitive boost or help curb arthritis and inflammation. Since evidence is often anecdotal and unverified (since there's no need for verification) it's hard to pass through the vitamin aisle and be confident in your purchase. Unfortunately for consumers this confusion is a lucrative part of the supplement industry. 
One critic of gummy vitamins points out the more fillers used to create little bears, the less space exists for active ingredients. Gummies might combat pill fatigue, but first we have to ask if these vitamins are necessary, and second if the high dosage of sugar is worth any potential benefits. 
For most of history we received vitamins and minerals from eating a balanced diet. This should still be the case, especially given the wide variety of fresh foods we can purchase at any time of year. Persistent sweet teeth and cultural aversions have made many shy away from nutrient-dense foods like organ meats and bitter greens. That's a shame. Gummy vitamins are the equivalent of eating a well-done steak with ketchup—something a child does that should at some point be abandoned. Sure, you can keep doing it, but the cost might be more than the benefit.
--
Derek's next book, Whole Motion: Training Your Brain and Body For Optimal Health, will be published on 7/4/17 by Carrel/Skyhorse Publishing. He is based in Los Angeles. Stay in touch on Facebook and Twitter.