Here's the psychology that explains why many economists prefer to be narrowly right yet broadly wrong (they suffer from professional "rigor distortis").
Illustration by Julia Suits, author of The Extraordinary Catalog of Peculiar Inventions, and The New Yorker cartoonist.
1. Isn't it odd that real economies often defy economists? Has post-financial-crisis criticism made us savvier consumers of economic ideas? Let's consider the precise professional habits that generate "cry wolf", "what wolf?", and "rigor distortis" errors in many economists.
2. A rigor-loving psychology, paradoxically, predisposes many economists to prefer being narrowly right yet broadly wrong. Their precision-seeking methods rigorously misrepresent reality ("rigor distortis").
3. Cry-wolf "economists have had another terrible year," writes right-wing journalist Jeremy Warner. A "substantial majority of economists" predicted "market mayhem" after Trump's election. The IMF expected a "profound shock to global confidence" after the Brexit vote. Neither happened.
4. Meanwhile a "what wolf?" free-markets-benefit-all faction continues preaching markets-know-best doctrines, despite decades of contrary data (unshared gains) and many disastrous market "decisions."  
5. How are such smart experts seduced into "rigor distortis"? Their approved methods ("methodological monism") permit only precise, rigorous logic which excludes factors lacking data (+ equation filtering). And they're predisposed to resist unavoidably imprecise reality-reinjecting adjustments (McNamara Fallacy).
6. "All-else-equal" thinking also worsens these rigorous-but-wrong habits. In reality, many factors shift simultaneously. And incentives often cut both ways—do higher taxes mean people work less, or more, to maintain prior spending?
7. Fans of "self-organizing" markets often ignore that self-organization needn't be benign. Misaligned and bad actor incentives abound.
8. For instance, pervasive incentive flaws arise because both sides of voluntary transactions "gain" from cost exclusions ("externalities"). However repulsive rigor-lovers find unavoidably imprecise externality adjustments, reality has precisely zero unaffected markets (all offerings consume energy… pollution externalities always > 0).
9. Indeed, there are no "unfailed" markets in reality (see Brad Delong's unrealistic caveats).
10. The vast academic literature on externalities is used like "holy water" (Garrett Hardin), sprinkled then ignored. Shouldn't noneconomists judge economic ideas as enacted (however selectively)?
11. A dysfunctional ethics-outsourced-to-markets game gives executives excuses to cherry-pick economic ideas. While "what-wolf?" economists ignore how routinely greed-guided businesses subvert market doctrines (e.g., economists mostly just assume away "pricing power").
12. Reality-denying methods led Andrew Gelman to compare economics to Freudianism. Both are explain-all, know-the-answer-in-advance frameworks convincing to rich clients.
13. Another Freud-like habit of economists is to project their love of incentive optimization onto others. Many real humans find such calculated decisions stressful, and avoid them. Why organize life around a rare sort of rationality (rare even among economists)?
14. Economics' defenders trumpet their (shockingly recent) embrace of data, but as Warner notes, descriptive data is used in models that presume mechanistic responses, ill-suited to social systems.
15. Always ask how economists adjust for known exclusions. And why given models presume causal stability. Unless they offer practical answers and adjustments for unmodeled effects, you can ignore them, just like real economies do.
16. Rationalist economics is almost self-refuting. Is it rational to continue paying experts whose models assume rationality, yet often fail to match reality?
17. Descriptive economics is useful (see Noah Smith's minimum-wage research summary), but prescriptive, often reality-denying, market faith is far from irrational.
Illustration by Julia Suits, author of The Extraordinary Catalog of Peculiar Inventions, and The New Yorker cartoonist.
We often look at our impulses as a bother. Things to be overcome and controlled, but what if we are looking at them the wrong way?
Are we being too rational?
We all know a person who is unable to control their impulses. The friend who always buys the one thing they like but don't need, the one who drinks just a little too much, the one who can't finish their work because they need to check twitter for a second; all of them attract a little bit of our disapproval.
This is often justified, as impulsivity is positively correlated with all kinds of substance abuse. Impulse control disorders are recognized by the Diagnostic and Statistical Manual of Mental Disorders as being real and problematic. Those disorders also correlate with various other mental and physical health problems.
Experimental data also shows that impulsivity can lead to negative life outcomes. Famously, the Stanford Marshmallow Experiment found that preschoolers who were better able to delay gratification went on the have higher SAT scores, education levels, and better emotional coping ability than their peers who gave in to impulse right away.
However, there are a few things to be said in favor of impulses.
In her article, Dr. Rebecca Brown articulates why we might want to give impulses a little more credit. While she acknowledges that our brain's automatic responses can be irrational, and isn't arguing that we should jettison rational thought for following our every whim, she does remind us that habits needn't be harmful and that just because our subconscious is running things isn't proof things are going badly.
She firstly reminds us that our impulses, even when they tend to irrational biases, can be useful and even vital to our ability to function. Imagine, for example, if every time you took a step you had to focus a tremendous cognitive effort on making your legs move in just the right way for smooth movement; in the same way that you focus on it when walking on an icy path. Would walking not be much harder? How much walking would you be able to do in a day without growing sick of it? Thank heavens that most of the time our subconscious worries about the exact mechanism of walking! It is our habits and impulses that allow us to get through the day without suffering mental exhaustion.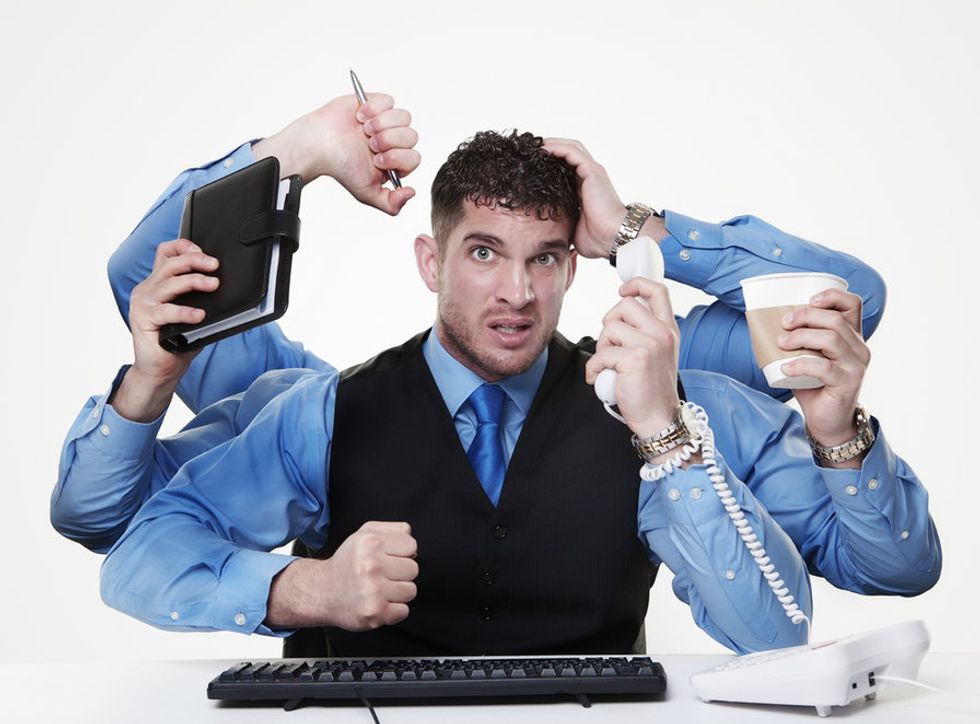 Think you could multitask if some of the simpler actions were not managed by your subconscious? Think again.
Our impulses also help us fully experience life around us. She refers to the story of a woman who set herself a simple list of goals for a week and was bound to follow them. The goals were simple, exercise more, get the right amount of sleep, and more goals of the kind we would all do better to aim for. She was able to achieve most of them rather easily. However, her diary is so dull it could cure insomnia. The utter rejection of impulse, even non-negative ones, suggests that her week was spent doing exactly what she should do and not much else. While this may be good for us, it is also not quite what most of us think of when we imagine the kind of life we would want to live.
Is Dr. Brown alone in her defense of our better impulses?
Dr. Brown has a friend in Aristotle of all people, who saw the ideal human as a rational creature. Aristotle understood the power of impulse, and that it makes habits notoriously hard to break. His ethical theories take this into account and try to have the virtuous person change not only their actions but their habits. When even your impulses have become virtuous, how can you not be so?
While we are right to critique the person who is unable to control their impulses, we may have reason to criticize the person who never listens to their impulses at all as well.  To live without our impulses would be to hardly live at all. In many cases, such as executing a simple movement, we really might not be able to get by without our impulses going about their often thankless jobs.  
A new study shows that "magical thinking" can be reduced by presenting and processing information in a second language.
Photo: Ciocci via Flickr (flickr.com/photos/ciocci)
Superstition is everywhere in our modern lives. Each Friday the 13th, nearly a billion dollars in business is avoided because people are afraid that it will be bad luck to do it that day. In the United Kingdom, traffic accidents increase dramatically on the same day, despite less traffic overall. Even for those of us who consider ourselves rational people, the effects of superstition can still hinder us. We know we have nothing to fear, but fear it anyway.
A new study shows us a way to bypass that part of our mind that worries about black cats and broken mirrors: speak in another language.

In one part of the study, Italian volunteers who were proficient in the German or English languages were asked to read about an event associated with bad luck, such as a breaking a mirror or walking under a ladder. They were then asked to rate how the event in the story made them feel, and how strongly it affected them.

While the scenario invoked negative feelings in nearly all of the subjects, the ones who read it in a foreign language noted a reduced level of negative feeling compared to those who read it in their native tongue.

The study was repeated with other languages to see if the effect also existed for events with a positive connotation, such as finding a four-leaf clover. Similar results were found, with the same reduction in the intensity of mood changes for those who read it in a foreign language. The effect held for all demographics studied, and the authors took steps to assure the readers would not misunderstand the texts and give false positives.

This study suggests that tendencies to "magical thinking" can be reduced by presenting and processing information in a second language. While it does not remove these tendencies, as the subjects still showed both positive and negative responses to certain phenomena, it was starkly reduced in every case. It supports the findings of previous studies that suggest memories are partly tied to the language they are made in, and adds evidence to the hypothesis that the part of the brain that processes information in a second language is more rational than the part that works in our native language.

Weird. What else happens to me if I do my thinking in a foreign language?
The authors of this study point out that other research has shown that people will make different choices when speaking a second language than when speaking in their native tongue. They are more willing to sacrifice a stranger to save five other people, will spend more time discussing embarrassing topics, are more tolerant of harmful behaviors, and more permissive of helpful behavior that has dubious motives. In all, they are more rational.

But, why would the choice of language have such an effect on behavior? 
The authors of the study suggest that the part of our brains that processes our native language is more intuitive and less rational than the parts that focus on new languages. This idea, that our linguistic choices can have such an effect on our rationality, can be a little off-putting for those of us who like to suppose ourselves as rational people.
So, what can I do with this information?

The findings could have implications for language study and the neuroscience of how our brains process language. It might also be used to advantage in diplomacy and business, with negotiators selecting a language that will most benefit their rationality. It also means that next time you see a black cat crossing your path, you might do better to disregard it in a second language than try to shrug it off in your first.
Beyonce, winner of Best Traditional R&B Performance for 'Love on Top', poses in the press room at the 55th Annual GRAMMY Awards, 2013 in Los Angeles, California. (Photo by Jason Merritt/Getty Images)
Social observers are particularly attuned to braggadocio. What do you think of a person who claims to be a better driver, performer or lover than average? Is this person better described as confident or cocky; self-important or honest? Would you put your health or safety in their hands? And what about the opposite type of person, who claims to be worse than others? Would you hire this person for a job? In what field?
Social scientists have been asking for decades whether boastful, self-aggrandising beliefs and behaviours are beneficial to those who make such claims. According to one school of thought, claiming to be better than others feels good, and when we feel good, we are happier and better adjusted. This argument suggests that bragging to others can satisfy the motive to craft and maintain a positive self-image. According to another line of research, however, consistently viewing oneself as superior entails a distortion of reality. Inaccurate individuals with low self-knowledge have weaker relationships and a tendency to make riskier decisions than their accurate, self-aware counterparts.
Together with Joachim Krueger at Brown University in Rhode Island, I recently proposed a middle ground: braggadocio could be a double-edged sword. In our paper in the journal Social Psychology, we argue that thinking you are better than average (and bragging to others about it) can damage some aspects of your reputation but boost others. Bragging can help or harm depending upon your goals – so you'd do well to know what you want to accomplish before tooting your own horn.
To test how observers respond to braggadocio and humility, we recruited nearly 400 volunteers and asked them to rate a series of target individuals along the two major dimensions of social perception: competence, including rationality, intelligence and naiveté, and morality, including ethics, trustworthiness and selfishness. Some of the targets were defined as performing better or worse than average without making claims Some claimed to be better or worse than average without any evidence. Others both made a claim about themselves ('I did better/worse than average') while researchers revealed their scores.
The results demonstrated several detrimental effects of boasting, although we observed some surprising benefits too. Perhaps the most interesting finding was what we call the 'humility paradox'. In the absence of evidence (ie, a test score), bragging to be better than average boosted a target's reputation as competent, but diminished their reputation as moral. Conversely, those who remained humble by claiming to be worse than average were rated as more moral and less competent than the braggarts. The paradox suggests that when deciding whether or not to boast about your performance, keen decision-makers might first stop to consider which aspect of reputation they are most interested in emphasising or protecting.
The results were especially nuanced when test subjects rated targets whose claims were either validated or violated by objective evidence (their actual test performance). For moral reputations, humility remained a beneficial strategy even when a target performed well. Across the board, participants rated targets who claimed to be worse than average as more moral than targets who claimed to be better than average, regardless of their actual performance. In the domain of morality, humility pays.
For perceived competence, evidence mattered. The absolute worst thing a target could do was to claim superiority ('I am better than average') when the evidence proved him wrong ('Harry actually scored below average on the test').
There was, to be sure, some strategic benefit to making a boastful claim: targets who claimed to be better than average were seen as quite competent either when:
(a) evidence supported this claim; or

(b) no evidence was available.
In other words, boasting appeared to benefit a target's reputation as competent, so long as contradictory evidence was never revealed.
As is the case with most experiments in social psychology, these studies were conducted in a contrived laboratory setting, and carry several limitations. All our participants lived in the United States, although we know that cultural background can encourage or discourage boasting. Similarly, all the targets that our participants rated had male names in order to rule out any confounding effects of gender, even though we know that the gender of observers and targets plays an important role in social perception. Culture and gender are two variables we would like to incorporate in future studies on the nature and perception of bragging.
Despite these limitations, the results of our studies suggest a few strategies for daily life: in situations where your competence is of critical interest (such as a job interview or debate), claiming to be better than the other candidates could be beneficial, so long as contradictory evidence will never come to light. But in situations where your reputation as a warm or moral person is put to the test (say, while networking or on a date), it appears that humility is the best strategy, even if you truly have something to brag about.

Patrick Heck
--
This article was originally published at Aeon and has been republished under Creative Commons.
Science (and life) keep hammering nails "into the coffin of the rational individual." But rationalism and individualism still haunt and systematically mislead—even about where your mind is.
Illustration by Julia Suits, The New Yorker cartoonist & author of The Extraordinary Catalog of Peculiar Inventions
1. It may surprise many, but all "individual knowledge is remarkably shallow." So says a view-of-mind-altering book The Knowledge Illusion: Why We Never Think Alone, by Steven Sloman and Philip Fernbach.
2. Science (and life) keep hammering nails "into the coffin of the rational individual" (Yuval Harari's review), but rationalism and individualism still haunt and systematically mislead.
3. "Our intelligence resides not in individual brains but in the collective mind." This "division of cognitive labor is fundamental to the way cognition evolved and the way it works today."
4. You know how to use GPS because masses of others know things you don't (—>key human trick is to not be limited by our own brains, or our own tool-making, tech is the materialized knowhow of others).
5. Thought "extends beyond the skull"; your mind uses its brains + body + tools (physical and cognitive) + other minds + environment.
6. Hence the "mind is not in the brain. Rather, the brain is in the mind" (the "extended mind").
7. We're unaware of most information we process. "Deliberation is only a tiny part" of cognition. Per Kahneman, most cognition is fast, intuitive, subconscious System 1, not slow, deliberative System 2.
8. Many experts are exorcising "rationalist errors" (—>"theory-induced blindness") to relearn the everywhere-evident fact that people often aren't rational. But there's less progress on individualism's errors.
9. To plumb cognitive dependence's depths, consider cultures where counting, counterintuitively, isn't intuitive. Caleb Everett's Numbers and the Making of Us covers cultures that label only one, two, three, and many.
10. Language is innate but numbers need painstaking training. That such basic-seeming cognitive tools are learned suggests useful extensions to Systems 1 and 2.
11. Measurable "cognitive biases" might not be in "the machinery of cognition" (e.g., need learned numeric skills). System 0 could label invariant traits vs System 1 culture-dependent ones (—>arrow illusion). Roughly, System 0 is hardware and System 1 is low-level software (see individualism and human nature's software). 
12. And since thought depends on extra-cranial resources, there's a System 3 that encompasses our collective physical and cognitive tools (—>"social cartesian" capabilities embedded in language).
13. "You can't do much thinking with your bare brain." We evolved to acquire our culture's thinking tools with whatever biases they harbor (our first nature needs second natures, "Words Are Thinking Tools").  
14. You can't do much thinking without others. As Siri Hustvedt says "Everyone's head is filled with other people" (from before birth). And "all ideas are… received ideas" (or they build on innumerable other-built thoughts).
15. No important part of human nature exists that isn't social (we're inalienably self-deficient).
16. Harari warns that faith in rational individuals ("mythical creatures") weakens democracy and capitalism (—>"errors of the Enlightenment").
17. Harari's review is revealingly headlined: "People Have Limited Knowledge. What's the Remedy? Nobody Knows." There can be no remedy. Your knowledge can't be unlimited (—> unbounded economics folly). And you can't not need others (to think or live).
18. Only forms of (paradoxical-seeming) collective individualism can work (see "relational rationality"). Rationally, you're only as fit as the collective(s) you need.
Illustration by Julia Suits, The New Yorker cartoonist & author of The Extraordinary Catalog of Peculiar Inventions