New studies stretch the boundaries of physics, achieving quantum entanglement in larger systems.
Credit: Aalto University.
New experiments with vibrating drums push the boundaries of quantum mechanics.
Two teams of physicists create quantum entanglement in larger systems.
Critics question whether the study gets around the famous Heisenberg uncertainty principle.
Recently published research pushes the boundaries of key concepts in quantum mechanics. Studies from two different teams used tiny drums to show that quantum entanglement, an effect generally linked to subatomic particles, can also be applied to much larger macroscopic systems. One of the teams also claims to have found a way to evade the Heisenberg uncertainty principle.
One question that the scientists were hoping to answer pertained to whether larger systems can exhibit quantum entanglement in the same way as microscopic ones. Quantum mechanics proposes that two objects can become "entangled," whereby the properties of one object, such as position or velocity, can become connected to those of the other.
An experiment performed at the U.S. National Institute of Standards and Technology in Boulder, Colorado, led by physicist Shlomi Kotler and his colleagues, showed that a pair of vibrating aluminum membranes, each about 10 micrometers long, can be made to vibrate in sync, in such a way that they can be described to be quantum entangled. Kotler's team amplified the signal from their devices to "see" the entanglement much more clearly. Measuring their position and velocities returned the same numbers, indicating that they were indeed entangled.
Tiny aluminium membranes used by Kotler's team.Credit: Florent Lecoq and Shlomi Kotler/NIST
Evading the Heisenberg uncertainty principle?

Another experiment with quantum drums — each one-fifth the width of a human hair — by a team led by Prof. Mika Sillanpää at Aalto University in Finland, attempted to find what happens in the area between quantum and non-quantum behavior. Like the other researchers, they also achieved quantum entanglement for larger objects, but they also made a fascinating inquiry into getting around the Heisenberg uncertainty principle.
The team's theoretical model was developed by Dr. Matt Woolley of the University of New South Wales. Photons in the microwave frequency were employed to create a synchronized vibrating pattern as well as to gauge the positions of the drums. The scientists managed to make the drums vibrate in opposite phases to each other, achieving "collective quantum motion."
The study's lead author, Dr. Laure Mercier de Lepinay, said: "In this situation, the quantum uncertainty of the drums' motion is canceled if the two drums are treated as one quantum-mechanical entity."
This effect allowed the team to measure both the positions and the momentum of the virtual drumheads at the same time. "One of the drums responds to all the forces of the other drum in the opposing way, kind of with a negative mass," Sillanpää explained.
Theoretically, this should not be possible under the Heisenberg uncertainty principle, one of the most well-known tenets of quantum mechanics. Proposed in the 1920s by Werner Heisenberg, the principle generally says that when dealing with the quantum world, where particles also act like waves, there's an inherent uncertainty in measuring both the position and the momentum of a particle at the same time. The more precisely you measure one variable, the more uncertainty in the measurement of the other. In other words, it is not possible to simultaneously pinpoint the exact values of the particle's position and momentum.
Heisenberg's Uncertainty Principle Explained. Credit: Veritasium / Youtube.com
Quantum skepticism
Big Think contributor astrophysicist Adam Frank, known for the 13.8 podcast, called this "a really fascinating paper as it shows that it's possible to make larger entangled systems which behave like a single quantum object. But because we're looking at a single quantum object, the measurement doesn't really seem to me to be 'getting around' the uncertainty principle, as we know that in entangled systems an observation of one part constrains the behavior of other parts."
Ethan Siegel, also an astrophysicist, commented, "The main achievement of this latest work is that they have created a macroscopic system where two components are successfully quantum mechanically entangled across large length scales and with large masses. But there is no fundamental evasion of the Heisenberg uncertainty principle here; each individual component is exactly as uncertain as the rules of quantum physics predicts. While it's important to explore the relationship between quantum entanglement and the different components of the systems, including what happens when you treat both components together as a single system, nothing that's been demonstrated in this research negates Heisenberg's most important contribution to physics."
The papers, published in the journal
Science
, could help create new generations of ultra-sensitive measuring devices and quantum computers.
Erik Verlinde has been compared to Einstein for completely rethinking the nature of gravity.
Photo by Willeke Duijvekam
The Dutch physicist Erik Verlinde's hypothesis describes gravity as an "emergent" force not fundamental.
The scientist thinks his ideas describe the universe better than existing models, without resorting to "dark matter".
While some question his previous papers, Verlinde is reworking his ideas as a full-fledged theory.
The Dutch theoretical physicist Erik Verlinde is no stranger to big ideas. His 2009 hypothesis about gravity earned him comparisons to Einstein for its complete rethinking of what gravity could be. Verlinde proposed that gravity was not a fundamental force of nature but rather emerged out of the interactions of information that fills the universe. He also didn't think there was such a thing as "dark matter" – a useful construct which is supposedly taking up 27% of the known universe (but is yet to be observed). Now, in a new interview, Verlinde reveals he is taking steps towards conceptualizing his groundbreaking ideas in a full-fledged theory.
As reported by the Netherlands Organization for Scientific Research (NWO), Verlinde understands why many had trouble accepting his original proposal. After all, the previous leading explanations of gravity have been by Newton, who saw it as an invisible pulling force, and Einstein, who conceived of it as a curvature of space-time by mass and energy.
In Verlinde's view, based on string theory, quantum information theory and the physics of black holes, gravity is an "entropic" force that comes into existence as a result of "information associated with the positions of material bodies," as he wrote in his 2011 paper. What drives gravity is the quantum entanglement of tiny bits of spacetime information.
Ten years after publishing his ideas in a paper that caused much discussion, both from admirers and critics, Verlinde shares that he is still fleshing them out, based on the research and advancements that have taken place since then.
"Over the past ten years, we have gradually learned a lot more about how you should talk about space and time information," said Verlinde to NWO. "I am seriously considering rewriting my story from 2009, but now formulated much more precisely. I think that could remove some of the scepticism that still exists.'­­
Verlinde: Gravity Doesn't Exist
In 2016, Verlinde's ideas were tested by a team from Leiden Observatory, which found that a key prediction of the physicist held up. They studied the lensing effect of gravitational fields that are far away from the centers of more than 33,000 galaxies and found the numbers to be consistent with what the Dutch scientist's theory showed. The only way to get these calculations to match under the prevalent gravitational theory would have been to invoke dark matter – a potential fudge factor more than fact at this point.
A 2017 study from Princeton University found against Verlinde's ideas, however, showing that they are not consistent with the observed data on the rotation velocities of dwarf galaxies.
While some have accused of Verlinde of publishing his thoughts too early, before they are packaged in a theory that explains all of the implications, the scientist thinks such naysayers don't really understand the way theoretical physics works. "You need to elaborate and test a new idea step-by-step," he explains, adding "We must find the correct formulations and techniques.'
Scientists like the theoretician Koenraad Schalm from Leiden University defend Verlinde, saying that "Contrary to the sceptics' opinions, Verlinde's work is definitely taken seriously". In fact, Verlinde, who is the winner of the Spinoza Prize, has been cited over 700 times by other scientists.
The physicist himself feels his overall thesis that information is the fundamental building mechanism of the universe is becoming more accepted. Perhaps his long-awaited new paper on the subject can bring it to an even stronger position amidst the main physics ideas of our time.
Dark matter and dark energy explained | Erik Verlinde
A new conception of quantum mechanics rests on the idea that parallel universes exist, and that they interact with our own to create weird and wonderful quantum phenomena.
Wikicommons
Quantum mechanics is hard to do. The great physicist Richard Feynman once remarked "It is safe to say that nobody understands quantum mechanics" and that statement was regarded as correct. The problem isn't in the math, even an undergraduate can use Schrödinger's equation, it is in what the math means.
We are all familiar with several interpretations of what the math could mean, from cats that are both dead and alive to an infinite multiverse where every possible history does happen. How to prove which of these interpretations is correct is another problem; as parallel universes are postulated to not interact with one another and scientists don't quite have the stomach to put cats in quantum booby traps. With no ability to experiment, the math is all we know for sure.
But, a radical new interpretation might hold the answer, and in a manner that could be tested.
The idea is called the Many Interacting Worlds hypothesis, the or MIW. The core concept is that a plethora of universes have always existed side by side, and that they subtly influence the ones near them to differ from themselves. The bizarre effects of quantum mechanics that we observe and are confused by, such as quantum tunneling and the double slit experiment, are really caused by the interactions between these universes.
The hypothesis says the probabilistic nature we ascribe to certain events is really uncertainty caused by our not knowing which universe we are in, and that if we knew where we were physics would again be deterministic. The authors of the study say as little as two existent universes would be enough to assure quantum effects take place. They show they can account for basic quantum phenomena using their ideas.
What makes this model different from the others?
Firstly, it "contains nothing that corresponds to the mysterious quantum wave function," except when the number of modeled universes is infinite. When the model contains only one universe, it simplifies to a classical, Newtonian system. Quantum physicist and author of the hypothesis Michael Hall called this element "surprising" and said that it means that their hypothesis "incorporates both classical and quantum theory".  A vital step for any interpretation that wants to make headway.

Another key difference is that the proposed words in this hypothesis interact with one another. Because of this, scientists could devise an experiment to show if the predicted interaction was taking place; supporting or disproving the hypothesis. Since science typically holds falsifiability to be a gold standard, this is a great leap forward for quantum theory.
So, is this model going to be of any use?
At the moment, the model is still speculative and unlikely to become the new standard interpretation anytime soon. The authors of the hypothesis hope that their concept "will be useful in planning experiments to test and exploit quantum phenomena such as entanglement. Our findings include new algorithms for simulating such phenomena and may even suggest new ways to extend standard quantum mechanics."

Even if the ideas are proven false, or never catch on as a paradigm for interpreting quantum phenomena, the researchers hope to advance our understanding of science anyway. As they say in their press release, "while Richard Feynman may have had a point when he said 'I think I can safely say that nobody understands quantum mechanics,' there is still much to be gained by trying to do so".
Researchers succeed in an 80-year-old quest to find the elusive "angel particle".
A composite view of the Crab nebula viewed by the Herschel Space Observatory and the Hubble Space Telescope (Image: NASA)
A team of scientists found first evidence for the existence of a Majorana fermion, a hypothetical particle proposed 80 years ago that is its own antiparticle. 
In 1928, physicist Paul Dirac predicted that every fundamental particle has an antiparticle - a twin that has an opposite charge. If a particle and antiparticle were to meet, they would be annihilated while releasing a burst of energy. But in 1937, physicist Ettore Majorana added the prediction that a class of particles exists known as fermions, which would include particles that are their own antiparticles.
Now the researchers from Stanford University and University of California found the Majorana fermion in a series of lab experiments on exotic materials. They were led by UC-Irvine Associate Professor Jing Xia and UCLA Professor Kang Wang, and followed a plan proposed by the Stanford physics professor Shoucheng Zhang.
Professor Zhang, one of the senior authors of the paper, put their finding in perspective:
"Our team predicted exactly where to find the Majorana fermion and what to look for as its 'smoking gun' experimental signature," said Zhang. "This discovery concludes one of the most intensive searches in fundamental physics, which spanned exactly 80 years."
Want to learn more about antimatter? Let Michio Kaku explain:
The complexity of the experiments necessary to find the Majorana fermion makes this work a "landmark in the field," said Tom Devereaux, director of the Stanford Institute for Materials and Energy Sciences.
Nobel Prize-winning theoretical physicist Frank Wilczek, who was not involved in the research, also praised the importance of the discovery, calling it "a really clean observation of something new" and a "real milestone".
The fermion observed by the team is known as a "chiral" fermion as it moves in just one direction along a one-dimensional path. 
The experiment that resulted in the find involved looking for a special half-speed signature of Majorana quasiparticles, which are "excitations" that come from how electrons behave in superconducting materials. While these are special entities that have some properties of particles but are not actually particles found in nature, quasiparticles are still regarded as real Majorana fermions. 
The researchers applied electricity to stacks of superconducting materials and topological insulators in a chilled chamber. A topological insulator conducts current along its surface or edges only, not through the middle. A magnet was then used to control the behavior of generated electrons as they sped along the edges of the surface. The electrons were slowed down, stopped and their direction changed. This cycle continued until the scientists identified the Majorana quasiparticles that emerged by by their unique speeds. 
The practical implications of this discovery are well in the future, with potential for use in quantum computing, where it can help overcome environmental noise. Zhang calls the newly-found particle the "angel particle," referring to Dan Brown's bestseller "Angels and Demons" which featured a matter/anti-matter time bomb as part of the plot.
Read the study here, in Science magazine.
You can watch Professor Zhang discuss the search and discovery of the Majorana Fermion here:
Schrodinger's cat is one of the most famous thought experiments of all time, but what does it mean for science, and what happens to the poor cat?
If you feel the need to put this cat in a box, you might be a physicist.
Schrodinger's cat is one of the most famous thought experiments in all of science. It's the source of countless jokes, t-shirts, and pseudo-intellectual conversations. The idea is this: if a cat is put into a box with an elaborate quantum booby trap then when we open the box the trap will either be activated and kill the cat or not be activated at all. Quantum Physics says the cat should be in "superposition" while we are not looking at it, just like the rest of the quantum system. Meaning the cat is both alive and dead at the same time until we look at it! Zombie cat!
Incredible! Except, Schrodinger didn't mean that at all.
Erwin Schrodinger, quantum physicist extraordinaire, devised the thought experiment as a way to show how the Copenhagen Interpretation of quantum mechanics, the mainstream one, must be wrong. Pointing out that we cannot think of a cat as both alive and dead at the same time, but if the interpretation tells us this is the case, then it must be incorrect.
Albert Einstein, who was never completely comfortable with much of quantum mechanics, also agreed, writing to Erwin: "You are the only contemporary physicist, besides Laue, who sees that one cannot get around the assumption of reality, if only one is honest. Most of them simply do not see what sort of risky game they are playing with reality—reality as something independent of what is experimentally established. Their interpretation is, however, refuted most elegantly by your system of radioactive atom + amplifier + charge of gunpowder + cat in a box, in which the psi-function of the system contains both the cat alive and blown to bits. Nobody really doubts that the presence or absence of the cat is something independent of the act of observation."
Schrodinger later tried for a purely wave based understanding of quantum mechanics, but it was never as popular nor successful as the Copenhagen understanding, which is still dominant today. Of course, there are other ways to look at it, here are a few, and what happens to the poor cat in each one. There are many more interpretations than just these, but these are the most popular alternatives.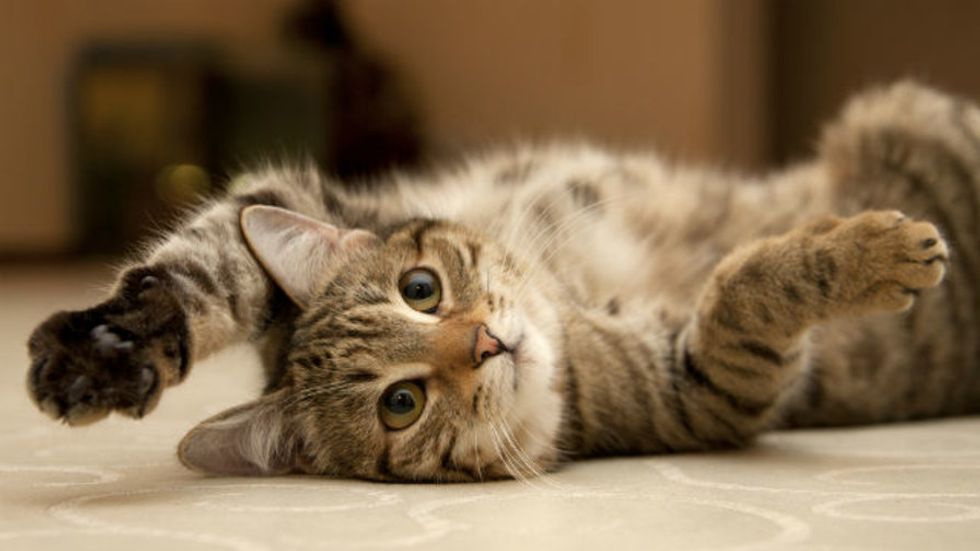 A happy cat, not in quantum superposition or a box with a trap in it.
MANY WORLDS: The idea of the multiverse is known to many people. In this interpretation, the cat is alive in one universe and dead in another one. The new universe was "created" when the cat is observed, there is no being alive and dead for this cat. This model of the universe is seen in Bioshock Infinite, and Rick and Morty; among other popular works.
OBJECTIVE COLLAPSE: These theories suggest that the system would collapse long before you open the box, either with the passage of enough time or some other simple event. Therefore, the cat is in a definite state of alive or dead long before you look. This does, however, leave open the idea that the cat is both for at least a fraction of a moment, it just doesn't stay that way long.

All this is great in theory, has anybody tried an experiment?

Yes, but not on a cat. Objects that are rather large, for these purposes, have been placed in superposition. These states don't seem to last long, however. We aren't even to the point of having bacteria be in a "cat state" yet. It seems like no experiment has been done, or will be done for some time.
Schrodinger's cat is one of the best known thought experiments in science. One that most people know, but few understand. While it was intended to be a simple critique, it has evolved into a key test for judging how an understanding of quantum mechanics works, and if that interpretation is a viable one. Is the cat alive? Is it dead? Is it both? How can we know? How is this possible? A quote from Richard Feynman comes to mind:
"Do not keep saying to yourself, if you can possibly avoid it, "But how can it be like that?" because you will get "down the drain", into a blind alley from which nobody has yet escaped. Nobody knows how it can be like that."
This is still a subject of great debate, both for physics and philosophy. Perhaps a new interpretation will be proposed which finally lays the cat to rest, or lets it live outside of the box, or both.