What factors explain the gender pay gap?
Photo By Glen Martin/The Denver Post via Getty Images
The report was conducted by the investment firm Arjuna Capital, which has been publishing the Gender Pay Scorecard for the past three years.
Only three companies — Starbucks, Mastercard and Citigroup — received an "A", as defined by the report's methodology.
It's likely that discrimination explains part of the gender pay gap, but it's a complex issue that often gets oversimplified.
How wide is the gender pay gap at some of the world's largest companies?
For this year's Equal Pay Day on March 31, the investment firm Arjuna Capital published a report on gender pay disparity that offers some answers. The firm's Gender Pay Scorecard includes quantitative data on 50 major U.S. companies, such as Apple, Nike and Amazon.
Companies are graded based on five categories: adjusted gender pay gap, median gender pay gap, racial pay gap, coverage, and commitment (Coverage here refers to the extent to which a company's disclosed pay data covers operations outside of the U.S.).
The most recent data from the U.S. Census Bureau shows that a woman working full time earns about 81.6 cents for every dollar a man earns, while her median annual earnings are about $9,766 less than his.
"The world's largest corporations have come under intense pressure to close their gender and racial pay gaps in response to investor pressure, the #MeToo movement, and increasing public policy and regulation," the report states. "This Equal Pay Day, we have compiled our third quantitative accounting of current pay disclosures, performance, and commitments among corporate leaders and laggards in four industries: finance, technology/communications, consumer, and healthcare."
Arjuna Capital
Of the 50 companies, only three received an "A" score: Starbucks, Mastercard and Citigroup. Meanwhile, 25 companies received an "F", though it's worth noting that 11 of those 25 companies didn't disclose any data at all.
Arjuna says shareholders can help close the gender pay gap by pressuring companies to disclose gender pay data.
"Investors have effectively used shareholder dialogues and proposals to move this process forward," the report states. "The continued growth of the gender and racial pay gap shareholder campaign, combined with an annual scorecard identifying industry leaders and laggards, will help improve corporate disclosure and practices, advancing the goal of pay equity."
Arjuna and other parity advocates especially want companies to disclose a specific measure of the gender pay gap: the unadjusted median pay gap, which is the raw difference between the median earnings of men and women. In contrast, the adjusted pay gap controls for factors like age, educational attainment, geography, hours worked and seniority. The adjusted pay gap is almost always narrower than the unadjusted version, so companies tend to prefer reporting this measure.
Arjuna Capital
"Many of the companies in the GPS report both adjusted and unadjusted gaps, but only for U.K. operations," the report states. "In fact, the only companies to report both adjusted and unadjusted median global pay gap numbers are Citigroup, Starbucks and Mastercard."
For example, Citigroup reported that its adjusted pay gap was only 1 percent, but its global unadjusted median pay gap was much bigger at 27 percent. Starbucks had the lowest median pay gap, paying women 98.3 cents on the dollar versus men, while reporting an adjusted pay gap of zero.
Arjuna concluded its third annual Gender Pay Scorecard by emphasizing the importance of disclosing gender pay data:
"The first step is for companies to analyze their current pay structures and disclose any gaps. Transparently addressing gender and racial pay gaps is essential to achieve pay equity and create more diverse companies."
Does discrimination explain the gender pay gap?
It depends on whom you ask. Some say that the bulk of the disparity stems from gender discrimination. Skeptics of the gender pay gap say it's a total myth. Who's closer to the truth?

Obviously, it's complicated. There are many factors you could examine to find causes for the gap. For example, pregnant women have to take time off work, and mothers — for complex reasons, some of which are cultural — tend to spend more time caring for children. Both help to lower women's overall earnings. Another potential cause lies in the body of research showing that men are more likely than women to negotiate salaries.
But one of the most compelling explanations for the gender pay gap is the fact that men and women make different career choices. On the whole, research on earnings between the genders shows that men tend to choose jobs in higher-pay industries, work more hours, work more dangerous jobs, and prioritize earnings over work-life balance.
Researchers at Harvard University recently conducted a study on gender pay disparity that focused on train and bus operators. The researchers wrote:
"Women value time away from work and flexibility more than men, taking more unpaid time off using the Family Medical Leave Act (FMLA) and working fewer overtime hours than men. When overtime hours are scheduled three months in advance, men and women work a similar number of hours; but when those hours are offered at the last minute, men work nearly twice as many. When selecting work schedules, women try to avoid weekend, holiday, and split shifts more than men. To avoid unfavorable work times, women prioritize their schedules over route safety and select routes with a higher probability of accidents. Women are less likely than men to game the scheduling system by trading off work hours at regular wages for overtime hours at premium wages."
The findings align with a major 2009 study conducted by the U.S. Department of Labor, which examined more than 50 peer-reviewed papers on the nation's gender pay gap. It found that the gender pay gap disparity "may be almost entirely the result of individual choices being made by both male and female workers."
U.S. Department of Labor
But that doesn't prove that gender discrimination is nonexistent in the workplace. After all, even statistically adjusted data shows a gender pay gap. Additionally, biased cultural forces may partly explain why women make certain career choices; for example, some research suggests that women are encouraged not to pursue careers in science and engineering at a young age.
So, how much does discrimination factor into the gender pay gap? It's hard to say. Some research has found discrimination to be responsible for 39 percent of the gender pay gap, while others say discrimination accounts for just a few cents of the disparity. Gender discrimination is simply hard to quantify.
But what the research does conclusively show is that anyone who says the gender pay gap is completely a myth or completely a societal injustice is oversimplifying the issue.
A new law in Germany seeks to close the gender pay gap, but it could ultimately prove counterproductive.
Flickr, Ken Teegardin
Would you want your coworkers to know how much you earn? That's the relatively simple question that has sparked a huge debate. And although it has its start in a noble place — equal pay for men and women — its critics argue that it could backfire.
Germany's gender pay gap (in terms of average gross hourly earnings) is about 21 percent – considerably larger than the EU average of roughly 16 percent. In an attempt to close that gap, Germany recently passed the Wage Transparency Act, which only affects businesses with more than 200 employees. It contains three main components:
Individual employees – both men and women – who work at companies with more than 200 people will be able to request information about how their employers determine salaries, both in terms of their own salaries and those of members of the other gender working comparable jobs.
Companies with more than 500 employees must publish regular reports on their efforts to promote gender equality. (Companies with less than 500 employees won't be legally required to publish similar reports.)
Companies with more than 500 employees will be encouraged to implement internal audits of their pay structures to ensure compliance with the equal pay law.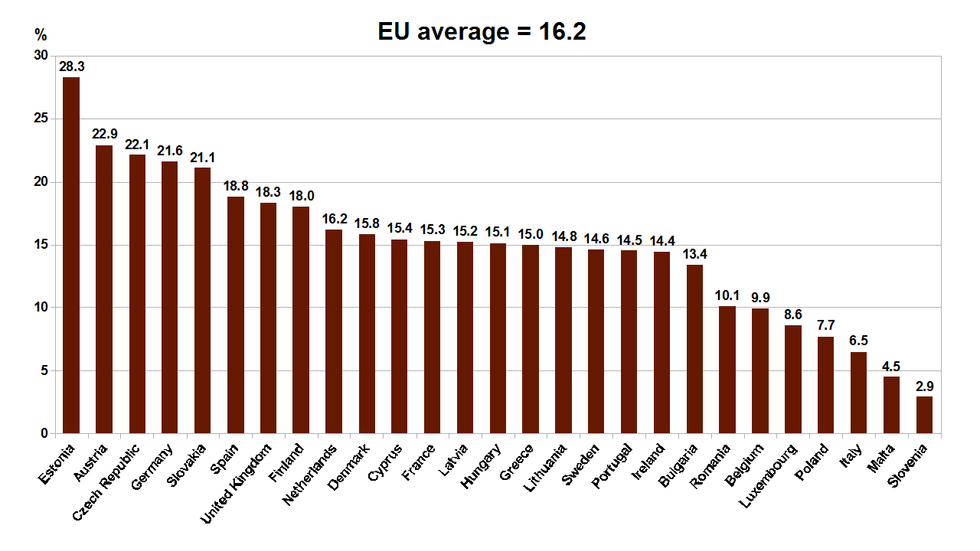 Under the new law, employees won't be able to demand the salary information of any one individual. Rather, employees will only have access to the median monthly salary of groups of employees who work comparable jobs. These groups must also consist of at least six people, or else employers have no obligation to provide salary information.
This "six person" rule could pose complications, as Christian Althaus, an employment lawyer, told the German news magazine Der Spiegel:
"The higher up you go in the pyramid of a company, the less likely you are to find a comparably large peer group, with the result that you no longer have any right to information."

Still, pay transparency seems to be generally effective in two settings, as Todd Zenger, N. Eldon Tanner professor of strategy and strategic leadership at the University of Utah's Eccles School of Business, wrote in an article for The Wall Street Journal.
One is when pay is based simply on measures like seniority or rank, like in government positions. The other is when pay is easy to measure objectively, like in sales performance.
But there's also good reason to doubt the supposition that increased pay transparency will benefit women in the long run. In an article for Harvard Business Review, Zenger outlined several arguments that show how pay transparency can cause employees to:
Become dissatisfied with their employer and more likely to quit.
Reduce productivity when constantly reminded of their lesser pay.
Lobby for change, even to the detriment of the company and, consequently, the employees.
One negative effect of pay transparency, Zenger argues, is that it leads companies to do away with merit-based rewards, and flatten pay instead.
"Unless you have a clean, clear, and broadly accepted measure of individual performance, transparency will likely push you to flatten pay — linking rewards to factors you can precisely measure, such as seniority or hierarchical position."

Removing merit-based rewards can lead a company's most productive employees to move to organizations that reward good performance more accurately. Zenger argues that the most effective businesses pursue merit-based rewards and equality simultaneously.
"They link individual performance to rewards but recognize that they must be vigilant in efforts both to measure performance and to convince employees that their necessarily imperfect measures are acceptably fair. The real problem with pay transparency is that it focuses individuals on comparing pay rather than on elevating performance."

--
The best career advice that you are not getting? Financial feminist and Wall Street powerhouse Sallie Krawcheck delivers.
Sallie Krawcheck is the current CEO of Ellevest (a digital investment platform for women), is a former CFO and CEO at Citigroup and Merrill Lynch respectively, and is a self-described "financial feminist". She speaks here to women, but this advice can be applied across the board to anyone who is marginalized in the workplace or wants to jumpstart their personal wealth. For Krawcheck, the best career advice no one is talking about is actually financial advice: invest. Make your money work while you do, so that you have more financial freedom to make confident decisions in your career: ask for a promotion, quit the job that doesn't treat you well, or test your own business ideas. If you have money in the bank, you are free to play looser with your decisions. Men do it, and women should too. Remember this: "Ladies, we will not be equal with men until we are financially equal with men," Krawcheck says. Her second piece of advice is to ask for more money from your very first job, and to plant the seeds of a 12-pronged pay-rise request far in advance. Twelve prongs? Yep. It will all makes sense once you hear out her incredible guide to negotiating a salary increase and closing the gender pay gap. Sallie Krawcheck is the author of Own It: The Power of Women at Work.
A new study reports that 32,000 lives could be saved annually if every doctor in the U.S. was female. What can this teach medical institutions about best practices?
A doctor treats a patient at the resuscitation unit at the Argenteuil hospital in the suburbs of Paris. (Photo credit Fred Dufour/AFP/Getty Images)
A recent study published by the Journal of the American Medical Association (JAMA) investigated a rather simple question: Are patient outcomes affected by the gender of your doctor? The answer appears to be yes, though you wouldn't understand the tenuous nature of this response by the headlines. More surprising than the researchers' discovery has been the media response.
First, the study. A team led by Yusuke Tsugawa looked at four years of Medicare fee-for-service beneficiaries treated by general internists for a condition that resulted in a hospital visit: a total of 1,583,028 patients for mortality, 1,540,797 for readmission. This represents a random 20 percent sample of total Medicare patient visits during the period from January 1, 2011, to December 31, 2014.
The result? Patients treated by female doctors experienced a lower mortality rate, 11.07 percent versus 11.49 percent, which researchers state is statistically significant at 95 percent confidence interval. Readmissions were also significant at 95 percent, 15.02 versus 15.57 percent.
A few potential reasons cited:
Literature has shown that female physicians may be more likely to adhere to clinical guidelines, provide preventive care more often, use more patient-centered communication, perform as well or better on standardized examinations, and provide more psychosocial counseling to their patients than do their male peers.
This study has significant value in how patients are treated moving forward. Will it increase dialogue between genders about best practices in hospitals? Will specific mechanisms that explain these differences be researched? Are patients going to start requesting female doctors more often? As with all research, it will lead to more research. If lower mortality and readmission are the goals these follow-up questions are necessary.
The Verge jumped on the study a bit differently, with the blaring title, "Patients treated by female doctors less likely to die than patients treated by men, new study shows." After linking to the research in the first paragraph, the second is a diatribe against gender pay gap and the myth of domestic responsibilities—both important issues, but irrelevant to the topic at hand.
The author goes so far to state the importance of "comparing apples to apples" instead of "apples and oranges," which is exactly what she does a few paragraphs before. This study was focused on patient outcomes, not longstanding economic issues in the medical field.
Over at The Atlantic the headline reads, "Evidence of the Superiority of Female Doctors." The author does not wait for the second paragraph to discuss the pay gap—it's the very first sentence. In fact, this entire article is a platform for equal wages among medical professionals.
What's interesting is neither article questions the statistical significance of the JAMA study. Ninety-five percent confidence interval is treated as gold standard by most researchers, but a more relevant marker would be at the 99 percent interval. Are the results above statistically significant at this more accurate standard?
There's no denying that there appears to be a difference; according to the researchers, 32,000 lives could be saved if every doctor is female. While it's hard to quantify disease in such a way—other factors, such as post-operative care, quality of personal relationships, even the patient's view from their hospital window or if the facility is equipped with a garden—are all factors.
This is an impossible number to factor in an improbable situation. So we have to work with what is in front of us. Gender pay gap is an important topic in all professions. But taking what is potentially important information for the people that matter most—patients—and co-opting it to make another point takes away from what should be discussed: best practices. 
--
Derek's next book, Whole Motion: Training Your Brain and Body For Optimal Health, will be published on 7/4/17 by Carrel/Skyhorse Publishing. He is based in Los Angeles. Stay in touch on Facebook and Twitter.