Don't work with children or animals? Sir David Attenborough laughs in the face of danger.
Animated Attenborough. (Image: CBeebies 'Storytime' app, illustrated by Will Rose)
Sir David Attenborough's adventures are being retold. His time in nature exploring the nooks and crannies of wildlife will now be featured on Storytime, an app with 2.4 million downloads, that is designed for toddlers. With Attenborough's narration, the Storytime app run by CBeebies (a BBC television network for the under six age group) aims to help young children learn how to read on their iOS and Android screens.
Attenborough has plenty of great stories to tell young children, including the moment where a gorilla sat in his lap. His love of animals and the natural world was exemplified in his creation of the BBC documentary series Zoo Quest, in 1954. Before Zoo Quest, if shows wanted to educate their audiences about animals, the featured creatures would be brought onto a lit stage, uncomfortable and out of their natural habitat. Attenborough wanted that to change, and did so by bringing his show into the animal's natural domain instead, forever changing the dynamic. His mission and popularity grew exponentially, and he later headlined Eastwards with Attenborough and Life on Earth. Narrating his life's work through an educational app is an important step in cultivating the next generation's interest in preserving biodiversity on our planet.
So how will toddlers take to a story featuring Attenborough? He is, after all, a 90-year-old man and his target audience is usually those a little older than six. However, some educational studies say this is a good thing. Sesame Street, the educational program that was proven to stop children from falling behind their grade level in school, has always had guest stars that appease parents more than the kids. The show runners explain why on their workshop site.
"Research and long experience shows that when parents are involved in education, children simply learn better."
This conclusion is everywhere, and in Children's Learning From Educational Television: Sesame Street and Beyond, it was claimed by Thomas Cook and other critics of Sesame Street that any study of the show's effectiveness were skewed by the parents watching with the children.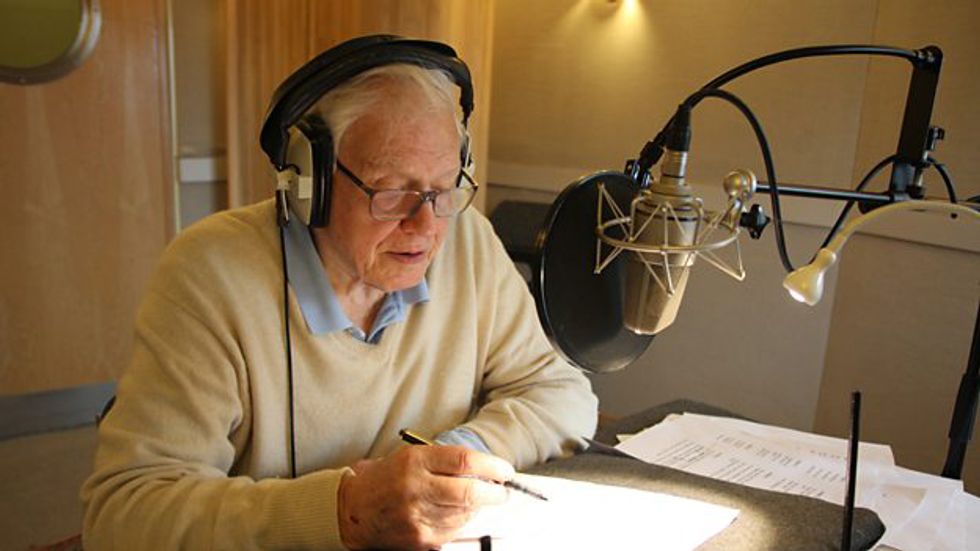 That is where Sir David Attenborough comes in. While its recognized that the young children may not know who he is, his stories can intrigue them, and their parents will remember being enthralled by him themselves. Enthusiasm is contagious. Both parents and children can be delighted at his stories of lyrebirds, gorillas, komodo dragons, and sloths. It's interactive too—the kid in your life can help Sir Attenborough "pack his adventure kit, move plants aside for him and by tracking the gorillas' path through the jungle," according to the BBC. 
The 5-part miniseries is illustrated by Will Rose, giving it a bright, colorful and happy aesthetic, and the entire Storytime app is directed by Kay Benbow. Benbow expressed the desire to make a full series rather than the resulting miniseries. Sir Attenborough is just too busy of a man for that, so all the energy was focused on the episodes they had time for. 
Sir David Attenborough is no stranger to being on the screen, and now he's being introduced to a brand-new generation. The man is used to being thrown in the wild, next to things that snap, bite, and sting. Teaching children to read should be no challenge at all.
Developmental psychologist Alison Gopnik has done more than just 'think of the children', she wrote a book – and it rules favorably for free play and the end of scholastic parenting.
You can structure a child's day so they're learning and being nourished by lessons that will skill them up for life, but the moment you take a breather and clock off might just be the moment your child learns the most.
In her book The Gardener and the Carpenter, Alison Gopnik (developmental psychologist and Professor of Psychology at UC Berkeley) expresses the idea that children are naturally hard-wired to learn and experiment with their surrounds, and that parents don't need to take a purposefully scholastic approach. Left to their own devices, children "are like pint-sized scientists testing theories," Gopnik has written. In her book, Gopnik tests some theories of her own and gathers evolutionary data to show that those big decisions parents stress over – like co-sleeping or letting a baby cry, doing flash card intelligence exercises or letting them build wonky cities in the sandpit – have very little measurable effect on a child's future. The fact is that children are incredibly perceptive and are learning all the time – whether a parent is in teaching mode or not. It might just be our unconscious habits and behaviors that have the biggest impact on them.
Gopnik recalls the village environment children were raised in for most of human history, where all they had was mud, livestock and relatives. She thinks we could benefit from re-creating a modern village for society's most junior members, and suggests people can do this by having a number of supportive adults available (but not focused directly on the child), making play-time and a stimulating environment abundant, and to remove the mindset that raising kids is a kind of job. Many working parents probably feel that they have two jobs, making a living and bringing up kids, but Gopnik stresses that the latter is a relationship, not a job and keeping that in mind could be an important shift that improves the lives and reduces the stress of both parents and children.
Gopnik cites cooking as an example of something that children naturally love to be involved in and is also good for them. It is an important activity that adults need to get done, and that kids are allowed to help in, and it is functional rather than an artificial learning opportunity.
"It's interesting, we don't 'wive' our husbands and we don't 'friend' our friends and we don't 'child' our parents," remarks Gopnik, so perhaps the focus needs to steer away from 'parenting' as a verb, to just being a parent. We all work on our relationships with spouses, relatives and friends by putting time and energy into them, but we don't check in on their progress or approach those relationships with a shaping, outcome focus. If we give children more freedom, they might thrive on their own terms and in their own way and become more independent.
Alison Gopnik's most recent book is The Gardener and the Carpenter: What the New Science of Child Development Tells Us about the Relationship Between Parents and Children.
An expansive new study makes clear the extent of the problem and the importance of parents in avoiding teen drug use.
If you remember your days as a teen or have a teen in your life, you are probably aware of the role drugs play at that age. In fact, there's a good chance your teen is using illegal drugs.
A new 3-part investigation by addiction educator ProjectNow offers some remarkable statistics on the drug use by American teens. The survey conducted by the University of Michigan centered on the practices and attitudes towards drugs by about 40,000 students in 8th, 10th and 12th grades.
If you're wondering whether drug use is a widespread issue, the survey confirms that about 50% of 12th graders have used illicit drugs at some point in their lives. This number has held somewhat steady for the past 5 years, but is higher than it was, for example, in 1992 when it was at 40%.
You can see the yearly statistics of the drug usage here: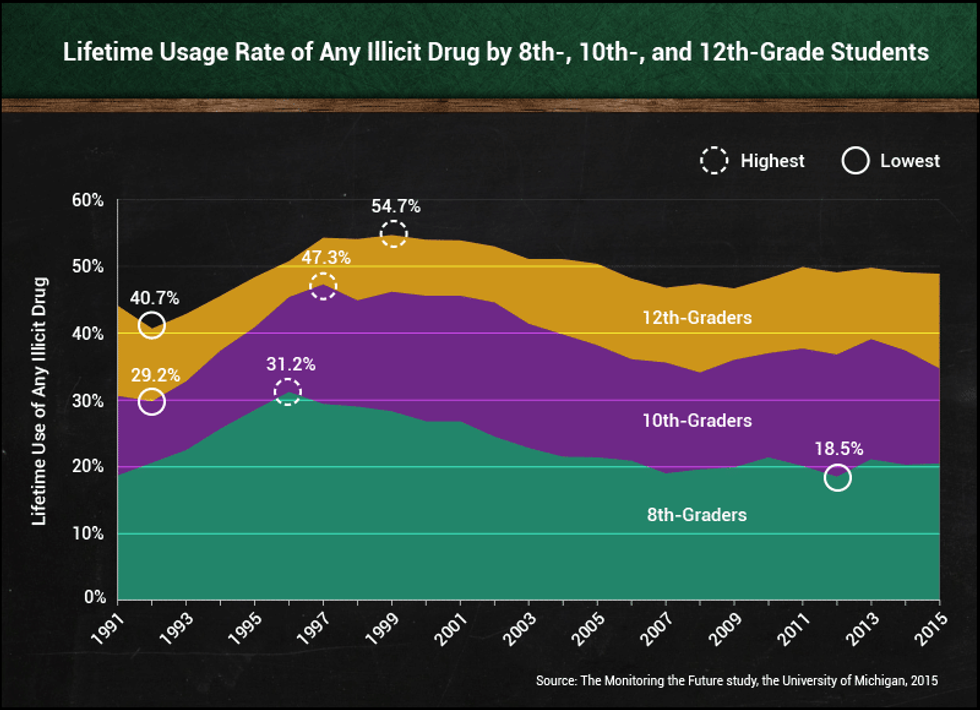 What kind of drugs are the kids using?
Alcohol is the drug of choice, with 39.9% of the teens in 8th thru 12th grades using it in the past year. It's not actually an illegal drug, but alcohol is certainly illegal for the underage kids who appear to have little trouble in getting it. What does 39.9% really mean? As of 2014, this would have come out to about 2.33 million kids between 12 and 17 years old.
Marijuana is the next most popular at 23.7%. Drugs like ecstasy, LSD, cocaine and heroin are used marginally, but an estimated 117,000 young cocaine users should sound alarming. 
Check out the past-year usage chart here: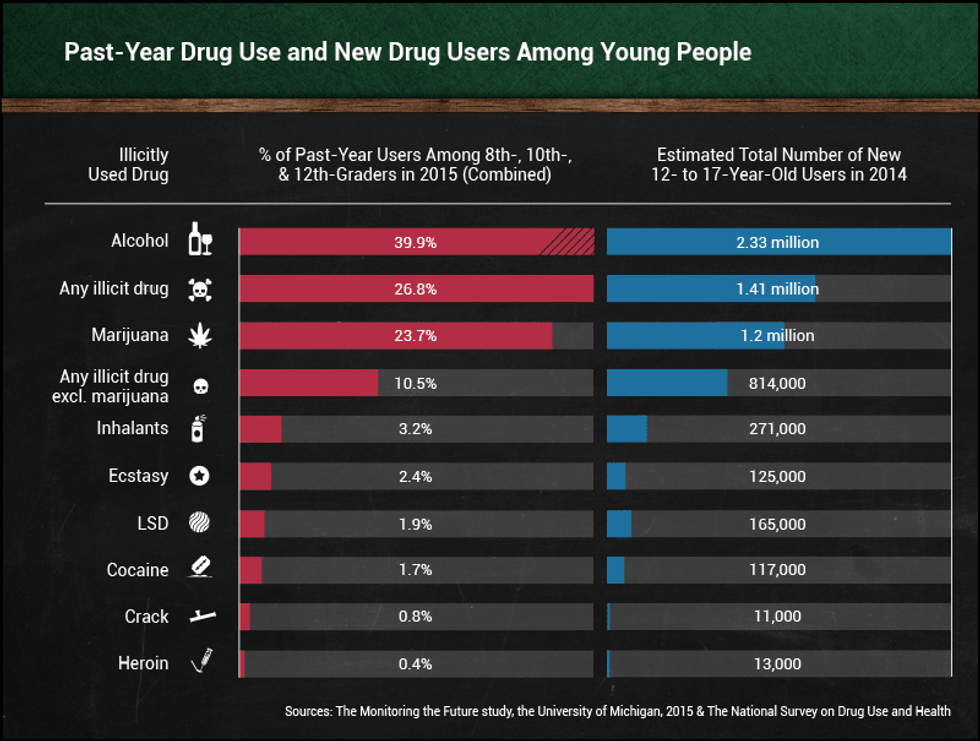 The relative popularity of the drugs being used is reflected in the attitudes of the kids towards how dangerous they are. Heroin is perceived to be dangerous by close to 85% of 10th graders and is one of the least used drugs. You can see in the chart below how the perception of cigarettes changed over time, with over 70% of the teens thinking it's dangerous, topping LSD and ecstasy in this category. Conversely, the view on marijuana experienced a drop in the other direction. 20% fewer teens think it's risky than did just 15 years ago. It's considered the least dangerous drug, even beating out alcohol. 
Here's the risk-assessment chart: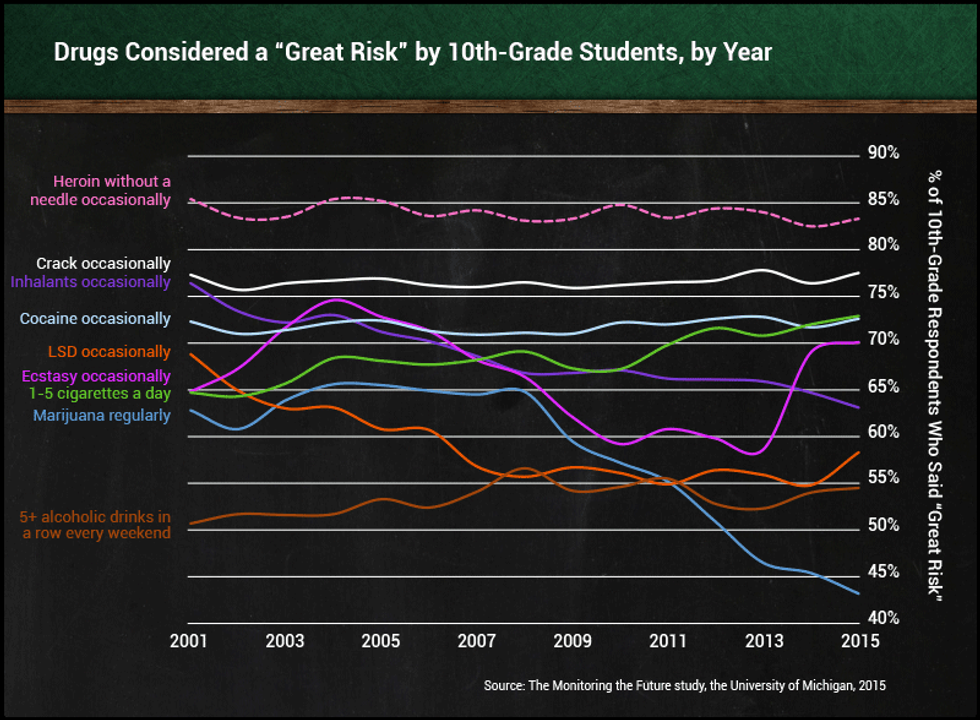 What conclusions can we draw from this fascinating information?
One further piece of the survey considers the possible reasons for the drug use by teens. It focuses on their home life and finds that the lowest drug usage is by kids who live with both their mother and father. Interestingly, kids living with only their father had higher drug usage rates than those living with only their mother. Those living without any parents had higher rates across the board, with the most significant difference being in heroine usage - that number shot up 6 times!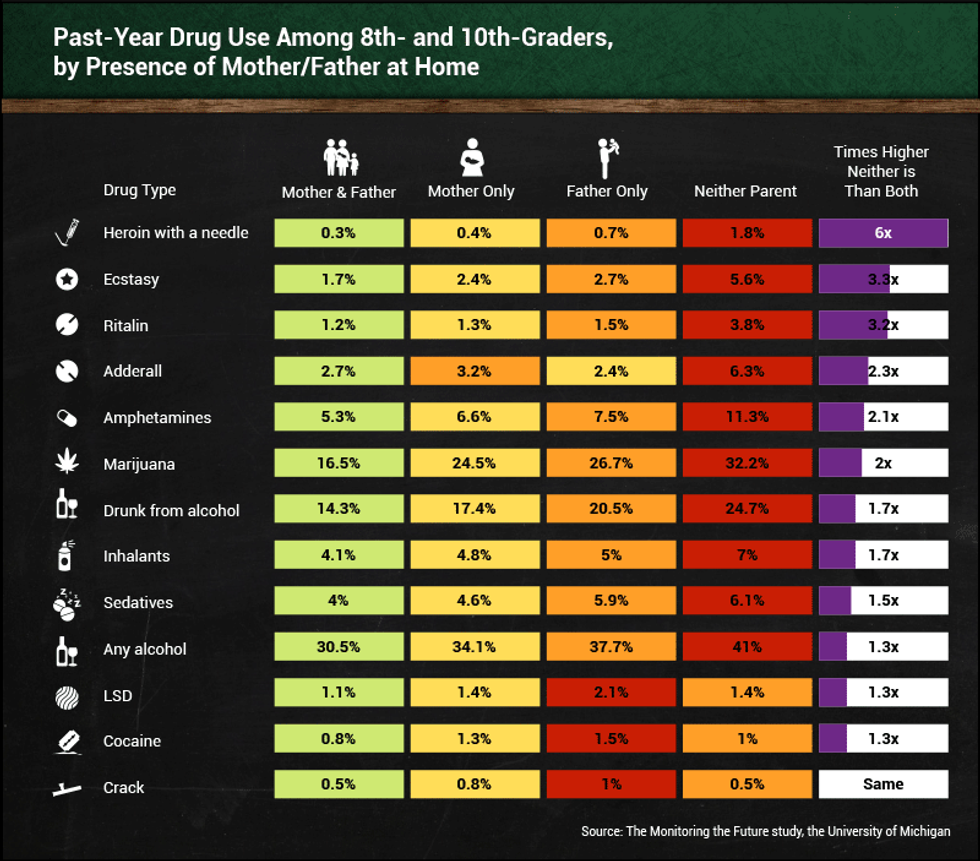 Certainly, such statistics point clearly to the importance of parental presence in the lives of their kids.
In a further focus on the role parents can play, another part of the survey demonstrates how well disciplining your children works. If you don't allow them to go out on school nights, make sure they do their homework and chores, and don't let them watch too much tv, your kids are much less likely to get drunk.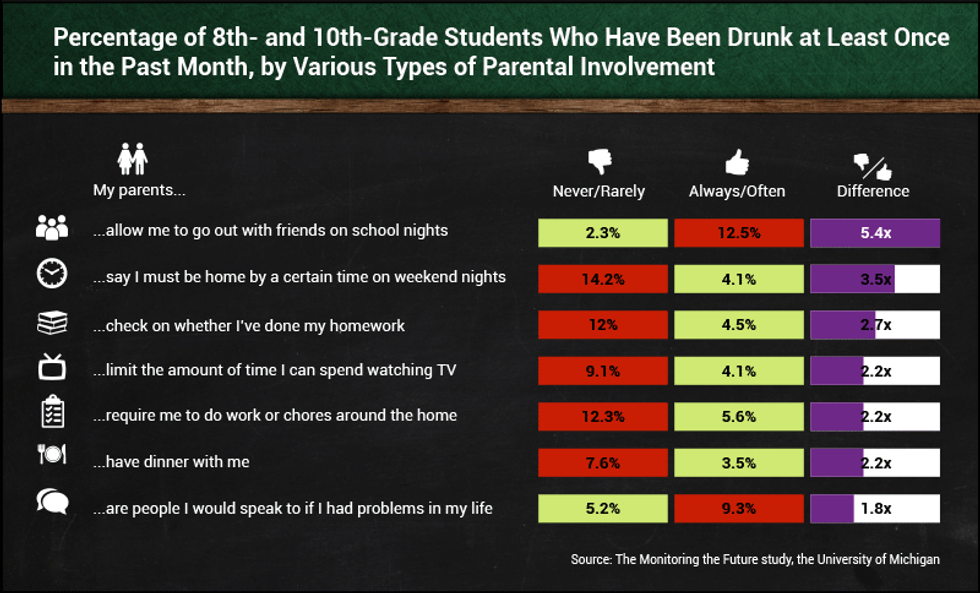 And if you think none of this matters much as "kids will be kids," we should consider the impact this behavior has on the academic performance of students. Teens who smoked cigarettes or marijuana and got drunk were much less likely to receive an A than those who didn't. In fact, cigarette smokers fared the worst, being 5 times less likely to get an A than their abstaining counterparts.
Of course, as we see, a number of factors team up to affect a kid who uses various types of drugs. Drug usage may be a symptom of larger issues as much as a problem in an of itself. But as 8th through 12th grades comprise such an important portion of an adolescent's path towards becoming a functioning adult, we must consider how adversely the future of the drug-using kids can be affected.
You can see here a clear correlation between drug usage and various "deviant" behaviors: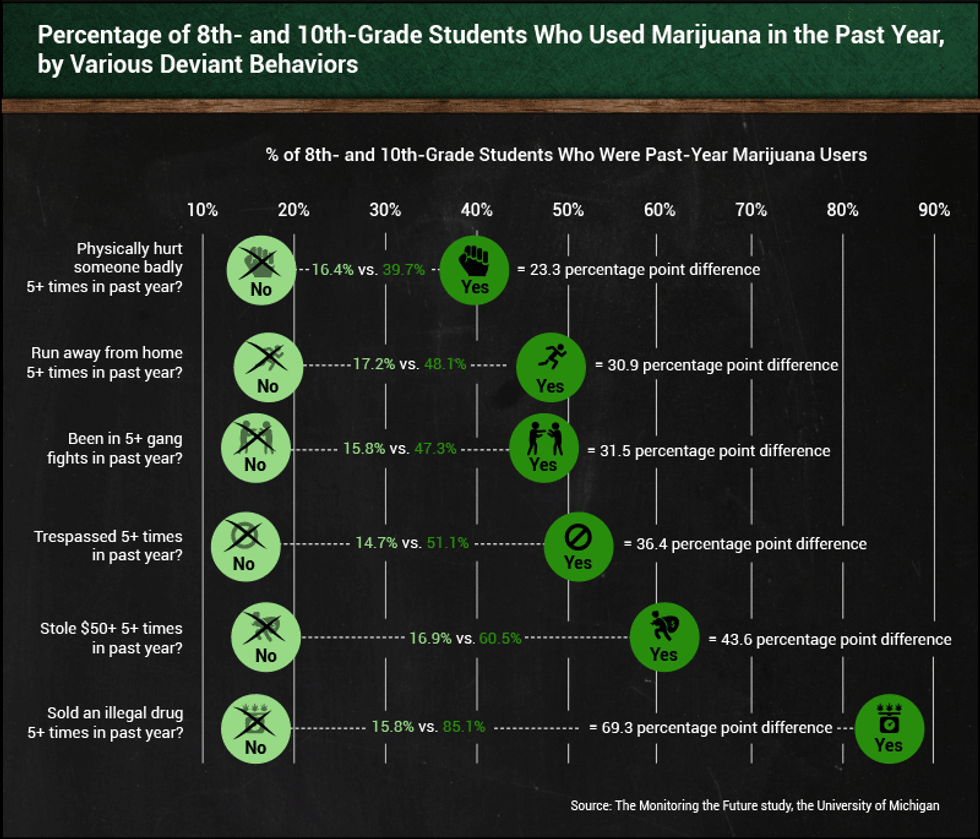 A much larger percentage of teen weed smokers got into fights, ran away from home and stole. Again, did they do so because of the drugs or were the drugs simply masking larger issues (perhaps related to their home lives)? While it's important to find out this answer, it's very visible how related is drug use to anti-social behavior.
--