A new conception of quantum mechanics rests on the idea that parallel universes exist, and that they interact with our own to create weird and wonderful quantum phenomena.
Wikicommons
Quantum mechanics is hard to do. The great physicist Richard Feynman once remarked "It is safe to say that nobody understands quantum mechanics" and that statement was regarded as correct. The problem isn't in the math, even an undergraduate can use Schrödinger's equation, it is in what the math means.
We are all familiar with several interpretations of what the math could mean, from cats that are both dead and alive to an infinite multiverse where every possible history does happen. How to prove which of these interpretations is correct is another problem; as parallel universes are postulated to not interact with one another and scientists don't quite have the stomach to put cats in quantum booby traps. With no ability to experiment, the math is all we know for sure.
But, a radical new interpretation might hold the answer, and in a manner that could be tested.
The idea is called the Many Interacting Worlds hypothesis, the or MIW. The core concept is that a plethora of universes have always existed side by side, and that they subtly influence the ones near them to differ from themselves. The bizarre effects of quantum mechanics that we observe and are confused by, such as quantum tunneling and the double slit experiment, are really caused by the interactions between these universes.
The hypothesis says the probabilistic nature we ascribe to certain events is really uncertainty caused by our not knowing which universe we are in, and that if we knew where we were physics would again be deterministic. The authors of the study say as little as two existent universes would be enough to assure quantum effects take place. They show they can account for basic quantum phenomena using their ideas.
What makes this model different from the others?
Firstly, it "contains nothing that corresponds to the mysterious quantum wave function," except when the number of modeled universes is infinite. When the model contains only one universe, it simplifies to a classical, Newtonian system. Quantum physicist and author of the hypothesis Michael Hall called this element "surprising" and said that it means that their hypothesis "incorporates both classical and quantum theory".  A vital step for any interpretation that wants to make headway.

Another key difference is that the proposed words in this hypothesis interact with one another. Because of this, scientists could devise an experiment to show if the predicted interaction was taking place; supporting or disproving the hypothesis. Since science typically holds falsifiability to be a gold standard, this is a great leap forward for quantum theory.
So, is this model going to be of any use?
At the moment, the model is still speculative and unlikely to become the new standard interpretation anytime soon. The authors of the hypothesis hope that their concept "will be useful in planning experiments to test and exploit quantum phenomena such as entanglement. Our findings include new algorithms for simulating such phenomena and may even suggest new ways to extend standard quantum mechanics."

Even if the ideas are proven false, or never catch on as a paradigm for interpreting quantum phenomena, the researchers hope to advance our understanding of science anyway. As they say in their press release, "while Richard Feynman may have had a point when he said 'I think I can safely say that nobody understands quantum mechanics,' there is still much to be gained by trying to do so".
A study on the strange Cold Spot in space may prove that we live in a multiverse.
Tarantula nebula. Credit: Pixabay.
A new study about one of the most inexplicable places in the cosmos may offer the first proof that we are living in a multiverse.
The idea of a "multiverse" proposes that an infinite amount of universes, including the one we are living in, exist in parallel to each other. These universes differ in a variety of physical properties, featuring multiple Big Bangs, space bubbles and maybe even an alternate version of you who is reading this article in a world run by slugs. The "multiverse" hypothesis has been so far been impossible to test but has supporters among such scientists as Stephen Hawking, Michio Kaku, Neil deGrasse Tyson and Leonard Susskind.
The study by British astronomers focuses on what's known as the "Cold Spot" - an especially cold area of space that has been observed in the microwave background radiation coming from the early Universe 13 billion years ago. Usually temperatures of the radiation vary throughout the universe, but this area of coolness is much larger than others (about 0.00015 degrees Celsius colder than its surroundings).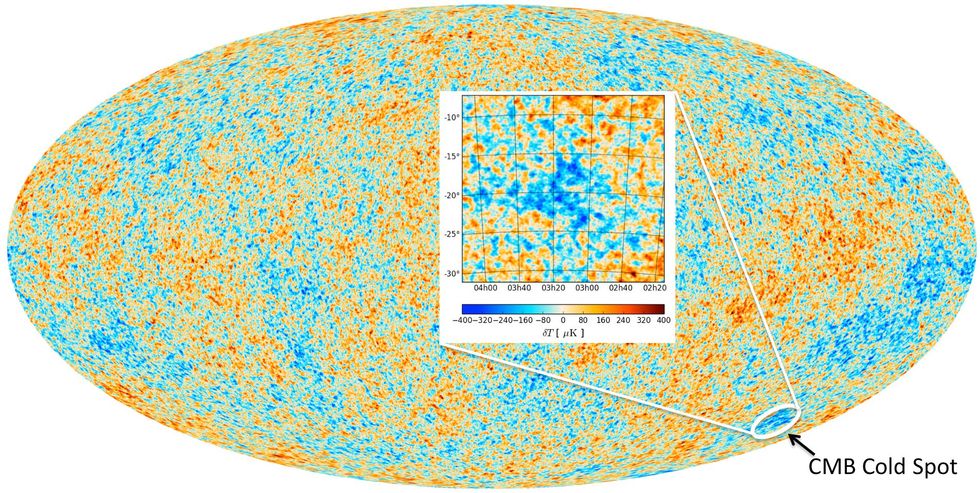 The map of the cosmic microwave background (CMB) sky produced by the Planck satellite. Red represents slightly warmer regions, and blue slightly cooler regions. Credit: ESA and Durham University.
The Cold Spot, first found by NASA in 2004, is a strange place 1.8 billion light years across that doesn't comfortably gel with existing cosmological models. One explanation is that it simply doesn't exist, being just an illusion created by the expansion of the universe. Spaces with lower amount of galaxies or "voids" form as the expansion accelerates. With 10,000 fewer galaxies, the Cold Spot would be a "supervoid".
But the study, published in UK's Royal Astronomical Society, claims to prove that the supervoid is not a valid solution to the Cold Spot's mystery. The researchers think that instead of one giant emptiness in that area, there are galaxy clusters gathered around smaller bubble-like voids. And, significantly, these would be too small to be responsible for lowering the temperature in the Cold Spot.
In fact, other answers must be sought. The scientists, led by postgraduate student Ruari Mackenzie and Professor Tom Shanks in Durham University's Centre for Extragalactic Astronomy, think one possible hypothesis is that the Cold Spot resulted from a collision between our universe during its early days and another universe. The energy release of such an impact would have created the Cold Spot.
"We can't entirely rule out that the Spot is caused by an unlikely fluctuation explained by the standard model. But if that isn't the answer, then there are more exotic explanations. Perhaps the most exciting of these is that the Cold Spot was caused by a collision between our universe and another bubble universe. If further, more detailed, analysis of CMB [Cosmic Microwave Background] data proves this to be the case then the Cold Spot might be taken as the first evidence for the multiverse – and billions of other universes may exist like our own," said Professor Tom Shanks.
The multiverse, while an exciting idea, has its detractors. Some physicists feel since it's not something observable or provable, then a discussion of it is pointless or even unscientific. But when more ordinary solutions come up empty, the doors of science open wider.
Check out this video by Michio Kaku for more ideas on multiverses:
The Many Worlds Interpretation is just one of a few multiverse hypotheses—but is there a glaring paradox in this popular idea?
The idea of a multiverse as we conceive of it was first mentioned by Nobel Prize-winning Austrian physicist Erwin Schrödinger in 1952, who warned a lecture hall full of people that this may "seem lunatic", but perhaps his equations did not show mere alternative versions of history, but alternatives all happening simultaneously. For this week's question, Austin wants to know about the multiverses paradox: if every alternate timeline happens, and anything that can happen does—somewhere—then wouldn't there be a universe that could not support the idea of any other universe existing? All multiverse hypothesis are as yet unverified by experiments, so it's all up in the air. But if we ever want to find out, the way to do it is by supporting space exploration, because the more we find out about the cosmos, the closer we get to knowledge about our own origins and the greater our capacity grows for multiverse experimentation. Bill Nye's most recent book is Unstoppable: Harnessing Science to Change the World.