Ban Ki-moon recently criticized the state of the U.S. healthcare system as part of his work with The Elders, an international organization founded by Nelson Mandela.
Ban Ki-moon, former United Nations Secretary General. (Photo by John Moore/Getty Images)
Ki-moon served as secretary general for the United Nations from 2007 to the end of 2016.
He said special interests are blocking the American government from pursuing universal healthcare.
30 million Americans are not covered by insurance. A 2018 poll shows that more than half of Americans would support a single-payer healthcare plan.
The U.S. healthcare system is politically and morally wrong, according to former United Nations secretary general Ban Ki-moon.
In a recent interview with The Guardian, Ban criticized the state of U.S. healthcare as part of his work with The Elders, an international organization founded by Nelson Mandela whose work focuses in part on advocating for universal healthcare across the world. He urged American leaders to deliver fully funded healthcare as a "human right".
"It's not easy to understand why such a country like the United States, the most resourceful and richest country in the world, does not introduce universal health coverage," said Ban. "Nobody would understand why almost 30 million people are not covered by insurance."
Ban, a South Korean politician who served 10 years as the eighth secretary general of the U.N. until 2017, has been a vocal proponent of other progressive causes like climate change and LGBTQ rights.
"While swearing in as secretary general, I pledged I would make this world better for all," he said. "Nobody would imagine that there should be so many people – 30 million people – who would be left behind" in the U.S.
A snapshot of the U.S. healthcare system
The U.S. spends more on healthcare than any other country in the world, even though, as Ban mentioned, some 12.2% percent of American adults lacked health insurance at the end of 2017, up from 10.9% at the close of 2016. According to 2016 data from the Centers for Medicare and Medicaid Services:
The U.S. spent $3.3 trillion, or $10,348 per person, on healthcare.
Healthcare spending accounts for about 18% of U.S. GDP.
Americans spent about $1.1 trillion on private health insurance and $328.6 billion on retail prescription drugs.
Corporate interests inhibit quality of life in America
Ban told The Guardian that the sectoral interests of pharmaceutical companies and hospitals "inhibit the American government" and prevent it from working toward universal health coverage.

"Here, the political interest groups are so, so powerful... Even president, Congress, senators and representatives of the House, they cannot do much so they are easily influenced by these special interest groups," adding that he hopes some progressive states pave the way for publicly financed healthcare.
"It will be either California or New York who will introduce this system," he said. "Then I think there will be many more states who will try to follow suit. I think that's an encouraging phenomenon we see."
Do Americans want single-payer healthcare?
In recent years, there have been growing calls from the left and from some progressive politicians to implement Medicare For All, a single-payer plan that would guarantee health insurance and necessary healthcare to all Americans. And while most Democratic lawmakers have shown mixed feelings about pursuing a single-payer plan, a Washington Post-Kaiser Family Foundation poll from February showed that 51 percent of Americans would support a single-payer plan.
However, passing such legislation remains virtually impossible as long as both chambers of Congress are controlled by Republicans, many of whom not only oppose Medicare For All outright but also have tried to chip away at the less expansive Affordable Care Act.
Diners consumed 45 fewer calories per meal.

Travelers order meals using McDonald's restaurant digital menu boards self-serve kiosks with touch screen in passenger area at Terminal 1 of Humberto Delgado International Airport on September 04, 2018 in Lisbon, Portugal. Photo: Horacio Villalobos (Corbis)
According to the CDC, obesity is costing the U.S. $147 billion each year in medical costs.
The new Cornell study found that knowing calorie information helped diners eat less.
Experts believe this could force chain restaurants to offer healthier, low-calorie options
Of all the dietary trends, superfood cleanses, high-intensity workouts, fad pills and powders, and metabolic superstar programs guaranteeing weight loss, one tried and true method continues to be a sound means for maintaining a healthy weight: reducing your calories.
A Cornell study, published in August, has discovered that restaurants that list calorie content help customers moderate the amount of food they consume — albeit, by a little. Still, a little can go a long way once you become accustomed to it.
The research team of John Cawley, Alex Susskind, and Barton Willage set up shop in two restaurants for a randomized field experiment. Two different groups were then told to order: a control group with normal menus and a treatment group, which read from menus featuring calorie information. By the end, 5,500 diners contributed to the study.
The treatment group ended up ordering 3 percent fewer calories than the control group — a result of 45 calories per meal. The biggest effect seems to be on consumer awareness. The researchers noted that customers were surprised by how many calories basic meals, such as a tomato soup/grilled cheese combo, has. They continue,
The findings come at a time when most Americans don't have a precise estimate of how many calories they're eating, because one-third of their food is prepared outside the home. At the same time, the obesity crisis in America has reached epidemic proportions; the prevalence of obesity in adults has nearly tripled in the past 50 years, to nearly 40 percent of the population in 2016.
This follows a law requiring chains with 20 or more locations to post calorie content on menus and menu boards, which went into effect earlier this year. The move was set to launch in 2011 as part of the Affordable Care Act's requirements, yet pushback from lobbying efforts delayed its implementation.
Part of the gripe from restaurant chains (especially pizza establishments) is that it will reduce profits. Yet in the Cornell study researchers found no evidence of monetary loss between the groups. In fact, healthier options often cost more than junk food. That said, patrons realizing which restaurants are not healthy could have a ripple effect. Though the Cornell study is an outlier — other studies have found that the calorie content does not change minds — it might be pushing restaurants to offer more low-calorie options.
Photo: Hero Images
The cost to restaurants does not nearly equate to those on our medical infrastructure. According to the CDC, obesity is costing the U.S. $147 billion each year. This involves direct and indirect medical problems related to being overweight, including cardiovascular disease, type 2 diabetes, immune system-related problems, and many other ailments.
John Cawley, a professor of policy analysis and management in the College of Human Ecology at Cornell, views the calorie listing on menus as an easy to implement solution.
It's a cheap policy to put in place, and the fact that there is a reduction in calories ordered makes it appealing.
While not the only solution, it's a step in the right direction. Awareness is a catalyst for change, and one thing is certain: we can't keep heading blindly in the direction we've been going. The consumption of unhealthy high-calorie foods, beginning with the frozen dinner revolution of post-World War II America right up through pumpkin spice lattes, has made us a sick and diseased nation. Every calorie counts.
--
A study finds an increasing number of Americans live with serious mental issues and their access to healthcare is getting worse.
Credit: Pixabay.
A new study raises alarms about the rising amount of people suffering from mental illnesses in the U.S. and the many who are not getting the care they need. Researchers found that more than 8.3 million adult Americans (or 3.4% of the population) are battling serious psychological distress (or SPD).
The study, carried out by researchers from the NYU Langone Medical Center, analyzed a federal health database, looking at 200,000 participants of surveys from 2006 to 2014.
The CDC, which manages the surveys, defines SPD as a combination of emotional states like sadness, worthlessness and restlessness that severely affect a person, requiring treatment. 
The number of people impacted by mental illness appears to be rising, with previous surveys putting the figure at 3% or less, and their access to healthcare is getting worse.  
"Although our analysis does not give concrete reasons why mental health services are diminishing, it could be from shortages in professional help, increased costs of care not covered by insurance, the great recession, and other reasons worthy of further investigation," said the study's lead investigator Dr. Judith Weissman.
The study specifically points to how the poor with mental issues are often prevented from getting treatment. People with SPD are three times more likely to be unable to afford general health care. Similarly, Weissman found that 9.5% of people needing help did not have the kind of insurance that would give them access to a psychiatrist. Around 10% had delays getting help due to mental health coverage issues or could not afford to pay for necessary medications.
"Based on our data, we estimate that millions of Americans have a level of emotional functioning that leads to lower quality of life and life expectancy," said Dr. Weissman. "Our study may also help explain why the U.S. suicide rate is up to 43,000 people each year."
She pointed out that access to treatment for mental illnesses deteriorated despite implementation of the Mental Health Parity Act of 2008 and Obamacare's provisions for increasing medical coverage in such cases. It also bears noting that in its current form, the American Health Care Act aka Trumpcare could result in loss of coverage of over a million people dealing with mental illnesses.
In Weissman's opinion, the recession from 2007 to 2009 probably contributed to the worsening mental health picture. Many people who needed care got left behind and are still paying the price. 
"There is this generation of middle aged adults that are really suffering right now and if policies change, if we increase access to mental health care and we increase coverage for mental health care, we can save the next generation," she added.
Overall, there's an estimated 43.4 million adults (18+) in the U.S. who live with some form of mental illness. This is according to 2015 stats from the National Institute of Mental Health. That's about 17.9% of all American adults.
You can read the study here, in the journal Psychiatric Services.
Repealing Obamacare without a fit replacement will leave tens of millions uninsured. Who is responsible for the fall out? A moral hypothetical raised by Kurt Vonnegut can help.
The Trump administration just unveiled its health care plans. Tom Price, a physician and member of Congress for the state of Georgia, is the U.S. Secretary of Health and Human Services.
While his actions have been scrutinized for possible violation of congressional ethics codes before, there is a new question being raised by many people; can he maintain his commitment the Hippocratic Oath while still carrying out orders to end the Affordable Care Act, also known as Obamacare?
For those who need a refresher, the Hippocratic Oath is taken by all doctors as a rite of passage upon becoming certified, and is often summarized by the phrase "Do no harm". Variations of it were heard recited in ancient Greece by new doctors in the name of the Gods, and it is commonly held to have been composed by the father of western medicine, Hippocrates.
Legally, it has no power; breaking it doesn't mean anything itself. The reciting of the oath is more so a tradition, a personal promise made when you take up the mantle of 'doctor' to always help those in need.
The question was raised as to how far it goes in deciding what a doctor can and cannot do in the state of Georgia. When a group of doctors tried to have a fellow doctor's license taken away for actively participating in an execution, the state's response was to make a law protecting such participation as being consistent with holding a doctor's license.
Some medical students, who have organized into a group called Protect our Patients, have objected to the Trump administration's repeal of the ACA without a suitable replacement ready to go on the grounds that the effect would be to do harm – that which they have sworn against. Seeing the head of the department in charge of the removal of the law being one of their own makes it even more heated for the students. 
Before the comments section gets too infuriated, the nonpartisan Congressional Budget Office shows that the repeal without replacement of Obamacare would leave tens of millions uninsured, along with a slew of other economic issues arising as well. It is a fact that repealing the ACA without a replacement will cause many people to suddenly lack quality health care.
The concerned physicians raise the vital question of how far a person's responsibility goes when an action that they take causes harm, suffering, or pain later. Even if they did nothing directly.
Kurt Vonnegut offered us an excellent illustration of this problem in 'Look At the Birdie'. Suppose you were to toss a cat over a high wall, only to have it land on another person's head. Would you be responsible if it was to scratch their face up? Many people would say yes, at least to some extent.
But what if the cat landed on the ground and then attacked somebody an hour later? Are you still at all responsible? Remember, the wall was quite high, and you made the cat go over it. Many people see this as a different question, and insist that the cat tosser is not responsible at all here.
We could make the question a little more intensive. Suppose a child is inspired to become an ER doctor after the murder of his parents. He goes on to save many lives over the course of his career. Is the person who killed his parents also responsible for the good actions of the boy? After all, he did start the process that lead to the lives saved, even if it came at a small cost. That is where measuring consequences becomes tricky. How do you count everything? Do you hold everybody who participated responsible in some way?
In the event that Obamacare was repealed, and Dr. Price took a large role in that repeal, the question could be asked: is he participating in an action that will cause harm later, and does that mean that he is liable for it in any way? People who think the two cases above are very different say no, he isn't. Those who think them similar would say that he will cause harm in the process, and is bound by honor to not do it.
Can a physician help take away people's health care without violating the "Do no harm" aspect of their oath? Is the oath worth the paper it is read off of? Does Dr. Price run the risk of violating the oath by collaborating with the new administration in the repeal of Obamacare? The answer depends on how far out from an action you think responsibility for consequences follows.
Yale psychologist Paul Bloom believes policy should not be decided by appeals to the emotions of voters, but by hard data:
The ranking of empathy from highest to lowest goes liberals, conservatives, libertarians. But the difference is minor, says Paul Bloom. Typically the debate isn't all over whether or not to empathize – it's over who to empathize with.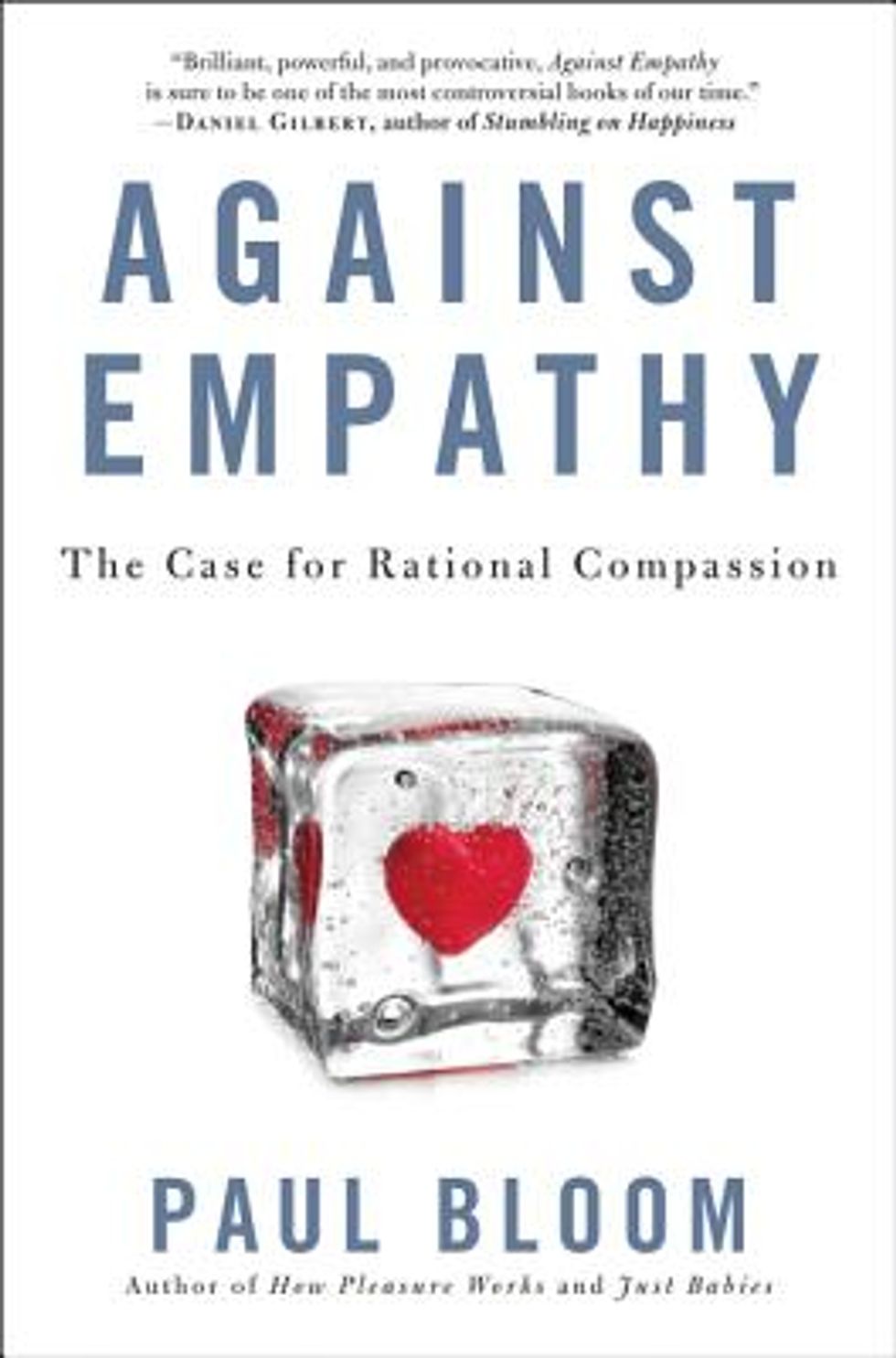 The title of Paul Bloom's latest book may ruffle a few feathers; it's called Against Empathy. Empathy has come into its own of late, held on a pedestal as one of the most glorified emotional skills – but Bloom argues that at times it can cloud our judgement. When it comes to political debates, typically the debate isn't all over whether or not to empathize, it's over who to empathize with, he says. There are some political issues, such as climate change and free speech, in which empathy favors one side of the issue, and encourages inaction over action.