Will Smith defends entry of non-theatrical Netflix movies at Cannes.
(LOIC VENENACE)
Two of the films in competition at this year's prestigious Cannes Film Festival were produced by and for Netflix. It may be a watershed moment for films, given that the two movies — Okja and The Meyerowitz Stories — were produced for a TV streaming service, and not for a movie theater. At the festival's opening press conference on May 17, renowned Spanish filmmaker and Palme d'Or prize juror Pedro Almodovar read a pre-written statement that said in part, "I personally do not conceive, not only the Palme d'Or, any other prize being given to a film and not being able to see this film on a big screen."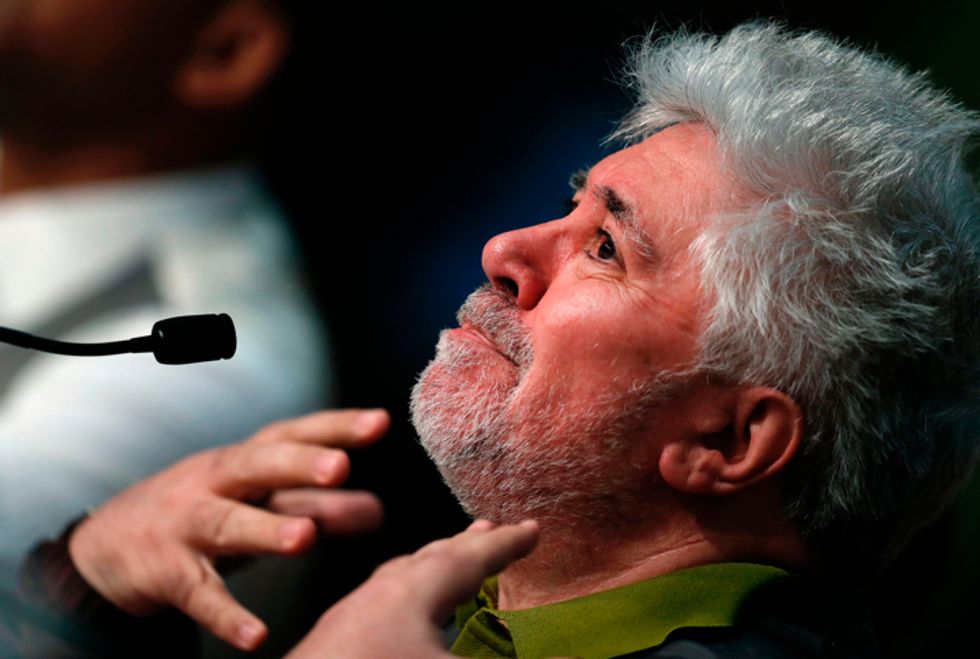 Pedro Almodovar (Laurent Emmanuel)
When Will Smith raised his voice in defense of Netflix a while later, a conversation began that reflects a seismic shift — and for some, a sobering one — in the film industry. Almodovar and Smith were each no doubt reflecting the views of many other people.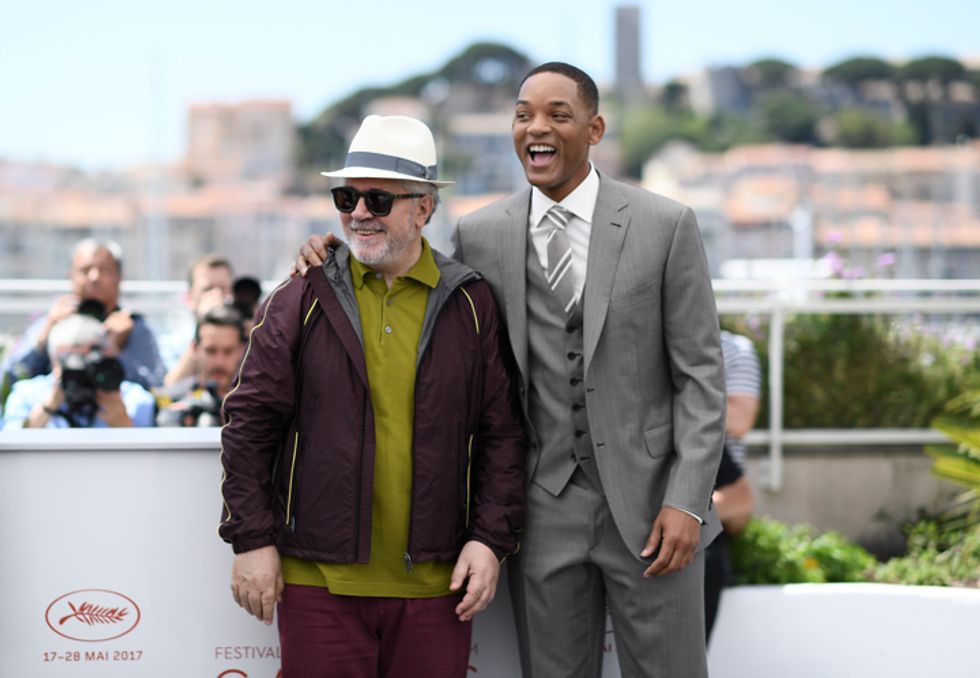 Almodovar and Smith (Anne-Chirstine Poujoulat)
Prior to Almodovar's statement, the mood at the press conference had been completely different. Though Cannes is always the place to see movie stars, few these days have the sheer wattage and charm of Will Smith, who had the room wrapped in the palm of his hand. "West Philadelphia is a long way from Cannes," the star said, noting that, "I was probably 14 years old the last time I watched three movies in one day. Three movies a day is a lot!" Such is the lot of the Cannes festival juror. He also joked that he'd be trying to set a record for most outfits worn at the festival, 32, to top last year's juror Kirsten Dunst's 28.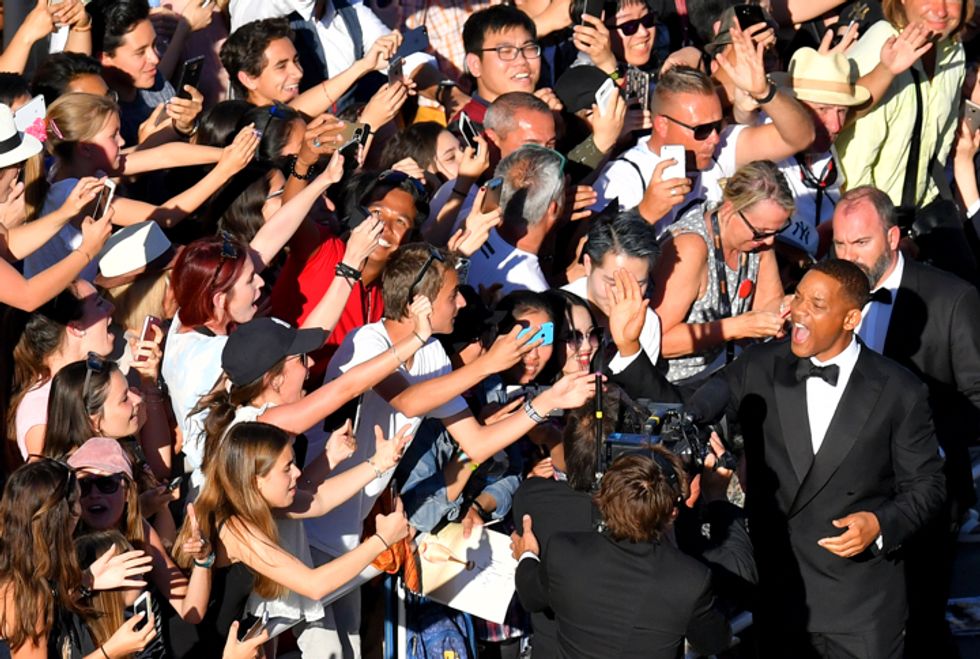 Smith and crowd crush (Loic Venance)
Almodovar claimed his stance doesn't come from being anti-technology, saying, "All this doesn't mean I'm not open to or don't celebrate the new technologies. I do." And yet another statement of his suggests otherwise. "I'll be fighting for one thing that I'm afraid the new generation is not aware of. It's the capacity of the hypnosis of the large screen for the viewer," the filmmaker says. "The size [of the screen] should not be smaller than the chair on which you're sitting. It should not be part of your everyday setting. You must feel small and humble in front of the image that's here." Has he not seen the gargantuan TV screens on which people watch TV these days? Not even going into the home sound systems that support them.
Time and Change
It's a simple fact of life that things change, and one has to feel for someone who's devoted his or her life to an art form in which the public loses interest. Hand-drawn animators spring immediately to mind, as do classical and jazz musicians (actually, musician's of any style that becomes passé). The passing of the white-hot spotlight from one form to another does not in any way diminish the real value of the one left in darkness, but it painful to feel an audience's attention moving on. And it's not that, for example, there isn't still hand-drawn animation being produced. It's just harder to find. And there will likely always long be movie theaters showing films. They may just not be everywhere.
Bowling for Dollars
Of course, with an audience moving on, so goes the money required to produce a film, and in this regard, Almodovar's position makes practical sense. But not entirely. Studios chase the massive jolts of income they can derive from hit movies, and that's a business call having nothing to do with Netflix. The rise of original content on streaming services isn't the cause of the financing issues of smaller films. And according to the Stephen Follows website, producing $100m+ movies requires deep pockets.
So, movies seen on big screens in a dark room account for only a portion of the money they stand to make. Of the roughly $423 million such a film makes on average, only $169 million comes from theatrical release, and the rest ($254 million) from other, smaller-screen venues.
Access Hollywood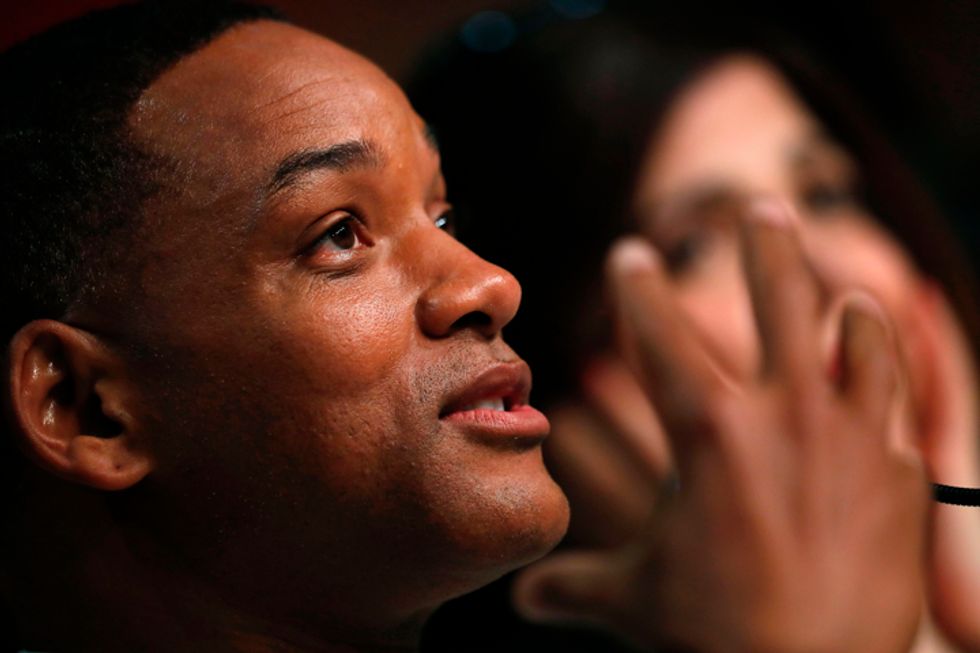 Will Smith (Laurent Emmanuel)
Smith's defense of Netflix at Cannes referred to the access it provides audiences to otherwise unavailable films: "In my house, Netflix has been nothing but an absolute benefit. They get to see films they absolutely wouldn't have seen. Netflix brings a great connectivity. There are movies that are not on a screen within 8,000 miles of them. They get to find those artists."
If that's so for kids living in L.A., imagine what a service like Netflix is doing for those not living in urban or suburban areas with multiple theaters. About 18% of Americans live in rural areas where they're lucky to have even a single theater, and that would be a theater showing only "tentpole" movies starring, well, Will Smith. Just one example of a director whose films never appear in say, Houghton, Michigan would be Pedro Almodovar, Netflix or not. Netflix — either via DVD or streaming service — is the only way many people can see non-blockbuster films.
There's another issue that gives Almodovar's position a whiff of elitism. Going to a theater is expensive, even if you don't buy popcorn and a drink. The average movie ticket price in the U.S these days for an evening show is $8.64. For a family, that's a tab that starts at $25.92. A month of Netflix is $7.99 to $11.99 by comparison, and you can watch as many movies as you want.
Where Do You See Film?
For many who do have access to movies in a theater or on their TV, the decision involves a personal calculus that depends on how much they enjoy watching a movie in a theater or at home. In a theater, there's that huge screen and sound system, but there's also the cost, people talking through the film, phones going off, and sticky floors. At home, you've already paid, and you needn't get dressed, you can watch whenever you want, you can rewind, and your home entertainment system probably doesn't look and sound too shabby. On the other hand, it's a more solitary experience, life has a way of interrupting movies, and the screen is still smaller than movie theater's.
In what Tristan Harris calls a "race to the bottom of the brain stem," media companies and advertisers will do almost anything to keep your eyes locked where they want them.
Attention is a limited resource. There's just 24 hours per human per day, and every advertiser wants it. The attention economy has always existed—penny papers competed with each other the same way streaming services do now—but today we feel it so much more because our devices are no longer plugged into walls; we can take them with us, to have entertainment and knowledge wherever we go. But if only it were just those two things. Tristan Harris, a design thinker and former ethicist at Google, explains how advertising has become increasingly persuasive and tailored in the age of big data. Companies sell users' attention and personal information to the highest bidder, who uses it to manipulate thoughts and beliefs—be it about products or politics—with very little transparency. This critically undermines our free will and democracy. "So many of our institutions depend on us having sovereign minds and sovereign ideas," Harris says. It's time to start rigorously questioning advertising's business model, and reorganize the attention economy to align with public wellbeing. To find out more about Tristan Harris, head to tristanharris.com.
"Shut up and take my money" isn't just a meme anymore, it's the way people are increasingly choosing to access art, news, and culture.
Photo: Vitaly, unsplash.com/@gooner
Growing up, my father often complained about the rising cost of our cable subscription. The bills got higher, the number of stations increased, yet the amount of television we watched rarely changed. The 'value-added' networks didn't add much value. As the number of networks increased the actual worth of television only seemed to decrease. 
Much has changed. The amount of content—the word that has replaced 'art' and 'creation' in recent years—is staggering, leaving an unfathomable amount of unwatchable television in the queue. Yet many have claimed this to be a 'golden era of television.' It's hard to disagree. 
While the administrative bureaucracies behind major movie studios take fewer risks, cable TV studios, many now free from the burden of bundling, are pushing boundaries. Shows like HBO's 'The Young Pope' and 'The Leftovers,' the BBC's 'Peaky Blinders' and 'Sherlock,' and Hulu's 'The Path' take chances only found in independent movies. 
As consumer watching habits shift and producers rush in to fill their needs, the question of creative value has been a constant. The NY Times' Farhad Manjoo, for one, believes the expanding opportunities offered by the digital revolution are saving culture, pushing art forward in interesting, new multi-disciplinary platforms. Manjoo thinks today is "the beginning of a remarkable renaissance in art and culture." 
"In just about every cultural medium, whether movies or music or books or the visual arts, digital technology is letting in new voices, creating new formats for exploration, and allowing fans and other creators to participate in a glorious remixing of the work. This isn't new; from blogs to podcasts to YouTube, the last 20 years have been marked by a succession of formats that have led to ever-lower barriers for new and off-the-wall creators."
There is truth to this, though Manjoo comes off as overoptimistic regarding the number of success stories. He points to a handful of Patreon phenoms who are earning their living as independent creators thanks to monthly subscribers. The technology exists and they have taken advantage of it—a certain benefit for those working from the ground up. The problem of rising to the top of the tens of thousands of Patreon users remains, however. 
Which is a different scenario than the cable bundling model. In the old days (the eighties, in my case) small networks were able to exist thanks to behemoths like HBO, Showtime, and Cinemax. This model still works for networks like ESPN, which gets six to seven dollars for every subscription, the highest paid network today. Their success allows smaller players to stay in the game. 
ESPN provides a perfect example of the necessity of mass appeal. As Atlantic senior editor Derek Thompson writes, the network lost its way in the nineties. It "tried to promote every single thing rather than focus on a few things." The creation of SportsCenter marked a needed turnaround. For 14 straight years it was the number one show for me. Yet even now success relies on multiple platforms: viewership has dropped since 2010 while readership on the website has skyrocketed as seven million people subscribe to breaking news updates delivered to their phones. 
The subscription model is ultimately why Manjoo is so enthusiastic about the artistic revolution. He notes that Netflix added seven million new subscribers during the last quarter of 2016, bringing its total audience to 94 million. Spotify is up to 50 million; Apple Music, 20 million. This does not mean creators are properly compensated (as someone with over a million plays on Spotify, I can attest to the laughable royalties). 
Expansion of platforms and ease of access have laid the grounds for an interactive art that is quite new. While it harkens back to past times—sponsorships and intimacy—the sheer reach of the online world is groundbreaking. Independent creators still battle a corporate hierarchal structure on major platforms while struggling to capture the attention of potential fans in an oversaturated market. From a consumer perspective, however, Manjoo is correct. The unbundling process has afforded us greater flexility in choosing exactly how we want to experience the art we enjoy.
Is this always a good thing? What about the potential for discovery? Consider an argument dominating the future of social media: If you're only seeing news you agree with while interacting with friends that already share your values, is the lack of alternative viewpoints causing us to regress as a society? Is the same trend possible in the arts? 
While social media feeds purposefully skew information (and product placement) to keep your eyes glued and fingers clicking, entertainment platforms are trying to master the art of discovery. Yet it cannot rely on a passive relationship between platform and consumer. I for one listen to my Discovery Weekly every Monday and Release Radar every Friday on Spotify. Yet many users I chat with have no idea these features exist because they never bother to scroll through the left side navigation bar. No matter how easy Spotify is making discovering new music, the company can't control your inattention.
While it couldn't be any easier to discover new music, some companies appear to be responding to consumer desires rather than honoring creators. A new Netflix feature allows you to skip the opening credits. The reason is that binge watchers shouldn't have to endure the repetitive 30-60 seconds each episode. Yet for people who worked on the show—not the stars, but the grip, music supervisor, and so on—that's their only shot at any recognition beyond their paycheck. Most tune out anyway; deleting the opportunity is another story altogether.
Some opening credits are standalone works of art that set the tone for the show. [Credit: Digital Kitchen]
Which might just be part of the sacrifice of the digital age. Interestingly these questions bring to mind an age-old question: Is it about the art or the creator? We don't know many of the authors of classic folk songs. They seem to have always existed, with fresh interpretations constantly arising. For example, the first known recording of 'St. James Infirmary Blues' was cut by Louis Armstrong in 1928; last year Yo-Yo Ma released this stunning version. 
Does the fact that we are not certain about the song's author matter? Or is it truly about the art? I don't believe there's a right answer—our opinion will be dependent on how we create and consume. But Manjoo is right: today we are at a fertile junction to be both artist and fan. Where it leads is unknown. There will be winners and losers, as that's always the case. My vote is to enjoy what we can while we have the time because regardless of outcome, the arts give us meaning as a species, which will always be an integral aspect of who we are.
--
Derek's next book, Whole Motion: Training Your Brain and Body For Optimal Health, will be published on 7/4/17 by Carrel/Skyhorse Publishing. He is based in Los Angeles. Stay in touch on Facebook and Twitter.
Just as the collective ruckus of science deniers hits its peak, Netflix announces a date for 'Bill Nye Saves the World', a heroic new show that will answer the most pressing science questions of our era.
Heroes don't wear capes, they wear coats. No lies, no hidden agenda – Bill Nye will set the record straight on science.
On April 21, the 13-part series 'Bill Nye Saves the World' will embark on its enormous mission to be an informed (and entertaining) counterweight to science skeptics by refuting bogus claims with a little thing called evidence. Each episode, he'll tackle a topic like climate change, GMOs, sex, space, and alternative medicine. He will make things explode, shake, and fly during lab demos, and bring on guests like science educator Derek Muller, supermodel Karlie Kloss, comedian Joel McHale, actors Donald Faison and Zach Braff, and musician Steve Aoki.
In terms of timing, 'Bill Nye Saves the World' is not just a fun idea, but a necessary one. Margaret Atwood dropped by Big Think late last year to explain that certain people find science "inconvenient", and anti-science mindsets – about climate change, for example – will continue to be propagated from the top and trickle down through the public consciousness until clean energy becomes profitable enough for the wealthy to "believe" in climate change. Only then will policy change follow. 
Scientists and academics have not always done a great job of communicating important ideas to the public, but the national mood has pushed the science community to respond in various ways – like UC Berkeley genetics professor Michael Eisen, who has announced he'll be running for Senate in 2018, a level of government with zero scientists in its ranks. Educating the public through popular programming, which has been Nye's missions since the 1990s, is another route: it can mobilize minds and stoke change from the bottom up. "Change doesn't come from Washington, change comes to Washington," Obama once said. 
Nye is a regular guest at Big Think, where he answers viewer questions for us every Tuesday. Here are two of his finest moments:
#1. Are there Ghosts?
Bill Nye tackles a tough question that every person alive has been hung up on – what happens after we die? Where does our life energy go? 
#2. Why Do We Need Science-Literate Leaders?
Bill Nye weaves explains the importance of science literacy in a country's elected leaders.
Netflix is marketing Nye as a new hero in town. Sure he has a six-pack of facts, mental muscle to shred misinformation into confetti, and an invisible weapon: words – but can he save the world?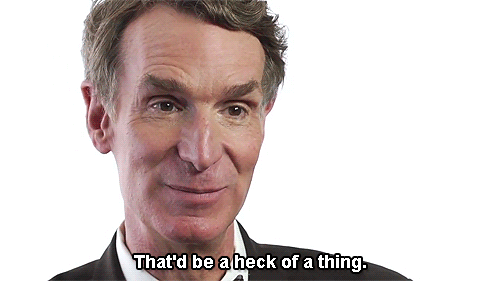 Want five or six extra days every year? Easy – choose streaming over network TV. Adults are sacrificing 130 hours, and kids 150 hours, to ads annually when they watch commercial programming. 
Research released by entertainment news site Exstreamist in 2016 shows that kids skip 150 hours of commercials every year by watching content on streaming services instead of regular television. On average, "children between the ages of 2 and 18 are spending an average of 1.8 hours a day using streaming services," they report. That's about 6 days worth of time per year they're getting back from services like Netflix, Hulu, and Amazon Prime.

How did commercials reach their 6-day toll on us? The answer, as the L.A. Times reports, lies with television networks. Using numbers from ratings measurement firm Nielsen, networks are shoving more commercials into programs in order to make up for declining ratings and revenue, according to the Wall Street Journal (WSJ). In 2015, networks aired an average of 15 minutes and 38 seconds of commercials every hour.
For comparison, "in 2009, the broadcast networks averaged 13 minutes and 25 seconds of commercial time per hour. In 2013, that figure grew to 14 minutes and 15 seconds." Cable news isn't any better, since, "in 2009, cable networks averaged 14 minutes and 27 seconds per hour," according to the L.A. Times. Networks are using more 15-second ad spots than 30-second ad spots, and some networks are even speeding up their programming in order to air more commercials, reports WSJ.
Children's programming is even worse. "Children view more than 40,000 commercials each year," according to the American Psychological Association (APA). Those commercials are loaded with ads for "sugary cereal, rot-your-teeth soda" and many other products that aren't particularly helpful, Exstreamist explains. Cognitively speaking, children don't understand the difference between commercials and television programs. The APA explains that "children below the ages of 4–5 years do not consistently distinguish program from commercial content, even when program/commercial separation devices ("GoBots will be back after these messages") are used…. [and] most children younger than 7–8 years of age do not recognize the persuasive intent of commercial appeals." So children can't easily tell the difference between fiction and reality or that the commercials are trying to sell them something. Since commercials are designed to influence consumer behavior, that's a problem.
Commercials can also demonstrate negative behavior that kids copy — again, because of their cognitive faculties, but also because they like trying new things. In a recent study of over 12,000 children's commercials, researchers at the University of Hartford discovered that about 12 percent of commercials featured disturbing or violent behaviors like threats of physical violence or accidents. Only 20 percent of commercials featured positive behaviors like sharing or helping. It's difficult to tell what direct effect those actions have, but given the impressionability of children featuring those behaviors at all seems suspect. Read the study yourself in Psychology of Popular Media Culture.
Granted, advertisers self-regulate commercial content so it's developmentally appropriate, but still: there's a lot of commercials with questionable content and they're targeted toward people who don't understand that they're being targeted.
No wonder people are flocking to streaming services.
The next time your kid wants to watch a show, opt for streaming services instead of broadcast TV. You'll save their time — and your money. "A Netflix subscription ends up paying for itself hundreds of times over if it prevents a few of those expensive toy purchases," as Exstreamist points out. Win-win!