Using machine-learning technology, the genealogy company My Heritage enables users to animate static images of their relatives.
Deep Nostalgia/My Heritage
Deep Nostalgia uses machine learning to animate static images.
The AI can animate images by "looking" at a single facial image, and the animations include movements such as blinking, smiling and head tilting.
As deepfake technology becomes increasingly sophisticated, some are concerned about how bad actors might abuse the technology to manipulate the pubic.
A new service gives new life to the past by using artificial intelligence to convert static images into moving videos.
Called Deep Nostalgia, the service creates animations by using deep learning to analyze a single facial photo. Then, the system animates the facial image through a "driver" — a pre-determined sequence of movements and gestures, like blinking, smiling and head-turning. The process is completely automated, and the service enhances the images to make the animations run more smoothly.
Launched in February by the Israeli genealogy company My Heritage, some of Deep Nostalgia's early results are impressive.
My Heritage/Deep Nostalgia
But that's not to say the animations are perfect. As with most deep-fake technology, there's still an uncanny air to the images, with some of the facial movements appearing slightly unnatural. What's more, Deep Nostalgia is only able to create deepfakes of one person's face from the neck up, so you couldn't use it to animate group photos, or photos of people doing any sort of physical activity.
My Heritage/Deep Nostalgia
But for a free deep-fake service, Deep Nostalgia is pretty impressive, especially considering you can use it to create deepfakes of any face, human or not.
I just ran the @Warcraft cover through the Deep Nostalgia Tool, and this happened... https://t.co/1eD3bb7fAN

— Solitaire #The06 (@Solitaire #The06)1614590060.0
Generated with MyHeritage. #DeepNostalgia https://t.co/gNX3wLHsS8

— Andrey Frolov (@Andrey Frolov)1614413388.0
So, is creating deepfakes of long-dead people a bit creepy? Some people seem to think so.
"Some people love the feature with Deep Nostalgia ™ and consider it magical while others think it is scary and dislike it," My Heritage wrote on its website. "In fact, the results can be controversial and it is difficult to be indifferent to this technology. We invite you to create movies using this feature and share them on social media to see what your friends and relatives think. This feature is intended for nostalgic use, that is, to give life back to beloved ancestors."
Deep Nostalgia isn't the first project to create deepfakes from single images. In 2019, researchers working at the Samsung AI Center in Moscow published a paper describing how machine-learning techniques can produce deepfakes after "looking" at only one or a few images. Using a framework known as a generative adversarial network, the researchers trained a pair of computer models to compete with each other to create convincing deepfakes.
While the results from the Samsung researchers were impressive, the Deep Nostalgia project shows how deepfake technology is advancing at a rapid pace. As these tools have become increasingly sophisticated, media experts have raised concerns about how bad actors might use deepfakes and "cheap fakes" to manipulate the public.
My Heritage seemed to sense Deep Nostalgia's potential for abuse, writing:
"Please use this feature on your own historical photos and not on photos of living people without their consent."
Their ear structures were not that different from ours.
Neanderthals are emerging as having been much more advanced than previously suspected.
Analysis of ear structures indicated by fossilized remains suggests they had everything they needed for understanding the subtleties of speech.
The study also concludes that Neanderthals could produce the consonants required for a rich spoken language.
A new study shows how interbreeding of modern humans and Neanderthals boosted our genomes.
Homo Sapiens mated with Neanderthals when they left Africa for Eurasia.
Neanderthals developed key genetic adaptations to fighting diseases.
Modern humans have 152 genes inherited from the Neanderthals that interact with viruses.
We tend to think of the human-like people before us, like the Neanderthals, as part of our biological history that's so far removed that it has little bearing on our current lives. After all, you don't get to meet Neanderthals in the street. Or do you? For one, from 1.8% to 2.6% of the DNA in most modern people comes from the Neanderthals. A new study provides another important link - Neanderthals passed on a key genetic adaptation that kept us protected from killer viruses.
Sex between Neanderthals and homo sapiens is the reason for our genetic connection. The humans were on their way out of Africa into Eurasia, when they met the Neanderthals. Thanks to sharing a common ancestor about 500,000 to a million years prior, the sex between the species produced viable offspring.
What the new study found is that before they hooked up with modern humans, Neanderthals were in Eurasia for hundreds of thousands of years fighting off pathogens. As a result, their genomes developed an ability to survive viruses, which they gifted to us.
The study's co-author David Enard, Ph.D. from the University of Arizona explained to Inverse that interbreeding was like a quick "antidote" for the homo sapiens to protect themselves. They suddenly faced an onslaught of new viruses.
Incorporating the genetic material that was already pre-adapted from the Neanderthals gave the homo sapiens a "fast-track route for adaptation", shares Enard, adding "instead of 'reinventing the genetic wheel,' we just borrowed it from the Neanderthals."
"Neanderthal genetic material was like a protective antidote because Neanderthals had likely been infected for a long time by the same viruses that were now harmful to modern humans," says David Enard. "This long exposure means that Neanderthals had plenty of time to adapt against these viruses before modern humans showed up."
Of course, not everything went smoothly when these two species met in the distant past. The scientists think they likely infected each other with the pathogens from their environments – in what's called "the poison-antidote" model of exchanging genes. The sexual unions produced the antidote.
Poison-antidote model.Credit: Cell magazine.
The research involved creating a list of over 4,500 genes of modern humans that are involved in defending against viruses and contrasting that with the database of sequenced Neanderthal genes. The scientists found 152 genes in modern humans that were also in the Neanderthal genome. The researchers believe that these genes we got from the Neanderthals are those that interact with RNA viruses of today like hepatitis C, HIV, and influenza A.
Notably, while these genes were instrumental in human survival over time, they are not really protecting us any longer from modern viruses. This points to the fact that evolution is "an arms race," as Dr. Enard called it. It's a process where even if we manage to overcome some of them, scores of new viruses constantly spring up to attack us. It was very sobering realization for Dr. Petrov and I that our work likely implies that humans had to adapt to hundreds, if not thousands of different harmful viruses over million years of evolution," related Dr. Enard.
It also bears pointing out that modern humans get depression and cigarette addiction from the Neanderthals.
Enard co-authored the study with Dmitir Petrov, Ph.D. of Stanford University. You can check out their study published in Cell.
They may have even kissed our ancestors.
Artist rendition of a Neanderthal man.
Though the care for and concern about teeth has a long history, the modern practice of dentistry has its roots in the 18th century, and quickly developed the century after that. No Neanderthal had a dental plan, and we should be thankful. That's because a recent study of Neanderthal teeth gives us a glimpse of what life was like tens of thousands of years ago. The results, published in the journal Nature, give us unique insights into, as the authors put it, our "closed known, extinct hominin relatives."
UK archaeologist Keith Dobney, at the University of Liverpool, and palaeomicrobiologist Laura Weyrich, at the University of Adelaide in Australia, co-led the study. They examined the plaque from jawbones taken from three separate Neanderthals who lived in Europe around 50,000 years ago.
Though we have some indications of how Neanderthals and our ancestors interacted, including interbreeding, we know very little about the Neanderthals themselves. Testing was performed on three specimens. One was found in Spy Cave in Belgium and the two in El Sidrón Cave in Spain. Researchers performed genetic testing on calcified plaque or calculus, found on the teeth. What they discovered was that Neanderthals were highly adaptable. Their diet varied considerably, depending upon where they lived.
The Belgian Neanderthal ate a meat-heavy diet, likened to that of polar bears and wolves. Researchers found traces of mouflon or wild sheep and wooly rhinoceros. Besides these animals, the bones of mammoths, reindeer, and horses were found inside the cave. This jives with previous research, which has shown that Neanderthals were highly carnivorous. However, it wasn't strictly meat. There is some evidence that they may have eaten wild mushrooms, and other plants too.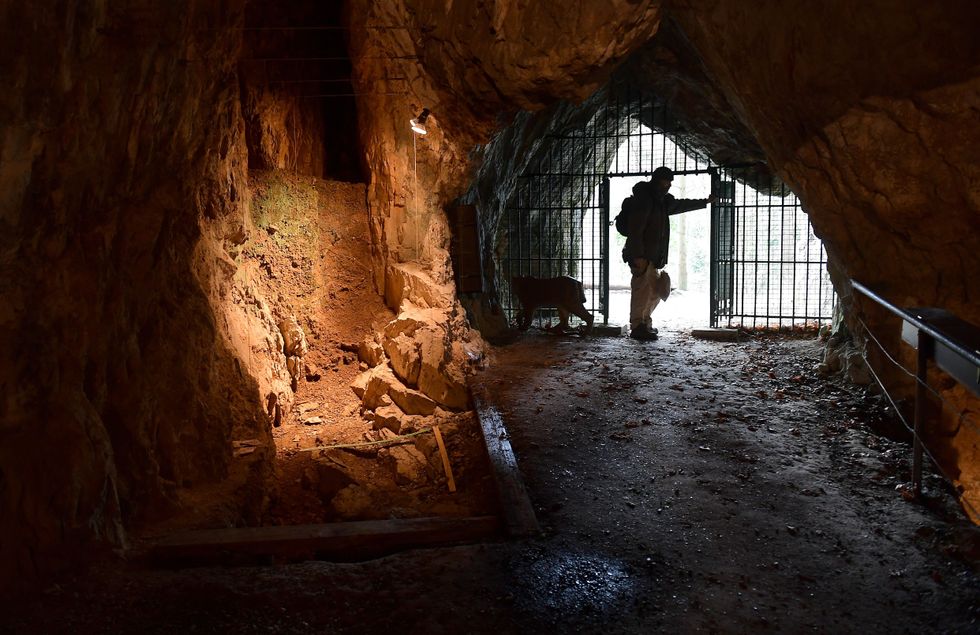 Spy cave. The Belgian excavation site. Getting Images.
Those found in Spain ate not a trace of meat. A diet of pine nuts, mosses, tree bark, and mushrooms, suggest that they gathered vittles from the forest for their supper. While this might sound like a placid existence to some, it's important to note that evidence of cannibalism was found at the Spanish cave site. Whether this was due to some sort of religious ritual, a case of dogged survival during a time of famine, absorbing the warrior spirit of a rival, or for some other reason, remains a mystery.
Belgian Neanderthals occupied a large grassland, filled with grazing animals, while the Spanish group lived in a heavily forested region. Performing genomic testing on the remnants of microbiota or oral bacteria, that once inhabited these hominids mouths, indicated their diet. Over 200 species were identified, which means this study may garner results for bacteriology as well.
Micro-wear analysis on the teeth also gives us clues as to what they ate. The diet consumed depended on food availability. An analysis of starch granules found in the dental calculus suggests that plants may have been an important part of the Neanderthal diet, no matter where they lived. Previous research of Neanderthal fossils near Gibraltar, finds the eating of seals and even the baking of mollusks.
Seems Neanderthals appreciated a good clam bake. But the takeaway is, it was their adaptability that made them survive and thrive in a variety of different environments, across Europe and Asia. This trait may have been passed on to early humans when they began invading these continents, after migrating out of Africa.
The researchers' approach not only tells us what Neanderthals ate, but also quite a bit about their health, including the conditions they experienced and their medicinal practices. Evidence of ancient aspirin was found, in the form of poplar bark, which contains the painkiller's active ingredient, salicylic acid. They also found a rudimentary form of penicillin, a mold from which the antibiotic derives.
"It's pretty phenomenal that these guys were so in tune with their environment and to know what was going on and how to treat things," said Weyrich. It was a boy, found in the Spanish cave, who was eating the mold and poplar bark, in order to get better.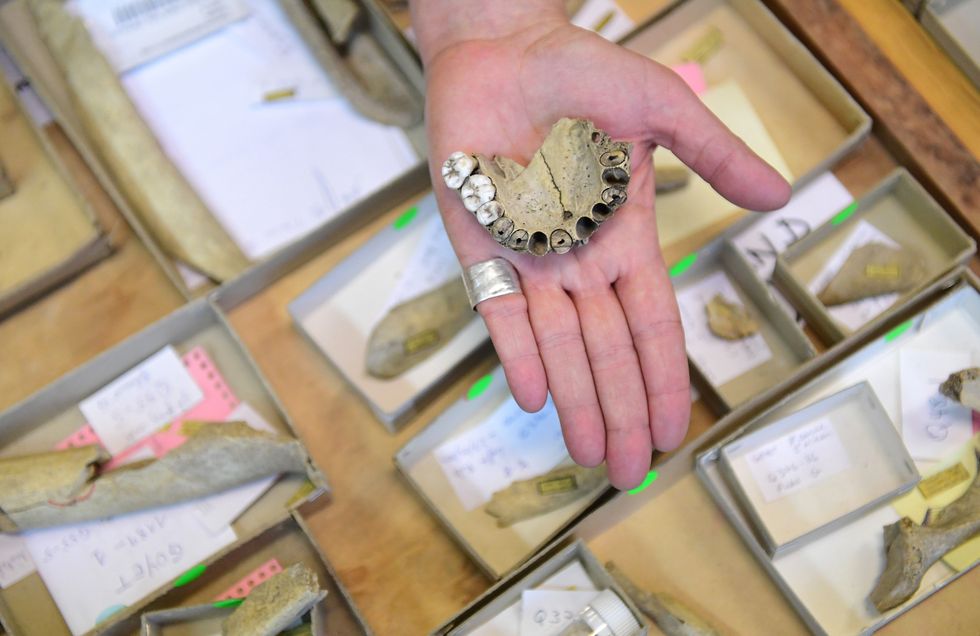 A jaw bone found at the Belgian cave site. Getting Images.
He suffered from a tooth abscess that must have been painful. The young Neanderthal also had a terrible stomach ache, because they found traces of a stomach bug, a bacteria known as Microsporidia. He was probably nauseas and experienced intermittent bouts of vomiting and diarrhea. Since he was found around a group of females, researchers believe they were caring for him. "It really paints a different picture, almost of their personalities, of really who they were," Weyrich said.
There is some evidence to reveal something interesting about these ancient hominid's love lives. Enter the ever-controversial interspecies dating. We know homo sapiens and Neanderthals interbred. At least 20% of modern human DNA is Neanderthal. Weyrich says that before this study, it was thought to be a rough, primitive, violent encounter.
However, the presence of a certain bacteria which causes gum disease in modern humans, tells a different story. Since Neanderthals and humans branched off about 100,000 years ago, researchers believed it must have been passed somehow, from humans to the Neanderthals, whose fossils were then discovered.
Weyrich said, "If you're swapping spit between species, there's kissing going on, or at least food sharing, which would suggest that these interactions were much friendlier and much more intimate than anybody ever possibly imagined." You know this is going to breed some type of movie, either Romeo and Juliet caveman style or perhaps a Disney-esque prehistoric love story, bringing us our very first Neanderthal Disney princess.
More importantly, learning more about interactions between early humans and Neanderthals, and the genetic implications, may help in the fight against certain medical conditions. As one Harvard study found, "Remnants of Neanderthal DNA in modern humans are associated with genes affecting type 2 diabetes, Crohn's disease, lupus, biliary cirrhosis, and smoking behavior."
To learn how studying teeth reveals so much, click here: