Hitler is commonly thought to have been an atheist, a claim that's often used in debates about the perils of atheistic belief on a mass scale. But was he?
Photo credit: Fox Photos / Hulton Archive / Getty Images
Nazism is popularly thought of as an ideology underpinned by atheism, but a closer look at Hitler's speeches and writings show a somewhat ambiguous outlook on religion. Although few historians claim that Hitler was a Christian, there's no unanimous consensus regarding his exact religious beliefs, or lack thereof. However, as historian Samuel Koehne writes in an article for the Australian Broadcasting Corporation, there are three main schools of thought:
Nazis adhered to a form of neopaganism
Nazism itself was a "political religion"
Nazism was informed by and promoted some form of Christianity
Paganism was strangely intertwined with the völkisch populist movement that swept across late 19th- and early 20th-century Germany. The groups that arose out of this movement differed in their emphasis on race and nationalism, but many expressed a desire to revive arcane pagan traditions and customs among the volk — the "people " — as Koehne notes:
"In fact, when the Nazis first celebrated Christmas in Munich (in 1920), they did so as a solstice celebration, and the report of the event in their own newspaper noted that the dire situation in which Germany found itself had been "prophesied in the Edda and in the teachings of the Armanen in ancient times." They were referring here to passages on the apocalyptic Ragnarok or "twilight of the gods" in the poetic Edda."
In a 1920 speech, Hitler, who was raised in the Catholic Church, said that Aryans had built "cults of light" wherever they settled throughout history. While Hitler might have identified with the fervor of the völkisch movement, it's unlikely he believed in the metaphysical validity of its paganistic aspects. He seemed more concerned with the utility of religious belief, as Koehne writes:
"It is well established that Hitler quickly drew away from the esoteric world of the volkisch movement, because he did not want the kind of secret society of initiates that characterised that tradition. He wanted to build a mass movement. As a result, in Mein Kampf he wrote strongly in support of the Catholic Church and its traditions of authority and dogma. This was not out of any love for the content of church doctrine, but because he believed that the Nazis could use such forms to create their own "political confession," moving from "volkisch feeling" to an absolute faith in the rectitude of Nazi racial nationalism."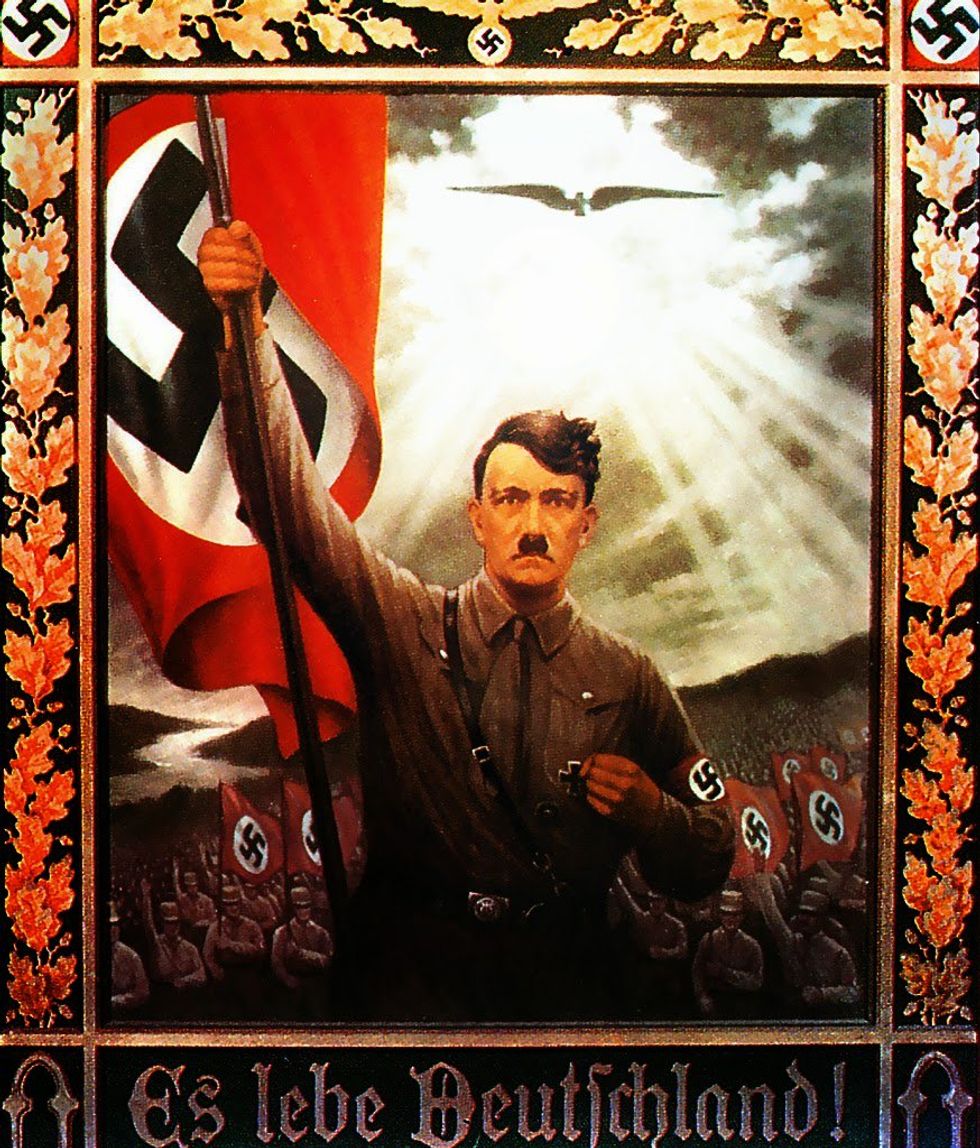 Hitler's views on the utility of religion are clear in remarks he'd often make in private, according to Albert Speer, a close associate of the Führer. In Speer's "Inside the Third Reich" he quotes Hitler as saying:
You see, it's been our misfortune to have the wrong religion. Why didn't we have the religion of the Japanese, who regard sacrifice for the Fatherland as the highest good? The Mohammedan religion, too, would have been more compatible to us than Christianity. Why did it have to be Christianity with its meekness and flabbiness?
...and also in his Mein Kampf:
This human world of ours would be inconceivable without the practical existence of a religious belief. (p. 152)
However, Mein Kampf also shows a bizarrely racialized interpretation of Christianity:
"Hence today I believe that I am acting in accordance with the will of the Almighty Creator: by defending myself against the Jew, I am fighting for the work of the Lord. . . . And the founder of Christianity made no secret indeed of his estimation of the Jewish people. When He found it necessary, He drove those enemies of the human race out of the Temple of God."
Hitler's interpretation of the gospels resulted in something dubbed "positive Christianity," which made its way into Article 24 of the 1920 Nazi Party Platform:
"We demand the freedom of all religious confessions in the state, insofar as they do not jeopardize the state's existence or conflict with the manners and moral sentiments of the Germanic race. The Party as such upholds the point of view of a positive Christianity without tying itself confessionally to any one confession. It combats the Jewish-materialistic spirit at home and abroad and is convinced that a permanent recovery of our people can only be achieved from within on the basis of the common good before individual good."
Hitler frequently mentioned "natural laws" when he spoke of religion, depicting the world as one governed by social Darwinism, as seen in this excerpt from "Hitler's Table Talk":
"By virtue of an inherent law, these riches belong to him who conquers them. The great migrations set out from the East. With us begins the ebb, from West to East. That's in accordance with the laws of nature. By means of struggle, the élites are continually renewed. The law of selection justifies this incessant struggle, by allowing the survival of the fittest."
In the same monologue, Hitler firmly denounces the ethos of Christianity.
Christianity is a rebellion against natural law, a protest against nature. Taken to its logical extreme, Christianity would mean the systematic cultivation of the human failure.
For these reasons, some have concluded that Hitler was a deist, as Koehne writes:
He famously argued in a major speech of 1938 that Nazism was 'a volkisch-political doctrine that grew out of exclusively racist insights' and was based on the 'sharpest scientific knowledge.' Yet in this same speech he stated the Nazi 'cult' was solely one which respected nature, and so that which was 'divinely ordained.'
It's ultimately impossible to know exactly what Hitler's religious beliefs were. But what seems certain is that Hitler had absolute faith in two things: hyper-nationalism and himself.
Hitler appeared to have been highly sensitive to disgust, and research shows this trait is linked to numerous dimensions of ideology.
Adolph Hitler
Hitler seemed obsessed with the idea of infection. The Nazi leader was, by most accounts, a germaphobe who avoided personal contact and bathed incessantly. He was repelled by sex, horrified by venereal disease. He referred to himself as an Einsiedler – a hermit. He extolled the virtues of celibacy and claimed prostitution was for inferior races, though some have proposed Hitler himself contracted syphilis from a Jewish prostitute in Vienna in 1908. 
It was in ideology, however, where Hitler's obsession with infection thrived, becoming the essential Nazi metaphor: Germany was the body, Jews were the parasites. 

Examples are abundant in his speeches and writings:
"How many diseases have their origin in the Jewish virus! We shall regain our health only be eliminating the Jew."
"Anyone who wants to cure this era, which is inwardly sick and rotten, must first of all summon up the courage to make clear the causes of this disease."
"This is the battle against a veritable world sickness which threatens to infect the peoples, a plague that devastates whole peoples...an international pestilence."
"The Jew is a parasite in the body of other nations."
"Germany, without blinking an eyelid, for whole decades admitted these Jews by the hundred thousand. But now… when the nation is no longer willing to be sucked dry by these parasites, on every side one hears nothing but laments."

"If this battle should not come...Germany would decay and at best sink to ruin like a rotting corpse."
Do Hitler's germaphobic tendencies and obsession with the infection metaphor reveal anything about his personality traits? While it's impossible to know for sure, it seems likely that he was highly sensitive to disgust.
Over the past couple of decades, studies have linked disgust sensitivity to numerous dimensions of ideology – immigration, political affiliation, sense of justice. If Hitler ranked high on the disgust scale, there were probably deeply rooted psychological forces lurking underneath his xenophobia and murderous fantasies that research on the behavioral immune system might help bring to light.
How disgust relates to personality and ideology
Disgust is a protective emotion. It causes us to lurch back from a rotten apple, or take an extra big step over dog poop on the sidewalk. These reactions are part of the behavioral immune system, which evolved to help us detect and avoid things in our environment that cause disease. That's why we find some things universally repulsive – urine, feces, vomit. 
What's strange, however, is that an acute sense of disgust can extend beyond these things and into the social world, causing some to feel repulsed by certain ethnic groups. This might have once served an evolutionary function: In earlier times, it was probably useful to be wary of unfamiliar individuals or groups because they might have carried disease.
Today, this same evolutionary function might be playing a role in the immigration debate. According to a recent paper, people who are acutely sensitive to disgust are more likely to oppose immigration. The researchers explained:
It is the presence of physically and culturally distinct immigrants that poses a threat to individuals concerned about pathogens, not the intentions of the immigrants. Second, individuals motivated by pathogen avoidance are especially motivated to avoid contact with immigrants, potentially preventing the sorts of experiences that may engender tolerance. Taken together, these findings demonstrate that the behavioral immune system emerges as a potent—and distinct—obstacle to inclusive attitudes and tolerance.
Other studies have linked high disgust sensitivity to:
Personality types that value order and tradition
Opposition to gay marriage and abortion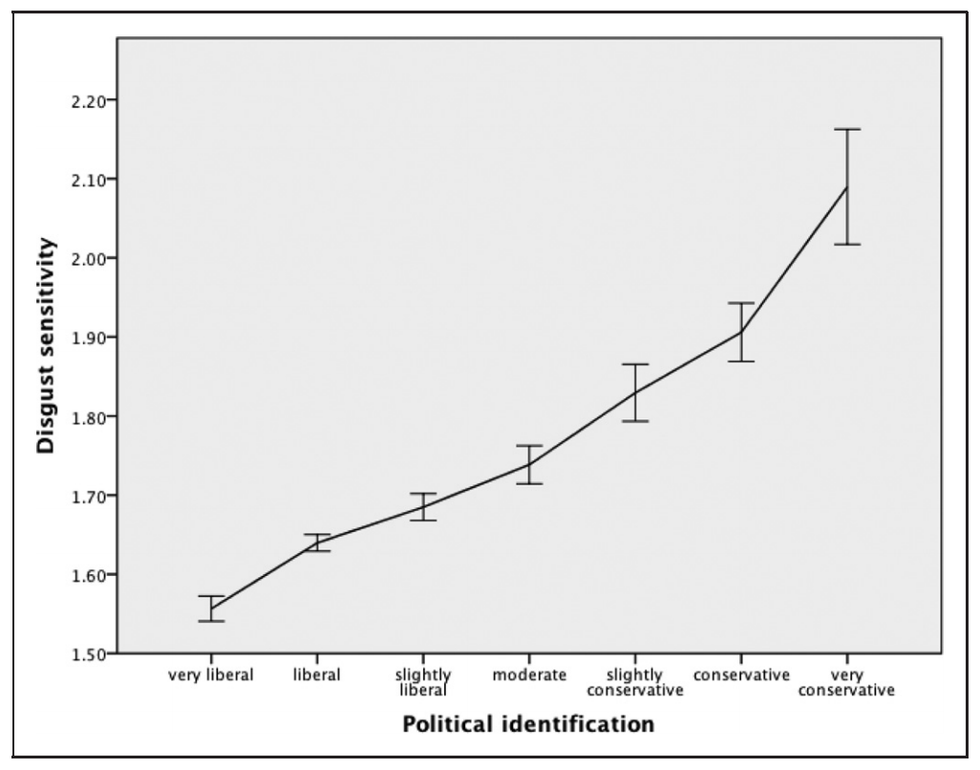 (Source)
Hitler arguably qualifies for almost every dimension to which high disgust sensitivity is linked. Professor of Psychology Jordan Peterson elaborates on the connection between disgust and Nazism in the video below, about an hour into the lecture:
Still, how could one leader's disgust-oriented rhetoric have influenced an entire country? 
Metaphor and the Final Solution
The Jew is the parasite of humanity. He can be a parasite for an individual person, a social parasite for whole peoples, and the world parasite of humanity. – Excerpt from "The Jew as World Parasite," a Nazi propaganda pamphlet

The use of metaphoric language in Nazi Germany has been studied at length since the end of World War II. On a psychological level, the dehumanization of the Jewish population through language was crucial in carrying out the Final Solution because deeming the Jews to be rats or parasites made extermination the logical and "necessary" course of action.
(A Nazi propaganda video compares the Jewish population to rats and parasites)
Some have considered the Nazi use of metaphorical language to be a "rhetorical trick," a cynical manipulation of the cultural conversation to advance a murderous fantasy. But others, like Andreas Mulsoff, who penned Metaphor, Nation and the Holocaust, thought Hitler's parasite metaphor sat at the bedrock of his ideology, conveying his "fundamental cognitive processes" and serving as an "integral part of the ideology that made the holocaust happen."
In his essay The Jewish Parasite, Alex Bein argues that Nazi ideology captivated the German people through repeated use of words and concepts that eventually led to "belief in the reality of a fantasy." Richard A. Koenigsberg, author of the seminal Hitler's Ideology, elaborated:
"In language, Bein explains, thoughts and conceptions are mirrored. Nazism crept into the flesh and blood of the masses by means of "single words, terms and phrases, and stock expressions" which, imposed upon the people a million times over in continuous reiteration, were "mechanically and unconsciously absorbed by them." The presentation of Jews as corroding and poison parasites as vermin, bacteria and bacilli—everywhere infecting and striving to destroy the body of the German people— "paralyzed any internal resistance on the part of the masses.""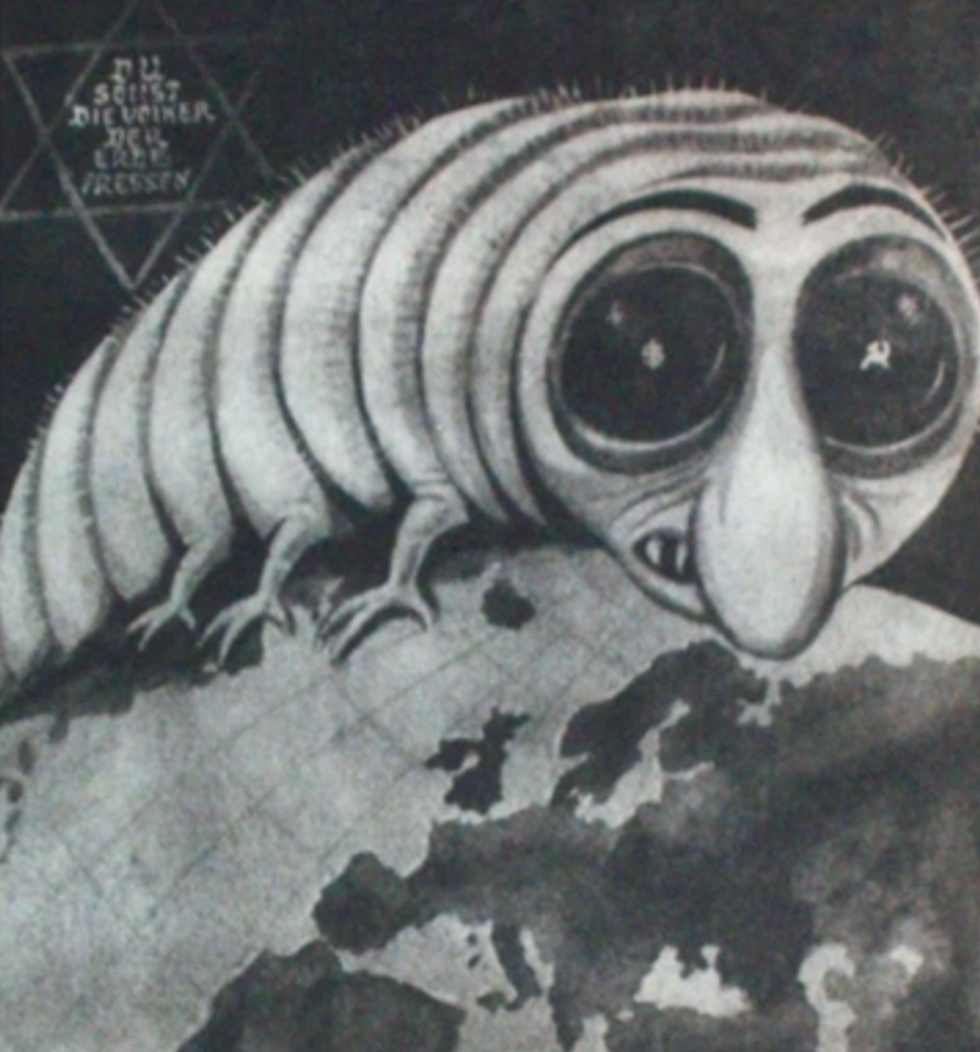 (Anti-Semetic Nazi propaganda)
A recent study suggests that disgust-oriented language can wield surprising power over our biases. Researchers Lene Aaroe, Michael Bang Petersen and Kevin Arceneaux asked two groups of participants to read a passage about a hospital employee coming in contact with bodily fluids. The passage given to one group, however, included an addition part in which the hospital employee thoroughly washes his hands. Anti-immigration sentiment dropped by 47 percent among this group, leading researchers to claim:
[Pathogen avoidance] plays a causal role in the formation of immigration attitudes and because hand washing is not logically connected with immigration attitudes, it ostensibly does so outside of one's conscious awareness.
The findings imply that threats of actual infection need not be present in order for our sense of disgust to unconsciously affect how we see groups of people. Mere language can accomplish that.