Nazi supporters held huge rallies and summer camps for kids throughout the United States in the 1930s.
Credit: Photo by FPG/Archive Photos/Getty Images
During the 1930s, thousands of Americans sympathized with the Nazis, holding huge rallies.
The rallies were organized by the American German Bund, which wanted to spread Nazi ideology.
Nazi supporters also organized summer camps for kids to teach them their values.
Having radical fringe groups tearing at the seams of America is not a new phenomenon. Less than a 100 years ago, the Nazis were gathering for big rallies on U.S. soil, running youth camps, their numbers growing by tens of thousands.
In the America of the 1930s, pro-Hitler groups like The Friends of New Germany carried out propaganda and intimidation campaigns to disseminate the National Socialist agenda. Their members wore uniforms, consisting of a white shirt and black trousers for men, topped by a black hat with a red symbol. Female attire included a white blouse and a black skirt.
In 1936, the Amerikadeutscher Volksbund, or German American Bund, was created as "an organization of patriotic Americans of German stock." They ran around 20 camps for youth and training, eventually establishing 70 regional divisions around the nation.
The ostensible goal of the German American Bund was to represent Americans of German descent but its true objective was to promote the views of Nazi Germany. The Bund played into the growing "America First" stance that sought to keep the U.S. out of World War 2, while amplifying its racist messages.
A Bund parade in New York, October 30, 1939.
Credit: Library of Congress
One of the most astonishing events held by the Bund was the "Americanization" rally it held at Madison Square Garden in New York on February 20th, 1939. The event, attended by 20,000 people, consisted of railing against Jewish conspiracies, President Roosevelt and similar sentiment. While speaking, the leader (Bundesführer) of the organization, Fritz Julius Kuhn (a chemical engineer by trade), spewed anti-Semitism, calling the President "Frank D. Rosenfield" while describing his New Deal as a "Jew Deal". He referred to the U.S government as a whole as "Bolshevik-Jewish" and kept attacking the press and American culture as being run by the Jews.
The rally featured a giant banner of George Washington, as the speakers tried to link the event to his birthday and supposed non-interventionist positions.
Huge crowds of up to 100,000 people comprising of anti-Nazi protestors also came to make their voices heard at this event, but were held back by 1,700 New York police officers.
For chilling footage and more on the Manhattan rally, check out the Academy Award-nominated short documentary film A Night at the Garden:
Besides the rallies—there were many held throughout the '30s—one of the main efforts to inculcate Nazi ideology in America took place in summer camps.
Audrey Amidon from the National Archives shared the significance of the camps in her interview with Gizmodo:
"The summer camps, complete with the official uniforms and banners of the Hitler Youth, might be the most visual and chilling example of the [Bund's] attempts to instill Nazi sympathies in German-American children," said Amidon.
The camps had boys and girls from 8 to 18, most often the children or grandchildren of German immigrants. Nearly a quarter of all U.S. citizens was of German descent in the 1930s, but the vast majority of them did not support Nazi ideology.
Along with usual activities you might find at a summer camp, the kids who attended were taught about Hitler's racial ideas, dressed in Nazi-esque uniforms, practiced drills and addressed higher-ups with Hitler salutes.
One prominent such camp was Camp Siegfried, in the Yaphank hamlet on Long Island. The town regularly held Nazi parades, while its streets were named after Hitler and his top brass like Goebbels.
Credit: Herald Tribune
Postcards from Camp Siegfried
Credit: Unknown
The Bund's activities obviously wound down as the U.S. entered World War 2, with many of their leaders eventually arrested as enemy agents. For more striking fascist Bund camp footage, check out this home movie:
The Nazis actively searched for Atlantis, seeing it as important to their mythology.
The mythical city of Atlantis was first mentioned in Plato's writings.
Top Nazis, including Heimlich Himmler, tried to find the city through expeditions.
The island was key to Nazi thinking about the "Aryan race".

You might think Spielberg and Lucas just made up all the run-ins Indiana Jones kept having with the Nazis. But the truth is likely stranger than fiction - the Nazis were not only obsessed with the mystical and the undiscovered, they staked a large part of their strategy to winning World War 2 on it. And that may be ultimately why they lost.
While beliefs in fringe sciences, pagan religions and the occult spread like wildfire throughout Germany in the late 19th and early 20th centuries, the myth of Atlantis had a truly profound impact that was weaved into the emerging Nazi philosophy.
Historically, Atlantis first came to prominence as an island mentioned within an allegory in Plato's dialogues Timaeus and Critias, written about 330 B.C. In these stories, Atlantis is regarded as an enemy force that came to attack the Athenian nation-state. Athens repelled the attack, according to Plato, with island of Atlantis eventually losing support of the Gods and sinking into the ocean. While Plato didn't really say all that much more about Atlantis, he pointed to the supposed location of the island as somewhere "beyond the Pillars of Hercules" (a.k.a. the Straits of Gibraltar). Still, this wasn't much to go on and there's not been strong other evidence to corroborate the existence of Atlantis as more than a fictional creation.
In Nazi lore, however, the legends of Atlantis got mixed with Aryan myths, leading to a resurgence of the concept.
Athanasius Kircher's map of Atlantis, locating it in the middle of the Atlantic Ocean, from Mundus Subterraneus 1669, published in Amsterdam. South is on the top in the map's orientation.
Eric Kurlander, the professor of history at Stetson University, traced the strange movements in Germany of about a hundred years ago in his book "Hitler's Monsters: A Supernatural History of the Third Reich". He contends that one of the most influential beliefs was Ariosophy, championed by Jörg Lanz von Liebenfels. This esoteric doctrine "prophesied the resurgence of a lost Aryan civilization peopled by Nordic 'God Men.'"
Lanz told the myths of these "God Men" in a magazine called Ostara which he claims to have given in 1909 to none other than a young Adolf Hitler. In the issues, muscular Aryans defended barely-dressed blonde women from scary "ape-men", as wrote Michael Dirda in the Washington Post.
Were there actually such Aryans whose lineage can be traced to the Nazi ideals? The word "Aryan" generally designated people of Indo-European heritage but in racist Nazi thinking, the idea of the "Aryan race" has come to mean the supposed existence of a distinct and superior race of Germanic people – a proposition not supported by facts. The only historical Aryans have been Indo-Iranian people who spread their languages throughout Eurasia from 4000 to 1000 BC.
Germans of early 20th century, however, were looking to root themselves in ancient traditions, pillaging whatever information they found appealing. Lanz's 1905 book "The Theozoology, or the Science of Sodom's Apelings and the God's Electrons" incorporated Hindu mythology – a common feature of German theosophical texts of the time which claimed that somewhere in India and Tibet were hidden societies of ancient Atlanteans or "secret masters".
This possible connection to India and Tibet was a particular obsession for Heimlich Himmler, the ruthless head of the SS and the Gestapo police. For the Aryan myth to be proven true, he figured, the actual location and history of the Aryans needed to be uncovered. Himmler spent a decade on a semi-mystical project that had an SS unit called the Ahnenerbe (Ancestral Heritage), which included archaeologists and scientists, searching the globe for the lost Aryans of Atlantis.
As the historian Sir Richard Evans of Cambridge University pointed out: "The Nazis saw world history in terms of a struggle between races and survival of the fittest. They thought all races were inferior to the Aryans. Himmler wanted to press forward with a new religion, including sun worship and old gods. He wanted the SS to become a kind of cult, or Aryan aristocracy."

Heinrich Himmler
In 1938, Himmler's interests (which also revolved around finding the Holy Grail of Christian mythology) resulted in sending an expedition team of Nazi scientists, led by the explorer and zoologist Ernst Schäfer, to the Himalayas. The location was chosen specifically thanks to the work of Herman Wirth, a contemporary scholar of ancient religions. Wirth conjectured that there is a reason for why similar-looking symbols can be found in different parts of the world. That reason is the race of people who lived in Atlantis in the Atlantic Ocean (likely between Portugal and Britain). The scholar proposed that survivors of sinking Atlantis fled to high places, vowing to avoid the sea that ruined their civilization initially. That's how the descendants supposedly ended up in Tibet.
During the Tibet expedition, Nazi scientists collected thousands of specimens while comparing locals to a list of facial features and concluded that they descended from the Aryans. "Hitler and his anthropologists thought that by measuring people's heads you could tell which race they were," explained Sir Richard.
Ernst Schäfer during his last expedition to Tibet. 1938.
Declaring that they found out what happened to Atlantis was a boost to the myth-fueled Nazi war machine. Becoming convinced that Tibetans were survivors of Atlantis also hardened Himmler's views on racial purity. He decided that the Aryan master race was by now much weaker due to intermixing and needed to be purified (via the ensuing Holocaust).
The mission to Tibet was not the only such endeavor by the Nazis. Similar efforts to find the Aryans were dispatched to Sweden, Scotland, France and Iceland.
One German archaeologist (and eventual SS commander) Edmund Kiss promoted the idea that Bolivia's famous historical site called Tiwanaku was actually Atlantis. He believed in the elaborate and outlandish World Ice Theory, which also had support of Adolf Hitler and other top Nazis. One of the theory's postulates was that Earth at some point collided with its moon, a cataclysm that led to the destruction of Atlantis and an ice age on the planet. Trying to survive their new glacier-filled reality, ancient Atlanteans were believed to have fled to the high Andes, where life could still survive. That's how they would have ended up in Bolivia.
Hypothetical reconstructions of Tiwanaku in Edmund Kiss's book Das gläserne Meer. 1930.
While Kiss's work found enthusiastic support in Germany, especially as he wrote statements proclaiming that "the works of art and the architectural style of the prehistoric city are certainly not of Indian origin." He added that rather they were "probably the creations of Nordic men who arrived in the Andean highlands as representatives of a special civilization."
Nazis publicized such "findings" about the Nordic city of Tiwanaku in Hitler youth publications and other party newspapers. Kiss's larger Himmler-sponsored expedition to Bolivia never materialized, however, due to the start of World War 2, as writes historian Matthew Gildner.
Check out this fascinating documentary on "The Nazi Quest for the Holy Grail" which includes the search for Atlantis here:
Why have some conspiracy theories been pushed back into the public? Because when you try to force them out of the mainstream, they'll find a wider audience on the fringes.
Liberal college students have taken to shouting down certain right-leaning speakers on campus that they don't agree with. Michael Shermer, the publisher of Skeptic Magazine, thinks that is the worst thing you can do. He posits that all you do when you prevent someone from speaking is make certain people want to hear them more. This has led to the rise of the conspiracy theorists and why fringe ideas—from something as silly as flat-earth believers to something as morally reprehensible as Nazism and Holocaust deniers—have been pushed back into the mainstream. Michael's new book is Heavens on Earth: The Scientific Search for the Afterlife, Immortality, and Utopia.
Nietzsche's ideas were used by the Nazi's to justify their atrocities, but did Nietzsche actually support Fascism?
Nietzsche, by Munch
If there was one philosopher the fascists of the mid-20th century loved, it was Nietzsche. He was so adored by them that Hitler gifted Mussolini the complete works of Nietzsche for his birthday. The Nietzschean ideals of anti-egalitarianism, the Superman, and the will to power inspired them to act, and millions died because of it. They adored his ideas, and anointed him as the prophet of their ideology.

And most of it was due to misunderstandings and willful changes.
Nietzsche's philosophy is purposefully difficult to read. His criticisms of the "Slave Morality" he credits the Jewish people with inventing can seem like an anti-Semitic rant from time to time. When in reality, he saw the Jews as a powerful people with a fine culture, his attacks are on their ideas: not on the people. His idea of the Superman was not a racial concept but rather a spiritual one.
He claimed that the Germans were great because of the "Polish blood in their veins", and saw German nationalism as a dangerous joke. He ended relationships over his disapproval of anti-Semitism, including ones with his sister and the composer Richard Wagner. After he went mad, he wrote letters urging the great powers of Europe to attack Germany before it was too late.

Then, how did he become the Nazi Philosopher?

How Nietzsche was hijacked is a curious story, and a powerful warning. It begins with his sister, Elizabeth Förster-Nietzsche. She was reportedly an unintelligent woman; when she asked philosopher Rudolf Steiner to help her understand her brother's philosophy he was forced to give up after several excruciating attempts to educate her. He sent so far as to write that she, "lacks any sense for fine, and even for crude, logical distinctions; her thinking is void of even the least logical consistency; and she lacks any sense of objectivity." Her husband was a famed anti-Semite who Friedrich couldn't stand.
She took over her brother's estate after his descent into madness. She was then able to selectively edit new versions of his works, and created the entire book The Will to Power with his unused notes, in a way as to emphasize the bits that fit in with her political ideology. She withheld his work Ecce Homo from publication for years as it had a great deal in it that would derail her attempts to frame him in her image. In conversation, she developed a remarkable ability to remember conversations with her brother that supported her ideology.
To put not too fine of a point on things, she even met Hitler in the early 1930s when he visited the Nietzsche museum she operated. Hitler attended her funeral in 1935.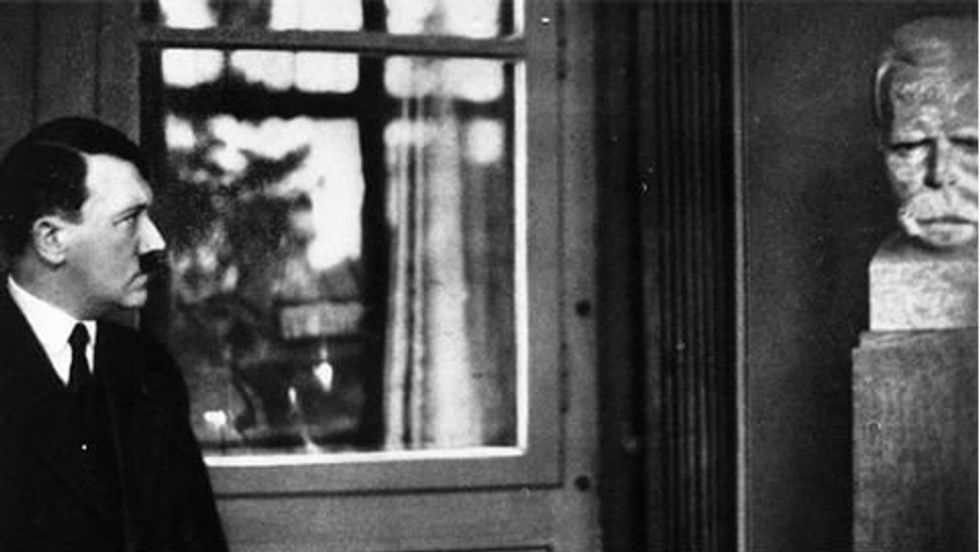 Adolf Hitler at the Nietzsche museum. 
How did Nietzsche get used by the Nazis?

Just as American politicians like to reference the ideas of dead American heroes like Washington and Jefferson, the Nazis sought great Germans to reference when justifying their new regime. Nietzsche, with the tweaks made to his philosophy by his sister, became the primary thinker for those Nazis looking to justify their beliefs with philosophy.
German universities taught Nietzsche as part of courses on the new order, references to soldiers being the Ubermensch were common, and the will to power was adopted by the Nazis as a key psychological insight. The philosopher Alfred Baeumler claimed Nietzsche had prophesied the rise of Hitler and fascism in Germany.
After the war, the warping of his ideas to suit the ideologies of his sister and later of the Nazis was corrected in large part due to the works of Jewish-American philosopher Walter Kaufmann. The notion that Nietzsche was a proto-fascist can be said to be long debunked.
So, Nietzsche was really a kind and nice philosopher who gave out candy to children?

To give the devils their due, Nietzsche did have incredibly reactionary views on women, viewing the ideal women as little more than a broodmare for potential Ubermenschen. This was a point where the fascists could just run with what they had. Similarly, Nietzsche did reject egalitarianism, democracy, and occasionally ventured into rhetoric that verged on "let's eat the poor". He was no saint, but he wasn't a Nazi either. If reading Nietzsche doesn't shock you, something went wrong.
Nietzsche's philosophy is easy to misunderstand and almost as easy to purposefully misinterpret. Even today, the far right is still using bad readings of it to justify their politics. Nietzsche was anti-nationalistic, considered the Jews worthy opponents, despised Christianity, and mass movements of all kinds; it takes a bad reading to consider him a goose-stepping fascist instead of the champion of individual genius that he was.
So, what does this mean for us today?

Almost any philosophy can be hijacked liked this. It's really not that hard. Examples come to mind without having to try. Every Marxist would claim that at least one of the communist regimes of the last century had twisted the philosophy in a way to promote selfish goals. Utilitarianism can be used to argue that every action imaginable is for the greater good. It might go without saying that the Bible has been used to justify pretty much everything; slavery, abolitionism, war, peace, and so on ad infinitum.
The real thing you should take away form this story is how easy it was to do it. Elizabeth Förster-Nietzsche was able to pull it off without understanding the ideas involved; all she had was the proper legal rights and some convenient events working for her. All of it happened despite Nietzsche's friends objecting to it, and people who had lectured on his works before he went mad did nothing. It could happen to any school of thought, and that should terrify you. Always make sure you get the full story before you make any decisions, philosophically speaking. 
A classic law of Internet debate explains why bringing up Hitler is a terrible idea as White House Press Secretary Sean Spicer found out in a disastrous press conference.
White House Press Secretary Sean Spicer pauses while speaking during a briefing at the White House April 11, 2017 in Washington, DC. (Photo credit: BRENDAN SMIALOWSKI/AFP/Getty Images)
White House Press Secretary Sean Spicer ignited a firestorm of controversy by seemingly questioning whether Hitler used chemical weapons during World War 2. As Spicer was giving a press conference on April 11th and talking about the situation in Syria, he attempted to put the actions of the Syrian President Bashar al-Assad in perspective. Even Hitler, according to Spicer, was not as bad as Assad because he didn't gas his own people.
"We didn't use chemical weapons in World War II. Someone who is despicable as Hitler who didn't even sink to using chemical weapons," said Spicer.
The remarks caused disbelief and condemnation because it's a well-documented fact that Nazis used gas chambers filled with hydrogen cyanide gas in concentration camps to kill millions of people (mostly Jews), including those who were previously German citizens. They also conducted inhuman research, testing mustard gas on prisoners. And in an ironic detail, Nazis were the ones who actually created the sarin gas that was used by Assad in his recent attack on a village. In fact, Hitler is truly one of the worst ever at using gas, even if he didn't use it on a battlefield like Saddam Hussein or Assad. 
Ashley Parker, the White House reporter for the Washington Post, exemplified the reaction of many in the press room to Spicer's comments: 
.@AshleyRParker responding live to the Spicer stuff today pic.twitter.com/RCOG4Z2Crp
— Justin Green (@JGreenDC) April 11, 2017