French president Emmanuel Macron recently announced plans to close all of the country's coal-fired power plants two years ahead of schedule.
French President Emmanuel Macron — Photo: Ludovic Martin/Getty
France plans to close all of its coal-fired power plants by 2021, a move that doubles down on the country's relatively aggressive push toward renewable energy.
"We've also decided to make France a model in the fight against climate change," French president Emmanuel Macron said at the World Economic Forum in Davos, Switzerland.
Macron said the pledge would be a "huge advantage in terms of attractiveness and competitiveness," suggesting that the move away from fossil fuels isn't a zero-sum game.
"We should stop opposing on one side productivity, on the other side climate change issues," he said.
France only gets about 1 percent of its power from coal. But in the U.S., coal remains a much larger part of the power supply mix, accounting for about 16 percent of energy production in 2016. It's also a more controversial political issue.  
In June 2017, President Trump announced the U.S. would drop out of the Paris Agreement on climate change. Months later, in October, the Environmental Protection Agency announced the repeal of the Clean Power Plan, a policy drafted under the Obama administration that would have pushed states away from coal production.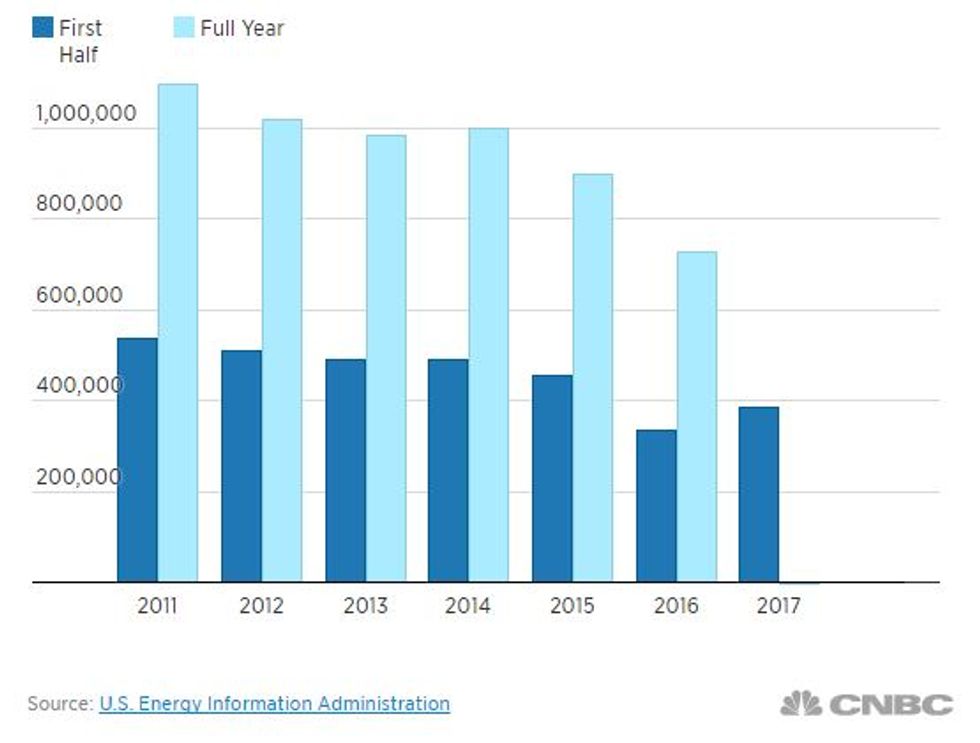 Coal was a cornerstone of Trump's presidential campaign. He won nine out of ten states with the highest coal production in the country after promising to revive the industry and put thousands of unemployed coal miners back to work. But since his election, employment rates in the mining industry have remained mostly stagnant. The relatively cheap cost of natural gas seems to be the cause. And, incidentally, it's this competition that could help the U.S. hit emissions goals set by the Obama administration—even without the Clean Power Plan in place.
Since signing the Paris Agreement in 2015, at least 15 countries have pledged to phase out coal. The U.K. and Italy plan to close all of their coal plants by 2025; the Netherlands by 2030. China has reduced coal consumption three years in a row, and halted the construction of about 100 new coal-fired plants.
Still, coal is hard for some countries to resist. It's cheap, found in politically stable areas, and easy to extract.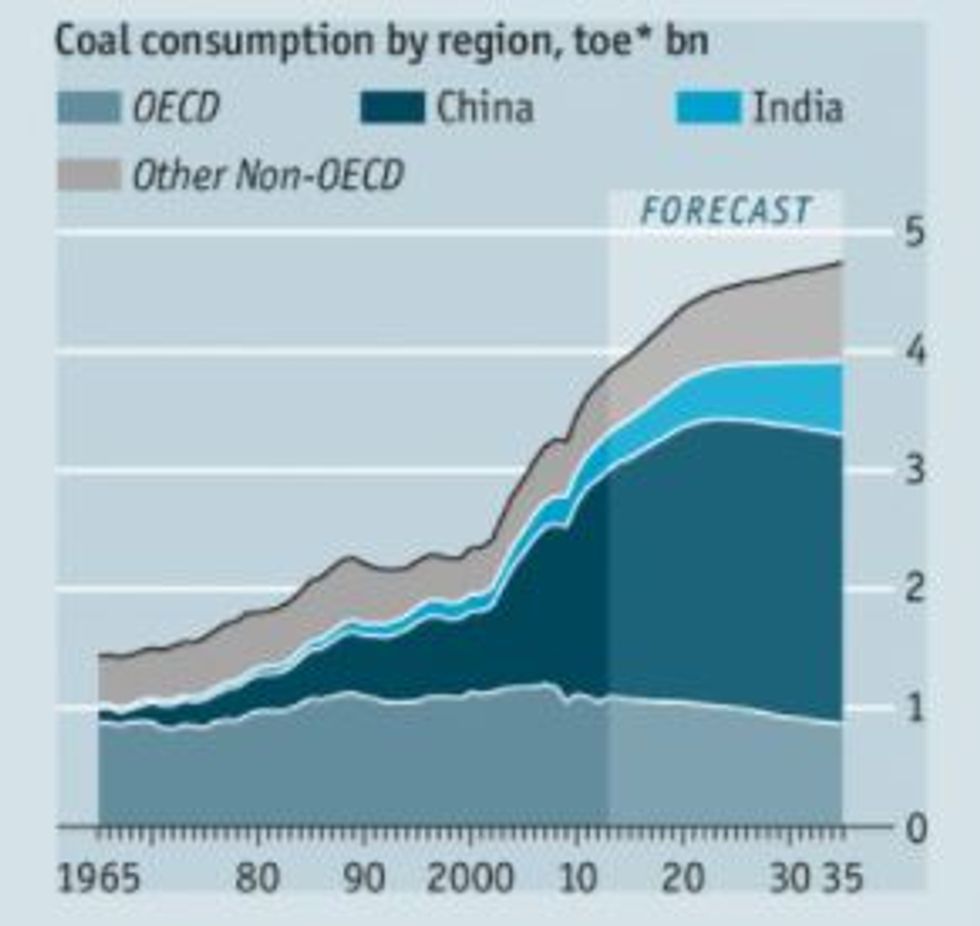 India, for instance, plans to nearly double its coal production by 2020. Even Japan, a country desperate for stable energy sources after closing its nuclear reactors in the wake of the Fukushima disaster, has plans to build new coal-powered facilities.
It seems coal won't be phased out of the global power mix until alternative energy sources become cheaper. And so far, natural gas and renewable energy don't quite cut it.
A massive solar project has just been completed, and its specs are impressive.
Credit: Getty Images.
Environmentalists so far are infuriated by the actions of the Trump White House. With a little less than a year in office, the administration has opened up public and protected lands to energy exploration, removed the US from the Paris Agreement, and scrapped the Clean Power Plan. In the near future, there are plans to expand offshore drilling, sell off public lands in the West, and allow for drilling in the Arctic National Wildlife Refuge.
There's also been quite a number of rule changes and rollbacks, a scrubbing of climate change information on government websites, and the appointment of climate skeptics to high offices, such as Scott Pruitt as Secretary of the EPA, a man who refuses to accept that CO2 levels are associated with global warming.
Acting Director of the Bureau of Land Management (BLM) Michael Nedd, looks at it another way. Instead of stripping environmental protections, he told the Washington Post, it could be viewed as the new administration evening out the scales. "One could argue—I don't know, but one could argue—that under the previous administration that scale could have been tipped too far on the environmental side and energy wasn't developed."
He added, "So right now, what we're looking at is: How can we have that balance?" Nedd said their aim was to develop a free market approach. Develop all kinds of energy, and let the market decide what the winner is. In that, there are still some renewal projects going on within the federal government that haven't been shelved, although they may be receiving a lot less attention.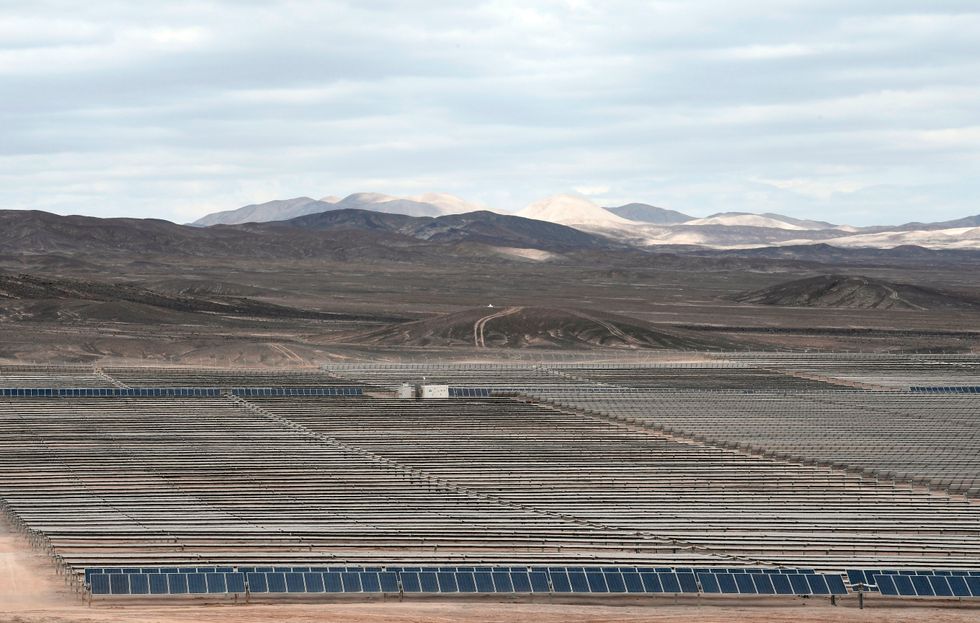 The price of solar panels today makes them competitive with fossil fuels, even in the middle of a natural gas boom. Credit: Getty Images.
The US government recently fired up two conjoined solar power plants on federal land. A "Throw the Switch" event was held on Dec. 17, although the Bureau of Land Management sent out no press release. Present were Senator Harry Reid (D-NV), U.S Bureau of Land Management Nevada Director John Ruhs, NV Energy officials (the state's energy company), state and local officials, and representatives from J.P. Morgan, EDF Energy, Switch, and First Solar.
Located in Clark County, Nevada, the Switch 1 and Switch 2 power stations together make up 1,797 acres. That's 275 football fields end to end. The plants contain a total of 1,980,840 solar panels, which at capacity pump out 179 MW of power. That could power 46,000 homes.
All that clean energy is channeled to power hungry data centers in Las Vegas and Reno. The project is located in the Dry Lake Solar Energy Zone, one of 19 zones earmarked by the Interior Dept. for major energy projects. First Solar built the dual plants, while EDF runs them.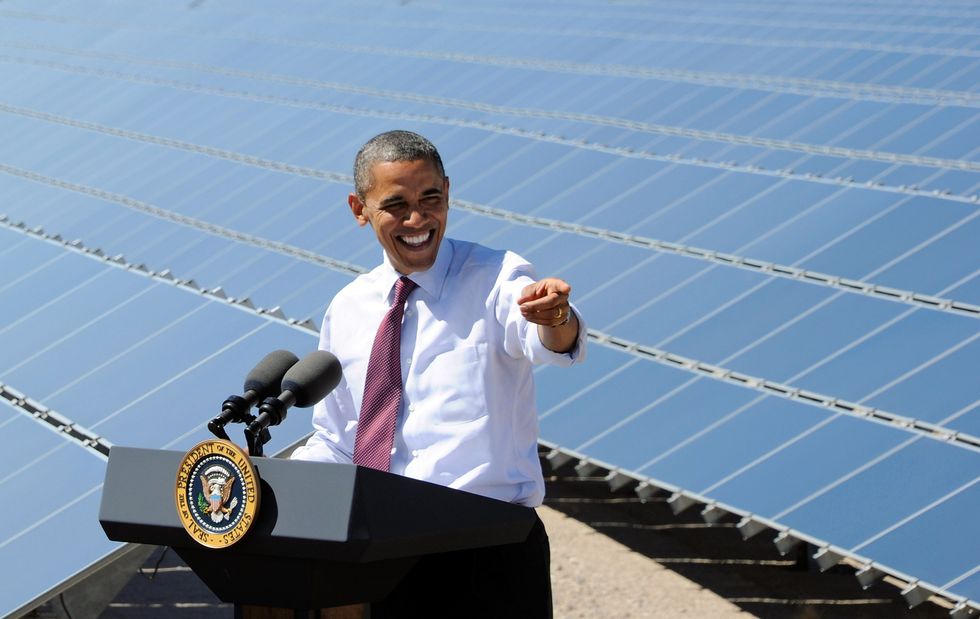 Renewables may no longer need federal support to be competitive in the marketplace. Credit: Getty Images.
Senator Harry Reid said the project created hundreds of good paying jobs. It also saves the environment from absorbing 265,000 metric tons of carbon dioxide each year, which is like pulling 52,000 cars off the road. EDF executive Cliff Graham said at the event, "EDF RE is positioned to invest $3 billion between now and 2020 in renewable projects across the country; we anticipate to deliver on our projection and bring more jobs, tax dollars and investment to Nevada."
The land was first leased for the project through an auction held in 2014. Construction began in 2016 and took 12 months total, with the aid of 1,300 construction workers. BLM Nevada director John Ruhs told the Washington Post, "The administration is completely supportive of 'all of the above' energy." Adding, "It's just the first of more that are coming, especially for Nevada, and probably California, as well." The Obama administration approved 60 utility-scale, renewable energy projects. Whether many or all go through remains to be seen.
On another front, The Nature Conservancy also took part in this project. They were able to secure $6.9 million to help protect desert tortoise habitats and offset the environmental impact of the power plants.
To learn more about their contribution, click here: