Researchers confirmed that the mummy known as Takabuti died from a stab wound to the back.

Ulster Museum
The mummy Takabuti has inspired a great deal of speculation since it was first unwrapped in 1835.
Takabuti died when she was between 20 and 30, leading researchers to wonder about her cause of death.
New techniques have enabled researchers to determine that Takabuti died from a stab wound to the back, among other interesting findings.
2,600 years on and investigators have finally discovered the cause of death of a young elite woman from Thebes: a violent stab wound to her back.
Takabuti's mummy was first unwrapped in 1835 in Ireland, a period of time when mummies were being traded and trafficked across Europe. According to the hieroglyphics adorning Takabuti's mummy case, she had been between 20 and 30 years old, the mistress of a house in Thebes (modern-day Luxor), and her father, called Nespare, had been a priest of the god Amun.
Although Takabuti has been a subject of study since her mummy was first acquired, scanning techniques only recently became advanced enough to determine that the stab wound near her left shoulder was the cause of her death. Retired orthopedic surgeon Dr. Robert Loynes performed the CT analysis. "The CT scan reveals that Takabuti sustained a severe wound to the back of her upper left chest wall," Loynes said in a statement. "This almost certainly caused her rapid death. However, the CT scan also reveals unusual and rare features of her embalming process."
In addition to her murder, the researchers identified a variety of other unique features to this particular mummy.
For one, Takabuti possessed two rare mutations — an extra tooth, which appears in 0.02 percent of the population, and an extra vertebra, which occurs in 2 percent of the population. Importantly, she also still possessed her heart, which previous research had asserted was missing.
"The significance of confirming Takabuti's heart is present cannot be underestimated," said Dr. Greer Ramsey, the Curator of Archaeology at National Museums Northern Ireland. "In ancient Egypt this organ was removed in the afterlife and weighed to decide whether or not the person had led a good life. If it was too heavy it was eaten by the demon Ammit and your journey to the afterlife would fail."
Another recently shared discovery is that Takabuti may have been European. DNA tests confirmed that she bore greater similarities to Europeans than modern-day Egyptians. "This indicates European or Caucasian descent," said Egyptologist Rosalie David in an interview with Newsweek, "but it is not possible to confirm from these findings whether she was born in Egypt, or came there from another area."
Insight into a 2,600-year-old woman
Ulster Museum
The new findings have challenged the popular characterization of Takabuti as resting peacefully — now, it's clear that her last moments alive were anything but peaceful.
"Trawling the historical records about her early days in Belfast it is clear that she caused quite a media sensation in 1835," said bioarcheologist Eileen Murphy in a statement. "She had a poem written about her, a painting was made of her prior to her 'unrolling' and accounts of her unwrapping were carried in newspapers across Ireland."
Takabuti also appeared to be something of an independent spirit, at least when it came to following fashion trends contemporary to her life. "Research undertaken ten years ago gave us some fascinating insights," continued Murphy, "such as how her auburn hair was deliberately curled and styled. This must have been a very important part of her identity as she spurned the typical shaven-headed style. Looking at all of these facts, we start to get a sense of the petite young woman and not just the mummy." What remains beyond our understanding, however, is why somebody had been driven to murder the young Egyptian mistress.
In an age of bountiful data, there's dark potential for how corporations and judicial systems could use private details to discriminate against innocent people.
Are you a future criminal? You might not think so, says data scientist Seth Stephens-Davidowitz, but what do you look like on paper? Have you ever searched something suspicious online? Ever been curious about a dark topic? Just like the film Minority Report, where "future murderers" are arrested before they commit their crimes, we have a similar predictive tool ready-made: Google's search data. People really do search for things like 'how to kill your girlfriend' or 'how to dispose of a body', but as Stephens-Davidowitz points out, it's not supposed to be illegal to have bad thoughts. Beyond privacy and ethics, data science also backs the idea that you can't predict with any accuracy who will commit a crime, as he says: "a lot of people have horrific thoughts or make horrific searches without ever going through with a horrific action." Data also provides intriguing correlations about who or won't will pay their loans based on a single word used in their loan application, and reveals the questions people in the Bible Belt are too afraid to ask aloud. This kind of data in the wrong hands can leave people vulnerable to discrimination or worse, if society lets its ethics slide. Stephens-Davidowitz is the author of Everybody Lies: Big Data, New Data, and What the Internet Can Tell Us About Who We Really Are.
The stories in Shakespeare's plays and 'Game of Thrones' are often bloody, but which are ultimately more violent?
Since its 2011 debut, Game of Thrones has sparked controversy over its graphic depictions of violence.
The show is notorious for killing off characters in savagely medieval ways — by sword, lance, knife, poison, molten gold, rats, dogs, crossbow, defenestration — while leaving little to imagination. Some critics have condemned the show's violence, particularly the scenes involving rape. But others have praised the show for accurately portraying the brutal realities of medieval life.
"First, Game of Thrones has always seemed a TV show, at its core, about presenting a more brutal and realistic vision than similar sword and sorcery epics like Lord of the Rings," wrote Eric Deggans for NPR.  "This is a series which tries to marry the most realistic vision of Medieval-era life with a fantasy world where dragons are real."
Critics might be split about the show's creative decisions, like including explicit rape scenes, having characters discuss key plot elements in the nude (sexposition, as coined by a critic of the show), or showing a pregnant woman getting stabbed in the belly five times. But what's uncontroversial is the fact that this kind of violence in popular culture is nothing new.
Violence in the works of Shakespeare
For some context, take a look at the history of what's considered Shakespeare's most graphic play, Titus Andronicus. The tragedy, loosely based on Roman history, is a vicious cycle of revenge between a queen, Tamora, and a general, Titus, both of whom are bent on killing and torturing each other's children.
In one scene, Tamora's sons take Titus' daughter Lavinia deep into the woods where they rape her, chop off her hands, and cut out her tongue so she won't be able to reveal what's happened. Here's Lavinia begging for a quick death before the scene:
Lavinia: O, keep me from their worse than killing lust
And tumble me into some loathsome pit,
Where never man's eye may behold my body:
Do this, and be a charitable murderer.
Tamora: So should I rob my sweet sons of their fee?
No, let them satisfy their lust on thee.
-- Titus Andronicus, Act II Scene ii, Lines 175-180
Sweet sons, indeed. 
Titus Andronicus is traditionally considered one of Shakespeare's worst plays, with violence so gratuitous that it borders on farce. But Titus was extremely popular when it came out in the late 16th century.
Audiences of this time, between the Elizabethan and Jacobean eras, seemed to have a penchant for tales of revenge, and it was common for productions to feature extreme violence. And this preference wasn't arbitrary. These plays reflected, at least in exaggeration, what life and society were really like, as theater scholar Jonas Barish wrote in his 1991 essay Shakespearean Violence: A Preliminary Survey:
"As long ago as 1940 (in Elizabethan Revenge Tragedy, 1587-1642) Fredson Bowers cited numerous instances of violent behavior in society at large—of private duels fought in disregard of the laws forbidding them, of grudge assassinations performed by hired ruffians, of the use of lingering poison and other stealthy forms of murder for disposing of one's enemies—to demonstrate that the playwrights who brought violence onto the stage were not being merely melodramatic, not merely catering to the appetite of their audiences for bloody deeds remote from their experience, but realistic as well."
Titus eventually fell out of fashion, and it would go largely ignored by production companies for generations. Two centuries later, in 1765, the English writer Samuel Johnson doubted whether a contemporary audience could even stomach the play:
"...the barbarity of the spectacles, and the general massacre which are here exhibited, can scarcely be conceived tolerable to any audience."
Then in 2006, decades after the play fell somewhat back in favor with critics and historians, a production of Titus at Shakespeare's Globe theater in the U.K. made headlines after causing some audience members to faint, feel sick and suffer sleepless nights.
Shakespeare's other plays contain brutal scenes, too. There's the eye-gouging in King Lear, the beheading in Macbeth, and the stabbing in Julius Caesar.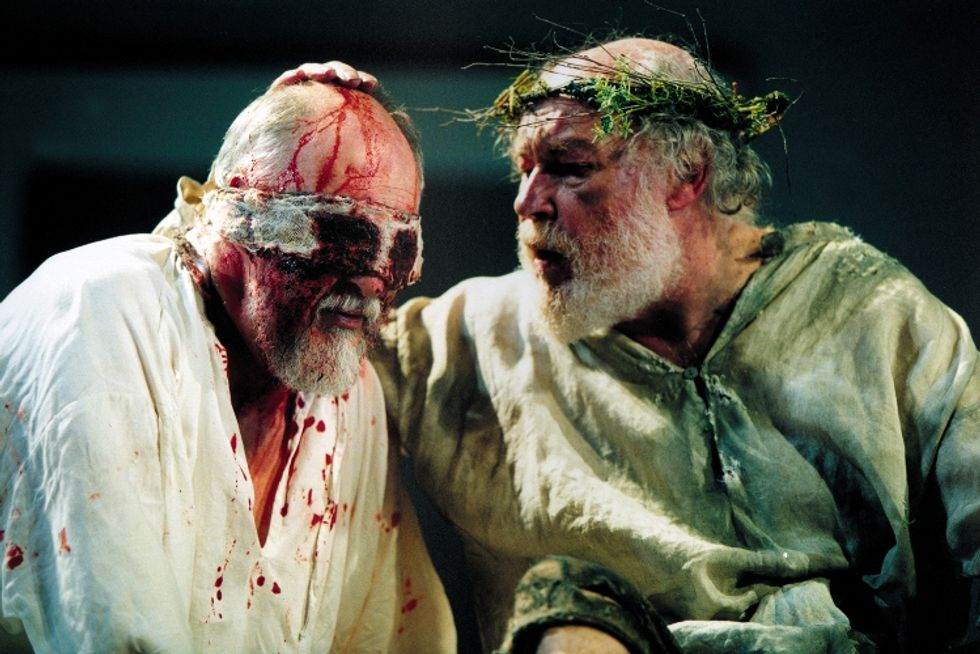 (Michael Cronin as the blinded Gloucester and Timothy West as Lear)
But how exactly does Shakespeare's violence stack up to Game of Thrones?
The answer depends on how you measure it: qualitatively or quantitatively.
Examining body count alone, Game of Thrones is far and away more violent, as evidenced by this video of every single death in the show, compiled by Digg.
For comparison, here's a chart showing the body count in Shakespeare's bloodiest plays:
With a body count in the thousands, Game of Thrones is markedly more violent than the plays of Shakespeare. Game of Thrones also probably dispenses with its characters in more ways than Shakespeare does (I've listed some of the most notable manners of death above). But that's not to say that Shakespeare was a one-trick killer, as this breakdown shows: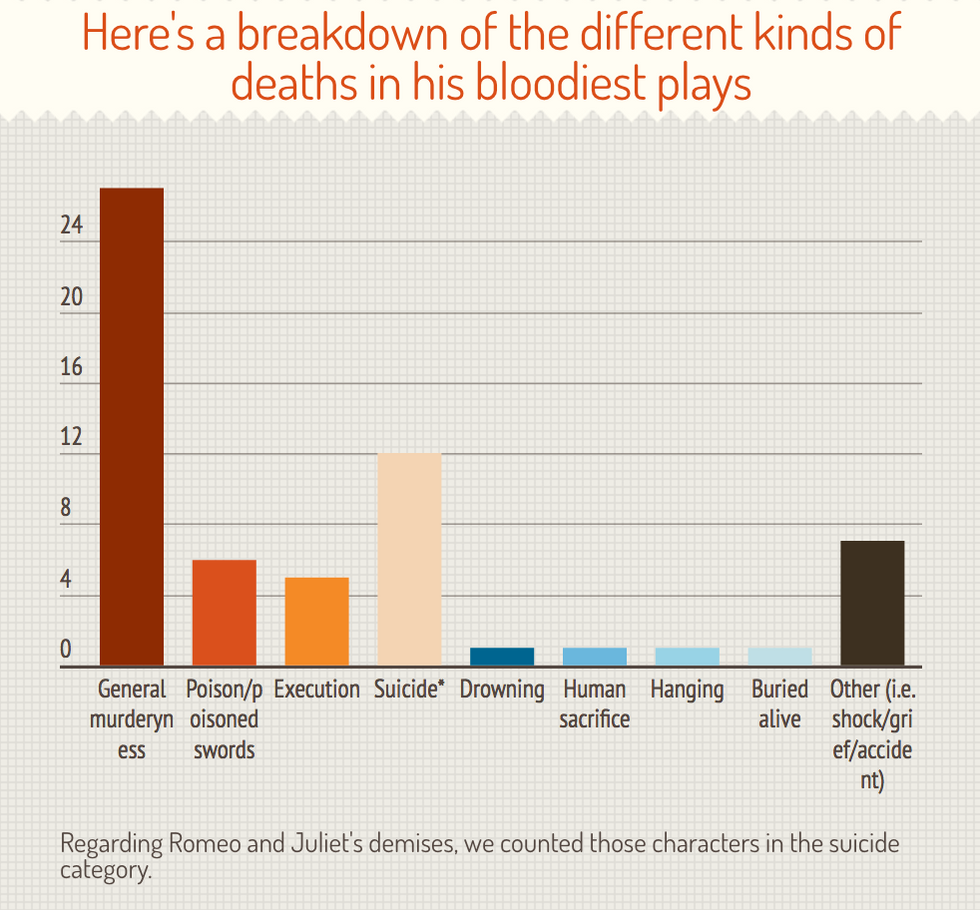 Qualitatively, deciding which set of stories is more violent is a matter of opinion. Are you more affected by the mutilation of Lavinia, or the torture scenes featuring Game of Throne's Ramsay Bolton? 
(I wonder where Reek stands?)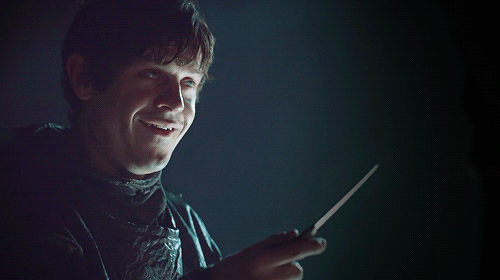 The answer might depend on medium. Is there any marked difference between witnessing violence on a stage versus on a screen?

That's exactly what the Royal Shakespeare Company and research firm Ipsos MORI want to test.
Researchers plan to monitor the heart rates of 30 audience members during three live performances of Titus Andronicus. Then a second group, similar in age, gender and theater experience, will have their heart rates recorded while watching a screening of the play at a movie theater.
"We want to see how the audience reacts physically to the production," said Becky Loftus of RSC. "Are people so used to things like (Quentin) Tarantino and Game of Thrones that they're not shocked anymore by theater magic, or theater blood and gore?"
The results are scheduled to be published in November.
Director Ezra Edelman just won the Academy Award for Best Documentary Feature for 'O.J. Simpson: Made in America'. By deconstructing one scene, he gives insight into how truth and art must co-exist in documentary filmmaking.
Every great documentary is the result of hundreds, if not thousands, of difficult decisions. Director Ezra Edelman, who just won the Best Documentary Feature Academy Award for O.J. Simpson: Made in America delves into one of the creative challenges he faced during this project, a scene where truth and art had to work together. Telling the truth well is an art. When are violent, graphic images appropriate? How does a director avoid sensationalism without being avoidant of an issue? Here is a small window into the responsibilities and creative process of an Oscar-winning film director. O.J. Simpson: Made in America is available to stream on
Already a euthanasia pioneer, being the first to legalize it in 2002, the Netherlands may allow for the assisted suicide of older people who feel as if they've "completed life".
Keizersgracht, one of the city of Amsterdam's three main canals. (Photo credit should read JERRY LAMPEN/AFP/Getty Images)
Already a euthanasia pioneer, being the first to legalize it in 2002, the Netherlands may allow for the assisted suicide of older people who feel as if they've "completed life". These people would not have to be terminally ill and could even be healthy.
The previous Dutch euthanasia law looked to help people who were incurable and living with terrible daily pain. This time, health and justice ministers look to help people who "have a well-considered opinion that their life is complete," and "must, under strict and careful criteria, be allowed to finish that life in a manner dignified for them". 
While the euthanasia policy has the support of the Dutch public, with 5,516 deaths via euthanasia in 2015 (3.9% of all nationwide deaths), some see a slippery slope. They look at the initial assisted suicide law and point out that there has already been an extension of the boundaries of what was supposed to be "unbearable suffering" to now include mental diseases and dementia. A new policy to institutionalize a rather vague "completed life" criteria is sure to have even more detractors. The expressed reason for the new law, according to the ministers, is that "a request for help (in dying) from people who suffer unbearably and have no hope without an underlying medical reason can be a legitimate request".
Bioethicist and writer Jacob Appel told Big Think that a person should have the right to end their own life, so long as they can prove that they are thinking rationally over a prolonged period of several days.
To establish limitations, Edith Schippers, health minister, wrote that "because the wish for a self-chosen end of life primarily occurs in the elderly, the new system will be limited to" them. These could be people with low mobility and lack of independence, lonely people or those suffering with "deterioration and loss of personal dignity."

Critics have, however, seized on the fact that the minimum age has not yet been established. How old do you have to be to have 'completed" your life? Critics also point out that perhaps the government should focus on addressing loneliness instead.
Geert Wilders, a populist politician, argues that there should be limits on the kind of liberalism and tolerance practiced in the Netherlands. 
"We cannot allow people who are needy or lonely to be talked into dying," he told the Dutch newspaper de Volkskrant. "Combating loneliness — and investing in dignity and focusing on our elderly — is always the best option."
Understandably, Christian groups have also joined in with criticism, saying that the law would amount to sanctioning murder by the state.
Who will administer this program? A carefully vetted "'death assistance provider' with a medical background, who has also been given additional training". There would also be third-party checks and additional supervision. 
The Dutch look to have the law drafted by the end of 2017, after consultations with experts. 
Assisted suicide is currently prohibited in all U.S. states, but medical aid in dying is authorized in Washington, Vermont, Montana and California. 
Besides Netherlands, physician-assisted suicide is allowed in Canada, Belgium, Luxembourg and Switzerland.
--