Millennials, engage! It's the reason you keep losing to baby boomers.
Millennials keep waiting for technology to fix their problems, but they can improve their quality of life now through voting and civic engagement.
Baby boomers participate in politics and turn up to vote at much higher rates, so their priorities dominate the political system. (The median member of Congress is 59 years old. That's bad.)
Removing roadblocks to voting will help millennials realize their political power so they can vote for issues that affect them most, like climate change policy, raising wages for workers, and closing the wealth gap.
Baby boomers seem to have had an advantage in nearly every financial metric compared to millennials, according to a new study from the Federal Reserve.
Pixabay
Millennials earn less, own fewer assets and have more debt than previous generations.
The fact that millennials' spending habits differ from previous generations is best explained by lower earnings and less wealth, rather than changing tastes.
Some millennials might be too optimistic about their ability to retire early — or on time.
A study published this month from the Federal Reserve suggests the reason millennials are spending money differently compared to previous generations isn't because of their unique tastes, but rather they just don't have much money to spend.
There's a common narrative, according to the study, that says millennials' changing preferences explain why we've seen the recent decline of brick-and-mortar retail stores, home construction and purchases, and new-car sales. But the data indicates that millennials' tastes are pretty much the same as previous generations.
The researchers wrote that "it primarily is the differences in average age and then differences in average income that explain a large and important portion of the consumption wedge between millennials and other cohorts," which included Generation X, baby boomers, the Silent Generation and the Greatest Generation.
In short, millennials show "lower earnings, fewer assets and less wealth" compared to previous generations, and so they're tending to get married and buy cars and homes later in life.
​The "lasting impression" of the Great Recession
One distinguishing factor of millennials' coming-of-age story was the recession of 2007, and the weak labor demand that followed. "Millennials appear to have paid a price for coming of age during the Great Recession," the researchers wrote, noting the recession's subsequent weak labor demand.
They added elsewhere: "The severity of the 2007 Global Financial Crisis and the recession that followed may have left a lasting impression on millennials, who were coming of age at that time, much like the Great Depression left a lasting impression on the Greatest Generation."
That lasting impression might manifest in "attitudes toward saving and spending" that could be "more permanent for millennials than for members of generations that were more established in their careers and lives at that time," the researchers wrote.
The study also notes that millennials have about the same levels of debt as Generation X, though more debt than Baby Boomers. However, millennials also have markedly fewer financial assets than Generation X, even though millennials do seem to be saving for retirement more than other generations did at the same ages, a change that likely "reflects, in part, the replacement over time of defined-benefit retirement pensions with defined-contribution retirement accounts."
​Do Millennials have realistic expectations about retirement?
It's hard to say for sure, but some data suggests that millennials might be a bit delusional about their future economic standing. A 2018 TD Ameritrade survey, for instance, showed that 53 percent of millennials expect to become millionaires, and they expect to retire, on average, by age 56.
That optimism, as I wrote in July, doesn't seem to reflect the reality forecast by data showing that social security won't be able to pay out full benefits by 2034, the group has a collective student loan debt of more than $1 trillion, and young people are now earning relatively less than previous generations — a difference that's likely explained, in part, by more participation, particularly among women, in the workforce.
Still, millennials don't need to worry too much, as long as they're willing to work hard, save and push back retirement by a few years, as Alicia H. Munnell, director of the Center for Retirement Research at Boston College, wrote in a Politico article on millennial retirement.
... My research shows that the vast majority of millennials will be fine if they work to age 70," Munnell wrote. "And although that might sound old, it's historically normal in another sense: Retiring at 70 leaves the ratio of retirement to working years the same as when Social Security was originally introduced.
A new Credit Suisse report shows 27% growth since 2008 in the world's wealth, with a disproportionately large share going to the already wealthy.
(CREDIT SUISSE RESEARCH INSTITUTE)
Unless you're one of a fortunate handful of people, it may surprise you to learn that the world's economy has not only recovered from the global financial meltdown of 2008, but has grown 27% since then, to $280 trillion, according to a new report from Credit Suisse Research Institute. (All graphics in this article are by Credit Suisse, and all figures are presented as USD or percentages.)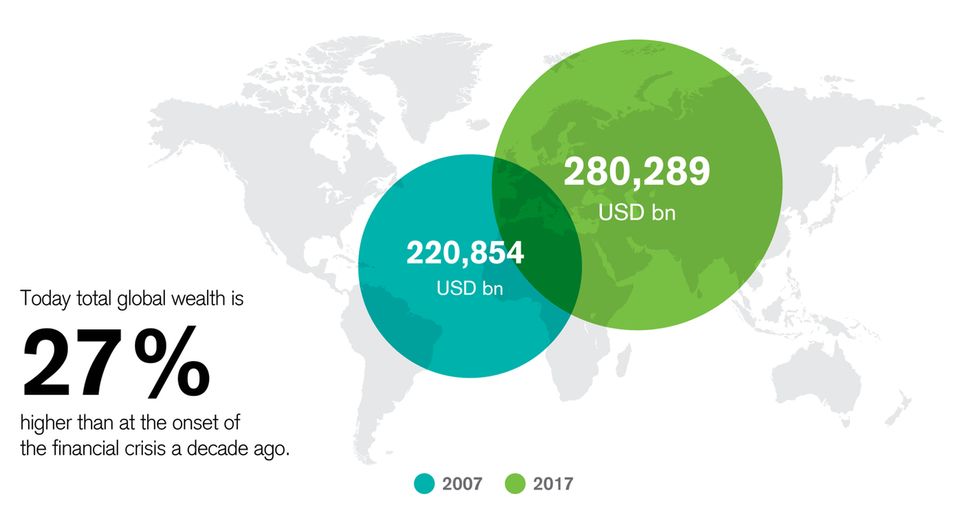 In the past 12 months in alone, it's grown by 6.4%.
Most of this growth has even been in the U.S., $8.5 trillion's worth out of the last year's $16.7 trillion.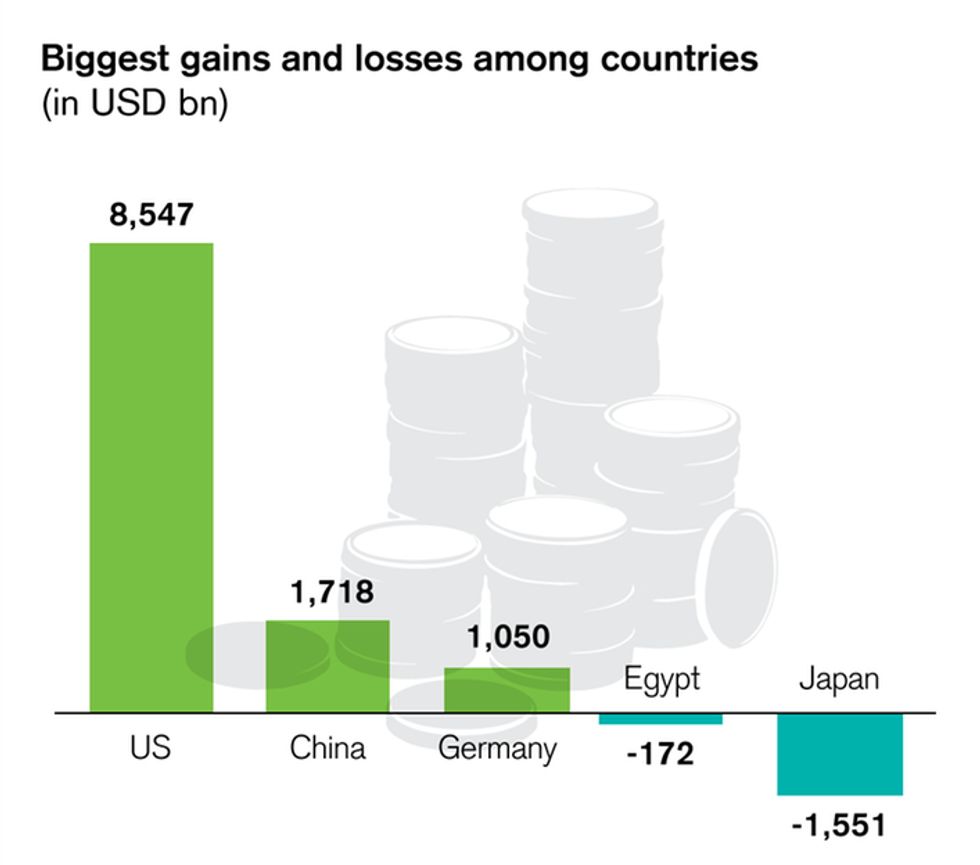 Interestingly, in terms of household income, Poland's doing the best during this period.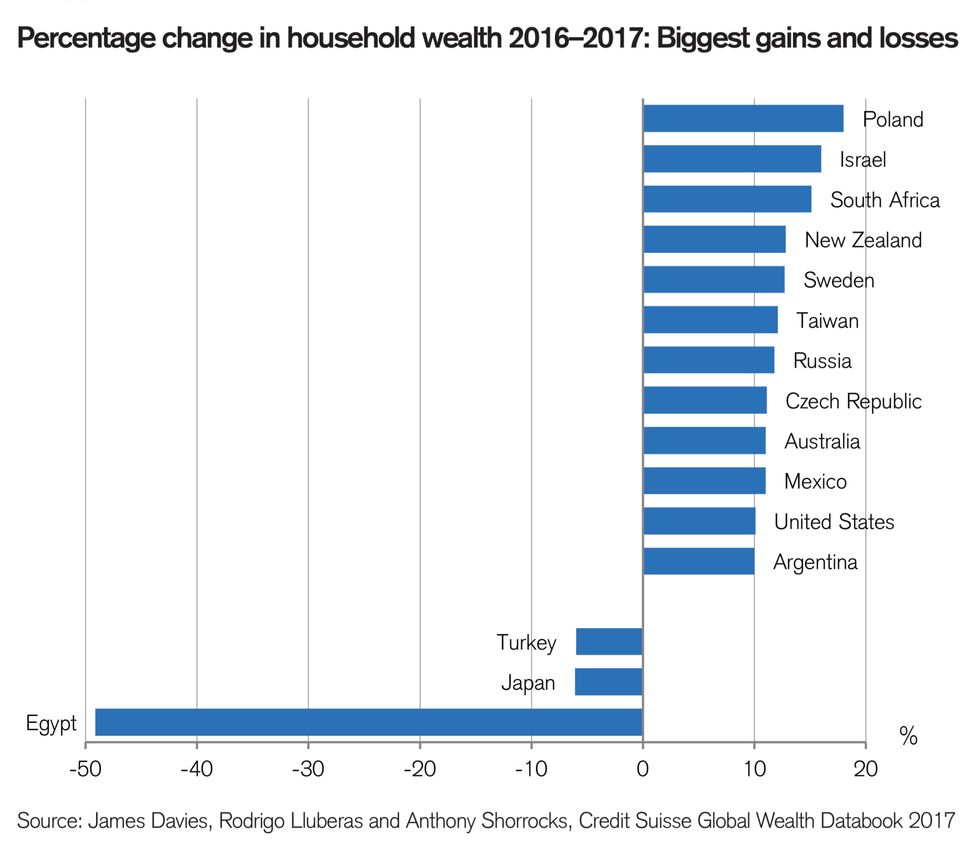 Here's the distribution of money across the globe as it stands now.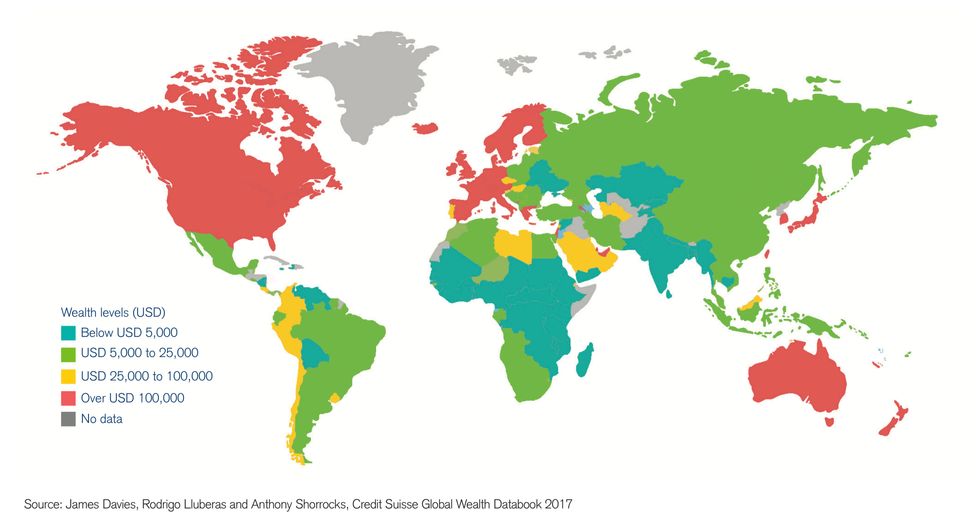 So if so much of the world — and the U.S. in particular — is rolling in money, why doesn't life feel any easier for most of us? After all, Credit Suisse says there are 8,740,000 million new millionaires since 2008, and the average wealth per person has hit a new mean of $56,540.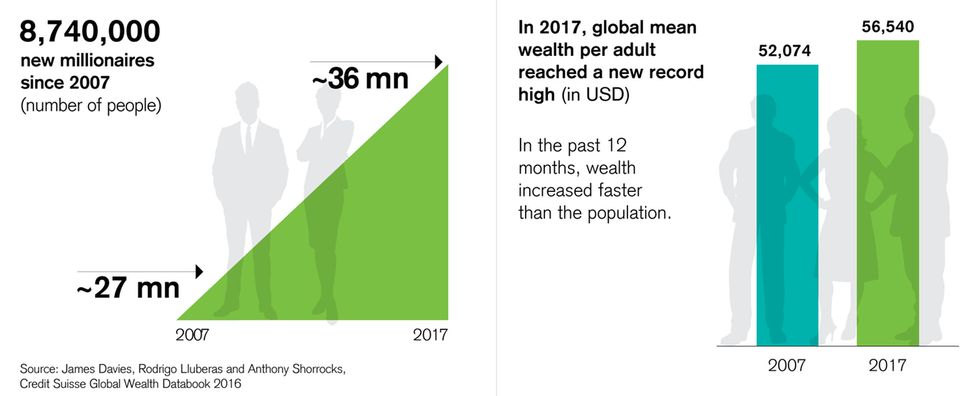 The trick is in that word "mean." That average figure includes everyone, including the wealthiest people. And there's the troubling disconnect. It's a big one, and it's gotten worse since 2008. Right now just 1% of the world's population — the aforementioned rich — own just over half, 50.1%, of all of the world's wealth. That's up from 45.5% in 2001.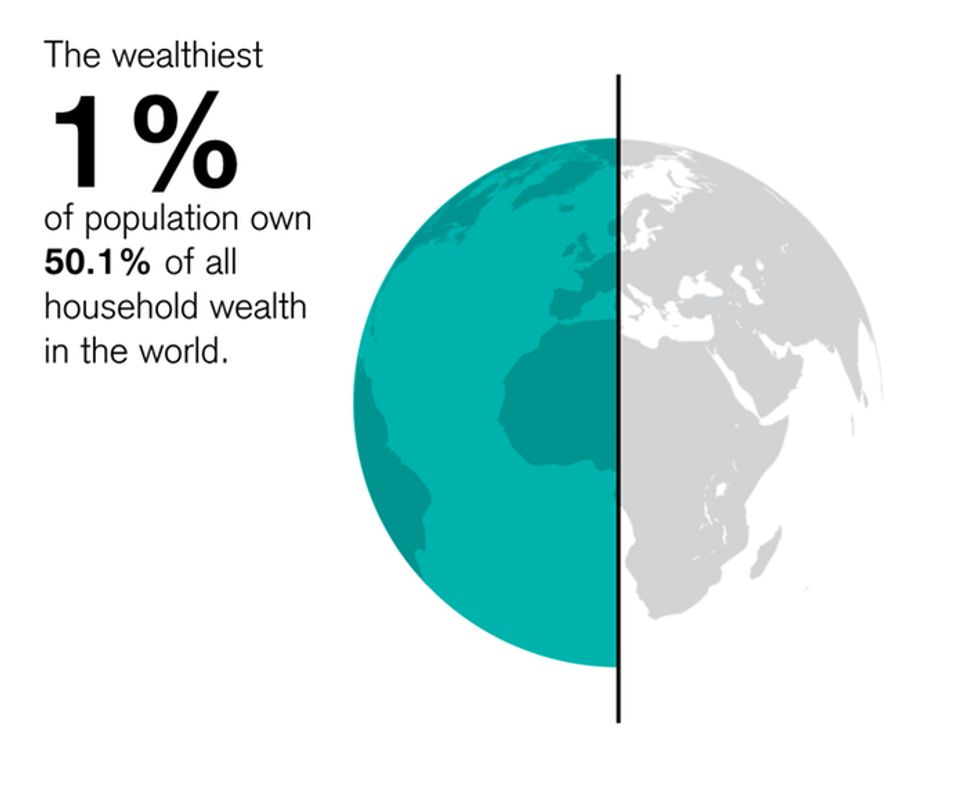 From 2000 to 2007, the wealth of the better-off half of the world grew by 7%, while everyone else's worth grew by 12%. But the crisis upset that balance, reducing the world's overall wealth by 12.6% and setting us down a path to ever-growing financial inequality during the recovery.
The report devotes an entire section to the disadvantages faced by those it calls the "unlucky millennials," especially those in North America. Entering the job market during the high-unemployment aftermath of 2008, this group, particularly in their 30s, is struggling with often back-breaking student debt.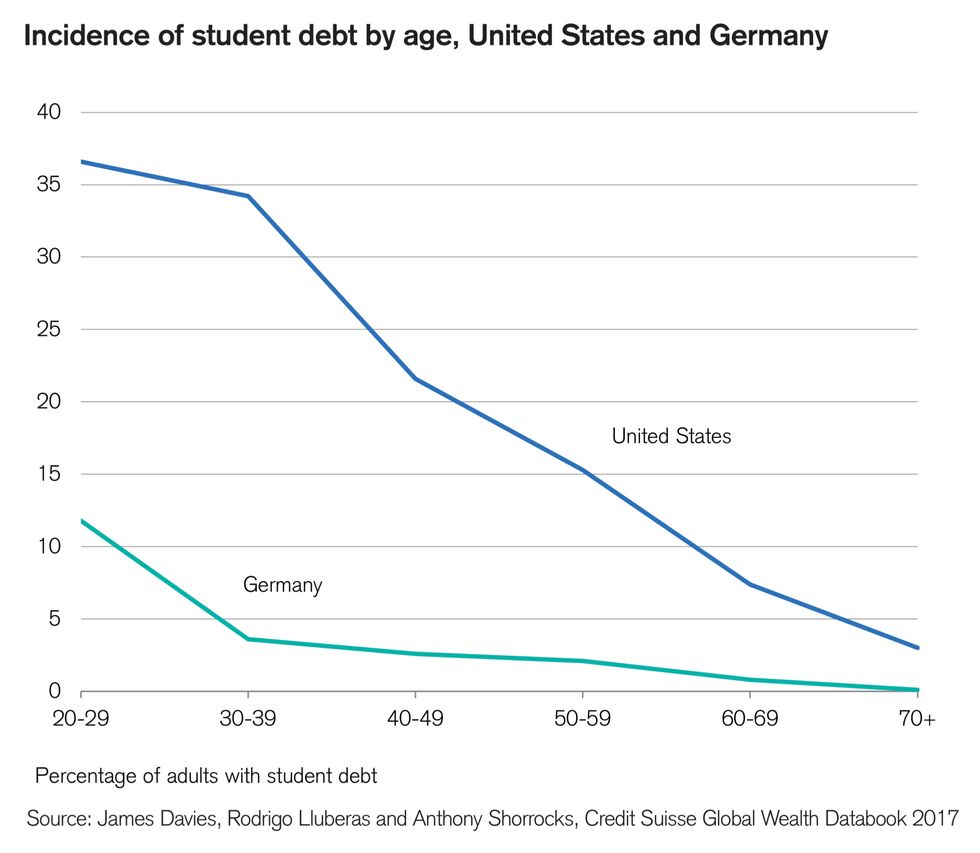 The Credit Suisse report summarizes, "Millennials are doing less well than their parents at the same age, especially in relation to income, home ownership and other dimensions of well- being assessed in this report. While Millennials are more educated than preceding generations…we expect only a minority of high achievers and those in high- effectively overcome the 'millennial disadvantage.'"
For those who believe that more money for the top 1% means more jobs for everyone else, the Credit Suisse's report should be eye-opening. It clearly suggests otherwise, with this group only accelerating their own acquisition of wealth.
Most marriages end in resentment. Why should longevity be the sole marker of a successful marriage?
Angelina Jolie Pitt and Brad Pitt attend the WSJ Magazine 2015 Innovator Awards on November 4, 2015. (Photo by Dimitrios Kambouris/Getty Images for WSJ)
In November 1891, the British sexologist Havelock Ellis married the writer and lesbian Edith Lees. He was 32 and a virgin. And since he was impotent, they never consummated their union. After their honeymoon, the two lived separately in what he called an open marriage. The union lasted until Lees' death in 1916. 
This is not what most would consider a model marriage. But perhaps because of its unusualness, Ellis was able to introduce an idea that remains as radical and tantalizing today as it was in his time: trial marriages, in which he envisioned couples exploring a temporary union of varying levels of commitment that allowed them to have sex, access birth control and have an easy divorce if desired, as long as no children were involved. The idea captured the minds of many progressives, including the British philosopher Bertrand Russell and the Denver judge and social reformer Ben B Lindsey, who embraced the new economic and cultural freedoms in the post-Victorian era.
While Ellis gave this type of temporary marriage a name, others had been talking about similar unions years before, including the German poet Johann von Goethe, who entertained the idea in his Elective Affinities (1809), and the American paleontologist E D Cope, who wrote in his book The Marriage Problem (1888) that marriages should start with a five-year contract that either spouse could end or renew with a further 10- or 15-year contract and, if all still went well after that, a permanent contract.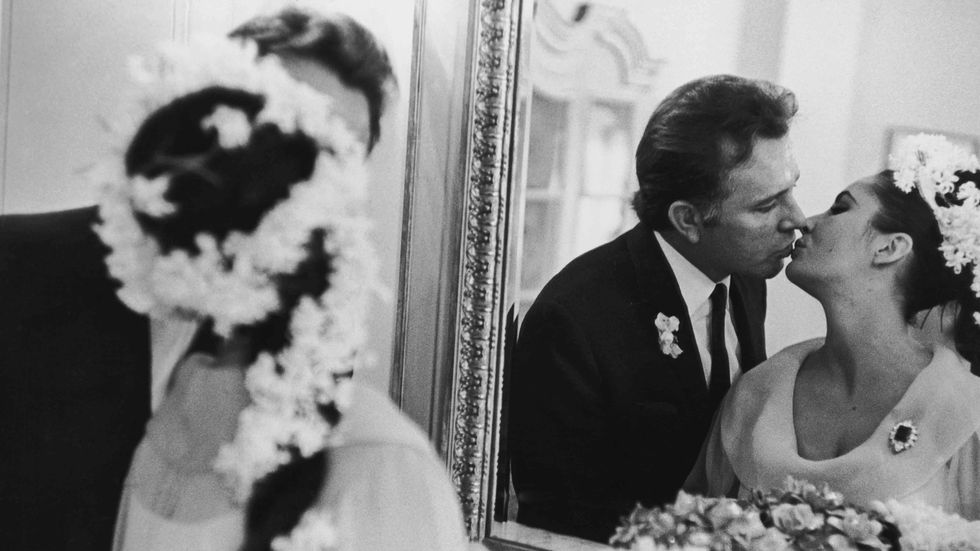 In 1966, the American anthropologist Margaret Mead suggested a two-step version of marriage – an 'individual commitment' that would fit college students of limited means and could be easily dissolved or else converted into a 'parental commitment' if they were ready and willing to take on the obligations of children. In 1971, the Maryland legislator Lena King Lee proposed a Marriage-Contractual Renewal Bill so couples could annul or renew their marriage every three years. In 2007, a German legislator proposed a seven-year contract; in 2010, a women's group in the Philippines proposed a 10-year marital contract; and in 2011, Mexico City legislators suggested a reform to the civil code that would allow couples to decide on the length of their marital commitment, with a minimum of two years.
Clearly, lifelong marriage was due an overhaul. Despite all the talk, however, no laws were ever passed, and the idea of renewable marriages remained just that – an idea. But temporary marriages have actually been successfully practised for centuries, among Peruvian Indians in the Andes, in 15th-century Indonesia, in ancient Japan and the Islamic world, and elsewhere. And it appears that we might be ready to put them into practice again.
In a recent survey, many Millennials indicated that they'd be open to a 'beta marriage', in which couples would commit to each other for a certain number of years – two years seemed to be the 'right' amount – after which they could renew, renegotiate or split, as Jessica Bennett wrote in Time magazine last year. While it wasn't a scientific survey, it points to a willingness to see marriage as something other than 'until death', which, in fact, it is not. In 2013, 40 per cent of newlyweds had been married at least once before, according to the US think tank the Pew Research Center. Since 10 per cent of first marriages don't even make it past five years, a renewable marriage contract makes more sense than ever.
Our current contract – 'until death' – might have worked when people didn't live all that long (according to the American sociologist and author Stephanie Coontz, the average marriage in colonial times lasted under 12 years); or when many women died in childbirth, freeing men to marry multiple times (which they did); and when men of means needed women to cook, clean and caretake, and women needed men for financial security. But that isn't why we marry nowadays. Still, we congratulate couples on their anniversaries and get nostalgic as the years add up – 15, 25, 50, 75. Are they years of wedded bliss? Not always; many long-term marriages are loveless and sexless, and sometimes full of anger and resentments. But if they make it until a spouse dies – success!  
Longevity alone shouldn't be the marker of a happy, healthy marriage. Rather than staying in marriages 'until death', renewable marriages would allow partners to tweak their marital contract accordingly, or agree that it's beyond tweaking and end it without the shock or drama of a contentious divorce or lingering doubts about what went wrong. And as the late Nobel-winning economist Gary S Becker noted, if every couple had to personalise their marital contract based on what they consider important, there would be no more societal stigma or judgment over what are essentially private decisions.
If society is truly concerned about the decline in marriage, perhaps it's time to rethink 'until death'. And if brides- and grooms-to-be truly want a happy marriage, then it is time for them to take responsibility for defining their goals and expectations in a renewable contract, and stating – out loud or on paper – 'I choose you again' as often as they mean it.

Vicki Larson
--
This article was originally published at Aeon and has been republished under Creative Commons.
Democracy needs a new PR team. Polls about the way US millennials view democracy seem shocking, but analyzing their reasoning brings about an unsettling truth. 
Photo by Monika Graff/Getty Images
2016 was a wild year, politically speaking. British voters elected to leave the European Union in a populist upset, sending markets spinning and rendering the phrase "sound as a pound" outdated as the currency lost 5% of its value against the dollar in a single day's trading. Americans selected Donald Trump by a minor victory, again shocking the world. In Austria, the candidate of the right-wing populist Freedom Party narrowly lost the presidency to a 72-year-old Green.

Meanwhile, in Turkey – a member of NATO, potential EU member, and often cited example of stable Democracy in the Middle East – the military attempted a coup d'etat in July in the name of "constitutional order, human rights and freedoms, and the rule of law". The defeat of the coup has lead to a massive crackdown on academia, journalists, and police officers.
It is perhaps understandable then that a new study by Yascha Mounk and Roberto Stefan Foa, shows that many young people have increasingly un-liberal and un-democratic views about how governments need to operate. Only a third of US millennials see civil rights as "absolutely essential" in a democracy, compared to 40% of older citizens. Poll results are slightly higher, but similar, in Europe.

Likewise, only 20% of millennials agreed to the statement "a military takeover is not legitimate in a democracy". A full 25% of American millennials said that democracy is a "bad" or "very bad" way to run a country, up 10% from 20 years ago, and double the rate at which European millennials responded in the same way.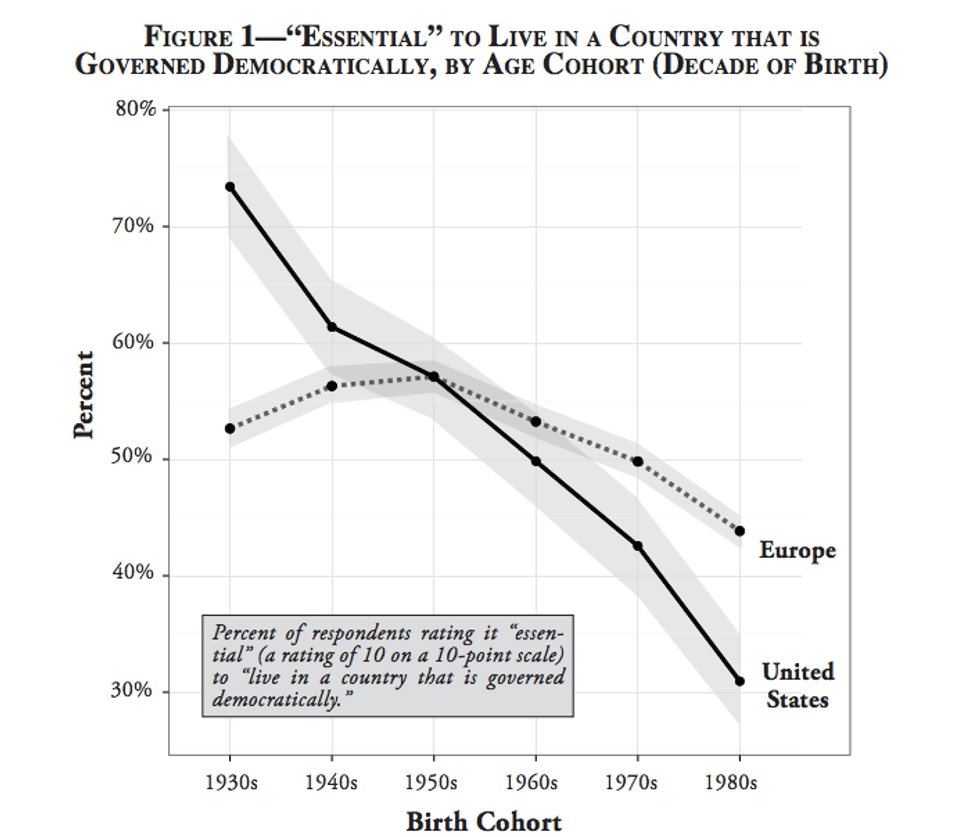 Source: Roberto Stefan Foa and Yascha Mounk
Why might they think this way? The polls show younger people are the most inclined to have casual attitudes towards anti-liberal viewpoints, as opposed to their older counterparts. These millennials can only remember a time after Francis Fukuyama declared the "End of History" and the triumph of Western Liberal Democratic Capitalism. To some extent, they may take the social order for granted and not see much of an issue with reduced liberties, having no memory of the great totalitarian regimes of the past.
On the other hand, these same people have seen democracy "fail" in several ways in their lifetimes. An American of 24 would have seen seven presidential elections in their lifetime, two of which were won by the person who lost the popular vote, and four by a person who didn't even get half the vote. Similarly, In the United Kingdom the most recent general election results were the worst ever in terms of actual voting results in comparison to who got into office. Only 36% of votes cast were cast for the Conservative party, which was able to form a majority government as a result.
It would be simple to view these events, and then perhaps conclude that your political rights and participation were of little importance.
If you thought that a decline in faith in democracy was enough, Bank of England Governor Mark Carney has warned that people will turn their backs on free and open markets if nothing is done to make those systems work for everyone. Carney, who supports capitalism and open markets has made clear his belief that:
"We need to move towards more inclusive growth where everyone has a stake in globalization" and has expressed his fear that, "Globalization is associated with low wages, insecure employment, stateless corporations and striking inequalities" and warns, "Turning our backs on open markets would be a tragedy, but it is a possibility". He does propose a notion for a solution, saying, "It can only be averted by confronting the underlying reasons for this risk upfront."
It is not hard to see that he may have a point about the popular view of globalization. In the United States both Donald Trump and Bernie Sanders offered populist economic appeals, one of a social-democratic variety and one of a protectionist-nationalist type. Both argued against the TPP trade deal, which is now dead in the United States, but for differing reasons; both sides of the political spectrum agreed in rejecting the deal.
Carney's points are of great concern as polls show an increasing dissatisfaction with free trade, open markets, and capitalism in general. An increasing numbers of people in polling show they have less faith in the capitalist system than even a half decade ago.
Millennials, again, show the most dramatic break with the past as more people under 30 hold a favorable view of socialism then do capitalism. It may be noteworthy that the socialism that young people have a favorable view of is probably not the Soviet model, but the Nordic Model. This model is not hard left, but the traditional fear of Americans to the term socialism being tossed aside perhaps shows the beginnings of new political unrest in the United States.
So, is this the end of liberal-democratic capitalism? Is a new world order soon to be at hand?

Perhaps not; while the western model may be wobbling, there is still little in the way of viable competition. Dr. Fukuyama, who has long backed away from his previous stances, still argues that there is no high functioning alternative system as "neither Islamist theocracy nor Chinese capitalism cuts it". Liberal democracy is liable to carry on as the dominant form of society for some time.
However, these systems only work if there is popular faith in their ability to improve the common condition. While some politicians are taking action to explicitly try to restore this faith, the exact nature of the remedies, how much is needed, and if we can avoid a repeat of what happened last time faith in democracy was tested, remains to be seen.