Of course, it's all about where you move. The authors argue that it needs to be less populous regions.
Credit: Christian Schwier / Adobe Stock
Moving from densely-populated urban regions is more effective in stopping the spreading of disease than closing borders.
Two researchers from Spain and Italy ran 10,000 simulations to discover that travel bans are ultimately ineffective.
Smaller cities might suffer high rates of infection, but the nation overall could benefit from this model.
As the holiday season approaches, tens of millions of Americans will not be seeing their families or loved ones this year. On the flip side, tens of millions will travel locally, nationally, and even internationally (where they can get in). The reality of "two Americas" has wedged itself into the conversation of coronavirus dangers, which we can see clearly in our travel patterns.
Few questions have inflamed the national consciousness this year as "Are lockdowns necessary?" and "Should we close our borders?" A new study, published in the appropriately named journal Chaos, dissects this issue by looking at migration patterns.
In a simulation study that included 10,000 iterations, Spanish researcher Massimiliano Zanin and Italian researcher David Papo argue that moving away from densely-populated urban regions is far more effective in stopping the spreading of disease than closing borders.
The authors wanted to know if banning travel is the ideal way of stopping the spread of disease. While it seems to be a commonsense approach to some—stop mobility patterns and the virus won't spread—the authors point to research that suggests allowing for some travel actually hinders infection rates. Of course, it depends on where people travel—or, in this case, move.
Regardless, a smart flow of traffic turns out to be a better solution than an outright ban on travel.
"Our results confirm that, under certain conditions, allowing individuals to move from regions of high to low infection rates may turn out to have a positive effect on aggregate; such positive effect is nevertheless reduced if a directional flow is allowed."
Naturally, when we think of restrictions, we consider international travel bans. This pandemic played out differently, however, with regional bans enforced as well. Of course, putting restrictions on regions with low infection rates—this happened in the United States, Italy, and Spain, for example—has the potential of increasing the spread of the virus there, but the authors were more interested in how the entire system operates.
Credit: Alexander Ozerov / Adobe Stock
The author realizes this model has limitations. Their focus was purely on population densities. Ideally, mobility during a pandemic coincides with public health measures, such as wearing a mask, washing your hands, and self-quaranting—factors that differ radically depending on what region you happen to be in.
While their modeling is hypothetical, it does track with real-world migration patterns. A mass exodus has been occurring from New York City, for example. The reasons for so many people fleeing are manifold, but the pandemic certainly catalyzed the migration. Similar trends are occurring in Los Angeles and San Francisco.
In their paper, Zanin and Papo wonder if forced relocation, from high-density to low-density regions, could be proactively enforced. Of course, there would be political pushback for initiating such measures, though it appears it could impact the spread of disease as well.
The authors also note that their model does not take into account the impact on regional health care systems, which, at least in America, are often not equipped to handle population increases. And they recognize the political concern—hypothetical modeling does not necessarily take ethical considerations into question.
That said, this is and will remain a political issue. As Zanin says, the success of any pandemic response lies in the cooperation between national and regional governments looking at their country as a whole, as well as considering the impact of their actions on the rest of the planet.
"Collaboration between different governments and administrations is an essential ingredient towards controlling a pandemic, and one should consider the possibility of small-scale sacrifices to reach a global benefit."
--
Stay in touch with Derek on Twitter and Facebook. His new book is "Hero's Dose: The Case For Psychedelics in Ritual and Therapy."
Archaeologists suggest this may have been the Americas' "oldest hotel."
Scientists have found ancient tools as well as plant and animal remains in a high-altitude cave.
The site is dated to 30,000 years ago, pushing back estimates of the first humans to arrive in the Americas by 15,000 years.
There is no sign these mysterious people remain in the modern gene pool.
The stunning discoveries recently made in northern Mexico's Chiquihuite Cave raise more questions than they answer. Even so, they change the conversation: The Clovis people who arrived 15,000 years ago in the Western Hemisphere were not the first people here as previously believed. The 30,000-year-old tools and animal remains of Chiquihuite Cave belonged to someone else. We have no idea who, but they were gone for thousands of years by the time the Clovis culture began.
"For decades people have passionately debated when the first humans entered the Americas," says co-study lead DNA scientist Eske Willerslev of St. John's College, University of Cambridge. "Chiquihuite Cave will create a lot more debate as it is the first site that dates the arrival of people to the continent to around 30,000 years ago — 15,000 years earlier than previously thought."
The discovery is presented in a paper published in the journal Nature. The project was led by Ciprian Ardelean, whose main affiliation is at the University of Zacatecas.
A game-changing puzzle
Image source: Ciprian Ardelean/St. John's College, University of Cambridge
Inside the high-altitude cave some 9,000 feet above sea level, archaeologists found almost 2,000 stone tools. The scientists also found plant and animal remains at the site that radiocarbon dating identified as being from 25,000 to 30,000 years ago. One of the paper's first authors, geneticist Mikkel Winther Pedersen of the University of Copenhagen, says, "We identified DNA from a wide range of animals including black bears, rodents, bats, voles and even kangaroo rats."
So, whose tools and animals were they? The researchers have no idea, since no human remains were found in the cave. This suggests the site was not a permanently occupied settlement, but instead a place that people used only periodically. "These early visitors didn't occupy the cave continuously," says Willerslev. "We think people spent part of the year there using it as a winter or summer shelter, or as a base to hunt during migration. This could be the Americas' oldest ever hotel."
Ardelean says that perhaps the most important thing is who they don't seem to have been, based on the style of tools that were found: the people of the Clovis culture. "We don't know who they were, where they came from or where they went. They are a complete enigma. We falsely assume that the indigenous populations in the Americas today are direct descendants from the earliest Americans, but now we do not think that is the case.
Winter lodgings?
Image source: Devlin A. Gandy/St. John's College, University of Cambridge
The time to which the Chiquihuite Cave specimens date mean people were there during the Last Glacial Maximum — this was a time when continental ice sheets were at their maximum size, making northern Mexico seriously cold. Ardelean says, "There must have been horrible storms, hail, snow." Nonetheless, the archaeologist, who worked the site for 10 years and even spent months living in the cave, tells Nature that it's well-insulated and would have provided adequate shelter.
Exploring Chiquihuite Cave
While the excitement in archaeology typically derives from findings constructed bit-by-bit from the painstaking collection of artifacts, the excavation of the difficult-to-reach Chiquihuite Cave was an exceptionally charged experience. The cave is located in a region of Mexico controlled by drug cartels, and the safety of the scientists was by no means assured.
"It was an unforgettable experience," recalls Pedersen. "It is a very unsafe place to travel, so we were accompanied by Mexican police officers in armored cars to the foot of the mountain. We left before sunrise to climb up to the cave so that we weren't spotted."
Says Willerslev, "I will never forget being part of this research, it was an unbelievable experience. The implications of these findings are as important, if not more important, than the finding itself. This is only the start of the next chapter in the hotly debated early peopling of the Americas."
A migration-route deal-breaker
Image source: Sarah Cervantes/Unsplash
The first few pages of that next chapter may be a companion paper published by two of the study's contributing authors — Lorena Becerra-Valdivia of the University of New South Wales and Thomas Higham from the University of Oxford. It contains a statistical model of early human settlement of the hemisphere based on the Chiquihuite Cave and 41 other archaeological sites in North America, as well as Beringia, a region of eastern Siberia and western Alaska. Its authors also factored in historical climatic evidence and genetics. Their model presents a history in which humans were in North America far earlier than the previously accepted date of 15,000–16,000 years ago. That the model is based on sometimes ambiguous data from so many sites inevitably means that its conclusions are likely to be controversial, but it is in any event a worthwhile contribution to the discussion.
The model also supports the Costal Migration Hypothesis that visitors traveling the continent during the glacial maximum would have had to hug the coastlines to avoid the ice sheets atop inland areas.
So, whoever these early humans were, what happened to them? Geneticist David Reich of Harvard Medical School in Boston, Massachusetts tell Nature, "There continues to be no convincing genetic evidence of a pre-15,000-years-ago human presence in the Americas." Ardelean, for one, is not dissuaded by this. He proposes that these early populations simply didn't survive long enough to contribute to the modern gene pool. He says, undeterred, "I definitely advocate for the idea of lost groups."
Ardelean concludes, "The peopling of the Americas is the last holy grail in modern archaeology. Unconventional sites need to be taken seriously, and we need to go out and intentionally look for them. This site doesn't solve anything, it just shows that these early sites exist. We are dealing with a handful of humans from thousands of years ago, so we cannot expect the signals to be very clear. We have literally dug deeper than anyone has done in the past."
A new paper suggests population size and migration explain the sudden bursts of innovation seen 50,000 years ago.
When paleontologists looked closely at the archaeological record from the transition from the Middle to Upper Paleolithic, they noticed it was punctuated by brief periods during which many new tools, art, and technologies suddenly appeared on the scene. They've tended to think these "bursts" of innovation were caused by changes in climate or biology. A new paper, however, suggests sudden innovations were triggered mainly by population growth and migration—a theory that might also explain why some cultures actually lost technologies, like how the Tasmanians mysteriously forgot how to fish.
"To some extent, Oren, Marc [study co-authors] and I felt that the simplest explanation could be that culture itself is capable of behaving in a punctuated fashion," said co-author Nicole Creanza, assistant professor of biological sciences at Vanderbilt University.
A previous paper by the same researchers claimed there were several main ways by which human cultures advanced:
People innovated through "lucky leaps," such as someone getting the idea for a hunting net after seeing a mouse trapped in a tangle of grass.
People combined innovations with existing technology to create new tools.
Cultures also lost technologies over time, given that a large population is needed to sustain large numbers of ideas.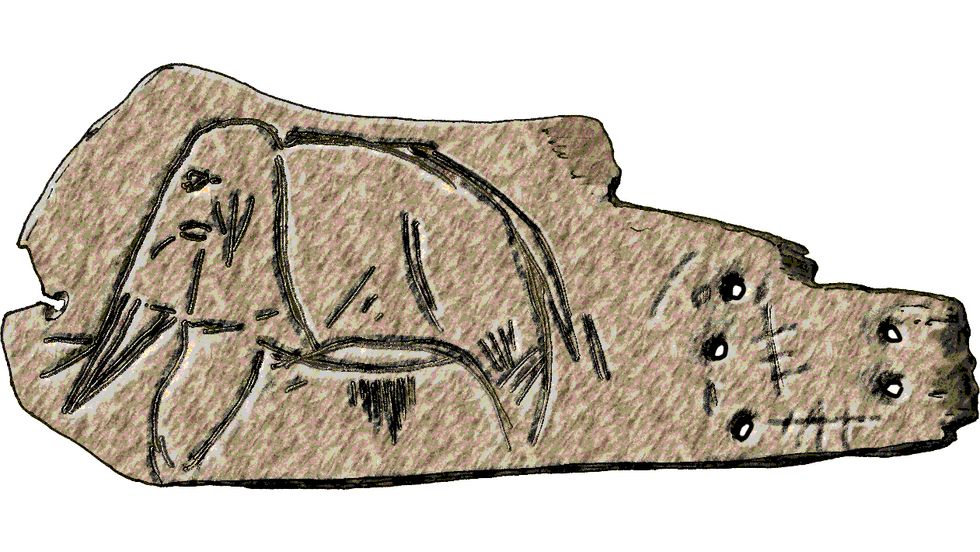 Engraving of a mammoth on a slab of mammoth ivory, from the Upper Paleolithic Mal'ta deposits at Lake Baikal, Siberia. [Wikipedia commons]
Computer simulations demonstrated that a combination of these three advances could have led to bursts of innovation. Their models also showed that when a population size doubles, it can actually support more than twice the amount of ideas.
The researchers used these findings to build new computer models that accounted for migration between cultures and innovations that help populations grow. One key thing to understand about the theory is that it assumes a proportional relationship to population size, migration and innovation:
"In the model, we assume that each individual has some probability of innovating and of migrating, so the overall rates of innovation and migration in the population are proportional to population size. Similarly, we assume that cultural traits are more susceptible to loss when fewer people know them, so the overall rate of cultural loss is inversely related to population size."
According to the models, populations that migrated infrequently tended to only experience innovation bursts occasionally, and their innovations were at risk of dying out over time if migration wasn't steady, or if their ideas didn't enable the population to grow.
But when travel between cultures is frequent and steady, "it bridges societies, allowing for an exchange of ideas that creates a complex of interrelated cultures." This can even create a feedback loop: When cultures are in continuous contact, they establish a steady flow of ideas, which enables the cultures to increase in size, thus increasing rates of innovation.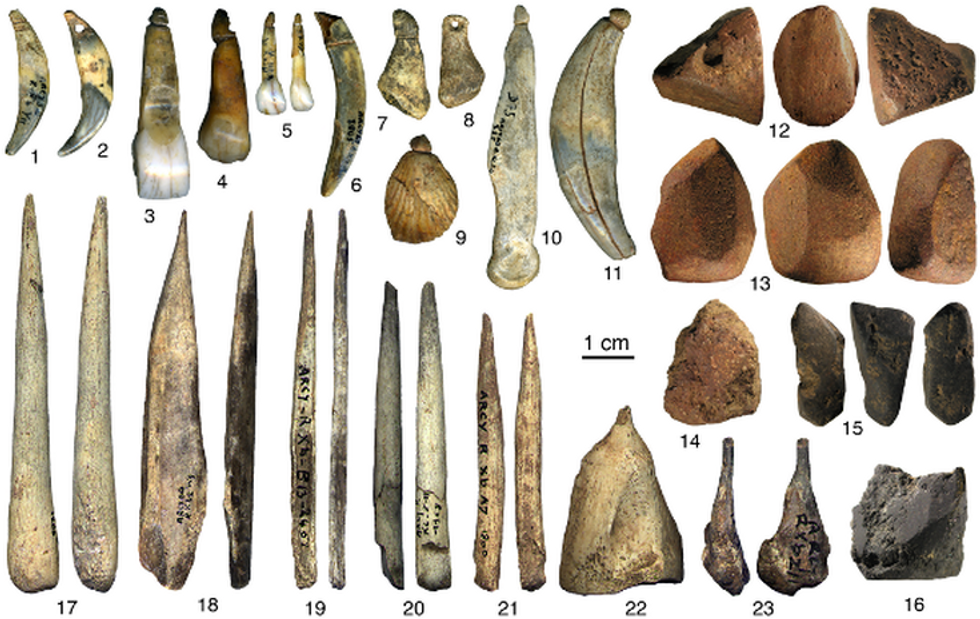 (Photo: PLoS ONE)
Explaining cultural complexity by way of population size might be popular trend in archaeology in recent years, but not all in the field agree with it. Still, a couple of the findings might benefit those looking to innovate in the modern world:
Steady communication between different groups tends to foster innovation
The amount of ideas a group can sustain and generate increases disproportionately as a population grows—think "more than the sum of its parts."
A report by UK's parliamentary committee tackles the issue of non-integration in the country's Muslim communities.
Immigrants into the UK should swear an oath of allegiance and be made to learn English, concluded the Parliament's new group on social integration, which has representatives from all parties.
Their statement comes on the heels of a review, released in December 2016, which was headed by Dame Louise Casey, a British government official working in social welfare. That report took 18 months to complete and found that many communities in the UK were significantly impacted by the "unprecedented pace and scale of recent immigration."
According to Dame Casey's review, some parts of Birmingham, Blackburn, Burnley and Bradford are now up to 85% Muslim, many of whom hold "very socially conservative views" with regards to women's rights and homosexuality.
As per the report, these Muslim communities do not identify as being British but rather with the global Islamic 'Ummah' (community). This tendency may help foster extremist views within some areas.
"British Muslims are increasingly identifying with a global Muslim 'Ummah'. This rise in religiosity and less integrated, more regressive and socially conservative versions of Islam is being felt in communities but not discussed openly, other than by Islamophobic hate mongers on the Far Right.
"This in turn helps to feed a grievance narrative promoted by extremist groups who want to drive a wedge between British Muslims and the rest of British society. So we need a more honest conversation about all this in the mainstream, in a way that helps bind people back together again, not drive them apart," states the study.
The review also pointed out that this kind of self-imposed segregation starts from a young age, with 511 schools having more than half the students of Pakistani or Bangladeshi background. There has also been a noticeable increase in unregistered schools and homeschooling in Muslim communities. 
Dame Louise Casey's solutions to this involve promoting integration in schools, pointing out that "more weight should be attached to British values" when creating the curriculum. These values should actually be communicated from the moment of arrival when migrants should be made to take an "oath of integration with British values and society".
Most importantly, however, the report recommended that immigrants need to learn English, especially as Muslim and Hindu women tend to know it far less than the men – in fact, they are half as likely.
The lessons would be paid for by the government and would help "tackle cultural barriers born out of segregation".
This sentiment was echoed by the parliamentary committee on social segregation which stated that speaking English is "the key to full participation in our society and economy" and a "prerequisite for meaningful engagement with most British people".
"The APPG believes that all immigrants should be expected to have either learned English before coming to the UK or be enrolled in compulsory ESOL [English for Speakers of Other Languages] classes upon arrival," proposed the committee.
Overall, the net of about 330,000 people immigrate into the UK every year, but the turnover is much larger since about a million arrive or leave altogether.
Some other specific recommendations from the parliamentary committee on social integration were to give more authority to make immigration-related decisions to regional governments and how to better spread migrant flows around the country.
Slavoj Žižek examines the situation out of which refugees are created, and criticizes conservatives and liberals alike for their "conspiracy theories".
How did we get to this refugee crisis? Newton's Third Law. For every action there is an equal and opposite reaction. It's something we may not consciously clock as we hear news and see devastating photographs of migrants crossing dangerous waters in crowded boats, fleeing for their lives. Why is this happening? If you rewind the history of these countries, tracing political event to event, you'll find the firestarter – and more often than not, it's a long arm that has reached past its own border to interfere in another country.
In this spirited and frenetic address, Slovenian philosopher Slavoj Žižek talks about refugees, anti-immigration populism, and cultural incompatibility, bringing to light just how complex and tangled the dominant issues of our times are. Who is responsible for them? It's a messy question.
One clear thread that swims beneath everything Žižek says is the concept of backlash. The wave of refugees coming to Europe from Syria and north Africa were displaced by previous military and political intervention. Hitler and Nazi Germany arose as a reaction to the West post WWI. Government-sanctioned homophobia and the oppression of women's rights across Africa are a reaction against colonialist ideals. Everything is a pushback, and there are a million reactions firing off all over the geopolitical landscape.
Žižek argues that the only way out is transparency. We have many responsibilities when faced with the world's problems, but the greatest one is to not be avoidant. We must ask and debate unpleasant and difficult questions, especially regarding immigration and the cultural clashes that will emerge – and already are. We are doomed, says Žižek, if we keep these issues at a distance.
Slavoj Žižek's most recent book is Refugees, Terror and Other Troubles with the Neighbors: Against the Double Blackmail.