Millennials would rather pay off their student debt than spend money getting hitched.
Photo: Ehud Neuhaus via Unsplash
High levels of Millennial student loan debt is slowing down marriage.
Half of millennials are still single at 34, while nearly 70% of boomers were married by their mid-30s.
New report explains the connection between debt and marriage.
National student debt in the U.S. currently stands at a stunning $1.4 trillion, with half of all first-time, full-time students owing money. Only the country's homeowners have a greater amount of debt. Entering the job market burdened by the continual drain on income of paying off a student loan affects salary considerations and ultimately lowers the quality of life for those in debt. It also, according to a just-published report, looks to be affecting the age at which people, especially millennials, feel their lives have finally stabilized enough to get married. And there's an interesting upside to marrying later: The divorce rate is dropping.
Say "I do," or "don't"
Our attitudes about marriage and its purpose are no doubt one part of the reason. For the NLSY79 group, getting married was simply the next relationship step after meeting and falling in love. Marriage for millennials is more of a maybe-yes/maybe-no decision, a reflection of each partner's current goals and position in life. As sociologist Philip Cohen says, "Marriage is more and more an achievement of status, rather than something that people do regardless of how they're doing."
Photo: mariocutroneo via Flickr
Divorce benefit
Boomers' more dewy-eyed expectations of marriage no doubt led to lots of early unions that ended in divorce as couples grew up and apart. Now divorce rates are falling, down about 18% in the last eight years. With boomer divorce rates still doubling below 65 and tripling above that age, a significant share of the credit has to go to millennials.
Living together
It's not that people aren't still hooking up. Our view of living together prior to marriage, or forgoing nuptials altogether, has also shifted. So while about a third of the NLSY79 cohort got married without living together first, this is a relative rarity in the NLSY97 group, with just 14.8% taking vows before sharing a space. In the 1979 group, 6.7% of married couples reported having cohabited first, while that's risen to 22.4% among millennials. Interestingly, the people with the highest education level are least likely to live together, according to the new study—of course, they also have the most most debt to manage.
(Addo, et al)
The two big differentiators in the NLSY97 cohort
Later marriages, if marriage at all
One major finding of Addo's analysis is that, while nearly 70% of boomers were married by their mid-30s, less than half of millennials were similarly hitched at that age. Marriage rates altogether are dropping, with 9% fewer marriages over the last 25 years. 55.35% of millennial women and 50.87% of men were still single at 34.
Unprecedented debt
The second major insight? When other factors are accounted for, education and its costs remain as the other major differentiator of this cohort, and thus the most likely influence on the dropping marriage rate. In fact, the NLSY79 cohort, there was a positive correlation between education debt and marriage—that's now flipped.
People in the NLSY97 group are far more likely to attend college than boomers were, and the price tag in the U.S. for higher education is now nearly prohibitive for most students. Between the two cohorts, according to the study, "education loan debt increased thirty percentage points among young adults with at least 4 years of post-secondary education." For 2015-2016, the average amount of debt for a bachelor's degree was $30,301—that's a lot of money to free up as one embarks upon adulthood and a career. For a graduate student the situation's even worse.
Photo: Sharon McCutcheon via Unsplash
The toll student debt takes on family-building
Student debt in the U.S. is a growing crisis that's moving the traditional idea of the American Dream out of reach for many.
Included in that dream for many is marriage and starting a family. This debt adds a lot of extra financial strain as one embarks upon adulthood with entry-level income. That monthly payment makes everything harder, including feeling settled and secure enough to make a lifelong commitment such as getting married or starting a family.
Sky-high rent, second jobs, and wealth-worshipping 1% TV shows—journalist Alissa Quart explains how the American dream became a dystopia, and why it's so hard for middle-class Americans to get by.
'Middle class' doesn't mean what it used to. Owning a home, two cars, and having a summer vacation to look forward to is a dream that's no longer possible for a growing percentage of American families. So what's changed? That safe and stable class has become shaky as unions collapsed, the gig economy surged, and wealth concentrated in the hands of the top 1%, the knock-on effects of which include sky-high housing prices, people working second jobs, and a cultural shift marked by 'one-percent' TV shows (and presidents). Alissa Quart, executive editor of the Economic Hardship Reporting Project, explains how the American dream became a dystopia, and why it's so hard for middle-class Americans to get by. Alissa Quart is the author of Squeezed: Why Our Families Can't Afford America
.
How does our perception of social status relate to health and success?
Photo credit: Chris Ware / Keystone Features / Getty Images
Researchers have come up with an interesting way to examine social status, proposing the following question in a 2016 study: "What happens when status isn't known?"
"Another, perhaps more important aspect of status is certainty of social status," says postdoctoral researcher Jessica Vandeleest. She, along with Brianne Beisner — both associate project scientists at UC Davis School of Veterinary Medicine — headed up the study to find out the effects of social uncertainty on macaque monkeys.
One of the more interesting findings of this study was the possibility that this ambiguity in status provided more observable benefits to lower-ranking macaques. Even going so far as to suggest it may help them move up the social ladder.
The researchers examined how perceived social rank and rank could predict risk factors of poor health. The researchers tested the macaques for pro-inflammatory proteins (interleukin-6 (IL-6), tumor necrosis factor-alpha (TNF-α), and C-reactive protein (CRP), which were chosen because their presence can indicate a higher risk of diseases, such as type 2 diabetes and atherosclerosis.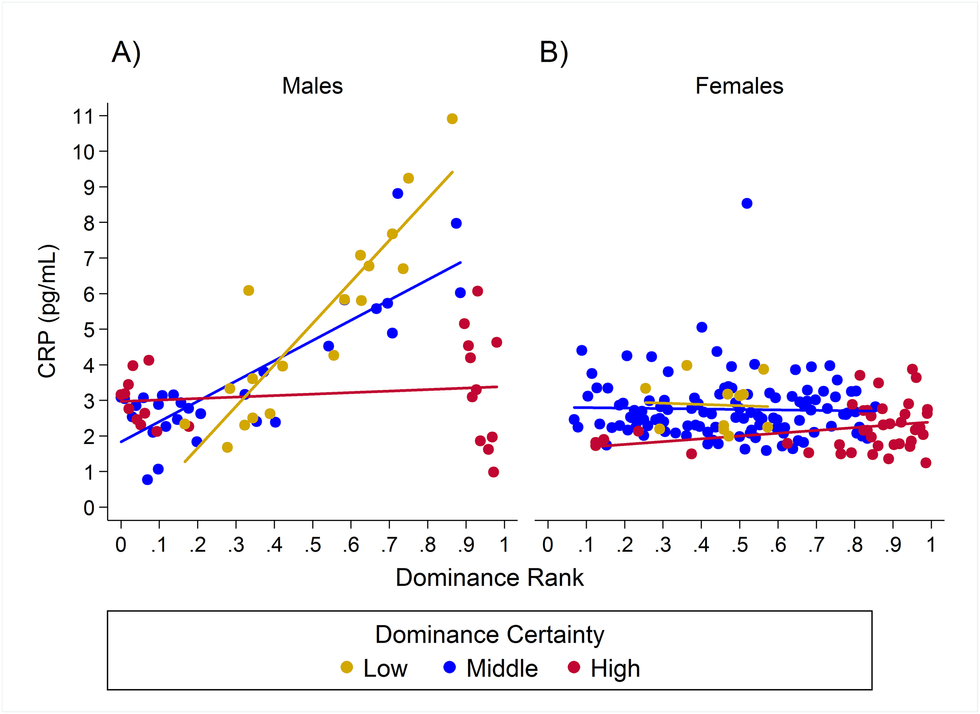 (Photo Credit: UC Davis)
For the macaques higher up on the social ladder, a low certainty of their status showed higher markers of inflammation than those with a clear idea of their standing. Consequently, an uncertainty among high-ranking macaques will likely threaten their place within the hierarchy.
For low-ranking macaques, status uncertainty resulted in fewer cases of inflammation. What's more, researchers suggest this social uncertainty might provide an opportunity: in their case, uncertainty could lead to gaining a higher standing within the hierarchy.
It would be interesting to know whether or not the same results could be observed in humans. Right now, of all the Americans born into low-income households, only 4% will rise to the middle-class:
Has the oldest problem in the book become taboo again? C. Nicole Mason expresses concern over a nation-wide moral failure that is leaving the U.S.'s most vulnerable to struggle in silence.
In terms of entertainment, the first Presidential debate was robust. In terms of bread and butter issues that matter to lower income families, it was less so. This year and last, we've heard a lot about protecting the middle class from tax increases, saving young learners from outrageous student debt, and giving big corporations a tax break, but there has been little to no discussion, from either side, about families and individuals who are trying to climb their way up to the middle class. There hasn't been a silence this awkward since the self-awareness vacuum that was Mary J Blige singing to Hillary Clinton
Politicians' blind eye to poverty is hitting a raw nerve with Dr. C. Nicole Mason, author of Born Bright and someone who herself managed to climb out of poverty – a feat that only 4% of the U.S.'s poor manage to do; the sizable remainder lack the infrastructure and social mobility to better their situation.
Mason believes the U.S.'s most vulnerable suffer in silence because, in the public consciousness, poverty is seen as a black or Latino problem. What she'd like to do is get everyone talking about white poverty, for one simple reason – if people see the real faces of poverty, it will break down the current barrier between 'us' and 'them', and show the public the magnitude of the situation.
According to Mason, there hasn't been enough effort to close the gap nor has there even been theoretical discussion of how the U.S. would do so. Despite being an epidemic, poverty is not a national priority. The hard reality is that people in the U.S. can work 40-hour weeks in low-income jobs and still need assistance for themselves and their families, in terms of food stamps, housing, and medical assistance.
Mason sees this as a moral failure. For people whose lives are not affected, the issue is largely moot. She urges individuals and institutions to realize that supporting programs that help society's most vulnerable meet a basic standard of living does not detract from anyone else. If a poor person rises to the middle class, it doesn't mean someone else will be demoted. Nothing is lost by improving the national standard of living. We need to demand this of our politicians, and of ourselves.
Dr. C. Nicole Mason's book is Born Bright: A Young Girl's Journey from Nothing to Something in America.