Scientists watch as mice mouse around an onscreen maze.
Credit:
Elnur
/Adobe Stock
Brain-machine interfaces allow humans—and mice—to interact with onscreen objects.
Such interfaces may gain wide applications as they become more capable.
Scientists want to better understand how they work, and are exploring how mice operate them.
Brain-machine interfaces, or BMIs, are fascinating. "Brain machine interfaces are devices that allow a person or animal to control a computer with their mind. In humans, that could be controlling a robotic arm to pick up a cup of water, or moving a cursor on a computer to type a message using the mind," says Kelly Clancy of the Sainsbury Wellcome Centre for Neural Circuits and Behaviour (SWC). She's the co-author of a paper recently published in Neuron.
The potential of BMIs is obvious as tools for people with conditions that deprive them of the use of their limbs. Beyond that, BMIs may one day allow us to control and operate all sorts of devices using only our minds — it's easy to imagine, for example, surgeries performed by doctors interfacing directly with ultra-precise robotic appendages.
While there has already been some success with BMIs, there is a lot that's not yet known about how they work. Researchers at SWC have developed a BMI for mice that lets them track the manner in which it interacts with the mouse's brain as the subject moves an onscreen cursor using only its thoughts. It also gives them a peek into how those brains function.
BMI insight
Credit: Kurashova/Adobe Stock
According to co-author Tom Mrsic-Flogel, also of SWC, "Right now, BMIs tend to be difficult for humans to use and it takes a long time to learn how to control a robotic arm for example. Once we understand the neural circuits supporting how intentional control is learned, which this work is starting to elucidate, we will hopefully be able to make it easier for people to use BMIs."
In addition to understanding BMIs better, their use in research may help scientists unravel at least one mystery of the mind. Working out how objects are represented in the brain has been tricky. When tests subjects interact with objects, scans simultaneously show signals representing that interaction—a motor process—and thoughts about the object. It's hard to tell which is which. The motor signals are removed when interaction with an object is strictly virtual, as when using a BMI.
As mice mouse
Credit: Clancy, et al./Neuron
In the study, BMI were affixed to the skulls of seven female mice who were subsequently trained to use a mouse to move an onscreen cursor to a target location in order to receive a reward. The researchers' aim was to investigate intentionality.
As the mice moused, the researchers used wide field brain imaging to observe their entire dorsal cortexes. This provided an overview of the area that would allow the scientists to see which regions of the brain exhibited activity.
Not surprisingly, visual cortical areas were active. More of a surprise was the involvement of the anteromedial cortex, the rodent equivalent of the human parietal cortex that's associated with intention.
"Researchers have been studying the parietal cortex in humans for a long time," says Clancy. "However, we weren't necessarily expecting this area to pop out in our unbiased screen of the mouse brain. There seems to be something special about parietal cortex as it sits between sensory and motor areas in the brain and may act as a way station between them."
That "station" may enable a continual back-and-forth between the regions. Says the paper, "Thus, animals learning neuroprosthetic control of external objects must engage in continuous self-monitoring to assess the contingency between their neural activity and its outcome, preventing them from executing a habitual or fixed motor pattern, and encouraging animals to learn arbitrary new sensorimotor mappings on the fly."
The parietal cortex is an excellent candidate for this job, say the authors: "Parietal activity has been found to be involved in representing task rules, the value of competing actions, and visually guided real-time motor plan updating, both in humans and non-human primates."
It's more than just weight gain—it's chronic inflammation and weak immunity.
Photo: U.S. Air Force, Airman 1st Class Grace Lee.
The first two episodes of the Netflix documentary series Rotten touch upon important issues in our relationship to food. The first focuses on the dangers of colony collapse in bee populations as well as international companies filling bottles with ingredients that definitely are not honey. The second deals with food allergies, particularly focused on the largest: peanuts.
While these are distinct issues, two themes weave these stories together. First, the impact of our environment on health. Humans have gone to great lengths to separate from nature. Yet we interact with whatever environment we live within. Effects of sedentary existences lived apart from the planet's rhythms include the slow destruction of our bodies and pretty much every species we come into contact with.
The booming almond industry needs pollinators, which stressed beekeepers (and bees) travel hundreds or thousands of miles to accomplish in California's central valley each season—adding to the stress. Colony collapse is rampant given the diseases these nomadic bees are now sharing. This is but one example of interdependence that we often overlook. No pollination, no honey, no almonds, no—a lot. 
The rapid onset of food allergies over the course of only one generation provides another example of our exile from nature's rhythms. We would never eat foods apart from the environment they were grown or captured within until recently. Industrial monocultures are likely, at least in part, to blame for this stunning increase in any or all of the eight allergens, which leads us to the second theme in these episodes: our microbiome.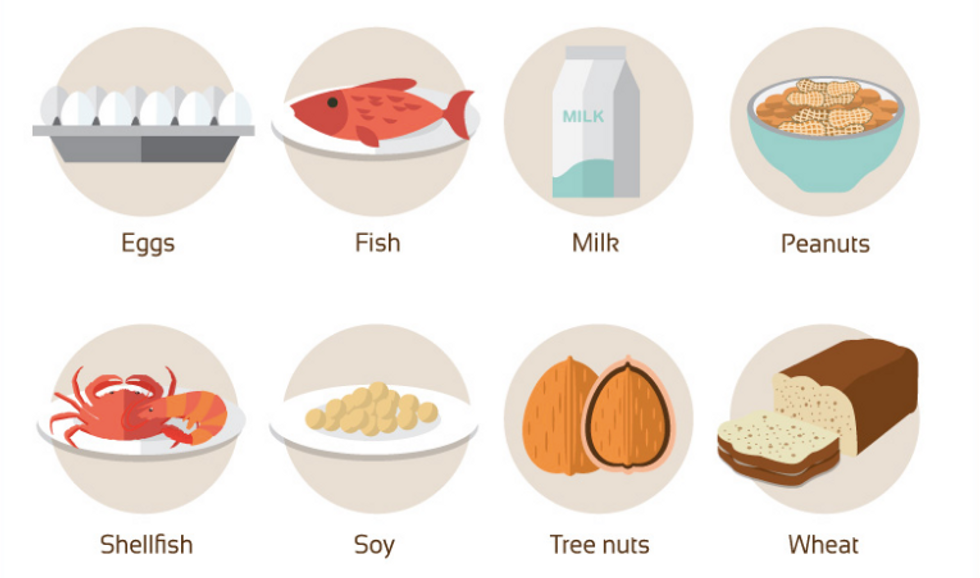 These 8 foods make up 90% of all food allergies in the U.S. Image: Fix.com
The bacteria that live inside of our guts is arguably the most important feature of our entire body. While the brain receives the bulk of praise, scientists have more recently raised an inquisitive eyebrow regarding all the data emerging on the microbiome. The relationship between our nervous system and gut (which has its own nervous system) is exceptionally influential on health. 
Our microbiome also directly interacts with our environment. While Purell has proven beneficial for soldiers in foreign territories, constantly sanitizing your hands weakens your immune system when in home territory. Synopsis: let your kids play in dirt. You play in dirt too. Those bacteria are strengthening.
Yet we have many weird relationships with our environment and the foods we eat, often in the invented cause of "purity." One example is juicing, heralded as the perfect (and profitable) "cleansing" mechanism. Drink juice for five or ten days and your body "resets." But juice is no different than soda, as you've removed the most beneficial part of the fruit: fiber. 
We've long known fiber is essential to our diet, in order to "get things moving." Otherwise known as roughage, dietary fiber is comprised of soluble and insoluble fiber. Both play critical roles in defecation. While too much fiber can cause intestinal gas and bloating, too little, a hallmark of a highly processed diet heavy on sugar, means we'll turn to laxatives instead of eating the fruits, plants, and grains that offer an abundance of it. 
Fiber also reduces the risk of heart disease, arthritis, and diabetes, and has been shown to lower mortality rates. But its role in digestion is particularly important. The food we consume is broken down by enzymes, its nutrients absorbed by our intestines. The molecules we cannot absorb, fiber, either pass through or, as it turns out, become food for gut microbes. 
A recent study published in Cell Host and Microbe investigates mice on a low-fiber, high-fat diet. The gut bacterial population crashed, triggering immune reactions. A similar experiment, published in the same journal, discovers that the effects of a low-fiber diet are wide-ranging: 
Along with changes to the microbiome, both teams also observed rapid changes to the mice themselves. Their intestines got smaller, and its mucus layer thinner. As a result, bacteria wound up much closer to the intestinal wall, and that encroachment triggered an immune reaction.
Continuation of this diet causes chronic inflammation; the mice also got fatter and developed high blood sugar. In both cases, the inclusion of a fiber called inulin dramatically improved their health and gut bacteria population. The researchers, which include Georgia State University's Andrew T. Gewirtz, realized that fiber serves as an essential food for an entire population of bacteria. 
"One way that fiber benefits health is by giving us, indirectly, another source of food, Dr. Gewirtz said. Once bacteria are done harvesting the energy in dietary fiber, they cast off the fragments as waste. That waste — in the form of short-chain fatty acids — is absorbed by intestinal cells, which use it as fuel," writes Carl Zimmer for The New York Times.
The "peaceful coexistence" of bacteria in the microbial system is disturbed on a low-fiber diet. Famine breaks out. Bacteria dependent upon fiber starve, followed by the bacteria that depend upon them for sustenance. A colony collapse. What follows isn't a disappearance, but an aggravation. 
"Inflammation can help fight infections, but if it becomes chronic, it can harm our bodies. Among other things, chronic inflammation may interfere with how the body uses the calories in food, storing more of it as fat rather than burning it for energy," writes Zimmer.
Obesity isn't the only thing fiber fights. It is also believed to help combat or prevent immune disorders. A fiber supplement probably won't cut it, however, since what our microbiome truly craves is a variety of fiber sources, which, fortunately, can be found in the produce aisle. 
We begin life with a disadvantage regarding fiber. In his book, Catching Fire, British primatologist Richard Wrangham writes that our relatively small colon means we cannot utilize plant fiber nearly as effectively as great apes. Cooked food provides an important means for intaking more fiber (and other nutrients) than raw plants, but thing is, we have to eat those plants. 
A diet filled with processed foods and fiber supplements is not going to cut it. Our microbiome craves what it has evolved to need in order to survive. Without those requirements those bacteria perish, initiating system-wide havoc in our bodies. Sans fiber we're not honoring the environment that gave birth to us, and that environment is certainly speaking back. 
--
Derek Beres is the author of Whole Motion: Training Your Brain and Body For Optimal Health. Based in Los Angeles, he is working on a new book about spiritual consumerism. Stay in touch on Facebook and Twitter.
The discovery of a neuron in the brain that acts as the "master controller" of habits could someday change the way we treat addiction and compulsive behaviors.
Cultured Rat Hippocampal Neuron
Scientists at Duke University have identified a neuron that acts as the "master controller" of habits. The findings, published in the journal eLife, could someday change the ways addiction and compulsive behavior are treated.
The "master controller" of habit appears to be a rare cell called the fast-spiking interneuron (FSI), which shows boosted activity during habit formation and, interestingly, seems to shut down habit behaviors when suppressed by drugs. 
FSIs, which belong to a class of neuron that relays messages between other neurons, are found in a region deep within the brain called the striatum. Here, FSIs make up only 1 percent of cells, but they have long branch-like tendrils that allow them to connect with 95 percent of the other neurons associated with habitual behavior.
"This cell is a relatively rare cell but one that is very heavily connected to the main neurons that relay the outgoing message for this brain region," said Nicole Calakos, an associate professor of neurology and neurobiology at the Duke University Medical Center, to Duke News. "We find that this cell is a master controller of habitual behavior, and it appears to do this by re-orchestrating the message sent by the outgoing neurons."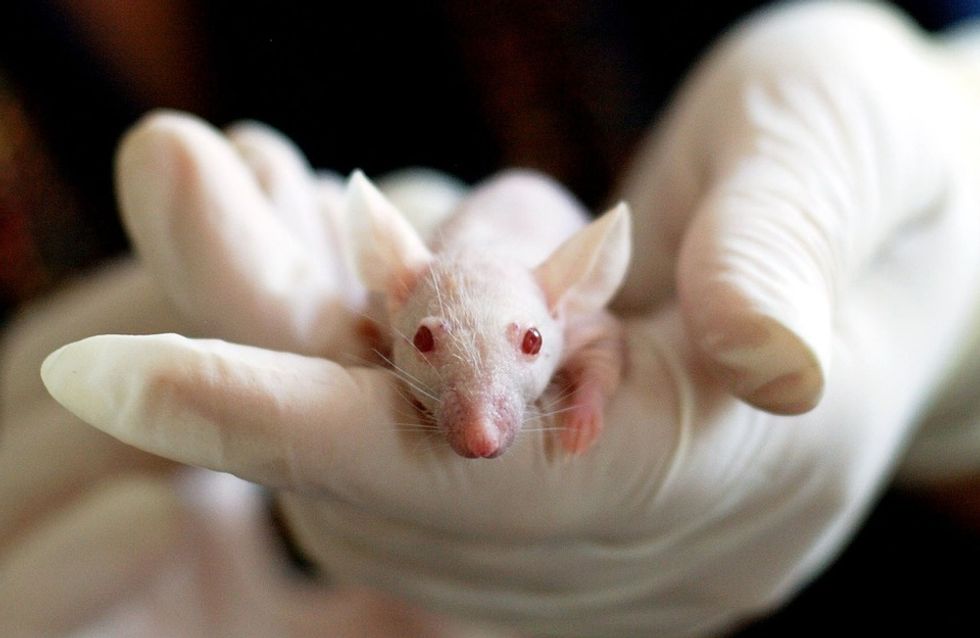 It's been known that habit formation can effectively rewire the brain, but exactly which neurons cause and control this process has been unclear. The team behind the new study wanted to change that.
"We were trying to put these pieces of the puzzle into a mechanism," Calakos said.
In 2016, the Duke University researchers published their first insights into habit and its effects on the brain. They found that habit formation in mice resulted in long-lasting changes in the striatum, which has two sets of neural pathways: a "go" pathway that triggers action, and a "stop" pathway that inhibits it.
The results showed habit formation made both of these pathways stronger, and also caused the "go" pathway to fire before the "stop" pathway.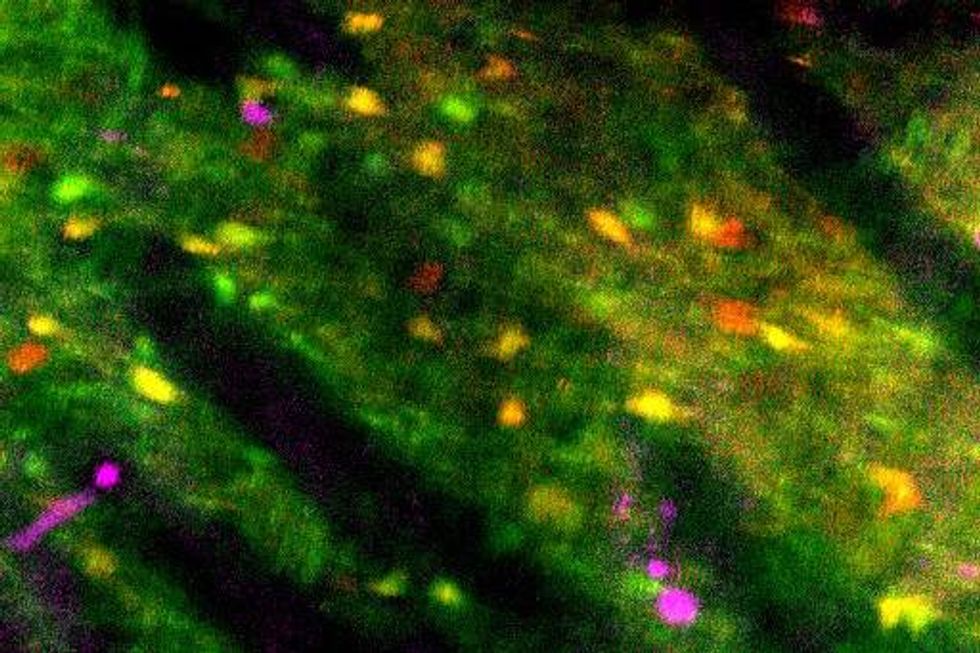 A magnified view of the striatum of a mouse brain, fast-spiking interneuron in purple. Credit: Justin O'Hare, Duke University
Still, they weren't quite sure which neurons were effectively running the show in the striatum. To find out, the researchers, led by graduate student Justin O'Hare, first observed that FSIs become more excitable when a habit is formed. Then they administered a drug to habituated mice that suppresses the firing of FSIs. The results? The "stop" and "go" pathways in the striatum reverted to "pre-habit" patterns, and their habit behaviors vanished.
"Some harmful behaviors like compulsion and addiction in humans might involve corruption of the normally adaptive habit-learning mechanisms." Calakos said. "Understanding the neurological mechanisms underlying our habits may inspire new ways to treat these conditions."
"I firmly believe that to develop new therapies to help people, we need to understand how the brain normally works, and then compare it to what the 'broken' brain looks like." 
Scientists are concerned that the results of studies using mice may be affected by gut bacteria.
Mice in a laboratory
Mice and other rodents are a staple of laboratory research. In fact, mice are the most commonly used vertebrate species. They are popular because you can get them easily and cheaply, they are small, reproduce quickly, share 99% of their genes with humans, and can be utilized to study genetic human diseases. But studies that rely on mice may potentially be difficult to replicate due to the differing gut contents of the rodents.
Laura McCabe, a physiologist from Michigan State University (MSU), found that the laboratory mice they were using had different microbes in their guts. This skewed the results of their experiments on how a particular drug affects bone density since the drug's effects varied based on what was inside each mouse. Some mice lost bone density while some gained it.
A "microbiome" is a term used to refer to gut bacteria but also to other inhabitants of the gut, like viruses, fungi, and protozoa. The impact of the microbiome on varying experimental data has been coming under increased scrutiny in the scientific community.
"We didn't know to look for it before," said MSU's veterinarian Clair Hankenson to Science Magazine.
To try to standardize what's inside the mice, it has been relatively standard procedure for scientists to be careful in controlling where the mice come from - looking to get animals from the same vendor, keeping them in sterile environments, trying to account for any other factors.
Yet, this approach may not be achieving the desired effect. The gut bacteria in mice can change for reasons like a change in their diet, a new stress, or where and how they were kept by the vendors. For instance, in one instance, mice from one vendor were found lacking segmented filamentous bacteria (SFB), which were shown to help mice make crucial antibodies and immune cells. The presence or absense of this bacteria could affect studies of inflammatory response.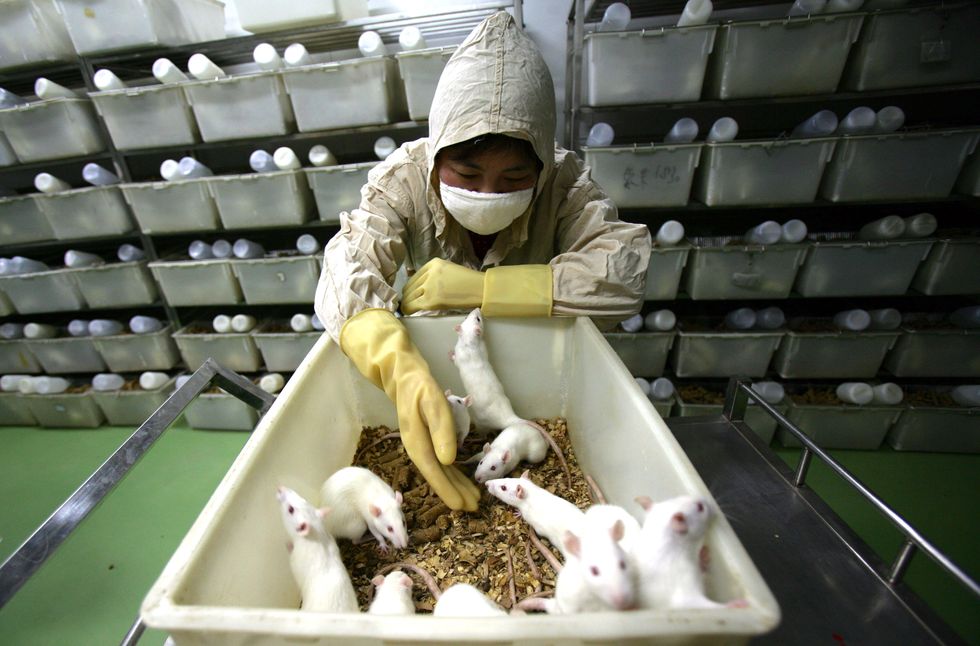 A worker observes white rats at an animal laboratory of a medical school in Chongqing Municipality, China. (Photo by China Photos/Getty Images)
One line of thinking also looks at whether it may not be a good idea to keep lab environments super-sterile. By cleaning, labs might be wiping out some of the microbial variety that make mice good subjects for studying human diseases in the first place. A 2016 study, led by immunologist David Masopust from the University of Minnesota, Twin Cities, found that mice bought from a pet store ended up exhibiting diseases like hepatitis and phenumonia, which have generally been eradicated from lab mice. Exposure to the diseases killed off a chunk of the lab mice but allowed others to build up immunity, thus becoming more realistic stand-ins for the human immune system, according to the scientists.
Another lab doing immunology studies has tried this approach with success. "My lab is incredibly excited about this," said Stephen McSorley, an immunologist from the University of California, Davis, School of Veterinary Medicine. Their lab bought a "dirty" colony of mice that normally serve as zoo animals. This approach, however, has some detractors as well, as it goes against the usual cleanliness-obsessed culture at most labs.
As scientists zero in on the importance of factors that might be influencing the microbiomes of lab mice, they are looking for more ways to account for them in the research. Among proposed ways to counteract the gut's influences is controlling for the diets of the mice and any potential exposure to antibiotics, including fecal microbiome analysis with the data, testing multiple types of microbiomes, and designing studies that separate the effects of microbial genes from the genes of their animal hosts.