Researchers from Norway discover that the Moon's tides influence the release of methane from the ocean floor.
Sensitive instruments reveal methane beneath the Arctic Ocean for the first time.
The gas is released in cycles that correspond to the tides.
Rising warming oceans may help to contain the greenhouse gas.
It's a rhythm that preceded our presence on Earth: The moon's inexorable push and pull on our planet's oceans. According to researchers at University of Tromsø, The Arctic University of Norway, it turns out that the moon does more than move the tides—it also controls the release of methane into the atmosphere from below the Arctic Ocean. There's no reason to think it's not true in other seas as well.
This is yet another example of the complexity of global warming, methane being the other major greenhouse gas. All sorts of things are involved in keeping the environment in balance that one would never expect, like the moon. The study points out that it's not all bad news, however, since as the oceans rise they may help the moon in controlling methane's release.
The study is published in the journal Nature Communications.
Tidal methane
Screenshot of visualization from researchers' data
Credit: Andreia Plaza Faverola
Methane often takes second billing to carbon dioxide in discussions of climate change, likely because it dissipates much more quickly. However, its warming effect is actually far more intense that CO2's — it is 84 times more potent. Methane makes up about 25 percent of our greenhouse gases.
Says co-author of the study Andreia Plaza Faverola, "We noticed that gas accumulations, which are in the sediments within a meter from the seafloor, are vulnerable to even slight pressure changes in the water column. Low tide means less of such hydrostatic pressure and higher intensity of methane release. High tide equals high pressure and lower intensity of the release."
This phenomenon has not been previously observed. While significant gas hydrate concentrations have been sampled in the area, no methane release had been documented. "It is the first time that this observation has been made in the Arctic Ocean," says co-author Jochen Knies. "It means that slight pressure changes can release significant amounts of methane. This is a game-changer and the highest impact of the study."
Detecting the tidal story
Screenshot from video of piezometer out of the water
Credit: Przemyslaw Domel
The researchers buried a tool called a piezometer in the sediment on the ocean floor, and left it in place for four days. During that time, the instrument made hourly measurements of pressure and temperature in the sediments, and these indicated the presence of methane close to the sea floor, increasing at low tide and decreasing at high tide.
Their first notable observation was, of course, the presence of the gas on the Arctic Ocean floor despite a lack of other more visible indicators of its presence. "This tells us that gas release from the seafloor is more widespread than we can see using traditional sonar surveys," says Plaza Faverola. "We saw no bubbles or columns of gas in the water." She credits the watchful presence of the piezometer for making the discovery: "Gas burps that have a periodicity of several hours won't be identified unless there is a permanent monitoring tool in place, such as the piezometer."
Enthuses Knies, "What we found was unexpected and the implications are big. This is a deep-water site. Small changes in pressure can increase the gas emissions but the methane will still stay in the ocean due to the water depth."
Of course, not all the Earth's waters are equally deep, and there may not be enough water weight in some places to contain the methane below. "But what happens in shallower sites?" asks Knies. "This approach needs to be done in shallow Arctic waters as well, over a longer period. In shallow water, the possibility that methane will reach the atmosphere is greater."
The weight of water
The basic mechanics at play are simple. Higher tides mean more water pressing down on the methane, and this increased pressure keeps it from rising away from the sea floor. Low tide means less water, less pressure, and a greater opportunity for the methane to escape.
The researchers note in their study that this simple relationship may actually offer a silver lining to the rising of the world's ocean as the planet cools. There will be more water, and thus more pressure to keep methane from escaping up and into the atmosphere. In essence, higher sea levels may have something of a cooling effect by keeping methane out of the atmosphere.
In the end, there's not much we can do about the Moon and its tides, but the more knowledge we have of the mechanisms behind climate change the better.
As Plaza Faverola puts it:
"Earth systems are interconnected in ways that we are still deciphering, and our study reveals one of such interconnections in the Arctic: The moon causes tidal forces, the tides generate pressure changes, and bottom currents that in turn shape the seafloor and impact submarine methane emissions. Fascinating!"
Methane is 80 times more effective than carbon dioxide at trapping heat in the atmosphere.
(Photo by David McNew/Getty Images)
Methane is the second most abundant greenhouse gas on the planet.
A recent study analyzed ice core samples from the pre-industrial era to measure the extent to which industry has played a role in increasing atmospheric methane levels.
The researchers note that their results suggest action can be taken to stem methane pollution.
Methane is the second most abundant greenhouse gas. Colorless, odorless, and lighter than air, methane (CH4) is some 80 times more effective at trapping the atmosphere's heat than carbon dioxide. Scientists estimate it to be responsible for about 25 percent of current global warming. Since the Industrial Revolution, the amount of methane in the atmosphere has increased by at least 150 percent.
Still, it's been hard to determine the primary emitters, and the extent to which natural processes are to blame.

Now, new research suggests that methane emissions from fossil fuels have been "vastly underestimated" by as much as 40 percent. The study focused on fossil methane, which is emitted through natural and anthropogenic sources like geologic seeps and the production of fossil fuels including natural gas. Biological methane is the gas's other form, and it comes from natural sources like wetlands, and human activity like rice farming.
The findings, published in Nature, are based on analyses of pre-industrial ice samples obtained from glaciers in Greenland. Because these ice core samples show how much methane was in the atmosphere before the Industrial Revolution, the analyses can offer a more accurate estimate of the extent to which human activity has been responsible for the recent increases of atmospheric methane.
Hmiel et al.
The results show that, prior to the Industrial Revolution, fossil methane emissions were about 1.6 to 5.4 teragrams. For context, the current estimate of total annual methane emissions is 172 to 195 teragrams. So, if the results are accurate, the implication is that human activity is almost entirely responsible for methane emissions, while natural contributors like gas seeps play a smaller role than previously thought. The results also suggest that the industry is likely underreporting the amount of methane leaks coming from various points in the supply chain, including processing, production, and transportation.
But that's not all bad news to lead study author Benjamin Hmiel, a researcher at the University of Rochester.
Fracking rig site in Oklahoma
J Pat Carter / Contributor
"I don't want to get too hopeless on this because my data does have a positive implication: Most of the methane emissions are anthropogenic (human-caused), so we have more control," Hmiel told USA Today. "If we can reduce our (methane) emissions, it's going to have more of an impact. [...] Placing stricter methane emission regulations on the fossil-fuel industry will have the potential to reduce future global warming to a larger extent than previously thought."
Methane emissions come from all sectors of the fossil fuel industry. But natural gas seems to be an especially dirty contributor, mainly because of the large amounts of gas that's lost during the production process. This leakage challenges the idea that natural gas is a relatively clean "bridge fuel" that society can burn as it develops more renewable energy sources. For example, a recent study found that the methane leakage rate in the U.S. natural gas supply chain was much higher than previous estimates from the Environmental Protection Agency. The implication: Natural gas comes with steep hidden costs.
Reducing methane emissions
The good news is that methane has a relatively short atmospheric lifespan. Unlike carbon dioxide, which can linger in the atmosphere for about 200 years, methane vanishes after about a decade. Its heat-trapping power, however, makes it a serious climate threat over the short term.
"It's impossible to hit [the Paris agreement climate] targets with methane in the mix," Lena Höglund Isaksson, a greenhouse gas expert at Austria's International Institute for Applied Systems Analysis, told National Geographic.
Although reducing methane leaks in the natural gas supply chain might be difficult, many experts argue that it's one of the more inexpensive and straightforward ways to curb greenhouse gas emissions. Beyond tightening regulations regarding leak monitoring and equipment surveys, a 2018 study published in Science recommended several ways gas companies can reduce methane leaks:
Install less failure-prone systems
Conduct on-site leak surveys
Re-engineer individual components and processes
Deploy sensors at individual facilities and on towers, aircraft or satellites
Steven Hamburg, co-author of the study, said in a
statement
:
"Scientists have uncovered a huge problem, but also an enormous opportunity. Reducing methane emissions from the oil and gas sector is the fastest, most ­cost-effective way we have to slow the rate of warming today, even as the larger transition to ­lower-carbon energy continues."
How widespread within NASA is the conviction that human activity is responsible for climate change?
Michelle Thaller knows. She has worked with hundreds of Earth scientists at NASA who study the climate.
It's important to note that NASA is an apolitical organization devoted to science, not policy solutions.
From the Twitter feed of Chris Mooney
Esieh Lake is in a part of Alaska that's in the Arctic Circle.
Each day the lake emits methane at a rate equivalent to about 6,000 cows.
If more like it are found, it could be an ominous warning of things to come.
Melting permafrost. 
"The lake, about 20 football fields in size, looked as if it was boiling. Its waters hissed, bubbled and popped as a powerful greenhouse gas escaped from the lake bed. Some bubbles grew as big as grapefruits, visibly lifting the water's surface several inches and carrying up bits of mud from below."
That's the terrifying description journalist Chris Mooney gave of Esieh Lake in Alaska. What, exactly, is it describing? Melting permafrost.

As in, ice and frozen soil deep down that has never thawed, hence the term 'perma'.
The concern is this: If Esieh Lake exists, then surely others do, too. And if the permafrost beneath and around other lakes is thawing like it is here, then the resultant carbon dioxide and methane will create what climate scientists refer to as a "feedback loop." That is, the gases emitted as the formerly frozen organic and plant matter are broken down make global warming worse. They dramatically speed up the entire, terrifying process, causing even more permafrost to melt. Rinse, repeat.
There are already a number of "thermokarst" lakes in the Arctic permafrost that are spewing methane, but this one is the biggest yet. Each day it emits methane at a rate equivalent to about 6,000 cows.
The scientist who discovered Esieh Lake, Katey Walter Anthony, has studied 300 lakes that are emitting gasses like this, but the sheer size of Esieh really took her by surprise. In fact, she even thought it might explode.
Losing the permafrost even affects what Native peoples have used for generations as an "Eskimo freezer" — burying fresh meat and other foods under the permafrost to store them and keep them frozen until they're ready to use. Much of those can't be used the same way any more, because they're thawing.
Here's the scientist who discovered Esieh setting fire to methane 10 years ago on a lake she and her team found back then.
A new study shows how one dietary change in the U.S. could make a 46%-plus dent in greenhouse gas reductions.
One of the most effective things Americans can do to curb greenhouse gas emissions is surprisingly simple: eat beans instead of beef.
A recent study showed that if every American made the switch, the U.S. could achieve between 46 and 74 percent of the reductions necessary to meet its emissions goals for 2020 that were pledged by former President Barack Obama. That considered, imagine the difference a reducetarian approach could have too, for those who can't go cold turkey—er, beefy—on their steaks. 
"I think there's genuinely a lack of awareness about how much impact this sort of change can have," said study author Helen Harwatt to The Atlantic.
Climate change policy in the U.S. focuses mainly on reducing carbon dioxide (CO2) emissions by curbing or modifying energy production and usage. However, climate change is also driven by non-CO2 emissions — namely, methane (CH4) and nitrous oxide (N2O). More than half of these non-CO2 emissions come from livestock farming.
Globally, livestock farming accounts for 15 percent of human-caused greenhouse gas emissions. The effects, however, are disproportionately destructive: methane and nitrous oxide warm the planet significantly more than carbon dioxide.
The massive scale of livestock farming puts the problem into focus. According to the United Nations, one third of Earth's arable land is used to grow feed for livestock, and in total, about a third of all land on the planet is used to produce animal products.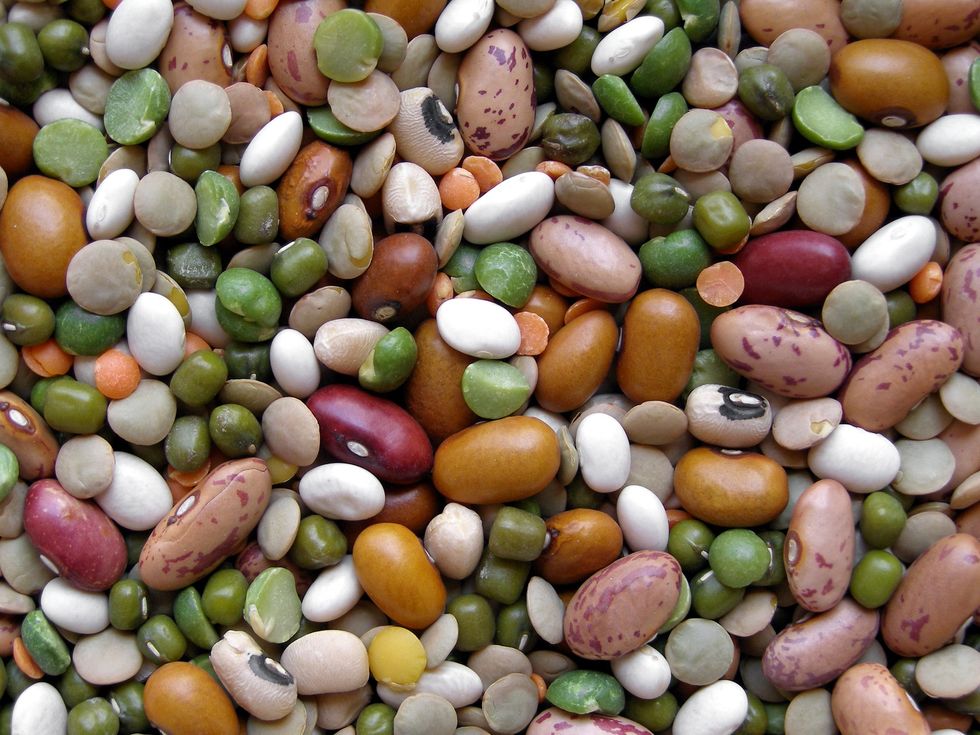 Feeding cows is also an especially inefficient process. During their lifetimes, cows will consume far more calories from food like beans than they'll ever yield in meat. Growing that food takes up a lot of land. The study notes that the U.S. could free up 42 percent of its cropland if Americans gave up beef — that's more than the size of California.
Making the dietary switch would be an effective way for individuals to fight climate change without having to rely on lawmakers or private interests.
"The real beauty of this kind of thing is that climate impact doesn't have to be policy-driven," said Harwatt. "It can just be a positive, empowering thing for consumers to see that they can make a significant impact by doing something as simple as eating beans instead of beef."
Obama pledged that U.S. greenhouse gas emissions would be roughly 17 percent lower in 2020 than they were in 2005. Making this dietary shift could be one of the easiest ways to reach that goal.
"Given the scale of greenhouse gas reductions needed to avoid the worst impacts of climate change, are we prepared to eat beef analogs that look and taste like beef, but have a much lower climate impact?" Harwatt asks. "It looks like we'll need to do this. The scale of the reductions in greenhouse gas emissions needed doesn't allow us the luxury of 'business as usual' eating patterns."