We can "read" genes with ease now, but still can't say what most of them "mean." To show why we need clearer "causology" and fitter metaphors, let's scrutinize cars and their parts like we do bodies and genes.
Illustration by Julia Suits, The New Yorker cartoonist & author of The Extraordinary Catalog of Peculiar Inventions
1. We can "read" genes with ease now, but still can't say what most of them "mean." Mastering precisely how they "cause" higher-level traits will require clearer "causology" and fitter metaphors.
2. Genes (more precisely, gene products) contribute to fiendishly complex processes that confound the standard stats grinder. To illustrate, imagine scrutinizing cars and their parts like we do bodies and genes in "genome-wide association studies" (GWAS). The details don't matter here, beyond that a car-GWAS would analyze a car-level trait like fuel efficiency by variations in the properties of all the car's parts.
3. Consider a car having standard and sporty models. The latter have larger gas-guzzling engines and available pimped-up painted brake calipers. And let's say sporty buyers more often pick red brakes, then statistically speaking red brakes bring greater gas guzzling "risk."
4. If I'm not mistaken (please correct me stats geeks), no stats-only data wizardry can distinguish such non-causal entanglements (p-values can't discern "phantom patterns").
5. Generally, part-level properties can have non-causal and non-random "links" to higher-level traits. And including non-causal factors distorts the statistics (misallocating the variation that seems "explained by," "accounted for," or "linked to"). Lacking causal insights, you always run the "red-brake" risk.
6. Regarding metaphors, gene products work more like words than car parts (genes aren't static "blueprints"). They act via sentence-like structures with collective effects and multiple "meanings." But we lack the rules (~cellular syntax, gene grammar) for how parts of biology compose life's activity-sentences.
7. Genes also sort of work like music: Typically "played" in precise synchrony to orchestrate many molecular melodies (simultaneous biochemical sentences) enabling enormous ensemble effects.
8. And life typically has way more moving parts than cars, and more complex transient casual structures. It's traits often have multiple hetero-causal etiologies (roadmaps exhibiting sufficient but not necessary logic). Current stats can't disentangle hetero-causal effects (larger type-mixed samples often won't help).
9. All this is sort of known (e.g., genetic architecture, causal roles) yet "jump-to-the-genes" GWASing continues (with rickety elaborations like polygenic scoring).
10. Thankfully, fitter thinking is afoot—for instance, geno-pheno mapping (Massimo Pigliucci), better "Laws of Biology" (Kevin Mitchell), Reductionist Bias Corrections (Krakauer), and Causal Structure Modeling (Judea Pearl).
11. Biology and social science need less primarily parts-focused thinking (you can't grasp chess by studying the properties of its pieces alone), and ways to handle different kinds of causes and roles—see Krakauer's Figure 4, Aristotle's four causes, Tinbergen's four questions, Marr's three levels. Much in these fields is more process-or-algorithm shaped (often resisting Occam's Razor).
12. Related iffy thinking exists far beyond genomics. As mostly practiced, stats presume a flat or "heap" causal structure that's often ill-suited for process-oriented life, or car making, or even cooking (cooks need step-by-step recipes to turn parts into wholes).
13. Statistical analysis without causal insights often runs the red-brake risk. The habit of adding variables to "control for" factors can misallocate variation (itself often a nonsensical or low quality quantification).
14. Similar structureless-sausage data risks pervade black box approaches to Big Data and AI.
15. You know that correlation doesn't imply causation, but AI doesn't "know" that.
Illustration by Julia Suits, The New Yorker cartoonist & author of The Extraordinary Catalog of Peculiar Inventions
Ice finally met fire on last night's episode of Game of Thrones, and their first conversation proved a perfect case study in the distance between power and reality.
Daenerys Targaryen and Jon Snow finally meet in Game of Thrones Season 7, Episode 3
While promoting his new documentary and book, An Inconvenient Sequel: Truth to Power, on Pod Save America, former vice-president Al Gore paraphrases Nelson Mandela when stating, "It's always impossible until it's done." He's discussing the "ferocious resistance" to climate science, a movement he compares to Civil Rights in the South of his youth. Over time, he believes, the choice becomes clear. His universe bends toward justice. 
When these questions get less complicated, when the underbrush is cleared away, and we get a clearer view of the binary choice at the heart of it, between right and wrong, then the outcome becomes foreordained. And I think we're really close to that with the climate movement. 
Perhaps. Civil Rights was a giant step forward in America, but in recent years we've witnessed a sense of racism and entitlement that was boiling underneath the surface all along. The same for gay rights: most Americans, thankfully, are for it, but then a tweet dismantling transgender rights in the military exposes bigotry in less than 140 characters. It might truly be minority opinion, but it's a loud and crude one. 
The White Walkers are ideal archetypes for whatever the society's greatest fear is. In this column from episode three they're white supremacists. Before season seven kicked off, Vox speculated that the entire series is about climate change, with the White Walkers leading the metaphor: 
Their zombie minions are equally happy to rip apart people of all nations and noble houses. Yet instead of uniting to combat the shared threat to human existence, the houses in the show spend basically all their time on their own petty disagreements and struggle for power. White Walkers are generally ignored; some nobles deny their existence outright.
This theory came to life last night during the most-anticipated meeting in the show's history, that of Daenerys Targaryen and Jon Snow. While the focus today has been on the fact Snow refused to "bend the knee," their first conversation proved a perfect case study in humanity's painful history of the distance between power and reality. 
Targaryen's sole focus is that the King of the North recognizes her legitimacy. A longstanding agreement between the Targaryens and Starks, with the former always ruling the latter, is "in perpetuity"—Tyrion provides the definition should the word not register with Snow. When the bastard replies that everyone is acting like a child Daenerys, well, acts like a child. She reminds Snow of the ancient pact and her flying friends. 
Which is fascinating. No one believed the dragons could be resurrected, but she did it. That's her superhero power. While she does receive a glimpse of Snow's superhero power, the ancient concept of resurrection which dates back well before the Christ mythology, Snow instead turns to anecdote: I've seen the White Walkers. I know what they can do. Wake up. 
Daenerys's reaction is expectable: I only believe in my myth. Snow, of course, has seen the dragons, but given his last few seasons he's more primed to take anyone at their word regarding magic and superstition. Daenerys, not so much. The well-traveled Tyrion proves more open-minded, which is why he brokers obsidian for trust. Daenerys' thinking is fundamentalist, Snow's, pragmatic, though in truth the Queen of Dragons is not so brittle that she'll suffer Lady Olenna's fate: a failure of imagination. 
How do we confront an enemy no one believes in because no one can see it? That's the question Snow leaves us with. We can see iceberg calving thanks to patient videographers positioned at the planet's edges—a relative term, of course, as circles don't have edges. But at this moment most would rather watch the videos on their screens rather than give up the behaviors that are part of the problem that's causing calving. We tend to choose the superstitions that benefit us, not the ones that point at our destruction. 
Which defines metaphysical religious thinking. A benevolent "energy" for our ultimate good is one we desire, regardless of its absurdity in the face of biology and evolution. Likewise, one bent on our downfall cannot be the ultimate force in the "universe," which bends toward "justice" and "love." Catchphrases stir our emotions even as they muddy the rising waters. 
So as Daenerys continues her quest of legitimacy and Cersei pitches the benefits of monarchies to Mycroft Holmes Tycho Nestoris, Jon Snow prepares to mine the earth for cooled lava in hopes of defeating the planet's biggest threat. He recognizes the binary choice Gore points to, the first of the bickering children to reach adolescence. We can hope the other leaders follow suit, but we shouldn't expect it. It would be a boon for humanity, but it makes for terrible religion fiction.
--
Derek is the author of Whole Motion: Training Your Brain and Body For Optimal Health. Based in Los Angeles he is working on a new book about spiritual consumerism. Stay in touch on Facebook and Twitter.
Hitler appeared to have been highly sensitive to disgust, and research shows this trait is linked to numerous dimensions of ideology.
Adolph Hitler
Hitler seemed obsessed with the idea of infection. The Nazi leader was, by most accounts, a germaphobe who avoided personal contact and bathed incessantly. He was repelled by sex, horrified by venereal disease. He referred to himself as an Einsiedler – a hermit. He extolled the virtues of celibacy and claimed prostitution was for inferior races, though some have proposed Hitler himself contracted syphilis from a Jewish prostitute in Vienna in 1908. 
It was in ideology, however, where Hitler's obsession with infection thrived, becoming the essential Nazi metaphor: Germany was the body, Jews were the parasites. 

Examples are abundant in his speeches and writings:
"How many diseases have their origin in the Jewish virus! We shall regain our health only be eliminating the Jew."
"Anyone who wants to cure this era, which is inwardly sick and rotten, must first of all summon up the courage to make clear the causes of this disease."
"This is the battle against a veritable world sickness which threatens to infect the peoples, a plague that devastates whole peoples...an international pestilence."
"The Jew is a parasite in the body of other nations."
"Germany, without blinking an eyelid, for whole decades admitted these Jews by the hundred thousand. But now… when the nation is no longer willing to be sucked dry by these parasites, on every side one hears nothing but laments."

"If this battle should not come...Germany would decay and at best sink to ruin like a rotting corpse."
Do Hitler's germaphobic tendencies and obsession with the infection metaphor reveal anything about his personality traits? While it's impossible to know for sure, it seems likely that he was highly sensitive to disgust.
Over the past couple of decades, studies have linked disgust sensitivity to numerous dimensions of ideology – immigration, political affiliation, sense of justice. If Hitler ranked high on the disgust scale, there were probably deeply rooted psychological forces lurking underneath his xenophobia and murderous fantasies that research on the behavioral immune system might help bring to light.
How disgust relates to personality and ideology
Disgust is a protective emotion. It causes us to lurch back from a rotten apple, or take an extra big step over dog poop on the sidewalk. These reactions are part of the behavioral immune system, which evolved to help us detect and avoid things in our environment that cause disease. That's why we find some things universally repulsive – urine, feces, vomit. 
What's strange, however, is that an acute sense of disgust can extend beyond these things and into the social world, causing some to feel repulsed by certain ethnic groups. This might have once served an evolutionary function: In earlier times, it was probably useful to be wary of unfamiliar individuals or groups because they might have carried disease.
Today, this same evolutionary function might be playing a role in the immigration debate. According to a recent paper, people who are acutely sensitive to disgust are more likely to oppose immigration. The researchers explained:
It is the presence of physically and culturally distinct immigrants that poses a threat to individuals concerned about pathogens, not the intentions of the immigrants. Second, individuals motivated by pathogen avoidance are especially motivated to avoid contact with immigrants, potentially preventing the sorts of experiences that may engender tolerance. Taken together, these findings demonstrate that the behavioral immune system emerges as a potent—and distinct—obstacle to inclusive attitudes and tolerance.
Other studies have linked high disgust sensitivity to:
Personality types that value order and tradition
Opposition to gay marriage and abortion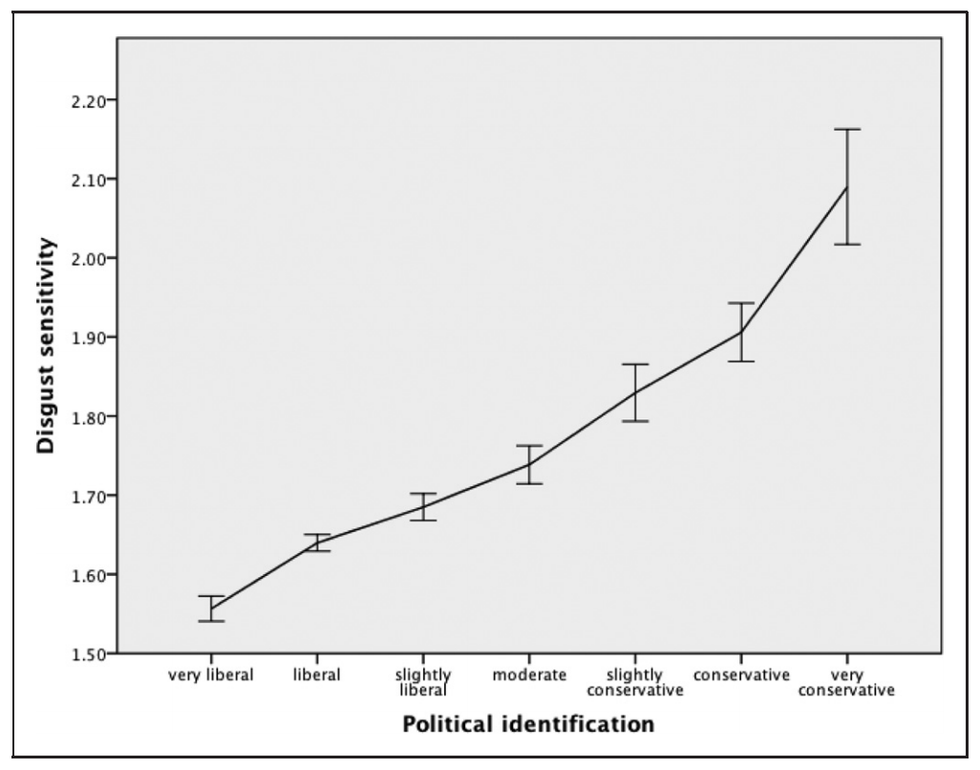 (Source)
Hitler arguably qualifies for almost every dimension to which high disgust sensitivity is linked. Professor of Psychology Jordan Peterson elaborates on the connection between disgust and Nazism in the video below, about an hour into the lecture:
Still, how could one leader's disgust-oriented rhetoric have influenced an entire country? 
Metaphor and the Final Solution
The Jew is the parasite of humanity. He can be a parasite for an individual person, a social parasite for whole peoples, and the world parasite of humanity. – Excerpt from "The Jew as World Parasite," a Nazi propaganda pamphlet

The use of metaphoric language in Nazi Germany has been studied at length since the end of World War II. On a psychological level, the dehumanization of the Jewish population through language was crucial in carrying out the Final Solution because deeming the Jews to be rats or parasites made extermination the logical and "necessary" course of action.
(A Nazi propaganda video compares the Jewish population to rats and parasites)
Some have considered the Nazi use of metaphorical language to be a "rhetorical trick," a cynical manipulation of the cultural conversation to advance a murderous fantasy. But others, like Andreas Mulsoff, who penned Metaphor, Nation and the Holocaust, thought Hitler's parasite metaphor sat at the bedrock of his ideology, conveying his "fundamental cognitive processes" and serving as an "integral part of the ideology that made the holocaust happen."
In his essay The Jewish Parasite, Alex Bein argues that Nazi ideology captivated the German people through repeated use of words and concepts that eventually led to "belief in the reality of a fantasy." Richard A. Koenigsberg, author of the seminal Hitler's Ideology, elaborated:
"In language, Bein explains, thoughts and conceptions are mirrored. Nazism crept into the flesh and blood of the masses by means of "single words, terms and phrases, and stock expressions" which, imposed upon the people a million times over in continuous reiteration, were "mechanically and unconsciously absorbed by them." The presentation of Jews as corroding and poison parasites as vermin, bacteria and bacilli—everywhere infecting and striving to destroy the body of the German people— "paralyzed any internal resistance on the part of the masses.""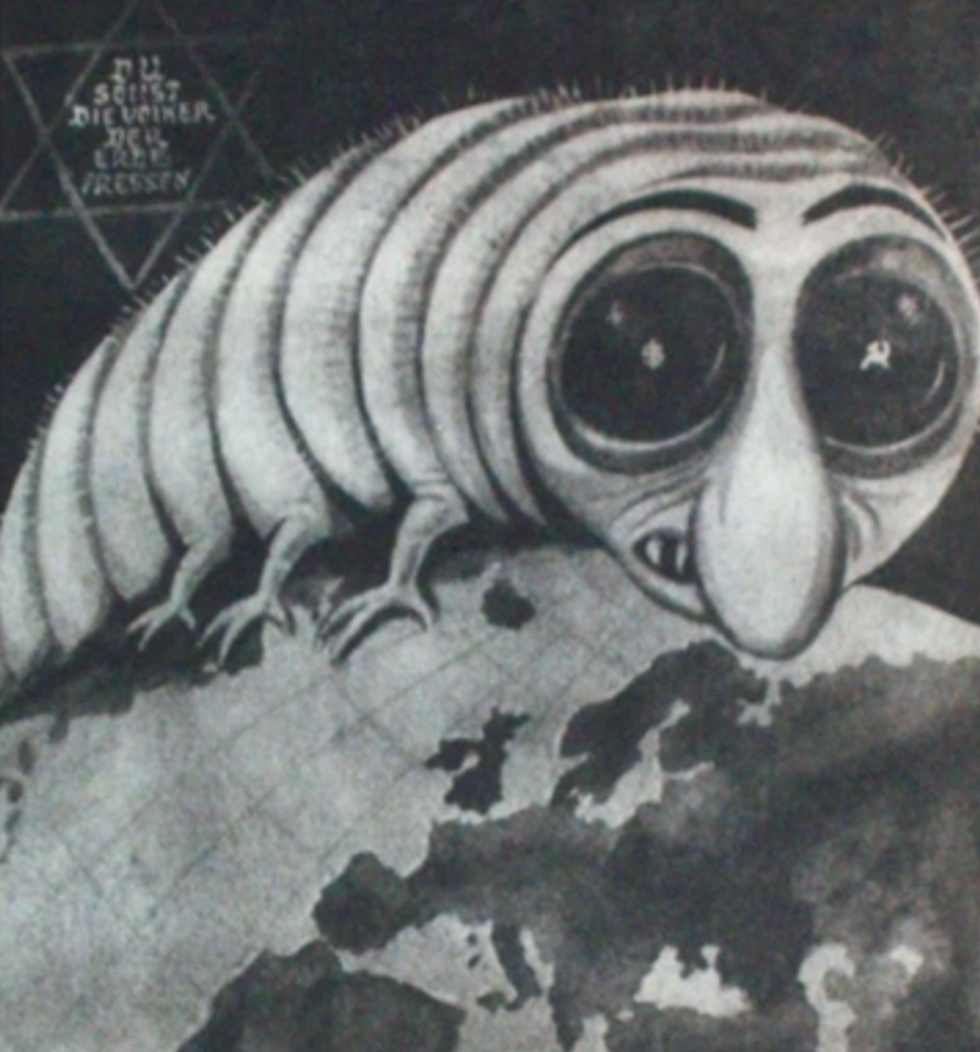 (Anti-Semetic Nazi propaganda)
A recent study suggests that disgust-oriented language can wield surprising power over our biases. Researchers Lene Aaroe, Michael Bang Petersen and Kevin Arceneaux asked two groups of participants to read a passage about a hospital employee coming in contact with bodily fluids. The passage given to one group, however, included an addition part in which the hospital employee thoroughly washes his hands. Anti-immigration sentiment dropped by 47 percent among this group, leading researchers to claim:
[Pathogen avoidance] plays a causal role in the formation of immigration attitudes and because hand washing is not logically connected with immigration attitudes, it ostensibly does so outside of one's conscious awareness.
The findings imply that threats of actual infection need not be present in order for our sense of disgust to unconsciously affect how we see groups of people. Mere language can accomplish that.
A new study from Cornell University shows how metaphors influence our ability to be impressed by genius and uncovers a gender hook – it seems we prefer to conceive of male genius as an exciting idea explosion, and female genius as a long, hard labor of hard work.
Is genius the result of nurturing an idea, or being struck by one? Well, it depends on your gender.
Genius is a hard concept to pin down. That's why we have to talk about it using metaphors, like "light-bulb moments" and "the fruit of seeds planted in youth." Our metaphors are a bit wonky, but it turns out they imply a whole lot about the validity of genius ideas – and the gender of the person having them.
That's what Cornell University researchers Kristen Elmore and Myra Luna-Lucero just learned from three experiments. They manipulated acts of genius like Alan Turing's creation of his Enigma machine and Hedy Lamarr's discovery of spread spectrum radio waves to be either light bulb moments or the fruit of seeds of effort. The researchers distributed the randomized write-ups to participants and surveyed them about their perception of genius. The results, published in the journal Social Psychological and Personality Science, were surprising.
First, the researchers wrote two descriptions of Alan Turing's creation of the code-breaking Enigma machine – one as a "light bulb" moment of sudden inspiration, and one as the "fruit" of effort over time. They randomly assigned those descriptions to 395 participants and asked them how that moment of genius defined Turing. The light-bulb metaphor led participants to think of Turing's invention as exceptional. The seed metaphor did not:
Credit: Social Psychological and Personality Science
"This effect emerged even though all participants read about the same idea," the authors emphasize in the study. "The seed metaphor may rely more on existing beliefs about effort in order to frame an idea as exceptional, whereas the light bulb metaphor may be so frequently evoked and familiar that it exerts influence regardless of more stable beliefs about whether ideas originate from inspiration." That means that the light bulb comparison made Turing's invention seem unattainable for anyone except a genius --  especially normal, hard-working people (which, given that Turing actually created the Enigma machine through long, hard work, is problematic).
Next, the researchers assigned 393 participants general statements about what the average man or woman was best at. After calculating the survey, they found that "women were more likely than men to endorse women as superior idea creators," especially if those female participants had positive exposure to the seed metaphor. Then they surveyed 426 participants about the creation of spread spectrum radio waves, manipulating the gender of the inventor (Hedy Lamarr vs George Antheil, both of whom created the technology) and the light bulb vs seed comparison. They found that people were less likely to consider the invention an act of genius if Lamarr had created it in a light bulb moment – yet, were more receptive to it being the fruit of a seed. Participants were more likely to consider Antheil a genius when the invention was described as a light-bulb moment.
Credit: Social Psychological and Personality Science
Overall, the researchers found that "the seed metaphor is more compatible with and inclusive of women's accomplishments… [and] possibly incongruent with the stereotype of male inventors."  They posit that difference as a semantic one in the study: "Language connecting innovation to stereotypically feminine traits like nurturance may bring to mind pathways to success and genius that challenge typical understandings of genius as innate."
That's particularly troubling given how women view their own intelligence, according to the study authors. "Women in male-dominated fields are more likely to misinterpret their effort as a sign that they do not belong and, thus, benefit in particular from portrayals of effort as normal for success."
Compared to common findings on genius, that's a striking thought. "Although certain individuals may be widely accepted as geniuses, there cannot be a consensus on exactly who is, and is not, a genius," explains Psychology Today. One thing we know for certain is that genius is more about analytical reasoning skills and pattern thinking than light-bulb moments. And genius isn't limited to only one kind of intelligence, either, as developmental psychologist Howard Gardner told us:
Science's signature moves share something with good poetry. Good metaphor-making can make geniuses of both kinds. But bad metaphors can mislead whole fields.
1. Science, like poetry, depends on metaphors*. They can hide, sometimes causing mischief.
2. Science's signature moves deploy two or more metaphors. Pythagoras's "All things are number." Plus at least one other, framing what the numbers mean (often tacitly, through tools or models).
3. Scientists should "think like poets and work like accountants," E. O. Wilson advises. Useful number crunching builds on the poet's rarer skill of making good metaphors.
4. Good metaphor-making can make geniuses: Energy conservation is like balancing account-books (Joule). Evolution's "struggle for existence" is like humanity's economic struggles (Darwin).
5. But bad metaphors can mislead entire fields: People ≠ biological billiard balls. Economies ≠ gases. (Alarmingly, "economic poet" Gary Beck metaphorized—>family = "little firm," kids = "durable goods," heroin = bowling.)
6. Let the "data do the talking" (preach Freakonomics folk)? Alfred Marshall noted that can be "treacherous."
7. You can't always count on Pythagoras's number-world move. For example many concepts in biology, economics, and social science (e.g., fitness, utility, happiness) don't have the mathematical properties of mass or length. They don't fit a ratio scale and aren't as measurable (=weakens the utility of math).
8. Many are confused about how quantitative and qualitative relate; e.g., Nate Silver says that those not "quantitatively inclined" risk creating "a lot of bullshit."
9. But fruitful quantification requires sound qualitative distinctions, otherwise it risks increasing bullshit—>e.g., the average human has ~1 ovary + ~1 testicle. Mixed-types math can be fruitless (≠ apples-to-apples comparison).
10. Statistical methods are especially slippery number-world tools. They require that underlying phenomena have sufficiently stable representative patterns—valid for physical traits like height variation, but often not for behaviors (different kinds of variability).
11. Stats harbor new versions of old logic woes, like the fallacy of composition—projecting  properties of parts onto wholes (e.g., apples are made of atoms, all atoms are invisible, therefore apples are invisible). And its opposite the fallacy of division (ascribes properties of wholes onto parts).
12. Consider data on shootings by police. Sendhil Mullainathan blunders in claiming that police racial bias has "little effect." That's a fallacy of division, assuming national data represent localities well. Conversely, Rajiv Sethi notes a statistical "fallacy of composition," can stats from one city be of any use in any differently composed city?
13. Top researchers often mishandle stats, e.g. p-value cherry-picking (in medicine, economics, psychology), multiple regression (social sciences, randomized trials). And standard stats moves can't always help. Randomization still drops the ball on average testicle counts, and more data doesn't automatically overcome lumpiness (Mullainathan's misstep).
14. Three distinct pattern types exist with intrinsically increasing levels of variability: see Newton vs. Darwin vs. Berlin patterns. And tools like statistics and algebraic equations yield more in physics than in social sciences.
15. For example, Diane Coyle calls the seemingly objective GDP a tarnished measure. It's a badly built number, it doesn't distinguish "bads" from genuine goods, and it omits all that isn't sold (marry your housekeeper—>GDP declines).
16. The cult of calculation and data is seductive. And I'm no quantiphobe. But number crunching has no monopoly on precision or truth. Words, metaphors, non-numerical logic, images, and patterns can be exact and can exceed what numbers can do.
17. A desire to jump to "the numbers" isn't always wise. We often shouldn't ignore unquantifiable factors, or the metaphoric or qualitative weaknesses hidden in the number-world mindset.
*—Deep conceptual metaphors structure most of our thinking (George Lakoff).
Illustration by Julia Suits, author of The Extraordinary Catalog of Peculiar Inventions, and The New Yorker cartoonist.